It seems that recently, we in the US, have been more exposed to Australian car culture than ever before. Working in the automotive aftermarket industry for a while, I've actually seen more than I had ever dreamed of. But, recently, it's been the strong presence of JDM imports into Australia that have popped up on my radar. The car culture in Australia sure seems to be filled with major go-getters, people that are not afraid to break out of the mold. Whether it's 2000hp burnout monsters, track prepped Skylines, or some seriously stylish drift builds. They're on top of their game down under. Jake Markuse's 2006 Evo shown here is proof positive. I mentioned in a recent article that I'm not a huge Evo guy, but, if I had to pick one, it's always going to be the Evo 9. Even in stock form, they're such an aggressive looking car, bold lines, big vents, and that factory wide body that we all drool over. It's a tall task to give a car with this kind of racing pedigree a classy look. But, I think Jake has done an excellent job blending the style into something perfectly fit to his own interpretation of this car.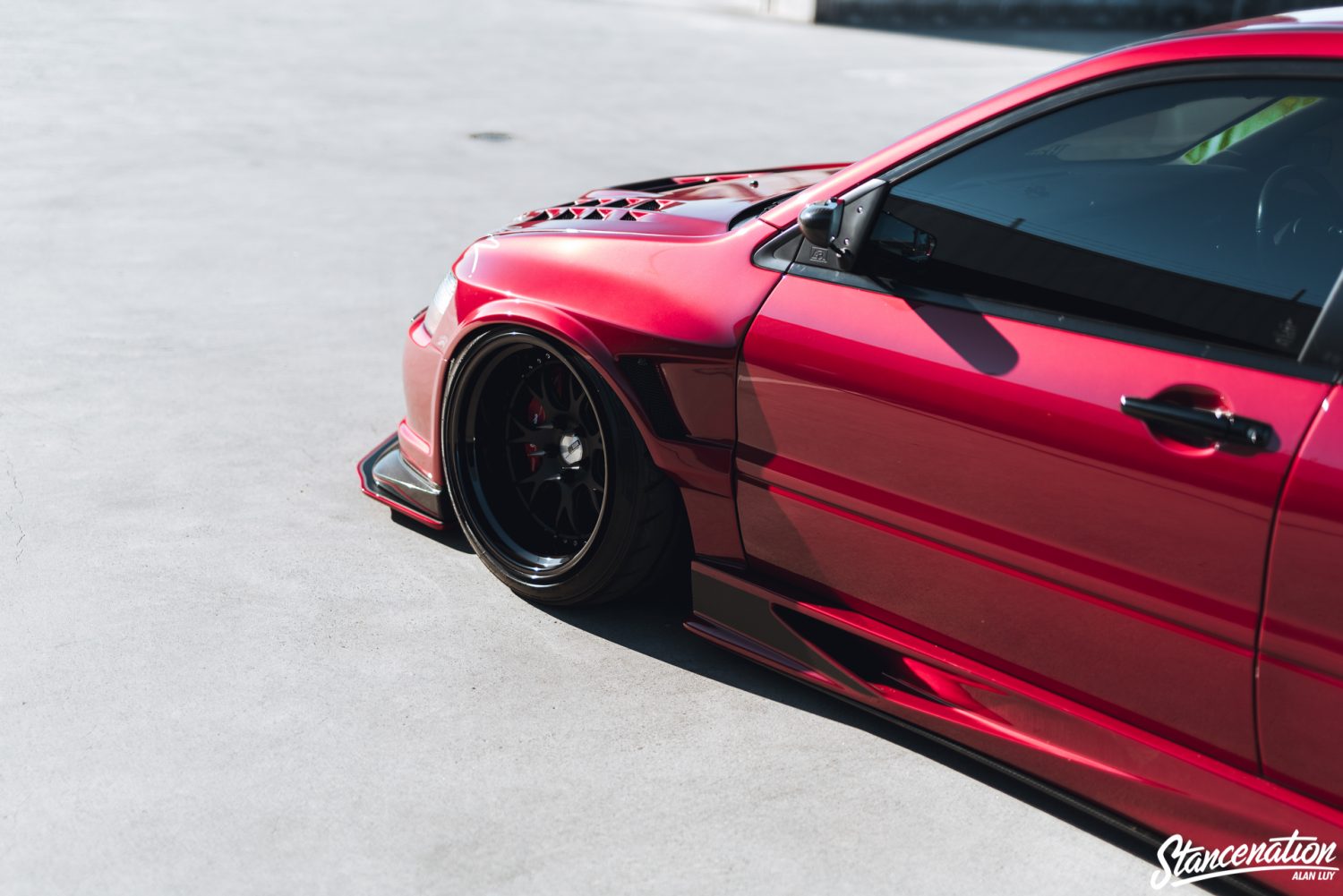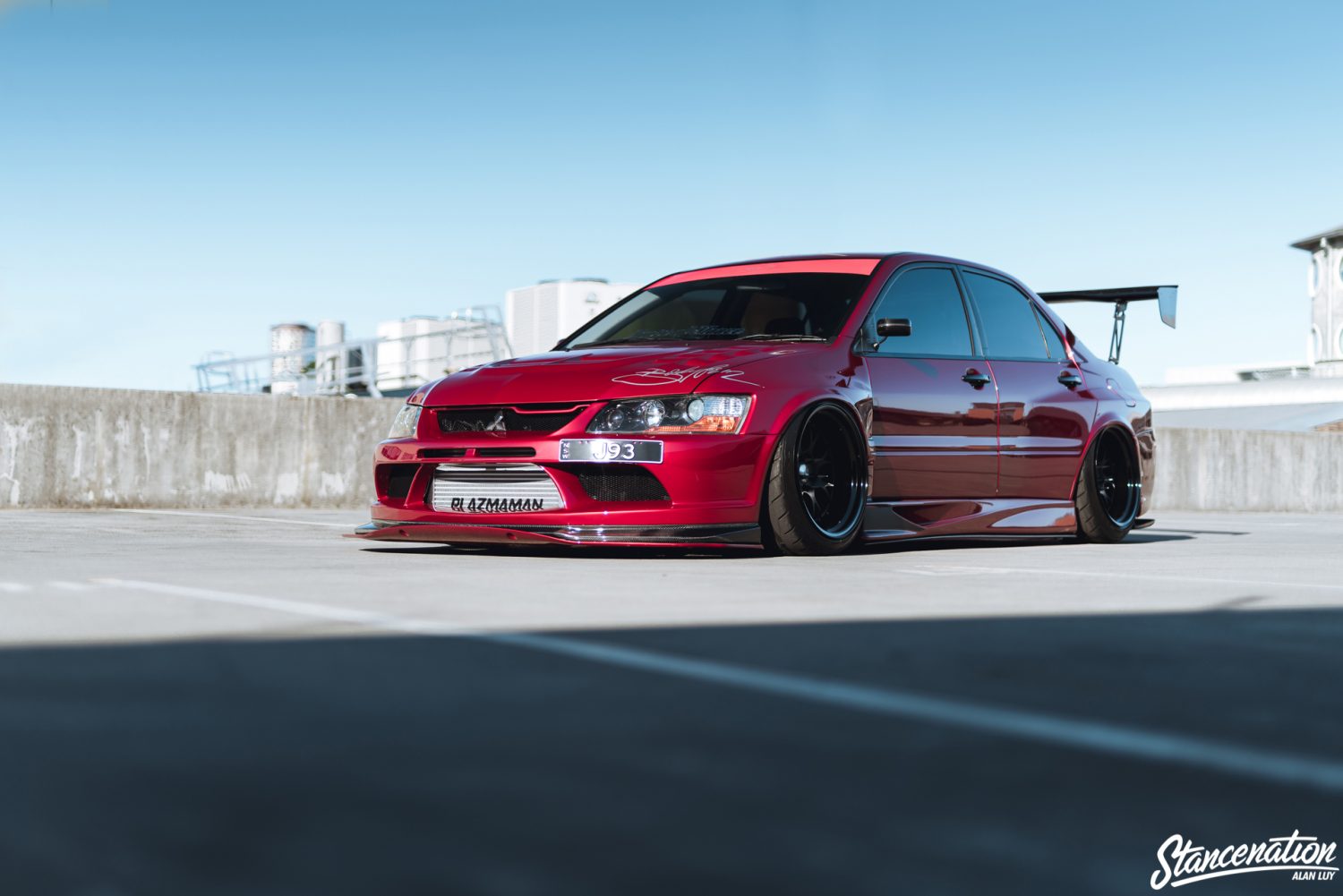 Like so many of these builds, Jake's story with this car begins with a childhood love of all things Mitsubishi Evo. He simply knew that he would build one some day. When his chance came up, he sprung into action. Firstly, commissioning Peter from Bodyform Motorsports in NSW, whom he credits as being the brains behind the build. He credits Peter with making the majority of the styling choices here. Sometimes, it truly pays off to let masters create and execute their own vision. This is a prime example of that strategy working out perfectly.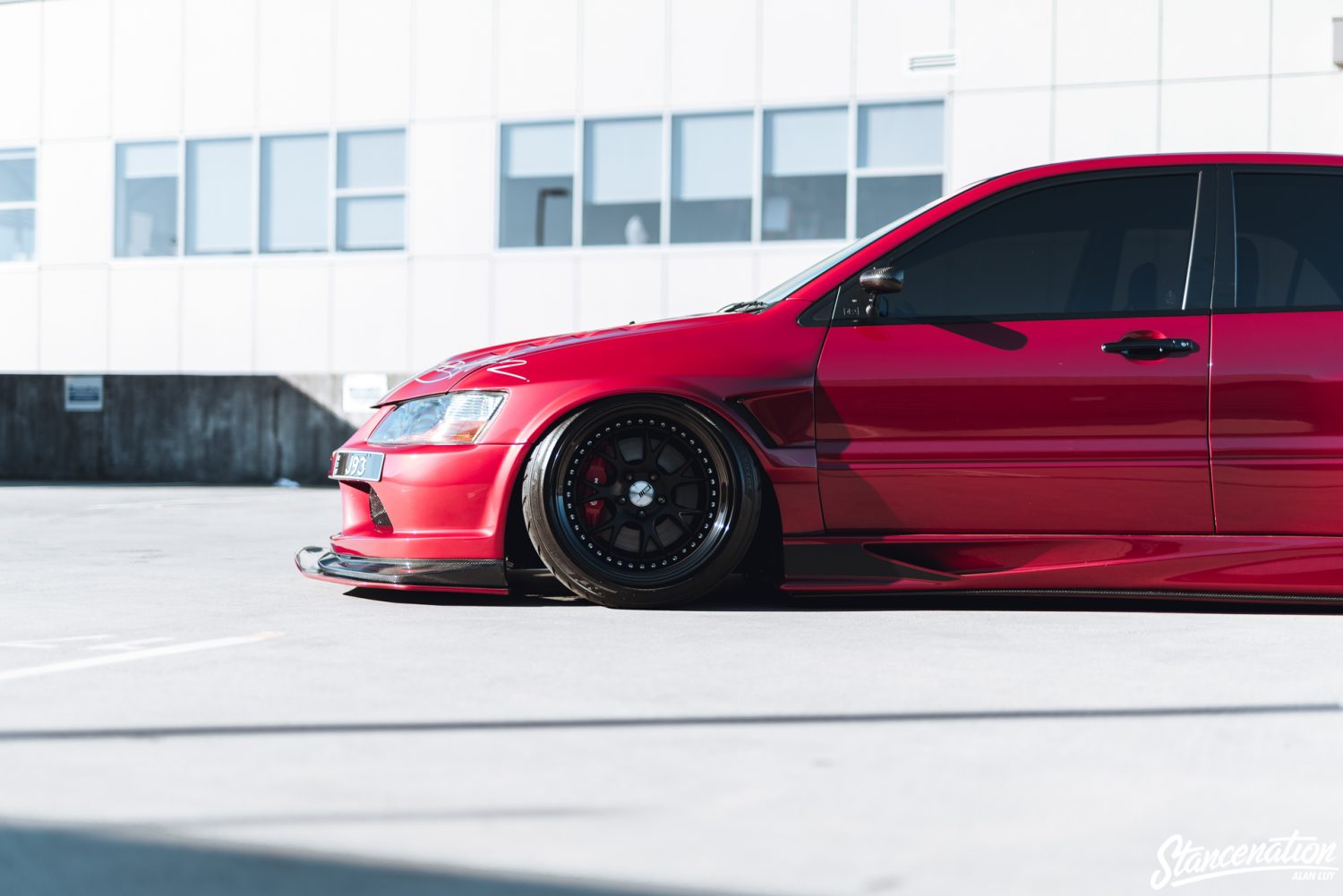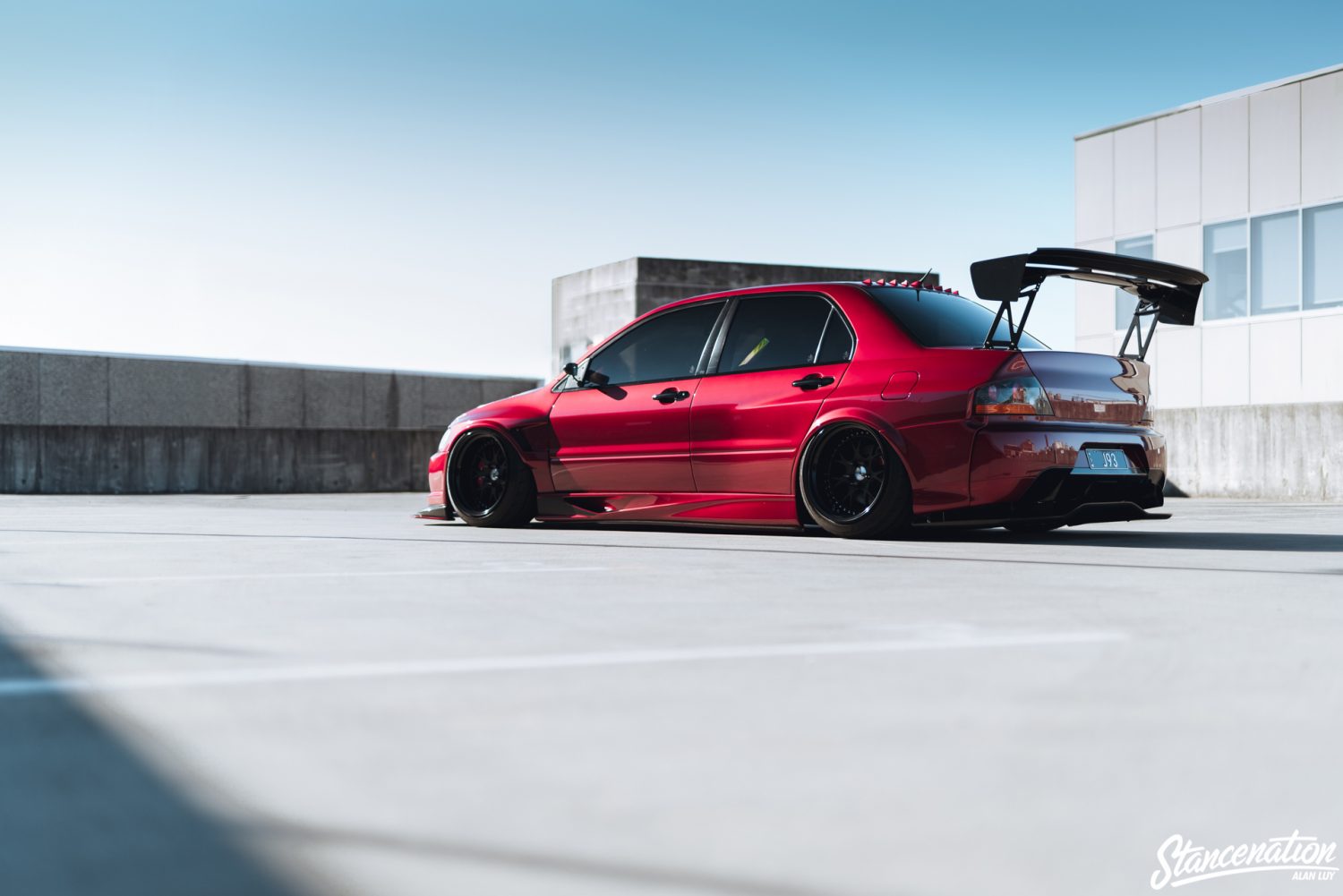 Jake didn't completely remove himself from the build process though. He sourced the inspiration for the widebody kit from Australia's own Michael Zomayas, who was featured here on Stancenation in May of 2015. Jakes version is similarly a host of parts custom modified by the team at Bodyform. The APR front fenders, tailored to fit by Peter, really steal the show straight away. They perfectly blend with the Varis v2 bumper and Bodyform splitter up front; with a set of Voltex side skirts to transition the aggressive look to the rear apr fenders. The intricate detail of the subtle rounded flares that match from front to rear really set this car apart from others. The rear is more Voltex, sporting their rear diffuser and undertray, with the massive GT carbon wing topping it all off.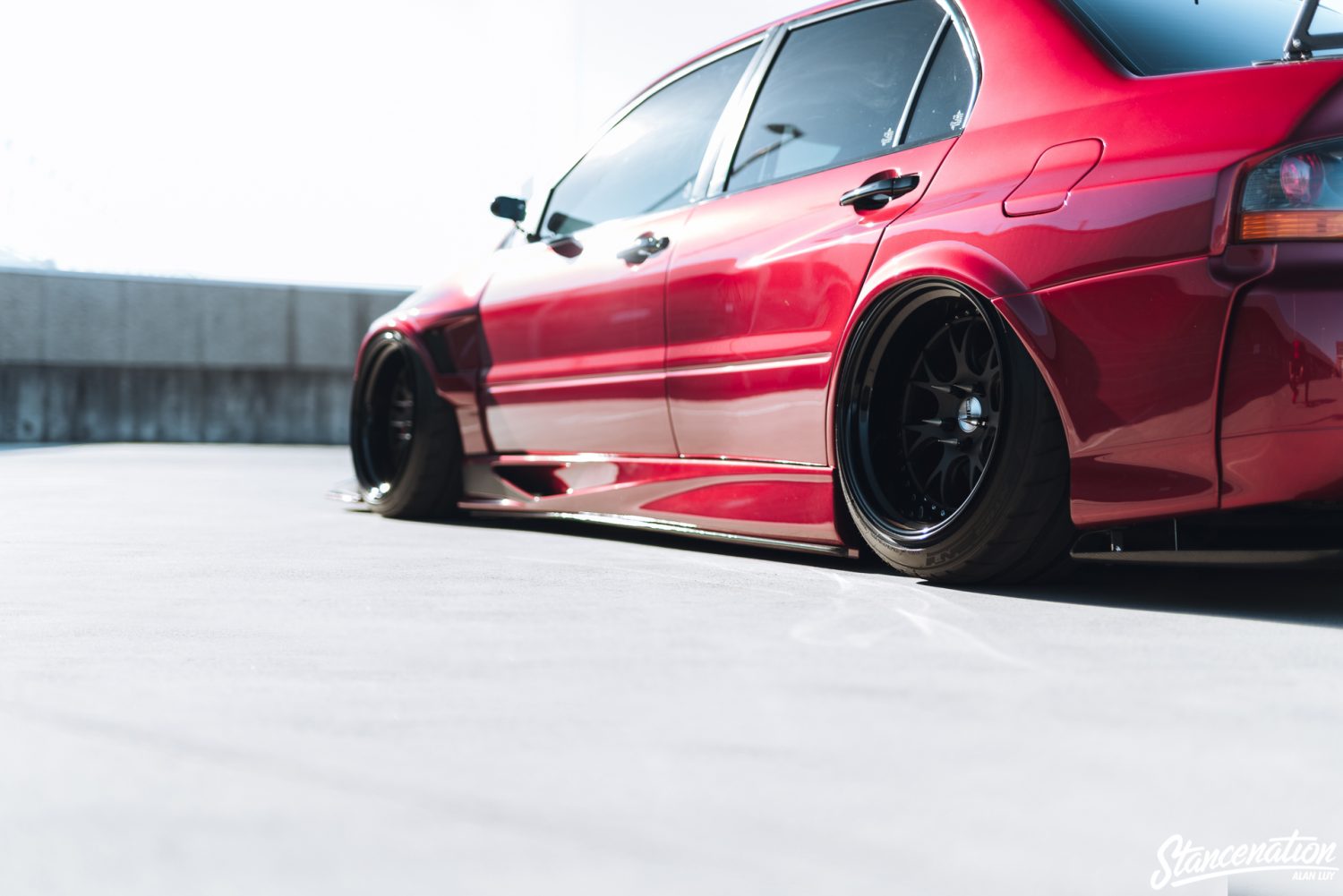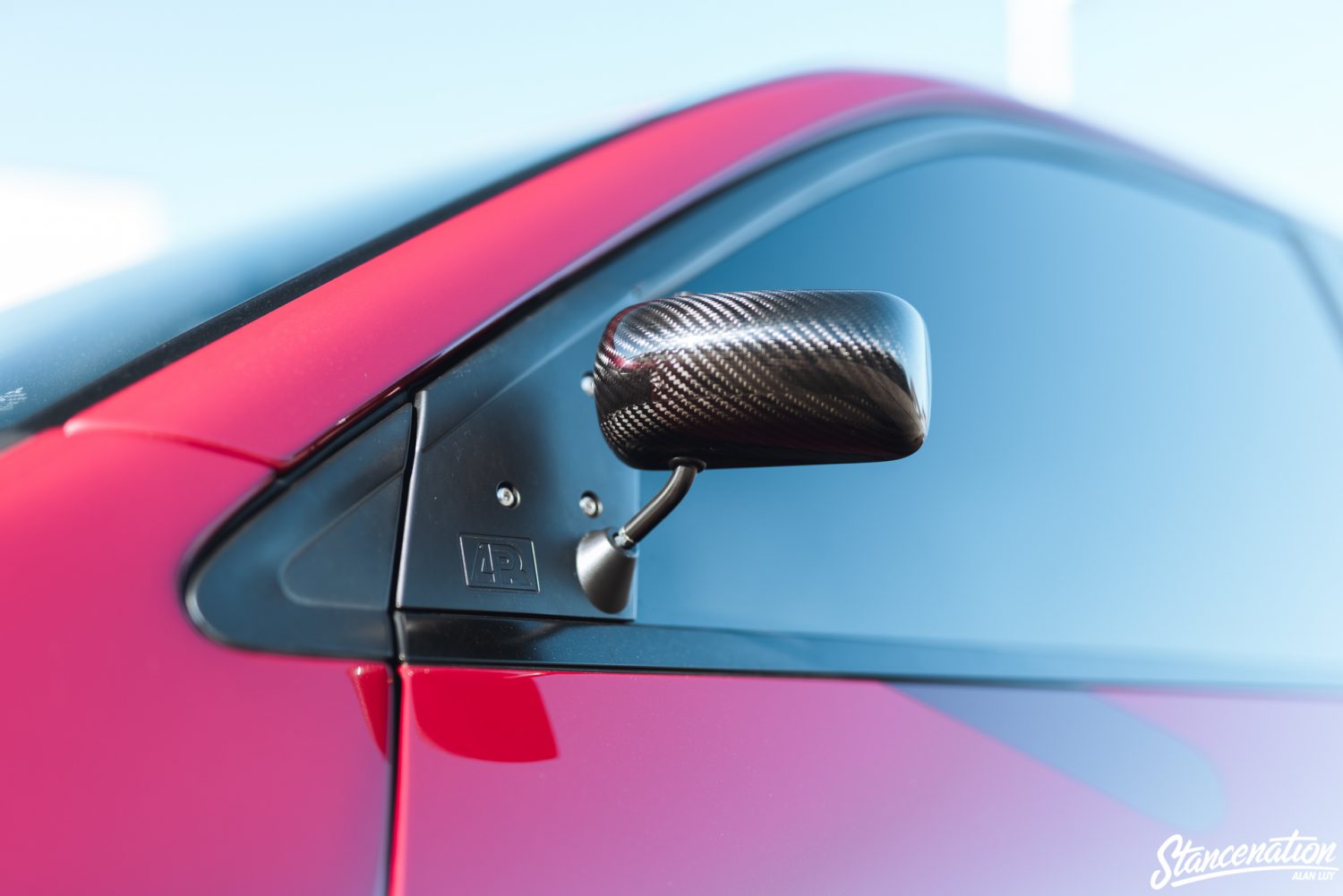 Something that always stands out to me on this type of build is the monster, square fitment wheels that usually make or break the entire thing. Jakes car is no exception. Those beautiful widebody fenders absolutely eat up this set of 18×12 SSR MS3 wheels. Wrapped in super sticky Nitto NT05's, we can be assured that they provide enough grip to keep this thing plated, even with a fair bit of stretch. One more detail to note here, Jake is pretty proud of his choice of lug nuts, crediting himself (not Peter) with painstakingly finding the right color. Good work Jake! Your effort doesn't go unnoticed.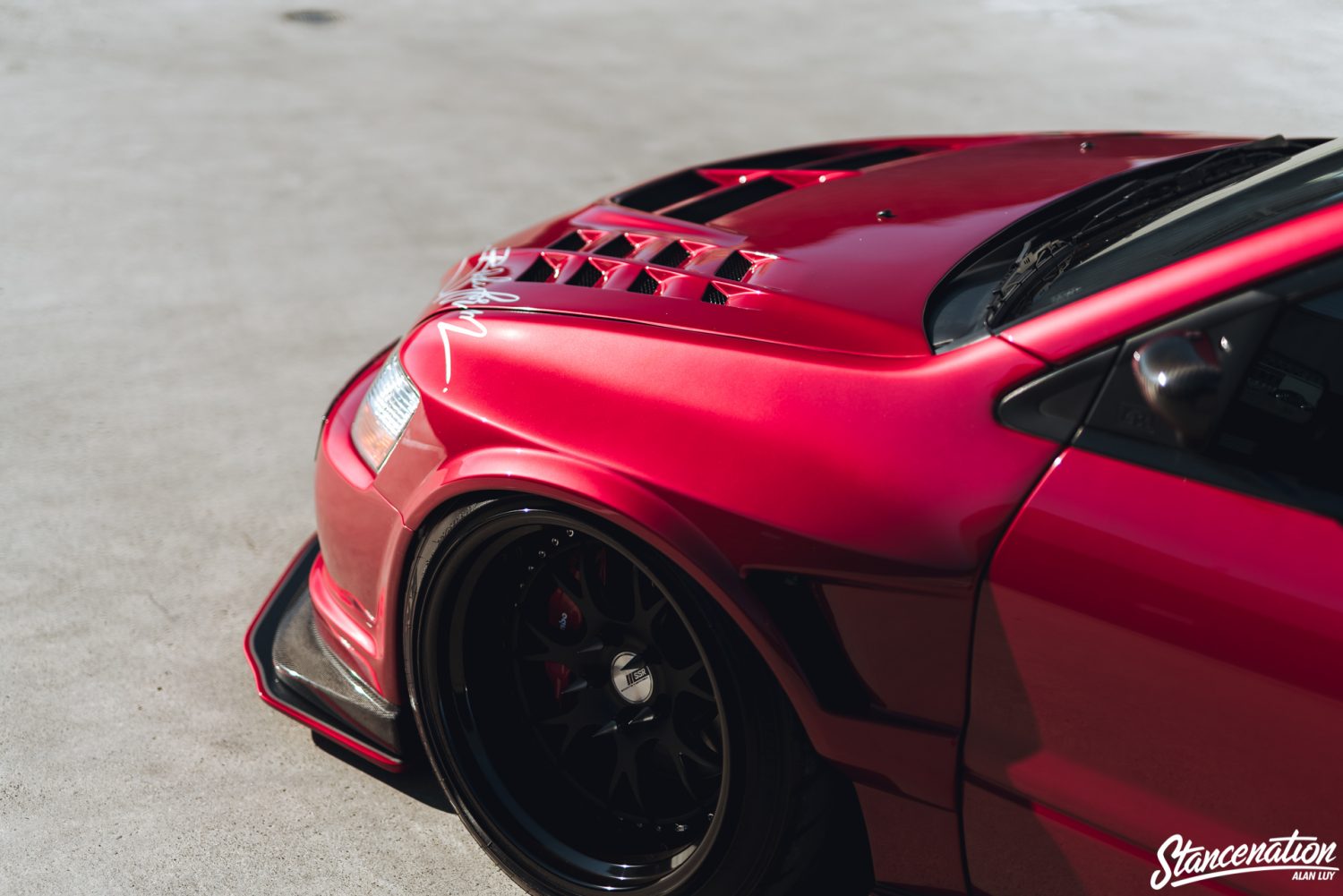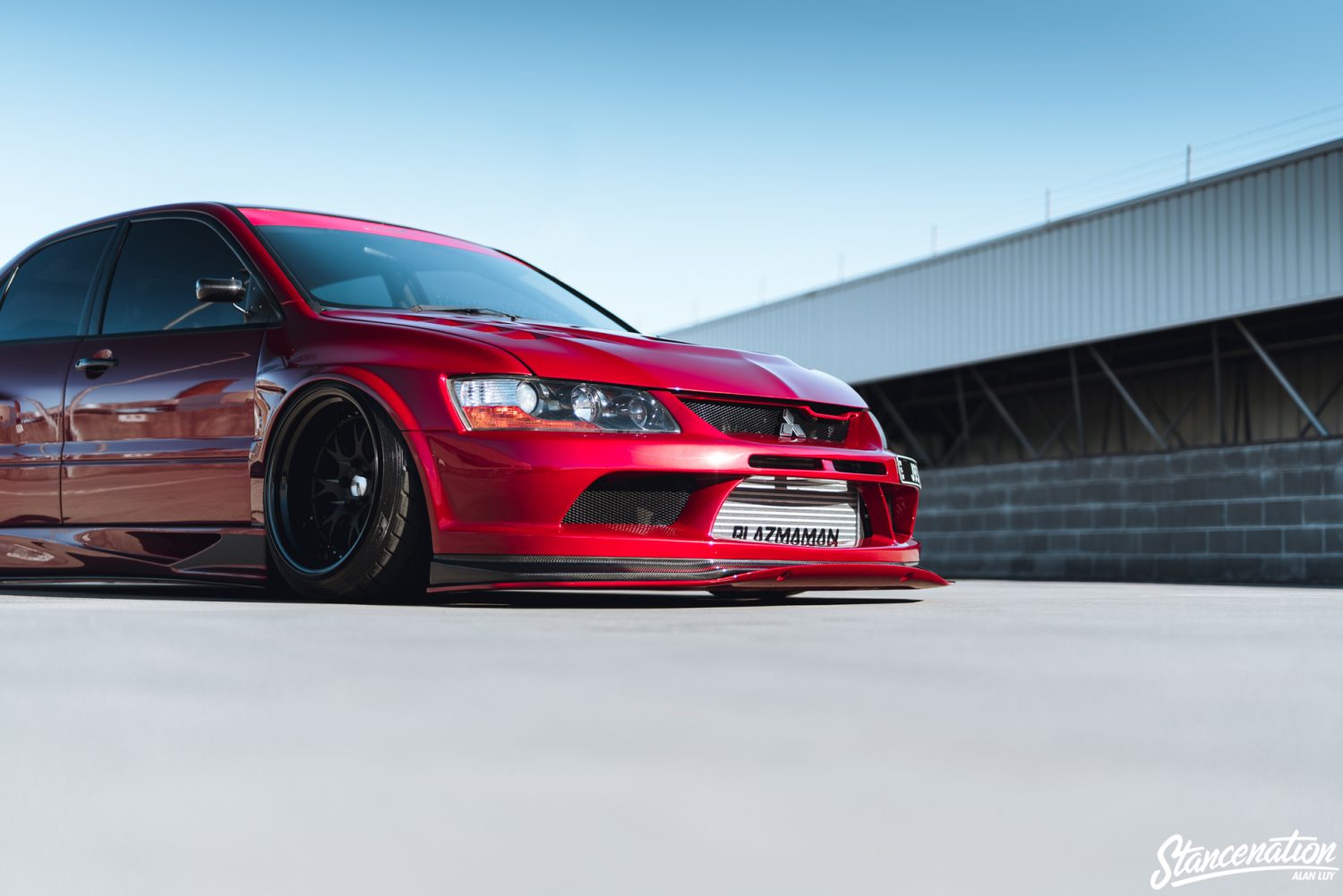 Interior is pretty mild, up front at least. With the addition of a Bride A.I.R. fixed back bucket for the driver being the main point of attraction. The boot however, is where the bulk of interior modification takes place. It's business out back here, with all of the air ride components cleanly displayed in the trunk. The system is controlled by an Air Lift 3H system, with dual compressors and copper hardlines catching your eyes right away. They opted to wrap it all in black alcantara, with black trim panels, to keep it clean and classy. Initially, they had planned on this car having a static suspension setup. But, with the build running up to a tight deadline, they opted to go with air suspension. Tough to argue the case here, when you see how well this car sits in these photos.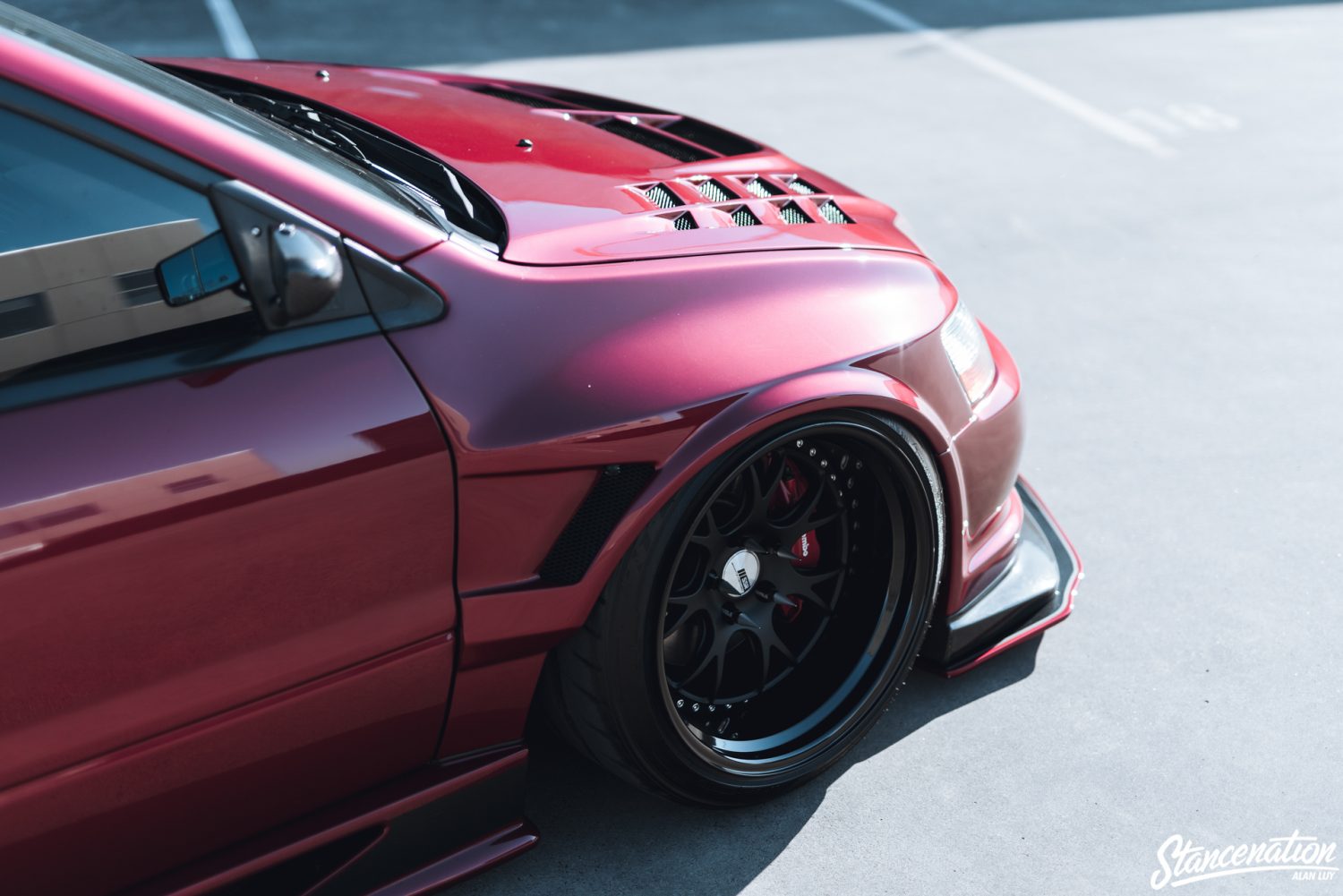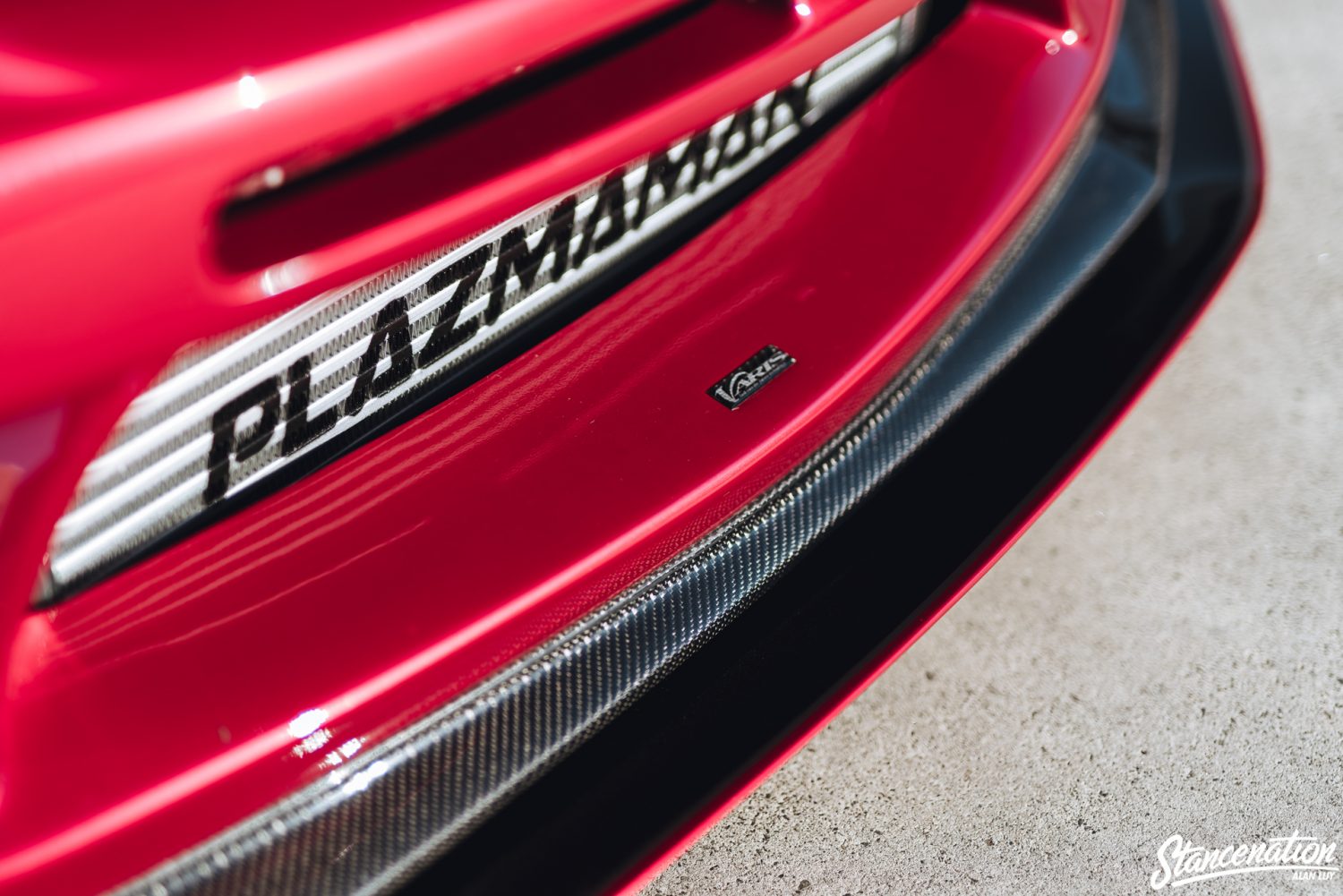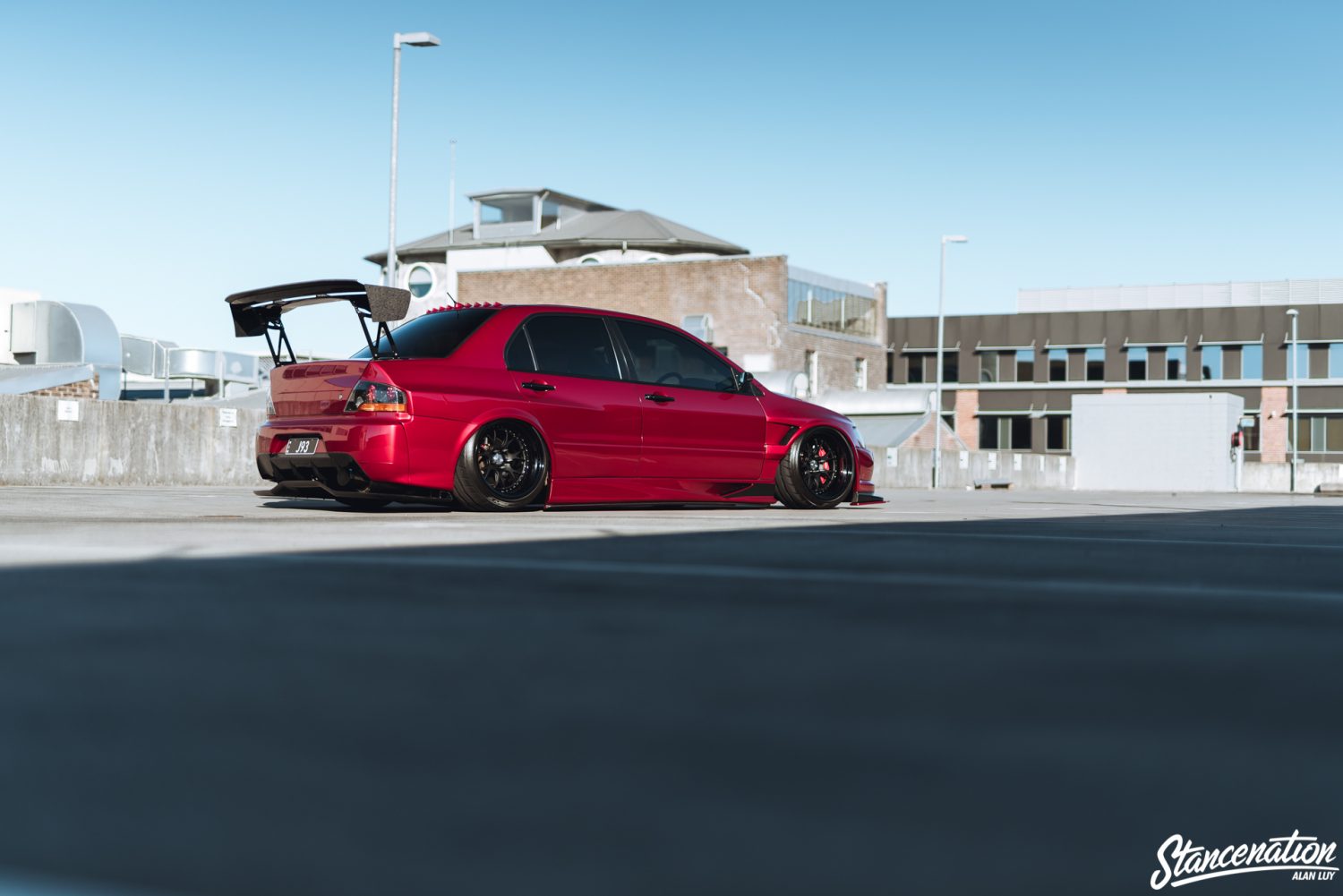 Even though some may dismiss it's capability right out of the gate, due to the air ride and aggressive fitment, rest assured this Evo is no slouch in the engine department. Tuned on E85, this camtech cammed, apr studded, ftp green turbo beast puts down plenty of power. Even so, when asked about his future plans for the car, more power is the main focus. Funny how plenty is never quite good enough when it comes to horsepower, or kilowatts to be more accurate in this case.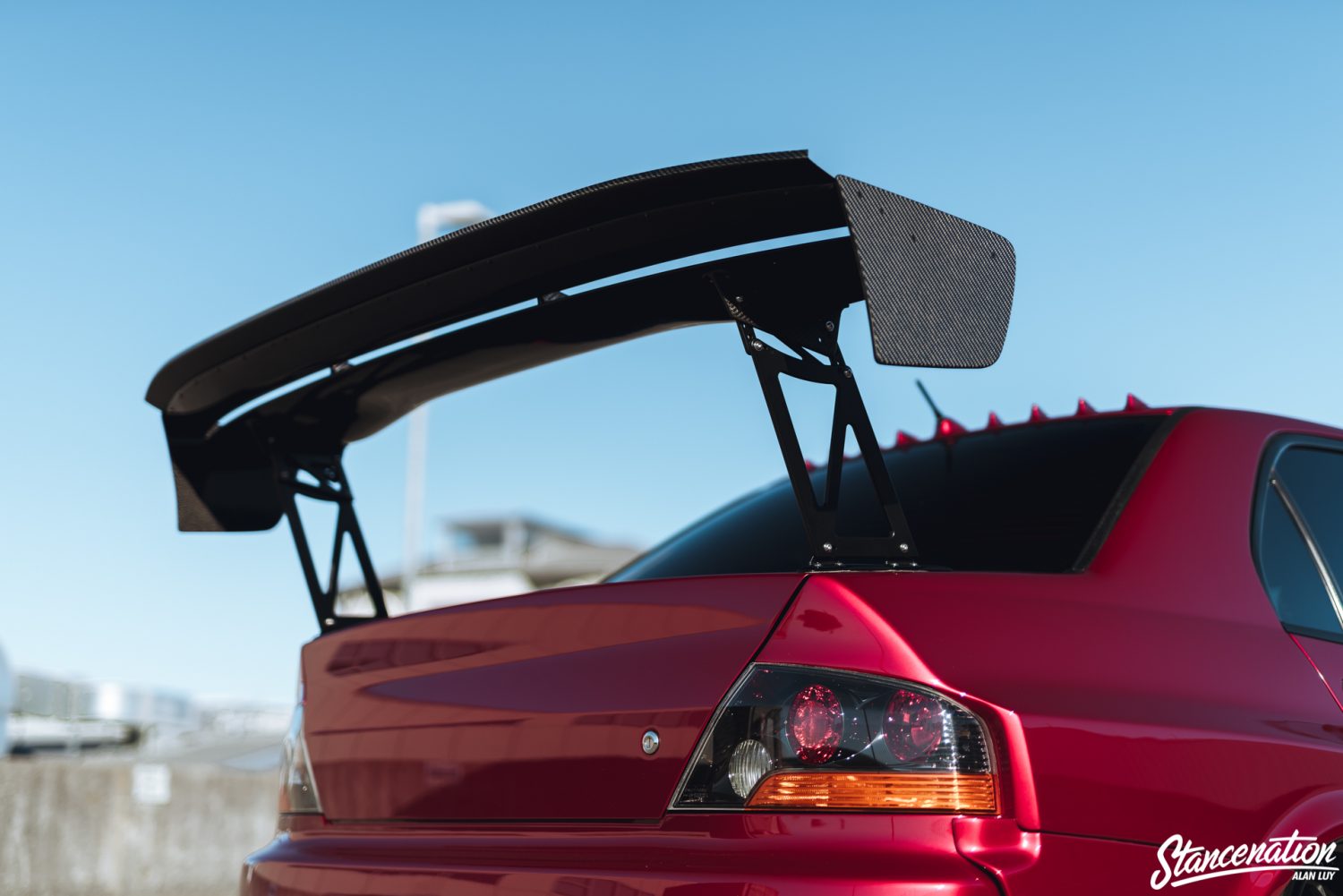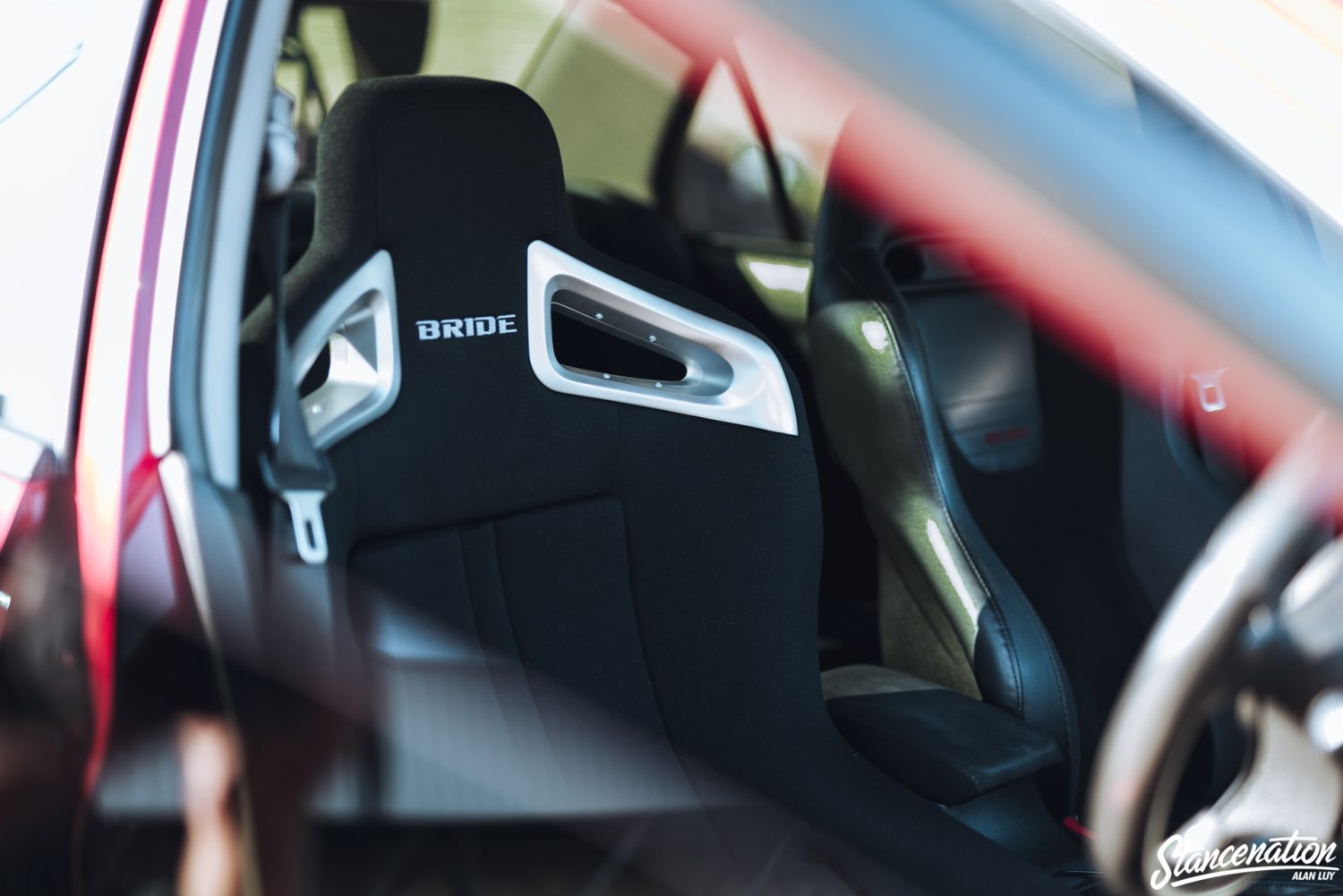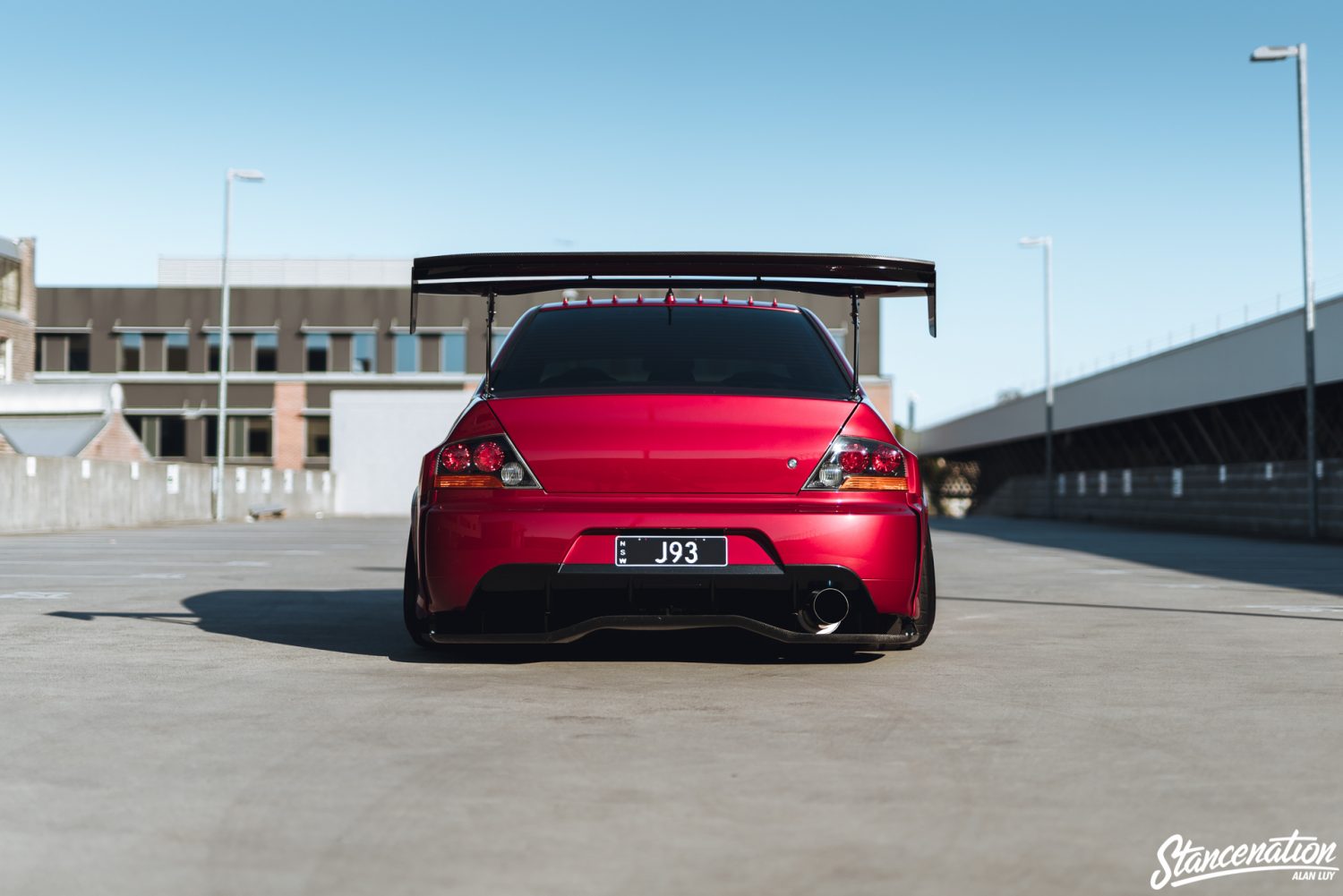 I'd like to hit on the details of the widebody just one more time. It's easy to gloss over the details that get lost in that beautiful Lexus infrared metallic paint. But, this is one of those vehicles where extra details pop up upon a second, or even a third look. To me, this is the mark of a true craftsman. To be able to make something look so subtle, that it doesn't break up the lines and jump right out at you. This car is exactly that. A great flow of parts, modified ever so slightly, to fit together and create a masterpiece.