It's a pretty rare occurrence to come across a completely original idea or concept these days, especially in the car scene. Our friend, Nukung, from Thailand managed to come up with something to surprise us all by utilizing his family's old out-of-commission taxi cab and turning it into a one-of-a-kind build.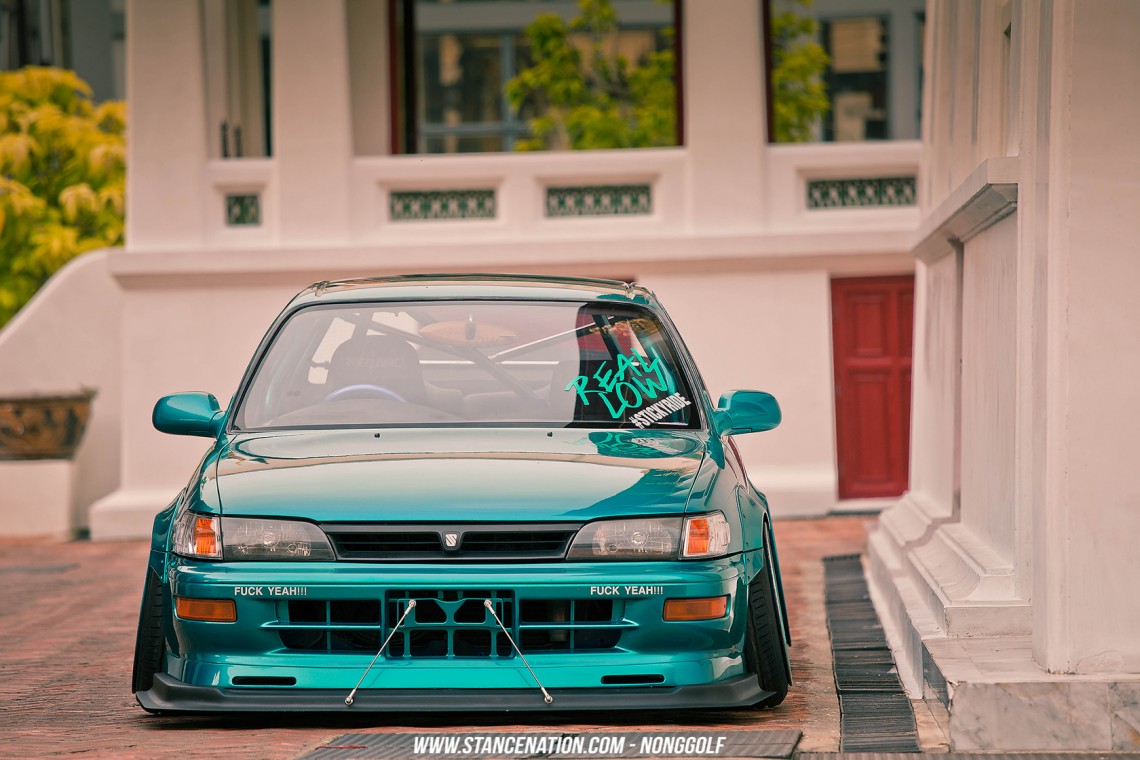 Two years ago, Nukung's AE101 was featured on our website, and it has seen a major transformation since then. Nukung likes to adapt the car to fit with current stance trends, so he has updated the exterior of the car greatly since we last saw it.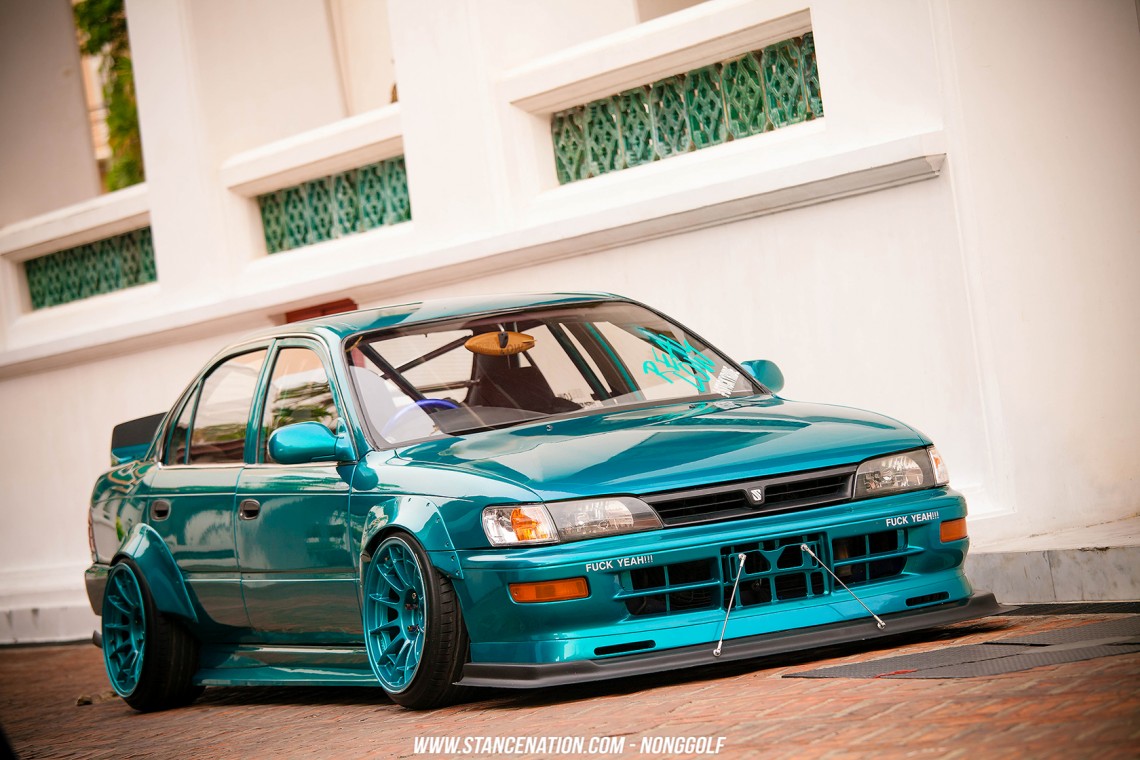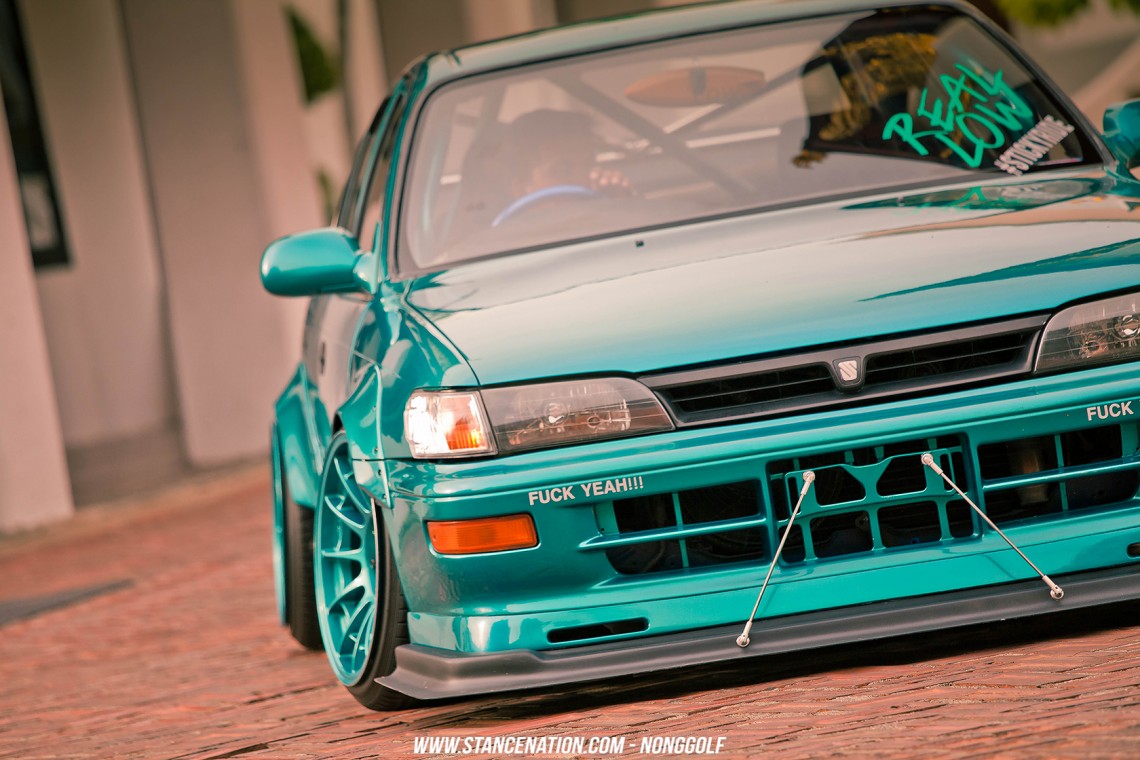 The first and most evident change to the car is the full color change. He swapped out the metallic brown for a teal tone with a pearl-blue topcoat. On top of a full color change, the body received a huge makeover. One of the first things you notice when you look at Nukung's Corolla is the trending Liberty Walk/Rocket Bunny inspired over-fenders. With the help of the guys at UDS Fiber Custom, Nukung was able to create a one-off set of flares that blended with the car's body lines to help them blend with the car's bold look.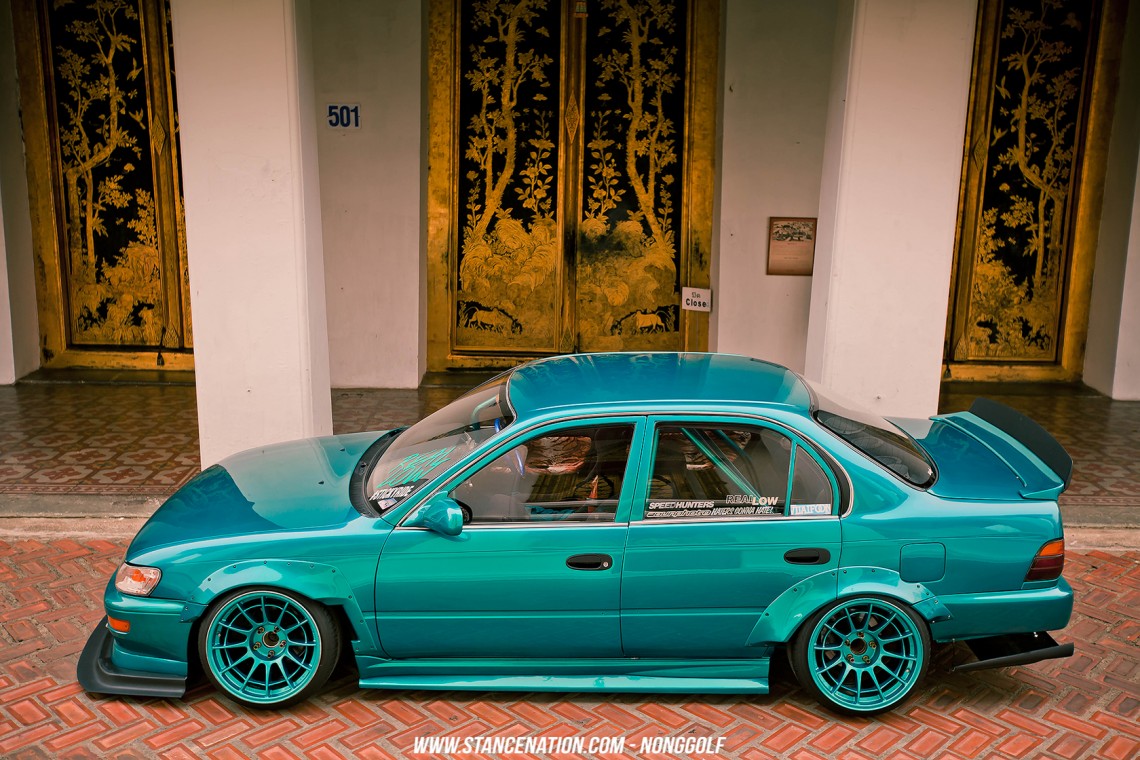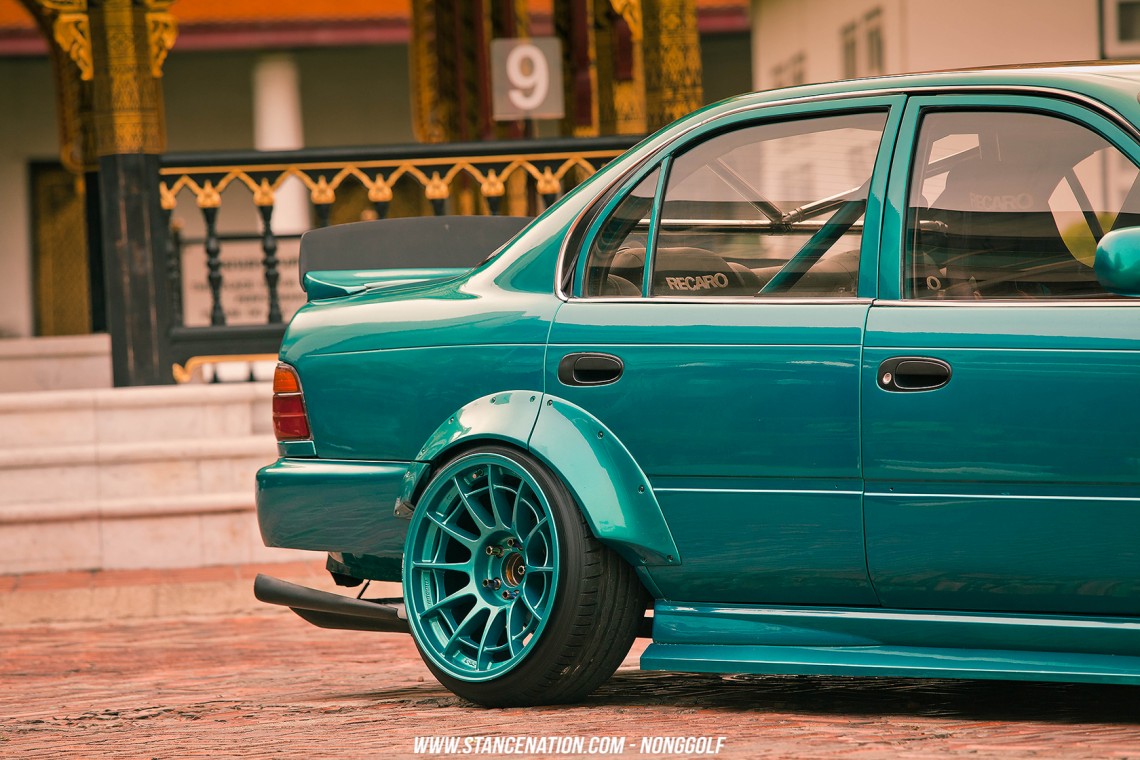 Nukung stood back from the car after the flares were complete and realized he needed something to balance out the look–some flare to front and rear of the car. So he hit the drawing board to work up a large front lip, wing, and diffuser. Once again with the help of his friends at UDS Fiber custom, Nukung was able to come up with a one-off front lip, ducktail wing, and rear diffuser. He tried several variations and combinations of each and finally landed on the combo you see pictured.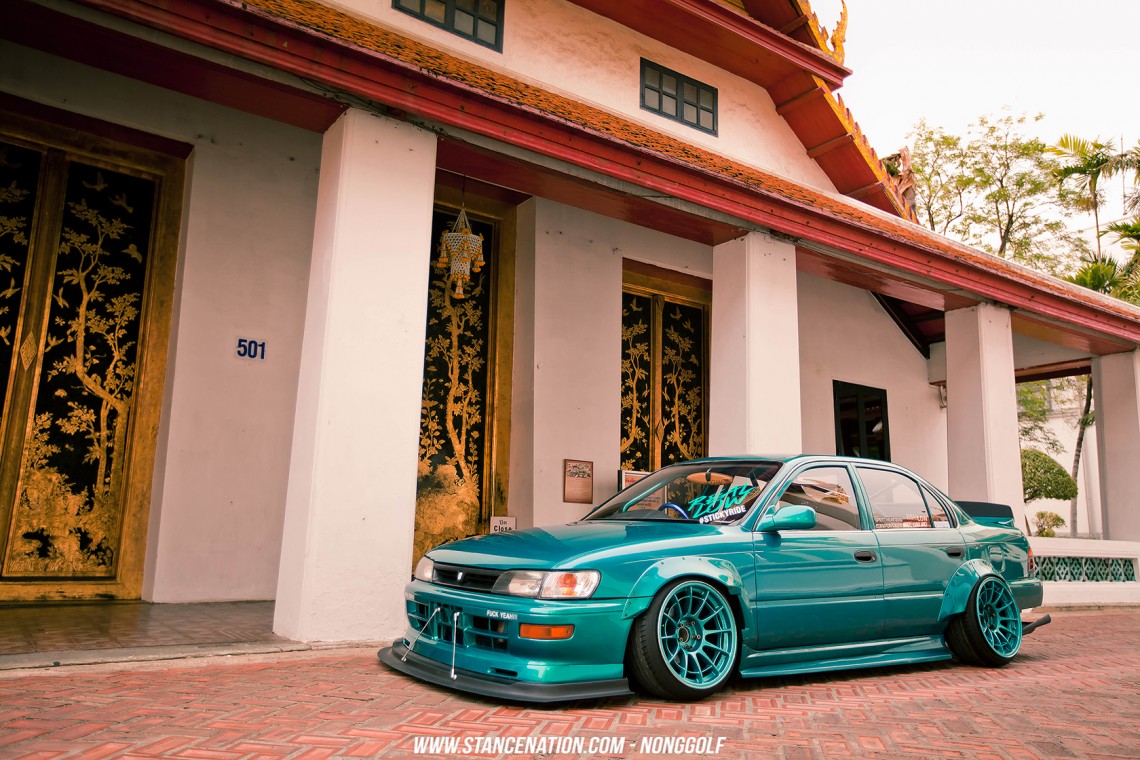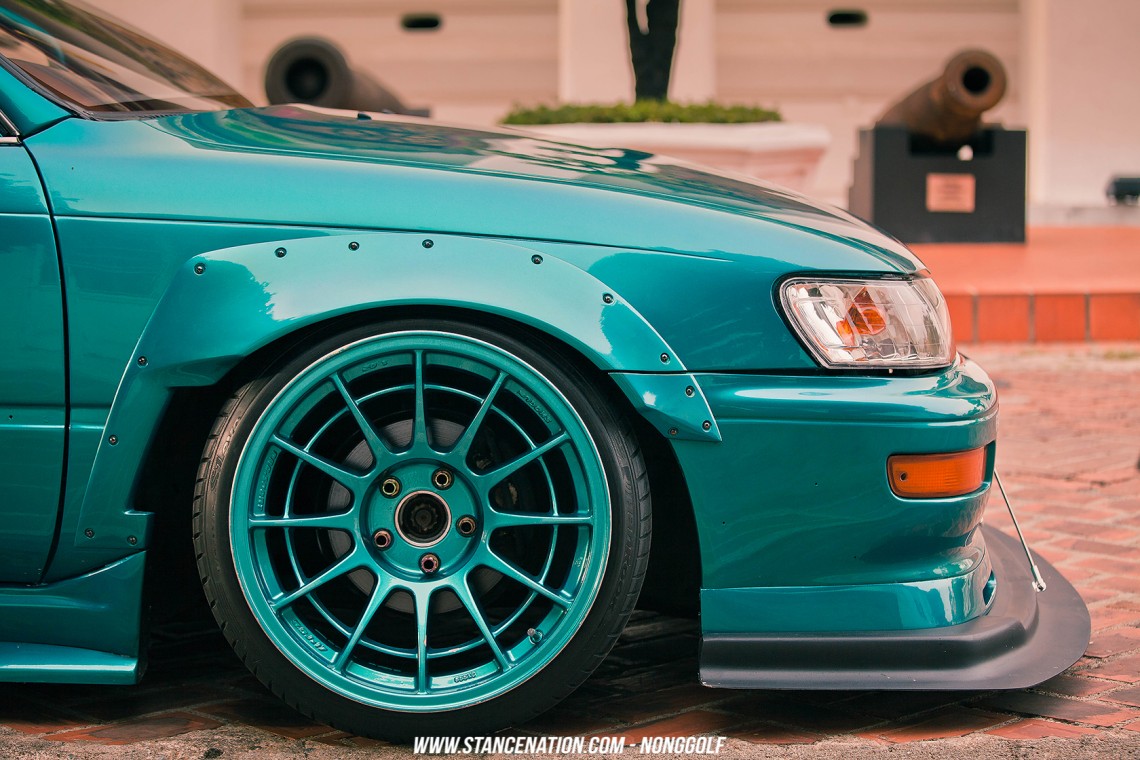 After the paint and custom bodywork, he set off to fit up one of his sets of wheels. He had a few options, but he liked he felt his Enkei wheels suited the new look best. He swapped out his Deerfield 5 wheels for his 17×9.5+15 (F&R) Enkei NT03s. Although this sizing is normally plenty aggressive for Corolla owners, with the addition of the fender flares, it wasn't enough for Nukung. Nukung added 40mm (F) and 65mm (R) spacers to push the wheels out even further to a wild 17×9.5 -25 (F) and 17×9.5 -50 (R) effective offset. After these, everything finally came together, just a few adjustments on fitment and height and he was done.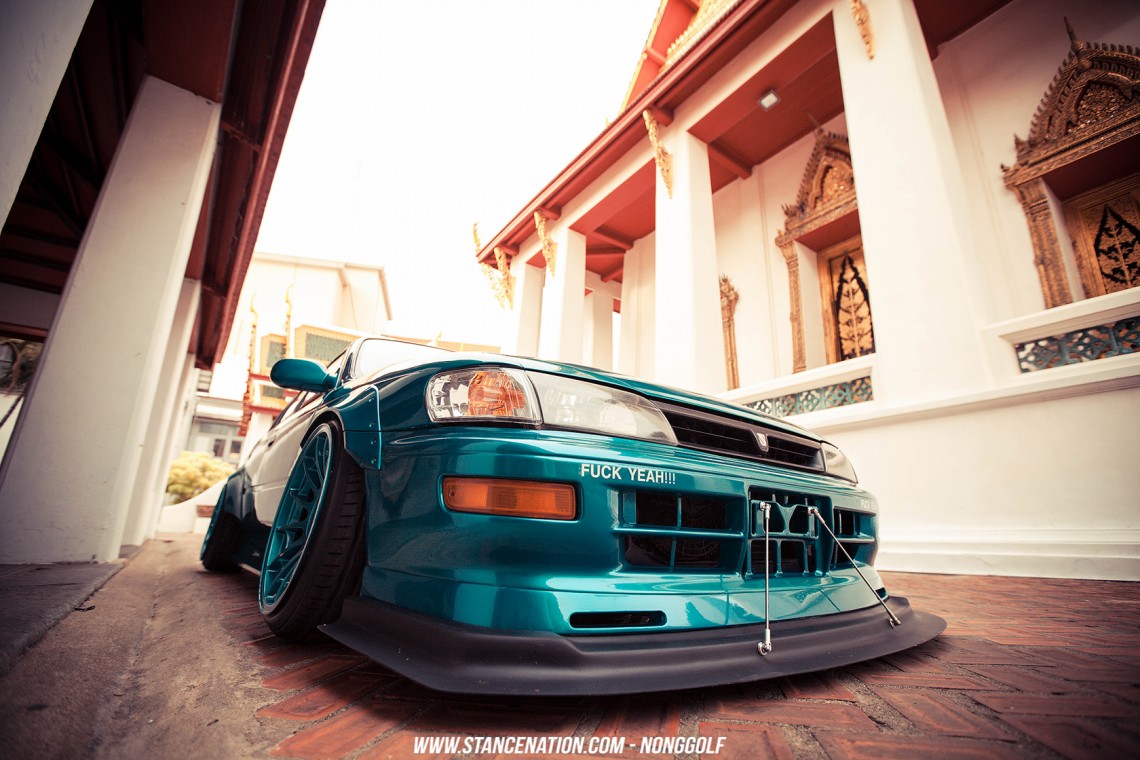 Nukung admits that he had a hard time coming up with new ideas and designs several times, but he was always able dig up inspiration. Keeping his fitment alive was always priority number one, but adapting to today's automotive trends proved difficult for the Corolla at times. Sometimes it came out worse, he says, but in the end he always made it work.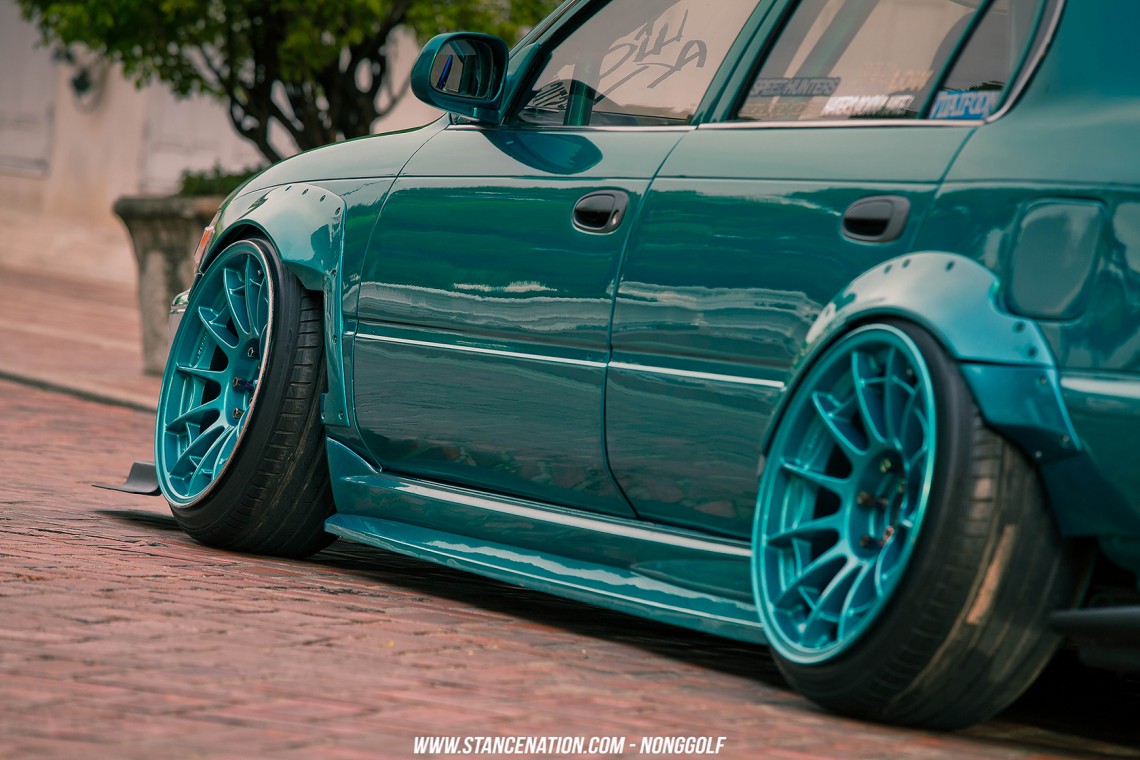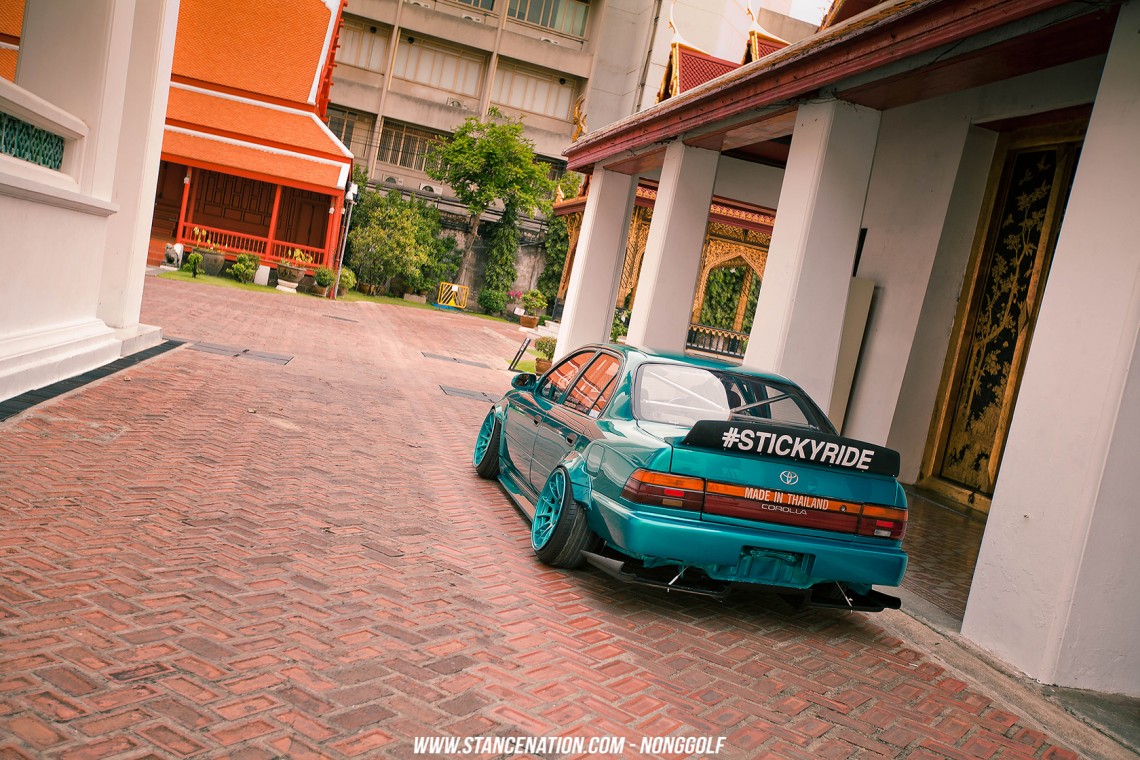 Nukung says that he will never be finished with this car. He plans to continue to alter the car to keep up with the current fashion or styling of the days to come, "when it's aging and growing old… until I ran out of energy (or money)". I can't imagine this car in better hands. We can't predict what is next for the ex-taxi Corolla, but we do know its future is bright.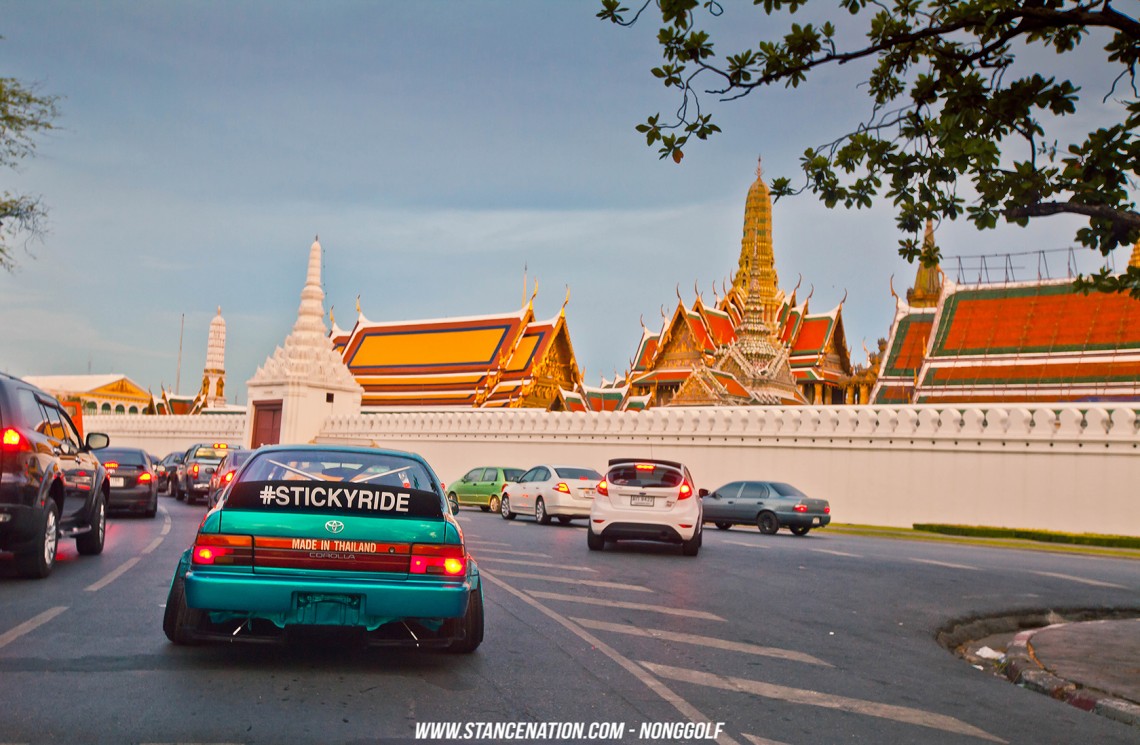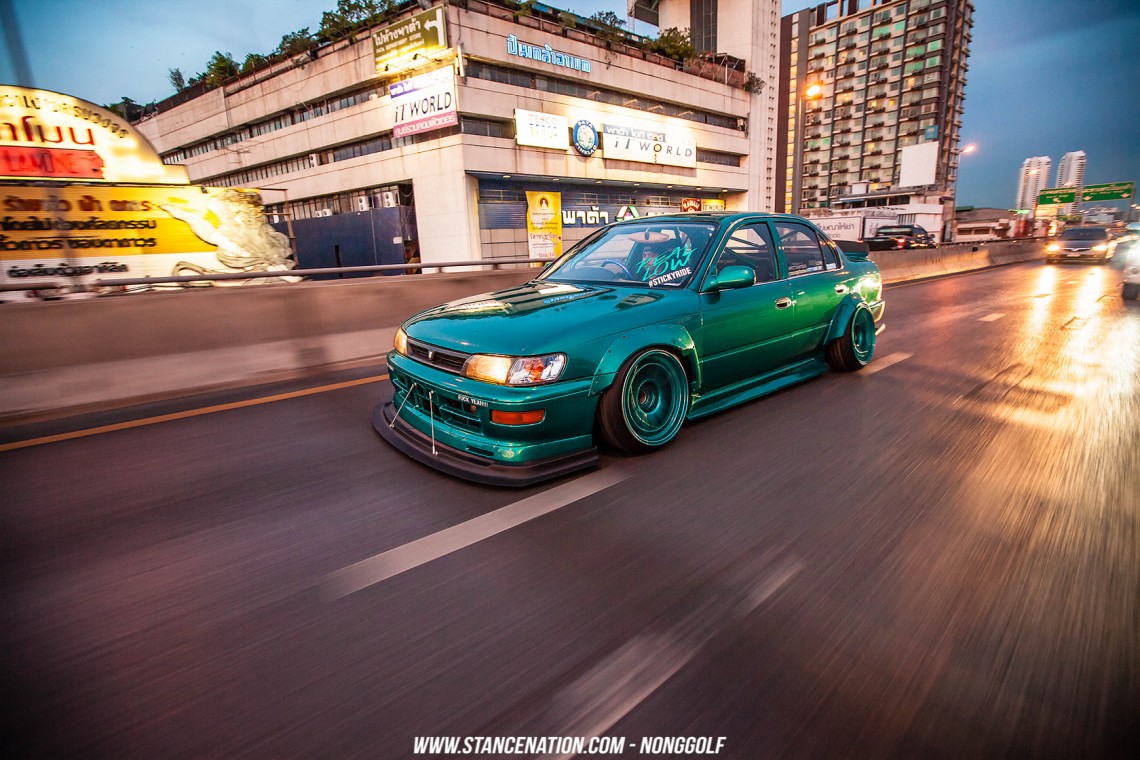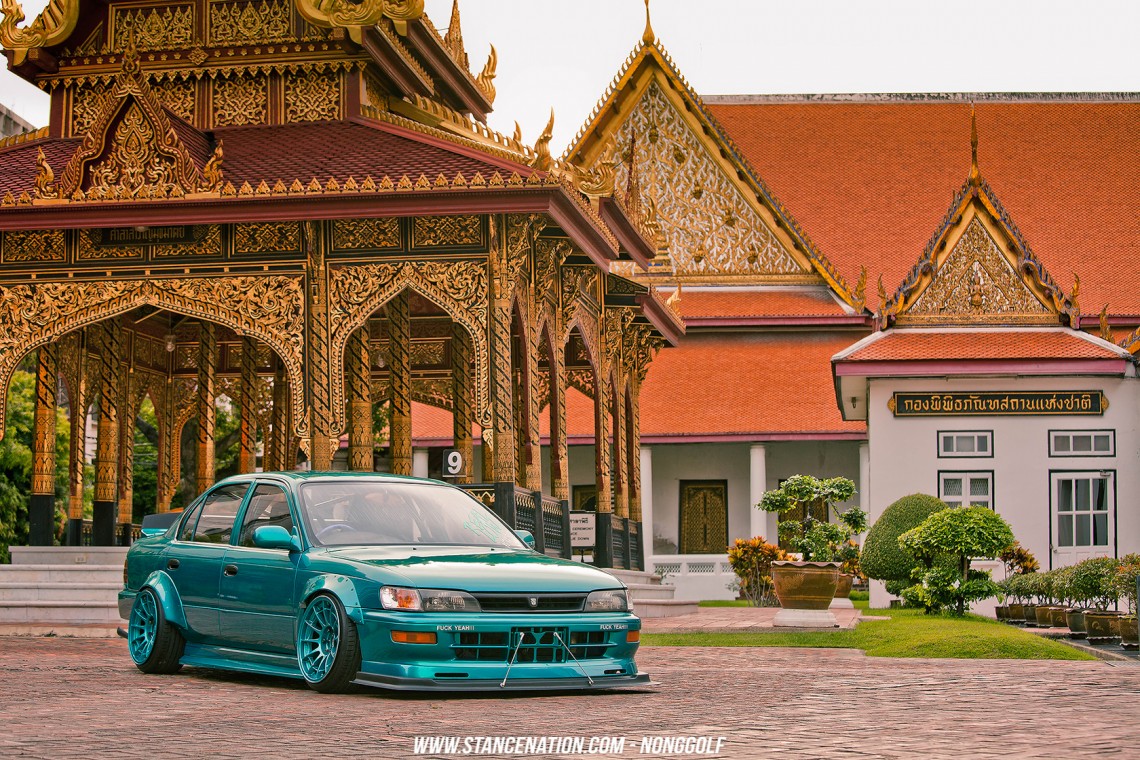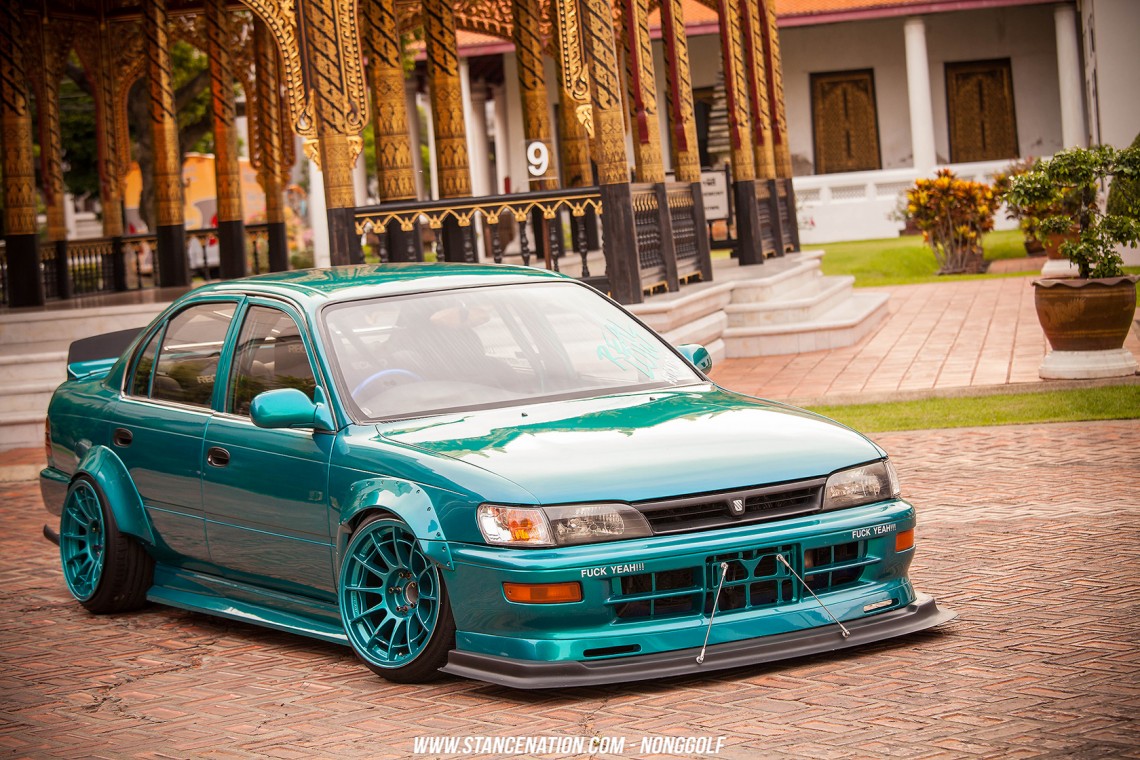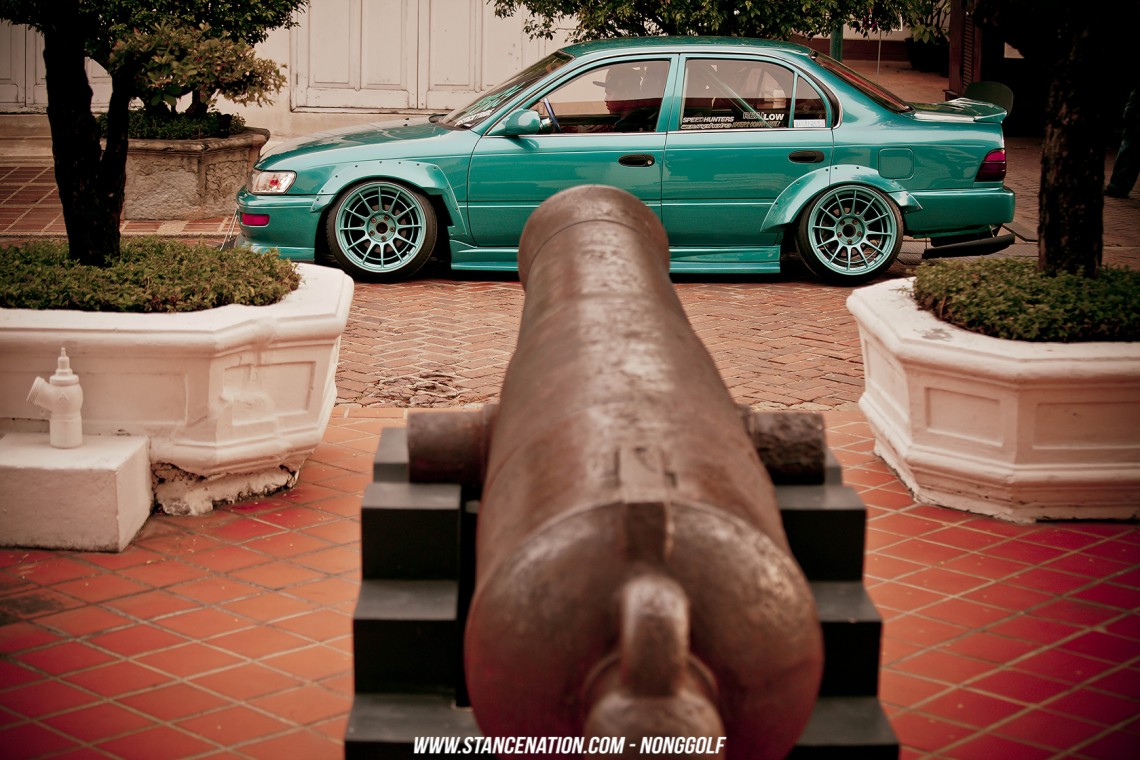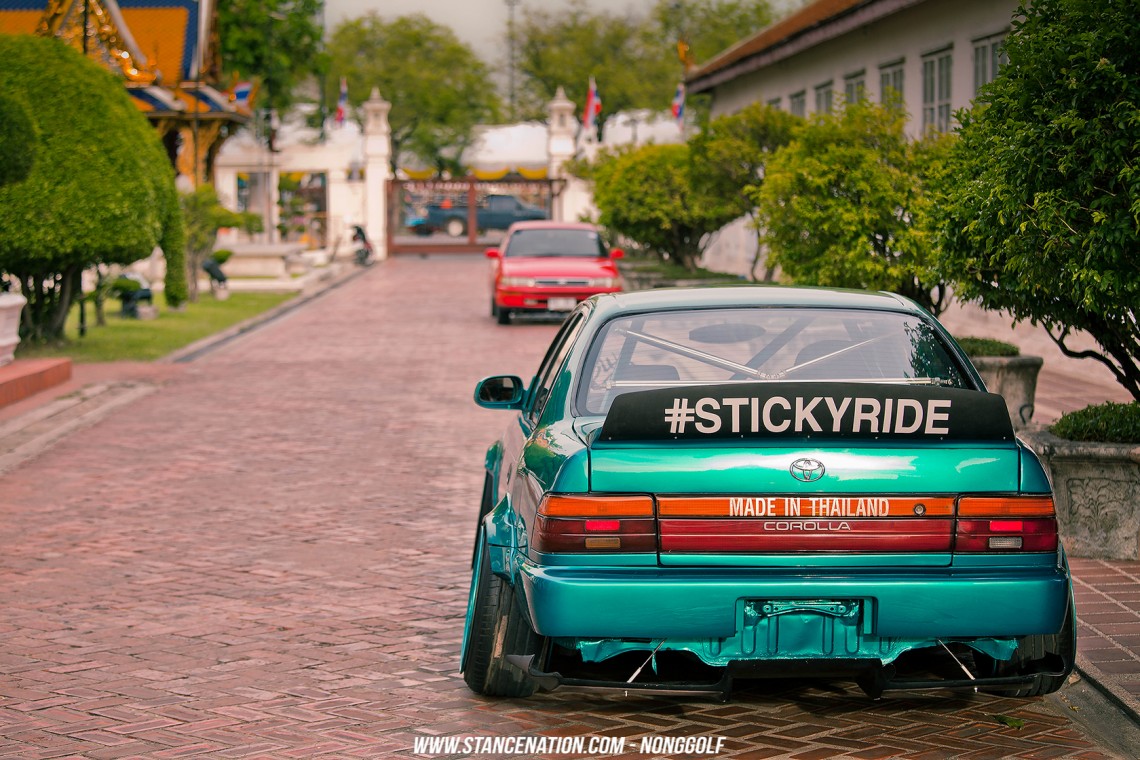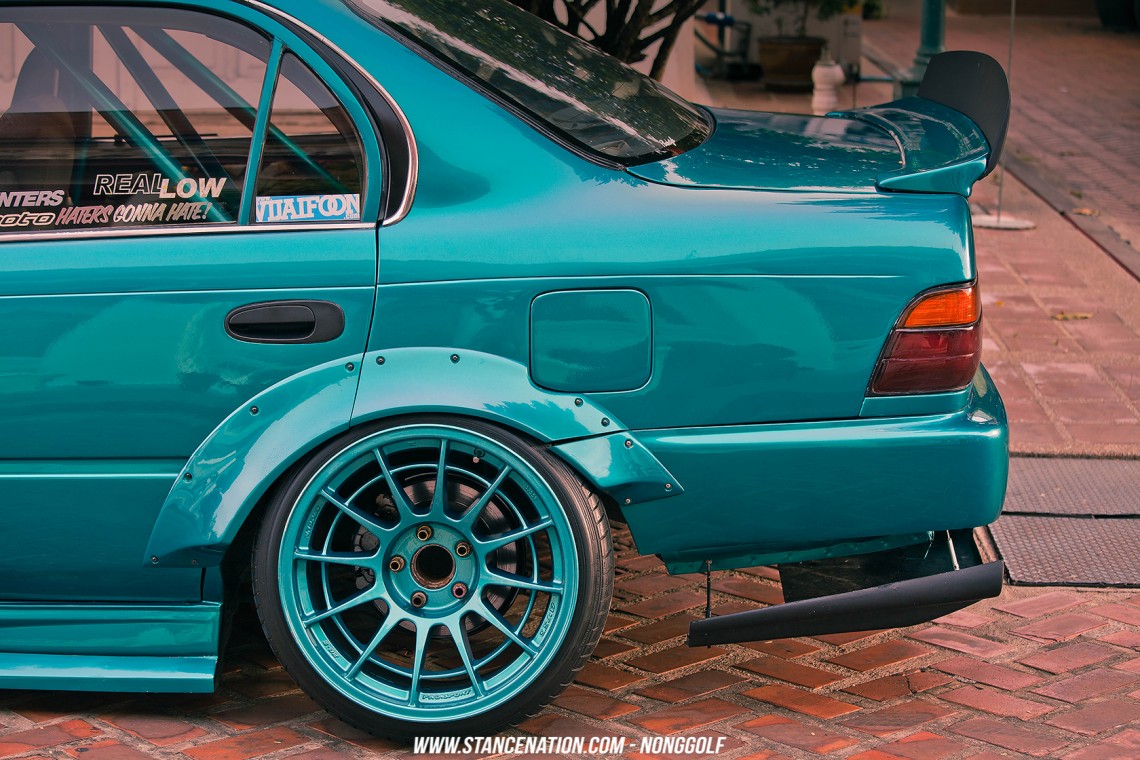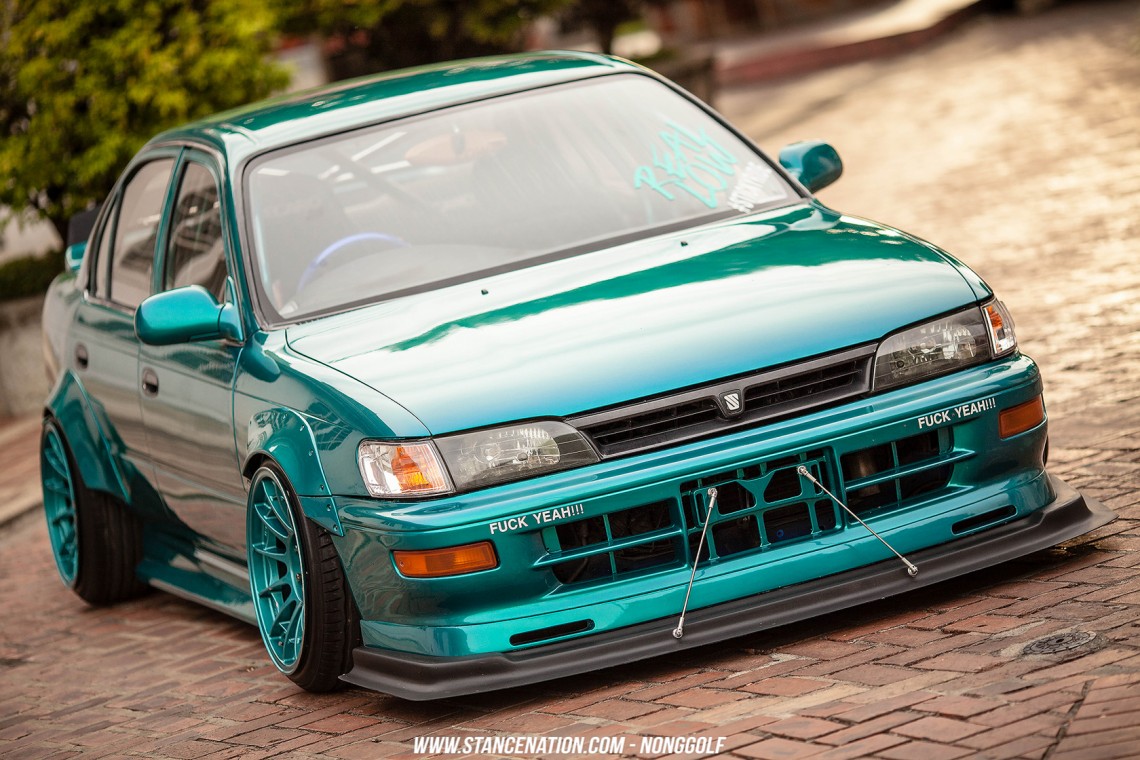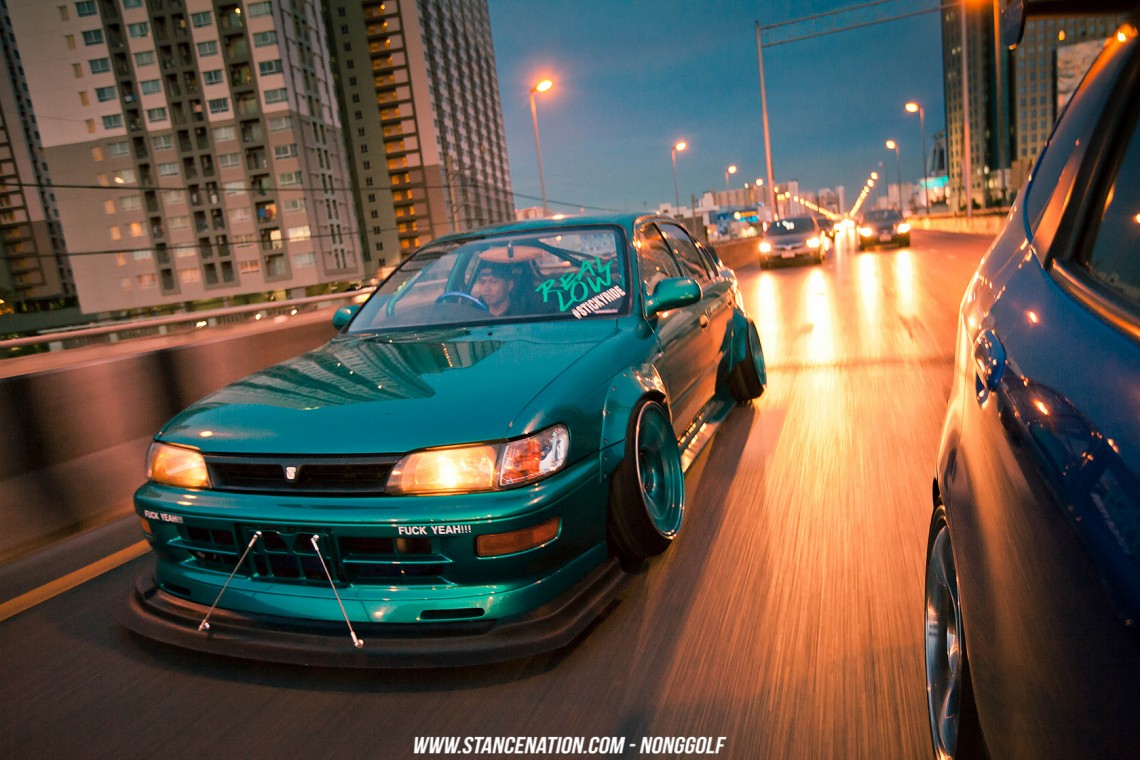 Engine:
20v 4age blacktop
M/T 5speed
TRD clutch kit
Custom muffler 2.5"
Suspension:
Dc2 hubs
Project mu Brake pads
Cusco shocks strut
Cusco GTSPEC Front Lower Engine Tie Brace
Toyota levin brake calipers
5 lugs swap
Adepter 5/114 2.5"
Adepter 5/114 1.5"
Nankang tire 205/45/17
Enkei NT03 17" 9.5" offset +15
Interior/electronics:
Bucket seat recaro spg
Sabelt belt 4 points
6 point roll bar
Tiger interior design
Miracle cross bar
D.I.Y steering wheel
Apexi rsm
Espec steering column
Exterior:
Green effect color
Spoiler design by UDS fiber custom
Diffuser design by UDS fiber custom
Body part design by UDS fiber custom
Fender-flares design by UDS fiber custom
Front lip design by UDS fiber custom