A young Sato Hirokazu sat in his high school looking at motorsports magazines with his friends. He flipped to a page where he saw the drift legend, Keiichi Tsuchiya, drifting a Toyota AE86 Sprinter Trueno. He knew at that moment, that he would one day have a "Hachi-Roku" to call his own. High School automotive-fantasies became reality when he bought his first AE86 20 years ago. Since then, he has owned 3 more, proving the timelessness of its design. His current AE86 has been a project of his over the last 14 years, and with that time, has come perfection.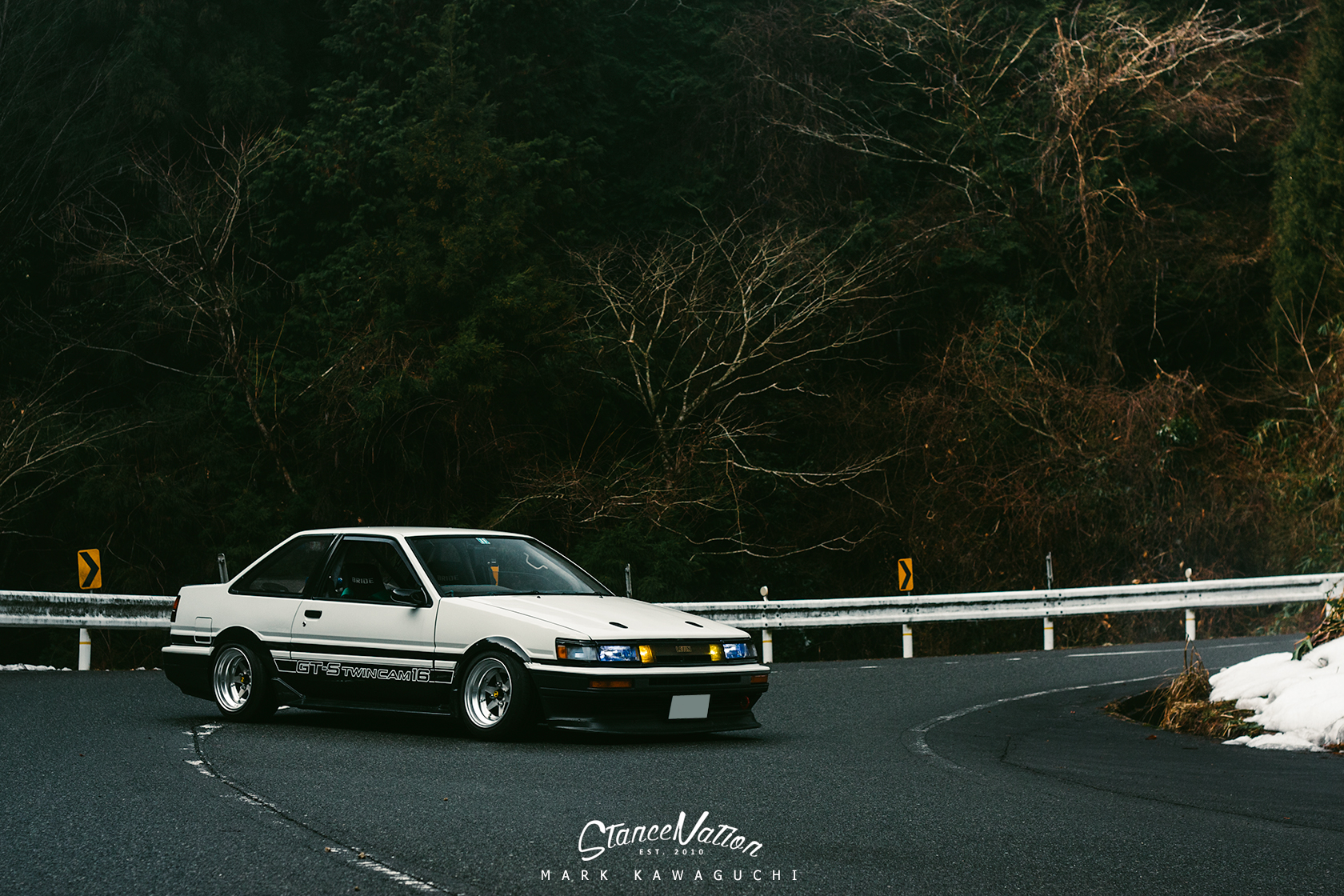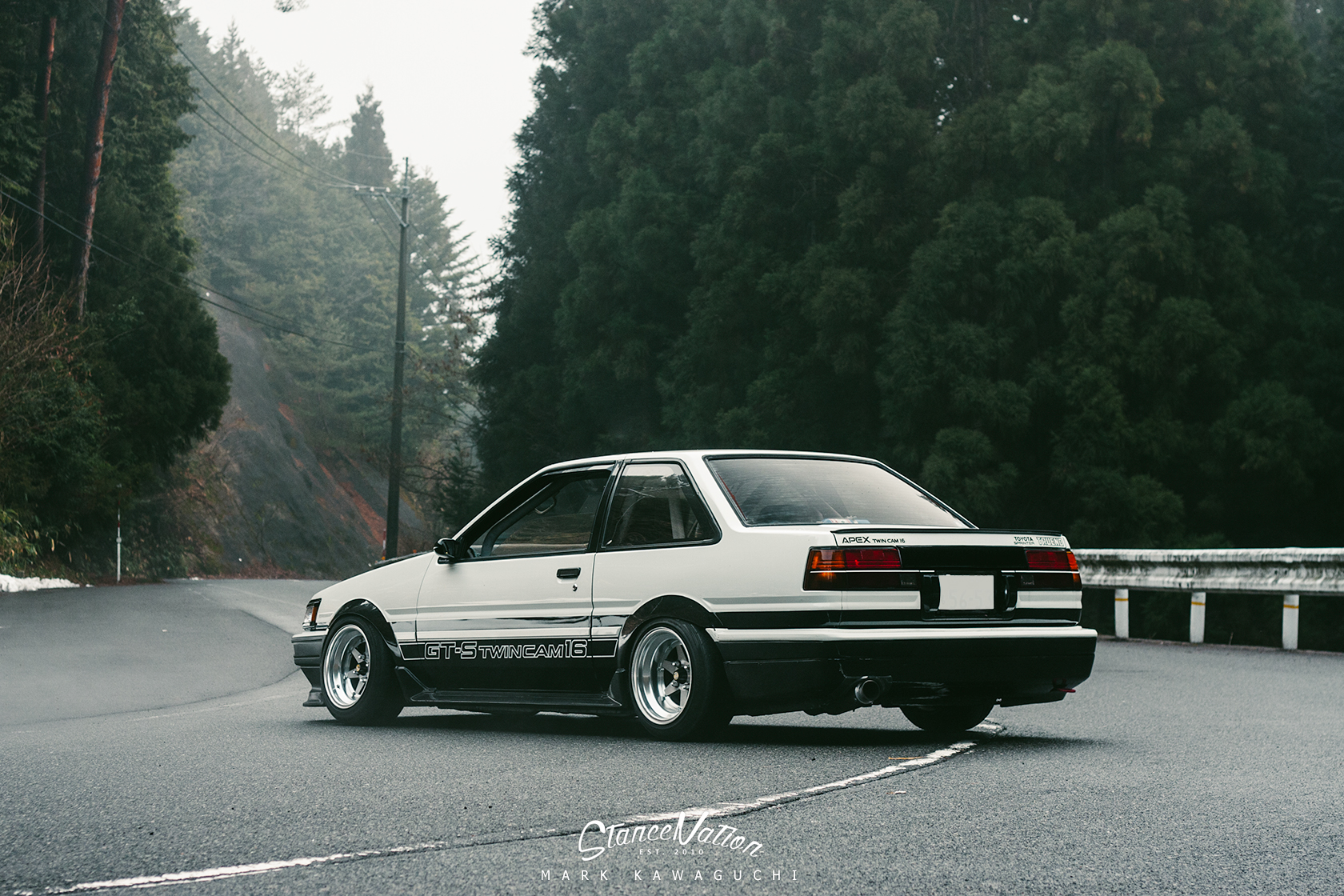 The AE86 has been a drift-favorite for decades because of its sprightly, lightweight, rear-wheel drive configuration. It gained popularity amongst the current drift generation through the Japanese anime, "Initial D". Since that anime's start, the underrated hachi-roku has gained a lot of respect.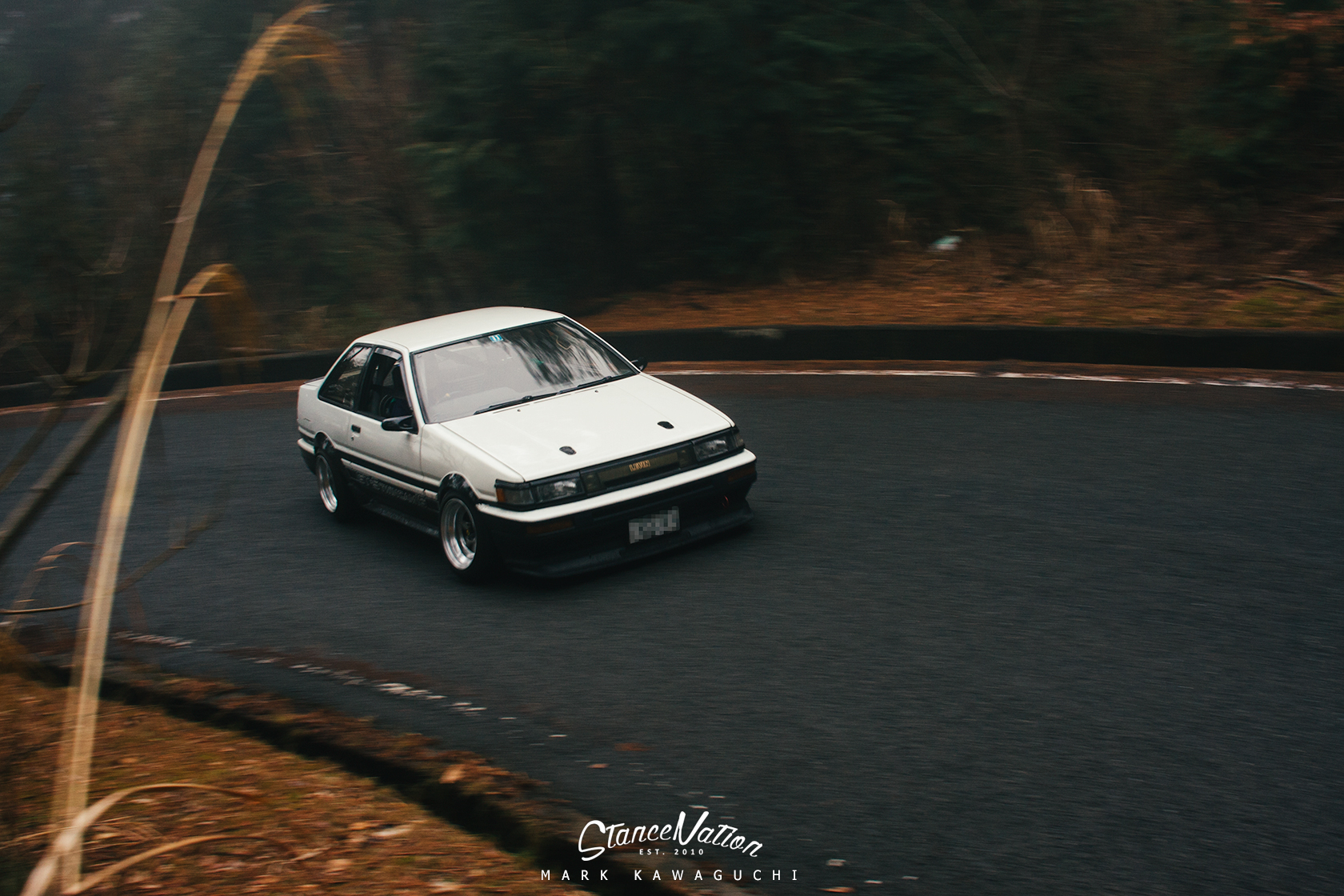 Sato-san's AE86 is a 1986 Toyota AE86 Sprinter Trueno with a Toyota Corolla Levin conversion. He eventually would like to swap the front-end to a Trueno and find some TRD Works overfenders. Personally, I can never decide which front end I like better either.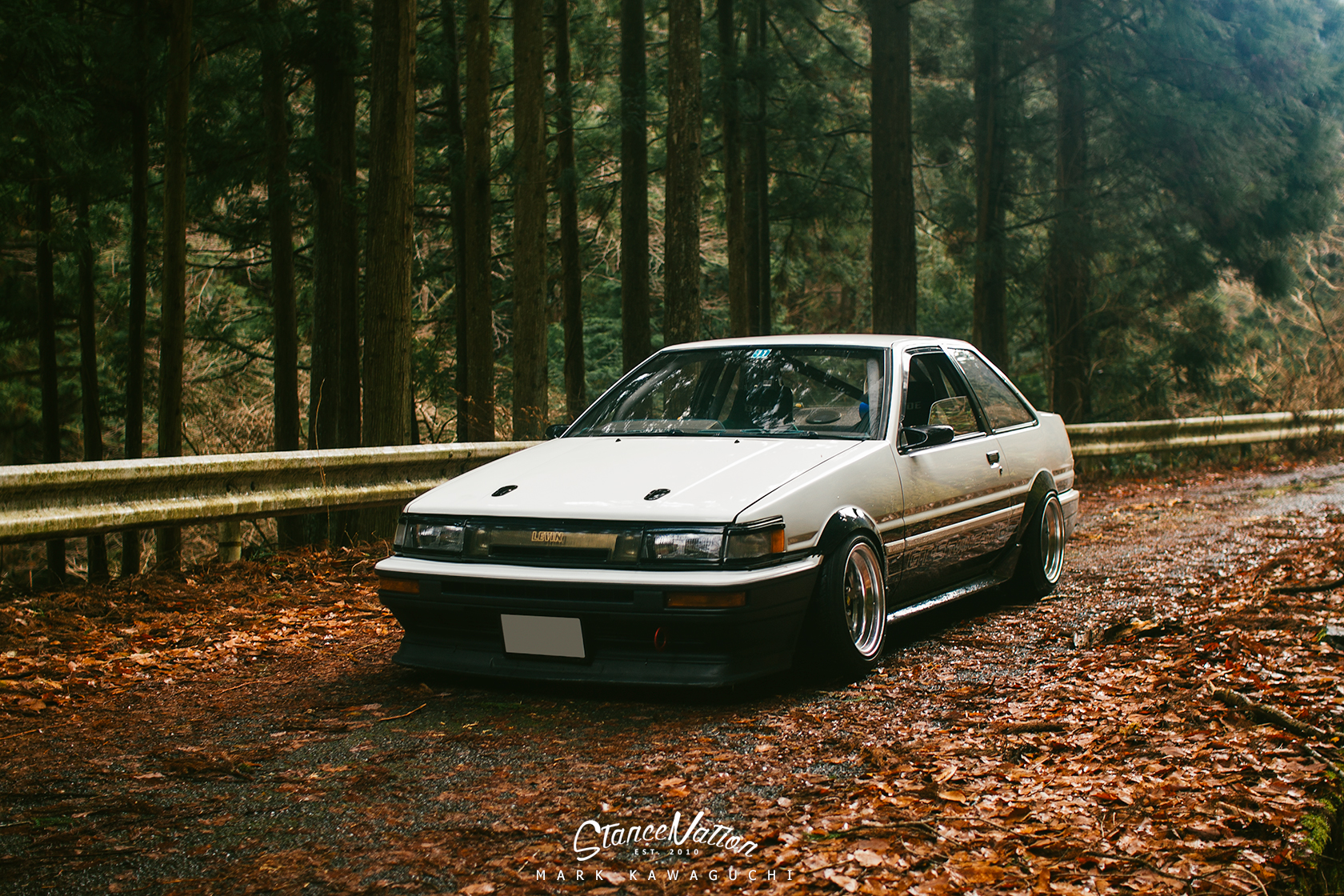 The AE86 has caught a reputation for being underpowered, but Sato-san disagrees. Hirokazu-san's favorite thing about the AE86 is the "combo of an agile, light, compact body, with a high powered engine that's capable of withstanding high rpm without breaking!"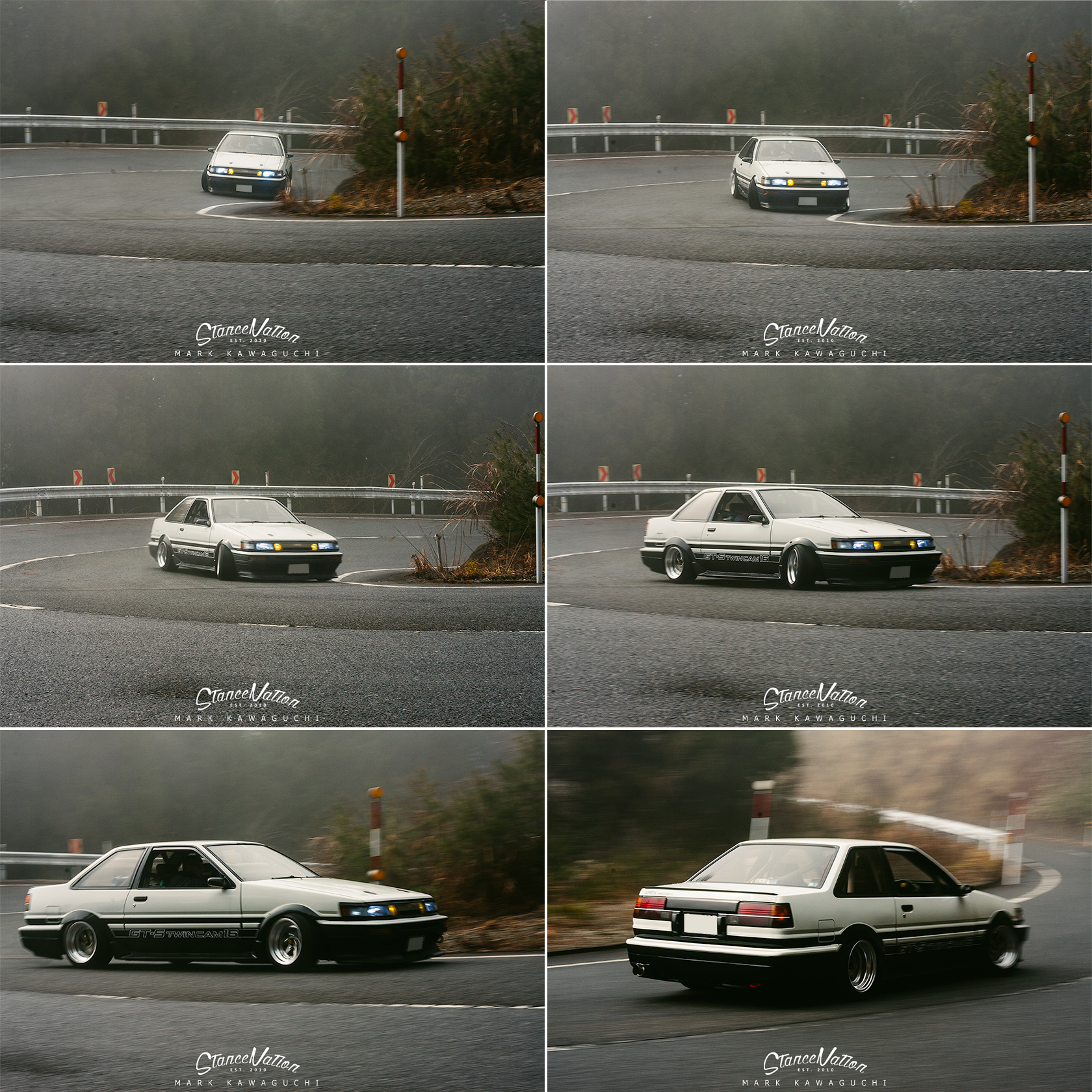 It's hard to disagree when you look at the photos… this car performs.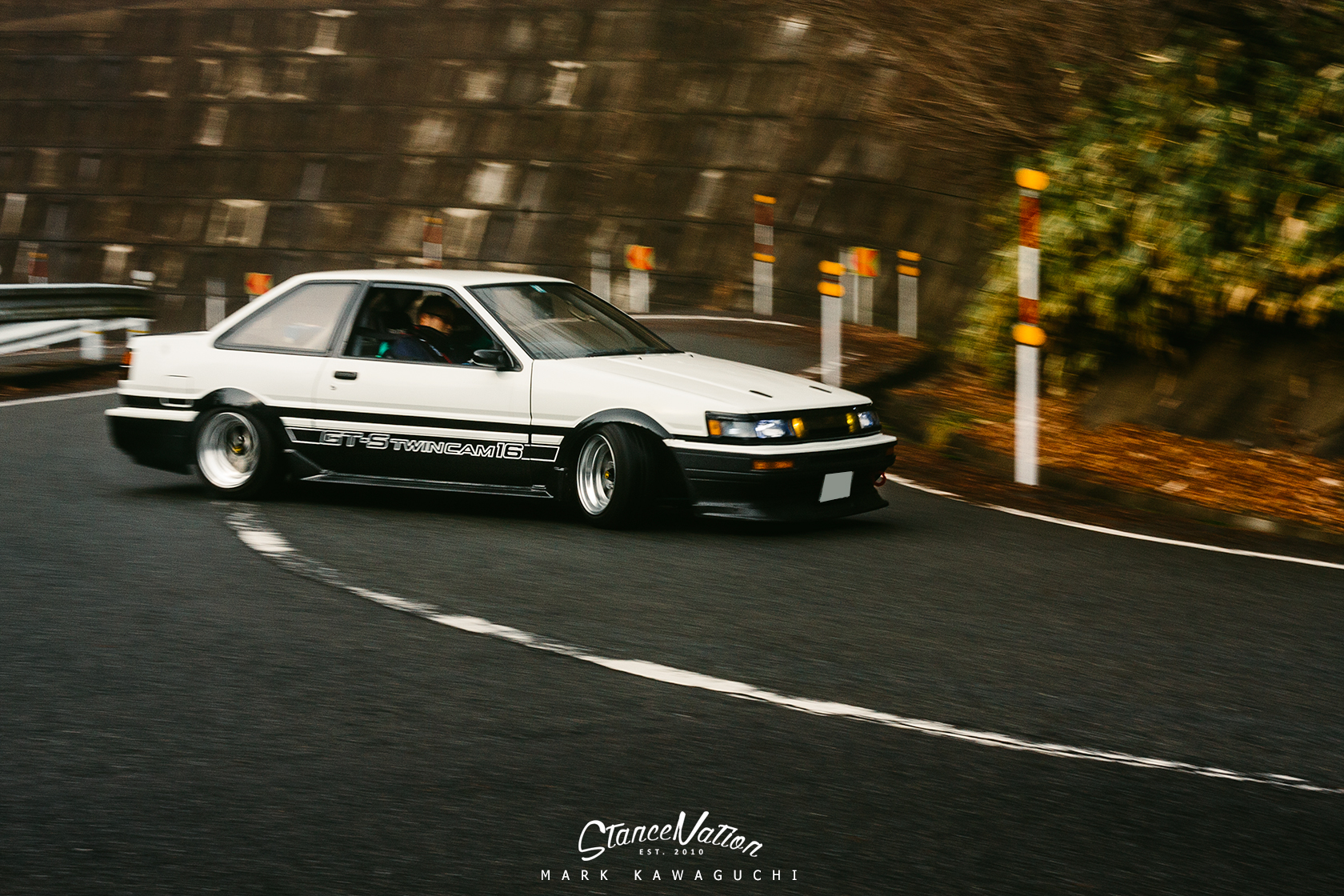 Unfortunately, the splendor of owning a classic drift car comes with the difficulty of obtaining genuine Toyota parts. A stickler for quality, this is the biggest challenge Sato-san has faced while building his car.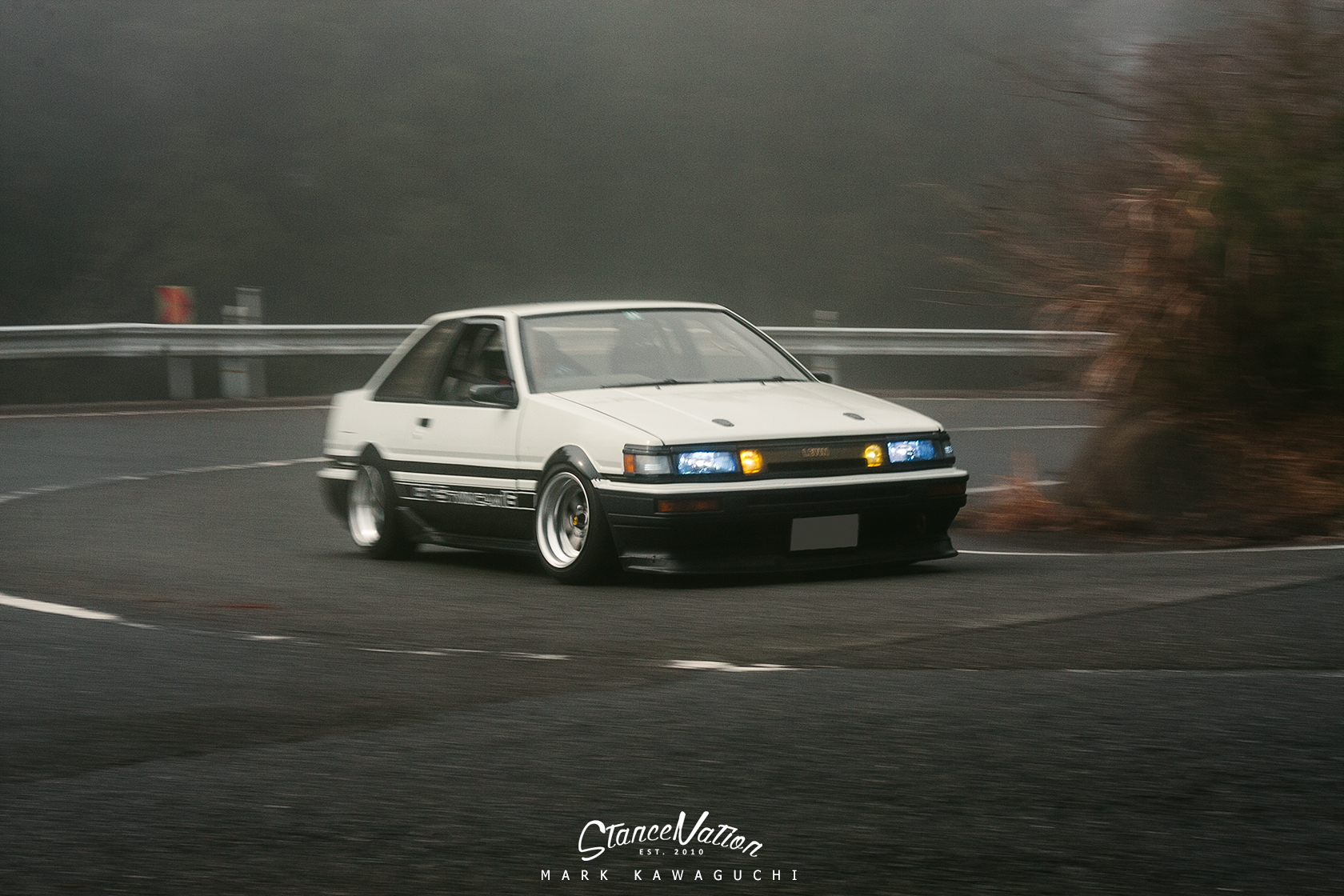 Sato-san's motor is a 4A-GE with a full overhaul, FUJITSUBO exhaust manifold, YOSHIMURA muffler, NAGAI DENSHI MDI, WAKO coil, NGK spark plugs, SARD fuel pump, APEXi s-AFC, Hot InaZuma, APEXi intake, KOYO radiator, FC3S oil cooler, and NISMO fuel regulator.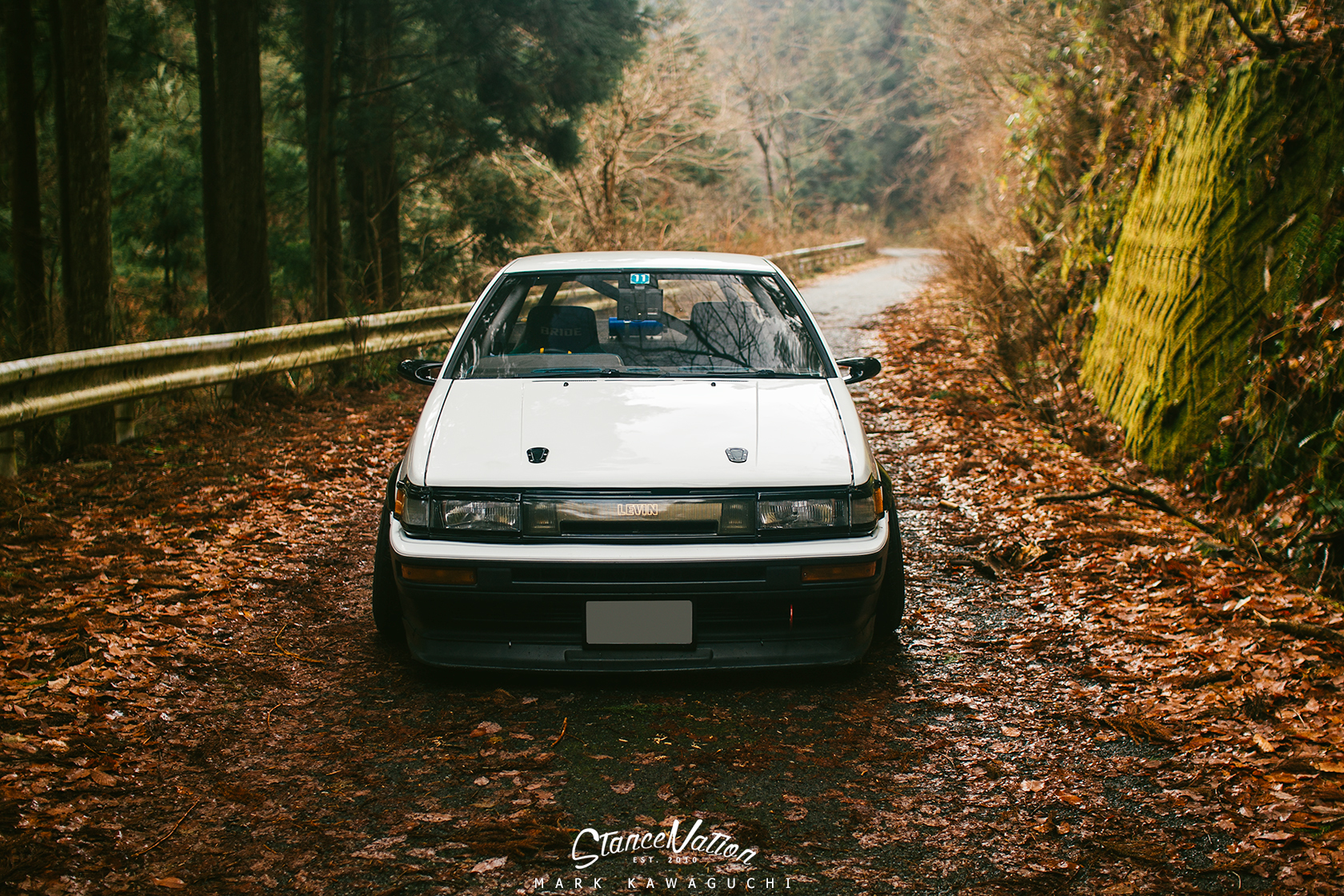 The exterior of his AE86 is equipped with OEM kouki Levin front-end, OEM kouki Levin tail lights, OEM zenki front spoiler, OEM side skirts, OEM "double-stacked" rear bumper, UKIYA SYOUKAI fiberglass hood, EC Works Group-A Mirrors, Run Free eyelines, and a BMW M-series rear spoiler.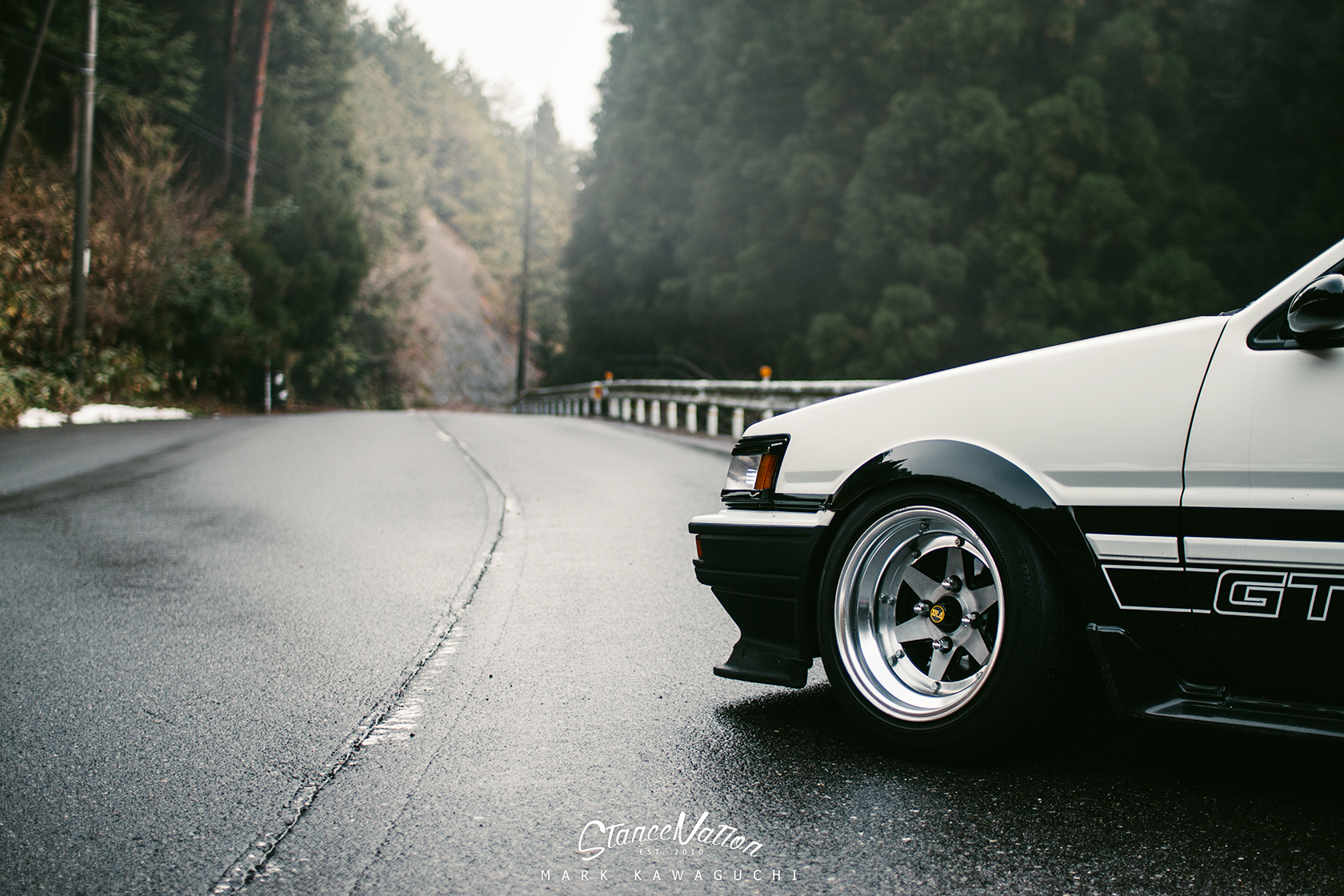 Hirokazu-san's AE86 is fitted with a favorite wheel of mine, the SSR Longchamp XR-4 in 14×8 -12 front and 14×8.5 -19 rear with 185/55-14 tires all around. For suspension, he is running GT-WORKS coilovers with 8k/6k springs front/rear, and helper springs. He also has a GX71 front stabilizer and short link, adjustable tension rods, and JUBIRIDE negative camber adapter up front. In the rear he is running a GT-V stabilizer and angle correction links, modified adjustable lateral rod, and slotted brake rotors.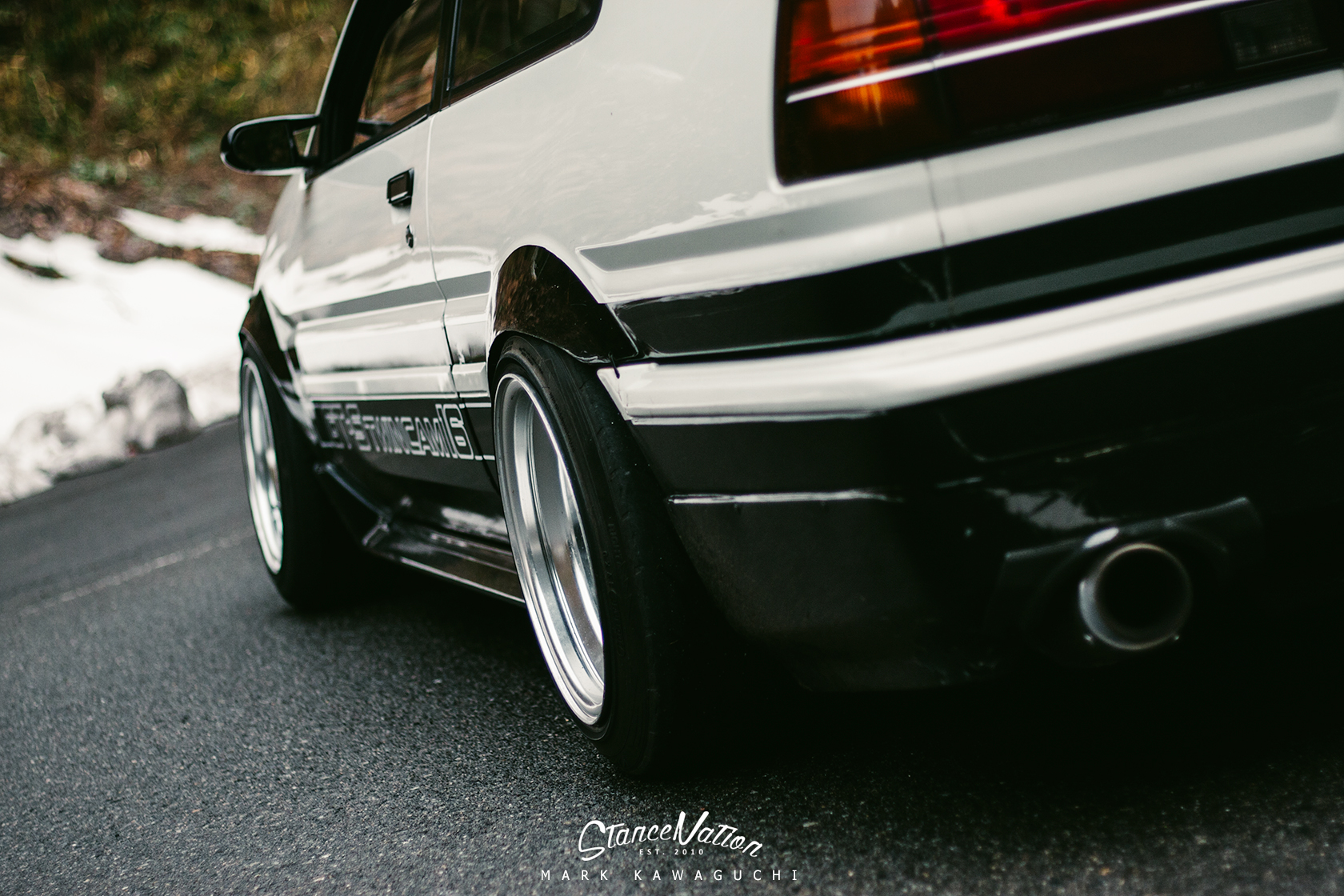 The interior of Sato-san's AE86 is fitted with twin Bride ZETA IIs with TAKATA harnesses. He also has a MOMO steering wheel, a Cusco 7-point roll cage, and numerous Auto Meter and OMORI Meter gauges. It is also equipped with a full audio system with DVD player, Garage Tiara shift knob, e-brake knob, checkered flag floor mats, and MOONEYES dash mat.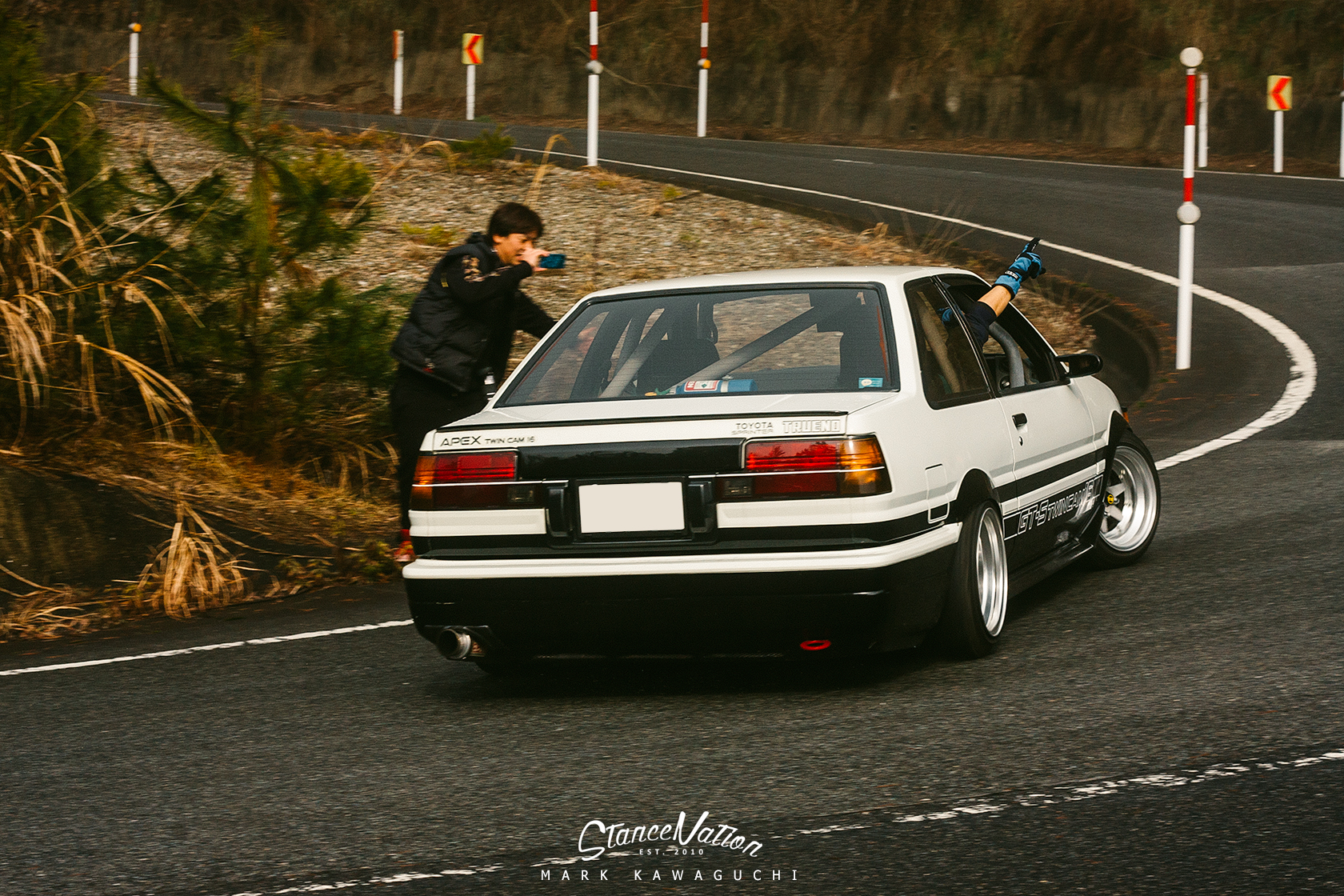 Sato-san's AE86 packs the perfect balance of aesthetics, reliability, and functionality. According to Sato-san, "Cars that are decorated for contests but can't be driven hard, or cars that are beaten up and only used for circuits and touge, is not my idea of cool. A car that you can also use to go to the store, go out with a girl in, or even use for the daily commute, that I believe is a real Hachi-roku." I couldn't agree more.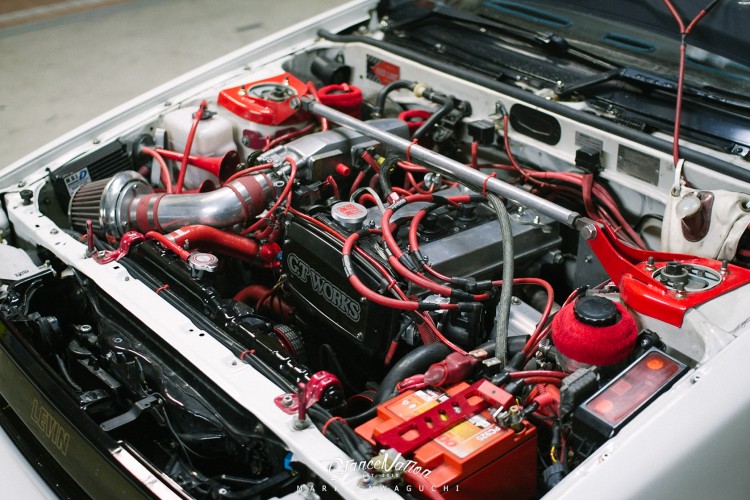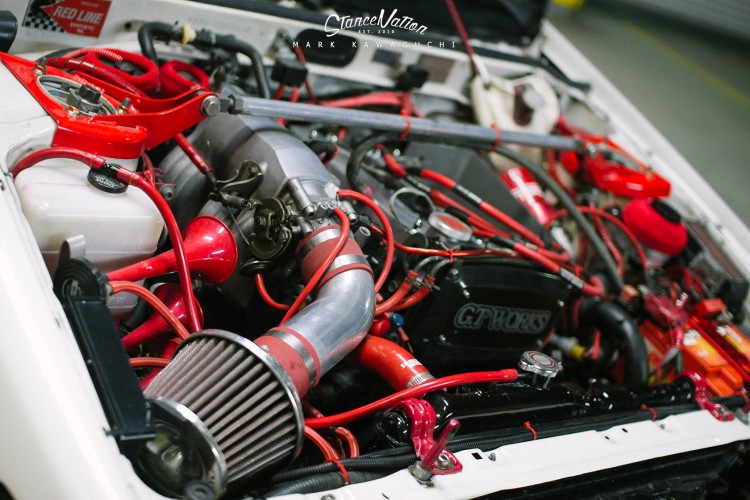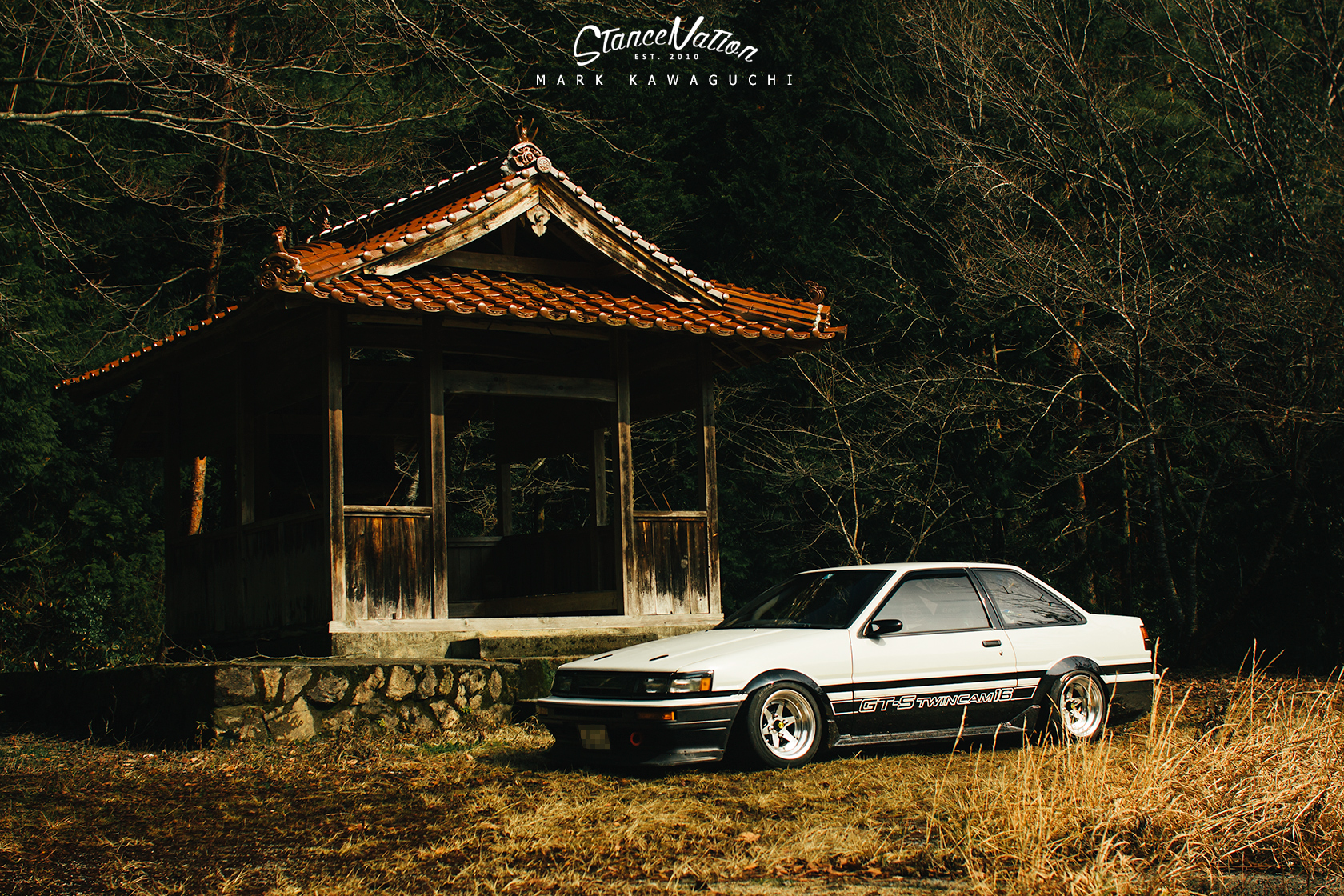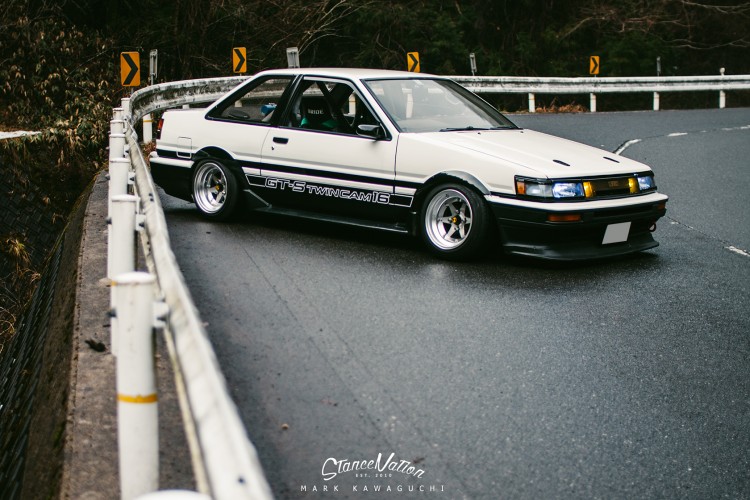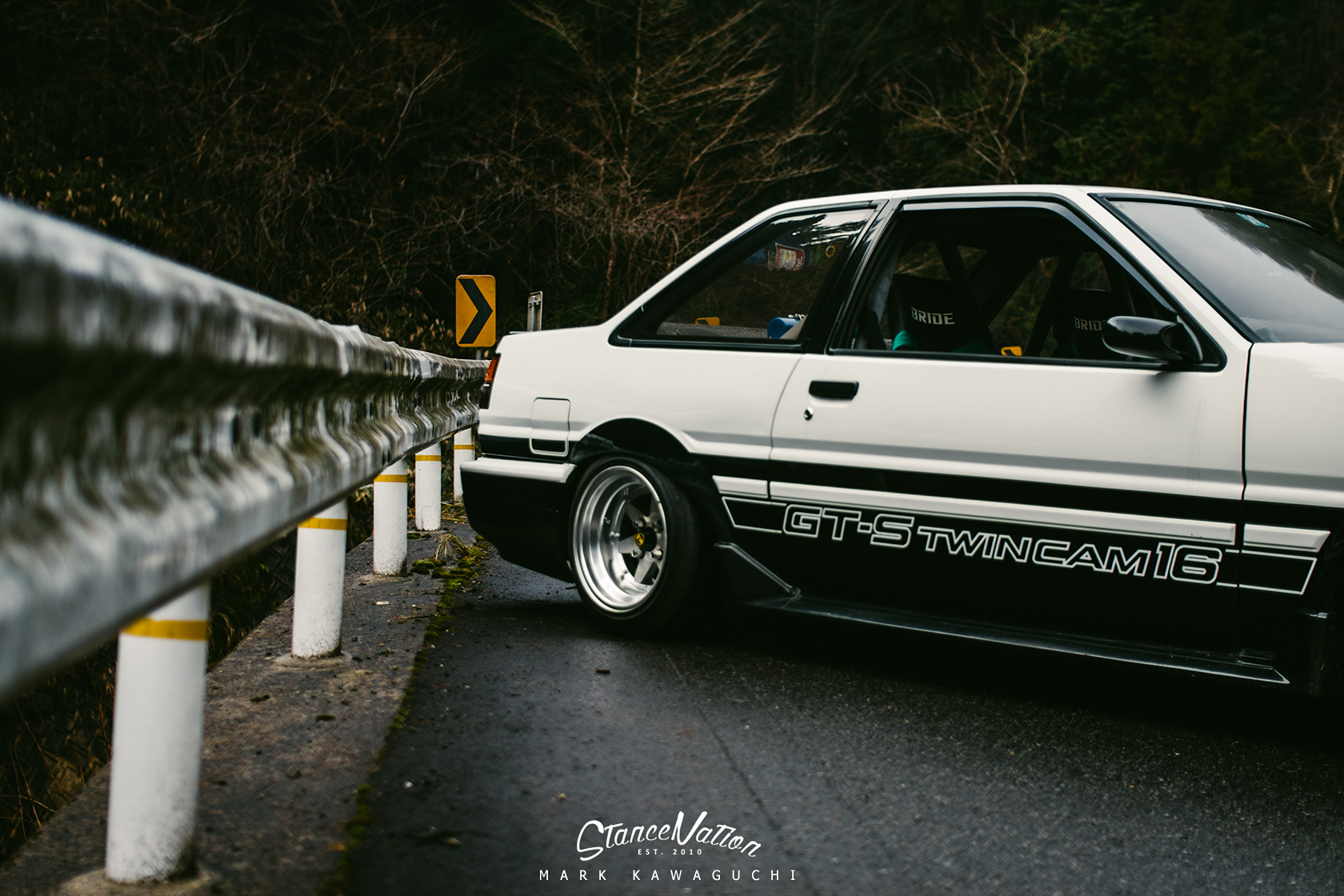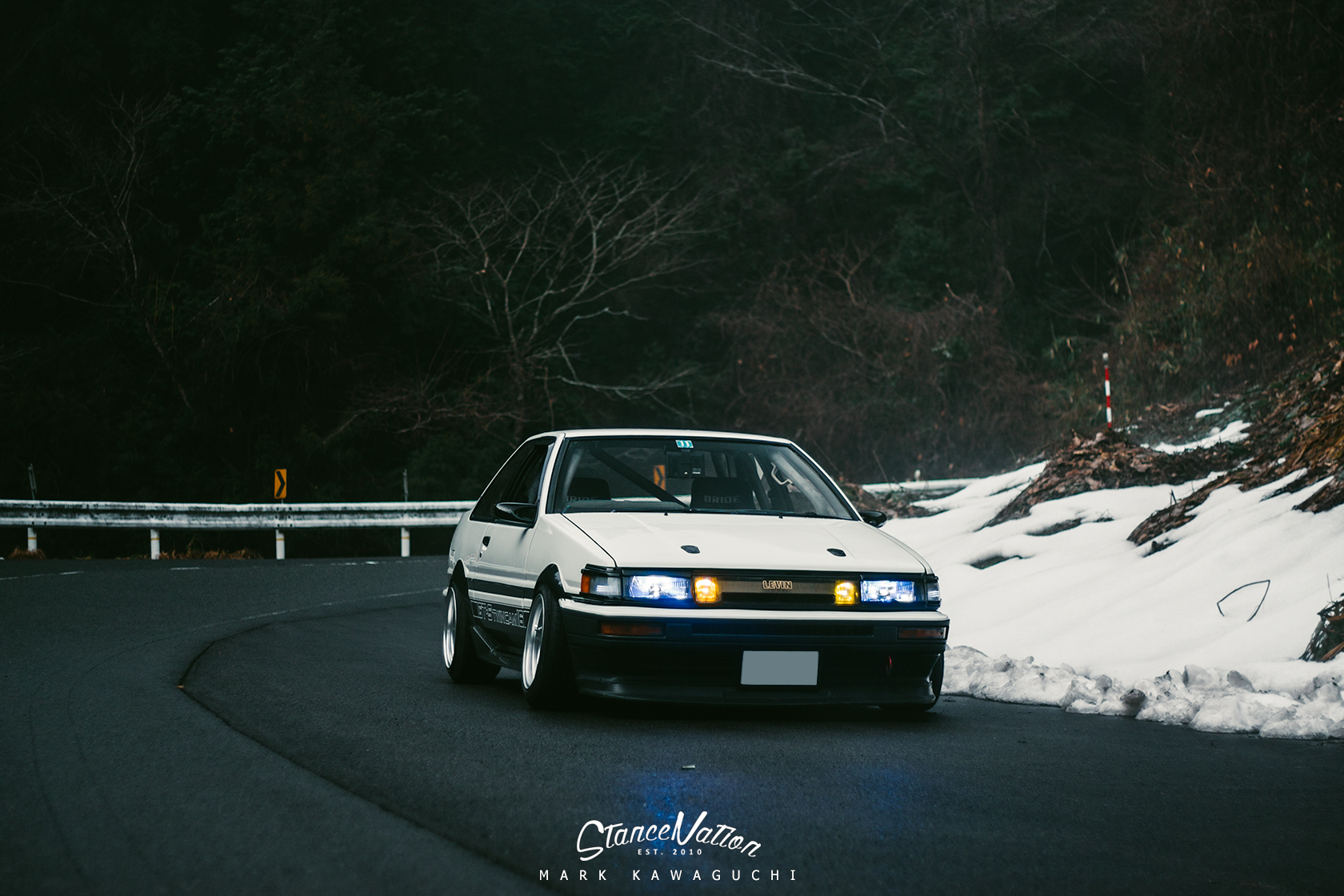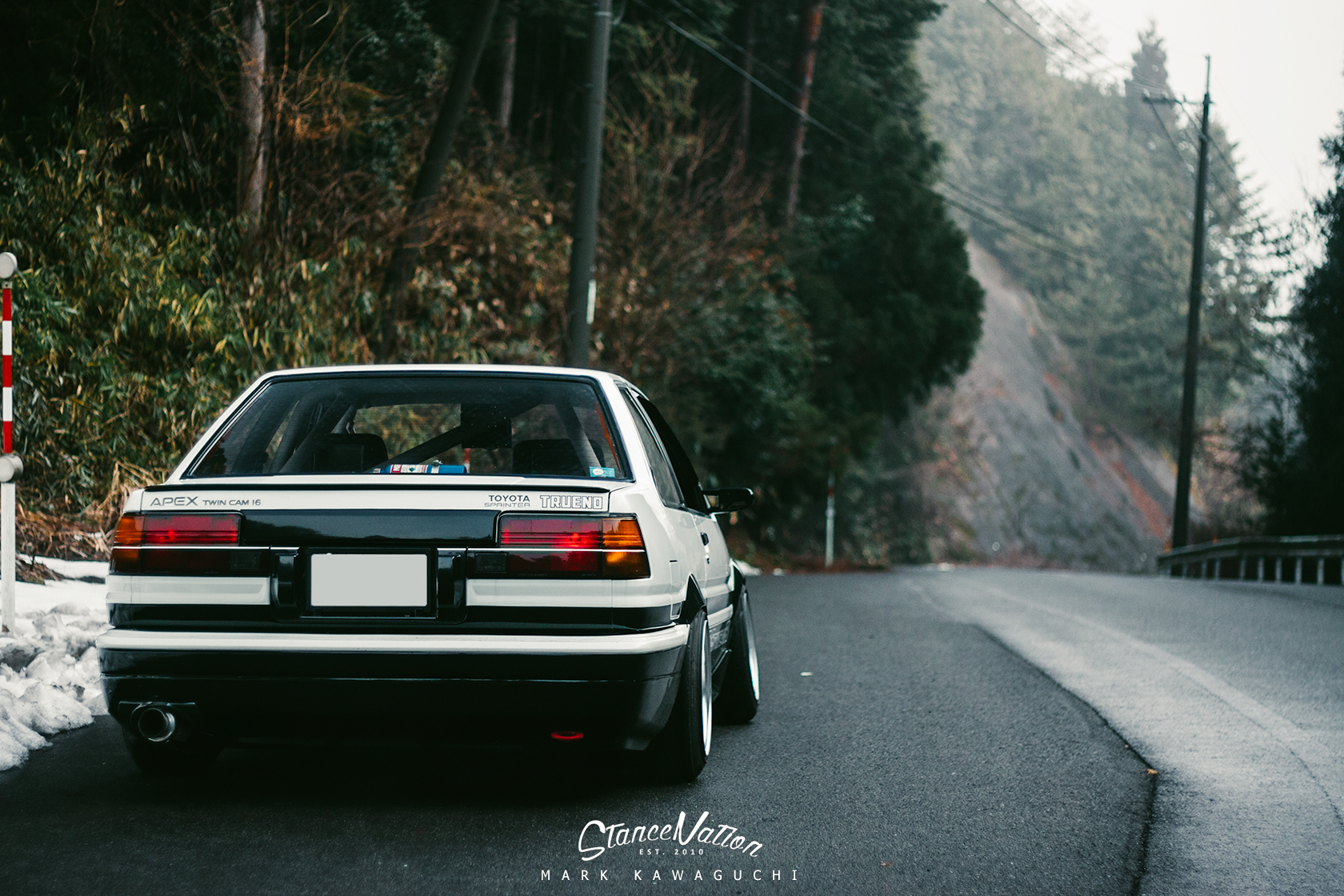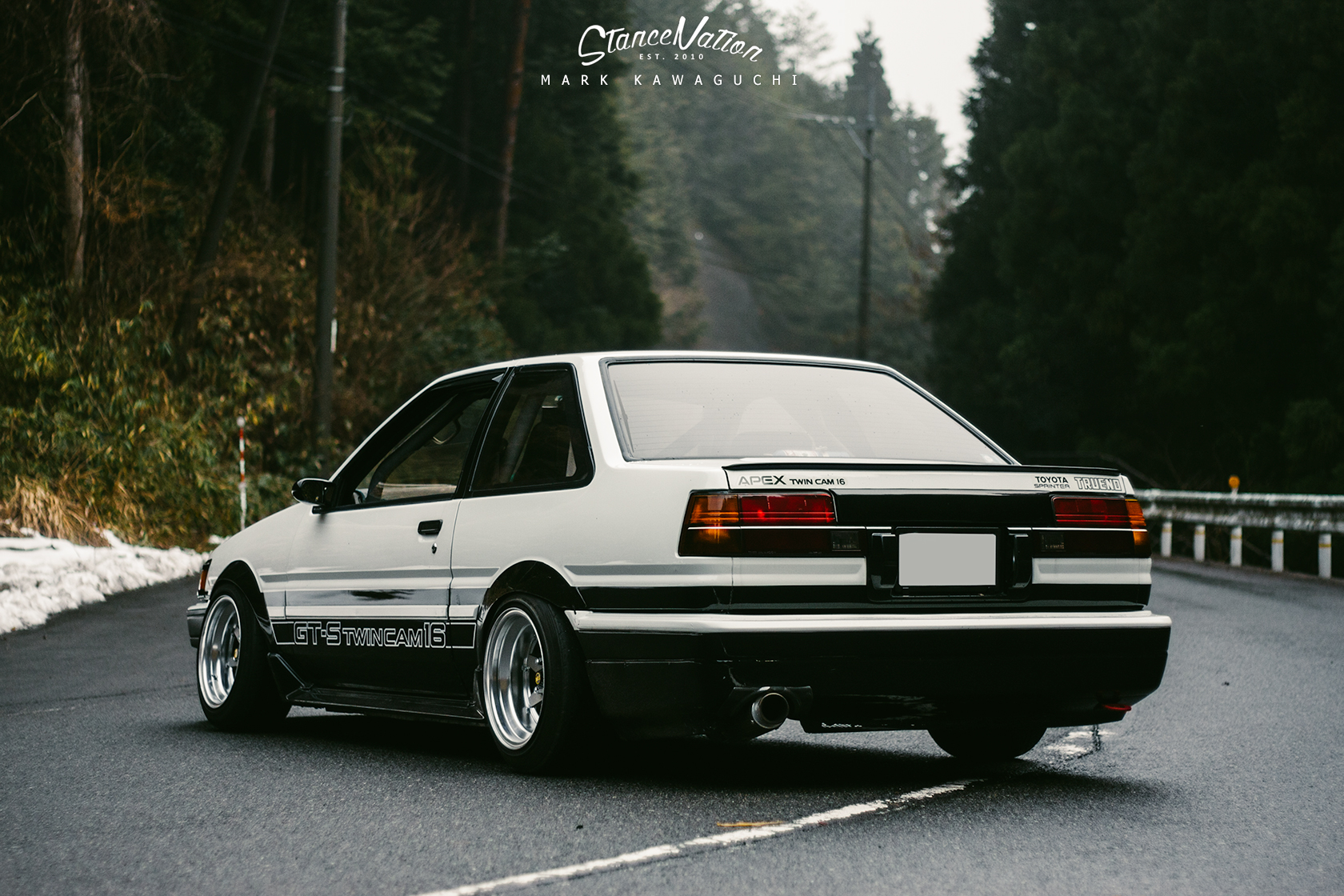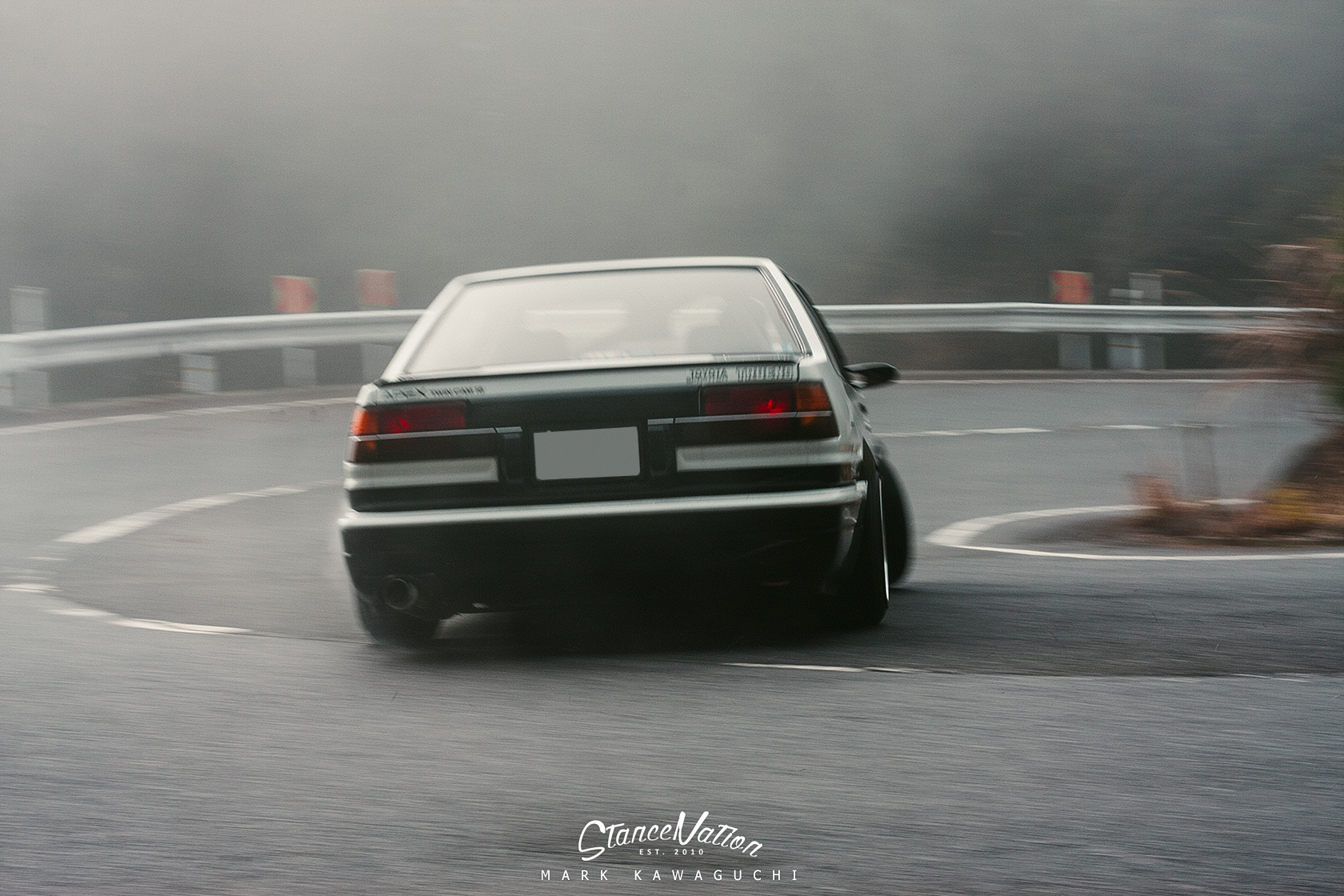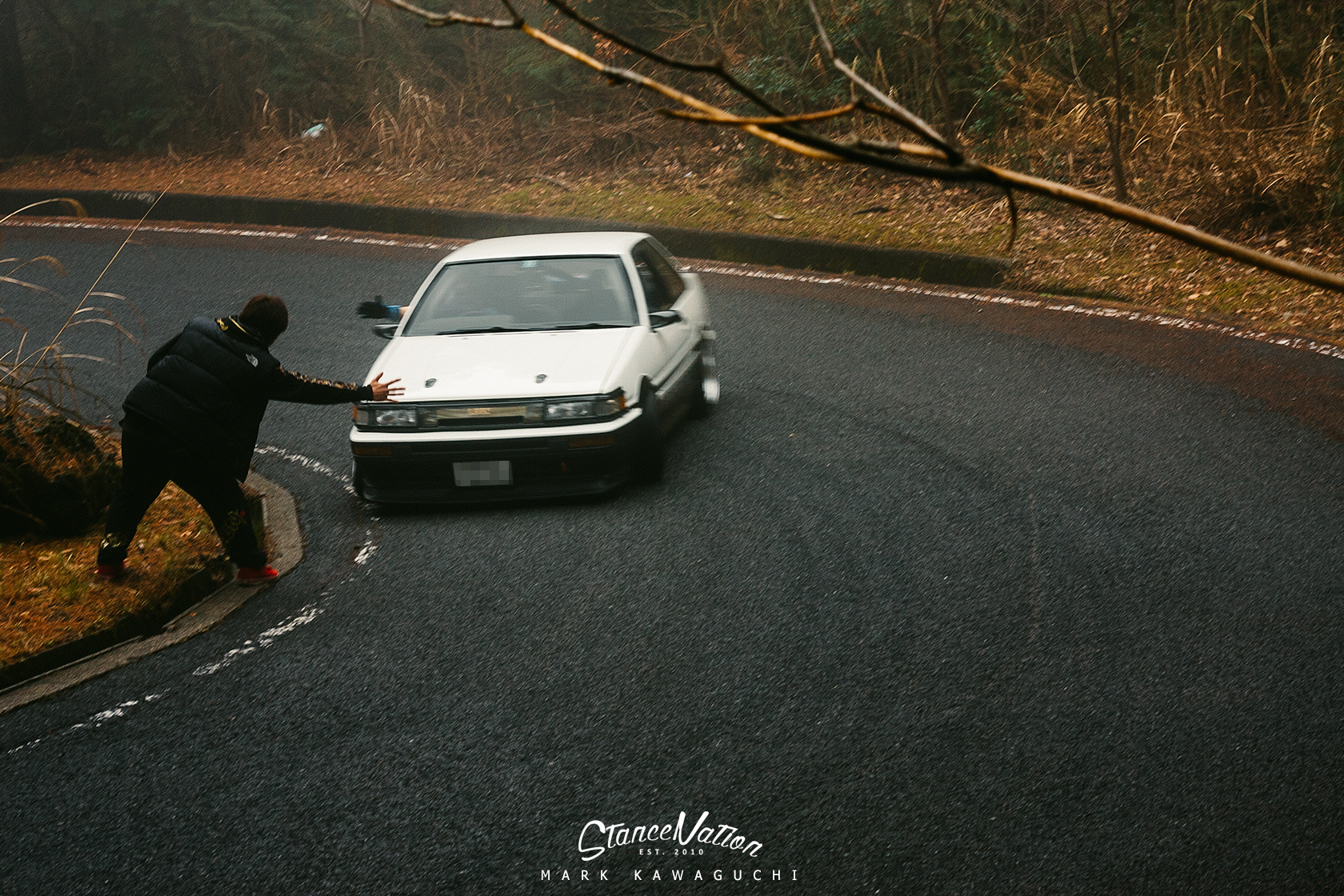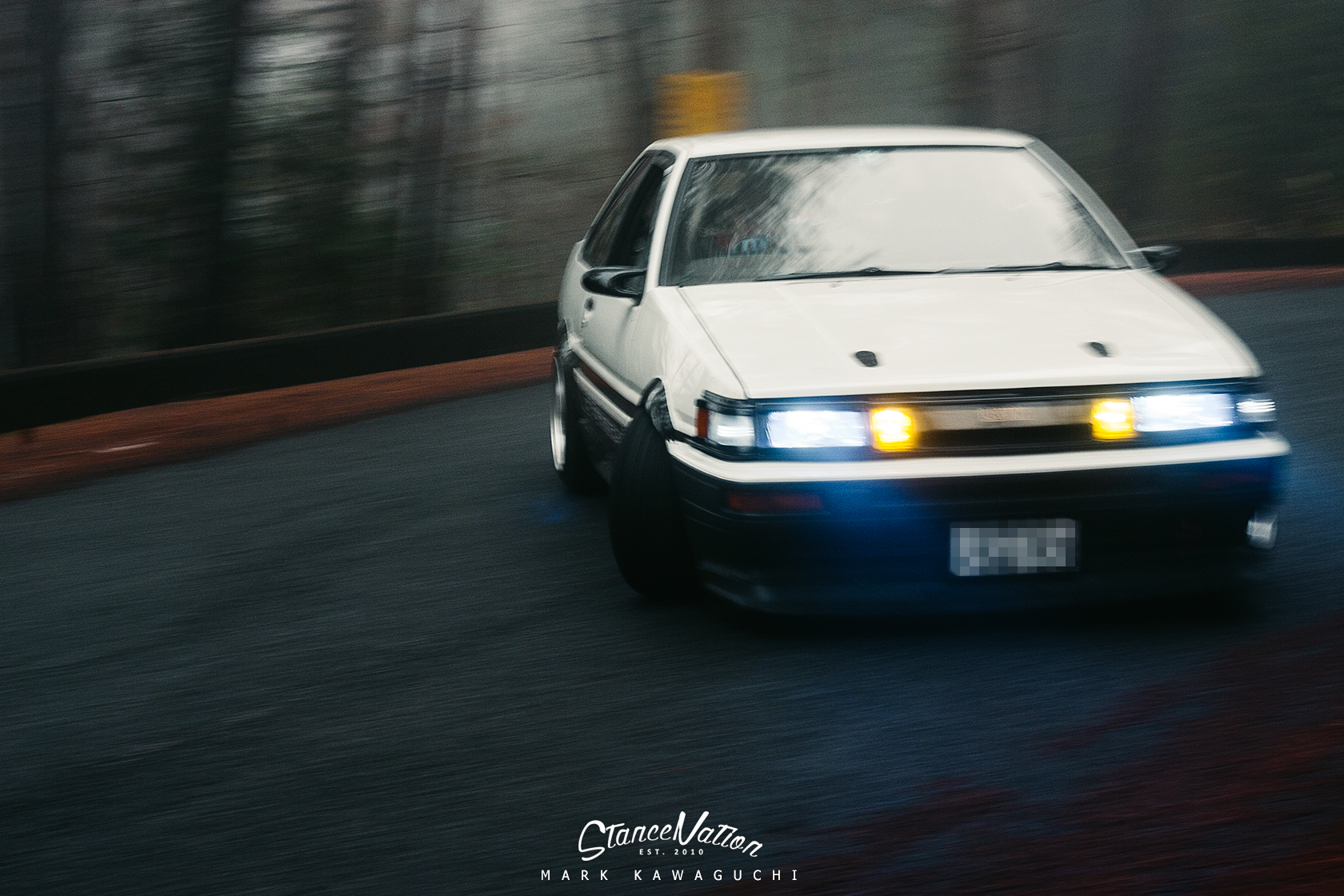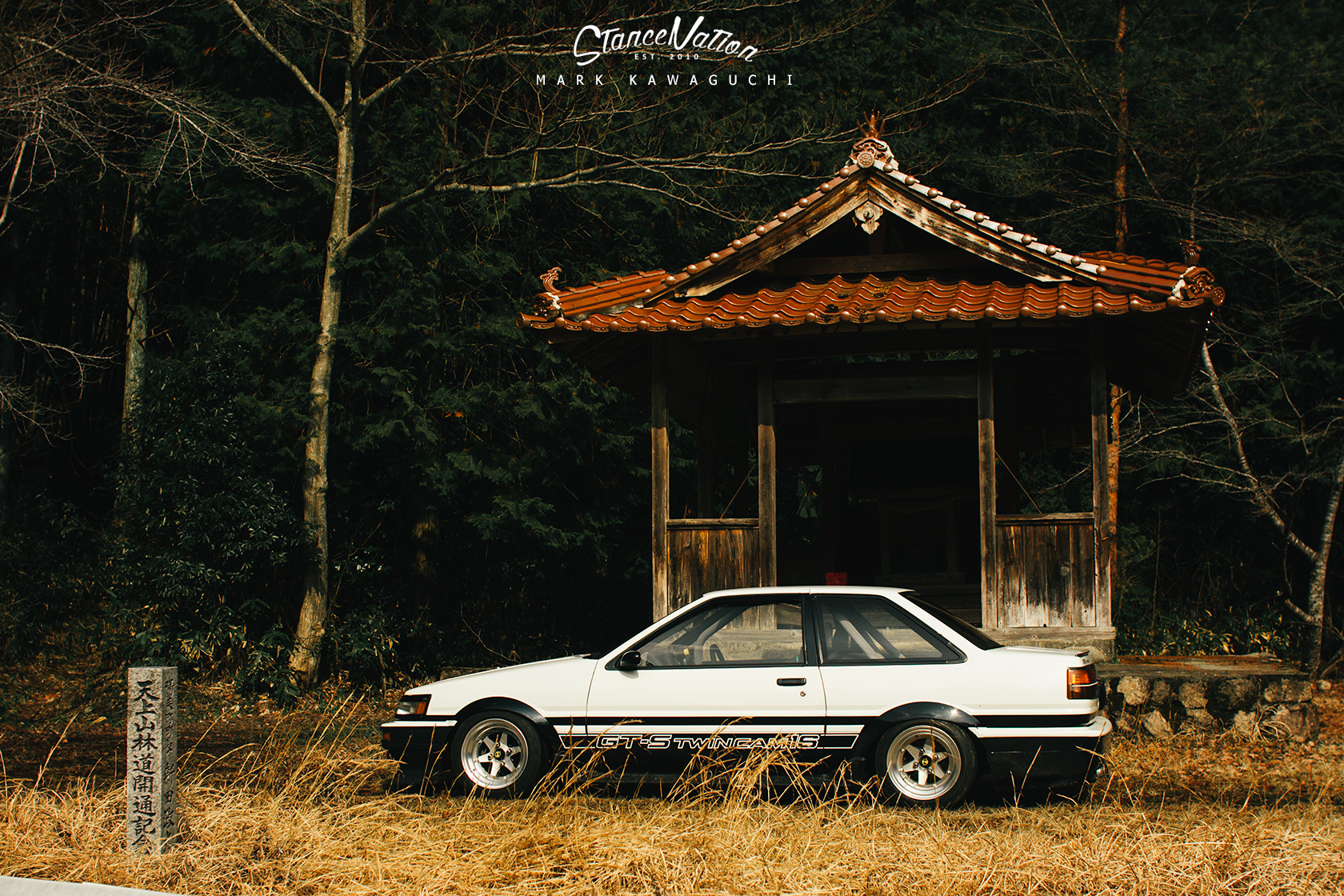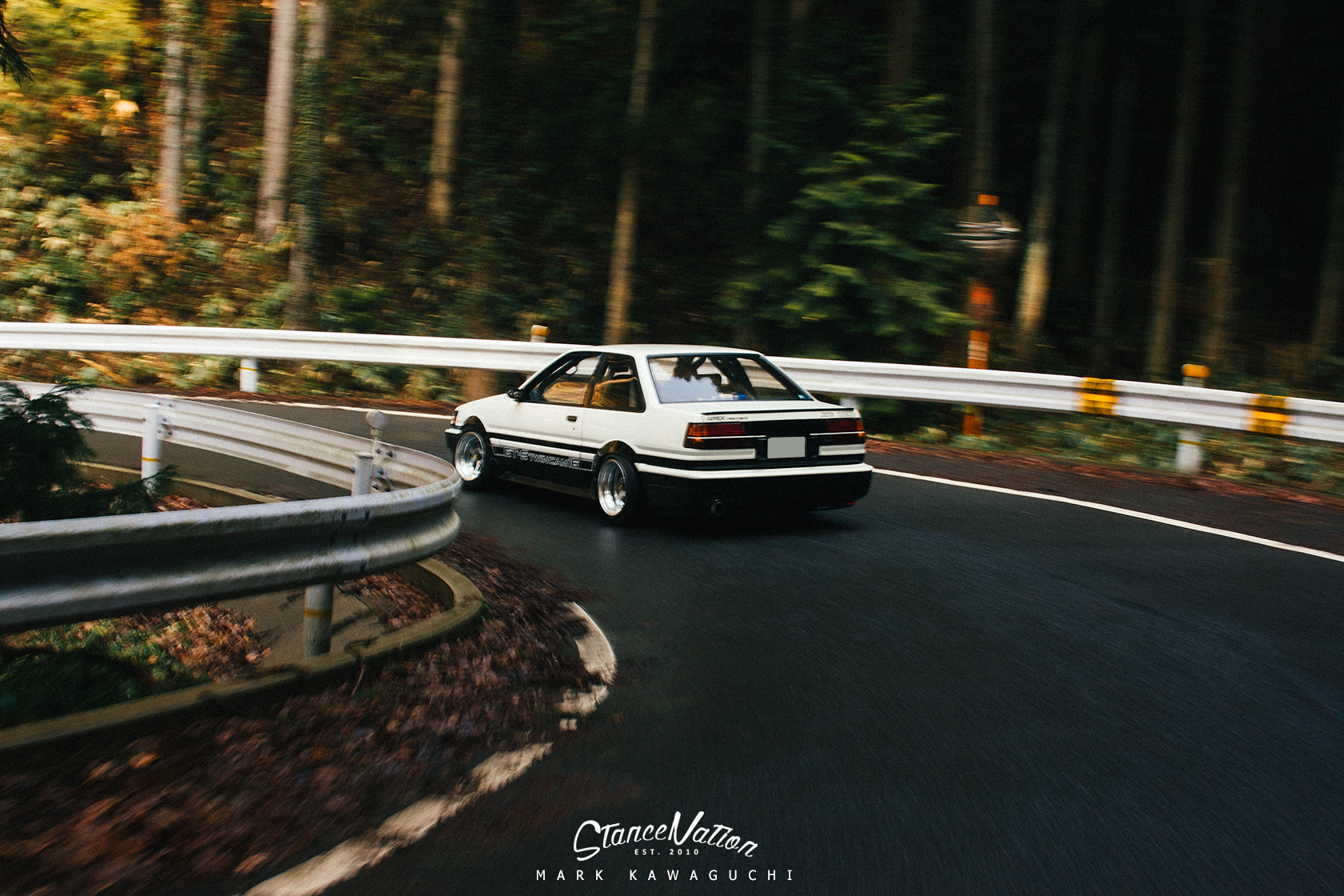 Wheels/Tires/Suspension
SSR LONGCHAMP XR-4 14×8-12 (F) 14×8.5-19 (R) + Center Caps
DUNLOP DZ101 185/55-14 (F&R)
GT-WORKS Coilovers 8k(F) 6k(R) with helper springs
Front:
CUSCO Upper Mount
GX71 Stabilizer & Short link
JUBIRIDE Negative Camber Adapter
Adjustable Tension Rods 
TRD Bushings
Rear:
GT-V Stabilizer & Angle Correction Links
Adjustable Lateral Rod + Reinforcement Bar
TRD Bushings
Slotted Rotors
Exterior
OEM KOUKI LEVIN FACE
KOUKI LEVIN TAIL LAMPS
OEM ZENKI Front Spoiler
OEM Side Skirts
BMW M-series Rear Spoiler
OEM Double-Stacked Rear Bumper
UKIYA SYOUKAI glass fiber bonnet
Aero Catch
Pulled Fenders
EC Works Group A Mirrors
Run Free Eyeline
Interior
BRIDE ZETA II
TAKATA Harnesses
MOMO DRIFTING Steering Wheel
CUSCO 7-point Roll Cage
Auto Meter Tachometer
OMORI Meter Water Temperature Gauge
OMORI Meter Oil Temperature Gauge
OMORI Meter Oil Pressure Gauge
OMORI Meter Vacuum Gauge
Garage Tiara Shift knob
E-brake Knob
Checkered Flag Floor Mats
MOONEYES Dash Mat
SK Engineering High Speed Meter
Audio
ALPINE Head Unit
DVD Player
CD Player
MD Player
TV Tuner
2-way Speakers
Crossover Network
10" Subwoofers
Power Amplifier
Television Monitors ×3
Door and Interior Sound Deadening
Engine
4A-GE Full Overhaul
FUJITSUBO Exhaust Manifold
YOSIMURA Muffler
AIBAworks Tower Bar
NAGAI DENSI MDI,
Hotwires Plug Cord
WAKO coil,
NGK Spark Plug #7
Hot InaZuma
APEXi S-AFC
APEXi Air Intake
KOYO Radiator
FC3S Oil Cooler
OMORI Oil Block
SARD Fuel Pump
NISMO Fuel Regulator