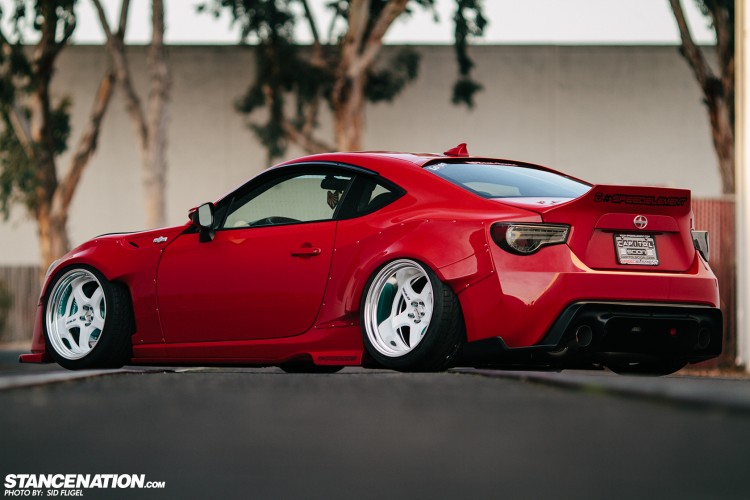 Bold.  It's a word with powerful, attractive connotations.  Doritos uses it to describe the intensity of their bold flavor, Star Trekkers are captivated by proclamation of boldly going "where no man has gone before," Tumblr users accentuate important statements with extra-thick bold font, and daytime drama series are both bold and beautiful.  Bold can mean intense.  Bold can mean brave.  Bold can mean traveling uncharted territory.  It can capture any combination of these qualities.  Devin Hui's (SpeedElement) FRS does just that.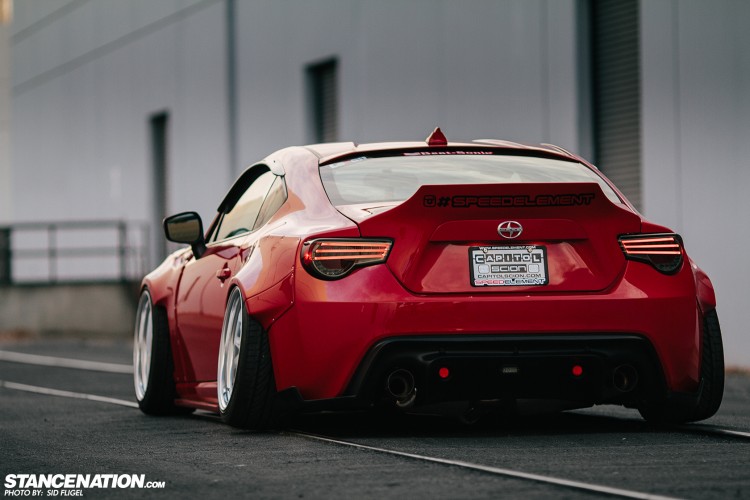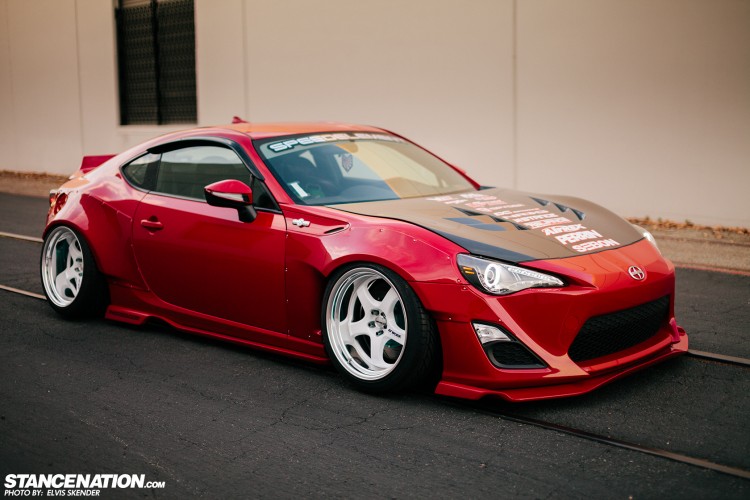 Unless you've been hiding beneath a rock, the Subaru/Toyota-engineered FRS/BRZ/GT86 platform has been rather popular in its recent introduction.  By "rather popular" I mean it is everywhere; enthusiasm for the RWD sports coupe has been about as subtle as a meth-lab explosion, beneath a fireworks stand, in an armory.  Appealing to driving enthusiasts and the aesthetically-focused alike, the car has certainly made a statement.  Channeling the essence of the cult-classic AE86 Corolla into a sleek, aggressively modern package was a novel idea that produced pleasant results.  While it is a great car in standard form, it really lends itself to modification and plenty of people have been more than willing to oblige.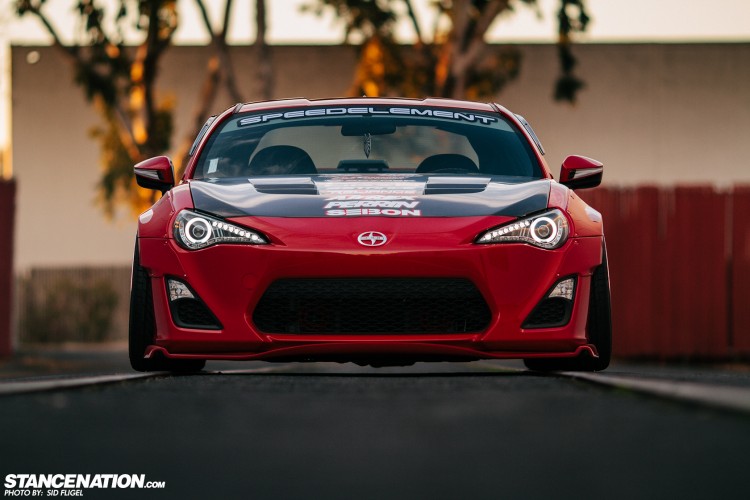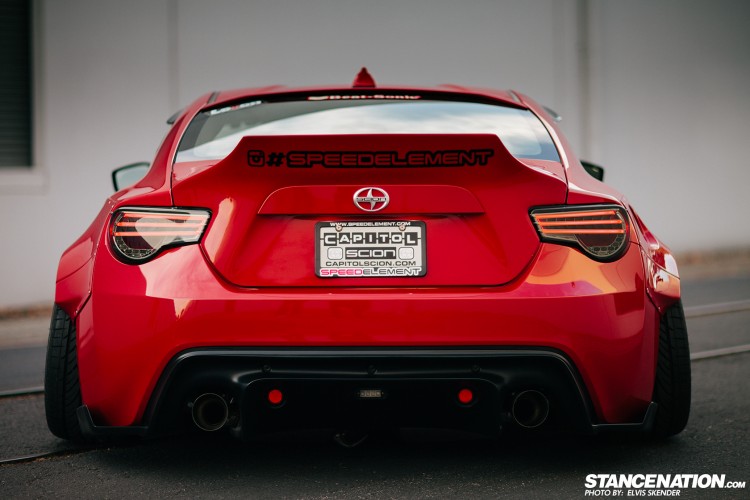 Devin Hui of San Jose, CA is one of those individuals.  The 2013 Scion FRS was chosen as his demo car for his shop, SpeedElement.  Like many others, Devin saw the enormous potential of the FRS/BRZ platform and set out to create "menu" for his customers.  His concept was to utilize a combination of available parts as an example for customers to pick and chose, or even replicate the car if they wanted.  In theory, this is a wonderful idea.  In reality, executing such a task on a brand new platform is always difficult.  Fortunately, the aftermarket has responded incredibly well to the FRS — a luxury that creates an entirely new problem of standing out among others with similar intentions.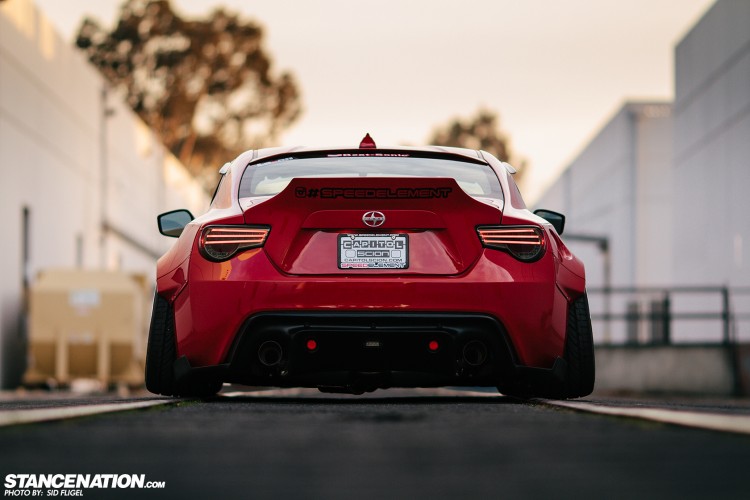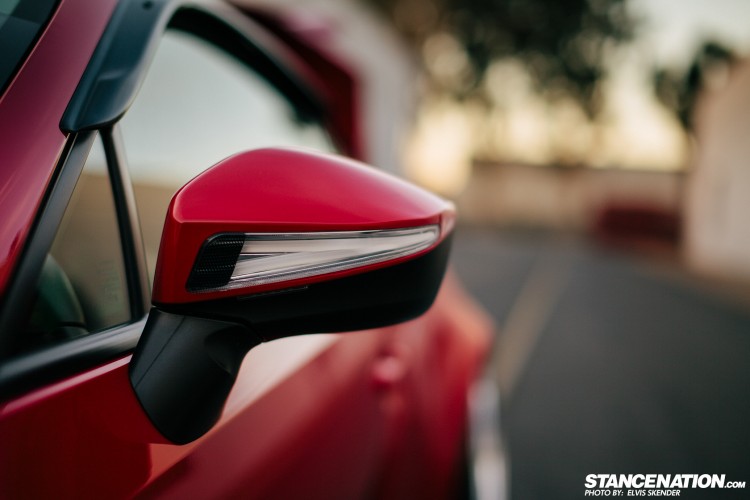 Devin is definitely a bold guy.  Admittedly a difficult step to take, Devin sliced into the sheetmetal of his fresh-from-the-showroom Scion FRS in order to fit the now-popular Rocket Bunny Version 1 aero kit.  While the end result is absolutely stunning, I can't help but imagine the cringe-factor of making that first cut into the body panels.  It is impressive how well the Rocket Bunny aero coincides with the identity of the car.  The fluidity of the lines throughout the entire package makes it believable that the car was actually sold as is.  The sharply-raked SpeedElement duckbill trunk accentuates the kit as well.  The decklid follows the lines off the fenders, up and over the corners, ultimately terminating at the very edge of the car.  The finished product is wonderfully displayed in seductive red and accessorized with truly impressive modern lighting technology found in the Lexon Exclusive taillights and Spyder LED-accent headlights.  The Avest Japan LED side mirrors are an awesome touch that continue the modern lighting elements.  Automotive enthusiasts' infatuation with carbon fiber is still in full effect; a vented carbon hood from Seibon adds lightness and provides contrast against the red paint.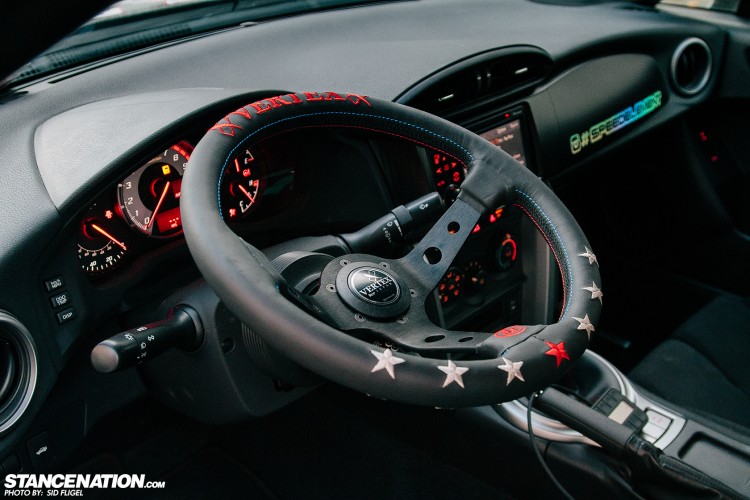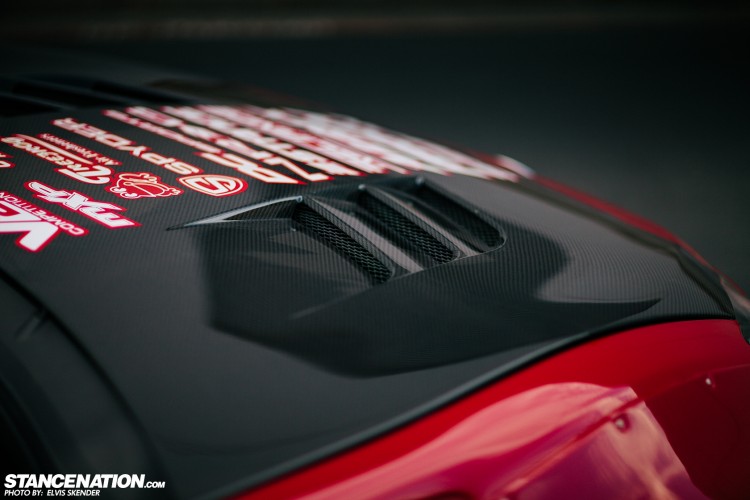 From the Bride Stradia II Japan Venus seating to the Vertex wheel mounted on a Works Bell hub, it becomes quite evident that Hui cut no corners in this build.  Ambient lighting is provided by Deevo LEDs, who also supplied the HID system.  Takata harnesses provide extra Japanese flair and securely fasten both driver and passenger into the FRS cockpit.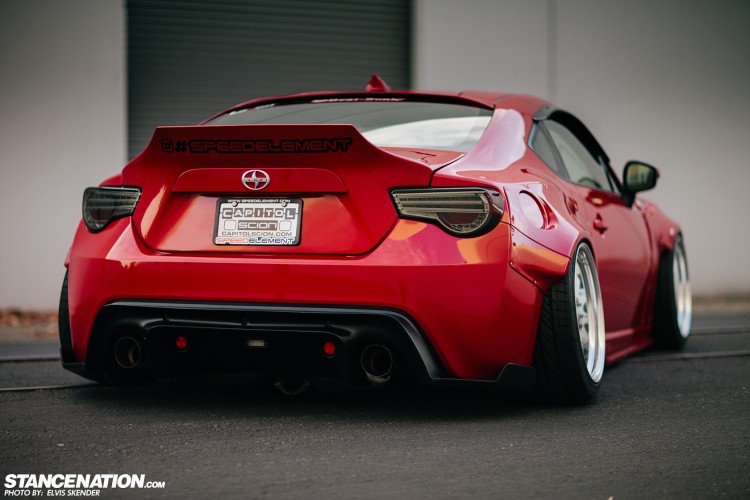 The DC Sports exhaust system joins with an unequal header and front pipe from MXP to handle exhaust duties while a veritable smorgasbord of Perrin components is found throughout the engine bay.  Upon the FRS' introduction, one of the only complaints from enthusiasts was a perceived lack of power.  Many countered this feeling by arguing that power is not in the nature of the vehicle's intentions.  Regardless of your standpoint on this topic, Hui has a turbo kit in the works as we speak for this particular Scion.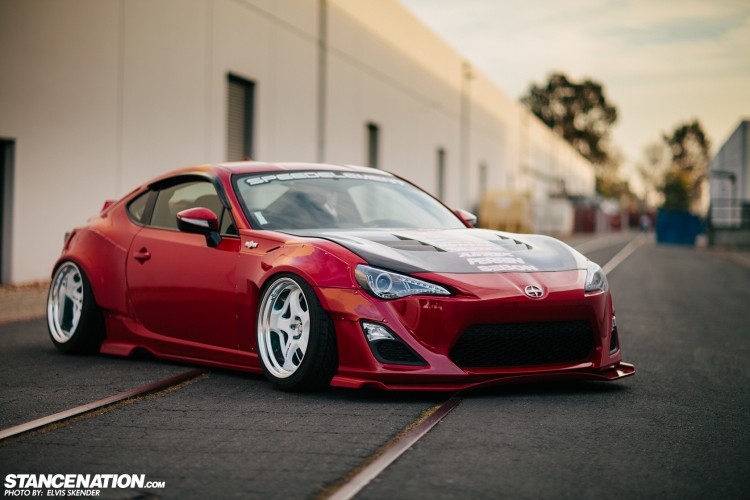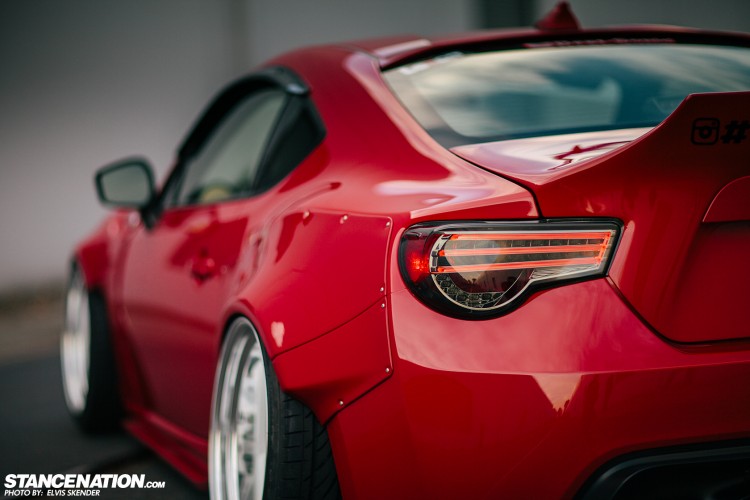 Devin tells us he loves how the car looks overall and many agree that proper wheel choice and fitment is an imperative aspect of a car's aesthetic appeal.  Beautiful, white Work Meister S1R wheels  are a perfect finish choice for the red car.  Signature teal Project Mu brake calipers amplify the stopping power and look great behind the 5-spokes of the white Meisters.  I've always been a fan of the S1R when compared to other versions of the Work Meister S1.  The spoke design and lack of hardware simply looks cleaner to me.   AirRex air suspension and management provides the adjustability Hui needed and allows for those massive 18×9.5″/18×10.5″ Work wheels, wrapped in Hankook V12s, to sit beneath those Rocket Bunny fenders just right.  A host of suspension arms and braces are present, supplied by Cusco, Perrin, and Stance.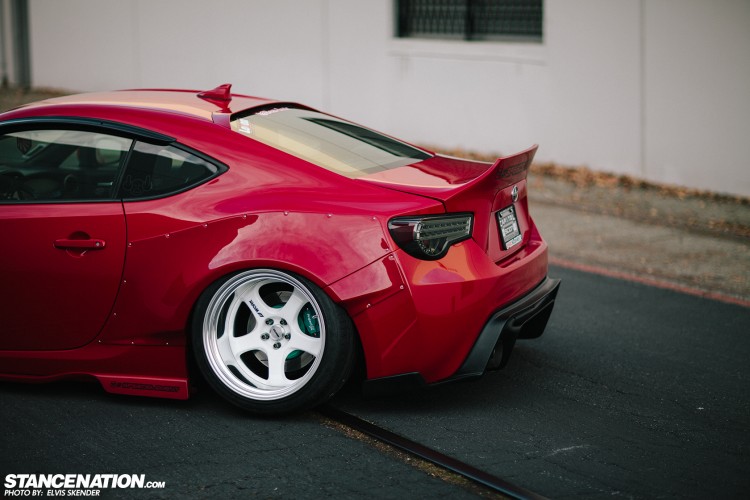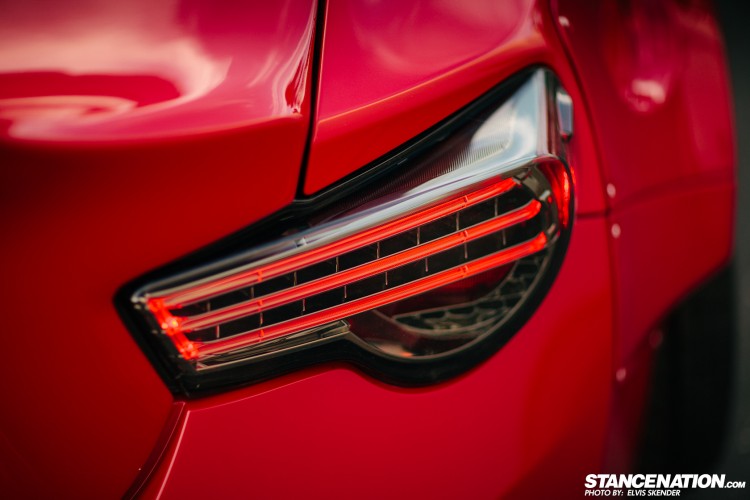 It isn't a singular aspect of the SpeedElement FRS that makes it so bold a statement.  The car is visually stunning.  Its low-slung, wide presence is certainly captivating.  However, Devin's thorough approach and the entire concept behind the build itself is bold.  An extensively-modified, brand new platform for the purpose of creating a powerful-enough example to capture the attention of new enthusiasts and motivate a business is bold action.  The SpeedElement FRS:  boldly going where we hope many will follow.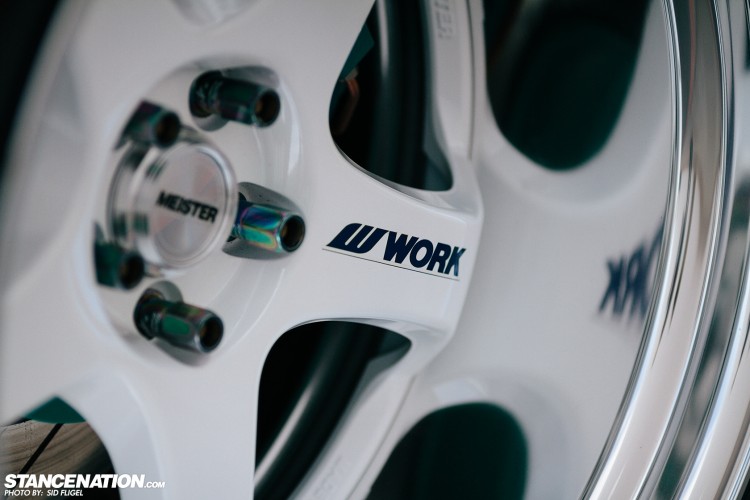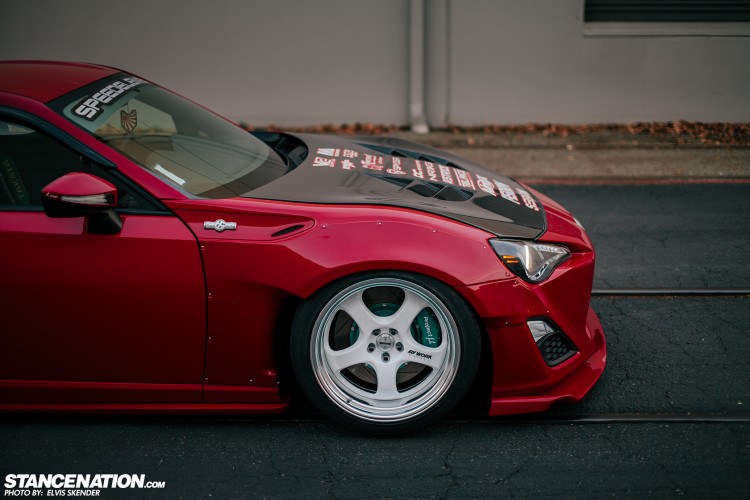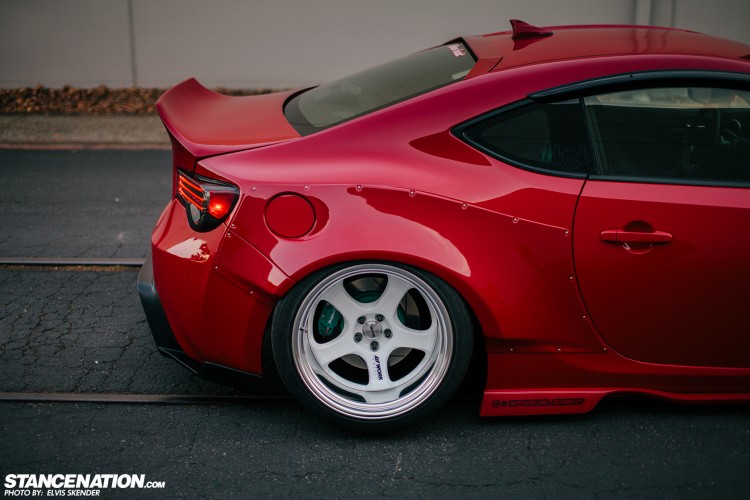 Wheels/Tires/Suspension:
Work Meister S1R 2 Piece in White
Front: 18×9.5 -15
Rear: 18×10.5 -40
Hankook V12 tires:
Front: 235-40-18
Rear: 265-30-18
Brakes:
Project MU Front 4-Pistons X 4Pads BBK – 2-Piece 355mm X 32mm Rotor
Project MU Rear 2-Pistons BBK – 316mm X 20mm Rotor
Project MU NS400 Brake Pads
Project MU Teflon Brake Line
Project MU Racing Brake fluid
Suspension:
Airrex Air Suspension + Management
Cusco Front OS Strut Bar w/Brake Cylinder Stopper
Cusco Power Engine Brace
Cusco Rear Lateral Link
Cusco Rear Trailing Rod
Stance Rear Lower Control Arm
Perrin Front Sway Bar
Perrin Rear Sway Bar
Perrin Rear Endlink
Perrin Front Control Arm Brace
Exterior:
Rocket Bunny Ver1 Wide Body Kit
SpeedElement Rear Duct Bill Trunk ( in production )
Sypder Headlights
Deevo Lighting HID Kit
Lexon Exclusive Smoke Tail lights
Beatsonic Roof Fin
Beatsonic Rear Roof Spoiler
Seibon TS-Style Carbon Fiber Hood
Avest Japan LED Side Mirror
Hella Twin Supertone Horn Kit
Interior:
Bride Stradia II Japan Venus
Buddy Club Seat Rail
Takata 4 Point Harness
MXP Titanium Shift Knob
Vertex 10 Star 330mm Steering Wheel
Works Bell Steering Wheel Hub
NRG Quick Tilt System
Deevo Lighting LEDs Kit
Engine:
Deevo Racing Hood Damper
HKS Oil Cap
Perrin Cold Air Intake
Perrin Inlet Hose
Perrin Lightweight Crank Plley
Perrin Oil Cooler Kit
Perrin Battery Tie Down
Perrin Oil Filter Cover
Perrin Radiator Hose Kit
PMU Reservoir Cover
MXP Unequal length Header
MXP SS Front Pipe
DC Sports CatBack Exhaust System
Whiteline Transmission Positive Shift Kit