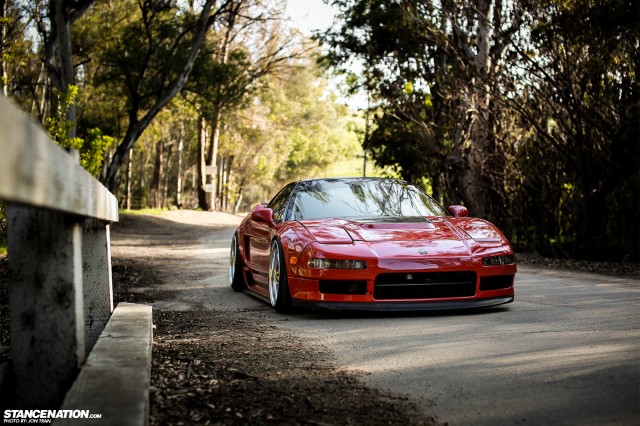 When this feature made its way to my desktop, I had to take a few minutes to compose myself, mainly to pick my jaw up off of the floor, just because of the sheer awesomeness of this ride. The first thought that crossed my mind was how many necks this thing must absolutely break, and how many unknowing people stare and shout to their friends to 'check out that Ferrari'! I then tried to remember some other NSX's that I could compare this fitment to… and that is just the thing, I couldn't think of any. It is a rare and refreshing sight to see such a sought after and performance based platform like the NSX sitting so low, with such aggressive fitment.
Photos By: Jon Tran exclusively for StanceNation.com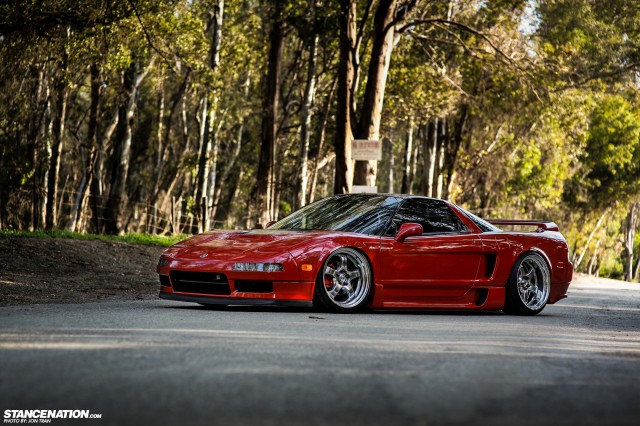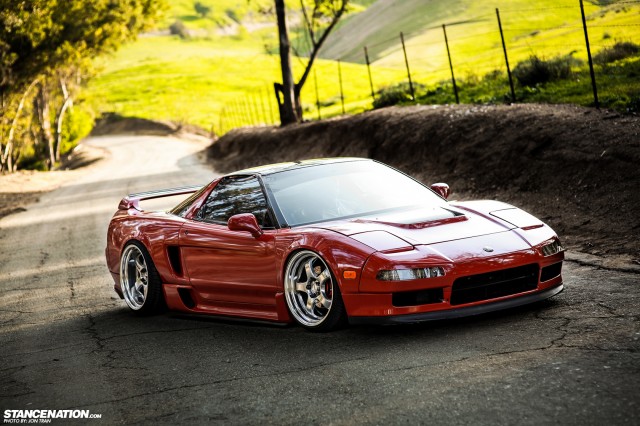 This beautiful 1991 Acura NSX is owned by our good friend Kien, and we have actually featured it before; back when it was black and sitting on a set of CCW's (check out the previous feature HERE). Things have changed a lot since then, most noticeably the color change, to this eye-catching red, which is actually a custom 3M wrap in Red Metallic Cherry Blossom. The sleek lines of the NSX, and the fact that it is fitted so well, paired with the subtle aero choices made by Kien to the exterior, transform the already incredible NSX into something resembling a modern-day supercar! It really is incredible how timeless this Honda design is.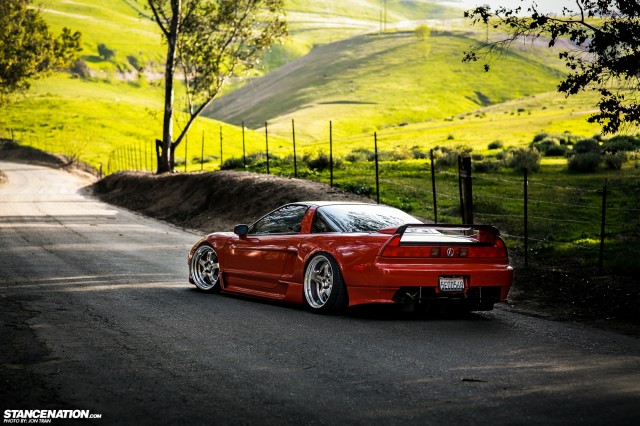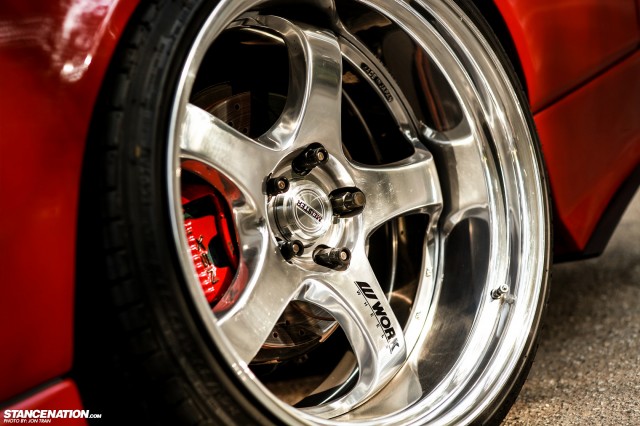 When it comes to the exterior, Kien keeps it relatively simple, no insane wide body kit on this NSX; it is actually all OEM fenders front and rear, and is pushing offsets that are more aggressive than most wide-body NSX's out there! These aggressive offsets come in the form of a set of fully polished Work S1R's, double staggered and sized in at 18×9 in the front, and 19×10.5 in the rear, with an offset of +10 front and -10 rear. Kien continues the simplicity through limited exterior modifications that he has made; a set of Marga Hill Side skirts were fitted, along with a Shine V1 front lip, and a Diflow diffuser paired with I's Impact rear spats. To finish off the exterior, Kien went with a Mugen spoiler, and a custom set of sidesteps were made, which, thanks to the Blistein coilovers, sit an alarming 1/3 of an inch off of the ground!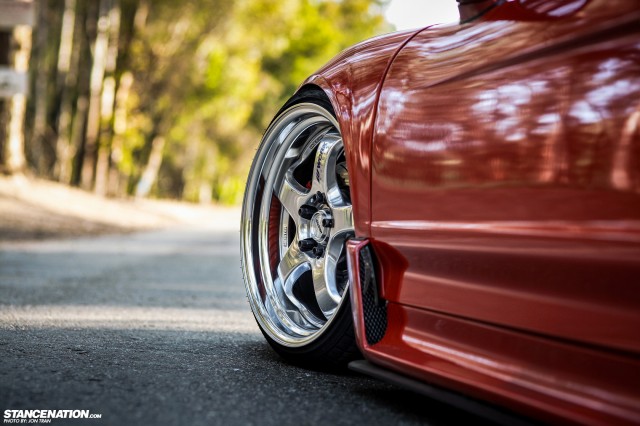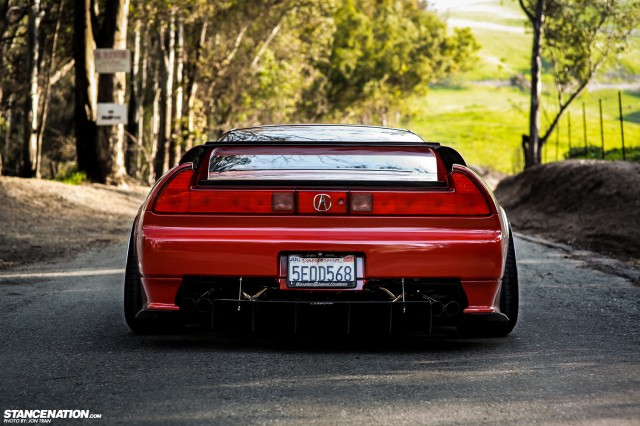 Just like the exterior, under the hood has been kept simple and relative to the original vision that Honda had when they were producing the NSX. Kien opted for a Downforce ram air intake, with a Comptech carbon fiber air box, paired with Taitec headers and a Pride V2 Pretzel F1 exhaust. Lastly, because of the troubling long second gear that comes equipped in North American NSX's, which drastically slows acceleration, the gear set was swapped out for a 4.23 Short ratio Japanese set.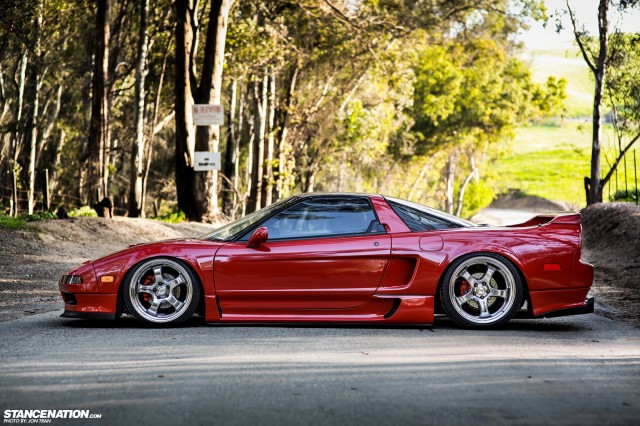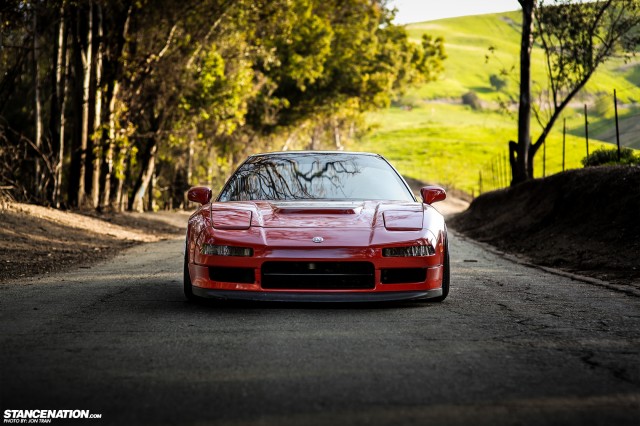 Cars are a reflection of their owners, they are much more than the summation of all the parts used in their creation, and that is quite apparent with Kien's NSX. The car is a version of himself, and no matter what any track going Honda purist would say about the fact that his NSX is too low, too fitted, or that there is more attention to the form versus function, it is still Kien's car, and no one else's opinion really matters. We are sure that this will not be the last stage for this NSX; it has completely changed from the car that we featured about a year ago. Potential future plans include; air suspension, stepping up the double stagger to 19's and 20's, and the notion of a supercharger has also been up in the air. So it is safe to say that this will probably not be the last time you all see Kien's NSX. Let us know what you think about this incredible Acura NSX down below, and as always, thank you from all of us here at StanceNation!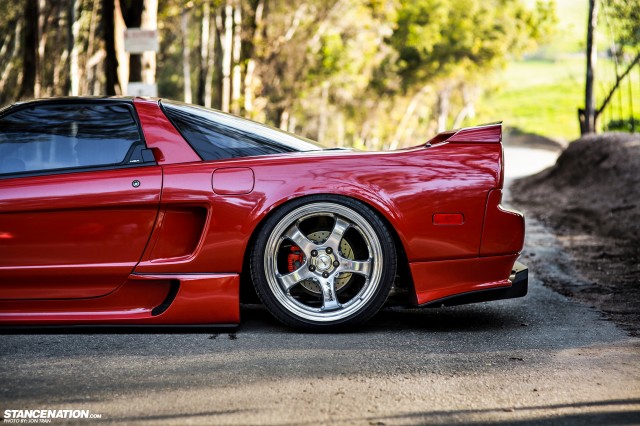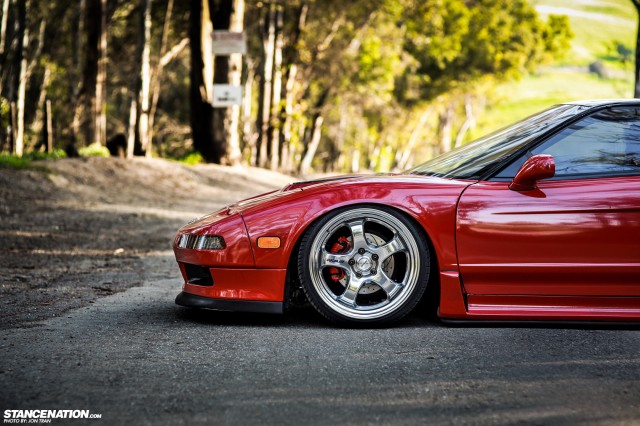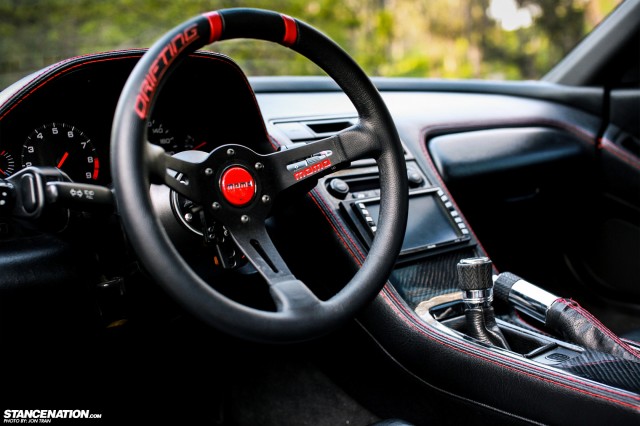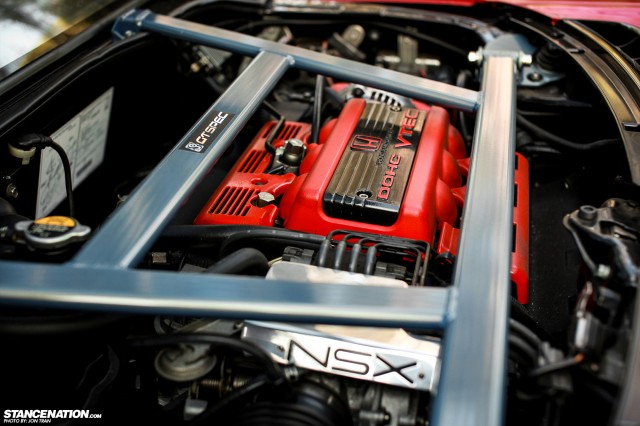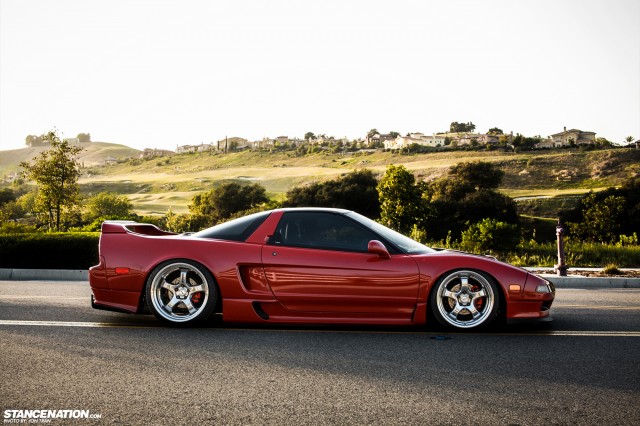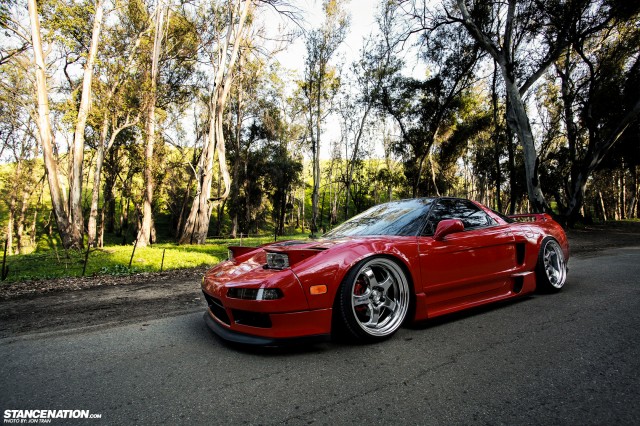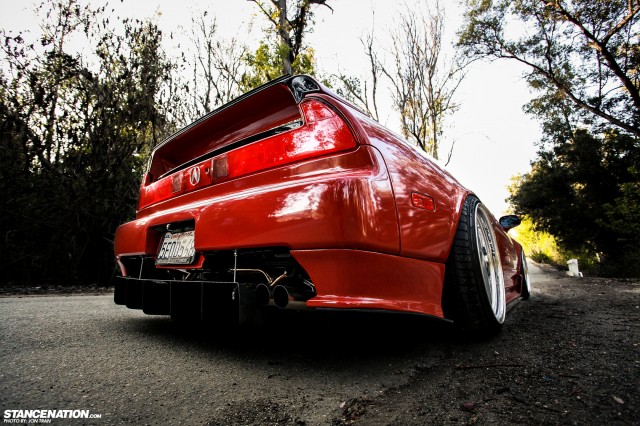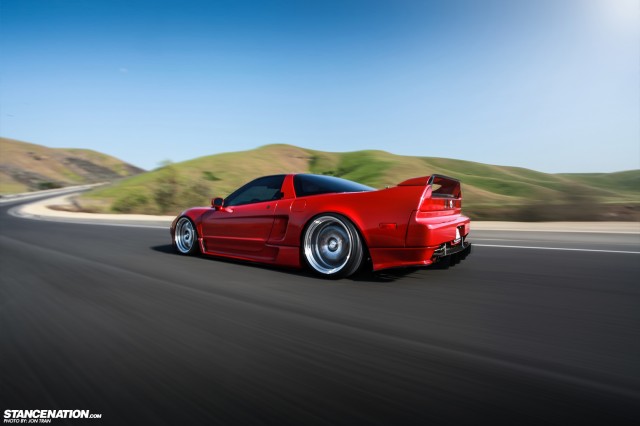 [toggle_box]
[toggle_item title="Wheels/Tires/Suspension" active="true"]
Work S1R full polish 18X9+10 215/30 and 19X10.5 -10 245/35
Bilstein fr/rr full coilovers
GT NSX Spec brace kit
project Mu pads
Upgraded cross-drilled rotors front and rear[/toggle_item]
[toggle_item title="Exterior" active="false"]Custom wrapped 3M Red Metallic Cherry Blossom by Precision Dynamix in Irvine
Marga Hill Sides
Custom side steps
I's Impact Rear Spats
Diflow Diffuser
Shine V1 lip
Mugen rear Spoiler[/toggle_item]
[toggle_item title="Engine" active="false"]Taitec Headers
Custom Test Pipes
Pride V2 Pretzel F1 exhaust
Downforce ram air with Comptec CF airbox
4.23 Short ratio Japanese Gear set[/toggle_item]
[/toggle_box]