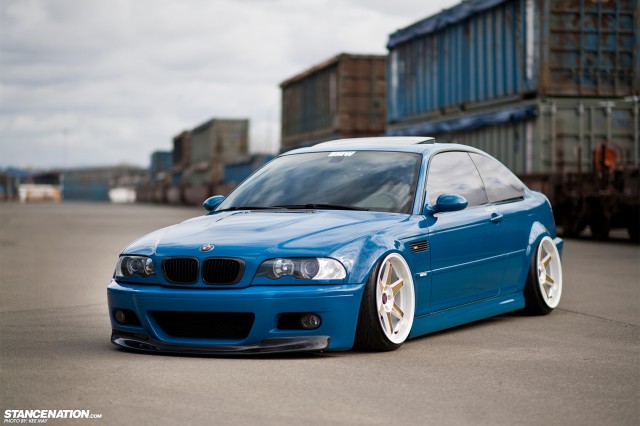 It's a relatively simple question, "Who are you?"  At least it seems simple at first glance.  However, the complexity of explaining your personality, your thoughts and feelings or past and present makes itself quite apparent once you being to attempt your answer.  Similarly, you could be asked "What do you drive?"  One could reply "An M3."  Yet, that fails to convey the full story.  It leaves out your goals and aspirations, the long nights, hard work and the creative energy you poured into your not-so-simple car.  The world is not simple.  The world is exciting and interesting, just like you and your car.
Photos & Video By: Kee May & Mike Sugg exclusively for StanceNation.com
BMW's M3 has captivated automotive souls straight from its E30-chassis beginnings.  The E46-generation also found itself on enthusiast wishlists everywhere thanks to the attractive styling, balanced chassis, and powerful S54 inline-6.  E46 M3s fit a variety of personalities, as it is suitable for everything from track use to stylish street cruising.  As far as the stance community is concerned, those bulging fenders are capable of fitting large, aggressive wheels and executing the look with great poise and ease.  Even if rear fender work takes a little more effort than most other vehicles…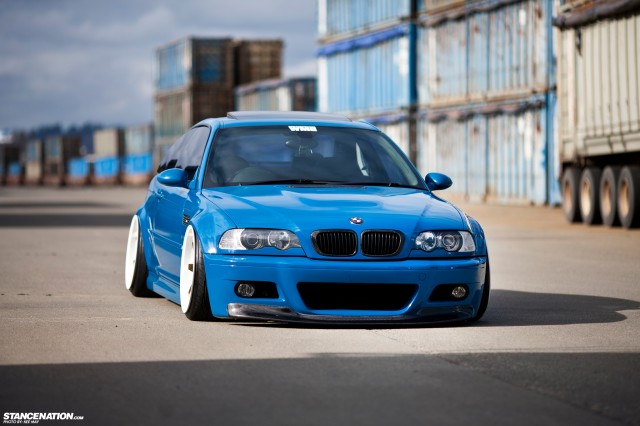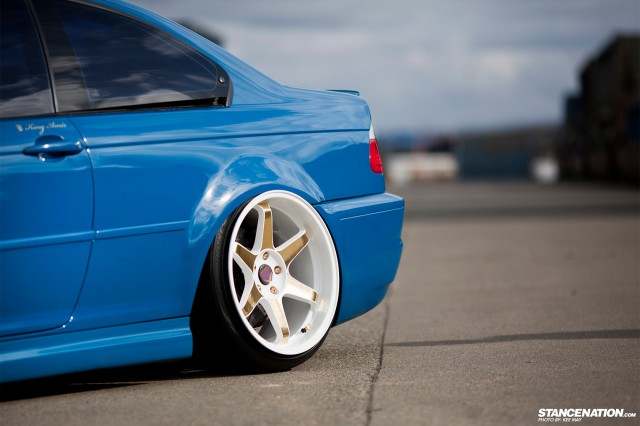 Hollywood, California's Amir Allahyar has been hard at work for the past 4 years infusing who he is into this 2001 M3.  After ending a difficult search for an all-original, single owner E30 M3 he decided to change directions and utilize the later-model.  Amir is a 23-year old recording artist and personal trainer whose creativity has spilled over into the automotive world.  This M3 would be his first BMW, following a long history with Volkswagens.
The 3.2-liter S54 is already a formidable power plant in factory trim.  Allahyar has kept it simple with choice upgrades from a few renowned BMW tuning specialists.  Fuel and ignition maps are optimized with a Stage II chip from Dinan, who also provided the 4.10 differential.  Turner Motorsports coil packs enhance spark while spent gases are excused via an exhaust system from Active Autowerke.  Future plans call for a build head and open velocity stacks, but for now Amir enjoys near-OEM M-performance and driveability.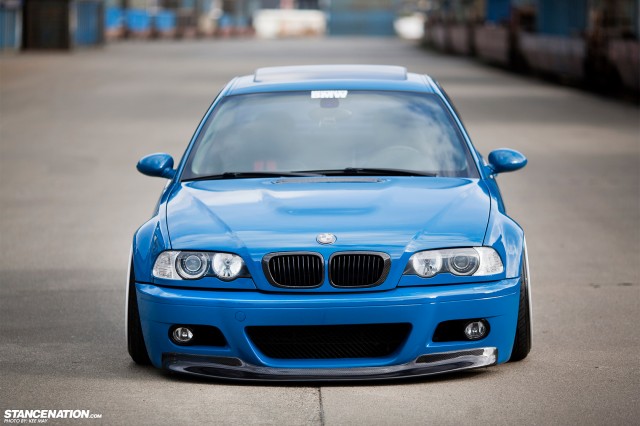 With the goal of building the lowest E46 M3 there is an obvious solution — air suspension.  AirRex struts/shocks and bags are in place with an Airlift Autopilot V2 management system doling out pressure from the 5-gallon tank with dual 450C ViAir compressors.  Alignment specifications are dialed in with AirRex camber plates and Avus camber arms while the problematic rear subframe is reinforced with plates from Turner Motorsports.  The only downside to the air setup is that I'm sure all of the adjustability is distracting for Amir, who proudly proclaims "I have A.D.D."  Hey, is that something shiny?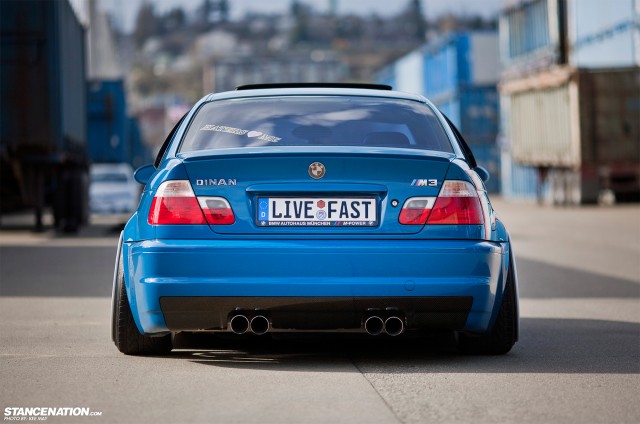 Yes Amir, that is something shiny.  Those are the custom reflective gold centers on your white Varrstoen ES2.2.2 wheels that your fenders are so comfortably sitting on.  The popular Varrstoens are sized 19×9.5″ and 19×10.5″ with H&R spacers and studs fine-tuning fitment.  Toyo Proxes 215/35/19 and 235/35/19 tires tuck beneath the fenders when the coupe is aired-out.  The unique colorway of the wheels is striking in contrast with the beautiful Laguna Seca Blue paint.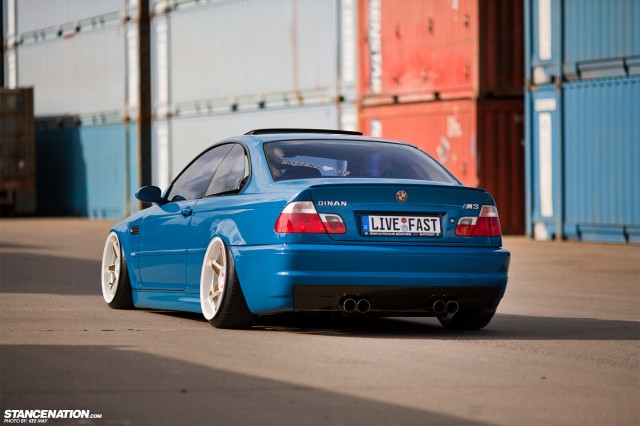 Exterior modifications are minimal, preserving the natural aesthetic of the M3.  A European CSL front end is in place with carbon trim and lighting upgrades finishing off the changes.  Inside, a set of Schroth Rallye harnesses keep you in place while audio enhancements from  JVC, Alpine, and Power Acoustic keep you entertained.  Along with the engine work, Amir is also planning a rollcage, Status Ring seats, and a Brembo BBK.  Like many of us, he agrees that the build process is never-ending.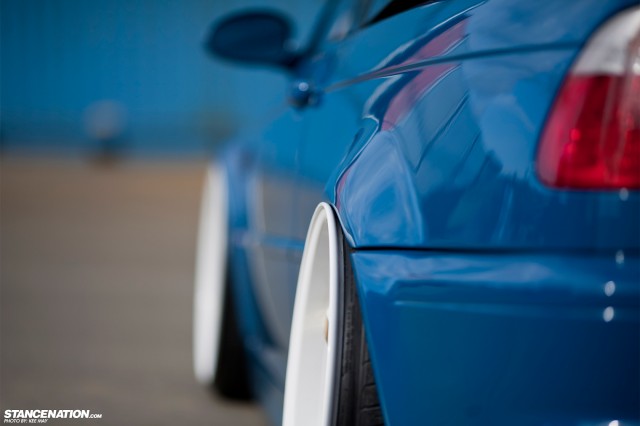 So who is Amir Allahyar?  What does he drive?  I don't think I have enough room to describe the essence of his personality or really tell you what his car means to him.  Those with A.D.D. probably wouldn't read it all anyways.  However, it is nice to enjoy a glimpse into the life of this M3.  Amir's personality is as bold as the finish on his Varrstoens and he thanks God, his parents, his son, Jeff Ruane, Jason Patton, Kee May, Mike Sugg, and of course Elvis for keeping him motivated with his build and with this feature.  I might add that this is the first time I've actually found myself laughing out loud at a pre-feature interview.  So who is Amir?  "I drink NOS every day.  I look like a douchebag, bags are for groceries." I guess that says it all.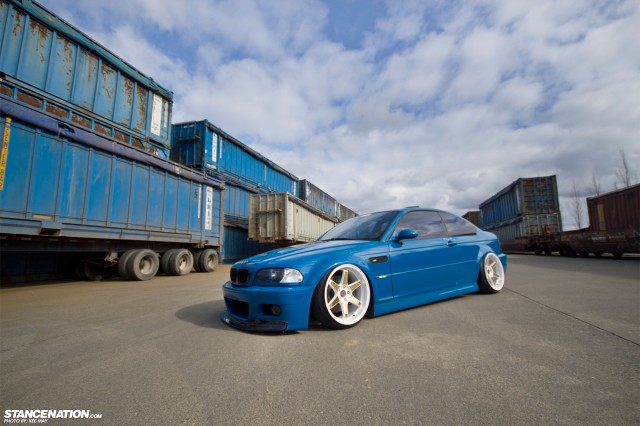 [toggle_box]
[toggle_item title="Wheels/Tires/Suspension" active="true"]Dinan front strut bar
AirREX front camber/caster plates
Adjustable sway bar end links
Avus rear adjustable camber arms
Turner Motorsport rear subframe reinforcement kit
Drilled & slotted rotors all around w/ Hawk pads
Bag Setup:
AirREX struts/shocks/bags w/ 12 way dampening
Airlift Autopilot V2 full digital management
Dual 450C Viair compressors
SMC water traps
3/8" lines to front
1/4" lines to rear
All quick connect swivel fittings
Powder coated 5 gallon tank
Airlift 200psi air pressure gauge
Stance:
VarrsToen ES2's – 19X9.5" front & 19X10.5" rear
Wheels are powder coated gloss white w/ reflective gold centers
Custom center caps
Gold crown valve stem caps
Toyo Proxes tires – 215/35 front & 235/35 rear
H&R spacers front and rear, secret magical widths
H&R extended stud conversion
Gold Gorilla tuner lug nuts[/toggle_item]
[toggle_item title="Exterior" active="false"]OEM European front bumper
Carbon fiber CSL front lip spoiler
Carbon fiber kidney grills
Carbon fiber fender gills
Carbon fiber hood vent
Carbon fiber emblems w/ gold letters
Carbon fiber rear valance and license plate frame
Aurora angel eyes
Smoked fog lights w/ 6K HID's
Clear corner lights w/ stealth bulbs
Crystal clear side repeaters
35% tint
Rolled arches in the front, cut arches in the rear[/toggle_item]
[toggle_item title="Interior" active="false"]Factory Piano Black trim
Schroth Rallye 4 red harnesses
Euro OEM emergency storage boxes under both front seats
A, B, and C pillars reupholstered in black headliner cloth
OEM Ashtray delete tray
Metric clutch stop
Valentine V1 radar detector
EAS radar rearview mirror mount
ZHP shift knob
Carbon fiber steering wheel emblem
I.C.E.:
JVC head unit with DVD/MP3/Ipod
2 JL 12″ W3V2's
Alpine X Power amp
Power Acoustic 2 farad cap
Custom built trunk enclosure wrapped in black suede
PAC steering wheel control interface[/toggle_item]
[toggle_item title="Engine" active="false"]Dinan 4.10 differential
Dinan stage II chip
Dinan short shift kit
Active Autowerke SS exhaust
K&N full cold air intake
Turner Motorsport performance ignition coils
Carbon fiber ECU cover
///M oil cap[/toggle_item]
[/toggle_box]