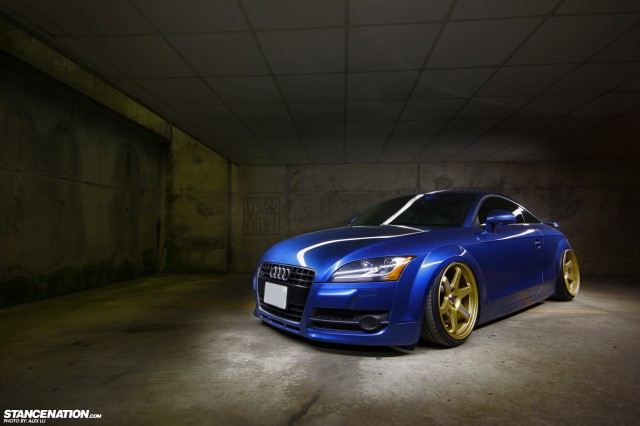 Being the first to do something is never an easy task especially when it comes to modifying a car.  When a new chassis or model comes out, the aftermarket doesn't respond instantly, and most owners are left scratching their heads trying to figure out what to do.  Toronto resident Justin Wong faced a similar issue with his mk2 Audi TT.  The latest version of Audi's popular coupe is as stylish as ever, but being so new, the aftermarket is trying to churn out the parts to keep up with the demand, so when it came time for Justin to sort his, well, he had some work to do.
Photos By: Alex Lu exclusively for StanceNation.com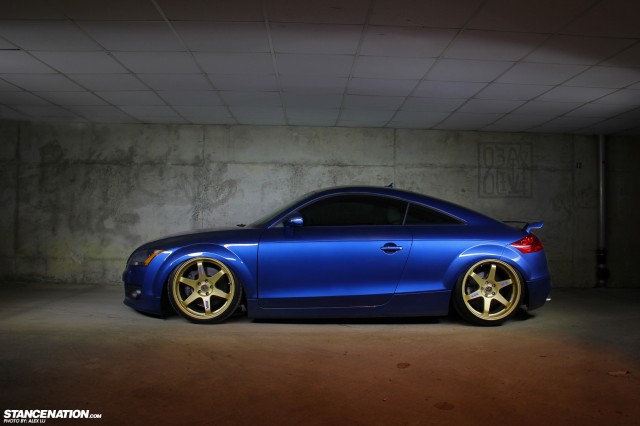 First thing's first and that was sorting the suspension.  To get the fitment that Justin was after, he decided to the air ride route, and called up the specialists at Airlift Performance to help with a solution.  Airlift has a lot of experience in the euro community, and is a company that will go out of their way to help a customer achieve what they are after.  If they don't already have a kit for your car, well they will help you make one.  Talk about support, and when it comes to bagged mk2 TTs they're a bit thin on the ground, so Justin was in good hands.  Airlift fitted him up with their performance front struts with sleeves, and out back sees a pair of double bellow bags while a 3-gallon tank and dual Viar compressor setup keep everything filled.  Air management is courtesy of Accuair with their ever-popular e-level system fitted to Justin's TT along with their wireless keyfob so he can make adjustments remotely should he feel the need.  The setup is rather simple, but that's what Justin's TT is about.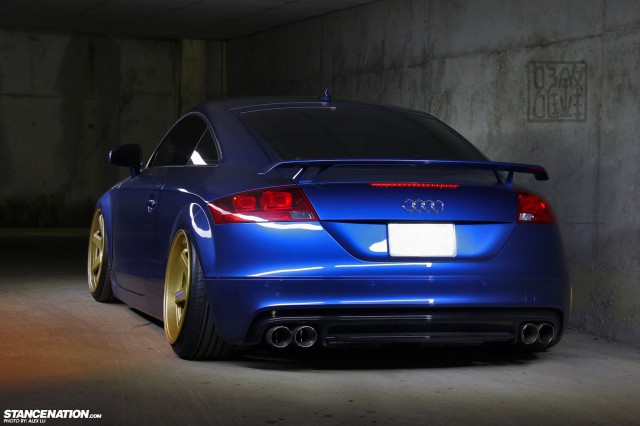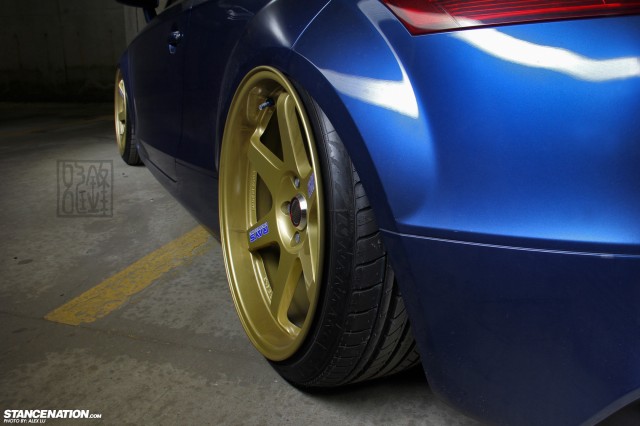 Keeping with the simplicity of things, Justin's wheel choice is a simple one, but is it ever effective.  This is where Justin had to do some work to figure out wheel specs since he couldn't just hop on the internet and start searching.  That always seems to be the case when you're trying to push the boundaries of fitment, but for a lot of us who choose more popular platforms, we can search the depths of the internet for other setups to get a good base to build from.  Justin didn't have that luxury, and the tape measures and guides came out to help him figure out his wheel sizes.  The Volk TE37 will go down in history as one of the most iconic wheels ever.  It's classic design has spawned numerous copies, but nothing compares to the original when it comes to both form and function.  The TE37s on Justin's TT come in at 19×9.5 and 19×10.5 with a +22 offset all around and the fitment is spot on with the perfect amount of tuck in the front, and some fender-on-lip action in the rear that is so popular in the euro community.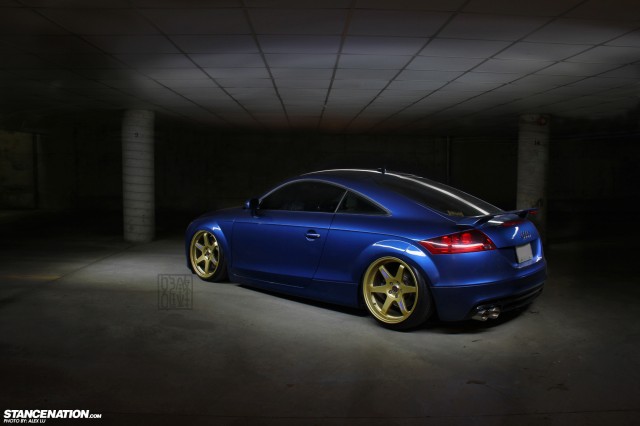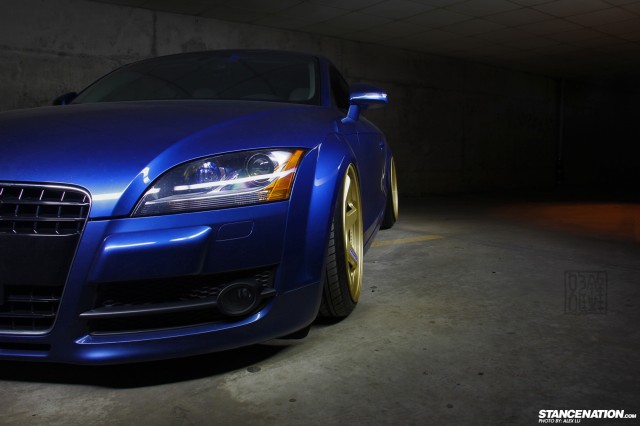 The rest of the car is left pretty much as it came from Audi, but when the German powerhouse is turning out cars that look this good, nothing much needs to be done.  Seriously, I'm a big fan of the new range of Audis, they all look phenomenal.  Justin did add a TTRS rear bumper and rear spoiler and plans on adding a TTRS front bumper in the near future.  The car comes equipped with a 3.2L VR6 motor, the same as found in Volkswagen's R32 Golf, and if you're an aficionado of fine engine noises you will know that this is one of the smoothest sounding 6-cylinders out there.  To emphasize this, Justin added a Meisterchaft GTC exhaust to amplify the tone.  In the short, 4 months that Justin has owned the car, he's accomplished quite a bit to such a new car, and the results speak for themselves, as this is one of the nicest mk2 TTs we've seen in North America.  With examples like Justin's, and a few stunning mk2 TTs in Japan and Europe, we have the feeling this won't be the last time you see one of these coupes here.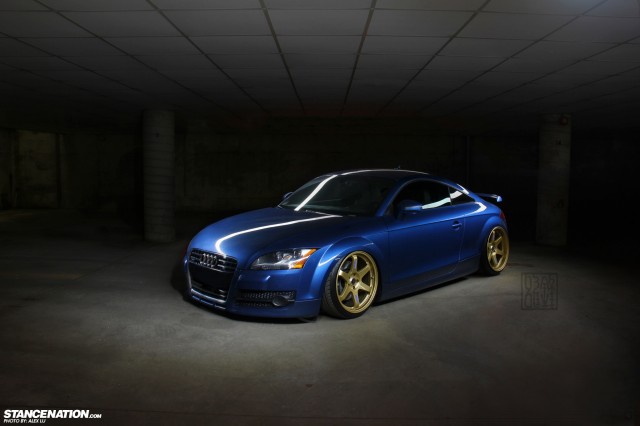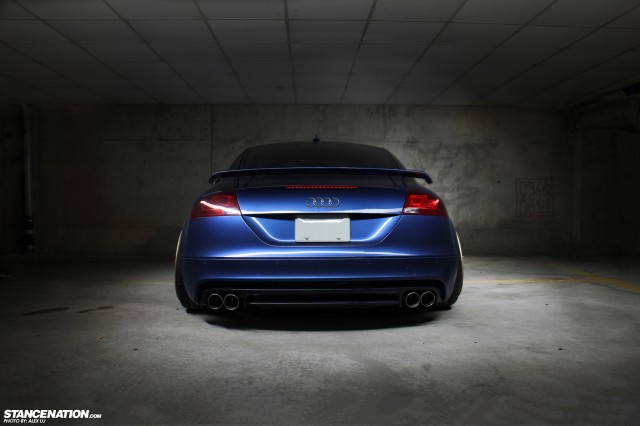 [toggle_box]
[toggle_item title="Wheels/Tires/Suspension" active="true"]Airlift Performance front struts
Airlift double bellow rears
Accuair E-Level
Accuair wireless keyfob
3 gallon tank with dual Viair compressor setup
Volk TE37 19×9.5 +22, 19×10.5 +22
-Nankang NS20 225/35/19, 235/35/19[/toggle_item]
[toggle_item title="Exterior" active="false"]Audi TTS rear bumper
Audi TTRS rear spoiler[/toggle_item]
[toggle_item title="Engine" active="false"]Meisterschaft GTC (EV controlled) exhaust[/toggle_item]
[/toggle_box]