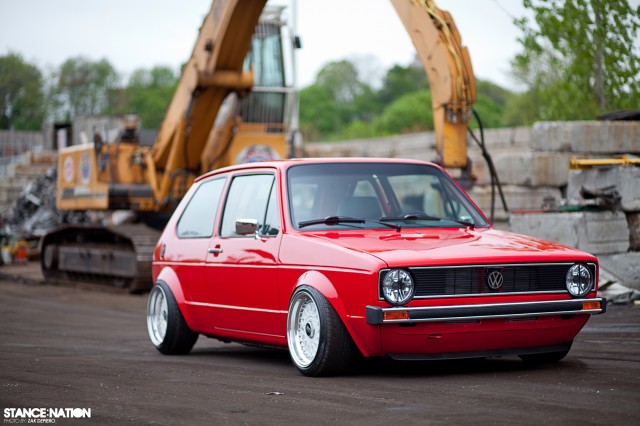 It's always so inspiring showcasing builds such as this one. What started off as literally a huge piece of outdated metal turned into one of the cleanest all around rides that we have ever featured before. Hell, we would go as far as saying that it's one of the cleanest Rabbit's we've ever laid our eyes on! It could be because it obviously does look amazing or perhaps it's because of seeing just how far it has come since Joe started the build. Whatever it is, it is a real honor to share this beautiful MK1 Rabbit with you. You are in for a huge surprise if you think a extremely clean exterior and proper stance is all that this thing has going for it! Scroll down for more!
Photos By: Zak DePiero exclusively for StanceNation.com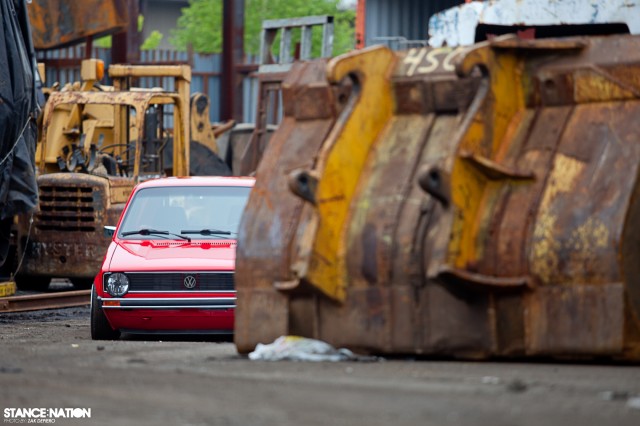 When Joe first started the project it was literally a blank canvas. Even though the car had an extremely faded Mars Red paint (if you even want to call it paint!) it's shell was in a good shape, 100% rust free and super solid. Right away Joe knew that he wanted to go low and wide so he started with a hammer pulling arches out as much as possible. Yes, pretty much all of the body work ended up being done in Joe's garage. All by himself and a few very close friends. In all honesty, garage builds are some of our favorites especially when done right…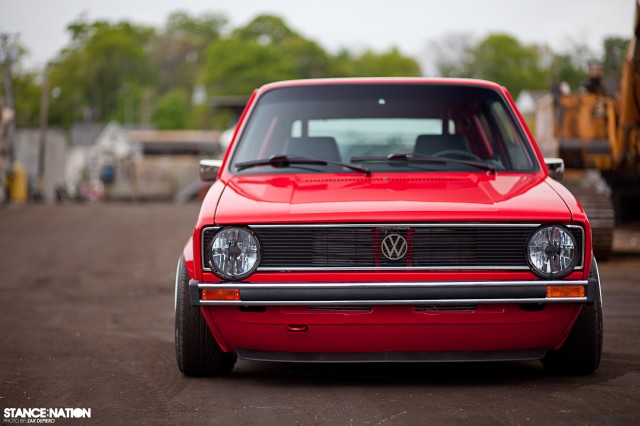 Lots of blood, sweat, and tears went into this build. The exterior was one of the main focuses of course and Joe did a complete single circle conversion (headlights) as well as a small tail conversion for starters. Other things that the car is currently sporting consist of things like chrome euro bumpers, chrome flag mirrors and handles and of course shaved side markers. When everything was done it was time to get the car painted. The paint was done in a state of the art paint booth and it comes from the latest variant of the Audi R8 brilliant red.
Joe also spent quite some time figuring out the perfect set of wheels for his Rabbit, eventually going with BBS RMS, powdercoated white. Fitment is 15×9 and 15×8 and it sits on old school VW bags that are accompanied by Accuair E-Level Management. Aired out all the way puts the fenders right on top of the tire with absolutely no clearance. Don't even get us started on how much we love that slight poke all around! Well done, very well done.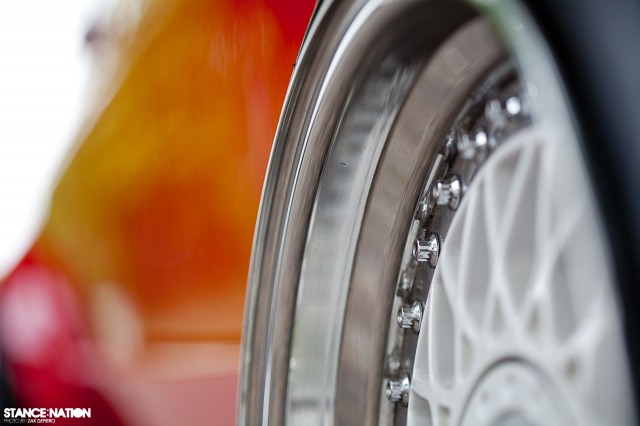 Joe had the car about 8 years though just recently did he start putting in work. It was always a little bit here and there but he decided to get things done. A ton of late nights & weekends were dedicated to build the car the way it is now. Joe tells is that this is exactly what he would want his rabbit to look like from the dealer. Small car, big engine. Oh about the engine, we almost forgot. You're looking at a 24V, 5 speed VR6 engine placed in a beautifully tucked & shaved bay! Plenty of power and style right here! Just amazing, that's all we can say.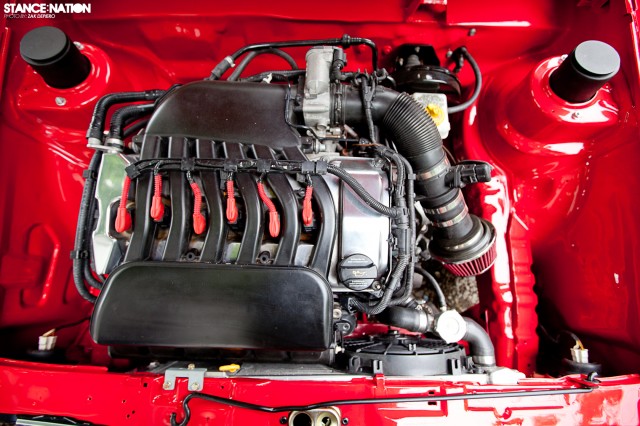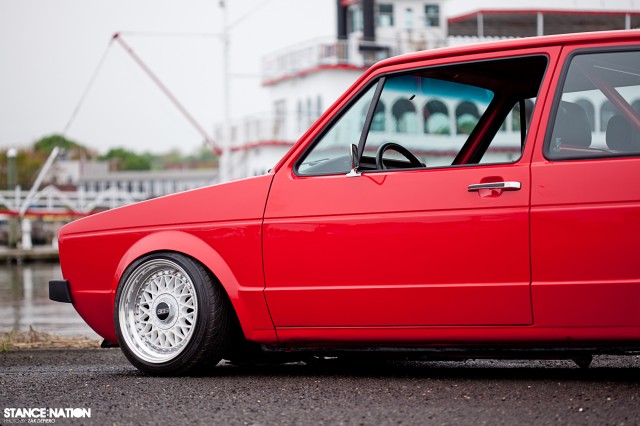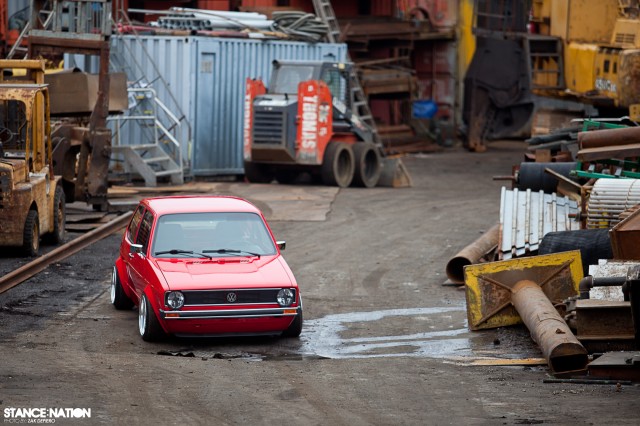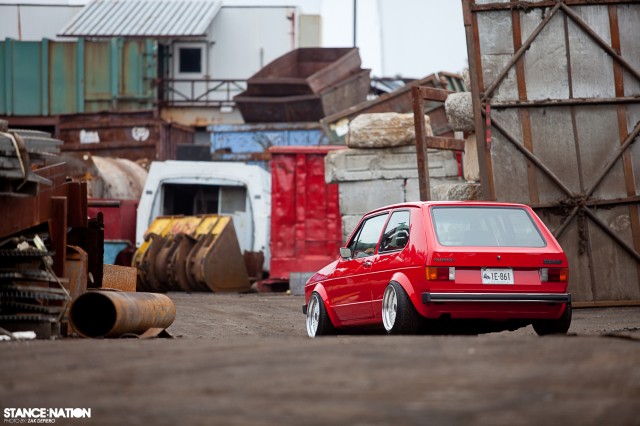 The interior features a cabby dash, fresh pair of Recaro Trophys as well as a Scirocco steering wheel. Joe took the more simple and clean route with the interior and it looks damn good. To be honest with you, we wouldn't be surprised if we saw this car on the cover of your favorite Euro magazine. Again though, what makes it that much better is the fact that it was all built by Joe and his buddies.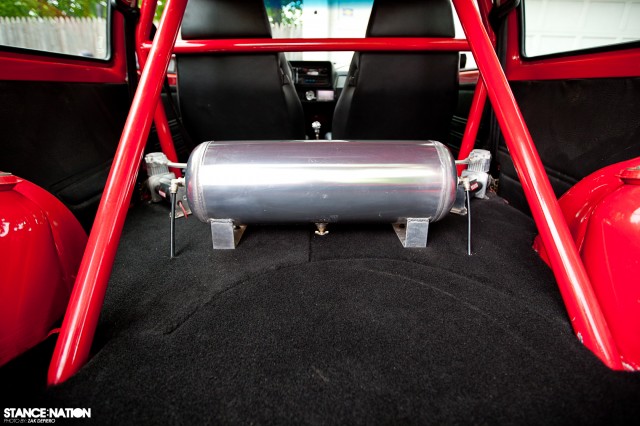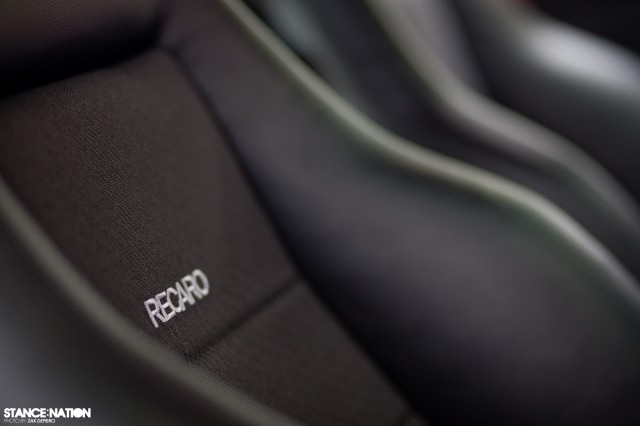 Since the car was finished few months ago, it has collected several trophys in all different categories. The attention to detail and quality are up there with the best. We will leave you with more awesome photos below.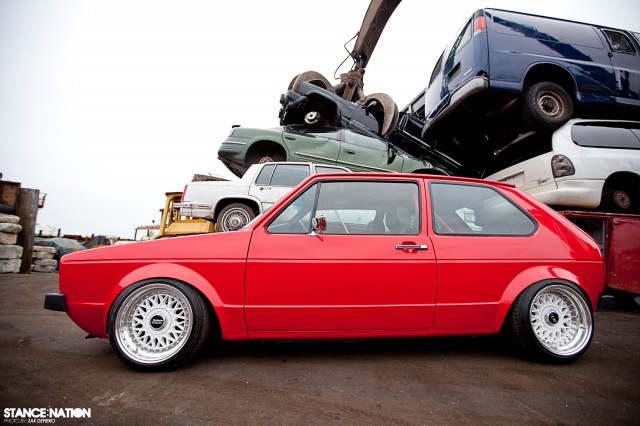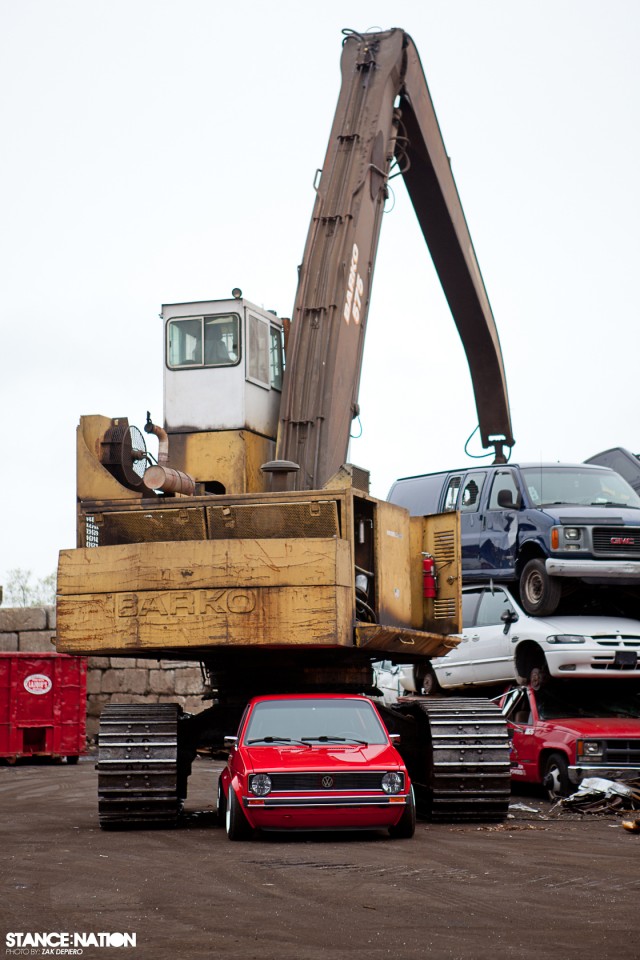 We would like to give a huge shout out to our awesome photographer Zak for the awesome photos. Make sure you visit and "like" his fanpage by clicking here for more awesome photos. Also, major kudos to Joe for everything. He has done an amazing job transforming this Rabbit from ordinary to mind blowing.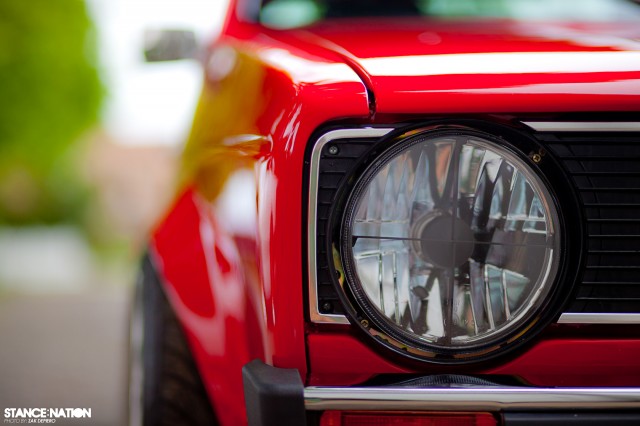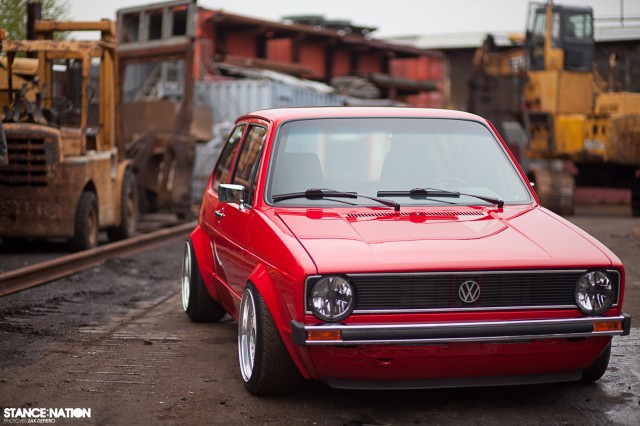 As always, if you think your ride has what it takes to be on our site please email us at stancenation@gmail.com with a few photos and specs. We're always looking for new cars to feature!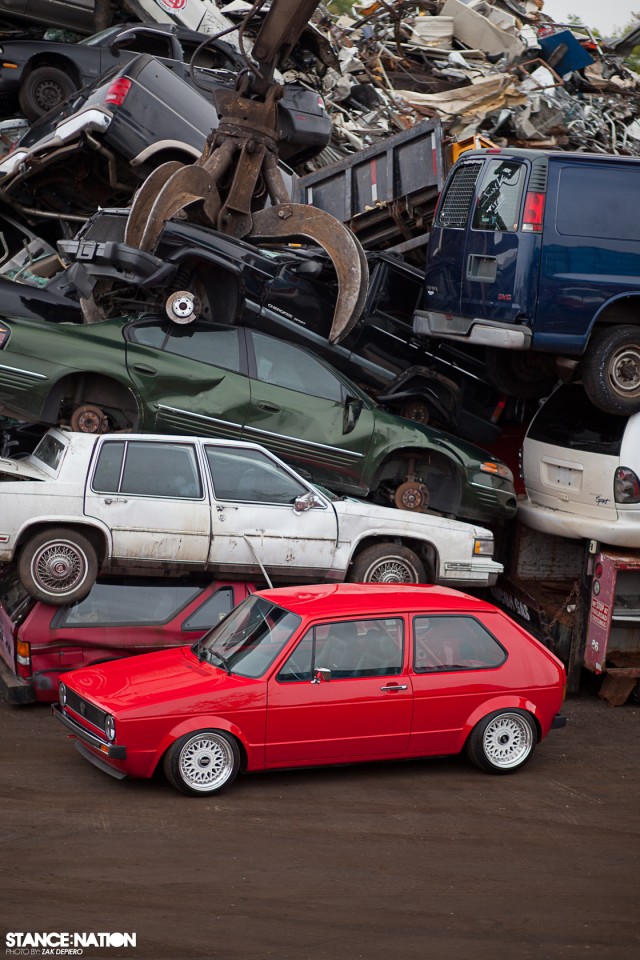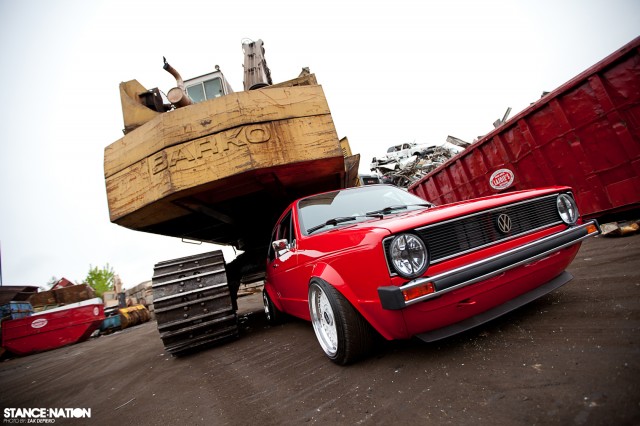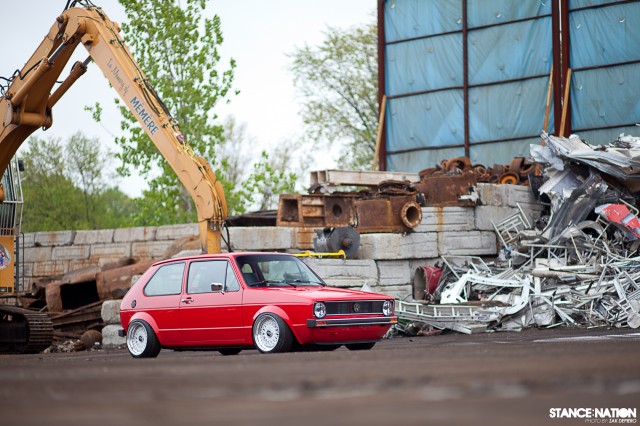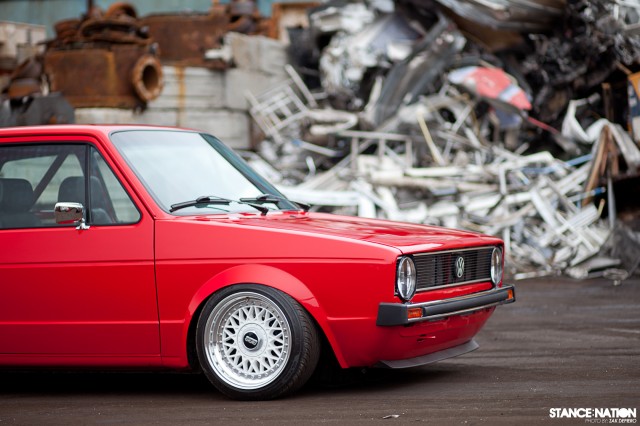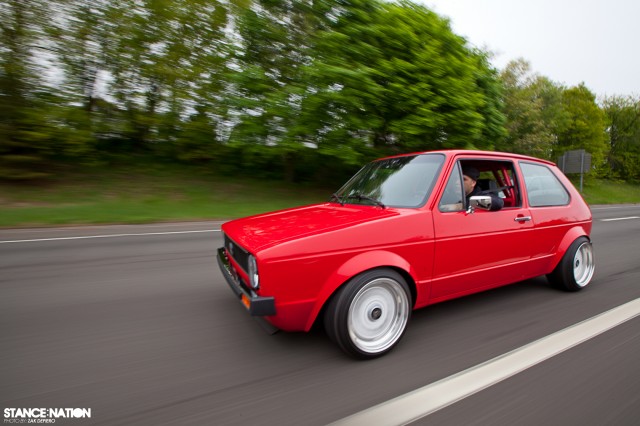 [toggle_box]
[toggle_item title="Wheels/Tires/Suspension" active="true"]15×9 & 15×8 BBS RMS powdercoated white
Accuair E-Level Management with old school VW bags[/toggle_item]
[toggle_item title="Exterior" active="false"]single circle conversion
small tail conversion
chrome euro bumpers
chrome flag mirrors and handles
pulled fenders
shaved markers
painted audi brilliant red[/toggle_item]
[toggle_item title="Interior" active="false"]cabby dash
recaro trophys
scirocco steering wheel [/toggle_item]
[toggle_item title="Engine" active="false"]24v. VR6 5speed[/toggle_item]
[/toggle_box]