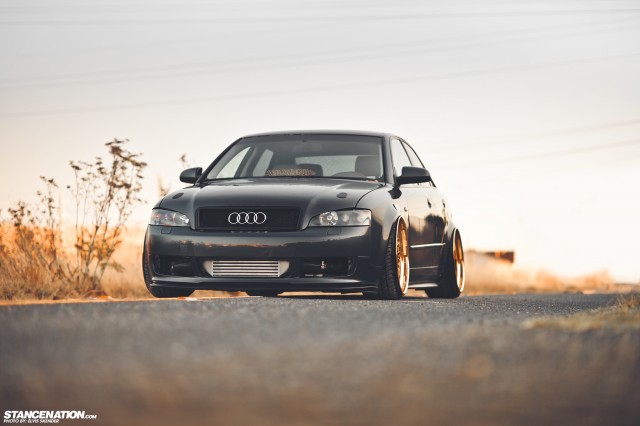 As I stare into the menacing glare of this Audi, I find myself having a tough time deciding what I find most attractive about it. Every angle is absolutely gorgeous and the closer I look, the more I realize how stunning it really is. Each detail further proves that this particular Audi was crafted by the mind of an experienced artist. With that said, I'd like to introduce you to Josh Sherwin of Cupertino, California. He is the owner of what I believe to be one of the most beautiful Audi's we ever featured.
Photos By: Elvis Skender exclusively for StanceNation.com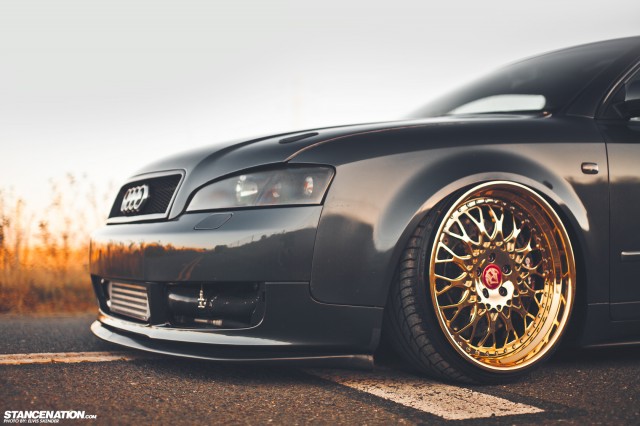 What excites me most about this exceptional A4 is how it's story began. Not because it's complex and unbelievable, rather, because of how common it is. This is Josh's first car. Being fresh out of high school, his parents thought that the STI or B5 S4 Josh picked were more wild and powerful than he really needed. So, they settled for the more conservative A4. Not satisfied with the average look and strength of the A4, Josh began modding and admittedly "was just as good as any high-schooler trying to be a cool kid". I'm willing to say that he's come a long way since those days.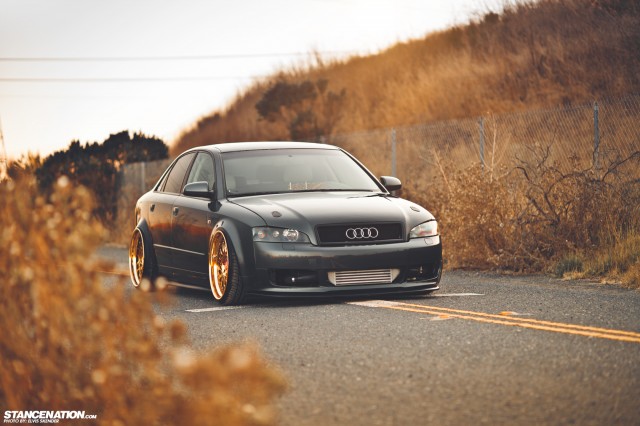 With a set of 18″ chrome rims and tinted taillights, Josh felt the A4 just wasn't giving him the excitement he wanted. After researching possible replacements for his docile daily driver, he realized that he didn't need a new car, he needed a new turbo. That is what started the addiction. Now four and a half years later this car has seen multiple turbo, suspension and wheel swaps and is now considered finished.
The third and current turbo kit was built with a Precision 5857 Turbo with a Tial 38mm wastegate. That's bolted to a custom bottom mount tubular manifold, custom 3″ down pipe and 3″ exhaust with Borla mufflers. Fresh air is cleaned through an AEM filter connected to a custom intake tube. That new air flows through a Garrett large front mount intercooler with custom hot and cold piping and a Forge splitter blow off valve. A VR6 mass airflow sensor and 034 ME7 programmable fuel system help determine how much fuel is supplied by the Bosch 040 fuel pump and feed through the Delphi 630cc injectors. Boost levels are controlled with a Halman manual boost controller.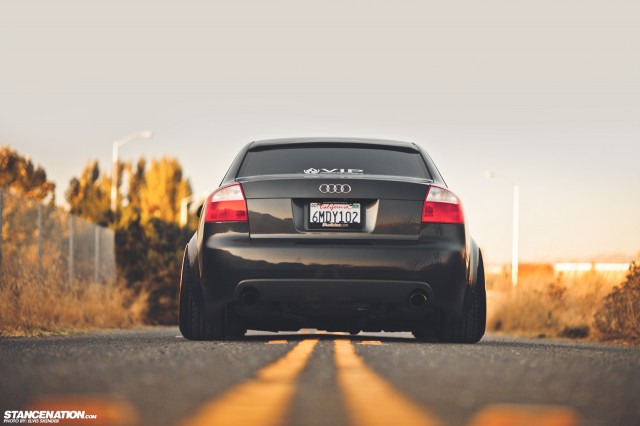 Increasing an engines horsepower also increases the stress put on the rest of the engine components. A 034 power steering cooler helps keep engine temps from affecting Joshes ability to turn. One of the features i really admire is Josh choice of manual transmission. A lightened Fidanza flywheel and Southbend stage 3 clutch, are added to increase throttle response and clamping force. Stock engine and transmission mounts aren't always capable of handling an increase in horse power. They were replaced with a stronger set from Stern for the engine and a set from 034 on the transmission. With the engine performing its best, Josh wanted it to also look its best. That's why he added an 034 coil pack cover, with oil and coolant caps from an Audi R8.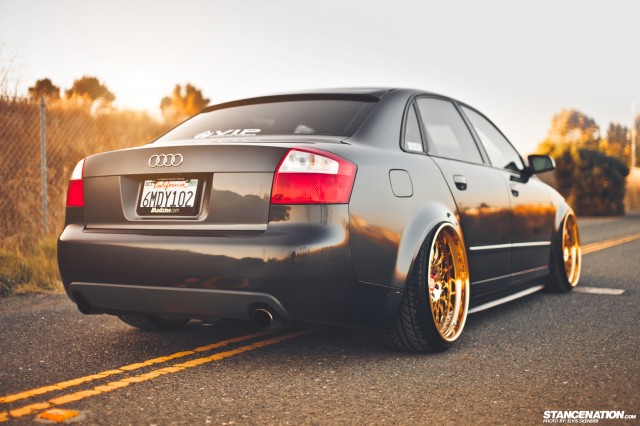 There are so many reason for why this car is on a level that most will never reach. Not only did Josh use quality parts, the craftsmanship and detail is second to none. Even with the exceptional work, I believe that there is one feature that stands above all others, the incredible 24k GOLD plated VIP modular VX-110 wheels. They measure 20×10 in front and 20×11 in back and are held on by an 034 wheel stud conversion. Most believed that this size wheel wouldn't fit or would look ridiculous on Joshes A4 and as you can see, they were wrong.
These are the wheels of a champion.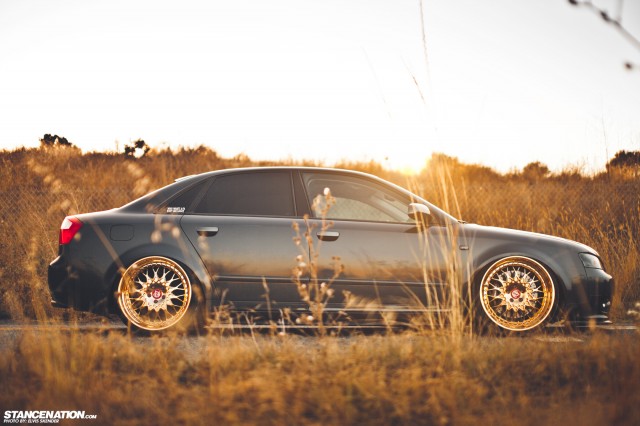 For the suspension Josh chose to ride on air. When you pop the trunk you will find hard word flooring with an Accuair e-level air management system on display. This system is connected to Mason Tech airbags and Bilstein struts and helping to keep the back wheels working together is a sway bar from the A4 performance model, the RS4.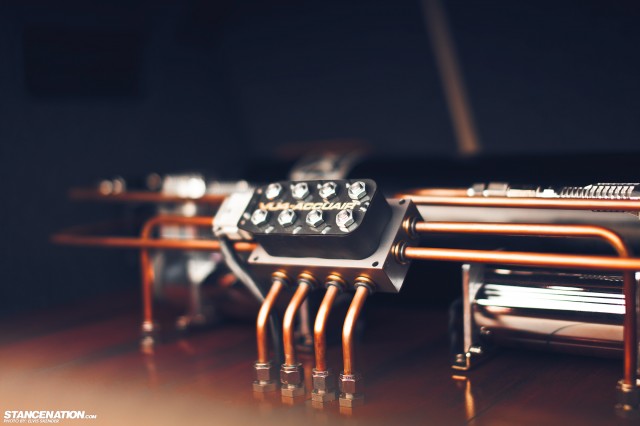 The interior is clean an simple but has many features on display. When sitting in the driver seat you'll see an S4 instrument cluster, an AWE vent boost gauge, a Jetta IV headlight switch and an HKS turbo timer. When driving the car Josh keeps a firm grip on a Nardi classic gold platted steering wheel and a JHM weighted shift knob that is connected to a JHM short shifter.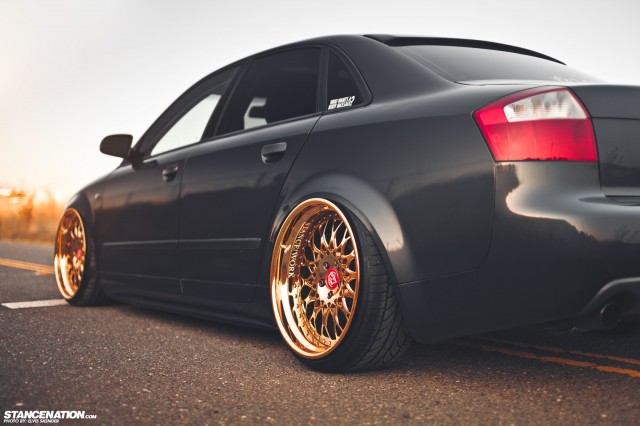 If Josh wants to play some tunes while he breaks necks around town, he plays them through a Pioneer avh-p4100 head unit with a 1000w interior amp powering Infinity door speakers.
What goes fast, must slow down… at least when your talking about cars. Helping to slow the rotation of those golden rings is a giant Brembo 355mm GT big brake kit with Adams rotors. Even while sitting behind 20in wheels, these brake rotors look massive.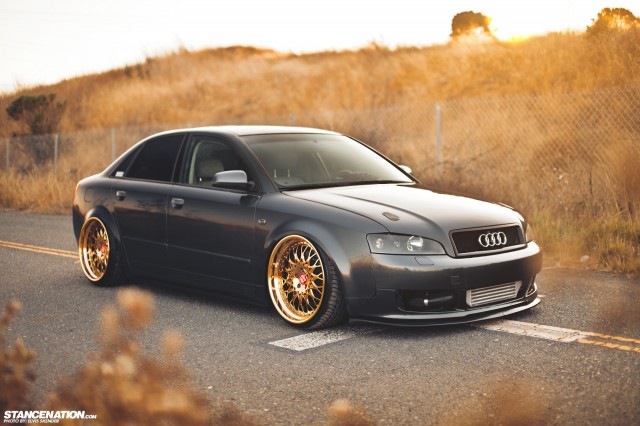 Although the wheels grab a lot of attention, they aren't the only addition to the exterior. Josh swapped the bumpers with an oem Ultrasport front bumper and an oem S4 rear. A set of Aerocatch hood latches hold a DTM Boser carbon hood that gives the Ecode euro headlights a strong, determined and angry look. Between those angry eyes is a Caractere grill while 6K HID's keep the path ahead visible. The front lip that Josh chose is absolutely perfect, the interesting part is that its meant for a Subaru STI. On the front fenders Josh installed ECS stealth side markers with DTH side skirts installed below the doors. Behind the black painted roof Josh installed a Rieger roof spoiler across the rear window.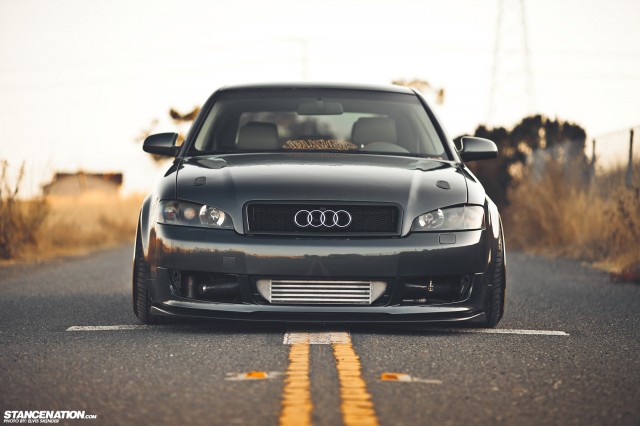 There are many reasons to love this Audi, with its hardwood floors, air ride suspension and gold plated rims, it looks like a million bucks. What Ive decided I like most is the fact that it was built by an average enthusiast just like you and I. Working, saving and building piece by piece, Josh was determined to have a car worthy of taking home the gold. As you can see, he has.
Josh wanted to give a shout out to few people so we'll just copy what he sent us. "Gotta give a shout out to the guys at 034 Motorports for helping me with my motor build, and James at BecauseBags for helping me with my trunk install. Most importantly, I have to thank my father and closest friends who were wrenching with me on countless over-nighters in the garage, driving with me all over town to pick up parts, and saving me on the side of the street with things didn't go as planned. You all know who you are."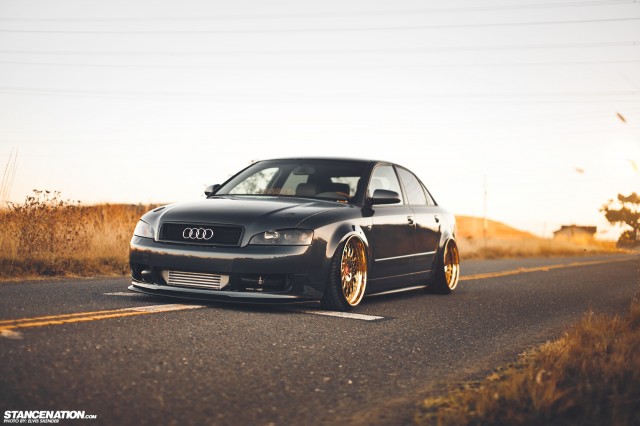 [toggle_box]
[toggle_item title="Wheels/Tires/Suspension" active="true"]Brembo 355mm GT big brake kit
RS4 rear sway bar
Adams rotors
Accuair e-level air management
mason tech air bags
bilstein struts
VIP modular VX-110 wheels 20×10 20×11
034 Studs conversion[/toggle_item]
[toggle_item title="Exterior" active="false"]OEM Ultrasport front bumper
OEM S4 rear bumber
DTM Boser karbon hood
Ecode euro headlights
6k HIDs
Caractere grill
Rieger roof spoiler
STI front lip
ECS stealth side markers
Aerocatch hoodlatch
Black painted roof
DTH side skirts[/toggle_item]
[toggle_item title="Interior" active="false"]S4 instrument cluster
Awe vent boost gauge
Pioneer avh-p4100 unit
1000w interior amp
Infinity door speakers
JHM short shifter
JHM weighted shift knob
HKS type 0 turbo timer
Jetta IV headlight switch
hardwood floor trunk
NARDI classic gold played steering wheel
[/toggle_item]
[toggle_item title="Engine" active="false"]Precision 5857 turbo
Custom bottom mount tubular manifold
Custom 3″downpipe
3″ turbo back exhaust
Borla mufflers
Tial 38mm wastegate
Garrett large FMIC
Custom hot/cold piping
Custom intake w/AEM filter
Forge splitter BOV
Delphi 630cc injectors
034 Me7 custom tune
034 coilpack cover
034 tranny mount
034 power steering cooler
Stern motor mounts
VR6 MAF
Halman Manual boost controller
Southbend stage 3 clutch
Fidanza aluminum Flywheel
Bosch 040 fuel pump
R8 oil/coolant cap[/toggle_item]
[/toggle_box]