Inspiration is a powerful concept. It cultivates passion and motivates people to achieve and create in an ever-evolving process that links minds and ideas. We reach to the past or look to the future for it and it arrives both internally and externally. An arbiter of automotive inspiration, designer Jon Sibal artfully combined influence and personal creativity when his imagination embarked on a mission that would ultimately result in this menacingly-black Dodge Challenger.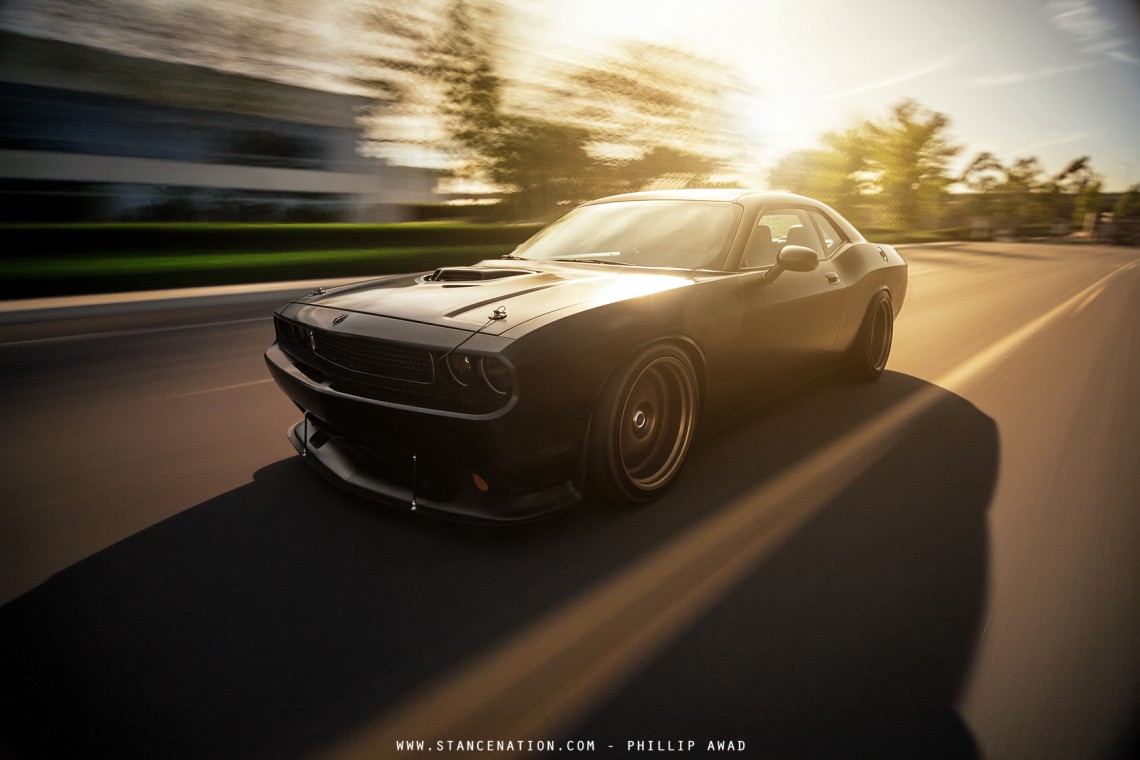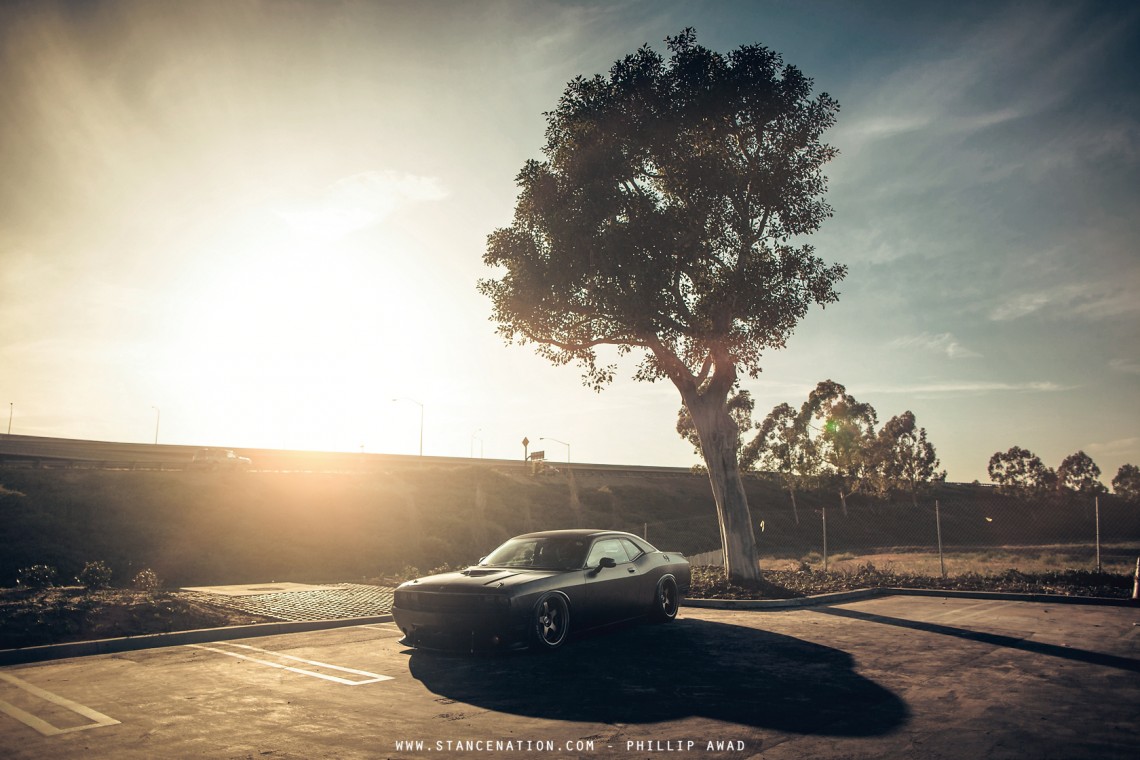 The retro-inspired present-day Dodge Challenger is a remarkable tribute to the original '70s version of the muscle car that still manages to escalate the heart rates of onlookers both young and old. It is often difficult to balance original influence and contemporary re-imagination so the modern Challenger is most definitely an impressive feat. Jon was originally drawn to the platform for its design and took the liberty of entering Dodge's promotional Design Competition with a "True Fire" paint job concept – a victory that created an opportunity for him to further explore his vision for the car when he took delivery of his prize around 5 years ago.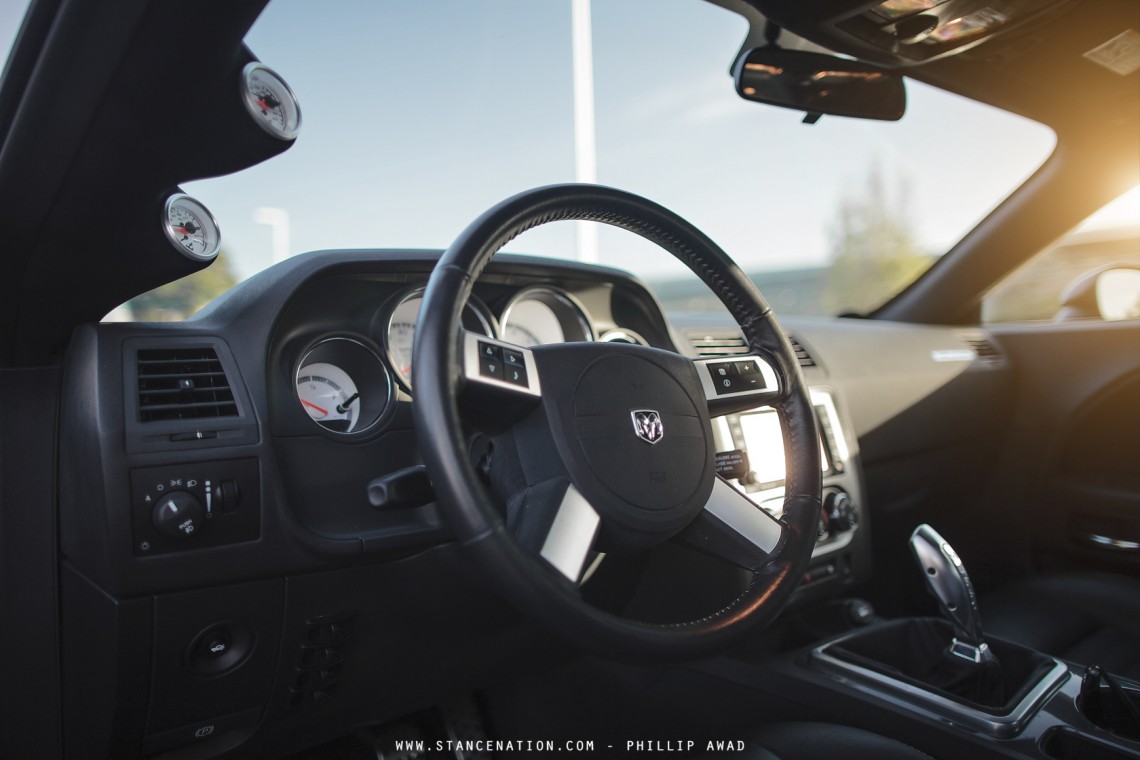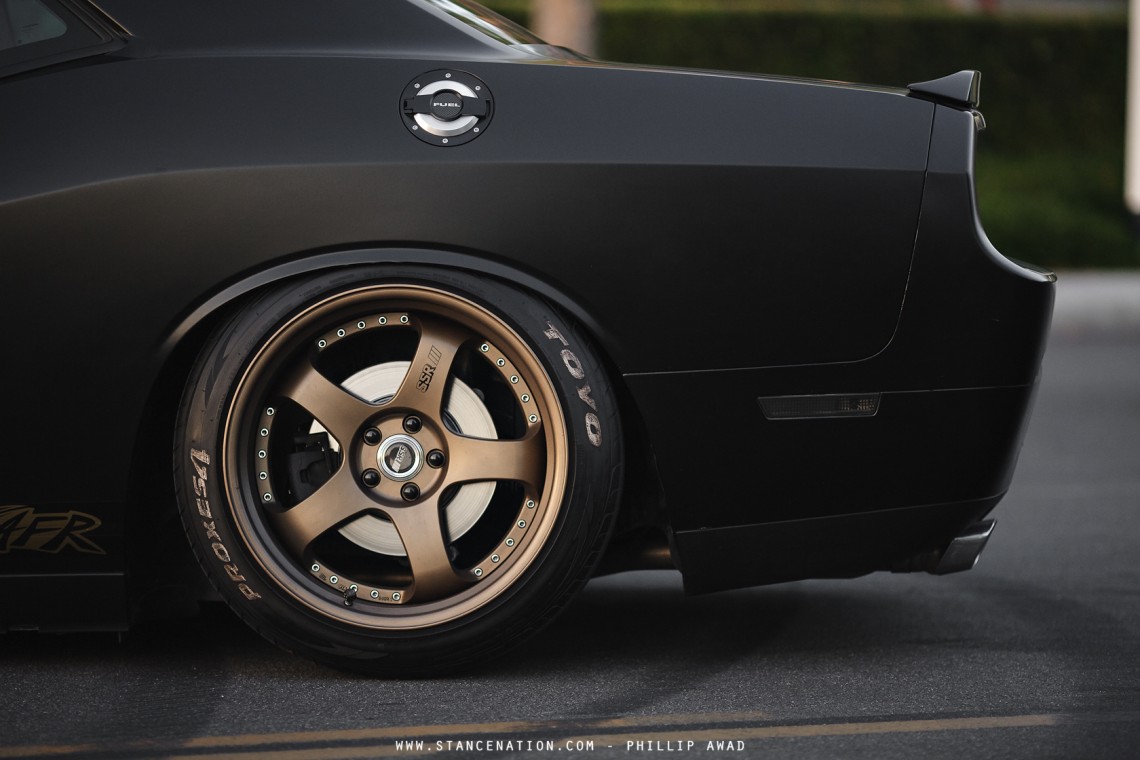 Trans-Am racing of the late-60s and early-70s gave birth to many motorsports heroes and the hard-fought battles between American manufacturers gave enthusiasts some of the most lustful machinery in the history of the automobile. Sibal saw the modern Challenger's retro-theme as an invitation to complete the personality of the car with Trans-Am inspiration. The transformation (Trans-Am-formation? Too much?) began with the matte-black Meguiar's Wraptivo 3M vinyl wrap accented with gloss black Daley Visual racing stripes; the wrap immediately changed the Challenger's attitude. In an effort to avoid going overboard, as he did with a rather influential E36 M3 project prior, Jon took great efforts to maintain the simplicity of the build.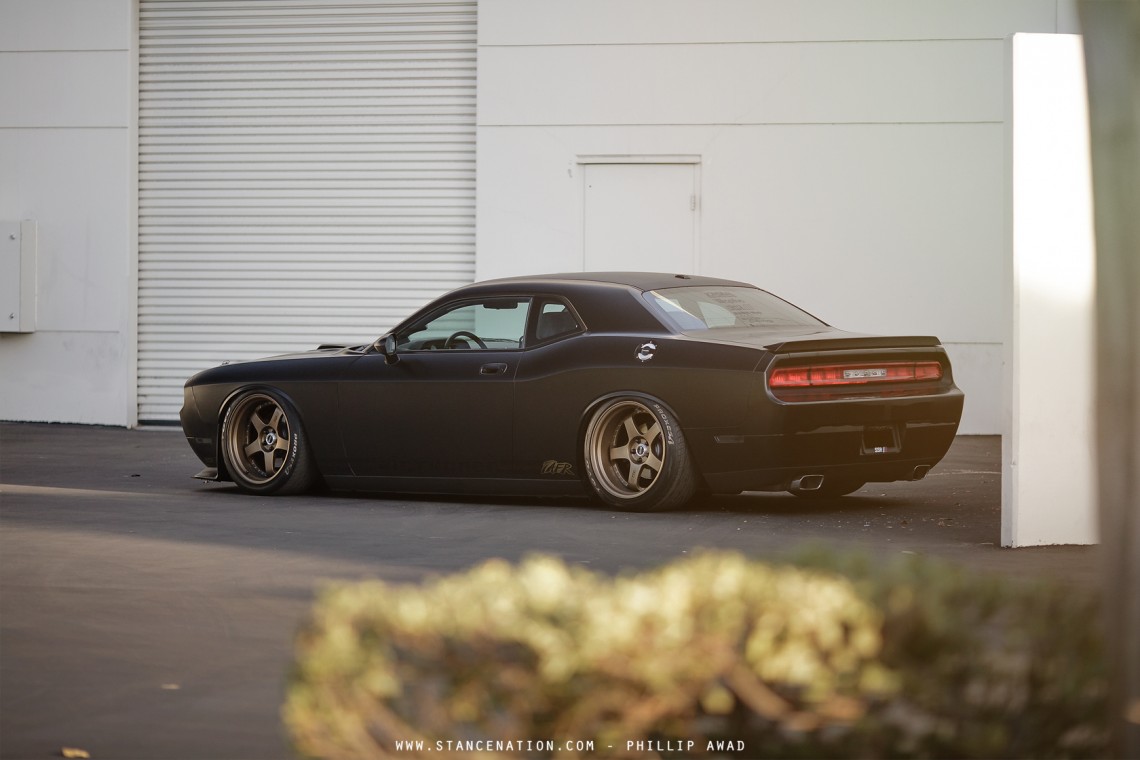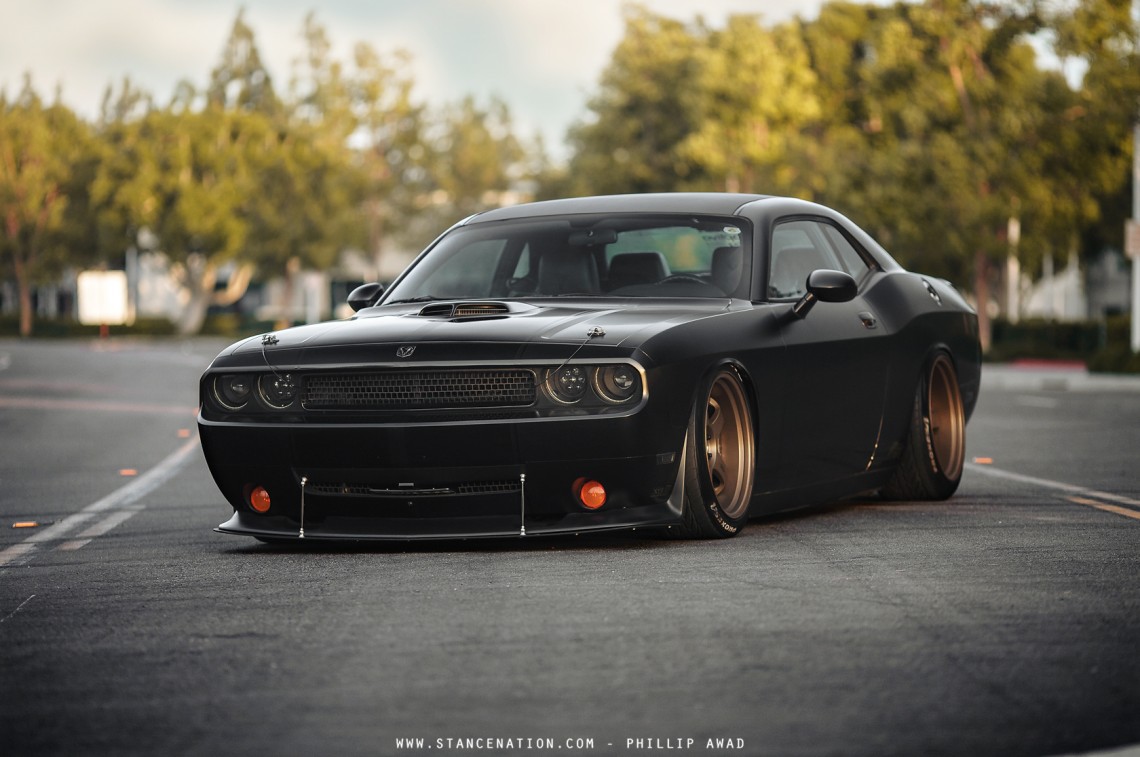 Creating impact in subtle manner takes finesse and a concentration on minute details. Race-bred aggression pours from the custom splitter accompanying the SRT8 front lip spoiler. Sibal tore apart a set of SRT HID headlamp housings in order to create the threatening gatling-gun projector headlamps featuring AAC dual color headlight rings and VLEDs illumination. Rising from the long hood an AFR Shaker hood scoop and intake system simultaneously improves performance and aesthetics. A wide range of Drake Muscle Car Parts accessories, such as a trick sequential taillight assembly and engine dress-up components, complete the modern-muscle package.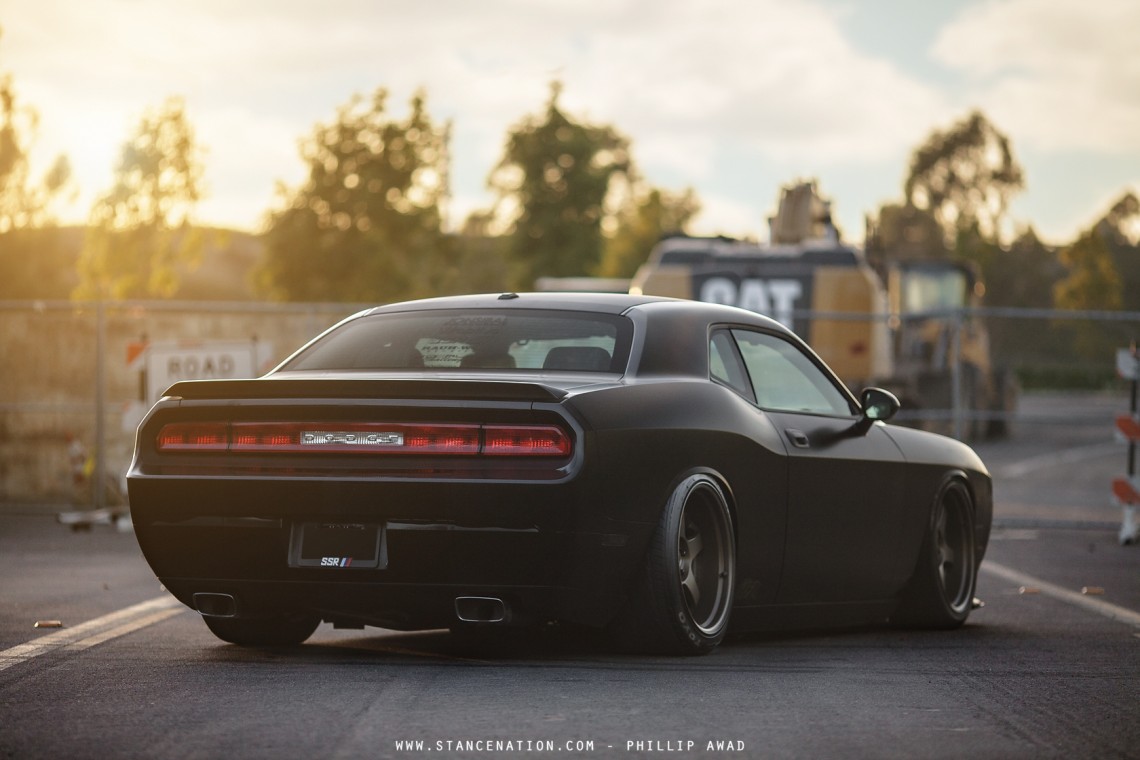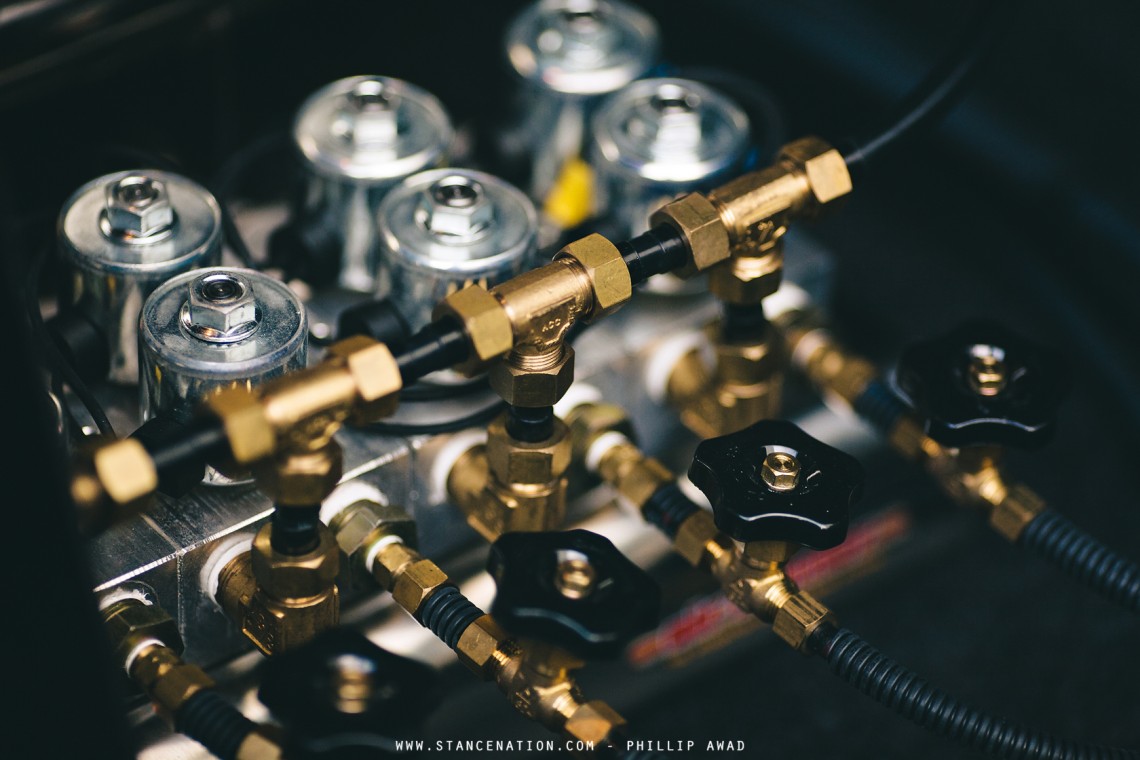 Although it must have been difficult, Sibal exercised great restraint during the project. Performance enhancements are limited to the aforementioned AFR Shaker hood intake system and a Zoomers cat-back exhaust, which provides the requisite muscular growl. Hurst Billet products ensure positive gear selection.  Jon did experiment with a Vortech supercharger, though several complications prompted a return to normal aspiration.  Inside the modern Mopar the comfortable, utilitarian cabin remains as Dodge intended, aside from the necessary AirRunner gauges for monitoring suspension vitals. A variety of modern electronic accessories are present such as a Mygig RER headunit, with navigation and uConnect, along with front and rear cameras — which presents an entirely new understanding of the meaning of "Vanishing Point."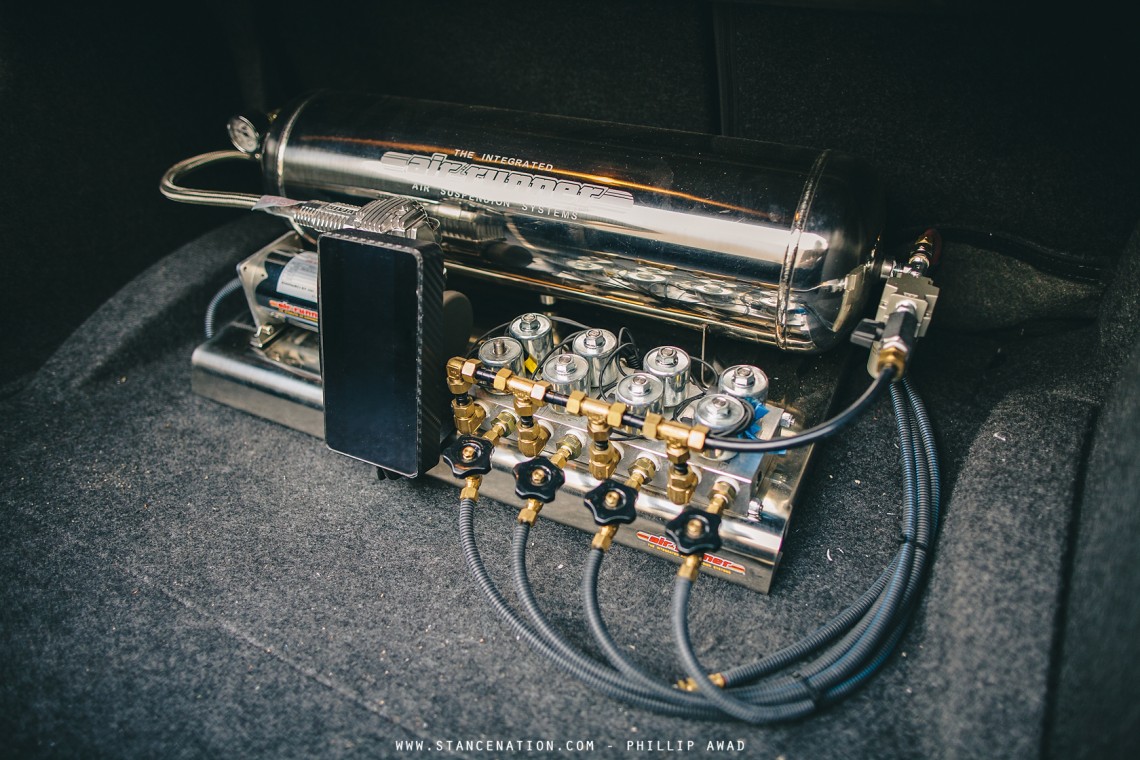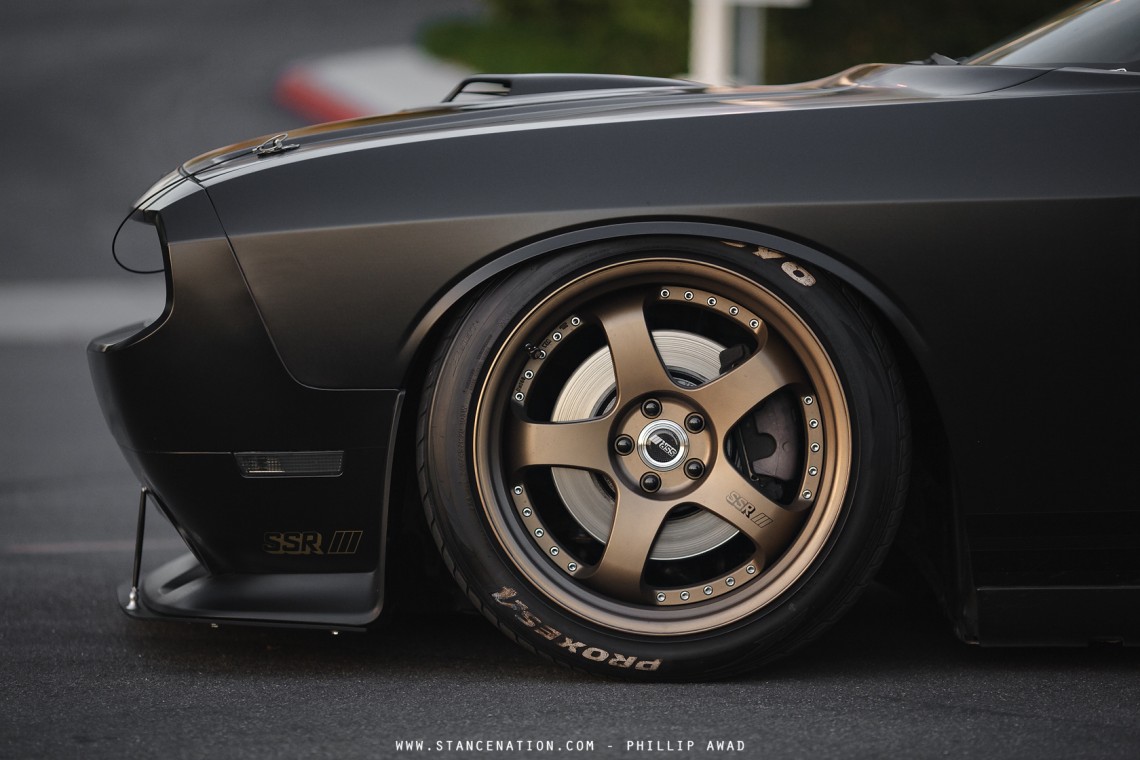 Departing from conventional muscle-car rolling stock, Sibal selected a set of 20×10/11.5" SSR SP1 wheels that were doused in a beautiful Vintage Gold finish. Shod in Toyo Proxes4 tires the Japanese wheels strangely compliment the visual goals of the project perfectly. A complete AirRunner system featuring iPhone control allows Jon to enjoy the civility of instant adjustment on the street without compromising the low, aggressive stance that is so essential to the look and presence of the car.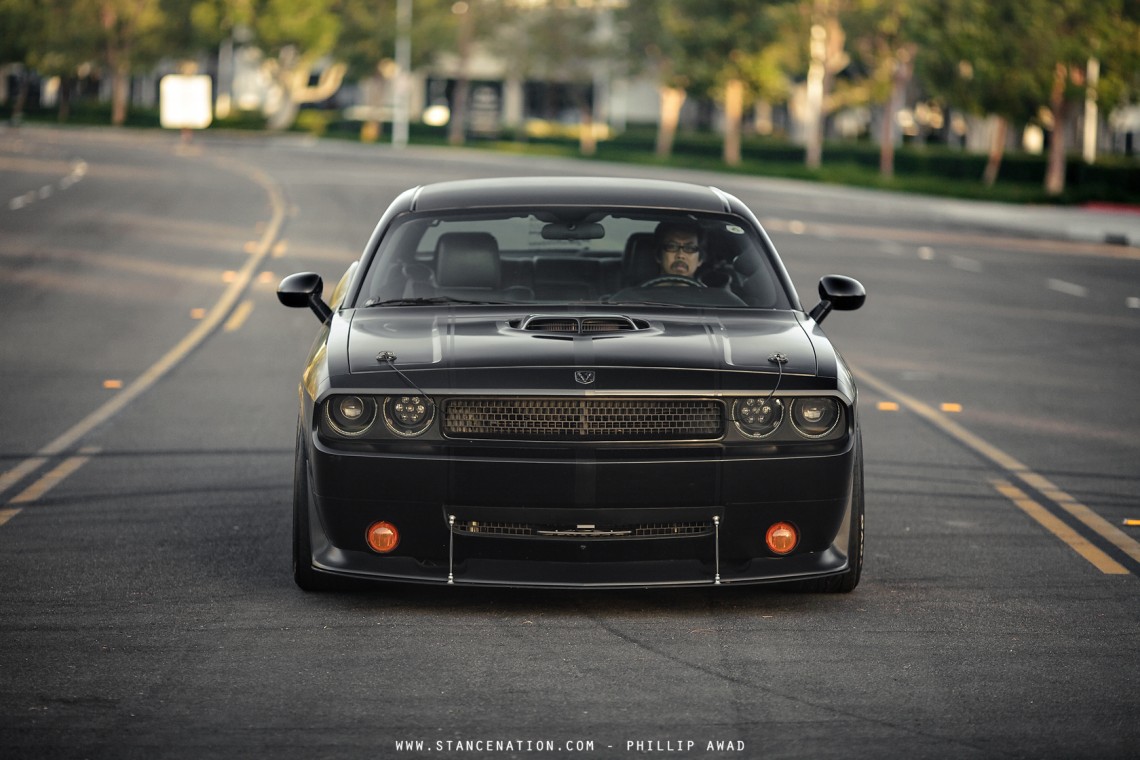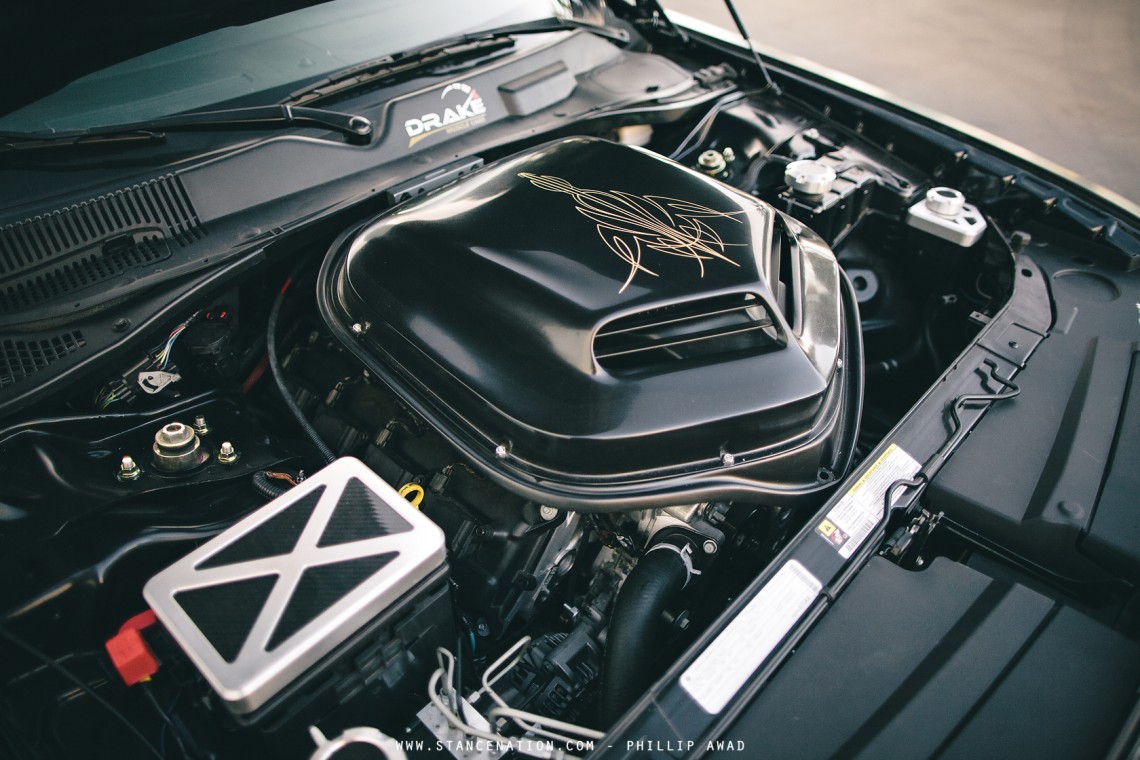 It is, of course, impossible to ignore the nod to the now famous RauhWelt-Begriff Porsches. Nakai himself certainly enjoyed Sibal's interpretation of his vision. The Challenger even inspired a die-cast model offered by JADA Toys. That is the curiosity of inspiration. Inspiration flows from one artist to another. It connects, equalizes, and highlights individuals and their art. Stopping and starting hearts, inspiration is the promise that the new and old will thrive for years to come. For now, Sibal plans on selling the Challenger and moving on to another exciting muse.  Thanks for the inspiration Jon and thanks for being inspired.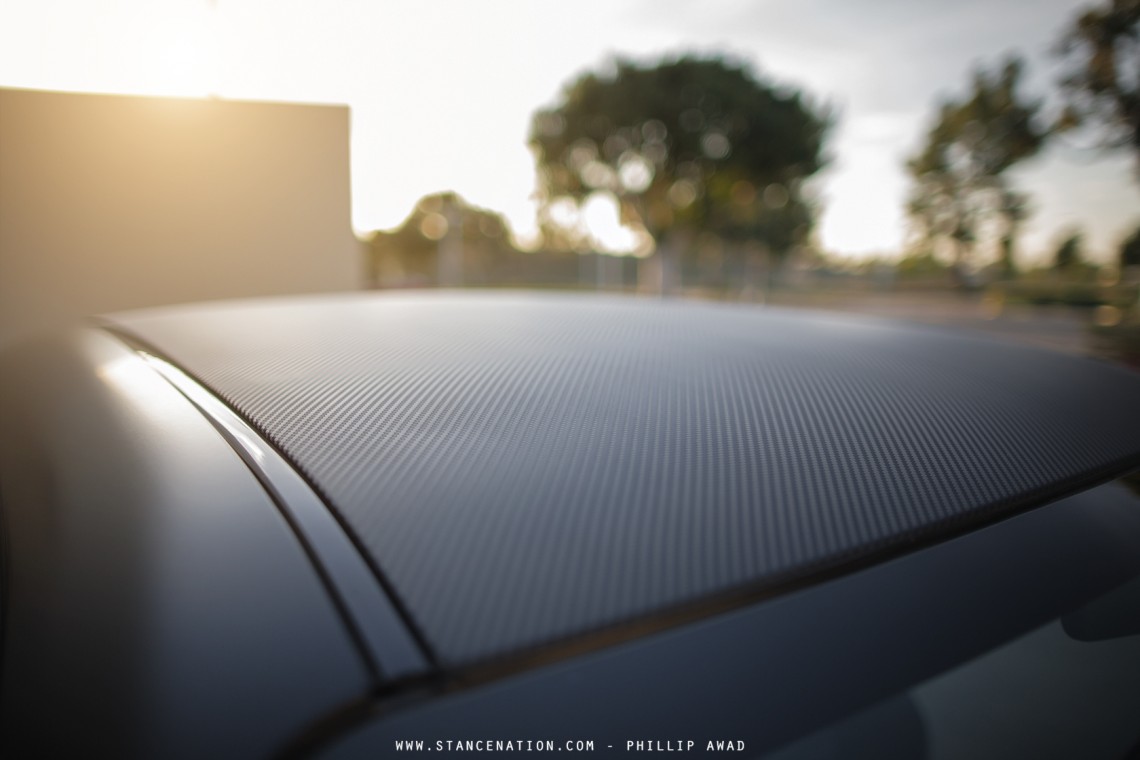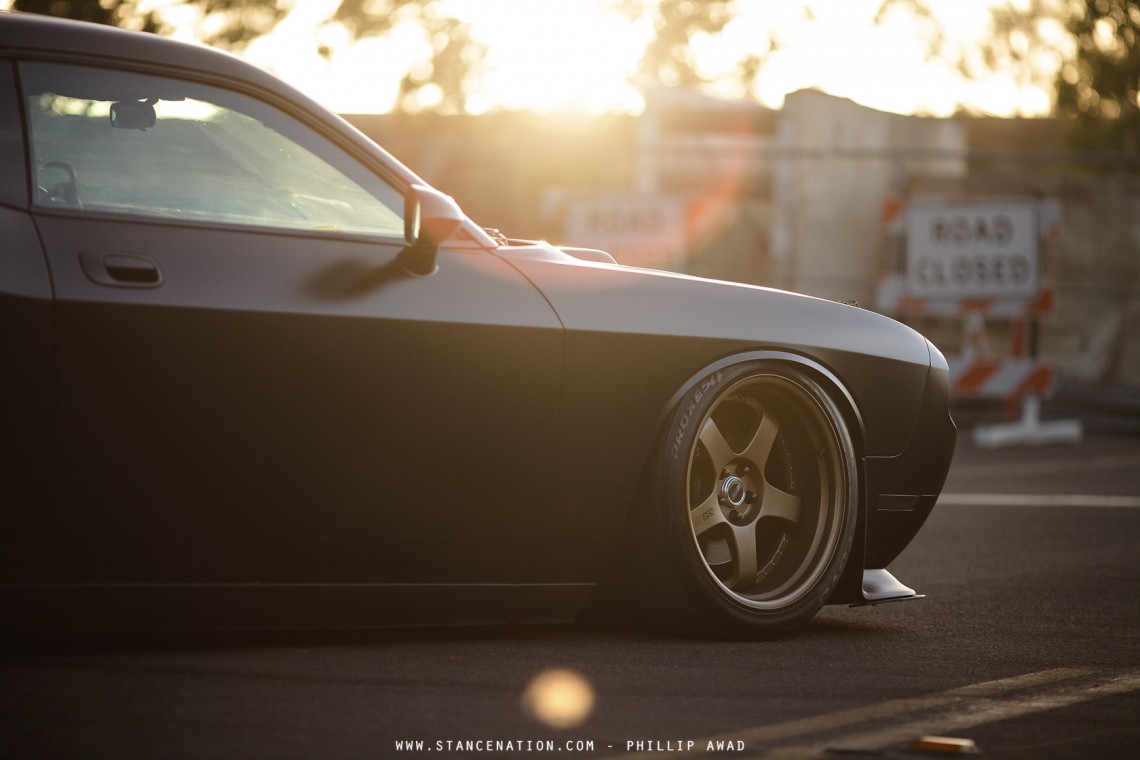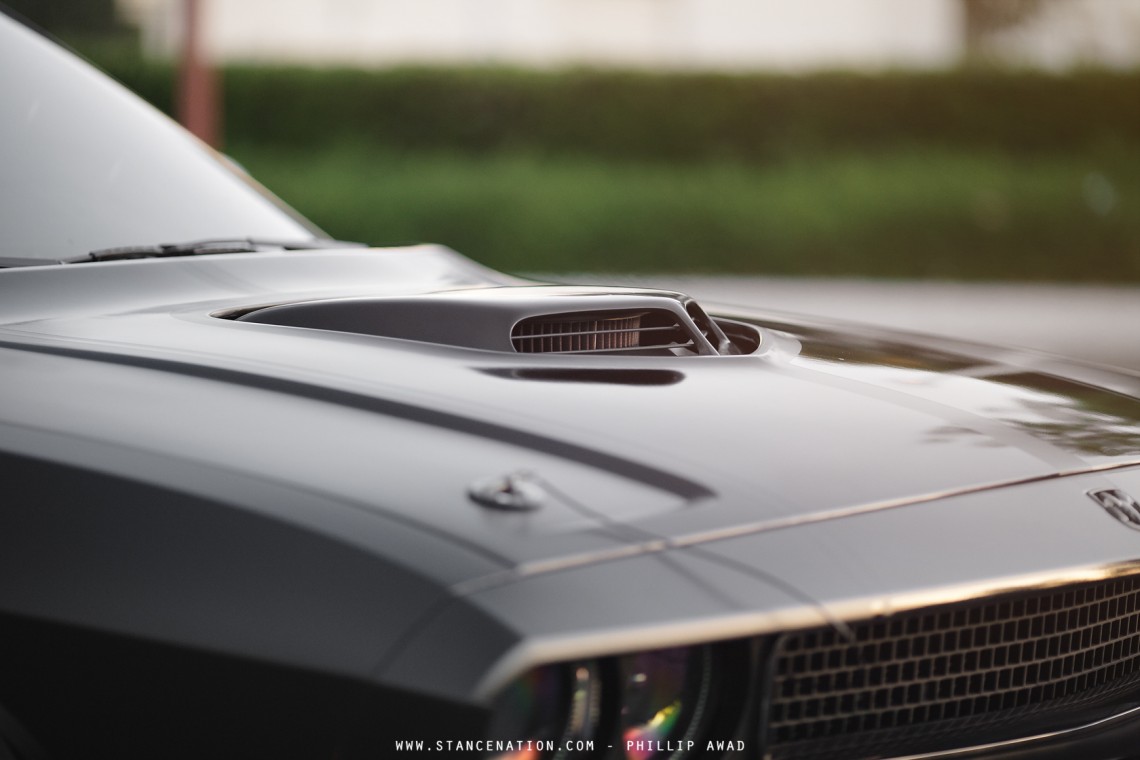 Exterior:
– Wraptivo3M Matte black wrap
– Wraptivo 3M DINOC wrap
– Daley Visual Gloss Black Racing Stripes
– Mopar 10 Black Chrome Grill
– Drake Muscle Car Parts Aluminum Fuel door assembly
– Drake Muscle Car Parts Billet Gas cap
– Drake Muscle Car Parts Billet Engine cap set with CF inserts
– Drake Muscle Car Parts Billet Fuse box Top cover with CF inserts
– Drake Muscle Car Parts Billet Power Steering Reservoir Cover with CF inserts
– Drake Muscle Car Parts Sequential Taillights
– AAC Dual Color Headlight Rings
– Custom Gatlingun-style headlight
– VLEDS V3 Switchbacks
– 6000K HID Headlights
– Custom polyurethane Lip Spoiler with support rods
– 2012 SRT8 Front Lip Conversion
– Smoked Front and Rear Parking Lights
– Painted Coolant Tank
– Retractable front plates
– MOPAR Hood Struts
Wheels & Suspension:
– 20″ SSR SP1 3-pc Wheels Powder Coated in Vintage Gold 20×10 Front , 20×11.5 Rear
– Toyo Proxes4 245/40/20 Front, 275/35/20 Rear Tires
– Air Runner System with iPhone Ride Height Controls
– Air Runner 2 Front Sleeved Struts with 4-way adjustable dampening
– Air Runner 2 Rear Bellowed Bags
– Air Runner Polished Tank
– VIAIR 380C Chrome Comp
– Pressure switch
Performance:
– AFR Shaker hood and Intake system
– Zoomers cat-back exhaust
Interior / Audio Upgrades:
– Hurst Billet Plus 2 Short Shift kit with modified rod
– Hurst Billet HardDrive Comp Shifter
– Mygig RER head unit with Navigation and uConnect
– Homelink system
– Dual pillar pod Air Runner Gauges
– CHR550 Lockpick
– Front and Rear camera
Big Thanks to these guys:
– Wayne from A1 Autobody
– Nakai from RWB
– James and the guys at SSR Wheels
– Shin and Osam from Air Runner
– RJ from Meguiar's
– Steve from Autoform
– Pat and Mike at JADA Toys
– Krist from StickyIcons
– Josh from Daley Visuals
– Ron and Frank at Zoomers Exhaust
– Stan from TOYO Tires
– Neil, Brian, Rick and the crew at Vortech Superchargers
– My mechanic Kyle and the guys at Tuttle Click dealership
– Ralph G, Mark and the rest of the team at Dodge
– My SoCal Challengers car crew
– and of course my Wife, family and friends for their unconditional love and support.