Over 3 years ago, when I first got my LS (#himynameisbrandonandthisismyvipls), VIP car culture in America was still developing. It has exponentially grown since that fateful day, and has reached new heights. With improved complex suspension systems, as well as advancements in paint, wrap, and various creative uses of lighting, it has evolved to a near status symbol. However, just like reminiscing about our childhoods, let's take a step back and remember a simpler time. These cars that you see before you aren't decked out in flashy paint, overly loud exhausts, or made to be extremely wide. Instead, these cars are a fitting tribute to the beginning of VIP car modification, a method of transportation for the Yakuza. I'd like to introduce my mentors, and in my opinion, the real OG's, James and Tuan Nguyen.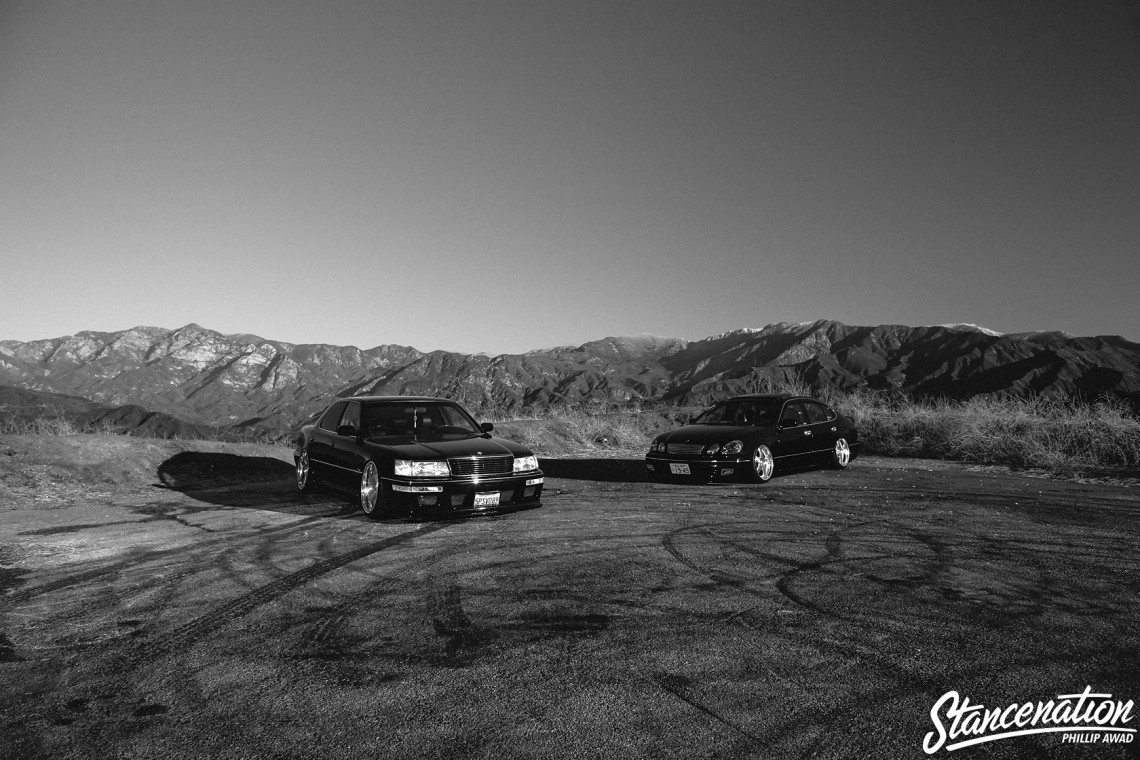 Tuan and James are a bit older than the average car enthusiast. They don't follow many of the trends that develop nowadays, because they do better. Pioneers in their own sense, these guys have blazed the trail for myself and others while arguably helping shaped Southern California's car scene. Both of these gentlemen have showed me that there is more to cars than just owning one, rather they've showed me how to appreciate them.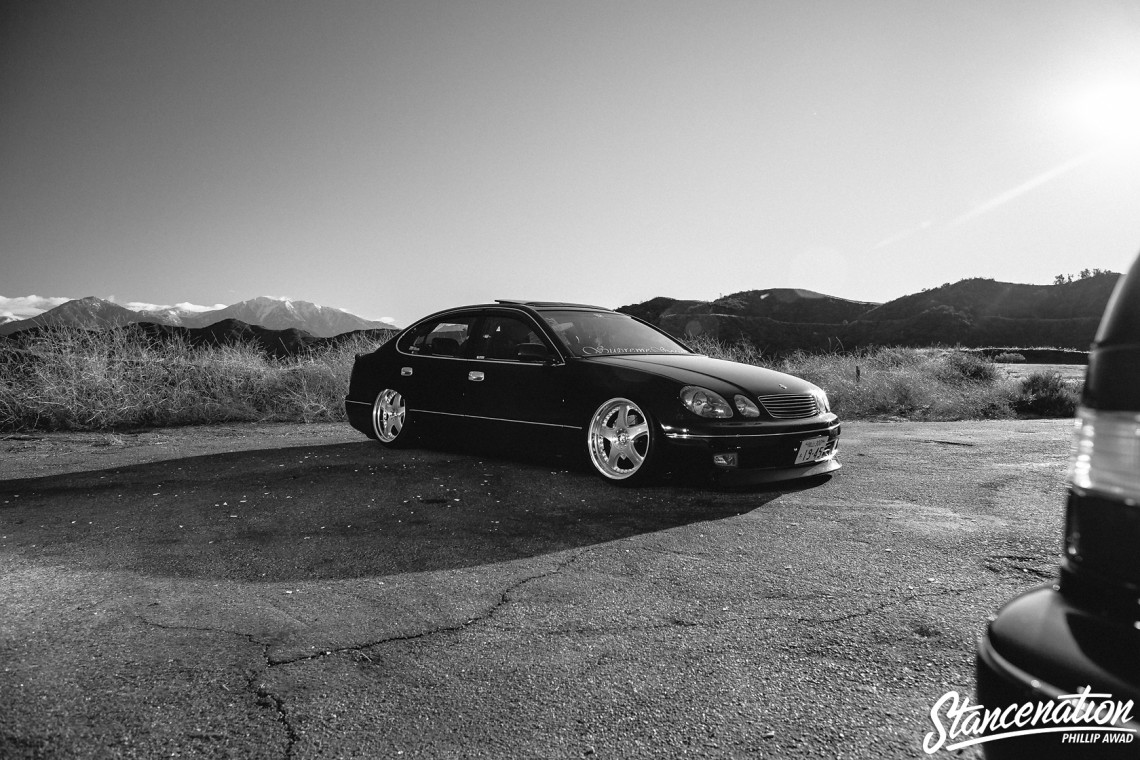 Tuan first bought his GS in 2005 before I was even able to drive. After choosing to modify it, Tuan did not turn to any shop or seek any sponsors. Instead, he decided to build it completely himself. Calling upon Junction Produce, Tuan amassed so many parts that the owner of Junction Produce himself asked if Tuan's GS could be featured as the main car in the 2012 calendar and later on in the pages of the 2015 calendar as well. Sporting full aero, Tuan meticulously worked and painted each piece to fit perfectly.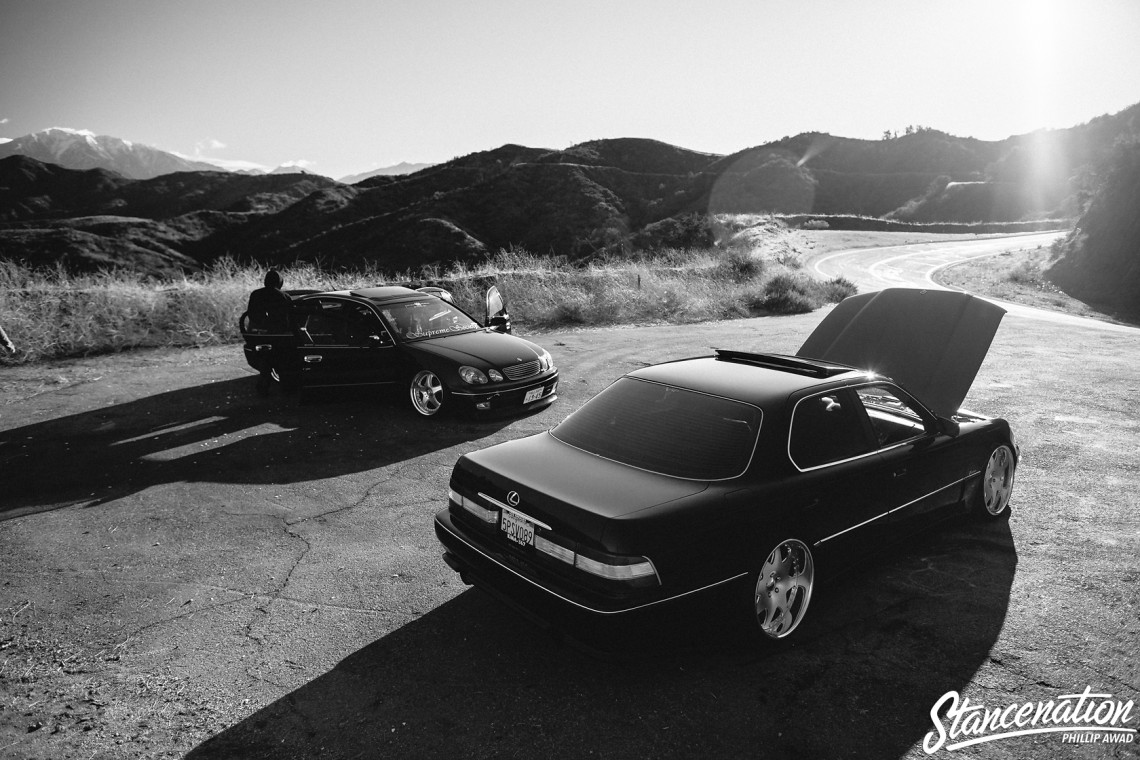 Since buying this car 10 years ago, James  decided to go with a more unconventional route. Instead of choosing amongst the more popular lines of aero such as Aimgain, Wald, or Vertex, James went with a Wings West kit because he felt the lines worked better, and I can't agree more. Painted by Platinum VIP, James spared none in the name of attention to detail. JDM Red Clear Red tail lights and the chrome trunk handle are such a nice change versus the North American trunk set up. I'll have to admit, this is the LS that made me fall in love with VIP style and is the reason why I bought my own car.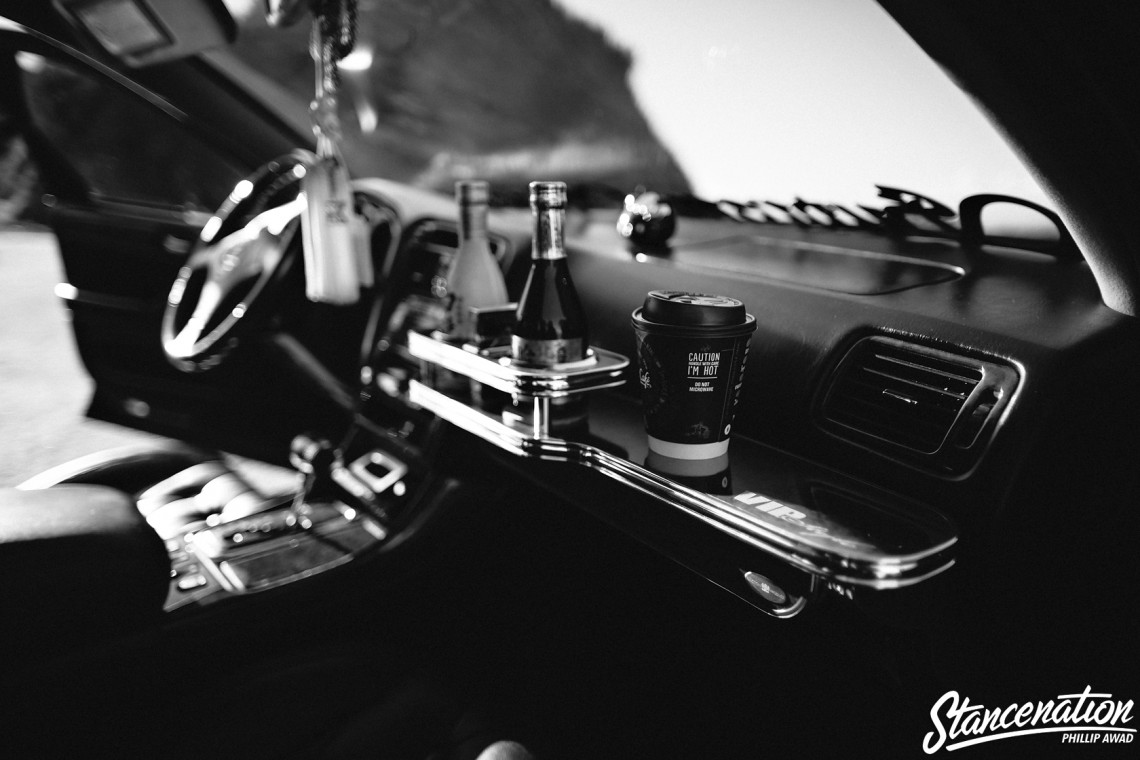 Sitting pretty in the GS is plenty of hand worked accessories. The front and rear tables, all TN Auto Inspired creations, were hand crafted by Tuan himself. Adding plenty of points in the style and VIP category, they exude luxury through the beautiful contrasting of striking chrome next to the smooth wood grain. Sake bottles sit up front while a bottle of Hennessy sits in the rear protected by glass.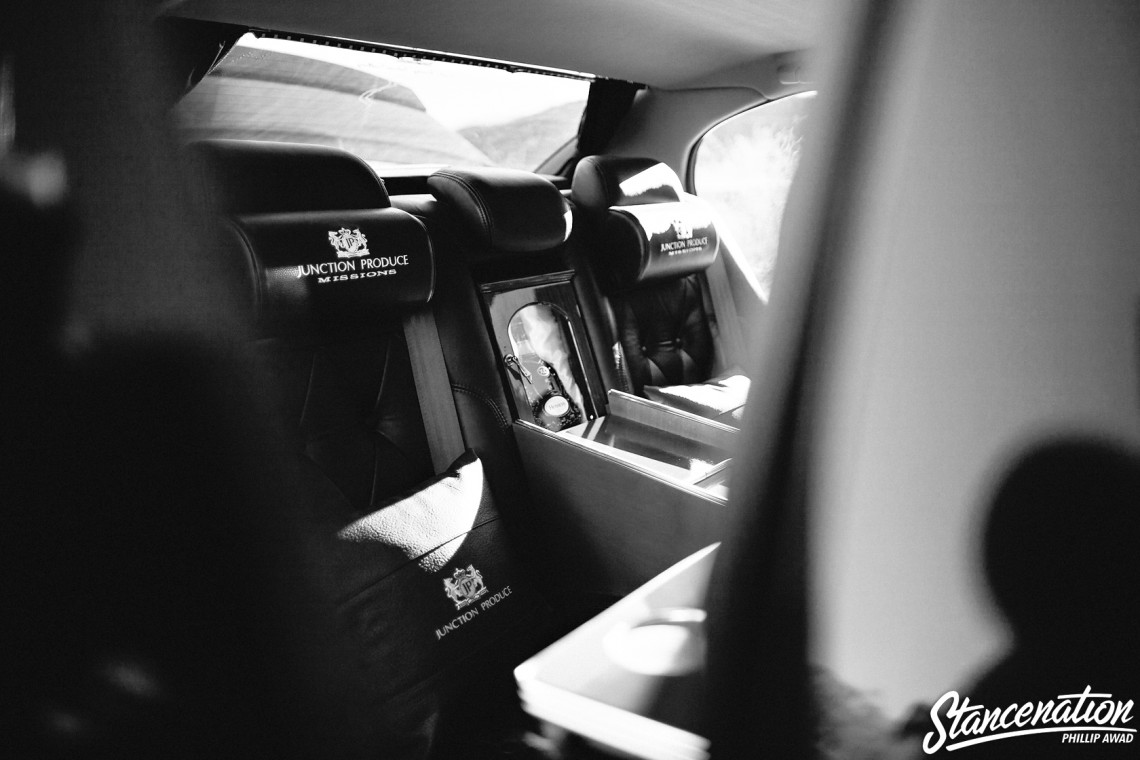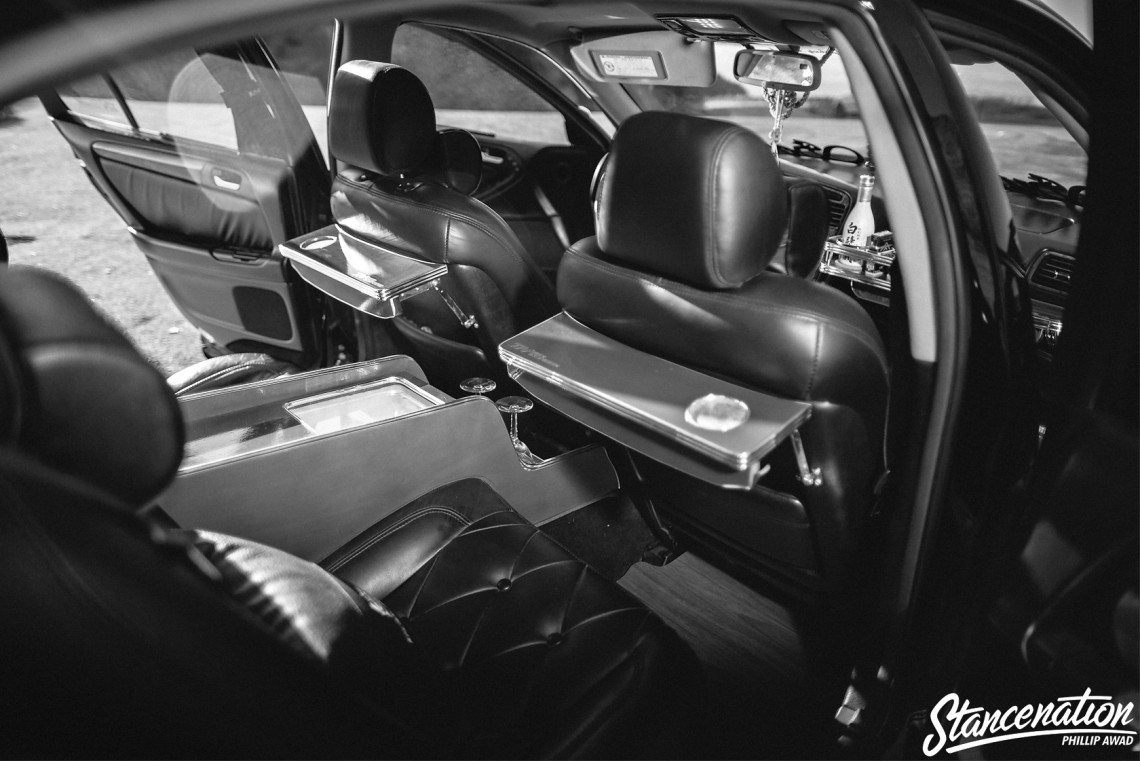 Diamond button stitched seats as well as rear tables give off an executive feel. Woodgrain flooring, another thing that Tuan pioneered, is a wonderful replacement for the stock carpeting. If I had to guess, this is as close to a luxury limousine as you could get.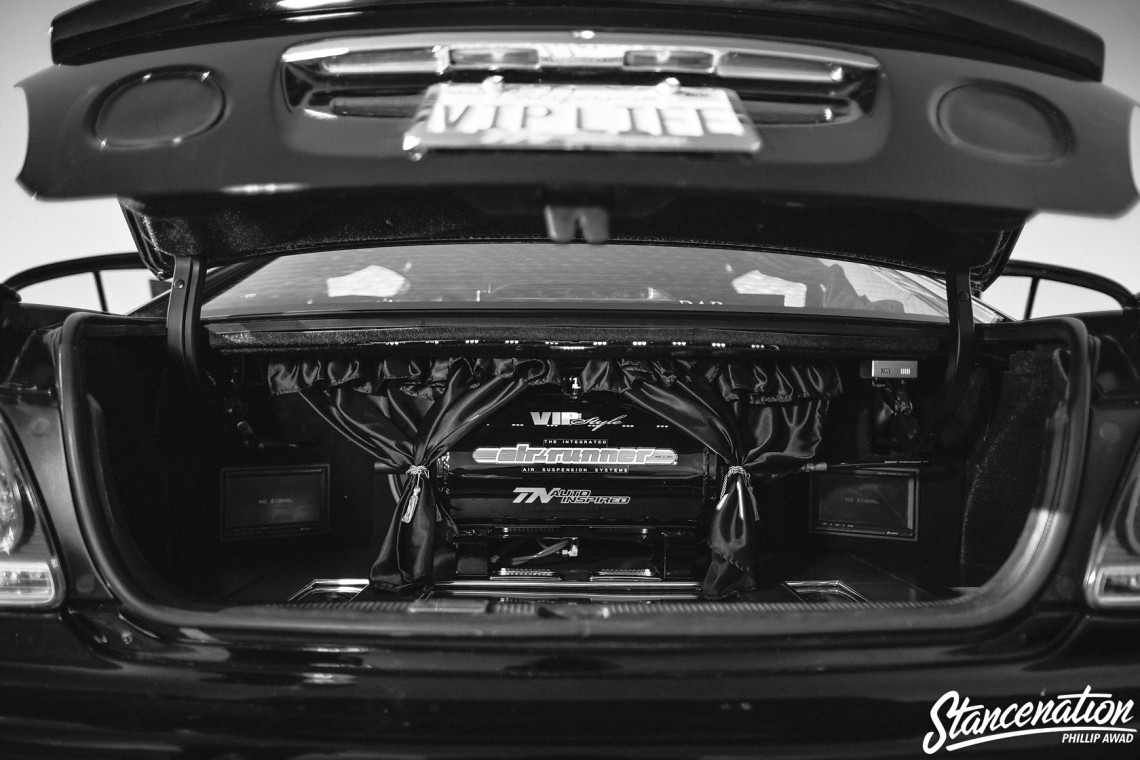 Behind the VIPLIFE vanity plates sit a exquisite trunk set up which houses many big names in the automotive industry. TV units on each side as well as custom curtains frame an air tank that sits on woodgrain flooring as well as two sound activated LED strips. Controlled by an actuator, this trunk opens and closes at the touch of a button within the cabin.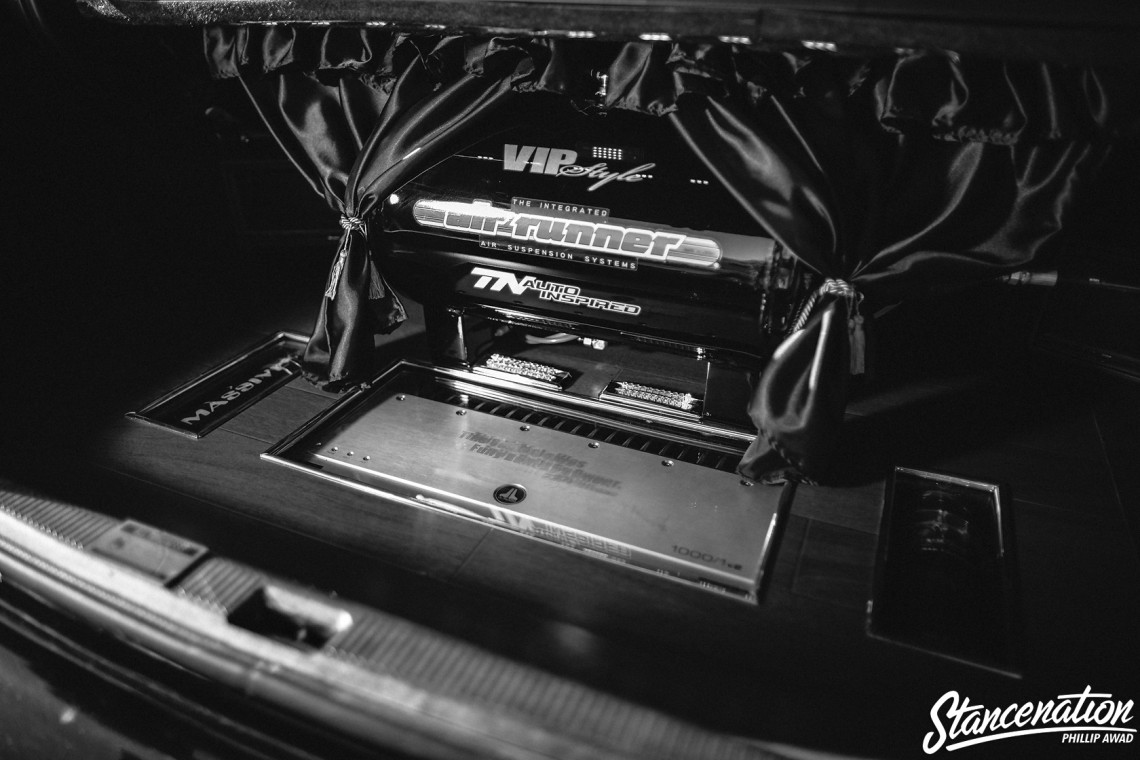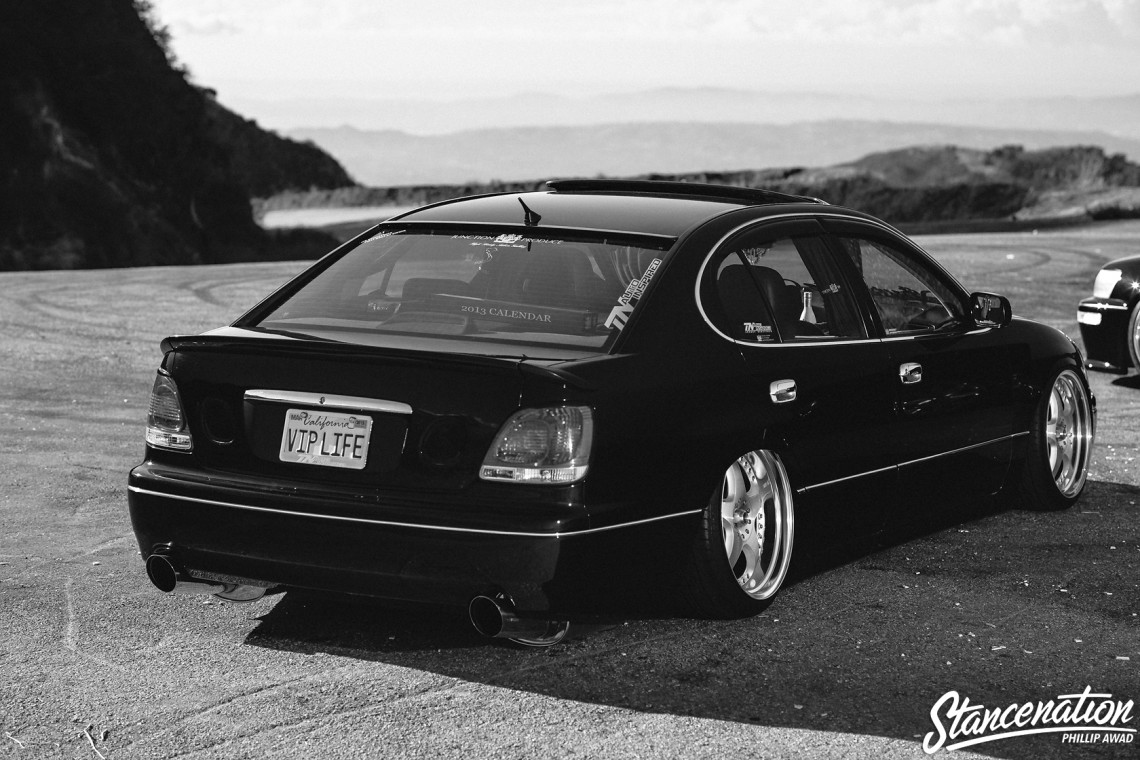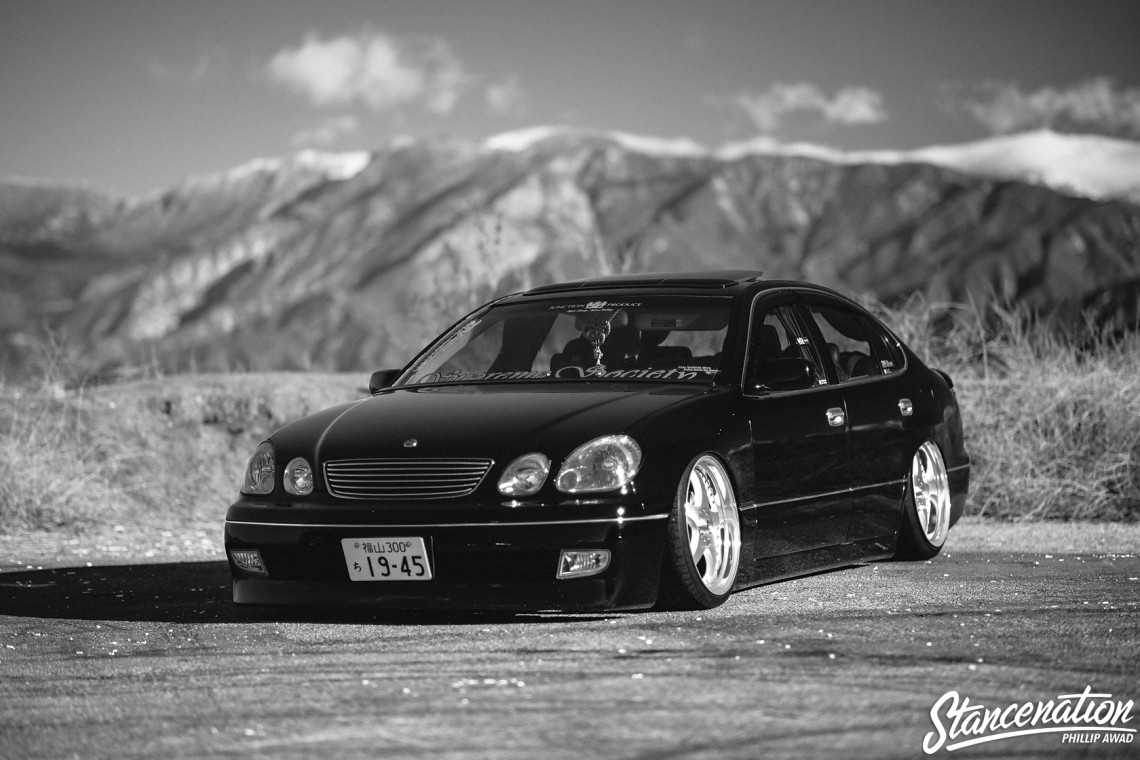 Step lipped Junction Produce Scara coming in at 19×9.5 +5 and 19×10.5 +17 sit in the front and rears respectively. In the front are Lexus LS400 4 piston brakes to add stopping power as well as an aggressive caliper over the Brembo drilled and slotted rotors. Under the side skirts lay puddle lights to give a VIP feel.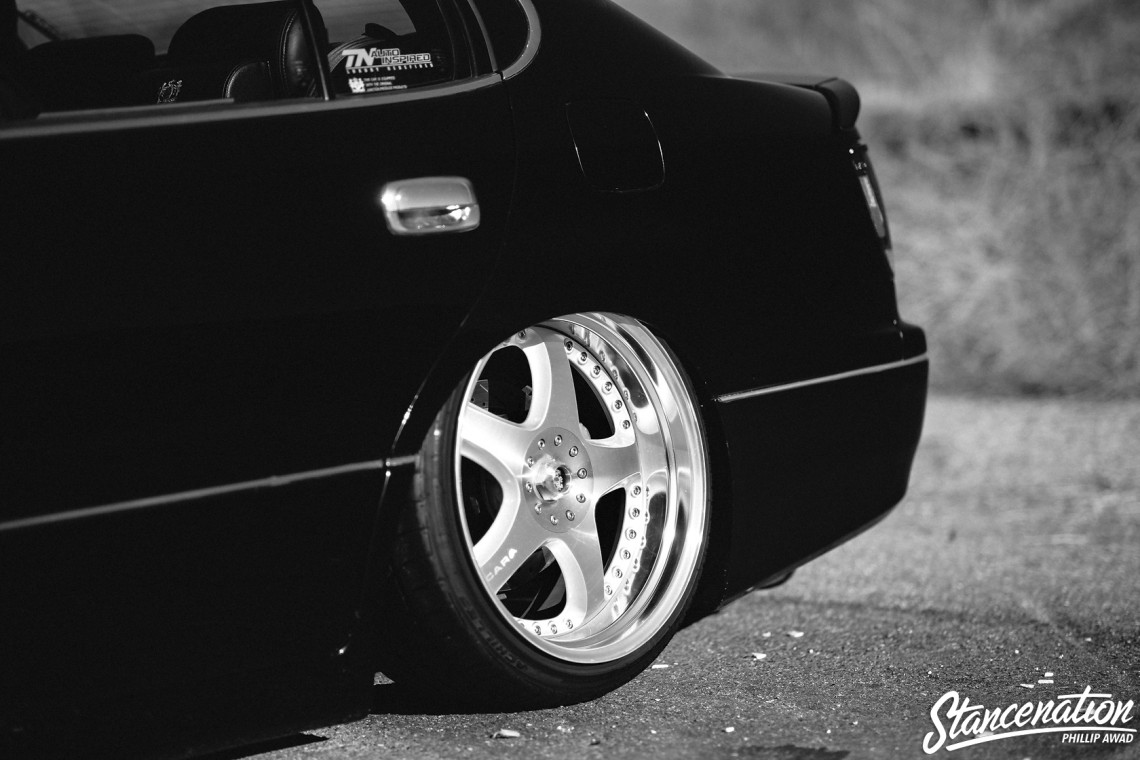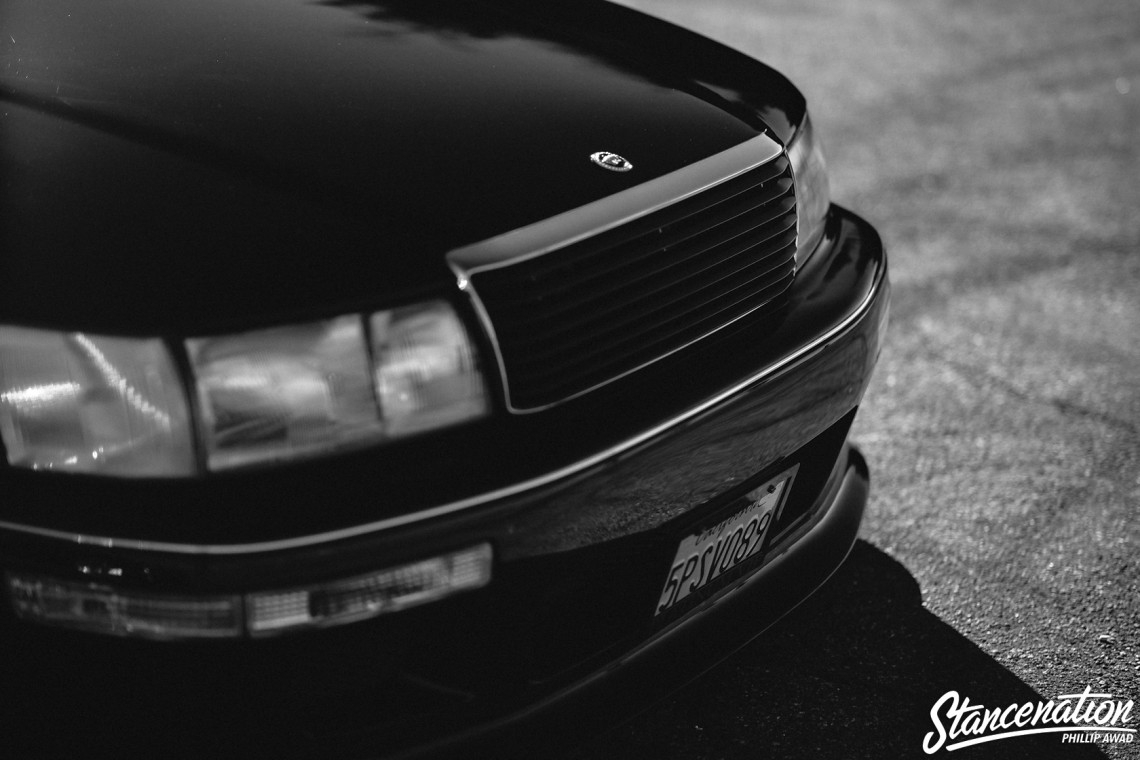 James' car is outfitted with many hard to find JDM parts, gracing the front is this Fabulous grill. Retailing at $800, I'm a bit nervous to find out at what price James paid for it. A Garson Crown badge graces the front of the hood where most VIP owners would have attached a raised ornament.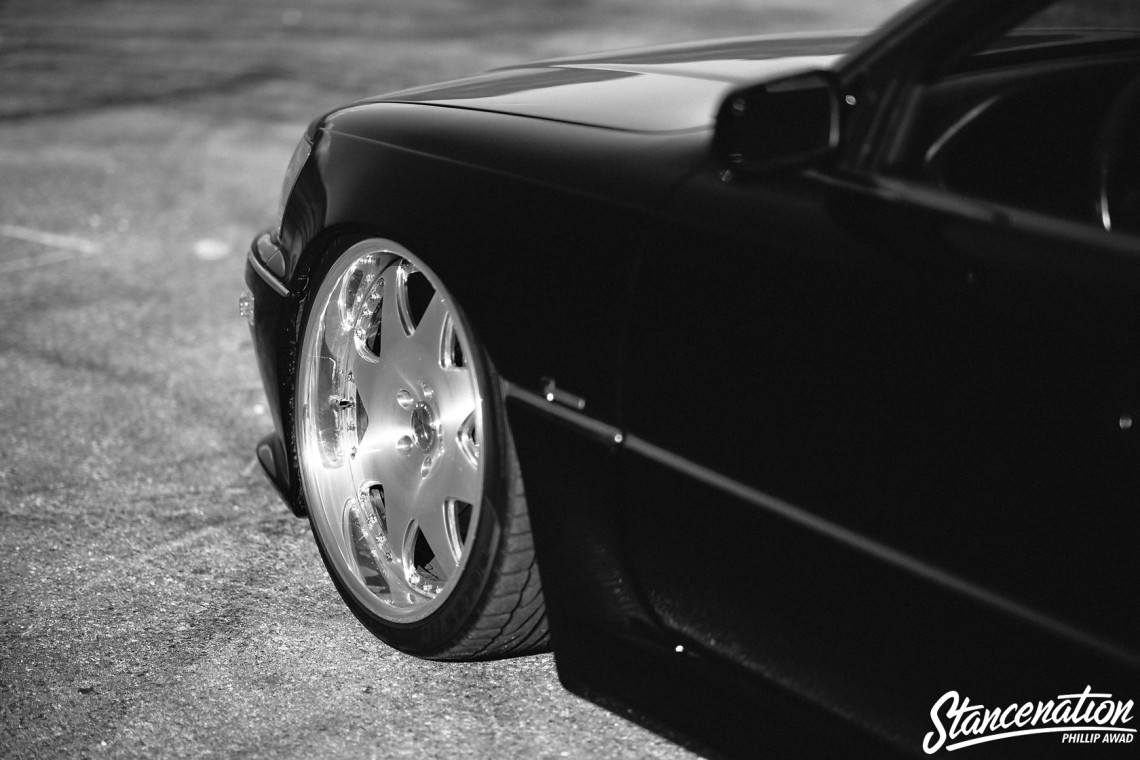 VIP Modular VR01's measuring in at 20×9 and 20×10.5 are found at the front and rear of the car while. Megan LP coilovers with UAS air suspension system mounted over them are found at all corners of the car. The front brakes of a Supra somehow found its way on cross drilled and slotted rotors behind those VR01's along with  Goodrich stainless steel brake lines. It is these little things that truly make finish the build.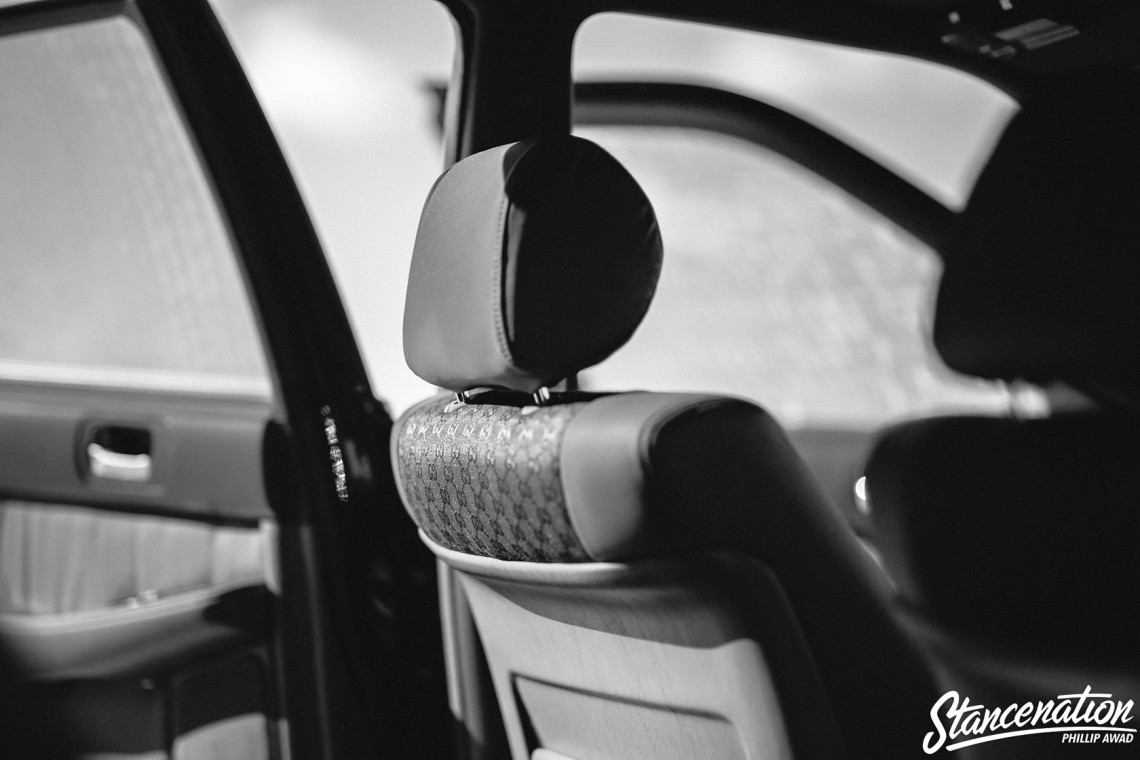 James' interior is like no other. Instead of going with some type of stitch pattern, he decided to reupholster his seats with some quality material. Rather than change to cloth or buttery alcantara material, he decided with Gucci leather. Keeping to a black and grey scheme, it really matches the overall theme of the car.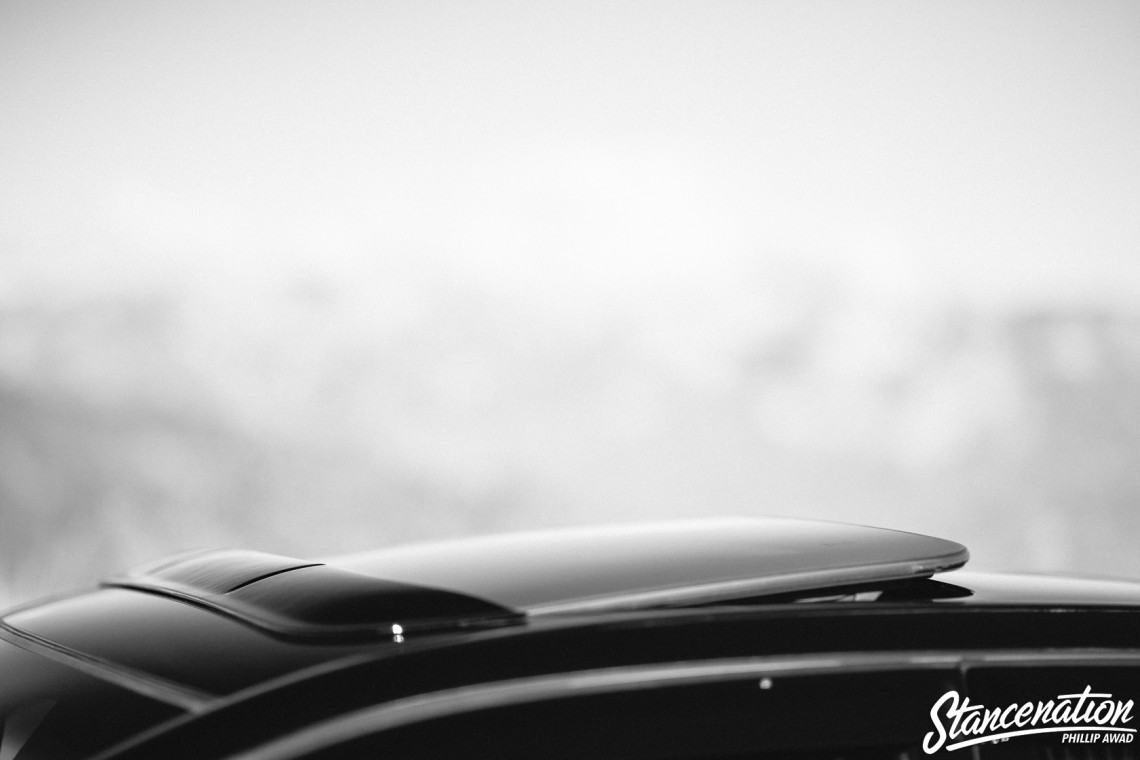 Check out the stock looking badge on James car. Pulled from an Audi, this badge betrays what lies under the hood, a Bullet Performance supercharged 1UZ coupled with UCF20 fuel injectors. This is James' favorite part, as well as the most difficult part of the car, and I'm sure many of our readers would agree. I absolutely love the fact that he coupled such power and style together without holding back on the VIP factor of the car. Although it doesn't have many of the things that we normally associate with VIP style -cough pretzel cough- if this thing were to drive by, it would command your attention.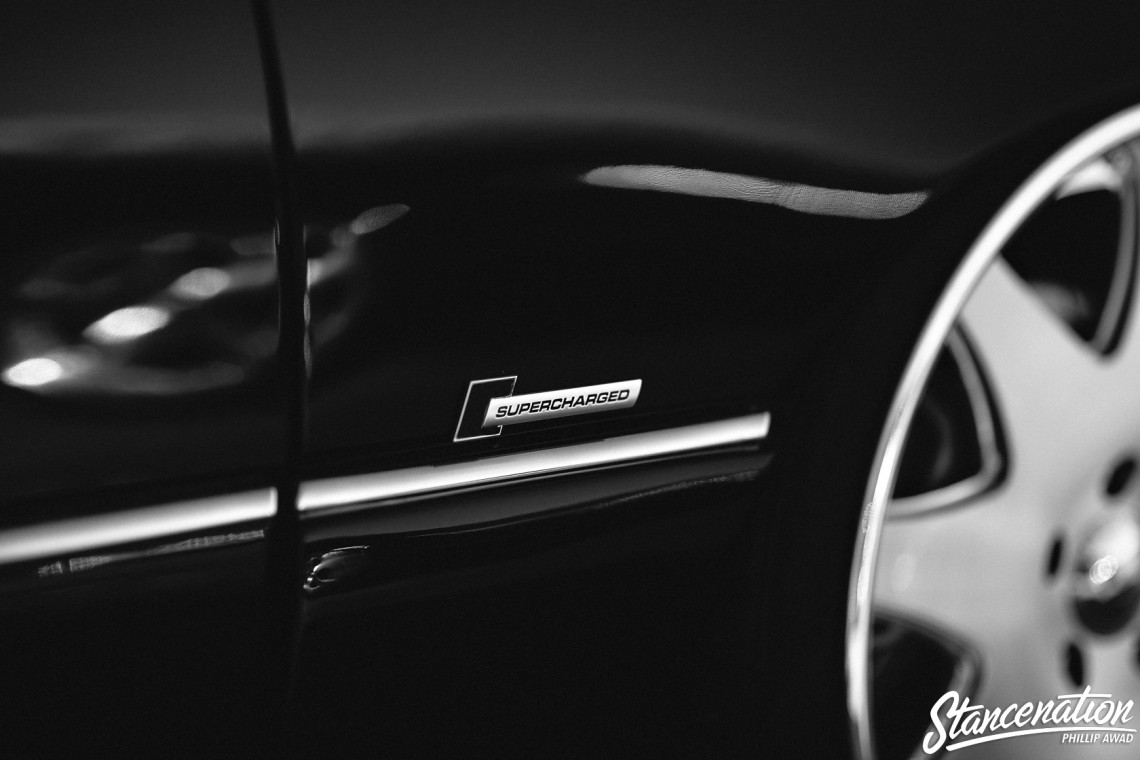 Right below is my favorite picture, taken by the magnificent Phillip Awad, which captures everything I love about these cars and their owners. James would like to give a shout out to his lovely wife Cinda for all her support. Tuan would like to give a shout out to his team, Supreme Society, as well as his shop, TN Auto Inspired.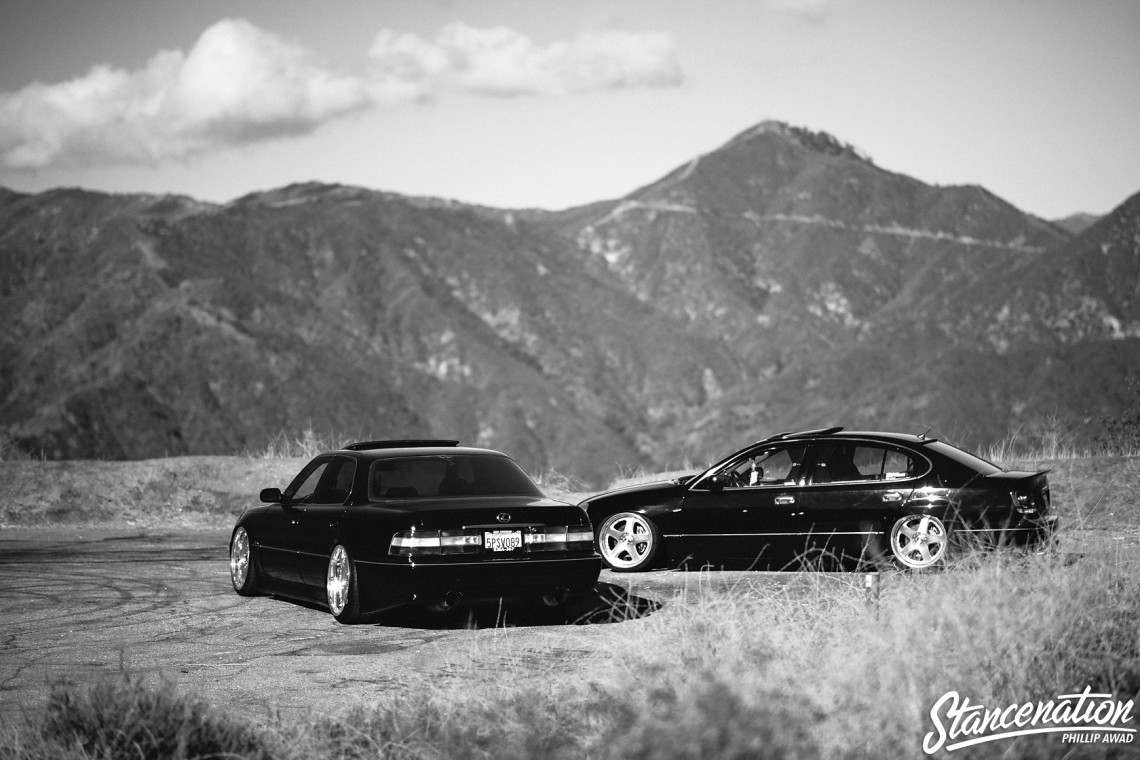 James Nguyen (LS400)
Exterior:
Wings West Body kit
Painted Onyx Black
Front and Rear Fender Slight Pulled.
JDM Red/Clear tail lights
JDM Head lights
JDM Crystal Clear Corner lights
JDM Fabulous VIP Grill
JDM Chrome Trunk Lid Handle
Carbon Wrap Pillars and Accents
Interior:
Gucci Fabric with Leather Wrap Seats.
Diamond Audio Speakers/Tweeters
Fully Dynamat in strunk
Custom Trunk Audio with 2 12″ Subs
Rockford Fosgate Amp
Wheels:
VIP Modular VR01 20×9 Front 20×10.5 Rear
Falkin FK452 Tires
Engine:
Bullet Performance Supercharger (6 PSI)
UCF20 Fuel Injectors
Vortech FMU Blitz Nur Spec Exhaust
Transmission:
Fully rebuilt with stronger upgrade(Supra Auto shift kit) Lextreme TC
Suspension:
Megan LP Coilover
UAS Air system
Supra Front Brake Caliper
Crossed Drilled/Slotted Rotors
Goodridge SS brake lines
Tuan Nguyen(GS300)
Exterior:
Junction Produce Authentic 13 pieces body kit
Junction Produce Fog Lights
Junction Produce Roof Spoiler
Junction Produce 3 Pieces Trunk Spoiler
Junction Produce Bonnet Hood spoiler
Junction Produce Bonnet Hood badge
Junction Produce Billet Grille
Junction Produce Roof Antenna
Junction Produce License Plate Base
Junction Produce Headlight Eye Line Garnish
Junction Produce Tail Light Eye Line Garnish
Junction Produce Trunk Light Insert Kit
Junction Produce Sunroof Visor
Junction Produce Red/Clear Non LED Tail Lights
Junction Produce Side Mirror Sticker
Junction Produce Front and Rear Window Sticker
Junction Produce Auto Security Sticker
JDM Chrome Door Handles
JDM Aristo Side Mirror Blue Wide Panel
JDM Window Visor Painted OEM black
JDM Chrome Trunk Lid Garnish
Puddle Lights
Fender Pulled 13mm
Quarter Panel Shaped
JDM 10th Anniversary Headlight w/ Clear Turn Signal
LED DRL and Parking Lights
8k HID Headlight & Fog Lights
Interior:
Junction Produce Curtains
Junction Produce Medium Fusa
Junction Produce Medium Kintsuna
Junction Produce Big Logo Comfort Cushions
Junction Produce Charm
Junction Produce Tissue Box Cover
Junction Produce x Hello Kitty Fragrance
Junction Produce Black Leather Pillows
Junction Produce Neck Pads
Luxis Wood Grain Shift Knob
Garson Crystals
JP Small Fusa
Leather Seats with Diamond Stitching and Buttons
TN Auto Inspired Custom Rear Window Curtains
TN Auto Inspired Custom Wood Grain Floor
TN Auto Inspired Custom Wood Grain Rear Seat Center Table
Custom Wood Grain Dash Kit
JP Sunshade
JP Wood Grain Front Table
TN Auto Inspired Custom Rear Wood Grain Table
LED lit Showcase Box w/ Hennessy Bottle
SC430 Wood Grain Steering Wheel
Sound Activated LED Strip
TN Auto Inspired Automatic Trunk
Custom Trunk Curtain
TN Auto Inspired Wood Grain Floor inside trunk
TV Monitors
Engine:
Junction Produce Type 2 Exhaust
Yellow Top Optima Battery
NR6 Voltage Stabilizer
Engine Cover Panel Painted Gold
HKS Oil Cap
Suspension:
Air Runner Suspension w/ Dakota Digital Gauge Air Tank
Lexus LS400 Caliper
Brembo Slotted/Drilled Rotor
Custom Strut bar
Wheels:
Junction Produce Scara wheels front 9.5 +5 rear 10.5 +17
Audio:
Pioneer N4  In-Dash Head Unit
MB Quart Component Speakers
JL audio 1000/ l v2 amplifier
JL audio 4 channel amplifier
JL audio W6 v2 w/ custom Enclosure box
Kicked 0 gauge audio system installation kit Capacitors