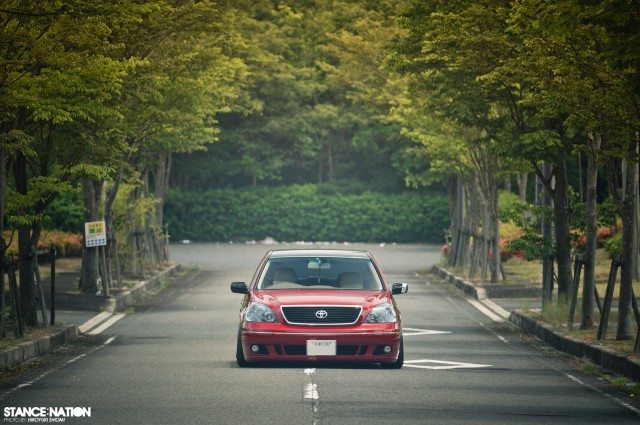 Did the owner of this UCF30/LS430 really just put a set of Volk TE37's on a big bodied VIP sedan?! Indeed, he did. Why would anyone do that though, right? How about this, why not? In pursuit of standing out from the crowd people do all kinds of things. Some choose to push the limits with their fitment and body work while others go with flashy colors. There are also guys like our friend Syota from Japan who mixed the sporty/aggressive styling with a touch of high end "VIP" inspired styling. Syota-san didn't go as far as some of the Japanese guys do but he there is definitely a lot more stuff done to the car than meets the eye. Please allow us to introduce you to Syota and his beautiful Toyota Celsior.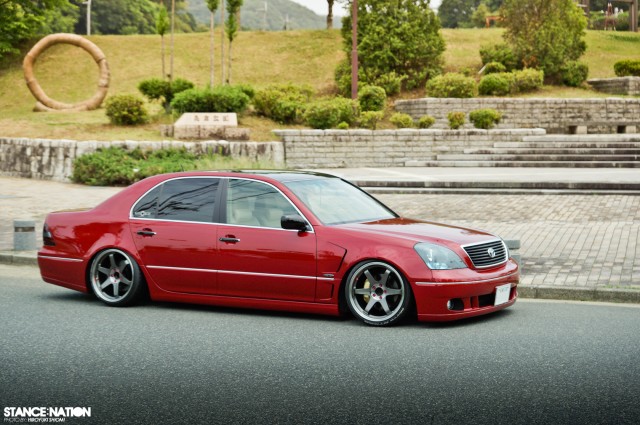 Seeing how majority of the cars that come out of Japan nowadays are running serious negative camber and crazy fender work it's almost surprising to see one so "mild", for lack of better words. Though it's far from stock, Syota managed to keep the car looking clean as possible. The kit foe example, made by VLUSTYJEWEL, was slightly modified all around in order to stand every bit apart from other UCF30's rocking the same kit near him. Same goes for those fender vents up front, all one -off stuff.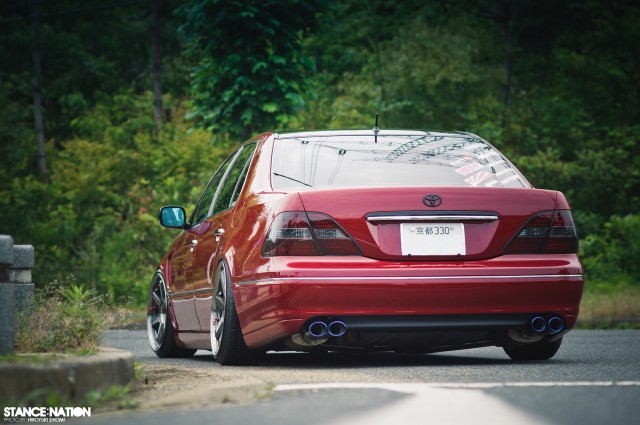 Syota also decided to widen all the fenders some 2 centimeters to accommodate the aggressive set of wheels he is running, which bring us to specs. Those stunning Volk TE37's sit at 19×9.5 up front with an offset of 7 and 19×9.5 in the rear with an offset of -6. They are wrapped in 225/35/19 Nitto NT555 tires. The fitment is as good as it gets, especially in the rear where it looks like there is barely any clearance between the tire and fender. Just as you assumed, it does sit on coilovers and it is Syotas daily driver. The coilovers are bade by a company out of Japan called Final Konnexion and it sits on 20kg spring rate up front and 16kg in the rear.
Some of the other stuff that Syota replaced on the car are things like the smoked Wald LED tail lights and the custom painted headlights & blinkers. The exhaust is also one off on this bad boy. We're really loving those exhaust pipes!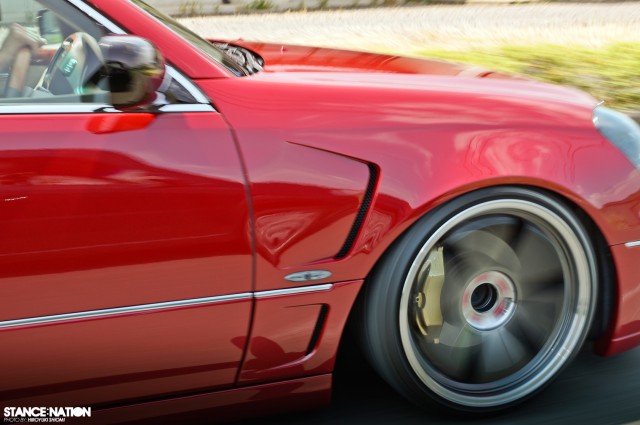 Like we always do, we'll leave you with a few more photos and a huge shout out to not only Syota himself, but all of our awesome Japanese fans. If everything goes as planned we should be coming to your wonderful country very soon!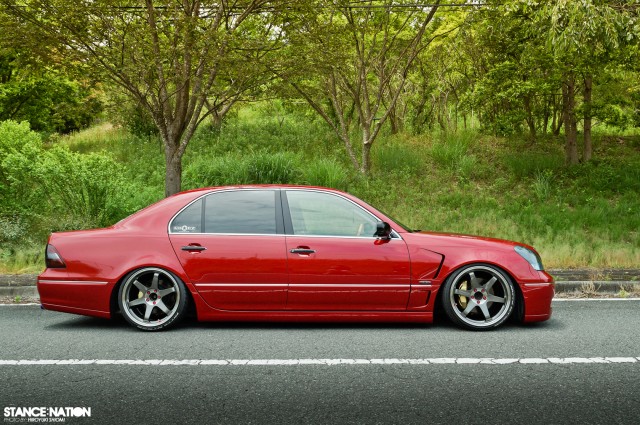 If you think your car has what it takes to be on our site make sure you email us at snfeatures@gmail.com. Make sure you include a few photos and your spec list as well as any other information we should know about you or your car. We're always looking for cars to feature! In the meantime we'll see you guys over on our facebook.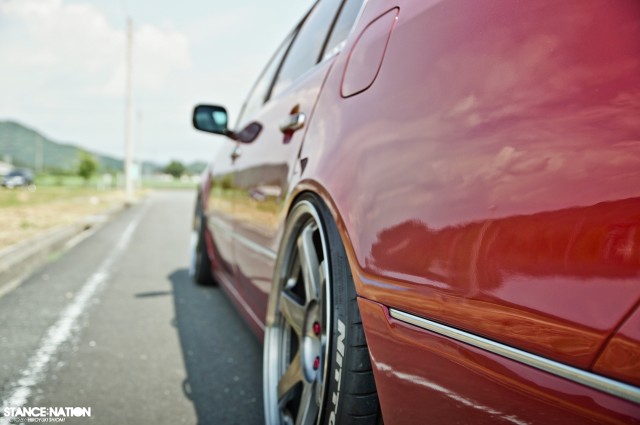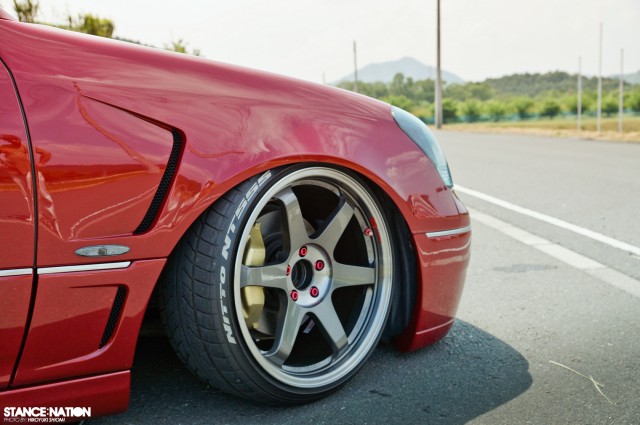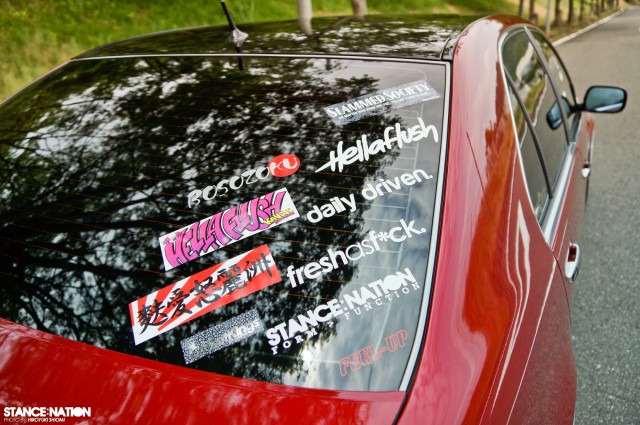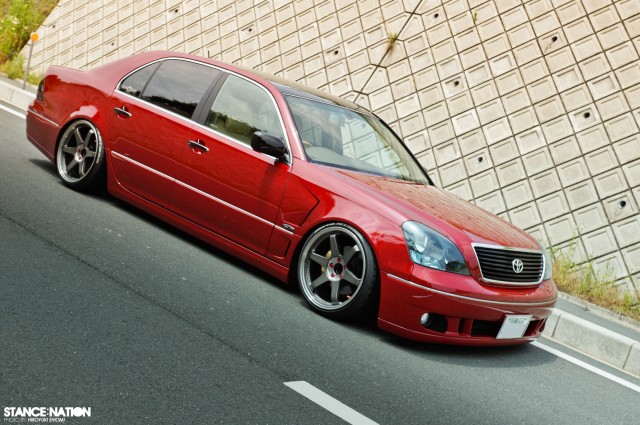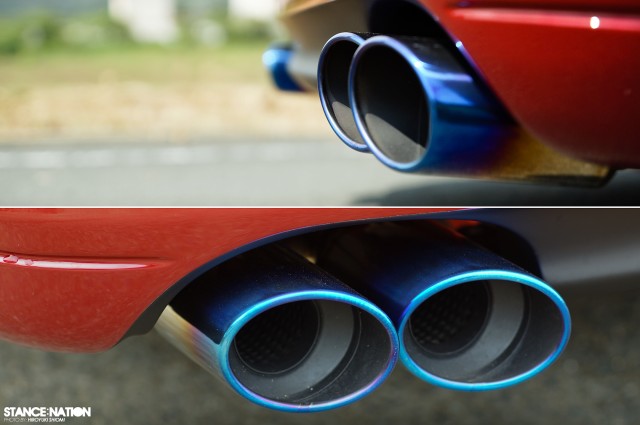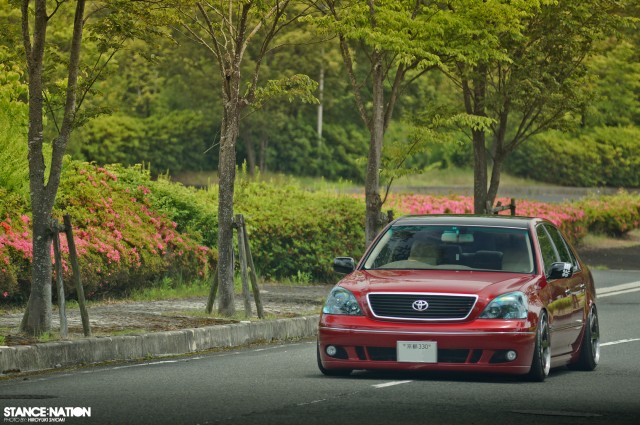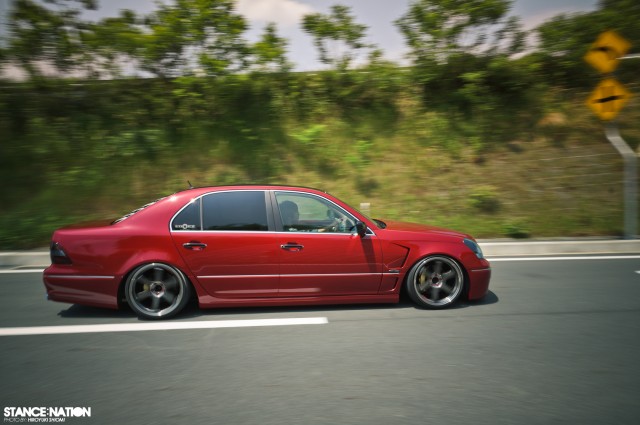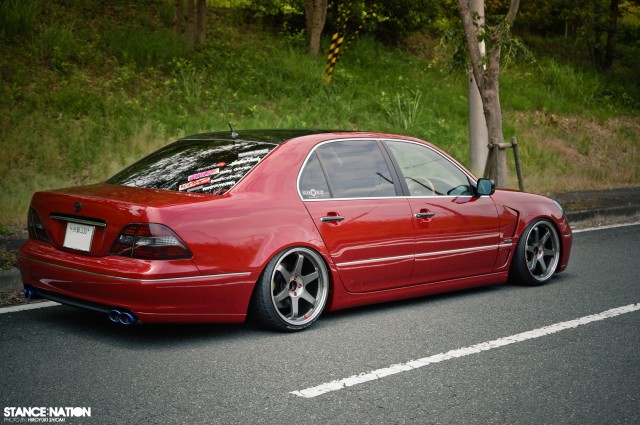 [toggle_box]
[toggle_item title="Wheels/Tires/Suspension" active="true"]Rays Volk Racing TE37SL
F 19×9.5J+7 // R 19×9.5J-6
NITTO NT555 // F.R 225/35R19
Final Konexxion Stealth Coilovers (F20kg,R16kg)
GenB High Caster Bushings
[/toggle_item]
[toggle_item title="Exterior" active="false"](F+S+R)VLUSTYJEWEL (One-off kit)
One-off Fender Duct
2cm F & R widened fenders
Toyota Majesta Blinker
Wald LED Smoke tail lights
Blue tinted side mirrors
Custom Painted Headlights
Crimson Crystal Flake Paint[/toggle_item]
[/toggle_box]