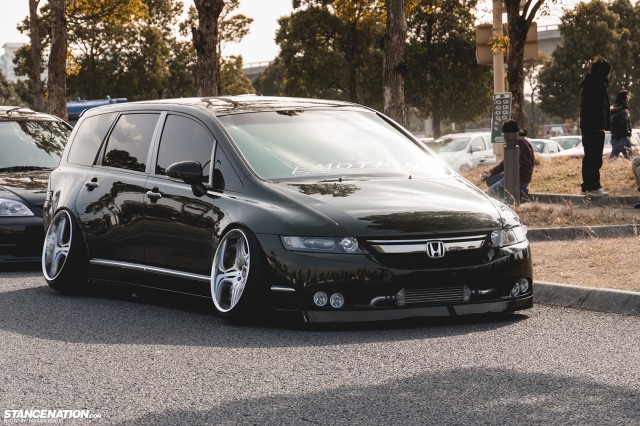 We have feature all kinds of Odyssey's on StanceNation here in the past, but one of the wide, lowest and simply the most aggressive ones all around still happens to be this particular one. Same Odyssey as the one we featured about 2 years back. It belongs to Sugioka-san and these particular photos of his Odyssey were taken at the most recent Fitted Fes meet a few weeks back. The van features a massive set of Riverside Traficstar wheels sized in 19×10 & 19×12. Offset wise, you are looking at -18 up front in 215/35/19 and in the rear a massive -100 with 275/30/19 tires.
Photos By: Takashi Fukui exclusively for StanceNation.com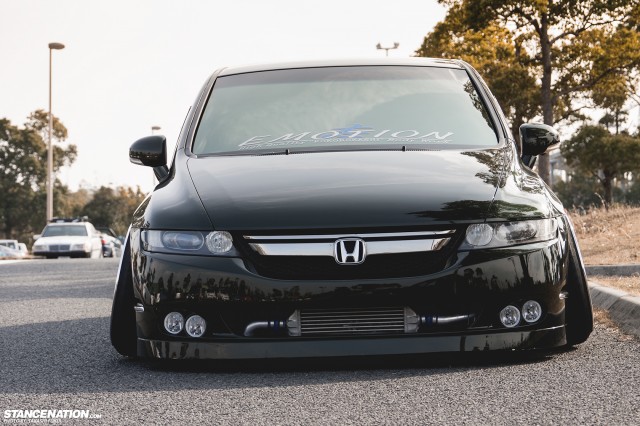 The van also sits on a set of custom made coilovers which by the looks of fenders/bumpers seem to be pretty damn stiff. Last time we looked at this thing it was running 30KG spring rates all around, though it may be different now. With that said, make sure you check out this video (click here) if you haven't already and enjoy rest of the photos. Big thanks to Takashi-san for the awesome photos!