When I moved to Japan in 2006, I instantly became immersed in the drifting lifestyle. Nothing compares to the atmosphere of a drift event in Japan — from the smallest street-drifting session, to a sanctioned drift competition. The smell of gasoline and burning rubber, the roar of engines hitting their rev limiters, and the character of all of the drivers and their friends and family; it's all awe-inspiring. The first drift car I owned was an R32 Skyline and I loved every minute of owning it. So it's truly an honor for me to write this feature about a team comprised solely of 4-door R32 Skylines. A team that represents everything I love about the drift culture. I present to you, Team A-BO-MOON (あ〜ぼ〜ムーン).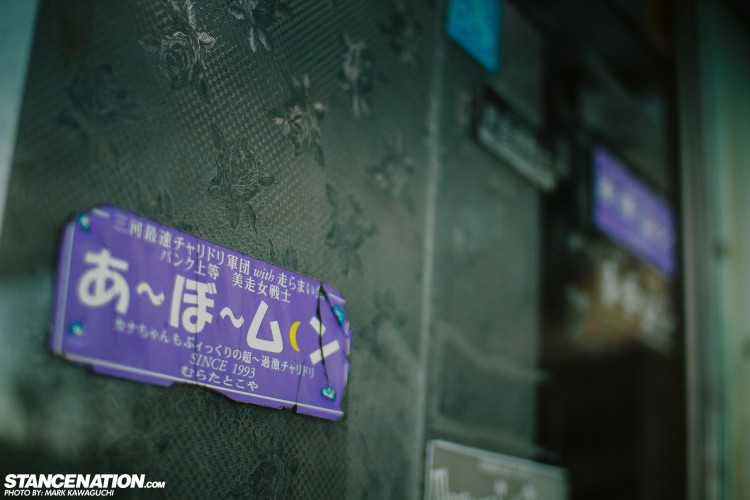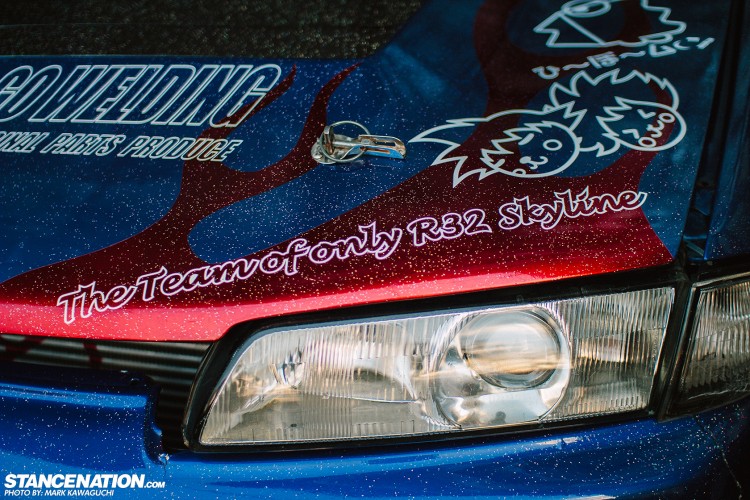 There were once two junior high school kids who wanted to be drifters. They sat in class all day dreaming about the touge drifters they'd watch in the mountains that left them awestruck. After school, they would ride their bicycles around town mimicking the touge drifters they looked up to. This group of friends, who all shared the same vision, began to call themselves あ〜ぼ〜ムーン (A-BO-MOON). When they turned 16, they got their motorcycle licenses and they became touge bikers for a while. Eventually, at the age of 18, they received their automobile licenses and could move on to their true passion, drifting. They dreamed of being famous, but didn't yet have the driving skills to accomplish that goal. Twenty years later, Team A-BO-MOON continues to drift under the same team name.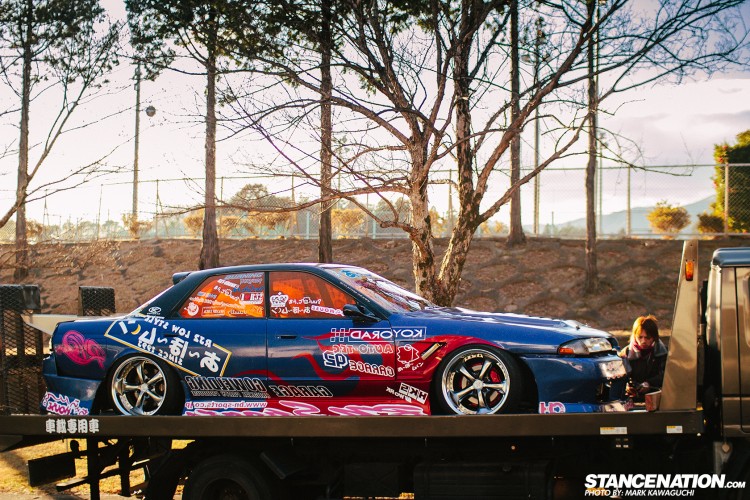 Those two middle school students were none other than the Satsukawa brothers. "Abo" is taken from the younger brother's name Akinobu, and "Moon" is from "Sailor Moon" which was very popular animated cartoon in Japan at the time. The elder brother, Tomonori, took the role as the guy behind the scenes and left the title of "leader" his younger brother.
Team leader, Akinobu Satsukawa, says the thing he enjoys most about drifting is "How the audience gets excited! I can't get enough of the sound of full throttle and squealing tires! The times when I've managed to drive a satisfactory run! The times when our group drifts succeed!" and "When we all get together and work on our cars!" Often times, feelings are lost in translation, but I believe his love for the sport is clear.
Akinobu-san's advice to people just getting into drifting is, "Enjoy it! Have fun! That's all!" He also describes drifting as an awesome hobby and "drifting is the ability to freely express yourself!"
Akinobu-san describes growing up around drifting and watching it transform over time. He spoke of its roots, when people began imitating racers that used this technique to go faster in racing, dirt trial, and gymkhana. From then, he said, people started doing it in the mountains and at the ports. He doesn't recall exactly when, but it became a performance sport sometime thereafter and tournaments slowly began sprouting up around Japan.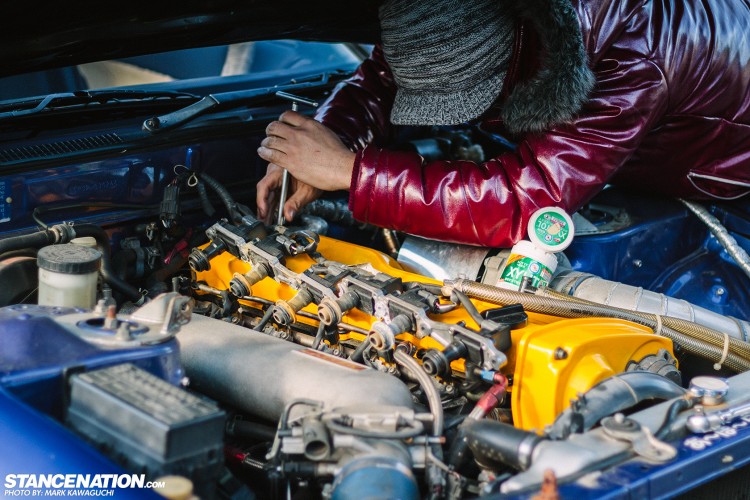 Team A-BO-MOON wanted to make their team easily recognizable, so they decided to all drive the same car model, in the same color. At the time not many people were driving the R32 Skyline, and much fewer were drifting the 4-door model. Akinobu-san and Tomonori-san loved the Skyline, so it was an easy choice. The team, from then on, all drove blue colored 4-door R32 Skylines. Although the team has been required to drive a car of this model and color, they allow modifications to the aero, wheels, etc. to make each car reflect the owner's personal style.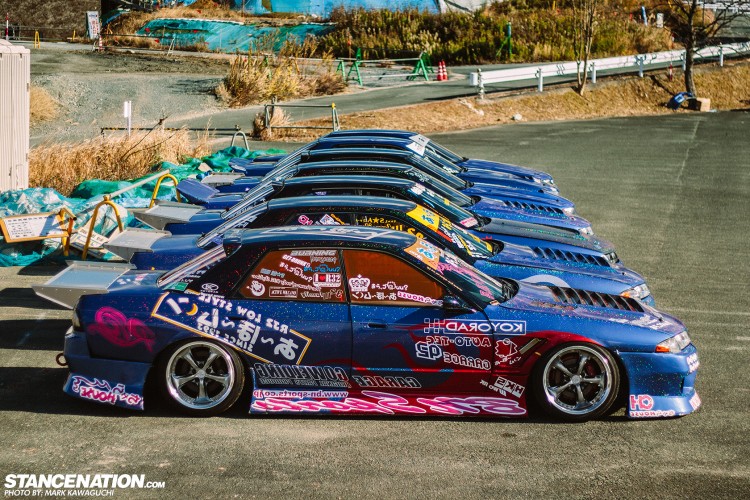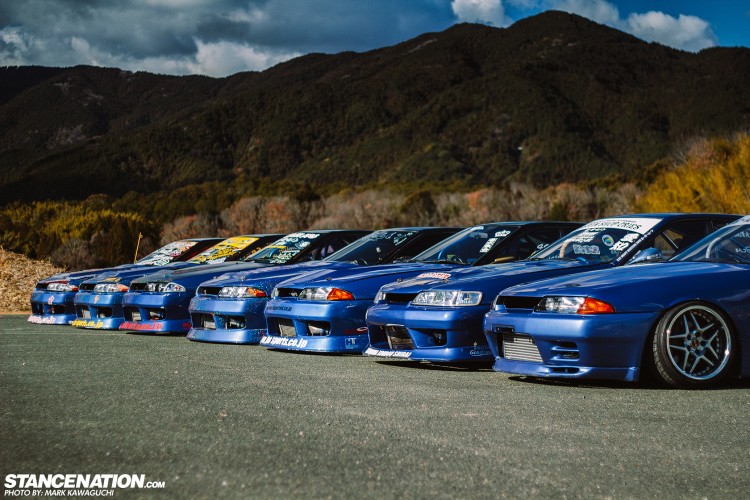 The reason team A-BO-MOON has gained so much popularity in drifting is the styling of their cars. They focus on having a visually appealing style on top of functionality. They believe that, ultimately, drifting is actually not meant to be a competition, but rather a performance to make the audience happy. That's why their cars have such low and aggressive styling.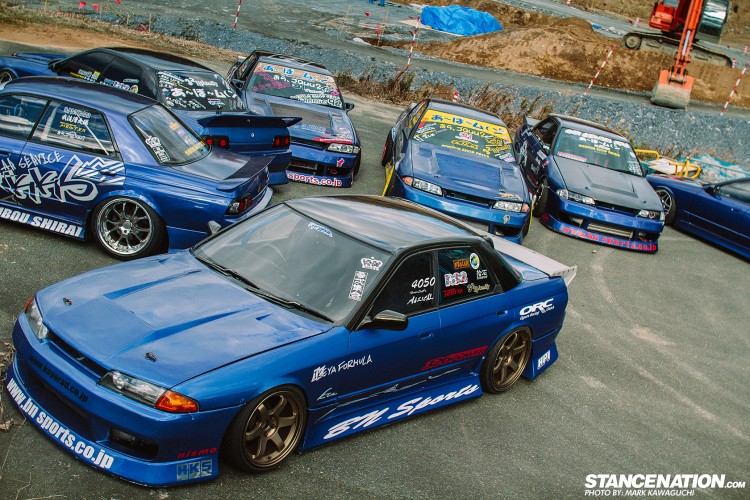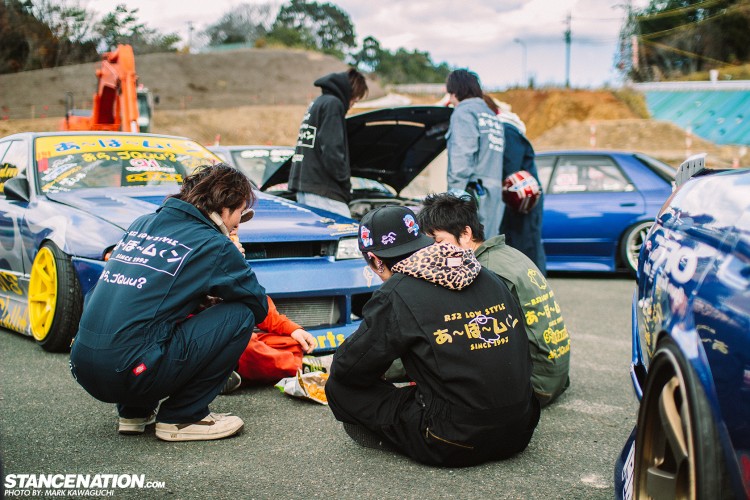 Being a legitimate drift team means building more than good-looking cars though. Team A-BO-MOON needed to begin winning competitions and building a name. This is why their cars have come to have the right balance of looks and performance. The team now strictly limits the camber on their car's rear wheels to no more than -2 degrees. Negative camber is added to the front wheels according to each driver's personal preference though, for added steering performance when drifting.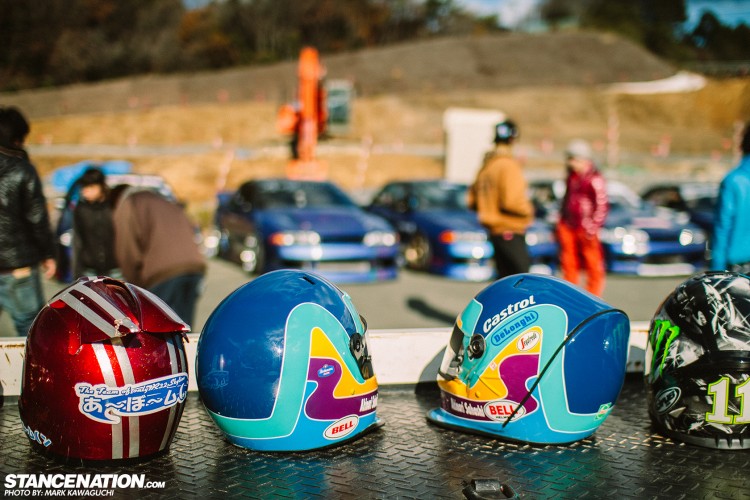 In the Japanese drift scene there is a stigma that cars like those of Team A-BO-MOON can't compete with cars that have perfectly tuned ride heights/suspension geometry and beefy tires for more traction. Completely opposed to this stigma that low cars can't perform, they are always top ranked in competitions, and have collected over 40 trophies as proof to their success!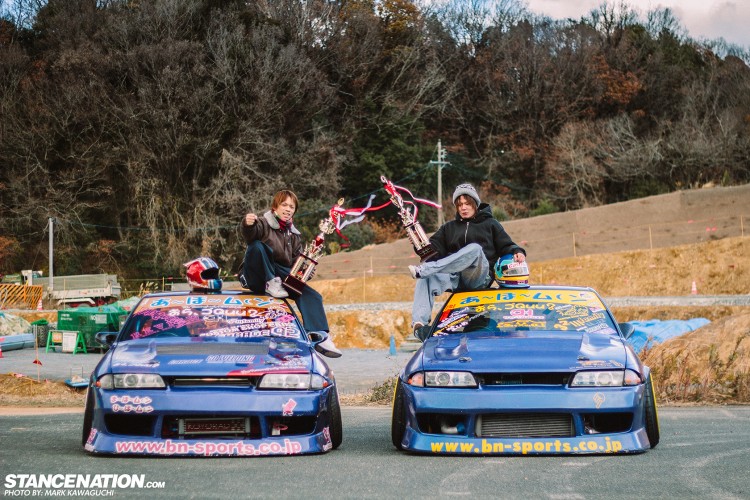 Akinobu-san agrees that the car's setup is less than ideal, and that his suspension moves much more awkwardly than those of most competition drivers, but that doesn't bother him. He wants to prove himself in his low-riding R32, by keeping with the style he loves and remaining competitive and winning tournaments. He says, "To be honest, it's pretty tough to drift, but if I had to give up the style, I would quit drifting." His goal is to continue to improve upon his design, making it easier to control, but to also keep his personal style.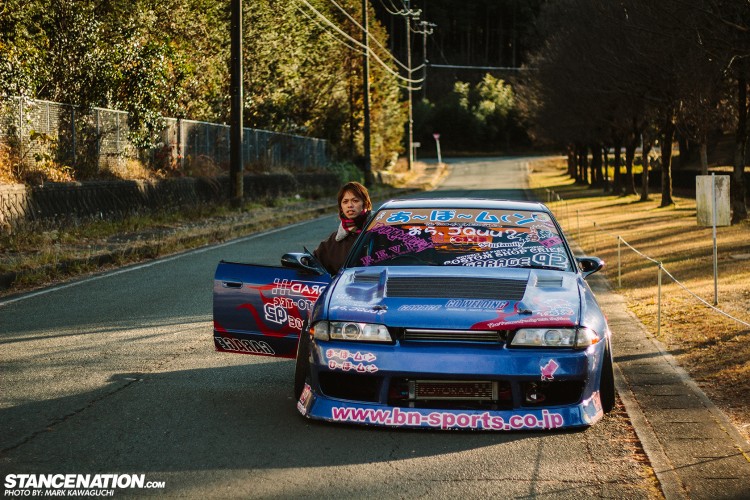 Akinobu-san's R32 is setup with a standard RB20DET powerplant with a GT2530 Turbo, Z32 MAF, and Tomei cam shafts (IN/EX 256°). He is also running an oil cooler, bigger radiator, and a front mount intercooler. For suspension, Akinobu-san is running Swift coilovers with a 12k front spring-rate and a 10k rear spring-rate, Gouhara extended lower arms, tension rods, rear upper control arms, and traction rods. The exterior of his car is suited with a BN-Sports FRP hood, drag wing, Ganador mirrors and a 326-Power roof wing. For wheels, he chose to go with Work VS-KFs in 17×9+0 front and 17×9.5-5 rear. Some of the more unique features to his car are the flake in his paint and the fire-pattern on the sides of his car.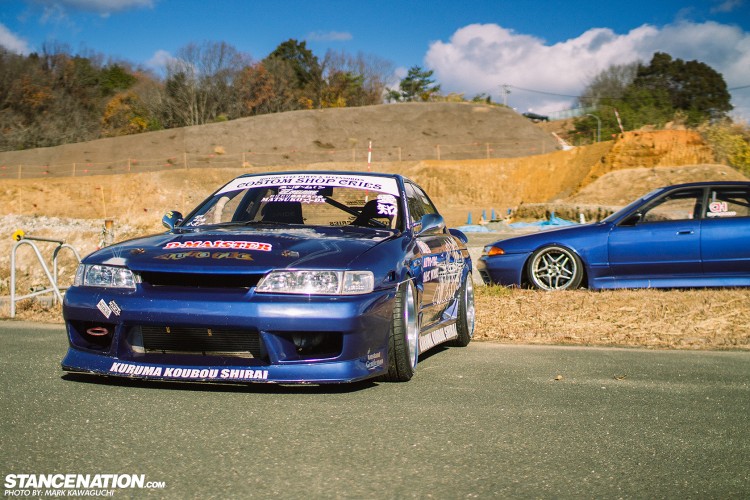 Tomonori Satsukawa's R32 is running an upgraded RB25DET swap from the R32's older brother with a GT3037 Turbo and HKS cam shafts. For his suspension setup he is running TEIN coilovers with 14k/8k spring-rates and JIC upper control arms. He is also running Gouhara original knuckles for maximum steering angle. The exterior of his car is equipped with a Vertex front bumper, Dart Izumi Jr side skirts, and a Dart Izumi Jr rear bumper. For wheels he chose Riverside Altstadt wheels in 18×9 front and 18×10 rear. The most unique part of Tomonori-san's R32 is the front end, which uses headlights, corner lamps, and front fenders from a CE1 Accord!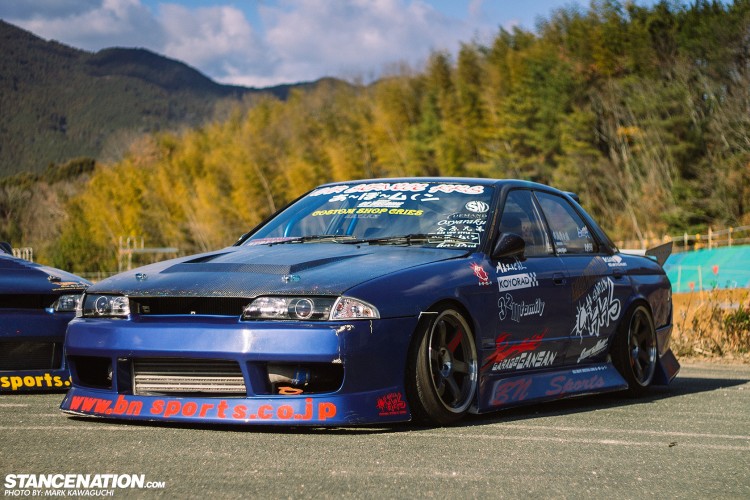 Yoshihito Miyajima's R32 is also running a RB25DET swap but with a GT2535 Turbo instead. For his suspension setup, he is running A'PEXi N1 coilovers (F-8kg/mm R-7kg/mm), JIC upper arms (25mm short), Pillow tension rods, JIC rear upper control arms and traction rods, and custom Gouhara knuckles. The exterior of Yoshihito-san's R32 has a full BN-Sports aero kit, one-off custom front fenders, one-off drag wing, FC aftermarket aero mirrors, one-off LED tail lights, and a one-off plug cover. For wheels he opted for Rays TE37SL 17inch in 9.5 +12 for the front and 9.5J +12 for the rear. Aside from the one-off parts, Miyajima-san's R32 is distinguishable by the blue/red eye headlight color.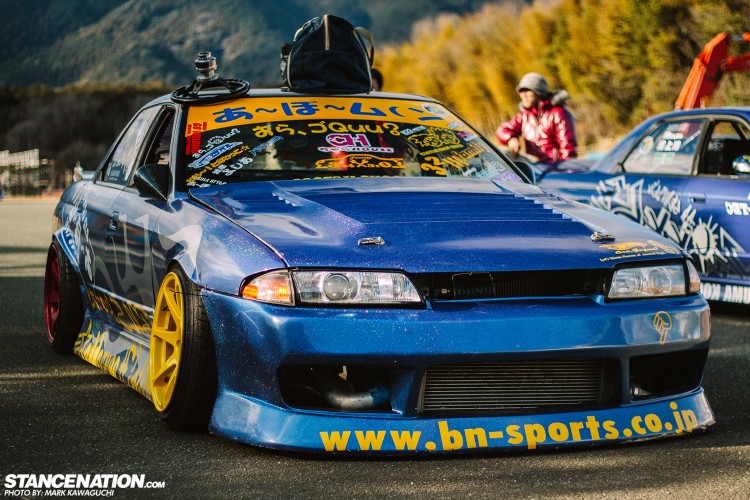 Akinori Sahashi's R32 is running a RB25DET swap but it is running a 2.6 liter stroker kit, TD06-25G Turbo, and HKS cam shafts (272°). For suspension, Akinori-san is running KTS coilovers from a BNR32 (i.e. R32 GT-R) up front (20kg/mm) and Cusco coilovers in the rear (11kg/mm), one-off front upper arms (35mm short), and custom Gouhara steering knuckles. The car is also sporting a full BN-Sports Aero kit. For wheels, Akinori-san went with CST wheels in 17×9.5+15 front and 17×9 +0 rear. Akinori-san says the unique thing about his car is "the fenders. I overdid them, sorry…"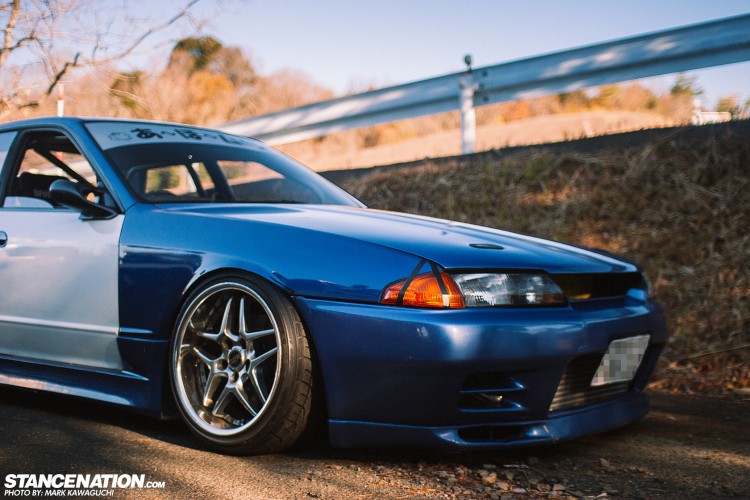 Yoshia Inagaki's R32 is running the standard RB20DET with a GT2535 Turbo. For his suspension he says he is running no-name coilovers with 14k/10k spring rates, extended lower arms (25mm), pillow tension rod, upgraded rear upper control arms, traction rods, and increased steering-angle knuckles. The exterior of his car has a BNR32 (GT-R) stock front bumper, no-name side skirts/rear bumper, and Ganador mirrors. For wheels he chose Blitz BRW03 wheels in a 17×9+15 non-staggered setup. Yoshia-san believes that "simple is best" and didn't do anything wild to his R32.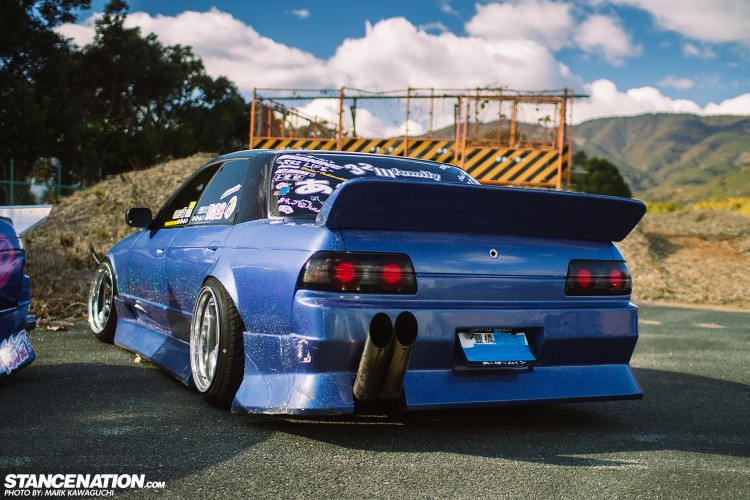 Fumiharu Nakano's R32 is running a standard RB20DET but with an impressive 2.3 liter stroker kit and GT-RS Turbo. For suspension he is running R.Y.O. coilovers (F14kg/mm R12kg/mm), front extended lower arms (25mm long), and Gouhara knuckles. The exterior of his car has a full BN-Sports aero kit including the hood, and a one-off rear spoiler. For wheels, Fumiharu-san picked out SSR Professor SP-1's in 17×9+0 front and 17×10-5 rear. Fumiharu-san's R32 has a Takeyari Exhaust and one-off rear spoiler to make his car stand out from the rest of the team.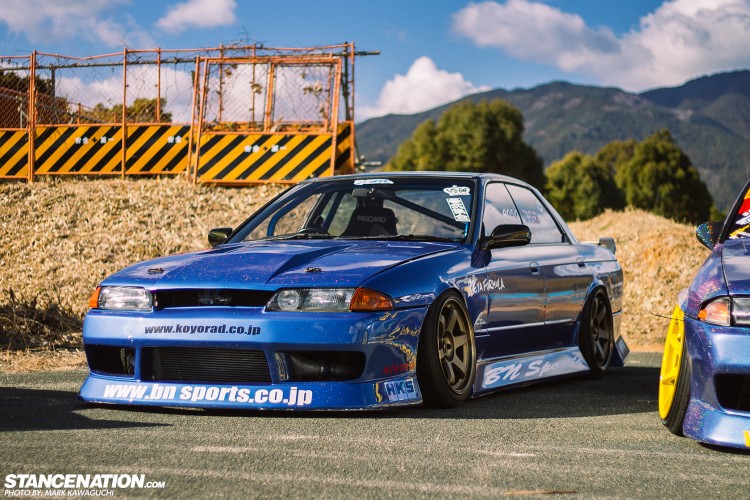 Yasuhisa Haramiishi's R32 is running an RB20DET with GT2530 Turbo, the same setup as Akinobu-san. For suspension, he opted for A'PEXi N1 coilovers (12kg/mm R9kg/mm), upgraded tension rods, custom upper arms (25mm short), upgraded rear upper arms and traction rods, and Gouhara knuckles. The exterior of his car has a BN-Sports Aero kit, and he is running double-staggered TE37s in 17×9+15 front and 18×9.5+12 rear.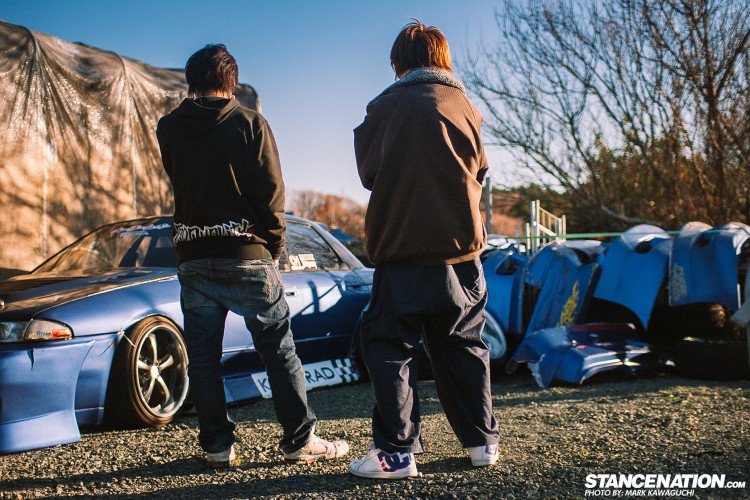 Akinobu-san wants nothing more than to keep the A-BO-MOON family together, to continue drifting in a fun atmosphere, and to win tournaments. Akinobu-san would also like to spread the word about his team's annual meet. The A-BO-MOON team hosts an annual R32 meet on March 2nd (3-2) at Motorland Mikawa, which is something they take a lot of pride and enjoyment in. It is not centered on drifting, and all R-32 lovers are encouraged to attend.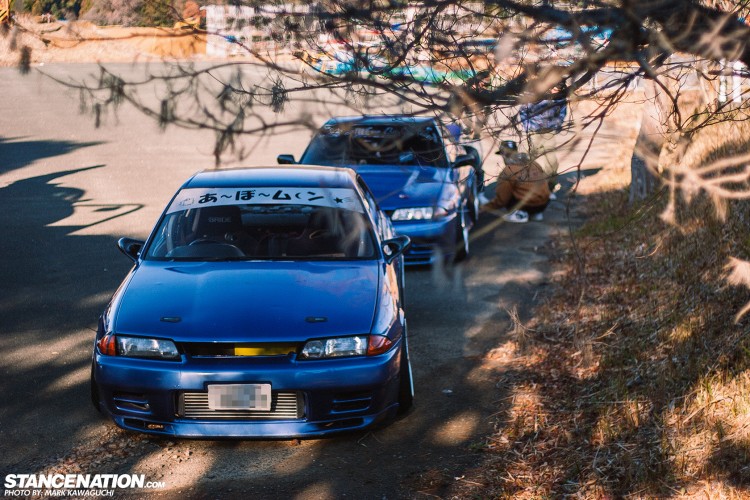 The kids, who once dreamt of being famous drifters, have fulfilled their dream and made many friends along the way. We wish them luck on their journey and look forward to what the team does in the future!
Team Members:
Akinobu Satsukawa
Power: RB20DET, GT2530Turbo, Z32 air flow, Tomei cam shaft (IN/EX 256°)
Suspension: Swift (f12kg/mm r10kg/mm), Gouhara extended lower arm (25mm long), tension rod, rear upper arm, traction rod
Exterior: BN Sports FRP bonnet, drag wing, Ganador mirrors, 326 power roof spoiler
Wheels: Work VS-KF 17 inch (F9J 0 R9.5J -5)
Unique features: Flake paint & fire pattern, 2door version back lamps
Tomonori Satsukawa
Power: RB25DET swap, GT3037 Turbo, HKS cam shaft
Suspension: Tein coilovers (F14kg/mm R8kg/mm), JIC upper arms (15mm short), Gouhara original knuckles
Exterior: Vertex front bumper, Dart Izumi Jr side skirts/rear bumper
Wheels: Altstadt 18inch (F9J/R10J)
Unique features: headlights, corner lens, and front fender are from a CE1 Accord
Yoshihito Miyajima
Power: RB25DET swap, GT2535 Turbo
Suspension: A'PEXi N1 coilovers (F8kg/mm R7kg/mm), JIC upper arms (25mm short), pillow tension rod, rear upper arm, traction rod, Gouhara knuckle
Exterior: BN Sports full aero, one-off custom front fenders, one-off drag wing, FC after market aero mirrors, one-off LED tail lights, one-off plug cover
Wheels: Rays TE37SL 17inch (F9.5J +12 R9.5J +12)
Unique features: blue/red eye headlight color and one-off exterior parts
Akinori Sahashi
Power: RB25DET swap modded 2.6 liter, TD06-25G Turbo, HKS cam shaft 272°
Suspension: Front KTS coilovers (for BNR32) Rear Cusco coilovers (F20kg/mm R11kg/mm), one-off front upper arms (35mm short), Gouhara knuckle
Exterior: BN Sports full aero
Wheels: CST 17 inch (F9.5J +15 R9J 0)
Unique features: "the fenders. I overdid them, sorry…"
Convenience Mods: car audio system
Yoshia Inagaki
Power: RB20DET GT2535 Turbo
Suspension: unknown coilovers (F14kg/mm R10kg/mm), extended lower arms (25mm), pillow tension rod, rear upper arms, traction rod, increased steering angle knuckle
Exterior: GT-R stock front bumper, unknown side skirts/rear bumper, Ganador mirrors
Wheels: Blitz BRW03 17inch (F9J +15 R9J +15)
Unique features: Simple is best?
Convenience Mods: Shaken (車検)
Fumiharu Nakano
Power: RB20DET modded 2.3 liter, GT-RS Turbo
Suspension: R.Y.O coilovers (F14kg/mm R12kg/mm), front extended lower arms (25mm long) normal upper arms, tension rod, rear upper arms, traction rod, tow control rod, Gouhara knuckles
Exterior: BN Sports full aero/bonnet, one-off rear spoiler
Wheel: SSR Professor SP-1 17inch (F9J 0 R10J -5)
Unique Features: Takeyari Exhaust and one-off rear spoiler
Convenience Mods: car audio system/ Shaken (車検)
Yasuhisa Haramiishi
Power: RB20DET, GT2530 Turbo
Suspension: A'PEXi N1 coilovers (12kg/mm R9kg/mm), tension rod, unknown upper arms (25mm short), rear upper arms, traction rod, Gouhara knuckles
Exterior: BN Sports
Wheels: TE37 F17/R18inch (F9J +15 R9.5J +12)