In today's world, we meet all types of opposition in the car world. From ticket happy peace officers to menacing speed bumps, it seems like everything is out to hamper our car builds and stamp out our automotive mediums of expression. However, through all the negative things that occur to us, perseverance and the will to trudge on truly defines a person's character. This is the case of Luis Vivas' Tenacious Z. Built in the memory of his previous Z and dreams, which was totaled, Luis did not let that heartbreaking event put a hold on his enjoyment of modifying cars. After relentlessly searching for other makes and models, none really appealed to him due to the quality or cleanliness of the car. Instead, he went with another Z to replace his fallen one and bounced back even harder. This is Luis Vivas' Tenacious 350Z.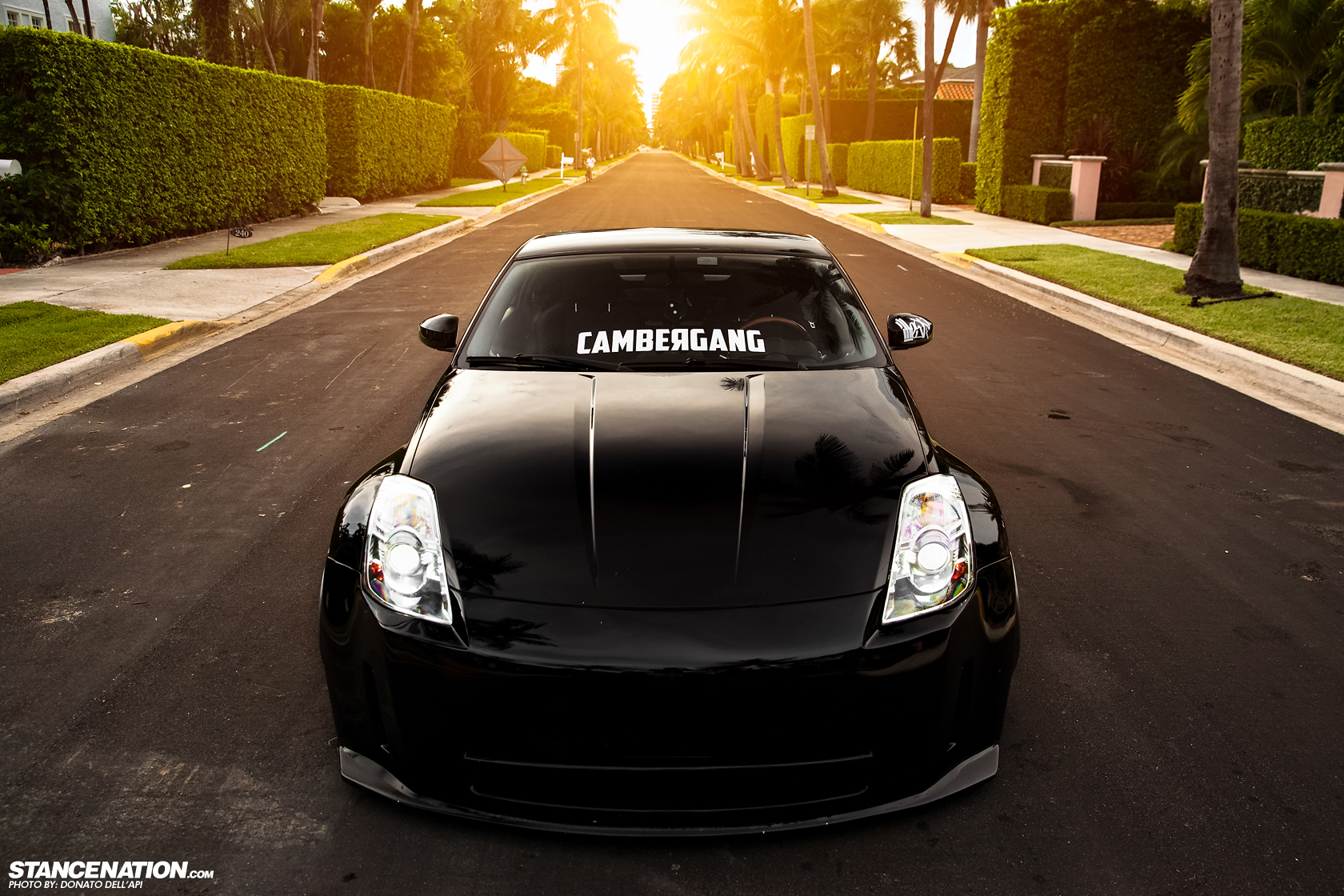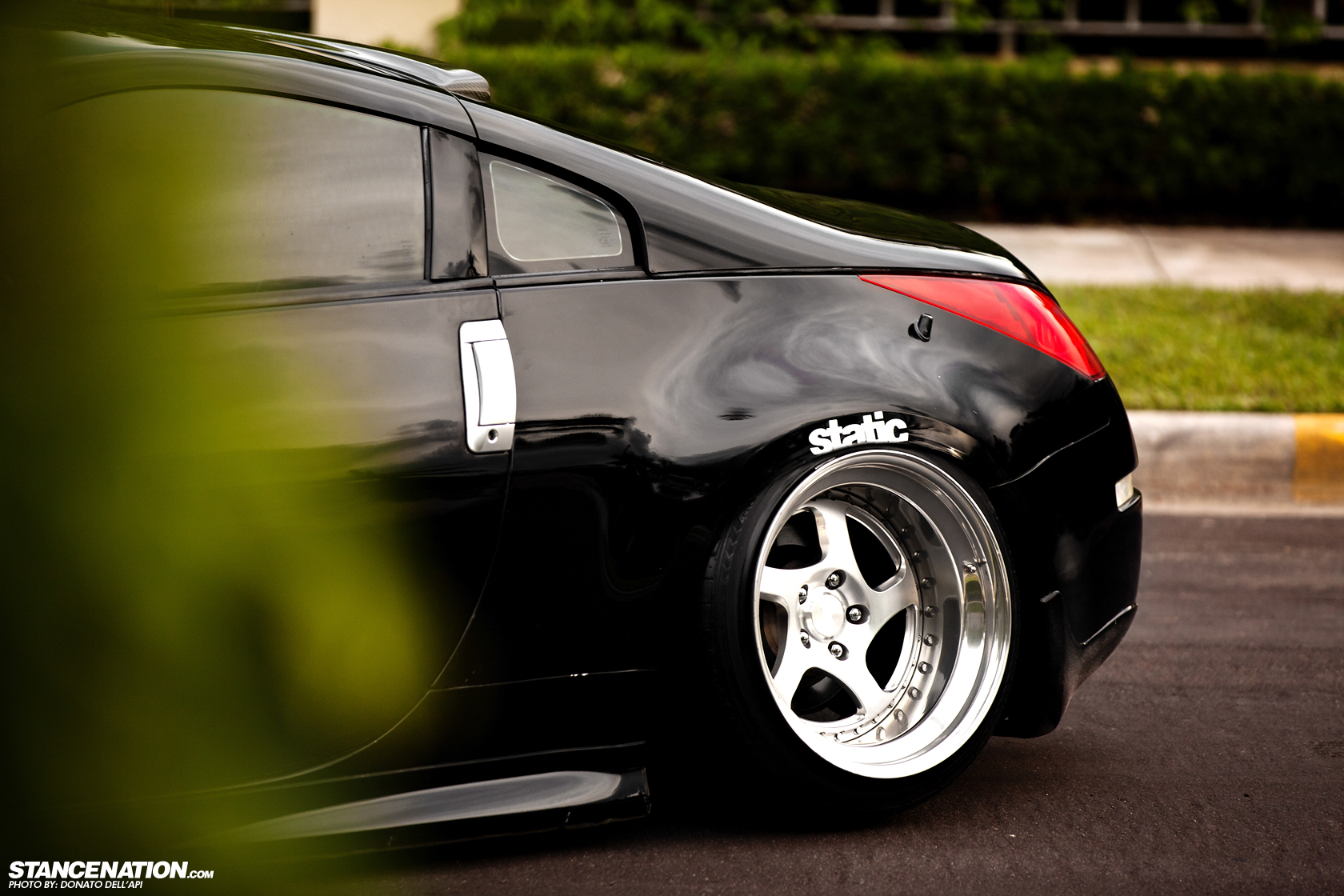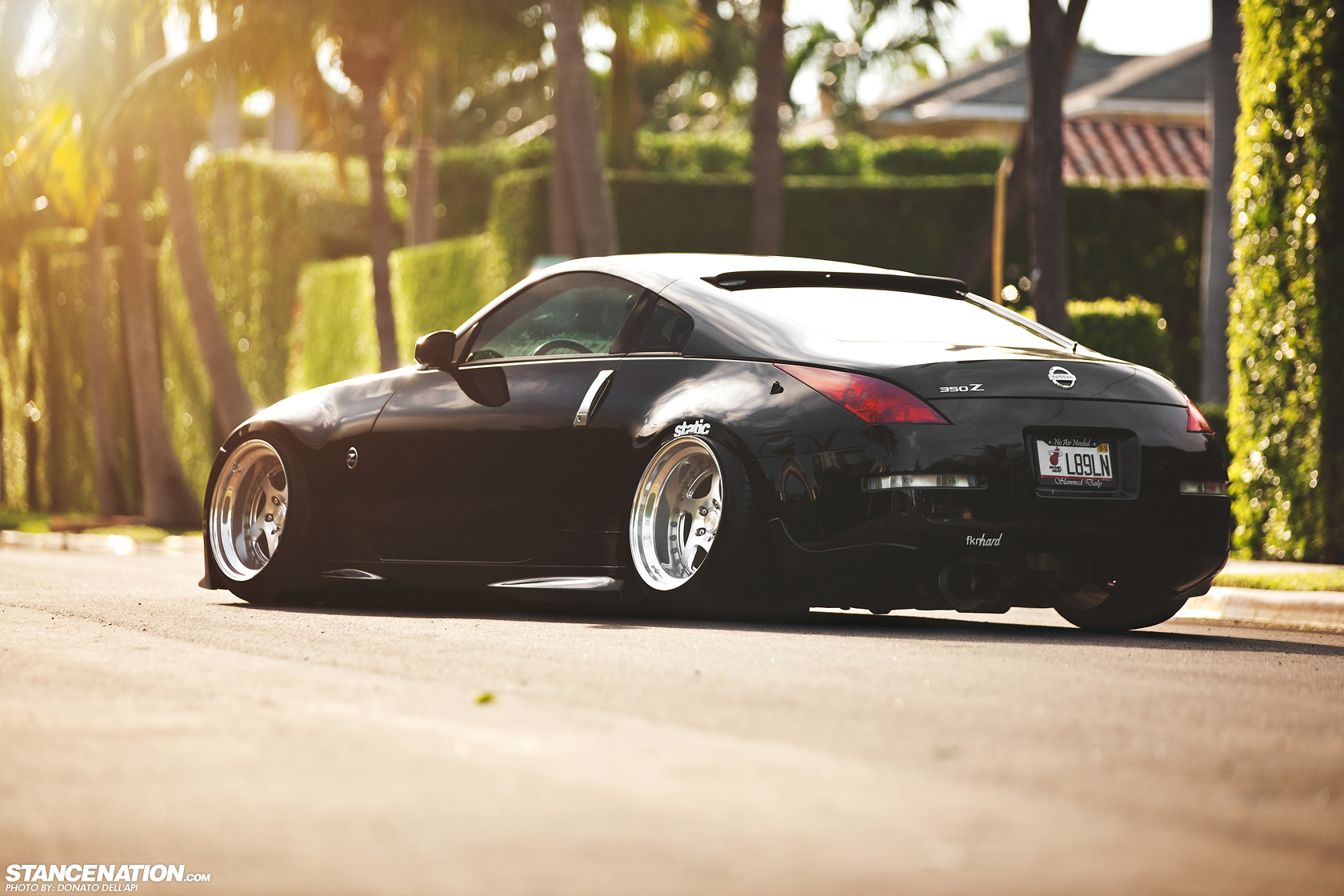 Now the first thing that immediately caught my eye on this beautiful car would definitely be the stark contrast between the jet black paint to the reverse mounted CCW LM5T. Now, these CCW's were not the initial wheel choice for this Z, however, the previous Work Rezax were lacking in the aggressiveness department so they were exchanged for this unique set. Immediately falling in love with them, Luis got on the phone and asked for the impressive 18×11.5 -18 and 18×12.5 -10 specs that he wanted and it was deemed impossible. Six months later, perseverance won, and he proved he could push the limits as the first person to rock them and to be able to sell it too.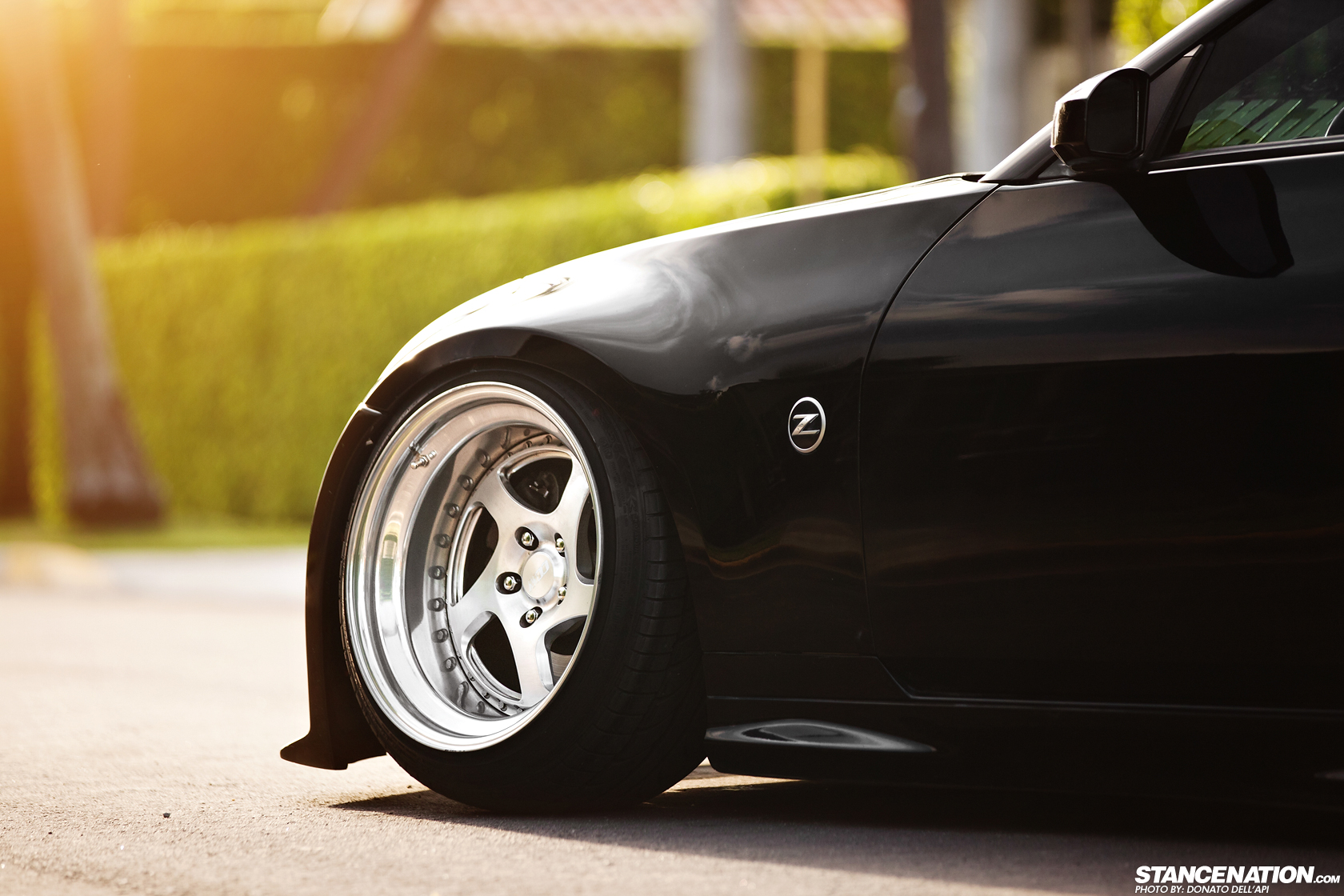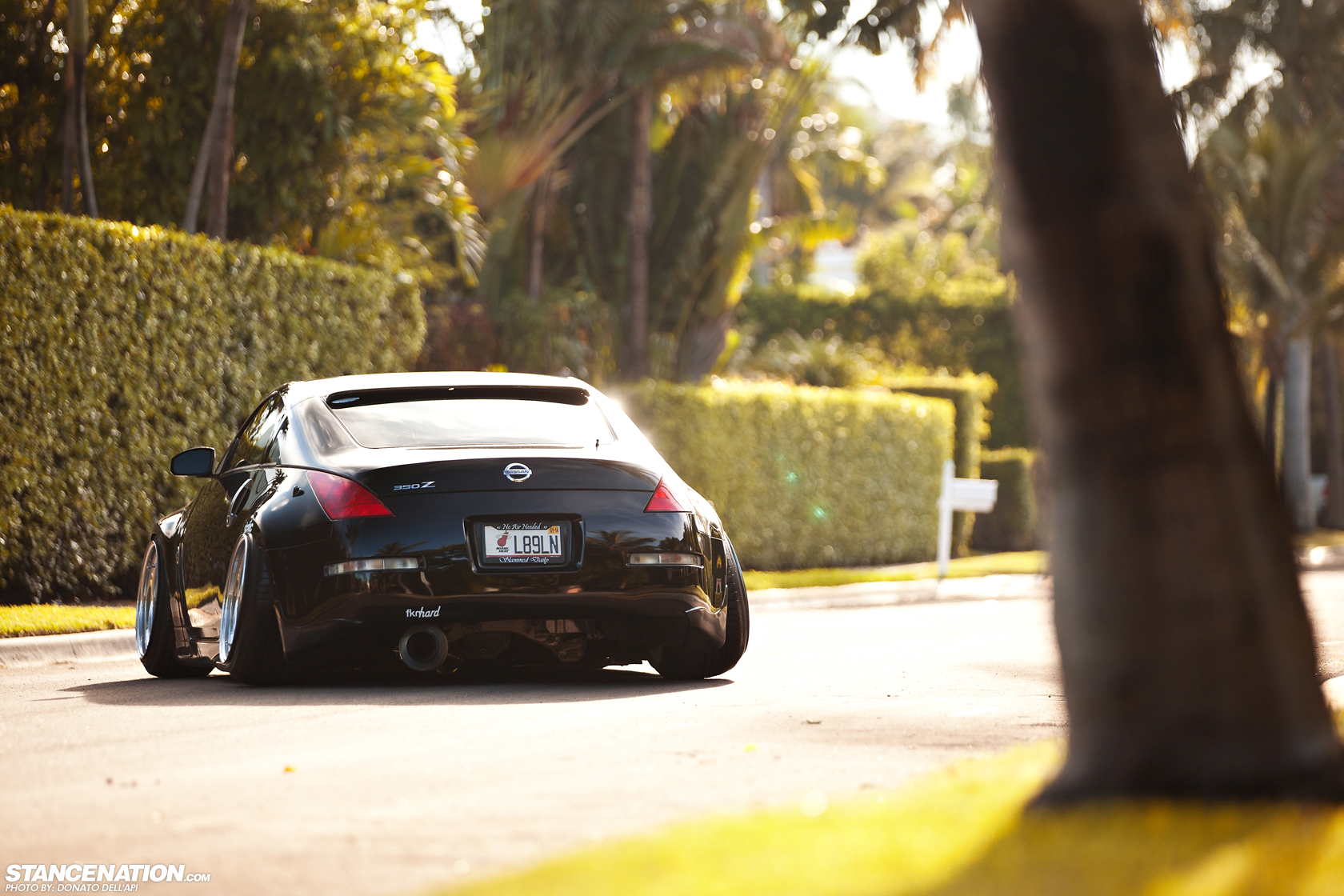 Working in conjunction with the wheel specs are the suspension parts that help make it possible. Fortune Auto Series coilovers give the car its extreme drop and the 12k/14k spring rates give the car a stiffer ride to allow Luis to drive the car at its slammed height. Altered Megan arms up front give the option for more camber and allow the car to sit even lower. SPL camber and toe arms are used to perfect his suspension set up.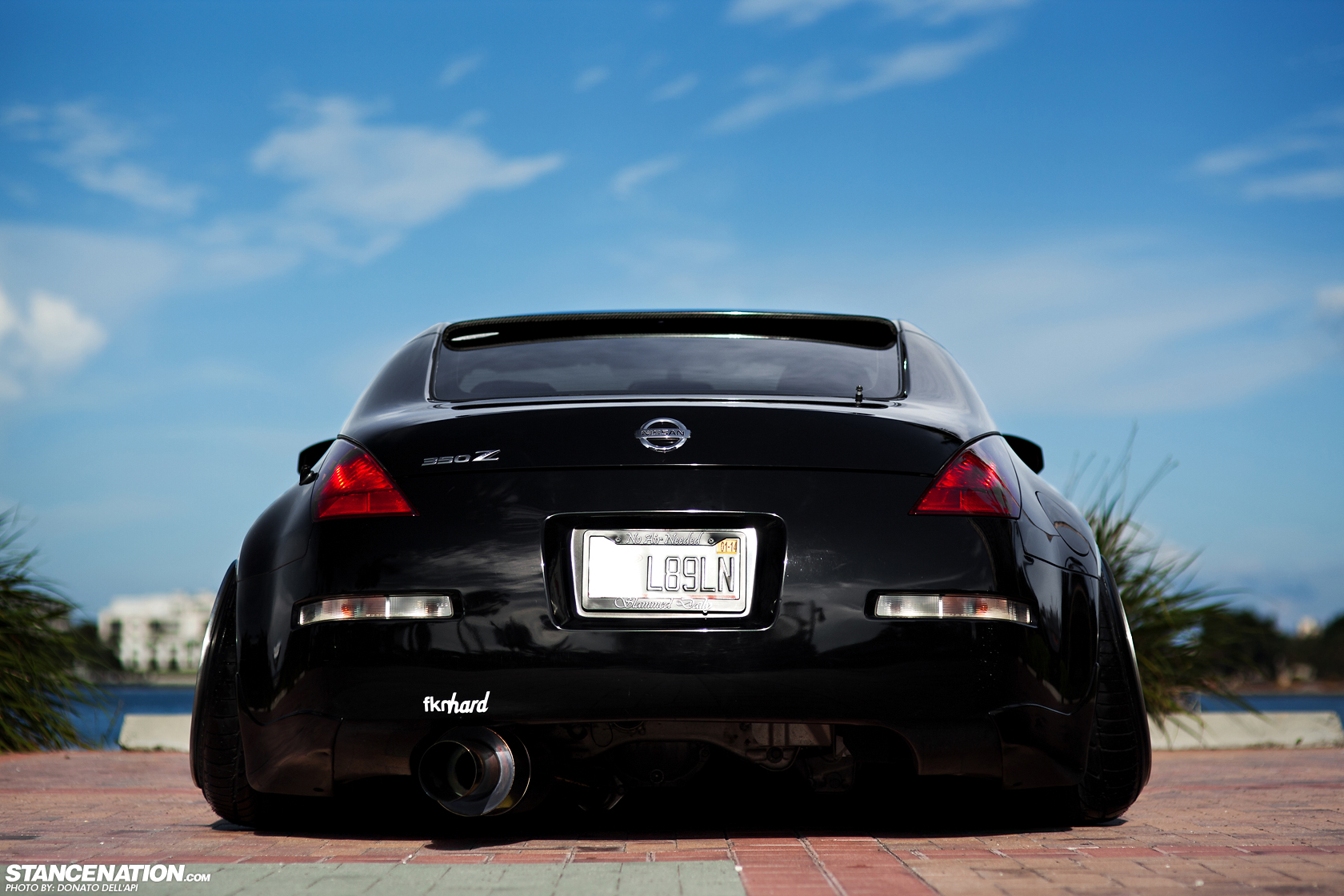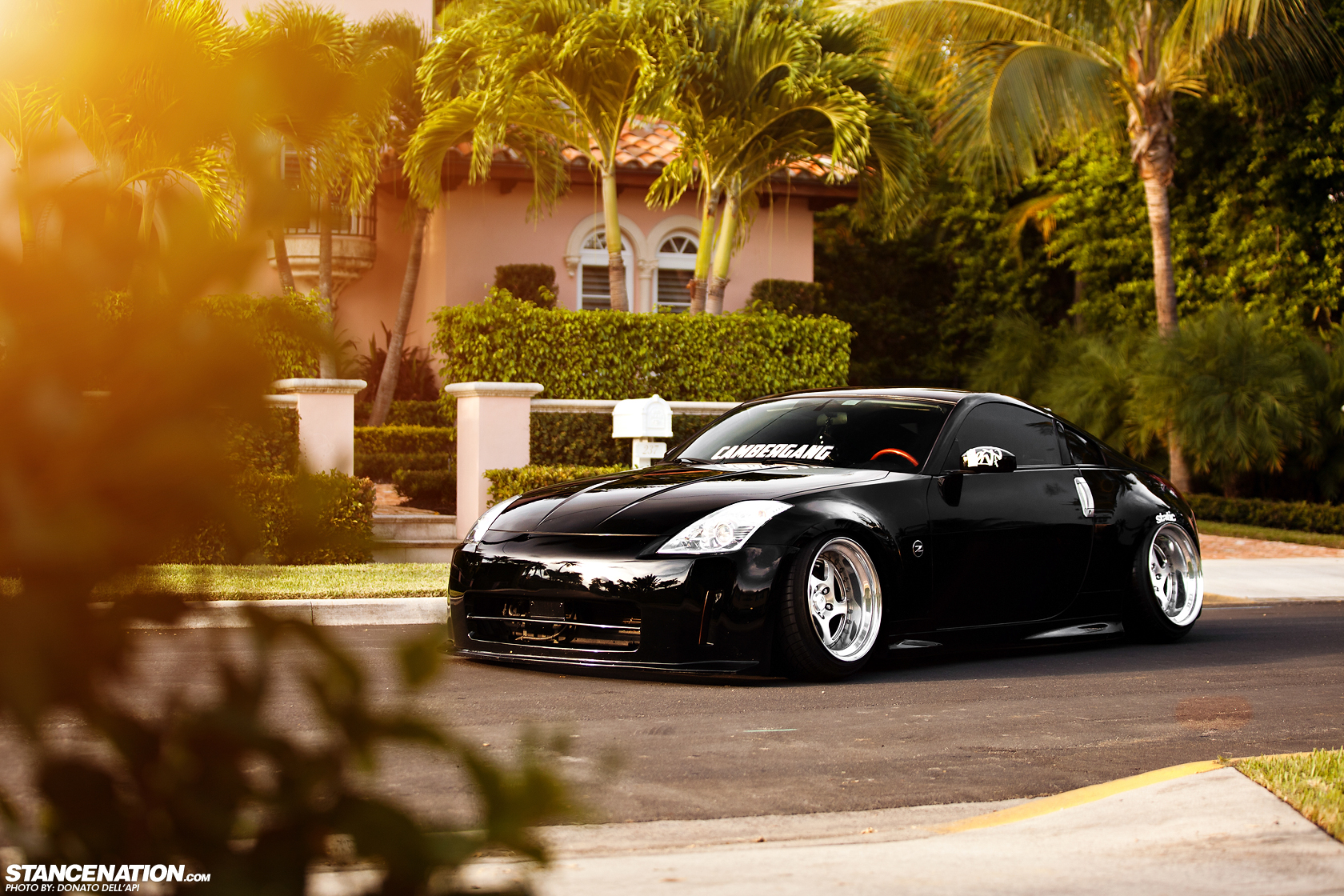 Up front, are the 06-08 xenon headlights sitting on the Aerosync bumper giving it a fierce and fuller look. Peeking from behind the dashboard is Woodgrain Grip Royal, a classic steering wheel, and one of my personal favorites.However, the build of this Z had its fair share of trials and tribulations. Aside from the first Z being totaled, getting the fronts to fit was a major problem. The answer lie in the cutting and modifying of the bay. Not surprisingly, there is the inherent problem of fitting a jack underneath the car but is a small price to pay for this outstanding look. Luis tells us that there are a few potential mods after this such as different rims* and air but being as his daily driver of at least 40+ miles from school and work and anywhere else Luis needs to be but you can stay tuned by following him on Instagram @Vivasluiss.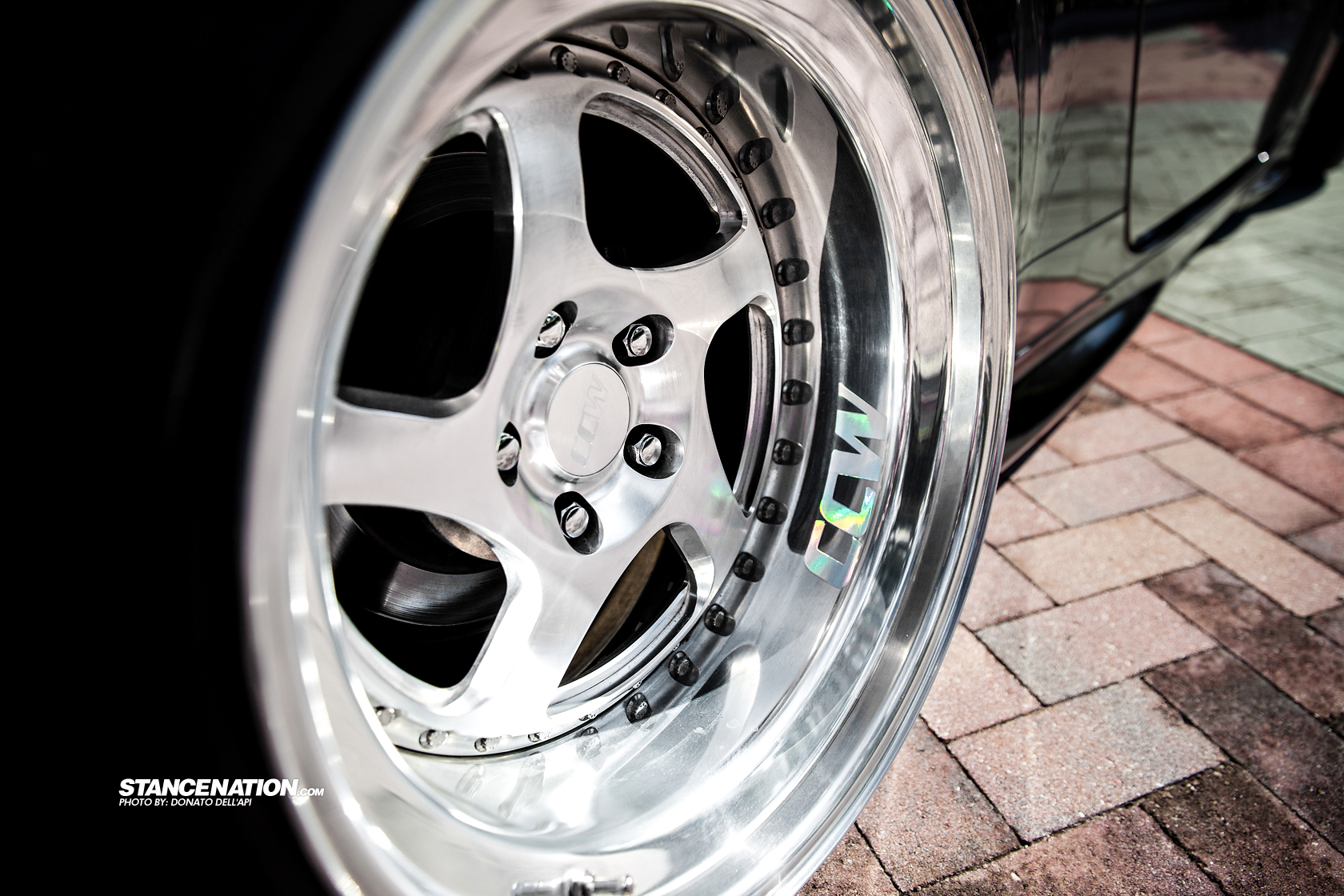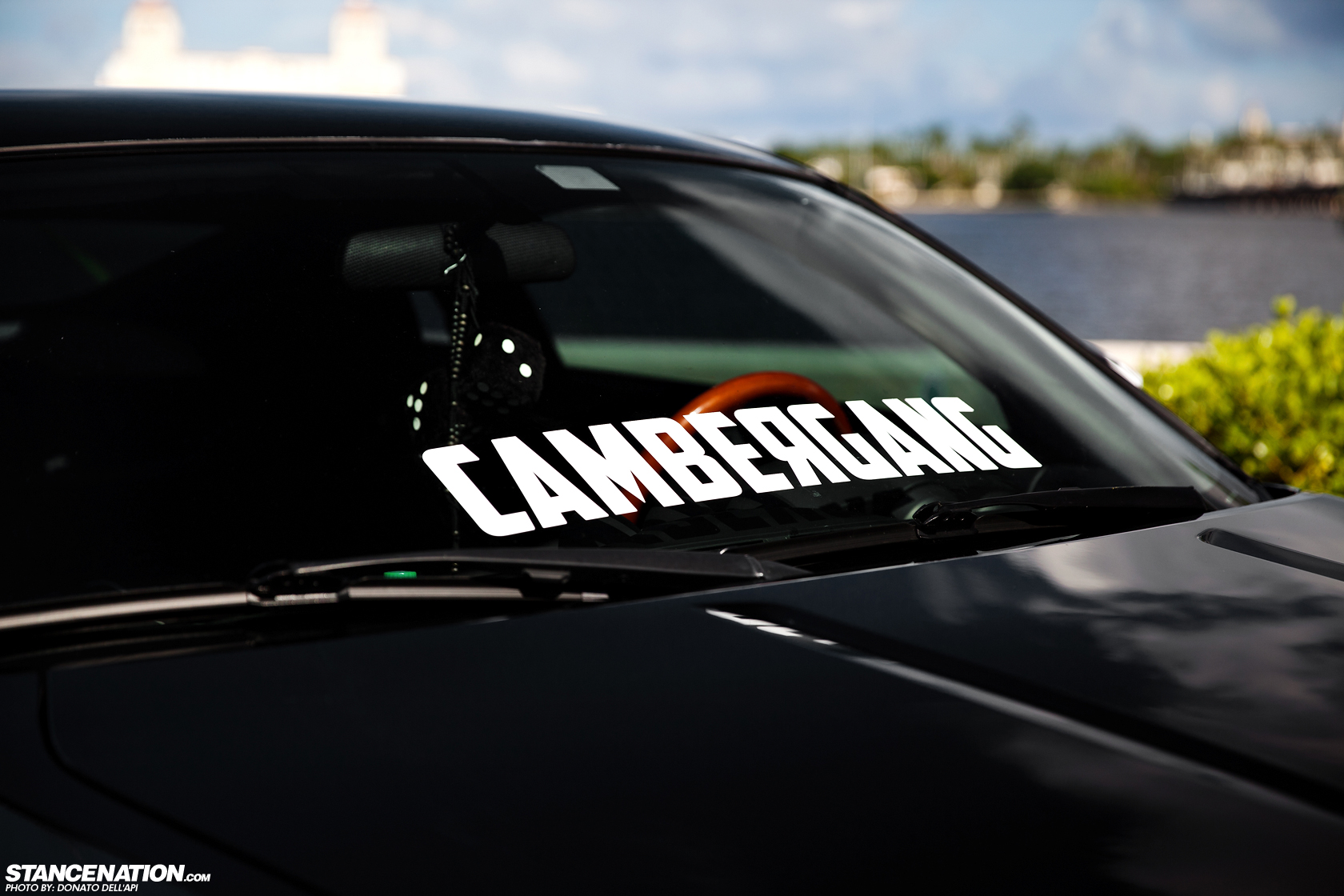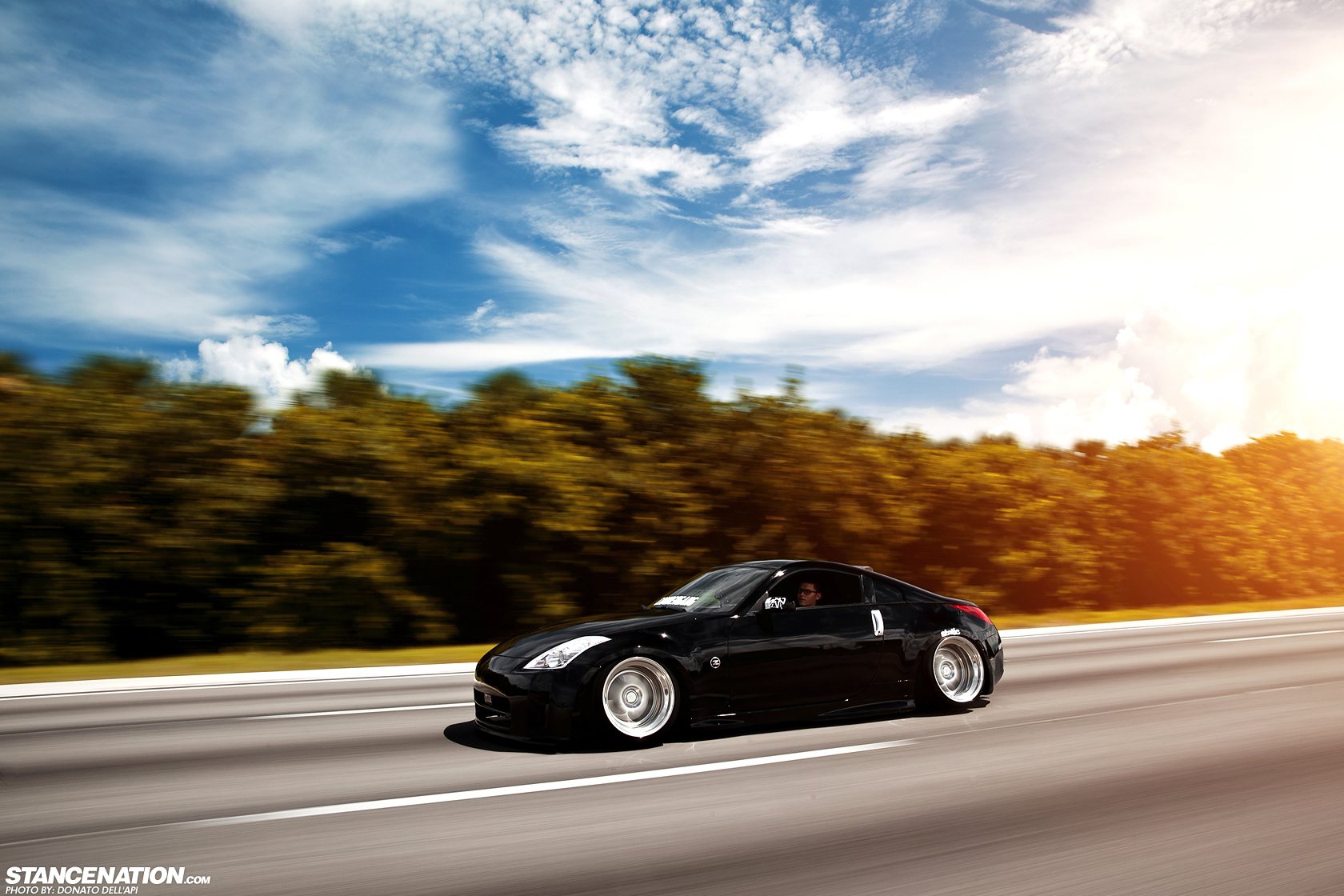 *As this is released, the car is now sitting on Garson Deep Racing wheels.
Wheels/Tires/Suspension
Ccw lm5t reverse mounted
18×11.5 -18 245/40. 5.5 inch lips
-8 camber
18×12.5 -10 265/40 6 inch lips
-10.5 camber
fortune auto series coilovers
12k front springs
14 rear springs
spl rear toe arms
spl camber arms
Megan front uca / altered for more camber to make wheels fit and for lower
Exterior
06-08 xenon headlights
-aerosync front bumper
Nismo style Sideskirts
g35 rear mudguards
rear bumper tuck mod
Interior
woodgrain grip royal
momo hub
Poweredbymax Weighted Shift Knob
-JVC touchScreen
Engine
Agency power titanium cat back
Jwt pop charger