It's been a few months since I've had any photos of my car on StanceNation. Since this article was published, the car has gone through a couple of new changes which I will show you over the next few minutes. They're not dramatic changes as you can tell, but my goal for rest of this year was to get these particular things out of the way before moving onto creating the LS400 which I envisioned way before I even bought one.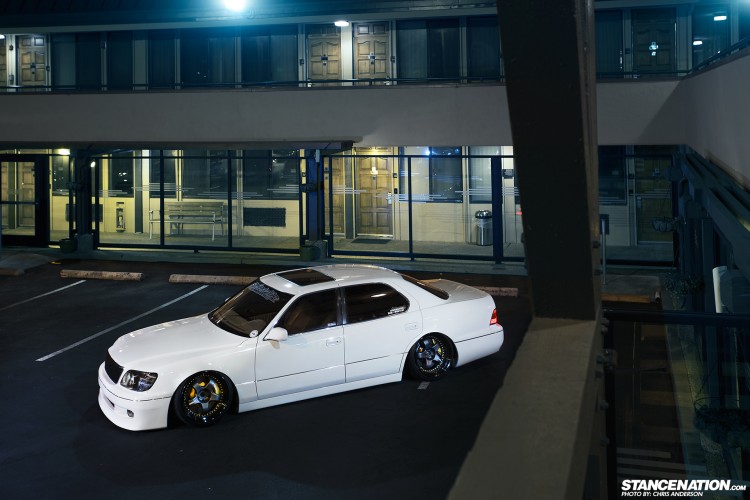 Two different photographers shot my car over the last couple of months but we'll start with Chris Anderson's work first as they are more recent. Oh, and he shot this video below which shows off the newest addition to the car; my LED lights. The new tail lights were custom made by my friend Masaki from Japan and they feature 1200 LED's, 40 different patterns in tails, 8 different patterns in blinkers (not shown in video), all controlled with a wireless controller.
My front corner/blinker lights have also been updated and they feature about 100 LED's each if I remember correctly. You should be able to see it better if you click on any of the photos below.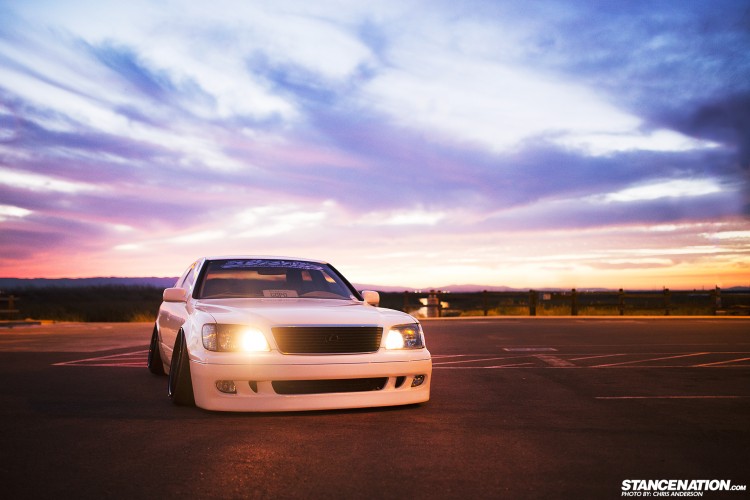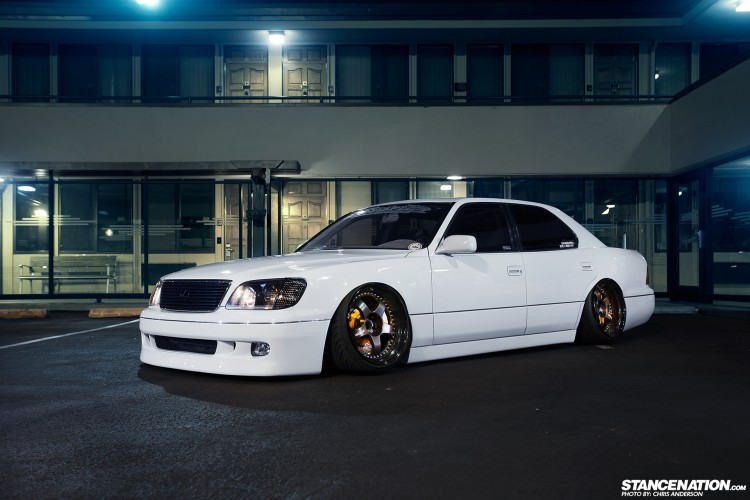 I also ended up selling my SSR SP3's to my buddy in SoCal and switching over to Work Meisters. The specs were 19×12.0 +12 in the rear and 19×10.0 +11 up front, wrapped in 225/35/19 & 265/30/19 Federal 595's. I decided to go with gold bolts to make the wheels pop a little bit more and compliment the brake calipers.
Unfortunately I had to sacrifice lip size in order to fit one of my favorite additions to the car; Futura Design Brakes. Fronts are massive 8 piston 380mm's, while the rears are 6 piston, 356mm's. Calipers as you can see are Dark Gold and the rotor hats are Dark Orange. How do they stop you ask? To be honest with you, I have a feeling that if I step on the brakes really hard I might fly out the windshield. One of the things I like the most about this big brake package though is that there is almost no brake dust on my wheels.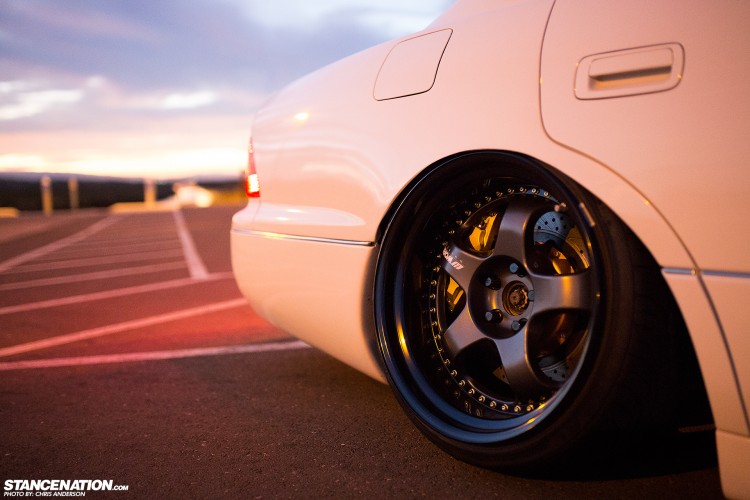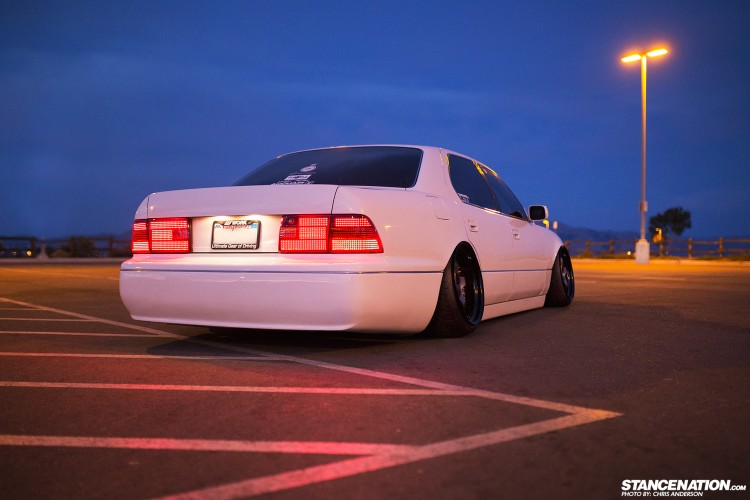 My friend (and official Work Wheels Japan photographer) stopped by my house while he was visiting California a few months ago and snapped the pictures below. They are a couple of months old (before I got my LED tails/corner lights) but I love how they turned out. Big thanks to JC!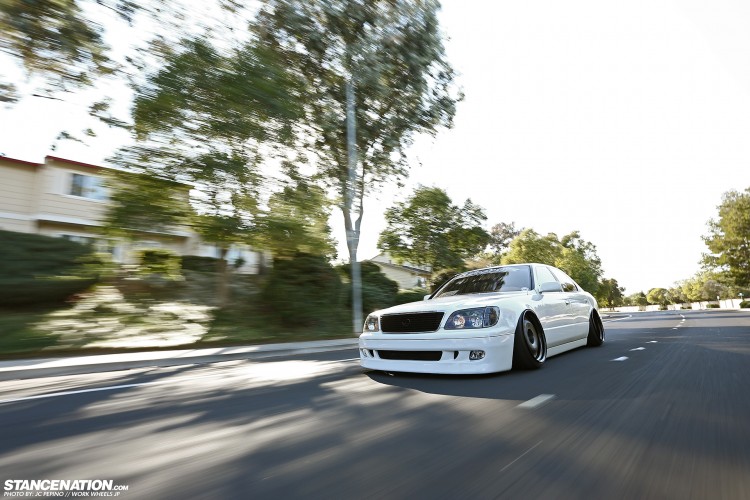 I'm going to leave you all here. It is Friday night here in California and I just got my car ready for SEMA. My car will be representing Accuair and it will be outside of the convention center. I've got a few new things done to the car since these photos were taken, but I'll keep that on the low until after SEMA. Hope to see you all there!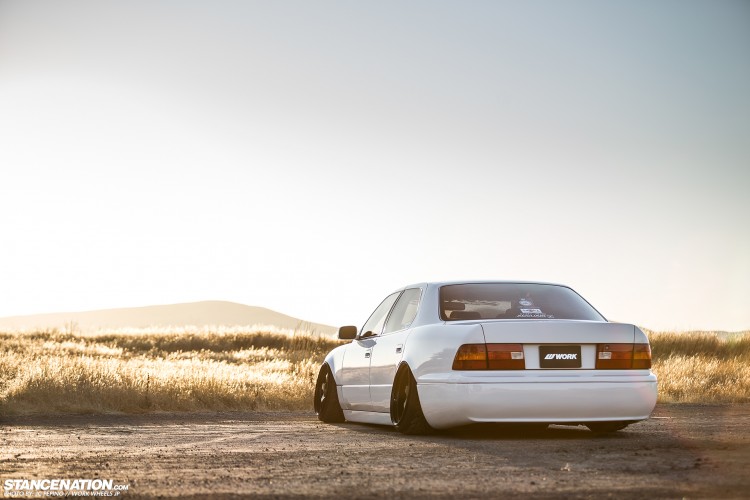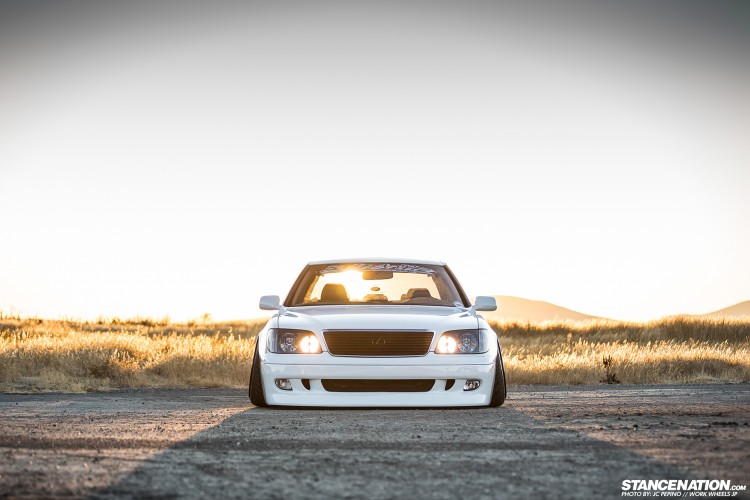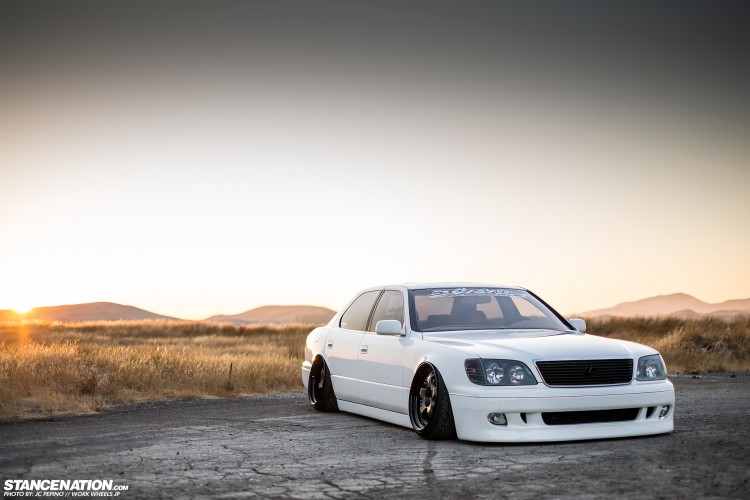 Wheels/Tires/Suspension
Work Meister S1 3 Piece
225/35/19 & 265/30/19 Federal 595
AirRunner On The Ground w/additional 400c compressor
Accuair eLevel & iLevel
Battle Version: Toe Links // Traction Links // RLCA's
Studio: Camber RCA
(Camber around -10)
Futura Design Brakes
8pot 380mm front, 6pot 356mm rear
Exterior
Modified front Aimgain bumper
Aimgain side skirts
Extended stock rear bumper
Custom LED tails
Custom LE front corner lights
Radiused & Pulled rear fenders
Pulled Front fenders (3-4 inches)
Painted all light housings black
Custom Candy White Audi paint