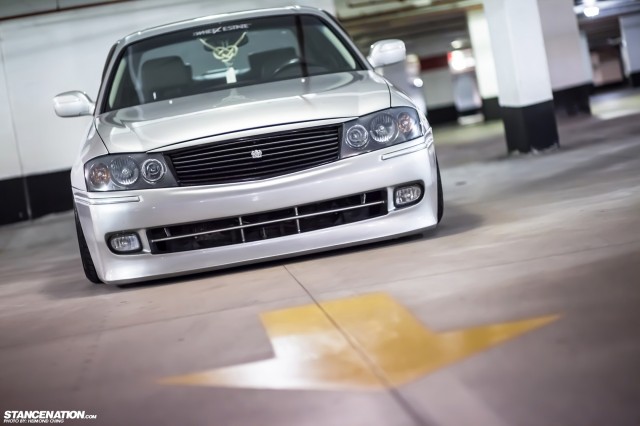 In today's car community of replicas and chinese manufacturing of "fake" or "knock-off" parts, it is harder and harder to find cars with 100% legitimate and original quality parts in their spec list. However, Yudi Persaud, a self proclaimed "Wheeltor" for his company "The Wheel Estate" is an avid enthusiast of genuine products (something often seen with the gentlemen of Liberty VIP) which makes his 2003 Infiniti M45 build that much better.
Photos By: Heimond Ching exclusively for StanceNation.com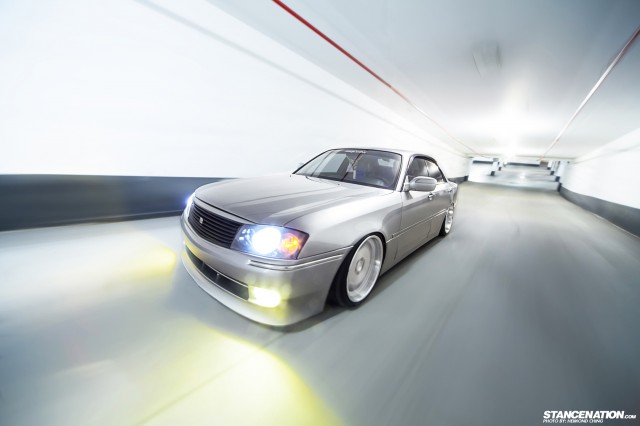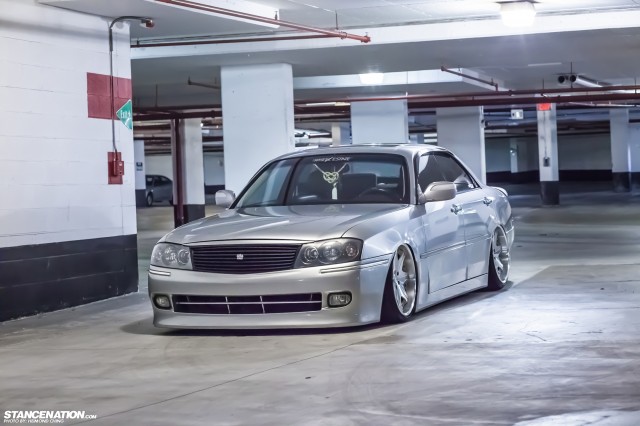 By day, Mr. Persaud breathes the aftermarket of all cars, he is an entrepreneur specializing in wheels and tires from OEM plus set ups to the most obscure you can imagine, a very rare commodity in Toronto, Ontario. Yudi's Y34 was built as not only a poster car for the company but to show the average eye how a somewhat "ugly duckling" can be transformed into an elegant executive machine. Don't take that the wrong way though. I love Y34s in every which way but they are often viewed as the odd Infiniti out. Parts for these cars are not only difficult to get in North America (not to mention Canada) but the car itself is near impossible to find; with production numbers at a mere 7590 in the two years it was produced for the North American market.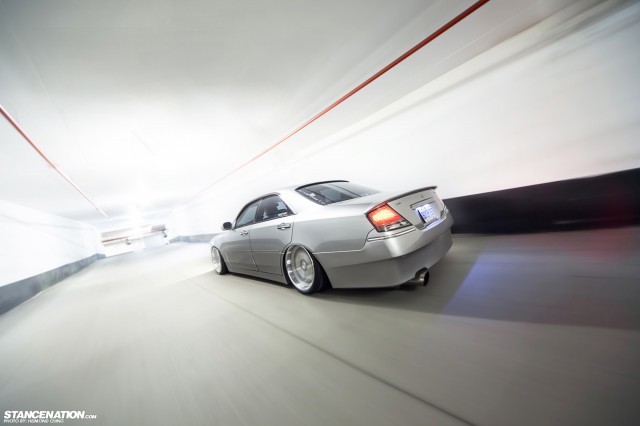 Every part of this car was very carefully selected but we will start with the body mods. Everything on the exterior is genuine Junction Produce (aside from the custom Nissan Gloria grille) which was actually one of the very first things Yudi did to the car. I first saw this car at our first Stretch & Poke here in Canada, where Yudi sat on stock suspension, the JP kit and a beautiful set of AME wheels. Regardless of the insufficient drop, it's more than clear it broke necks every where it went. Of course what bad ass VIP build is complete with out some supreme fender work. Yudi has radius front and rear fenders to fit the aggressively low offsets he does.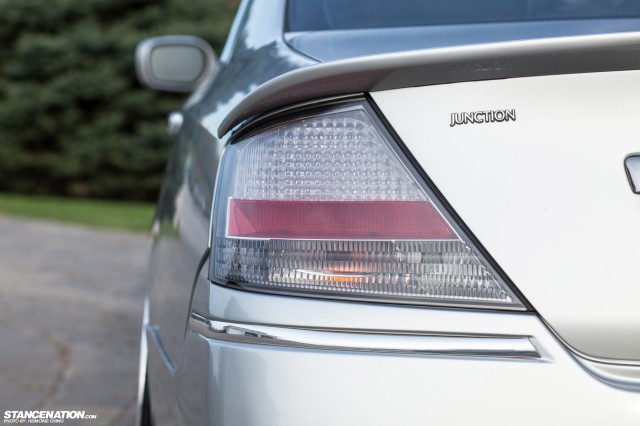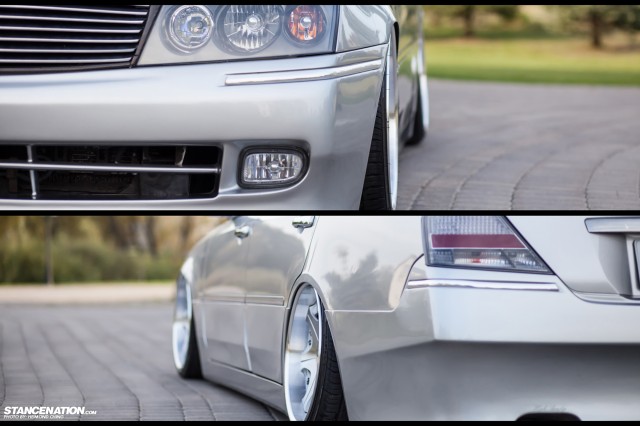 Air ride is the choice for many of the American VIP builds, and for those with a bigger budget, Air Runner is the first choice. Yudi is running Air Runners top of the line kit with added stainless lines throughout, dual Viair 480 compressors, custom ALM tanks and Easy street digital management. The air is also equipped with quick connects for air tools and road side emergencies. Camber is adjusted by Z33 camber arms from one of the quickest growing names in the vip scene, Battle Version.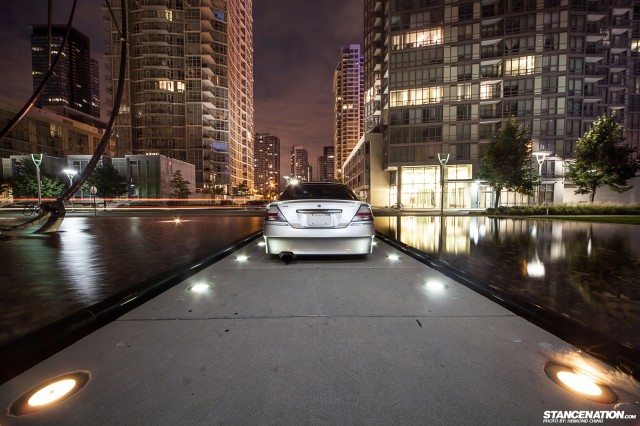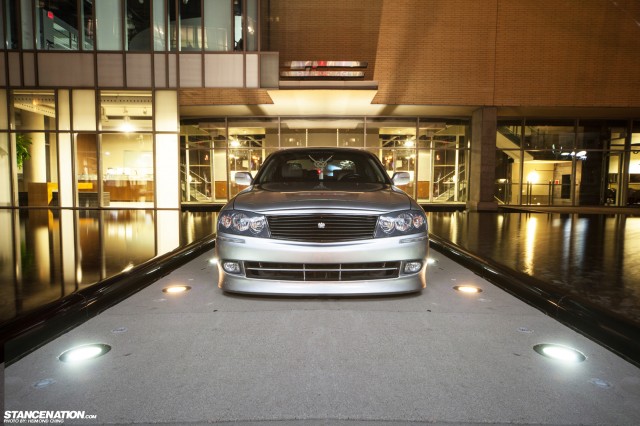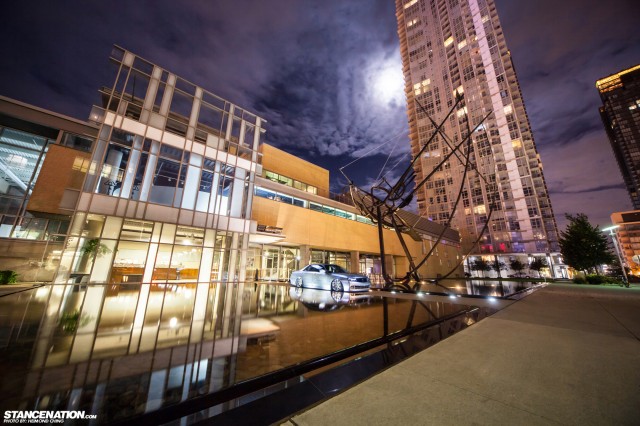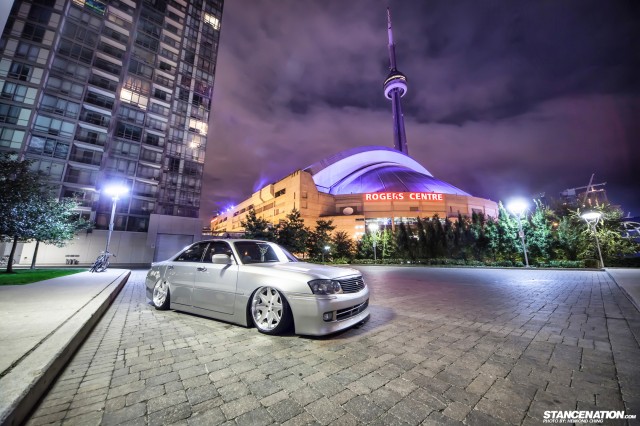 In the time I've known Yudi he's had about as many sets of wheels on his car as myself, which is incredibly hard to keep track of. As a matter of fact, this past summer he rolled up to a meet with his current set up on one side and a pair of genuine BBS LM's on the other. In these photos, the mounted wheels are 19×9 and 19×10 Leon Hardiritt Waffes in the classic silver polished finish which set the car off perfectly. Hidden behind those beautiful full faced wheels are a set of G37 Akebono brakes, custom fabbed to fit the Y34.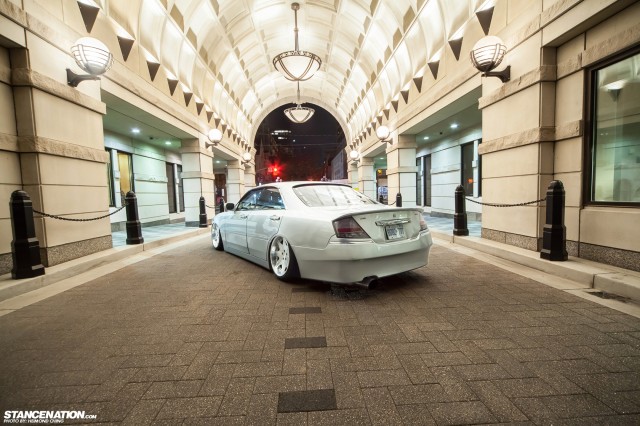 Yudi has a lot more up his sleeve for this daily driver and some StanceNation exclusive info tells us that 2013 entails a full interior build with no detail left untouched and a possible LS2 swap for those hoping for more performance out of these "cambered, fitment builds", not to mention what he may think up for his next set of wheels! I look forward to writing or reading the next feature on this one of a kind VIP car. As we all know, after those kind of additions it will definitely be due!