Let's just get straight to the point. Life can be a bitch sometimes. Simple as that. Things like leaky air lines, tires debeading, and traffic tickets can always shake up a good day. But nothing sucks more than having your precious car stolen. For many of us, our cars are an extension of us, a mechanical easel of which we design to our heart's content . To have it stolen, well, is a personal violation. This is what happened to Brian McCann. Previously building a Z32 while residing in Alaska, life took a turn for the worse when he moved out to Arizona and had his car stolen, stripped of parts, and left on the side of the road out west. That is certainly my worst nightmare, but unfortunately, some people's reality. However, rather than be discouraged, Brian decided he would build another. Like a phoenix rising from the ashes, his car was reincarnated, just in a slightly different form.
First and foremost, I love this car. Literally everything about it is a positive in my book, unless you count the wheel camber. The things that caught my eye would be the lines of the kit. At StanceNation, we see many different builds with different parts, including aero. After a while, you can begin to differentiate and spot modified aftermarket parts or custom work. So immediately, just by glancing, I knew this car was in a class of its own.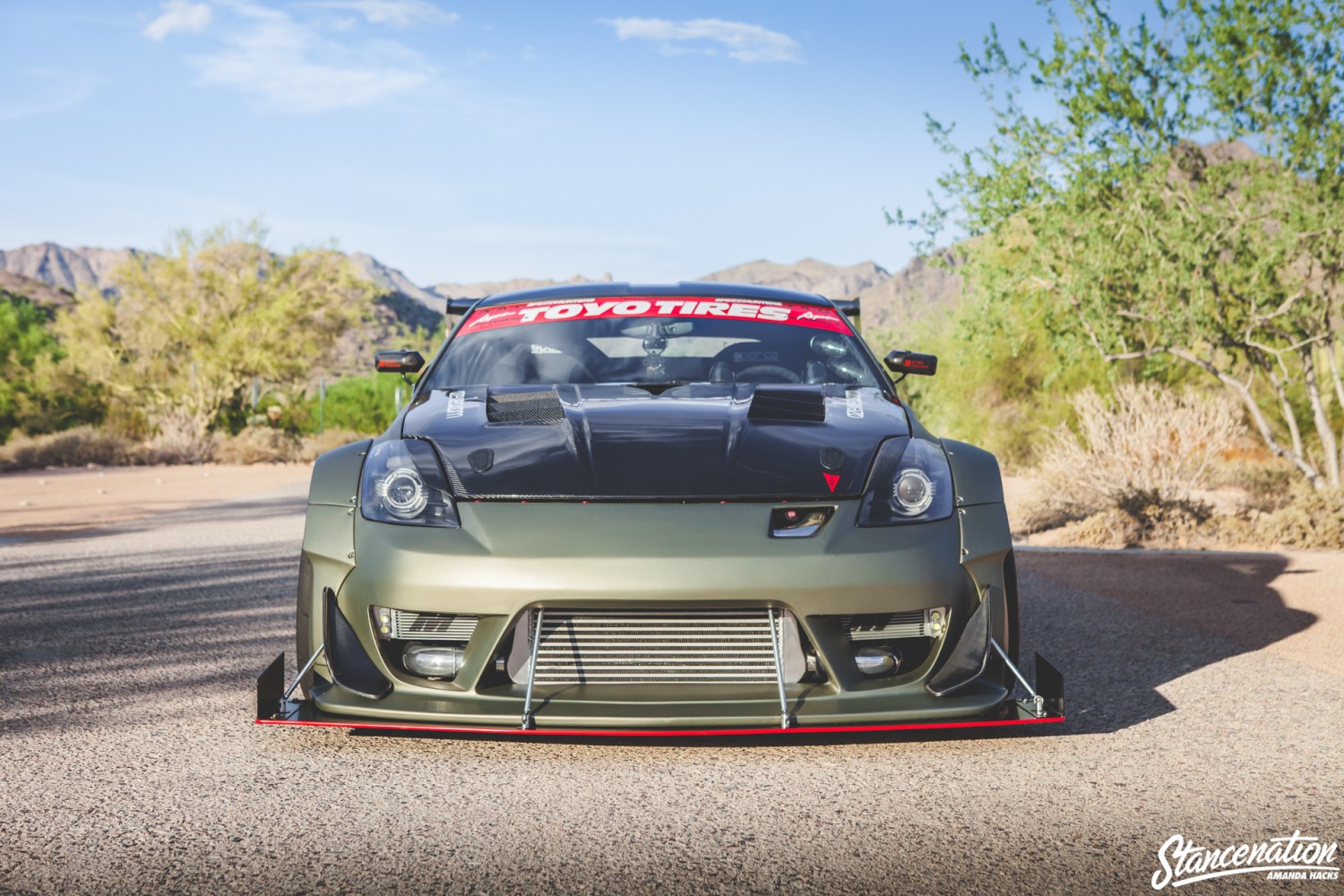 This beautiful Z in front of you is not the result of slapping parts straight from the box and calling it a day. Like Dr. Frankenstein, Brian began to take some of the nicest aftermarket parts and combine them. However, in his words, not mines, the car did NOT look good. Only after he had a friend from Kazoku Auto work his magic into the car did the amalgamation of parts turn into this magnificent creation.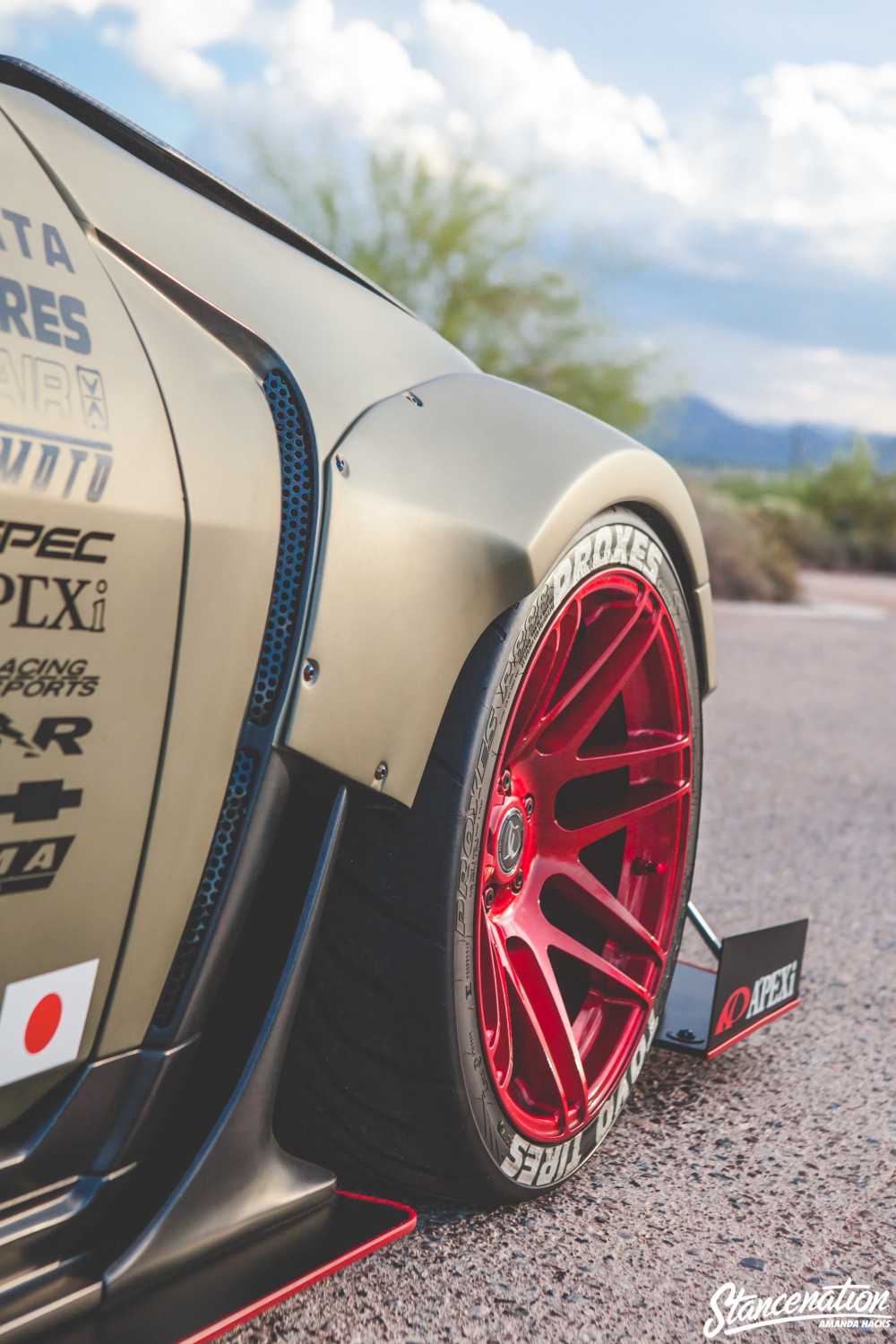 Another thing I am particularly fond of in 350Z's is that they have plenty of space in the rear for wheels, and Brian took full advantage of that. Forgestar F14 Super Deep Concave in Candy Red fill out the fenders at all four corners of the car while measuring in at a respectable 19×11 -6 and -44. Toyo Proxes at 295 width let this car put down the power and make this car go.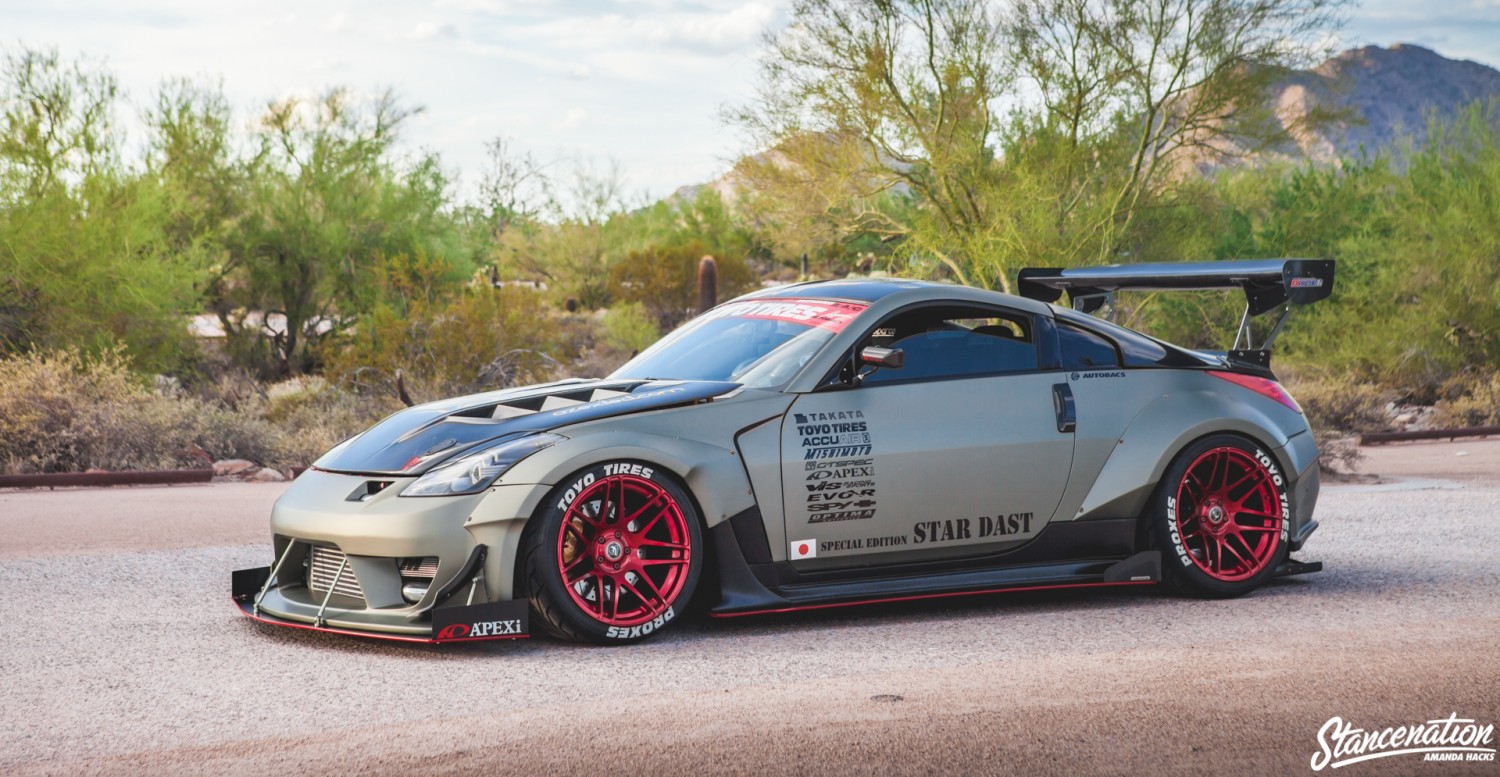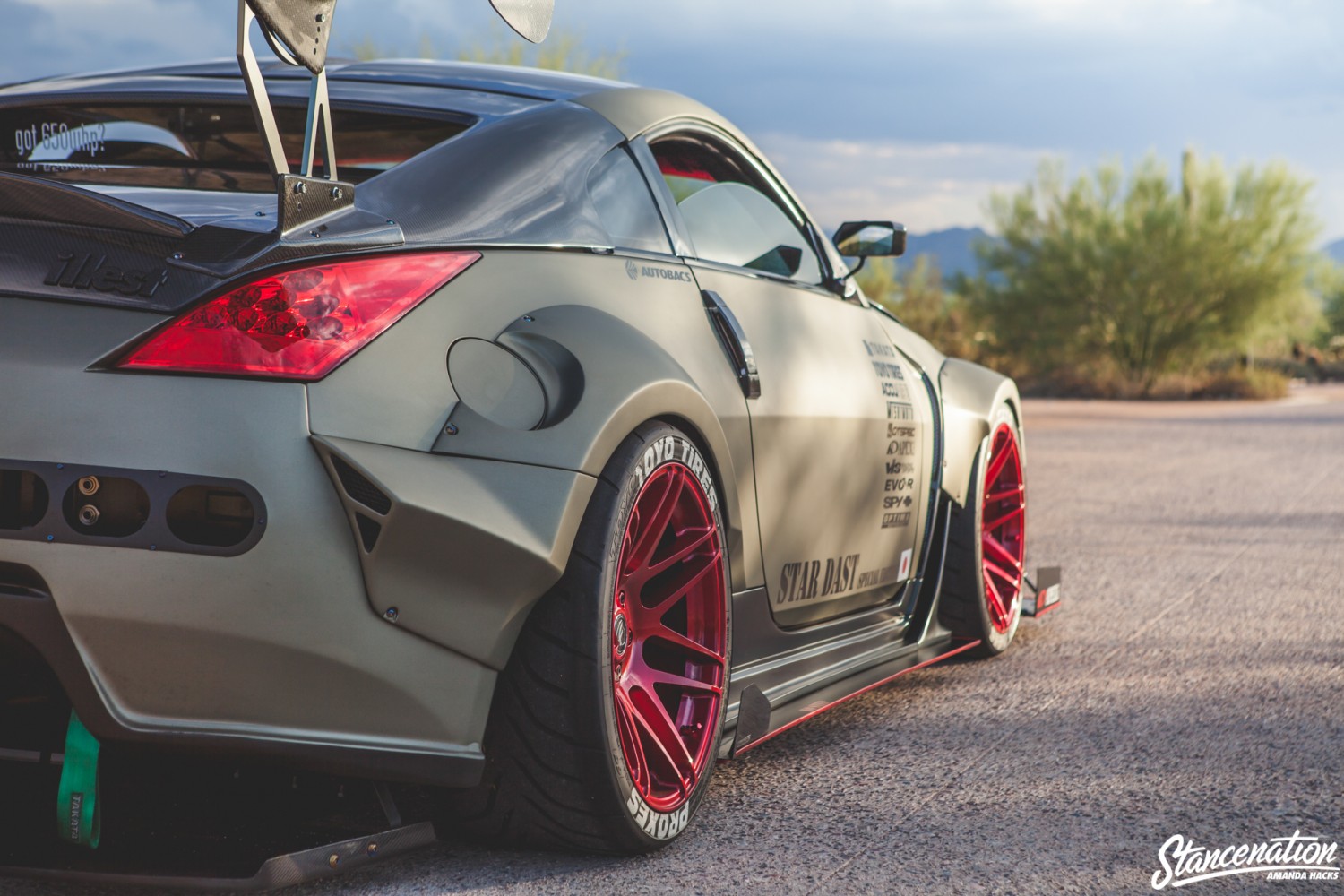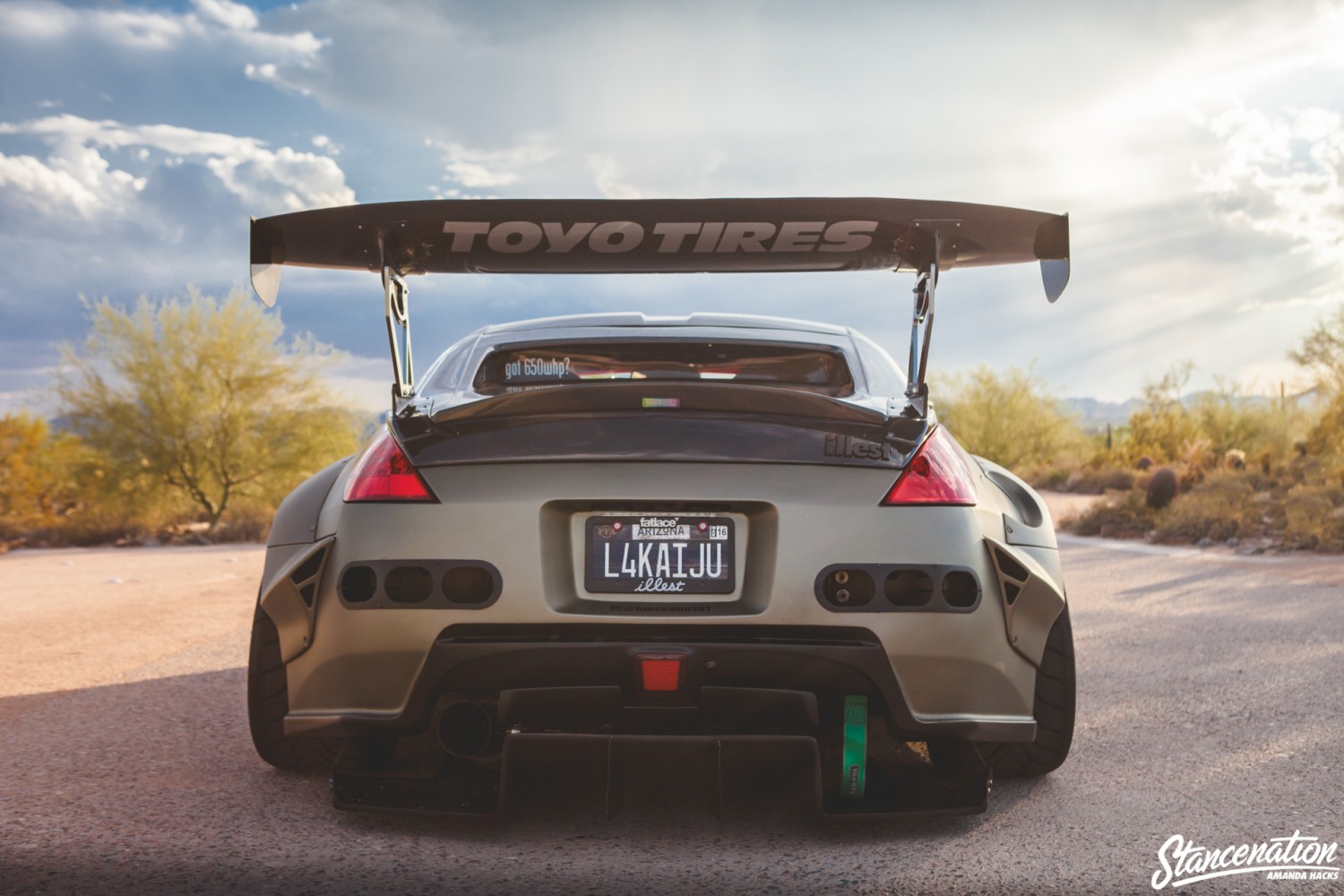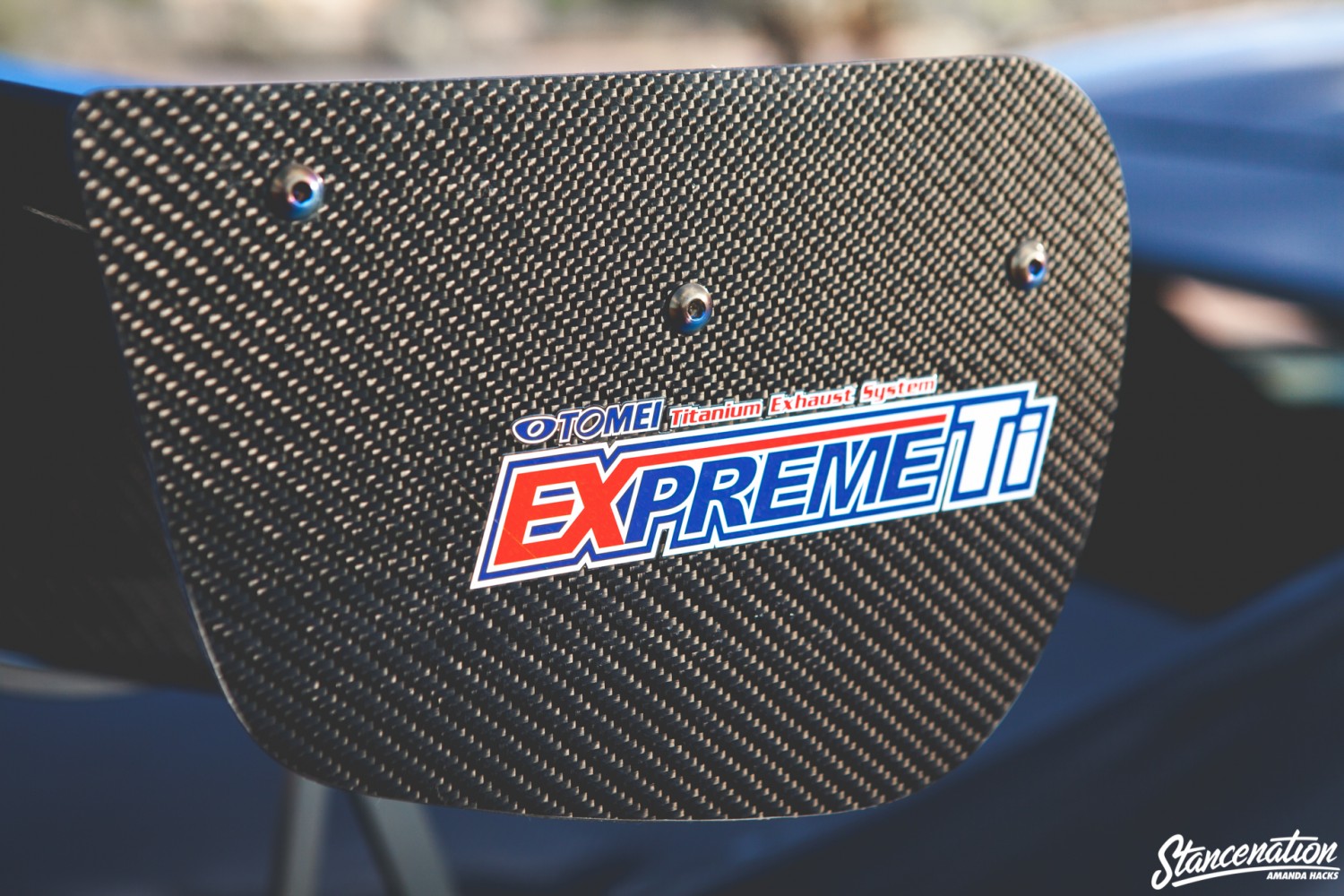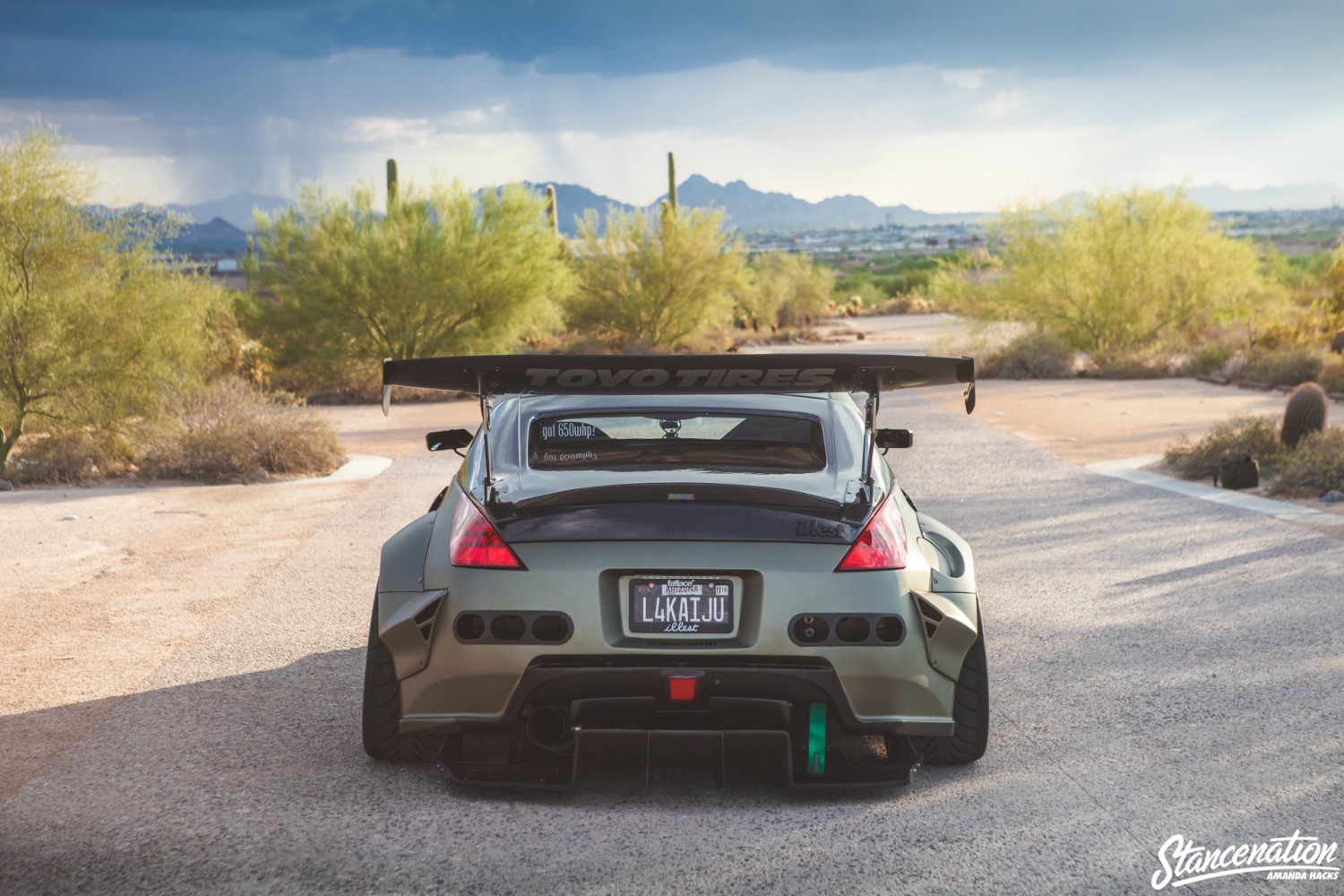 A rear diffuser mated to the Do Luck Rear bumper is from an FD RX7, a good choice if I may say so myself. It works well as the perfect complement to the wing above.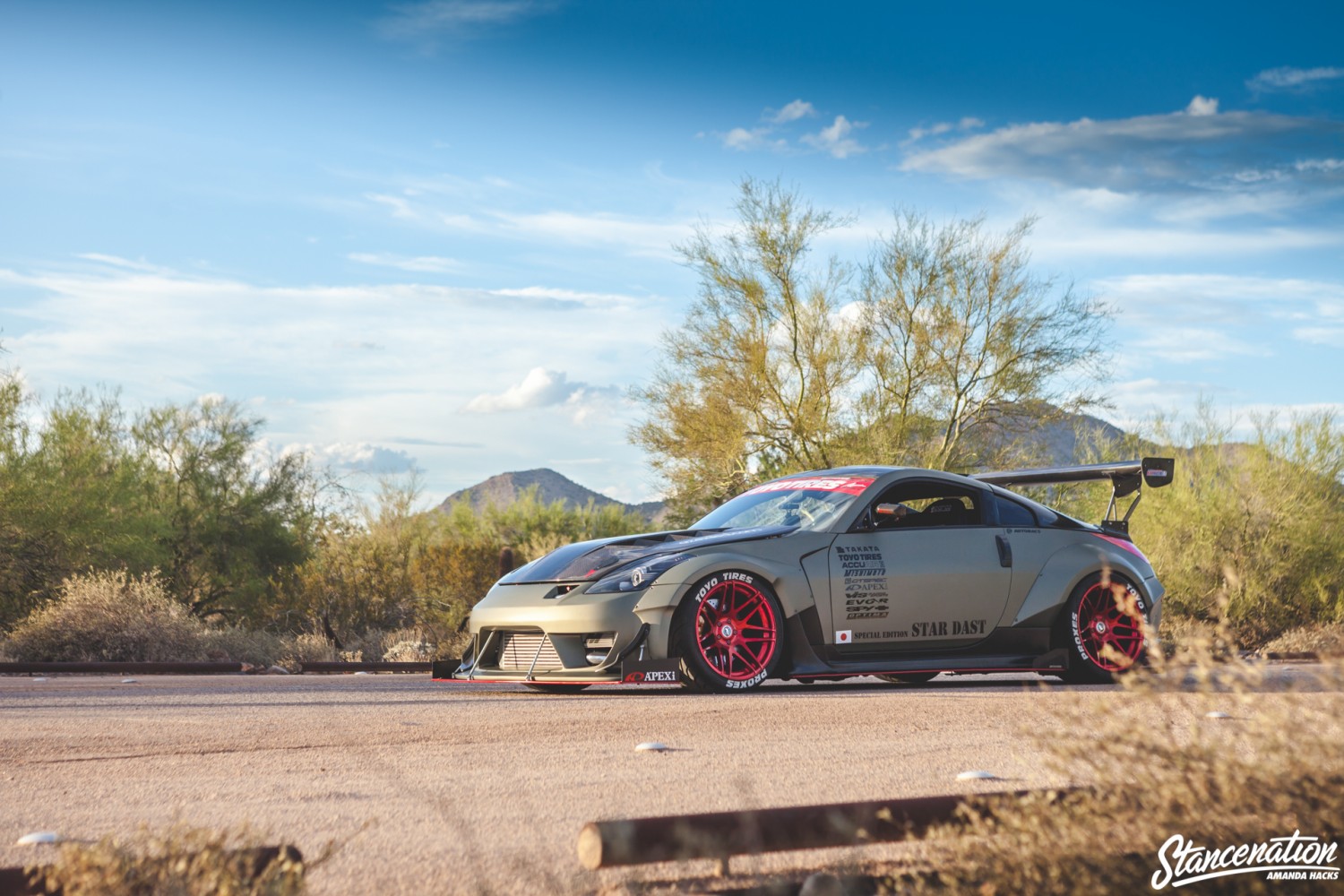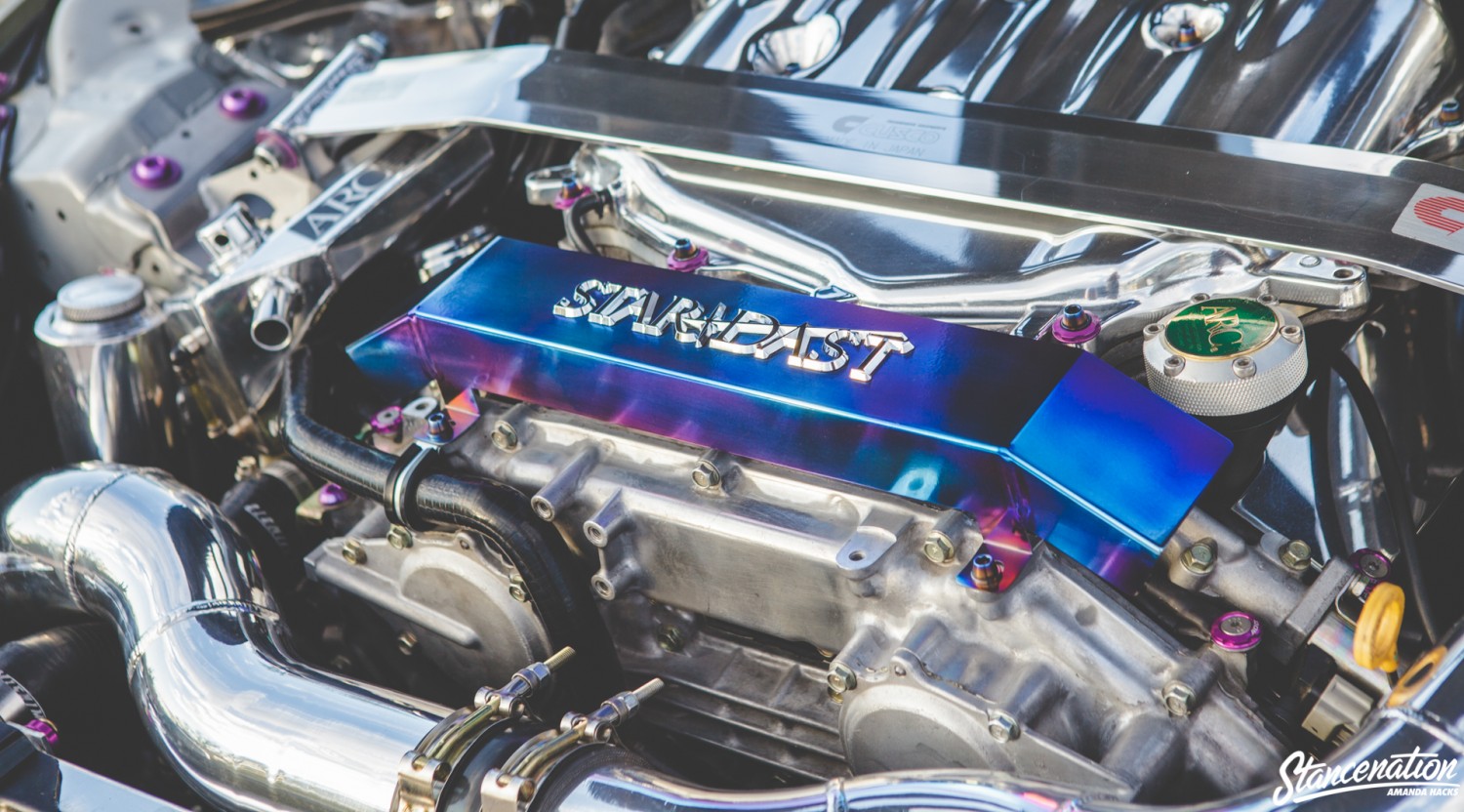 Brian's build doesn't just stop in the "looks" department. Underneath the hood sits powerplant of the Z, his boosted VQ engine. Pushing 527 – 650 WHP, dependent on fuel type, this Z is sure to scare mothers and draw the attention of the local police should either encounter you making full use of the engine.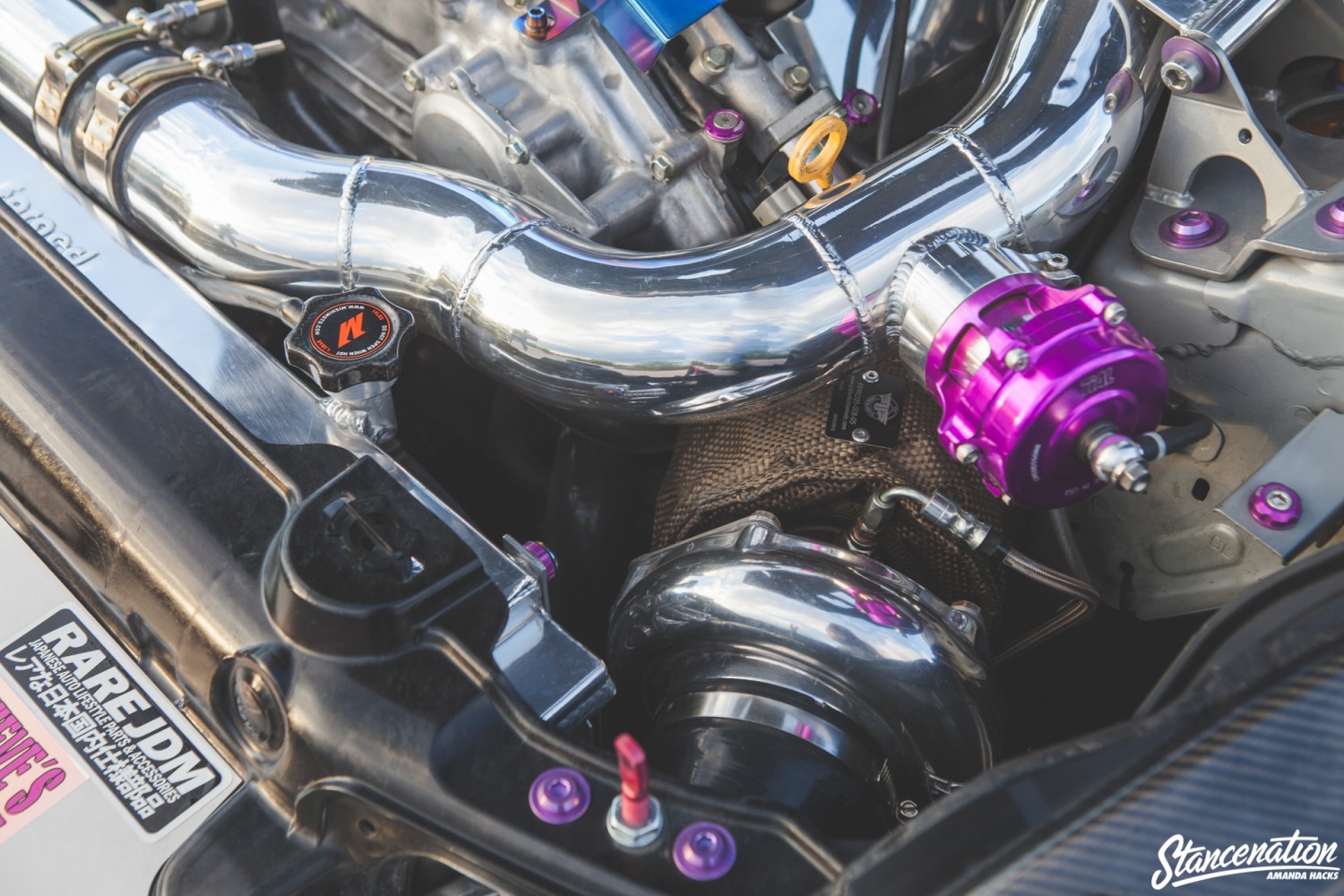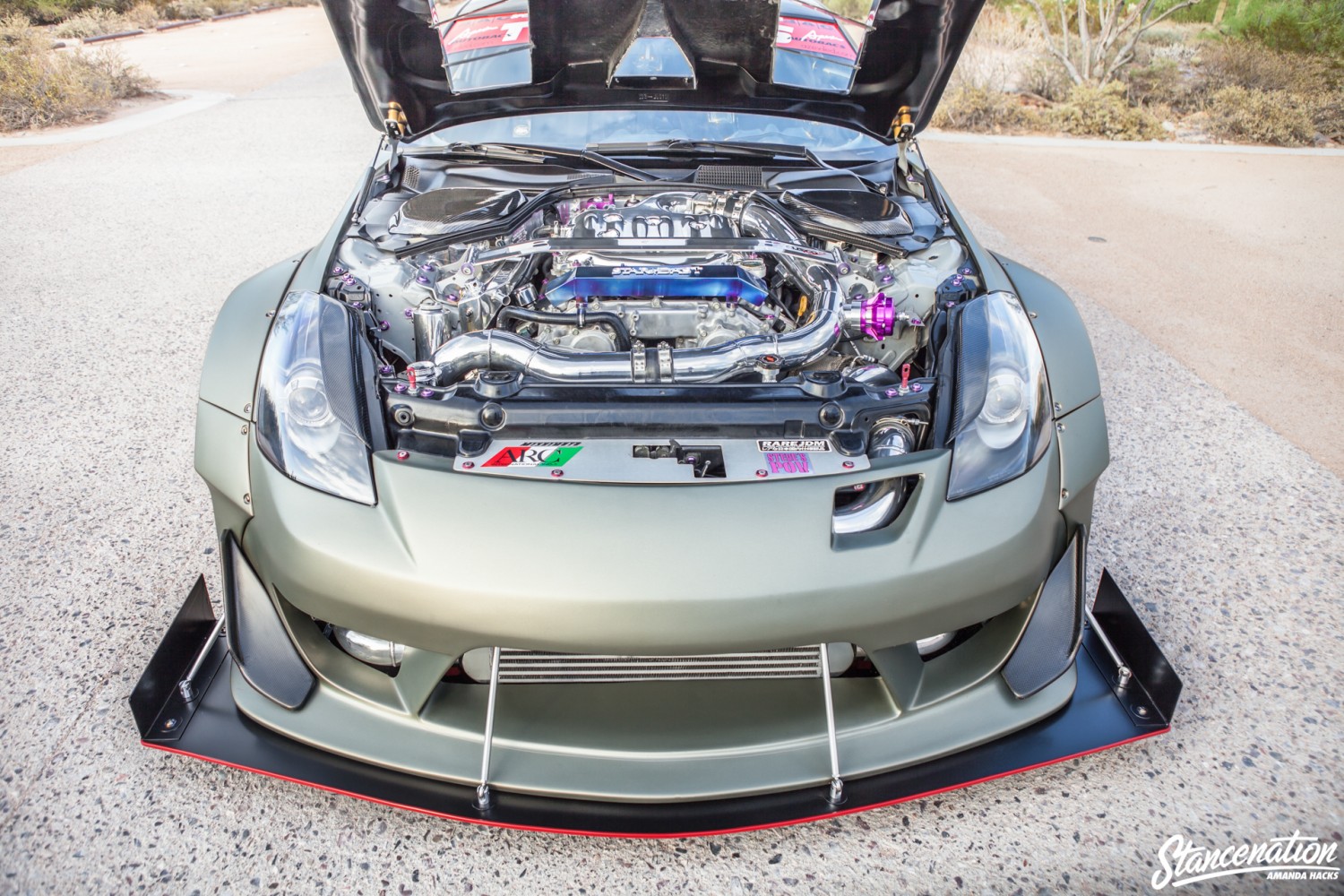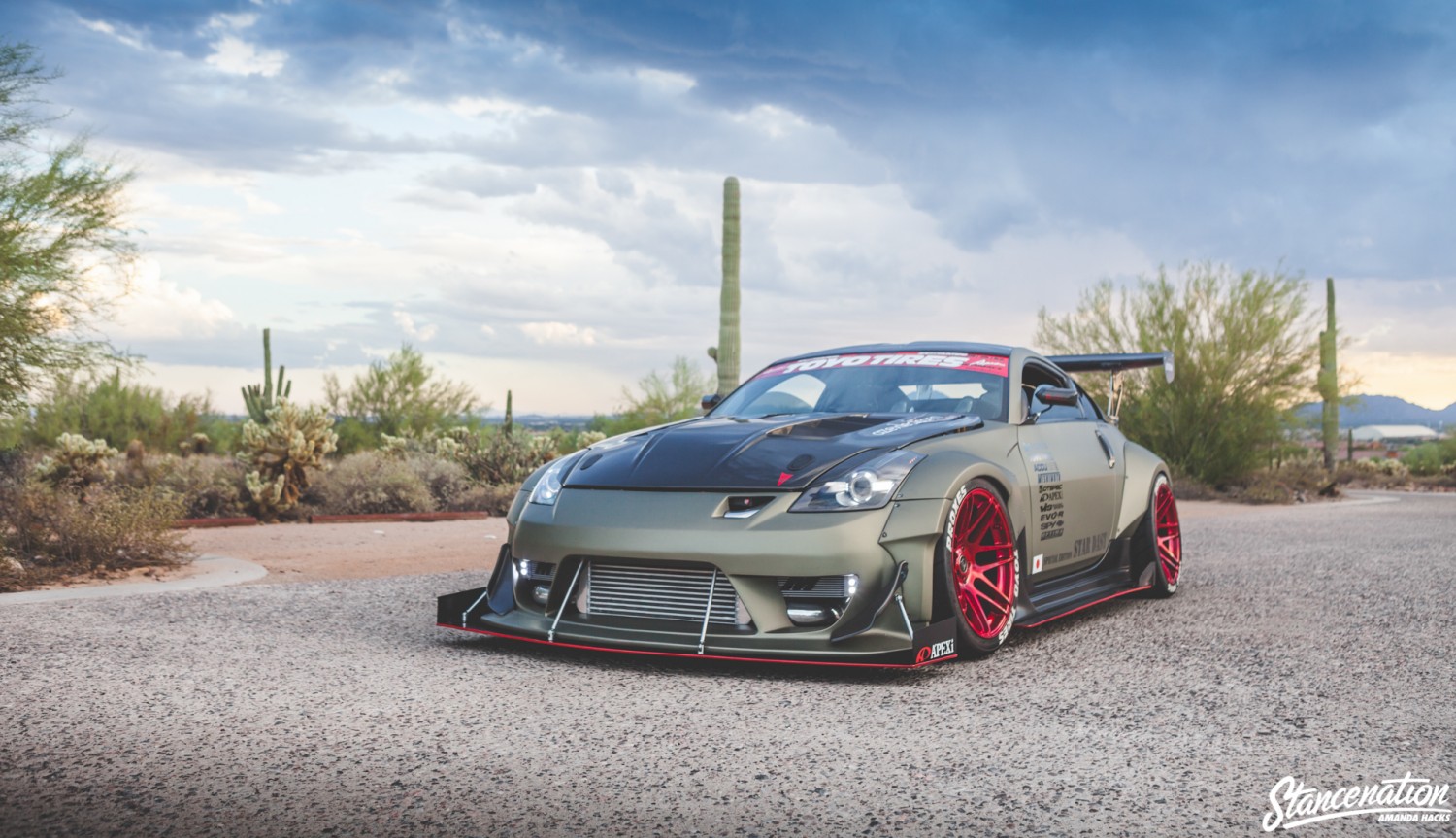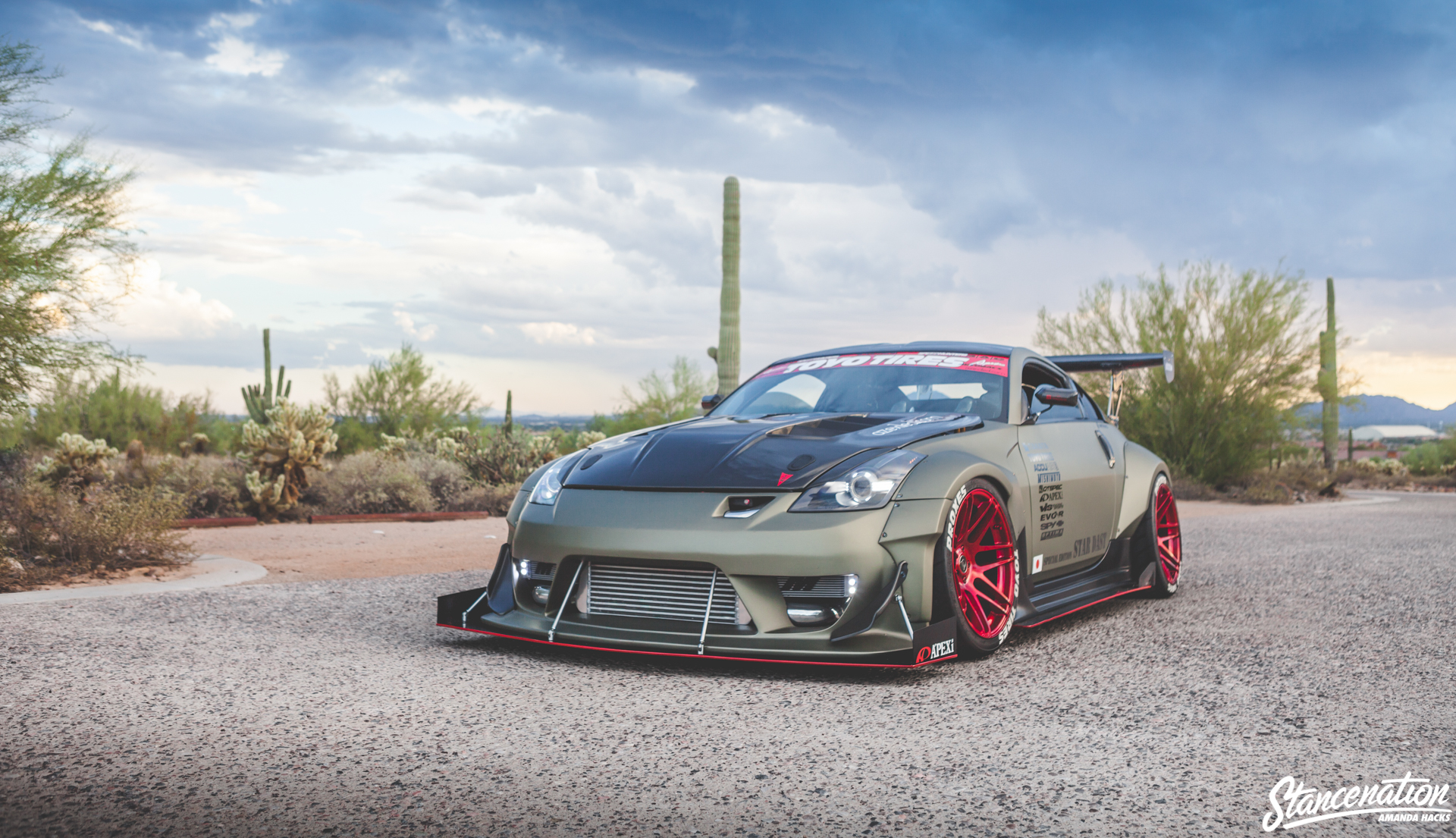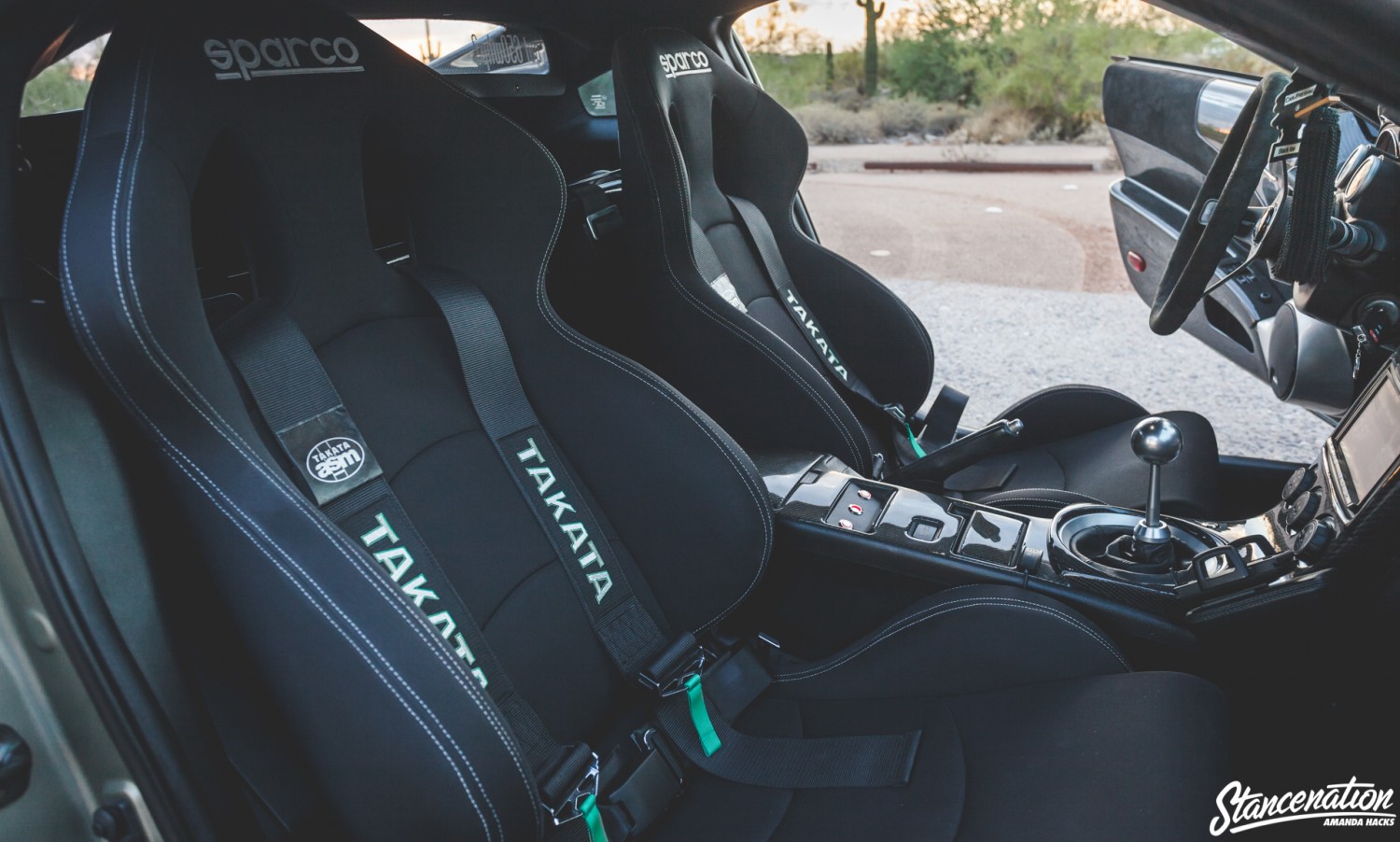 Takata Harnesses coupled with Sparco Chrono seats add a layer of safety, necessary when your car pushes this much power.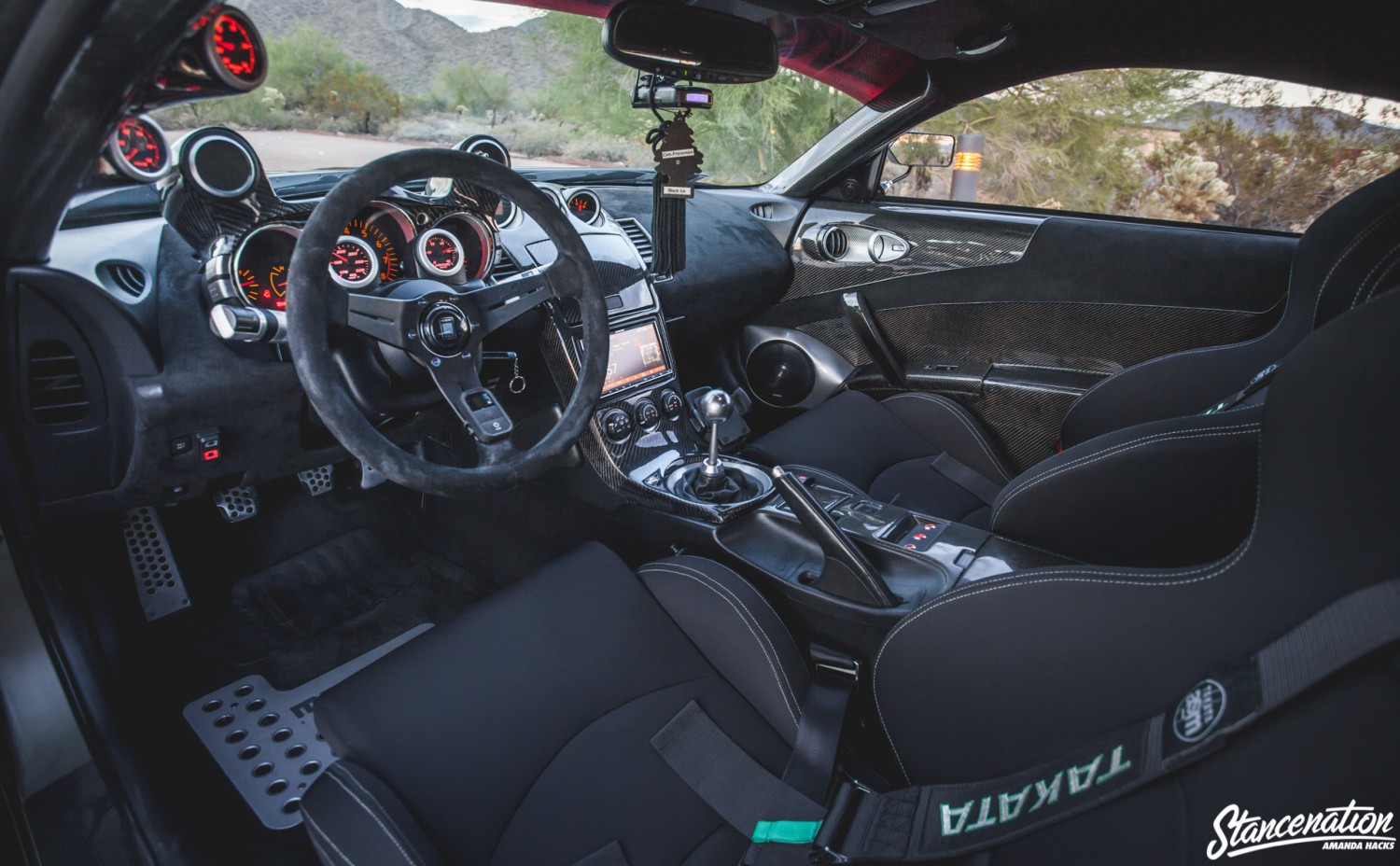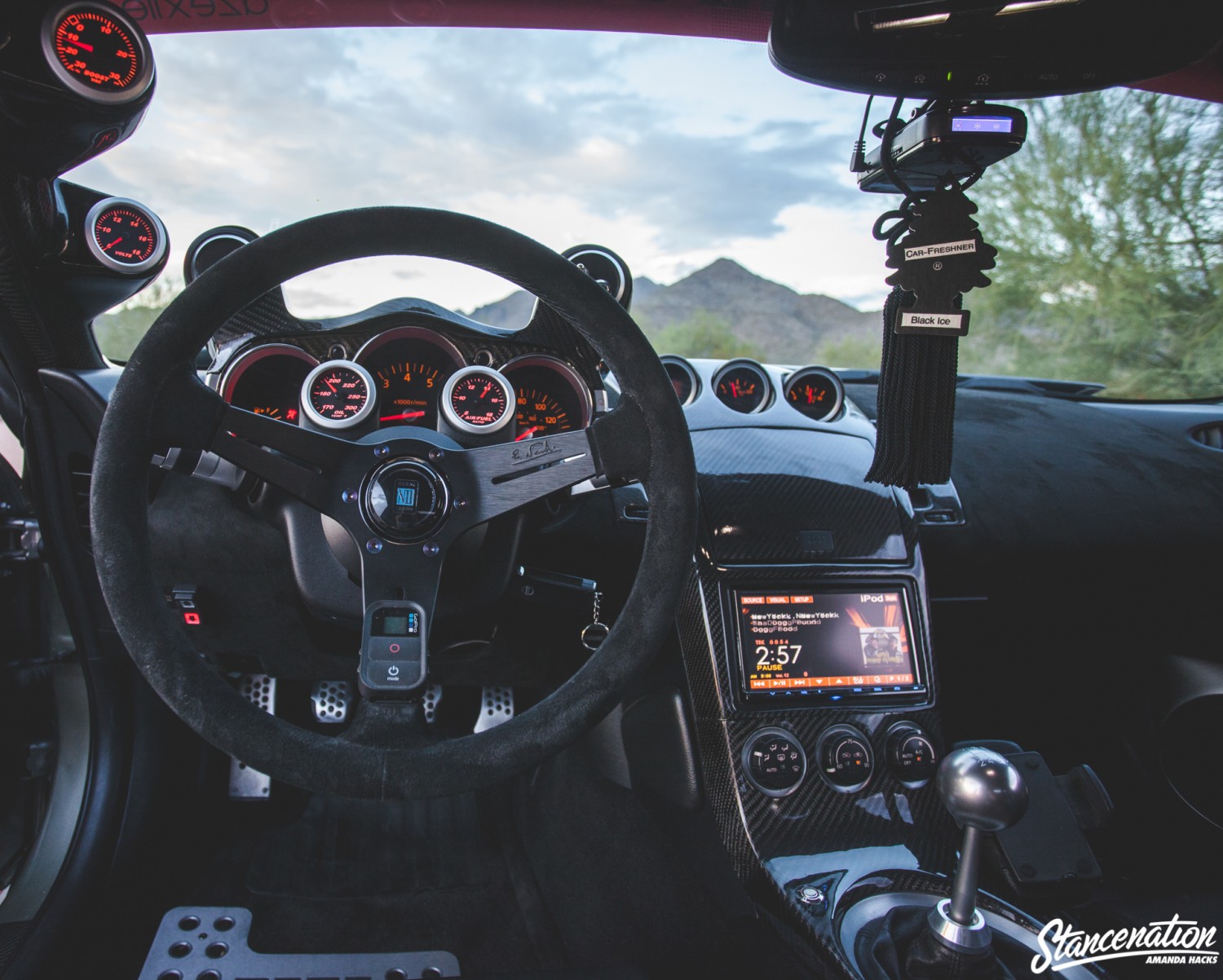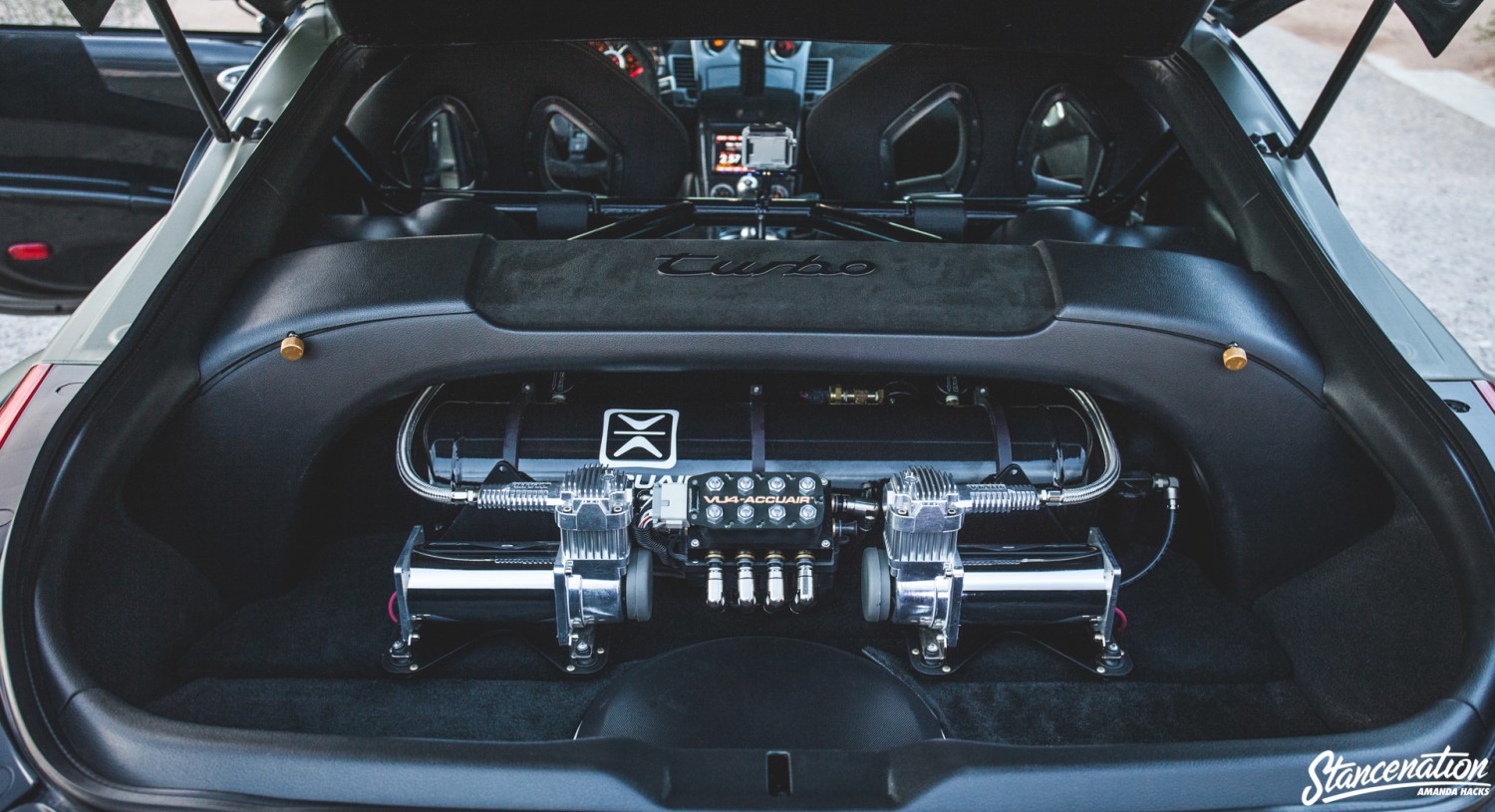 Brian calls upon air management and tank mated with dual compressors. Those lead to bags mounted on Stance LX coilovers giving Brian the maximum amount of adjustability. The trunk design is completed with black alcantara that extends to the headliner, adding a classy facet to the car.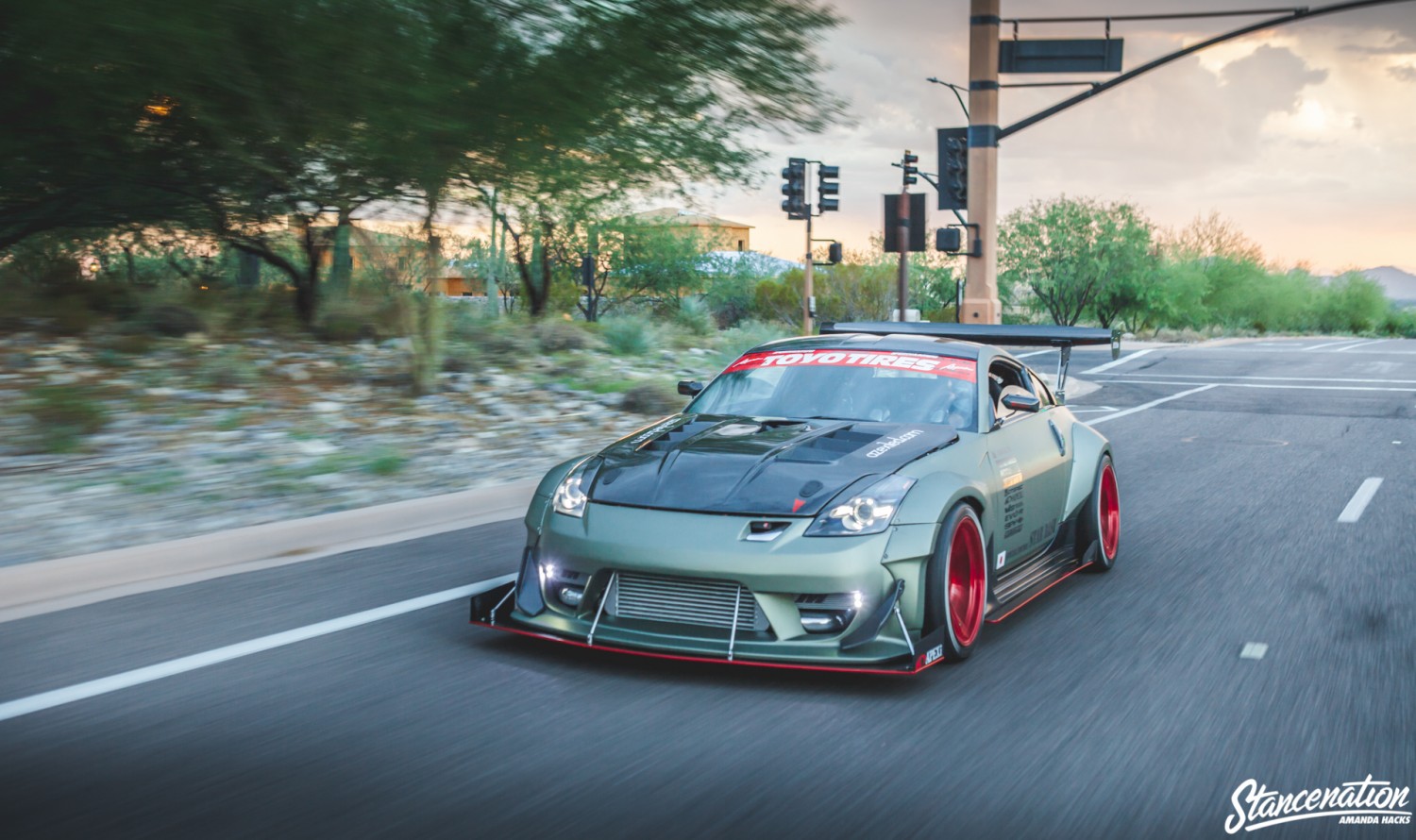 One of my favorite components of this Z is the VIS carbon fiber Tunnel Hatch and Garage Mak GT wing combination. It gives the Z a rather unconventional look, but on this car, is perfectly fitting. To anyone debating about whether they should mount either, I say both. You know who I'm talking about 😉
A special thanks goes out to Amanda Hacks for the magnificent photos. Brian tells us he has plenty in store for this car. But one thing is for sure, Brian has been accepted into SEMA 2015, so you may be able to catch him in the city of Sin. This writer is hoping that he can make it, because Brian tells us he may have a new color scheme and an even bigger set of wheels. You can follow him on IG (@BMCCANN101) and other social media as he constantly updates his car.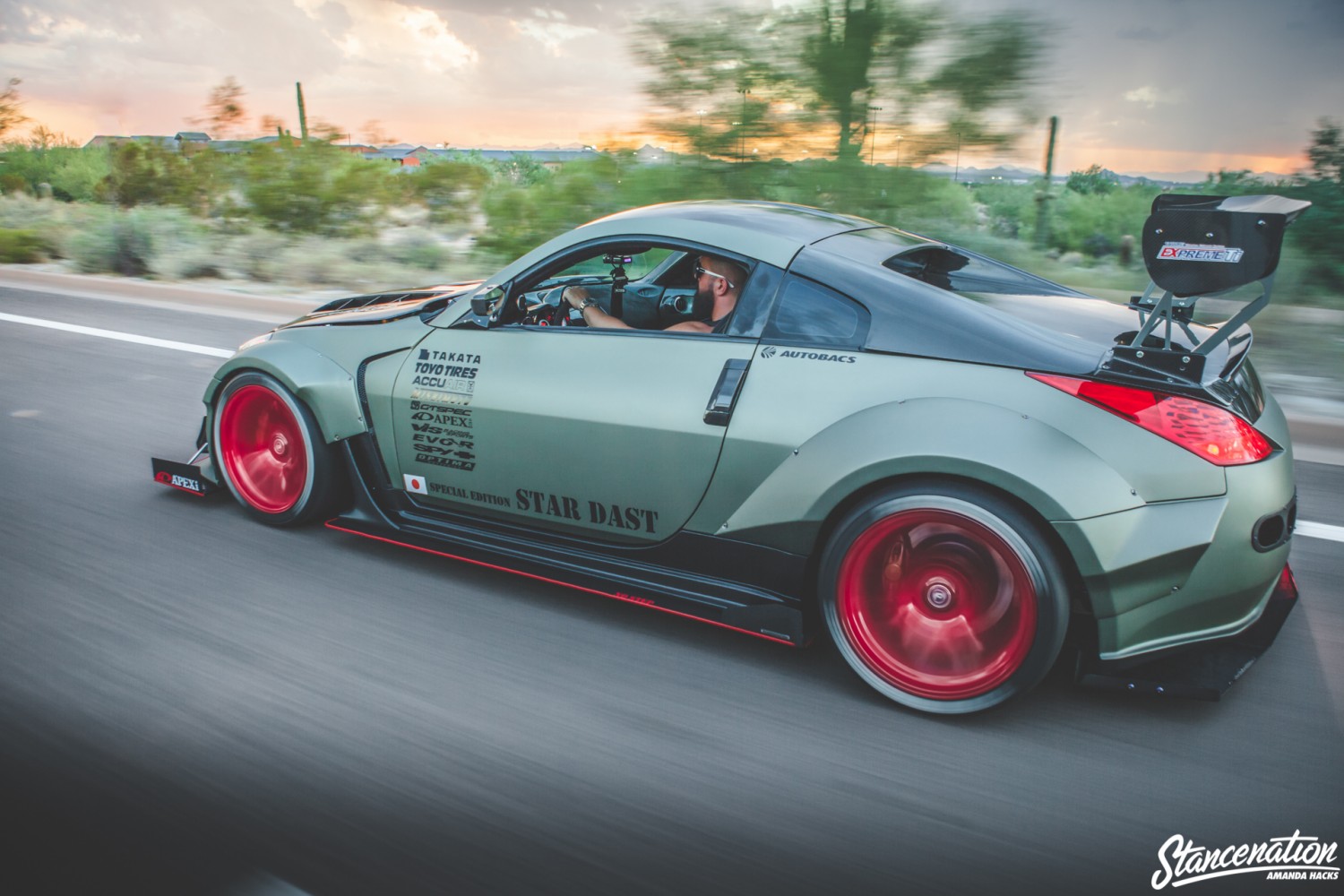 Engine:
Built and Boosted VQ35DE
650whp/650ftlbs on VP Q16 fuel
527whp/531ftlbs on 91 pump gas
Wire tucked engine bay
Crower Sportsman Rods
CP Pistons
DW 850cc Injectors
Osiris management
CJM Stg 0 RFS Fuel
Powerlab Plenum Spacer
Powerlab v2.0 Single turbo kit
Tial BOV and Wastegates
Precision cea 6266 bb turbo
Powerlab shorty ceramic headers
PTP lava turbo blanket
Mishimoto "mmoc 19" oil and steering fluid coolers
Dual Spal 14" curved fans on a custom dimple died polished shroud
DC Power Inc 250 billet alternator
Hand burnt titanium engine bay hardware from Tiburnt
Titanium Harness cover , EVO-R
ARC polished catch can
Cusco strut bar
Weapon R polished ps reservoir
Mishimoto air diversion panel
Forged Racing dual core alum radiator
Tomei Expreme Ti full titanium exhaust
Urethane exhaust hangers
Dougs 3" electronic exhaust cut out, w QTP remote controllers
RJM clutch pedal bracket
Jim Wolf Tech LWFW and full face semi metal clutch combo, Stainless line
Suspension
Accuair eLevel Rocker Air management system, with Exo mounts, tanks, dual Viar pumps
Universal Air Suspension aero sport fr bags
Universal Air suspension shorter stiffer Air House 1 rear bags
Stance LX coil-over damper bodies, extension cables
Whiteline suspension bushings.
SPL solid diff bushings
Stillen sway bars
Core support chassis mounted custom made front aluma-lite splitter
Fully Torqued Racing custom Splitter rods
Mild steel, caged rear chassis mount for rear diffuser
Body
Stardast fender flares
Craft Square Mirrors
Nutserts and Burnt titanium hardware from Tiburnt, fender flares, side skirts, latch strikers etc
JP Vizage Type N front bumper
Do Luck rear bumper
EvoR led 370z foglight
Amuse Superleggera fenders and side skirts
Custom alumalite side splitters
Password JDM dry carbon winglets
C West dry carbon front bumper canards
Burnt titanium hardware for Garage Mak GT Wing from Tiburnt
Garage Mak GT Wing
Garage Mak carbon fiber duck bill spoiler
Top Secret Titanium badges
VIS Sniper hood ( Jun hyper lemon rep)
VIS GT carbon roof cover
VIS Carbon fiber Tunnel Hatch
Garage Kagatoni Carbon fiber diffuser ( FDRX7 item)
06 headlights and taillights
Deleted/ rewired OEM rear signals and back up lighting
Modified headlights :
STiR clear premium lenses, XB35 6000k hid bulbs, 5Five 50 watt ballasts, and relay harness from The Retrofit Source
LED panels and halos form Z-LEDs
Custom front bumper DRLs
Wheels , Tires, Braking
Forgestar F14 Super Deep Concave, candy red
19×11 -6 and 19×11 eff -44
Toyo Proxes r888, 295 30 zr19 (all)
Akebono BBK fr and rr, painted custom Brembo Gold.
Stainless brake lines
Interior
Enjuku harness bar
Takata Drift 3 harnesses, Black
Sparco Chrono Road seats
Custom cut and lowered Planted low seat brackets
Nardi Deep Corn Black Edition suede st wheel
Burnt titanium hardware by Tiburnt, for st wheel and back window plexi glass panel
NRG short hub
TWM short shifter (welded and shortened and rethreaded), shift extender, and M1 Abrams knob
Full carbon fiber shell door panels.
Black alcantara headliner, dash and door panel inserts, trunk diversion panel
Stillen carbon fiber pillar gauge mounts
Evo R carbon fiber gauge crown mounts
ATI column gauge mounts
Crawford cubby gauge mounts
Evo R carbon fiber dash waterfall
ICE
Alpine IVAW505 source unit
Alpine Imprint sound processing
Alpine PDX 4.150 amplifier
Alpine 1.1000 amplifier
Boston Pro60SE component speakers
JL Audio 13TW5 13" flat sub
Wicked CAS painted door speaker pods
2 gauge wiring
Stinger 10 farad hybrid cap
Sponsors
Takata
Toyo
Accuair
Mishimoto
Fully Torqued Racing
VIS Racing
Stardast
GTSPEC
APEXi
Extreme Auto Concepts
Kazoku Auto