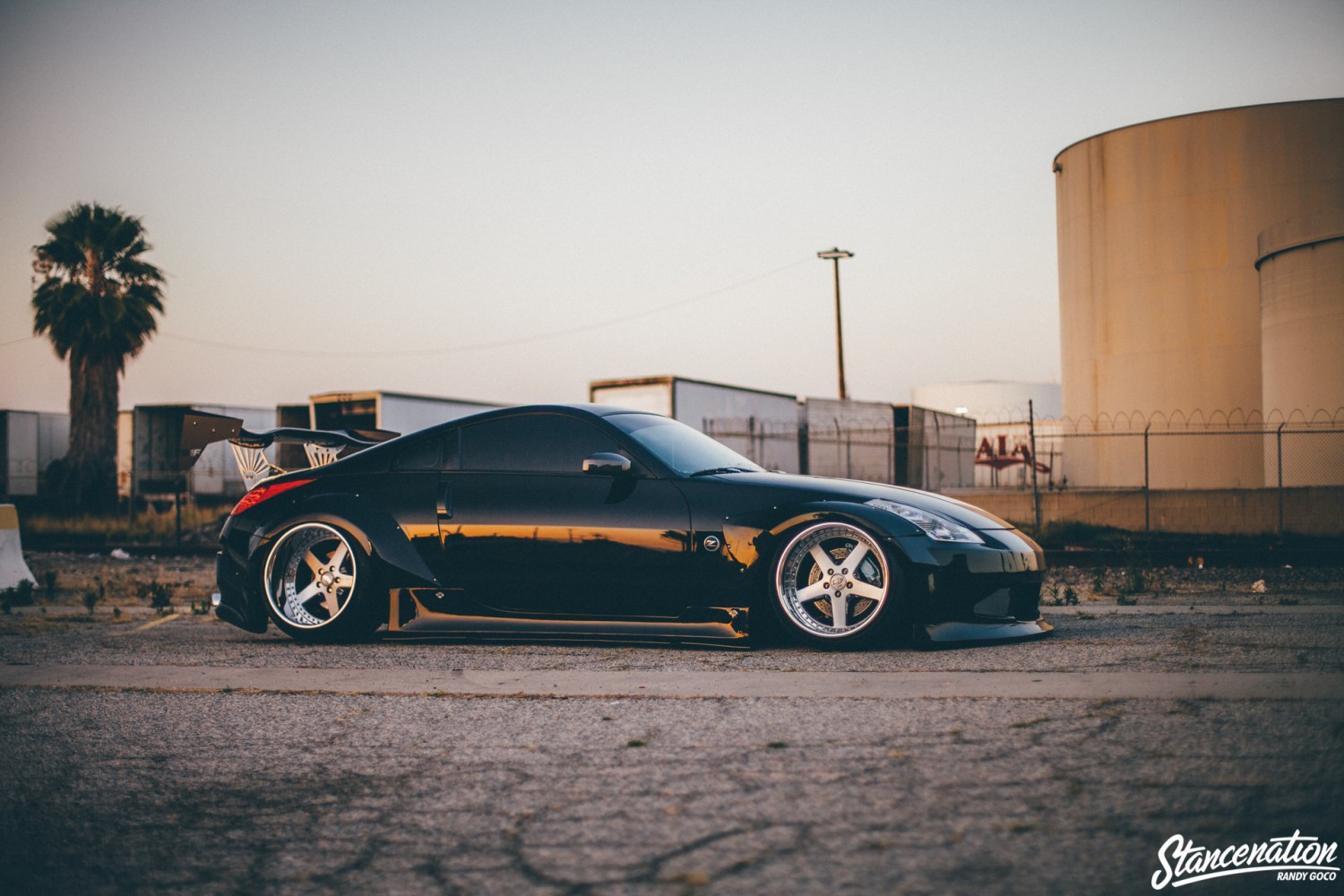 The way I see modified cars, there is a thin line among us owners and enthusiasts. This line separates those of us who just purchase parts and mount them on and those that take the time to personalize and modify the car and parts a step further. Please understand that I am not talking down to the side who chooses to simply purchase the "plug n play" side of modifications because there can be a myriad of reasons, ranging from level of enthusiasm, personal choice, or money. I mean hey, I am member of that group myself. Any who, even though a car may be extensively modified, execution definitely matters. To some it may be nice, to others it may look like a piece of crap, but it all comes down to the trivial matter of opinion. But in my opinion, this 350Z we have before us is sexy, fast, and in terms of security, downright deadly. I think the picture below tells the story better than I ever could.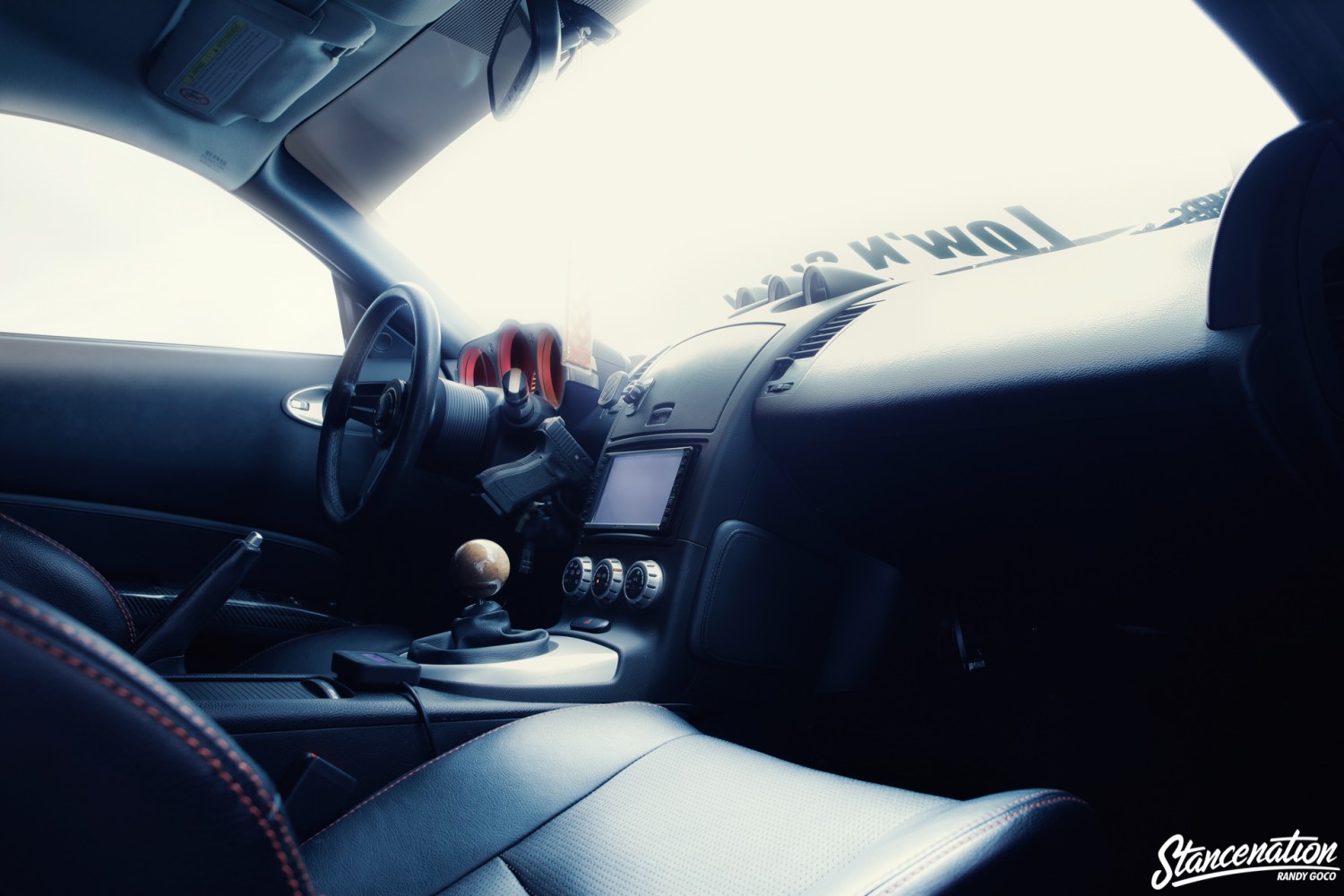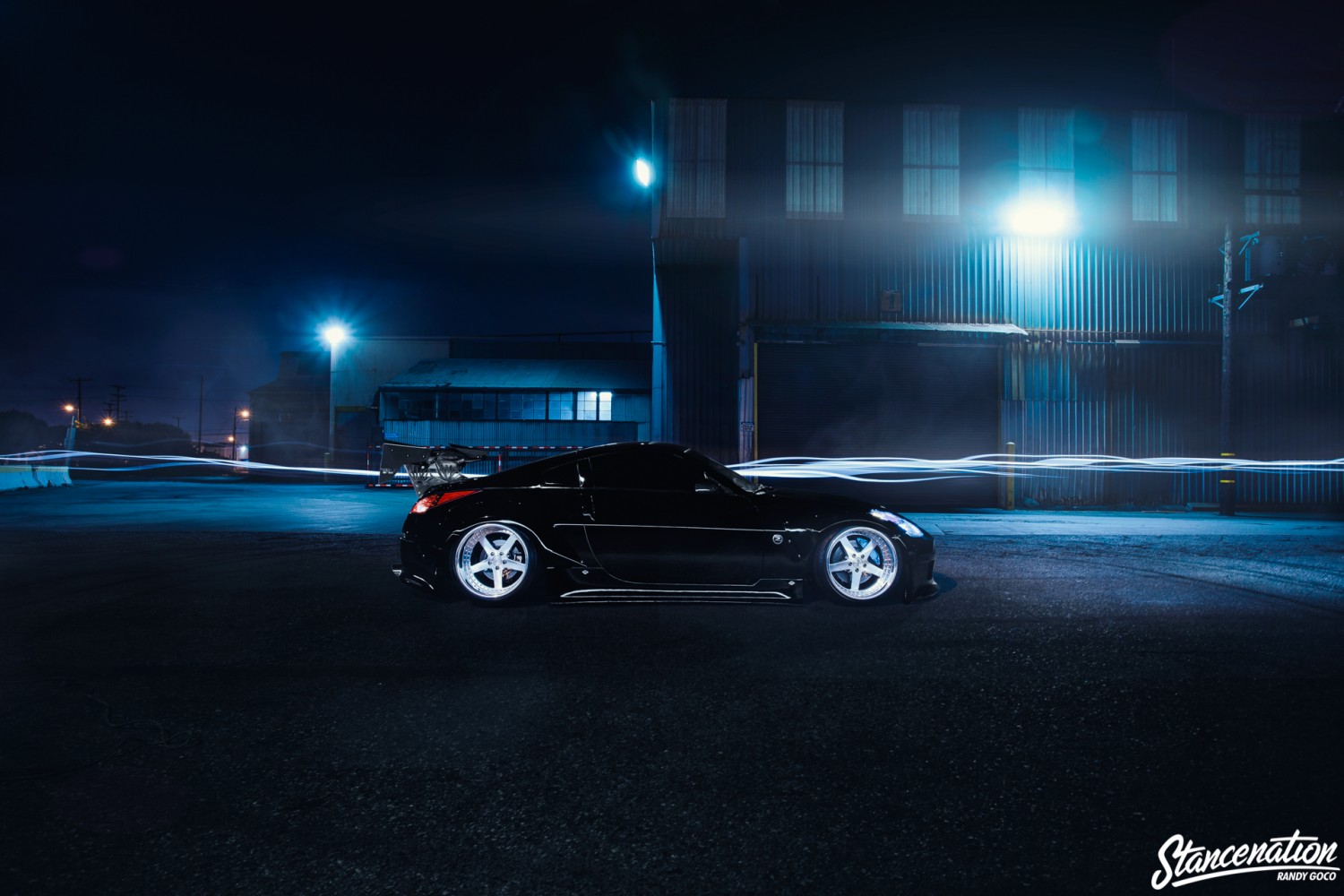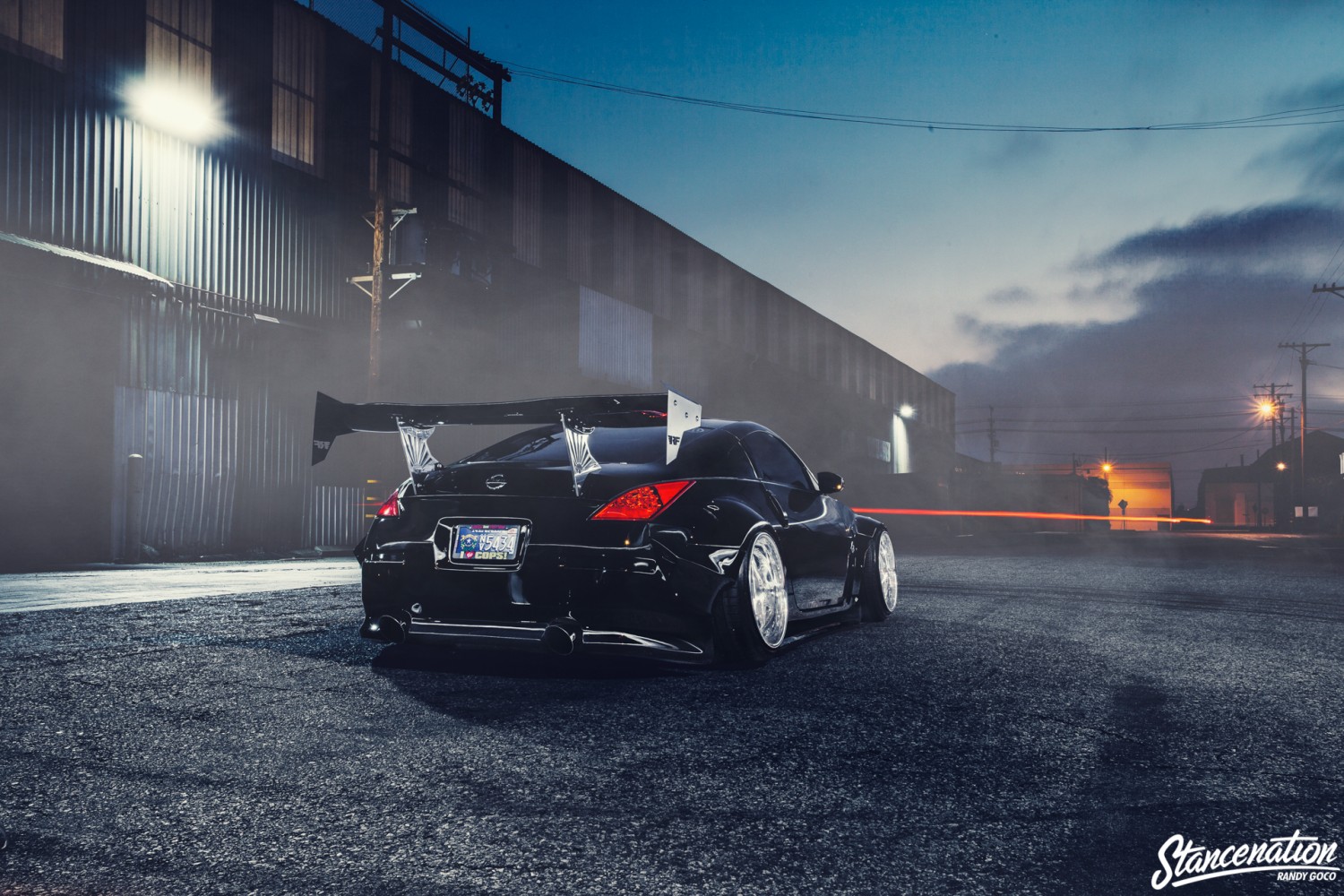 Las Vegas may be known as the "City of Sin", however, don't let the name fool you. Around these parts is the stomping ground of Shiro, an officer of the Law and the owner of this Devil Z. Now most of us car enthusiasts would say cops are hard-asses and all that drivel but remember, we all have jobs to do to fund our car builds. Shiro's just doing his. To add to that, here is picture proof that he can have fun and kick back…or kick out the rear of his fully built Z.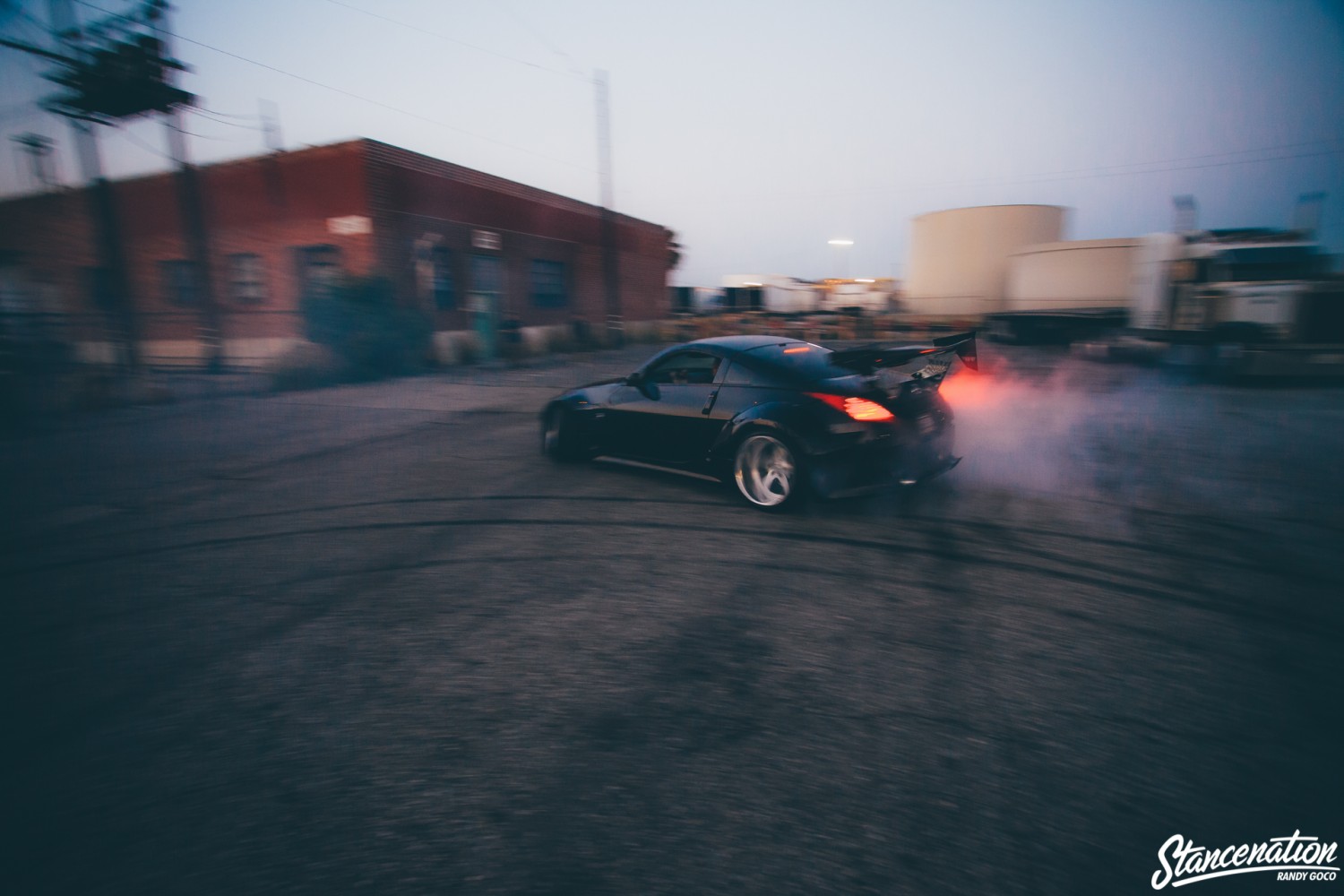 Although I have yet to meet Shiro, he certainly has a unique flare about him. Judging by the story he's told us, as well as his build, brings him to the top of the list of people I want to meet. There is just too much bad-assery in these magnificent photos shot by none other than our own Randy Goco.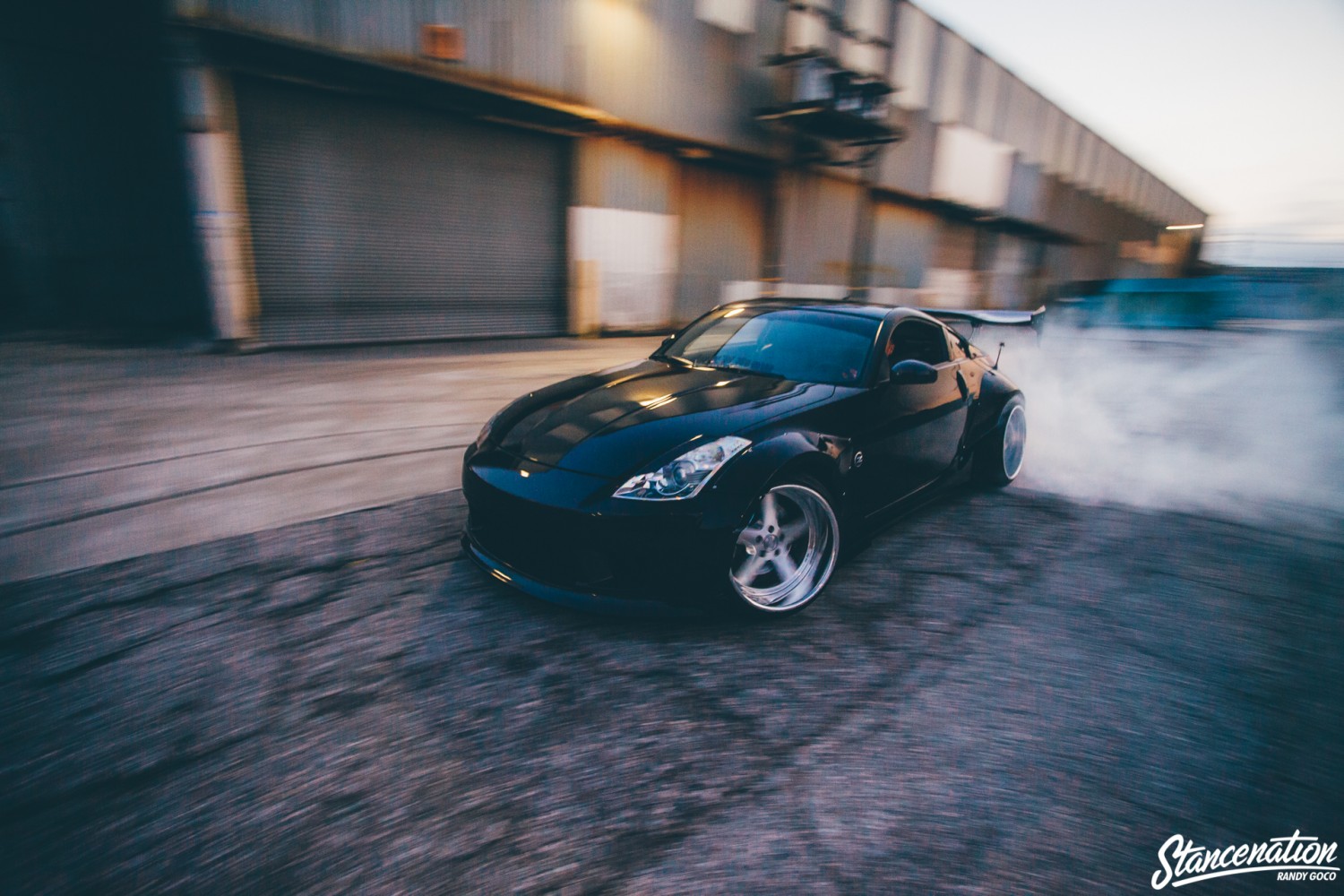 Pieced together like if Dr. Frankenstein's experiment turn out right, Shiro sourced a great deal of parts from some big names in the aftermarket part industry and then had the cajones to bring them under the knife and modify them further. For the exterior aero, Shiro ran with some Stardast widebody fenders. After checking with the manufacturers in regards to whether his wheels specs fit, Shiro began having doubts as the company had never encountered a wheel sized that large before. However, with the aid of his buddy, Ray, they widened the fenders and the Vertex front bumper to match and fit the wheels, justifiably bring to life the work of art you see now.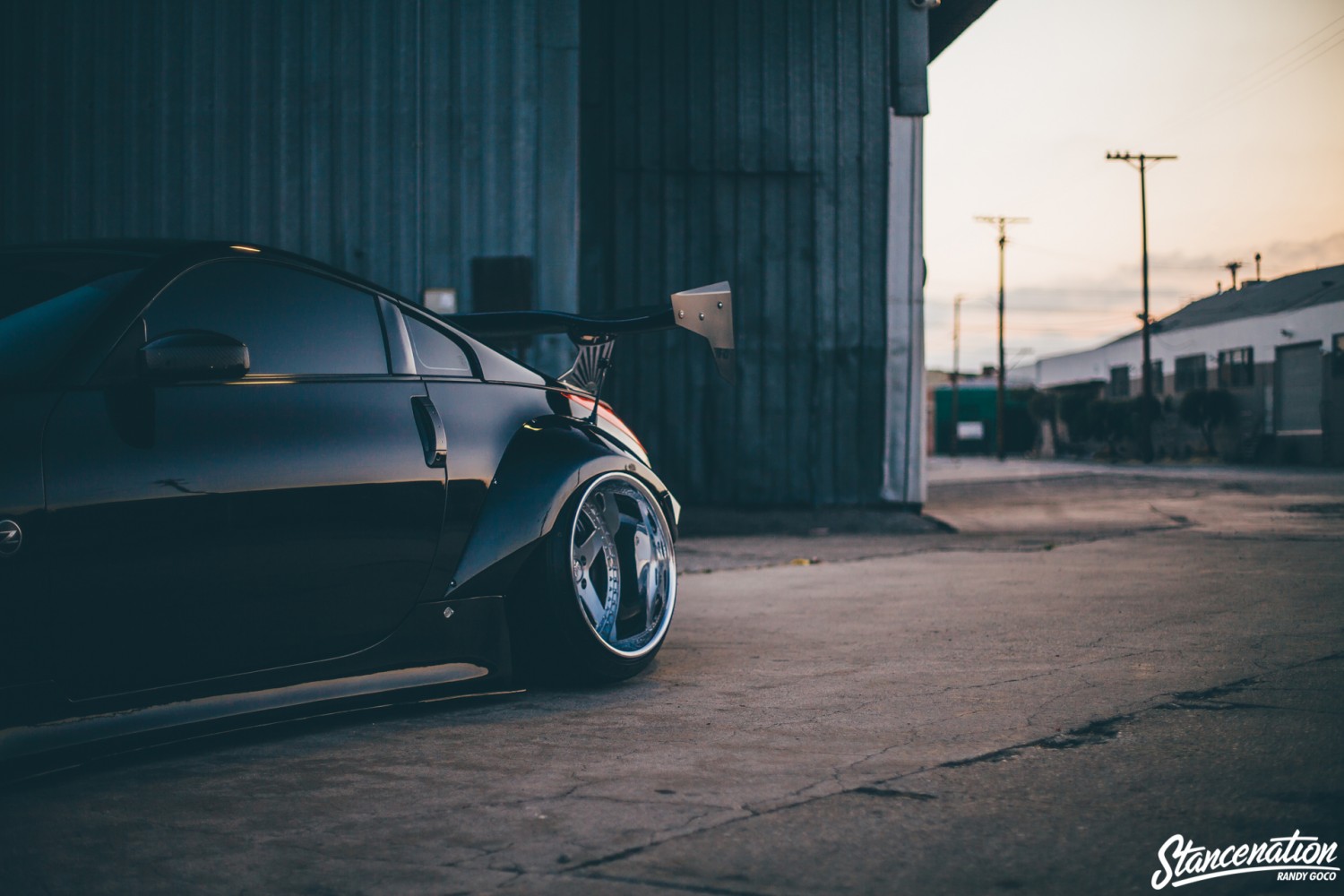 Fitting those massive Work Equips were no joke. First the tires had to be mounted. Shiro linked up Milt Salamanca, a prominent member of the California chapter of Low N Slow. After blowing his mind with the insane size, (19×12 19×14) Milt brought him to his tire guy. After trying out 285 width tires which left about an inch of exposed barrel on each side, Shiro ran with some 305's that did the job. A quick payment and hefty tip for the tire guy and Shiro was one step closer to this beauty… and a steak and lobster dinner with Milt.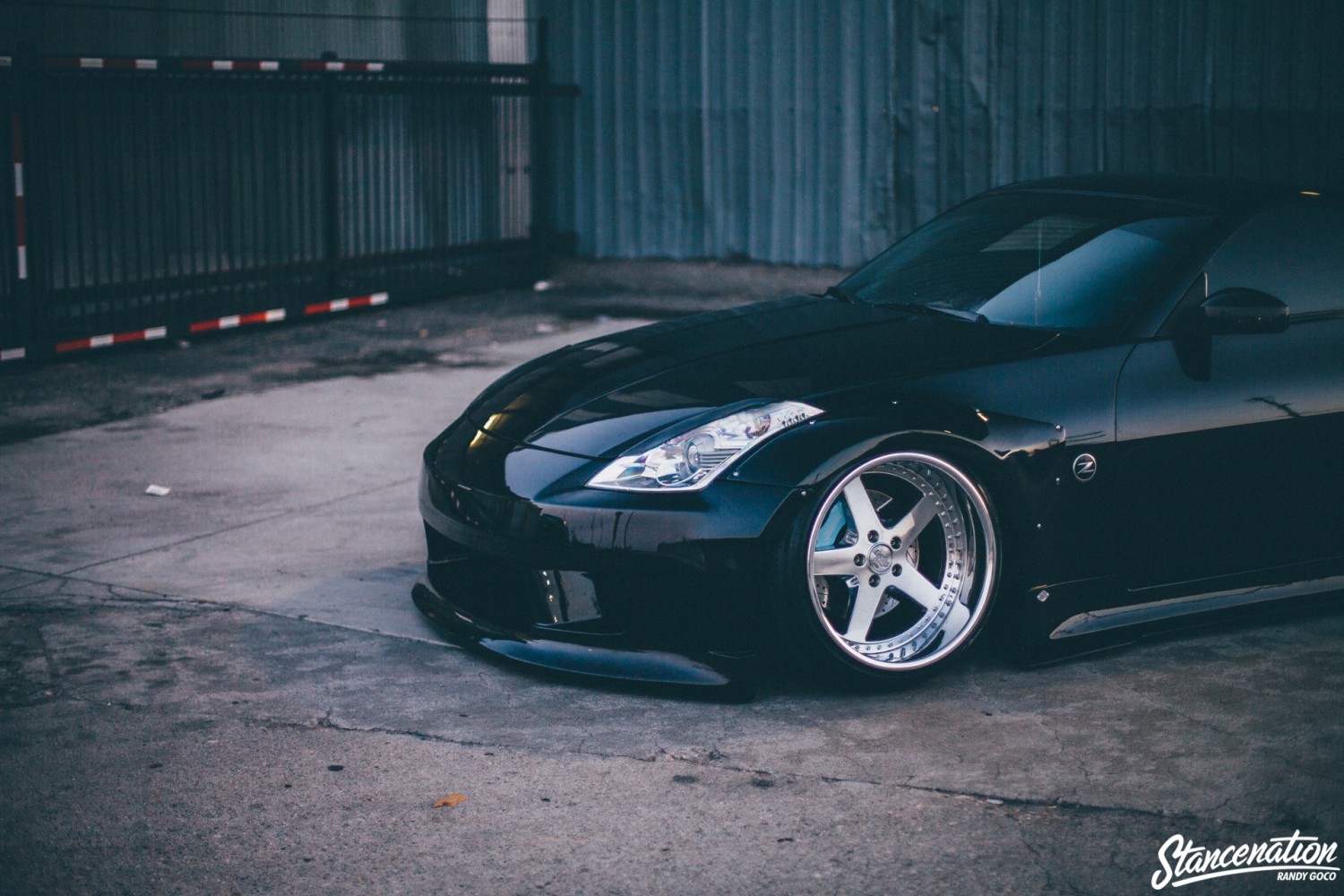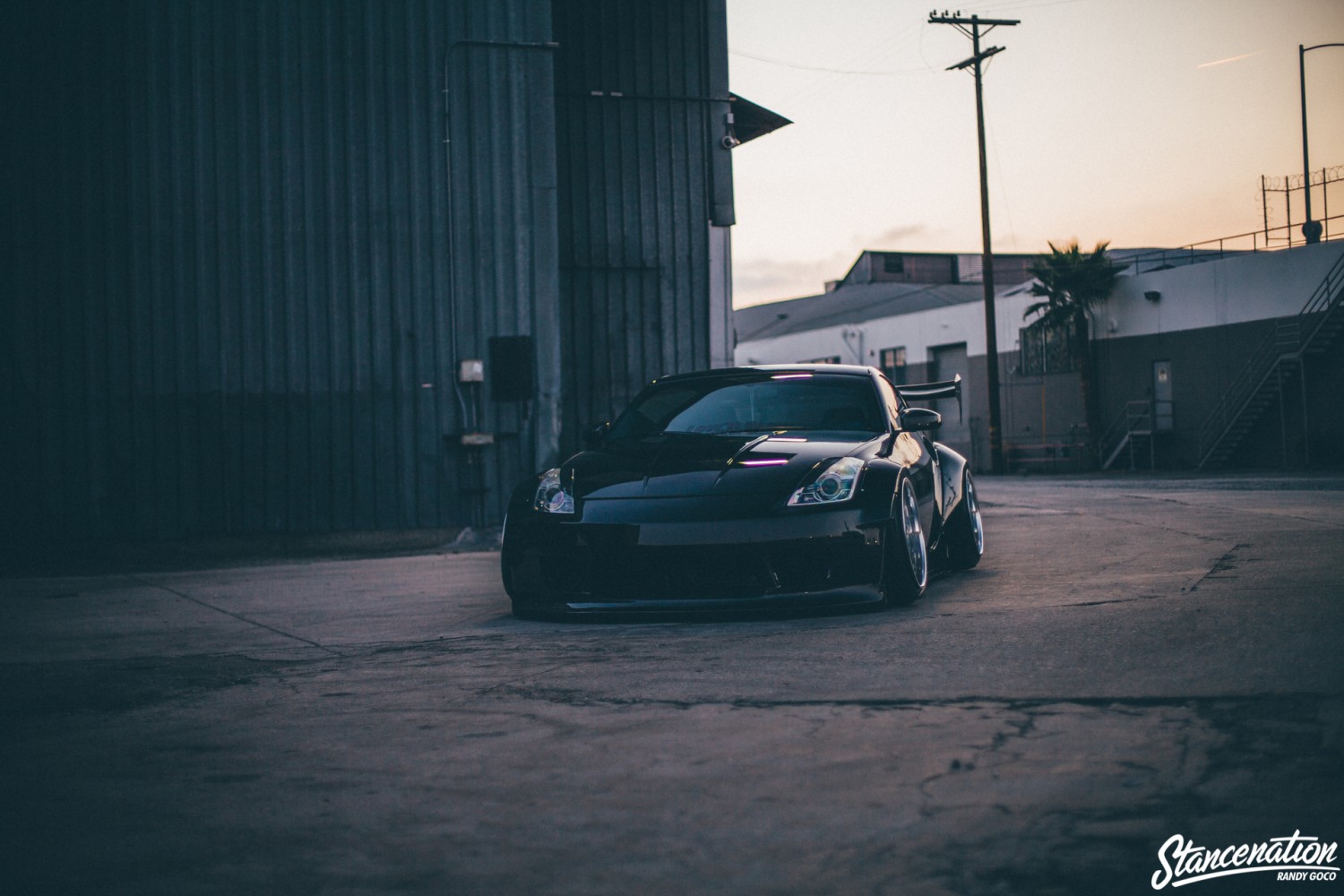 To achieve such clean fitment was no easy task. After piecing together some parts of an air system from a friend, as well as countless hours of overtime, Shiro put in the work to begin bagging his Z. However, even with the help of Riseabove Suspension, the UAS bags could not be mated to the coils he had at the time. Shiro did not give up there. Instead, he scooped up a set of BC Racing Coilovers and went to work. Next thing you know, the car is bagged. But little did Shiro know that the Z was not done yet. He still had to work a bit harder for her affection.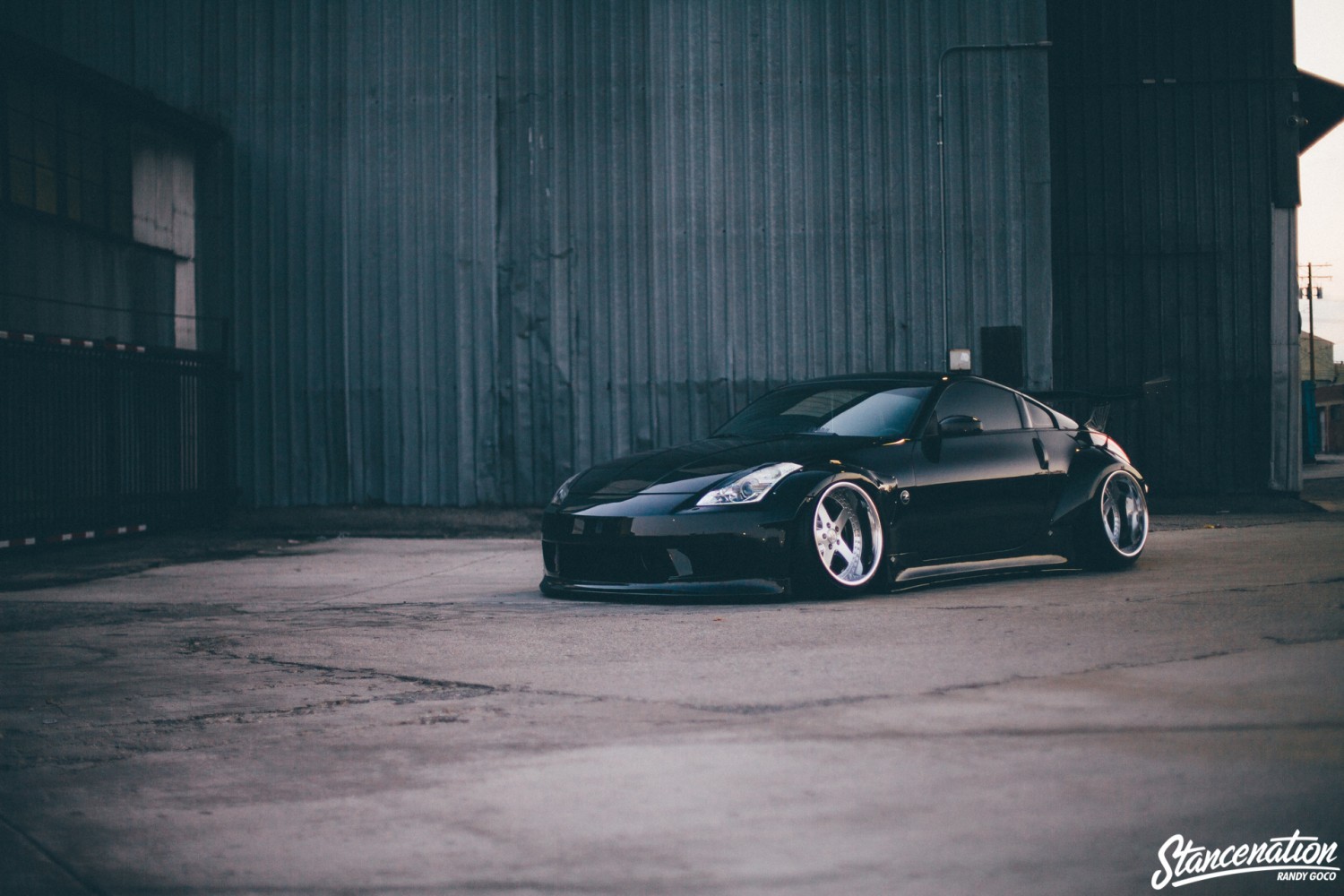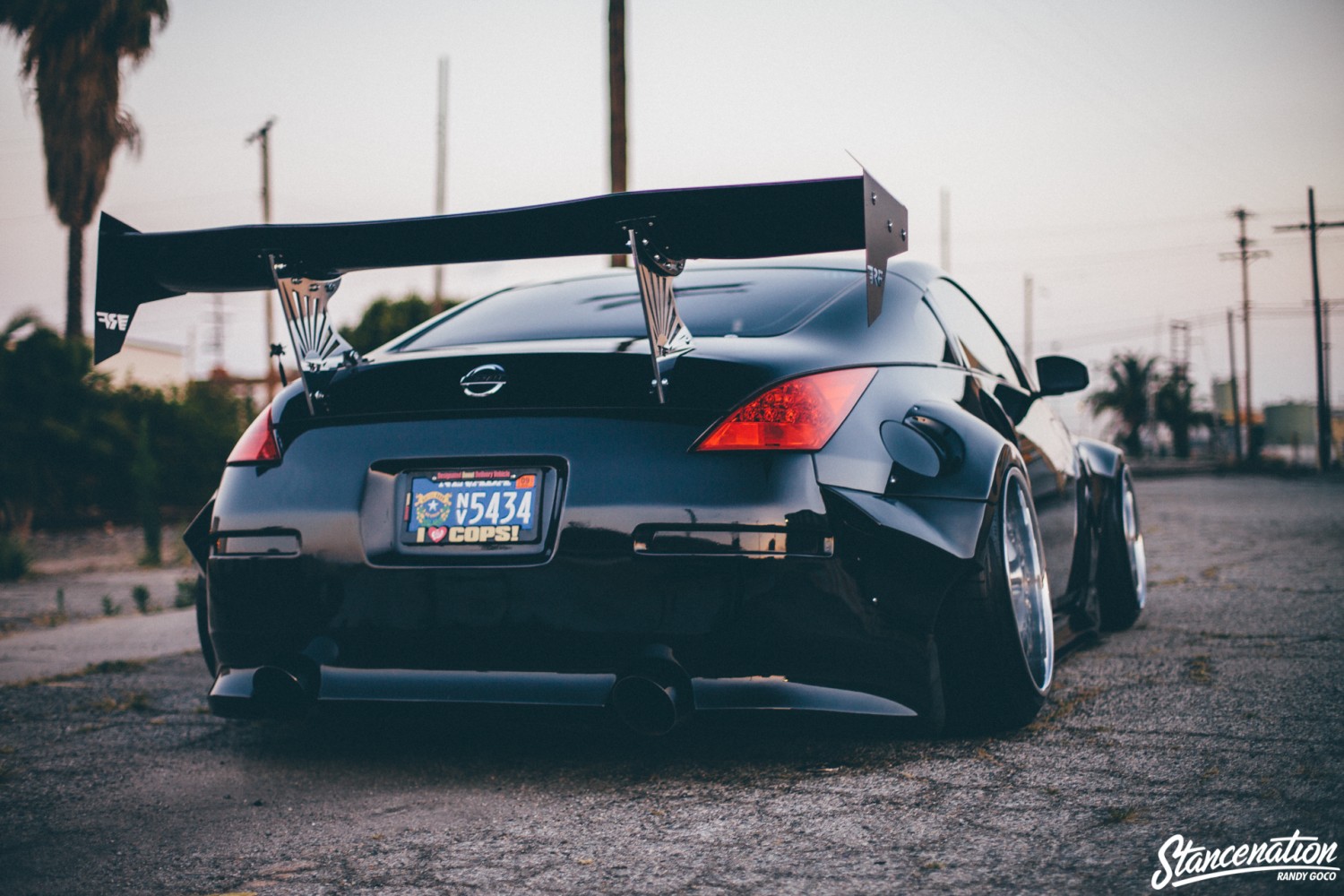 Shiro tells us off a vivid memory of when he needed to mount his widebody on his 350Z. It looked horrible due to the fact that the wheels did not have enough clearance in the OEM fenders. He knew he had to subject the immaculate paint and original factory fenders to the sharp biting edge of a grinder. After fighting back the urge to puke, a long with some coaxing from his daughter, Shiro took the plunge and began cutting.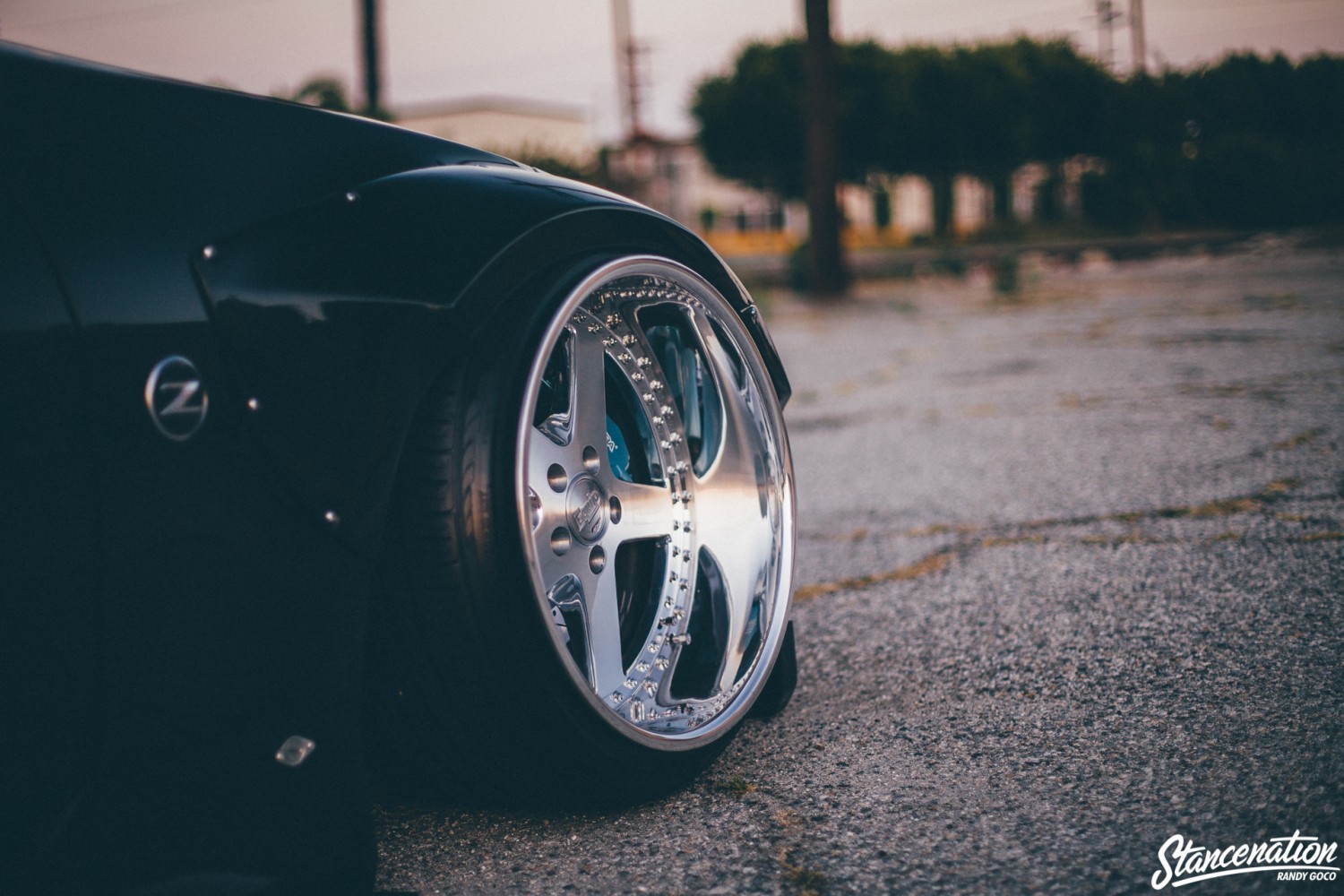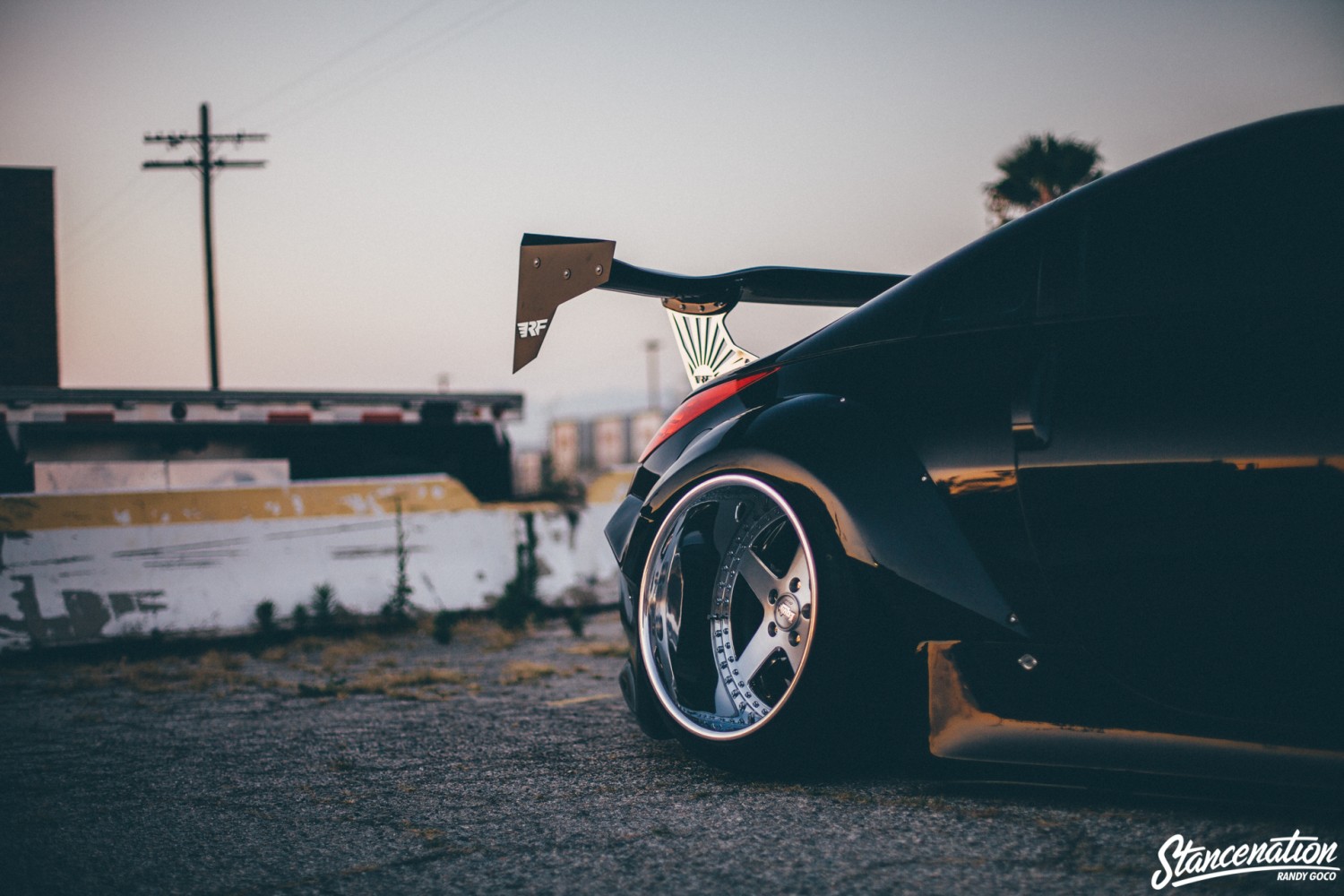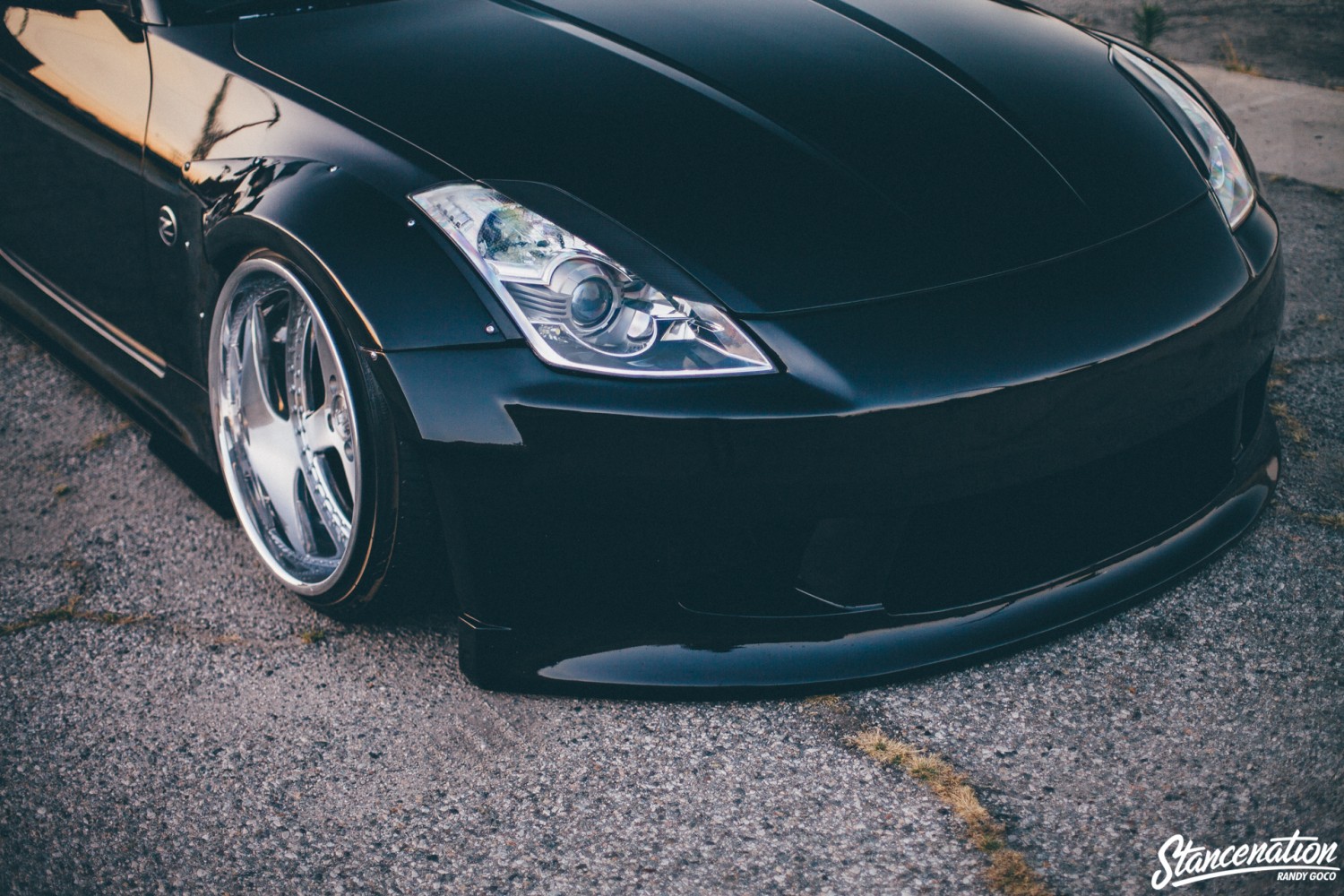 Painted in Jet Black with no metallic flakes by Tiffany, Shiro has kept the car sleek and sexy. If there is something I have a soft spot for in car colors it would have to be a black car. Usually they are best at night, but Shiro's Z proves that this car can break necks anytime of the day.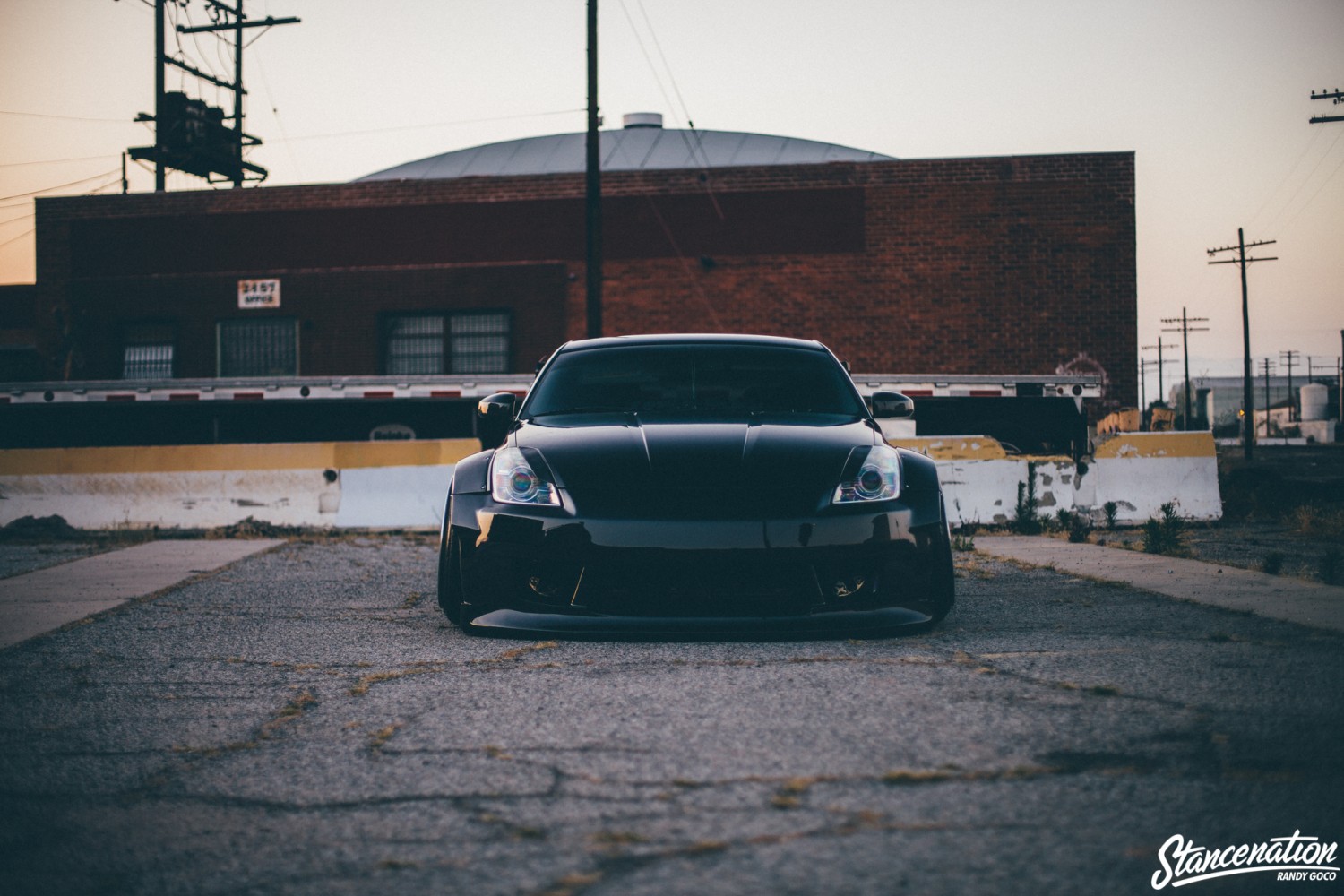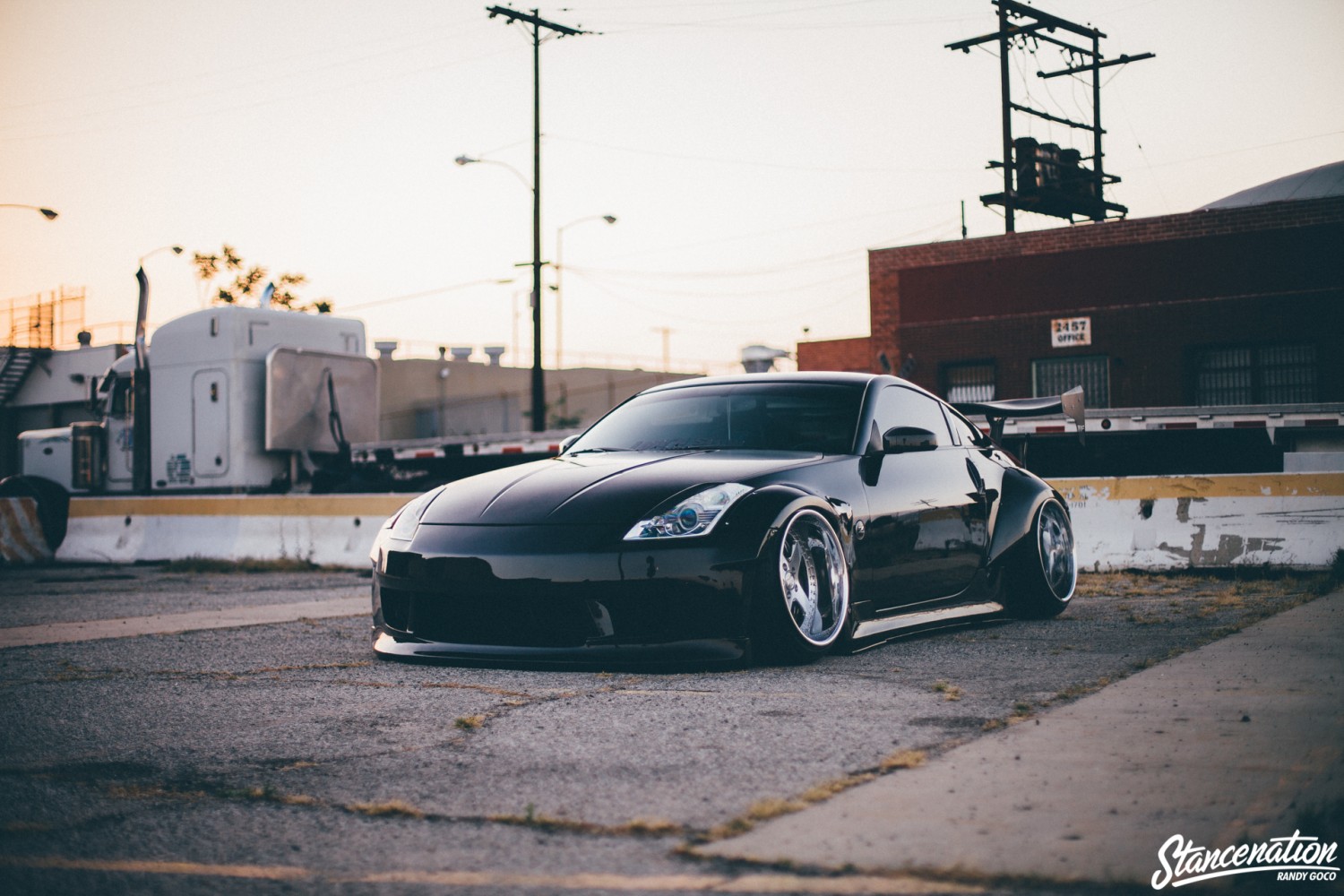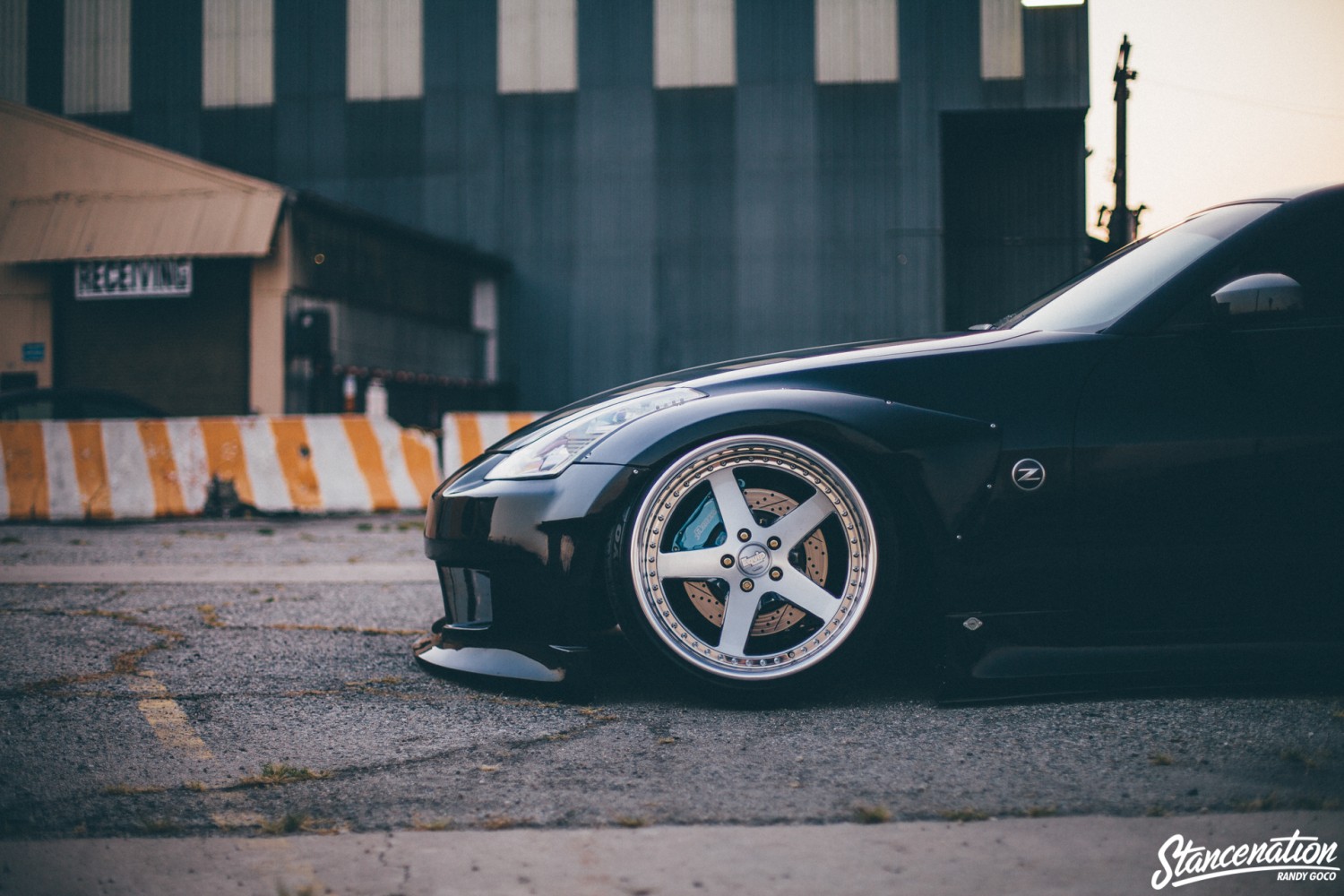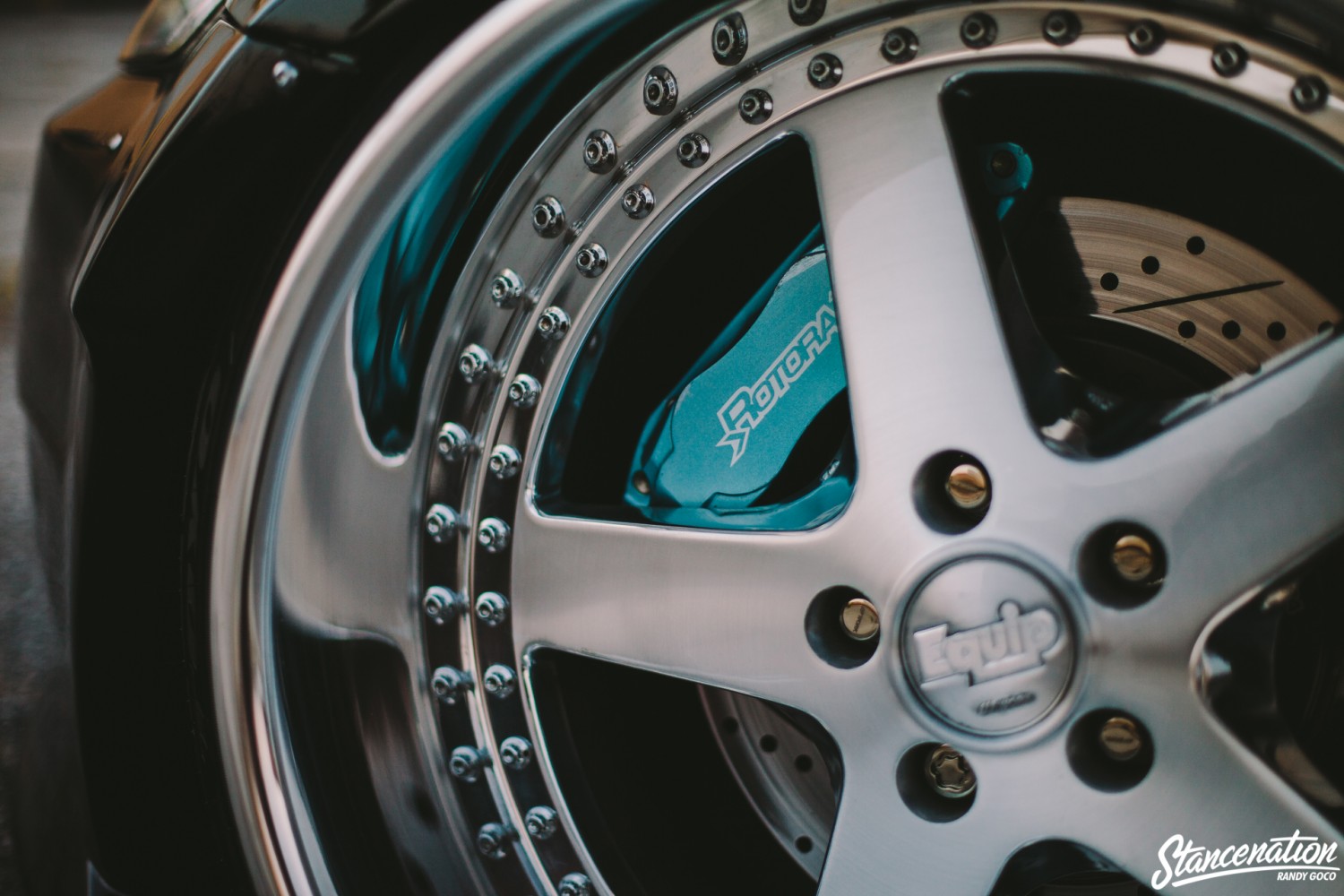 A Rotora Big Brake Kit sits neatly behind what I consider one of the most iconic wheels of all time. The Work Equip will always have a place in my heart and is a superb choice to be pair with this Z in such flawless execution.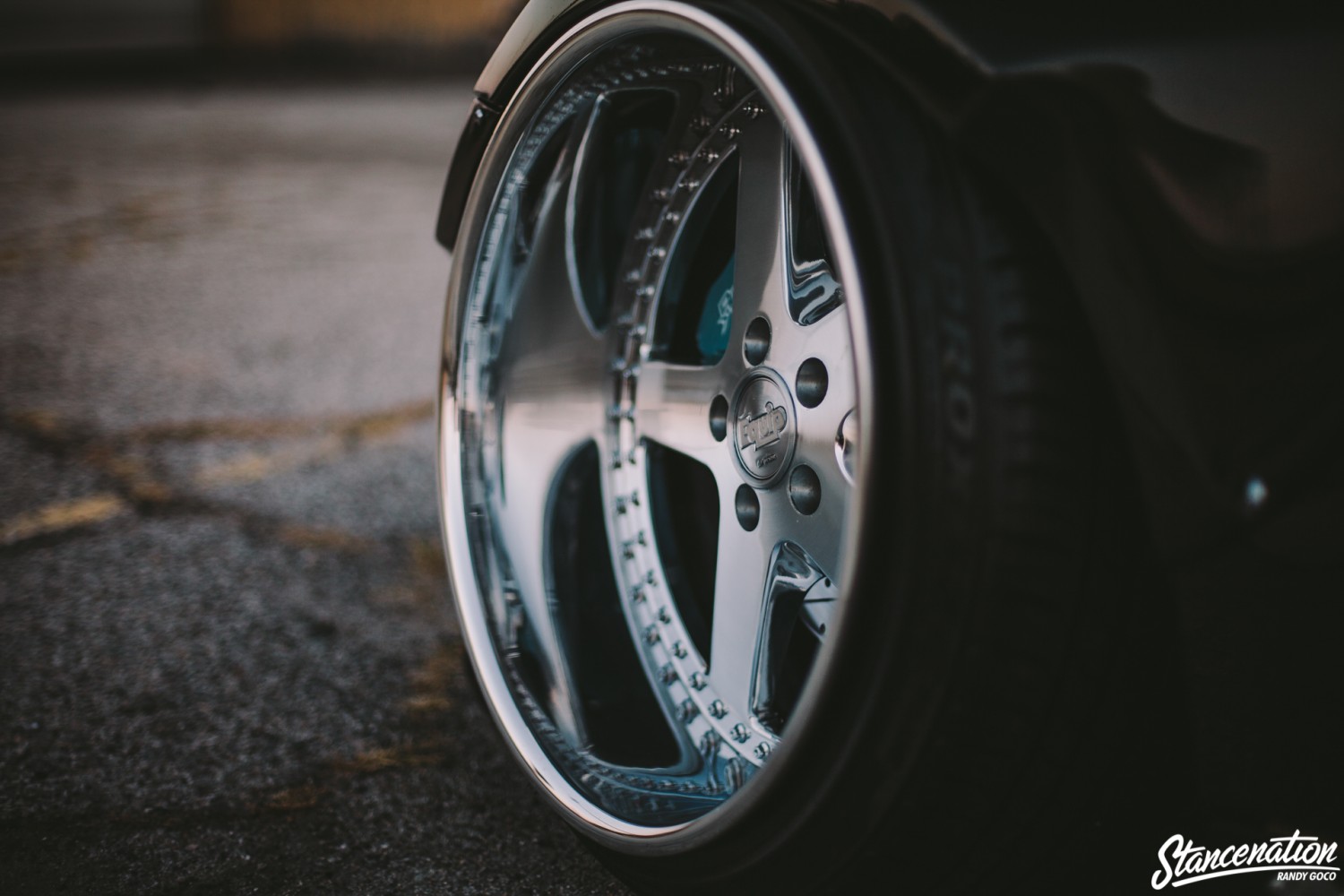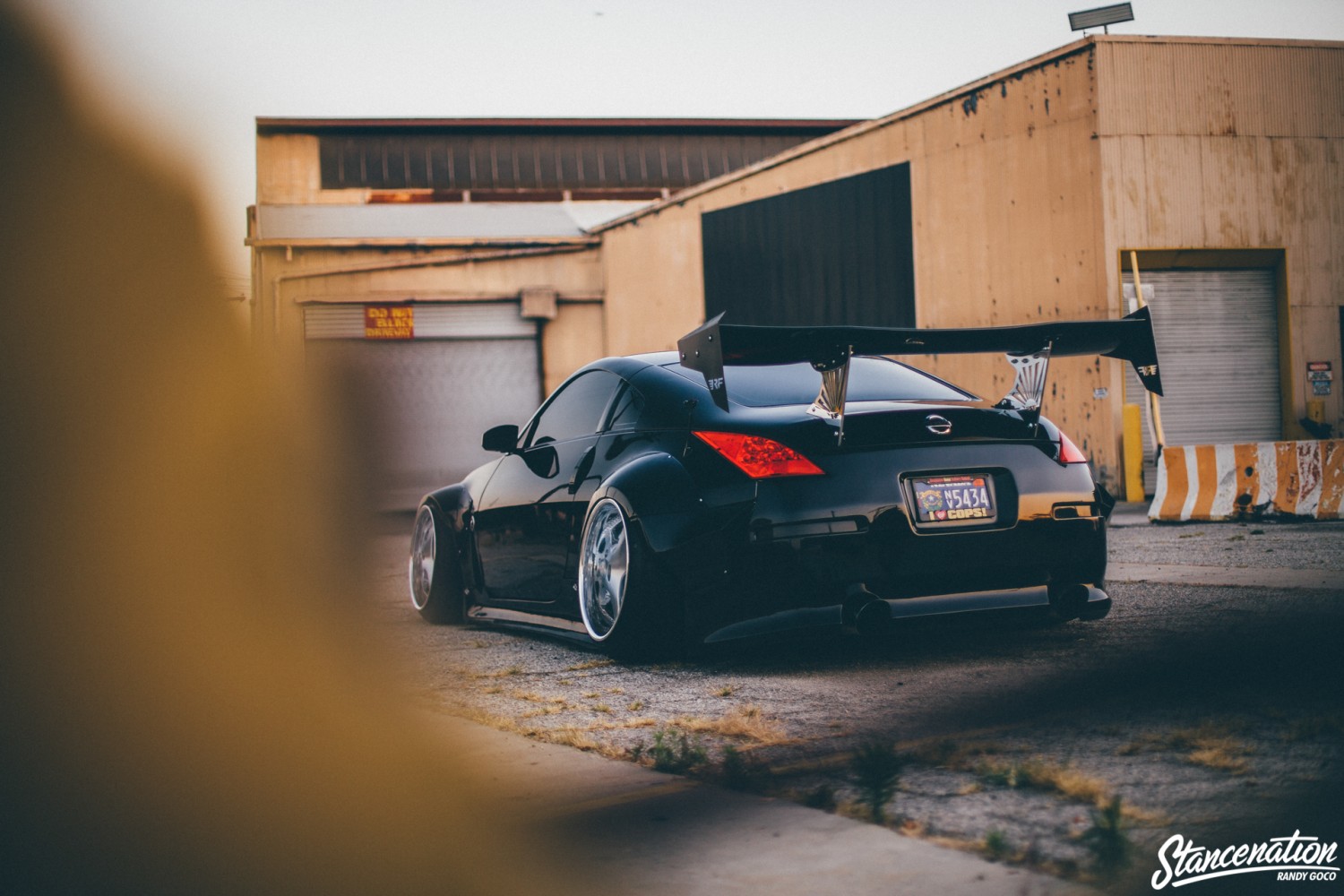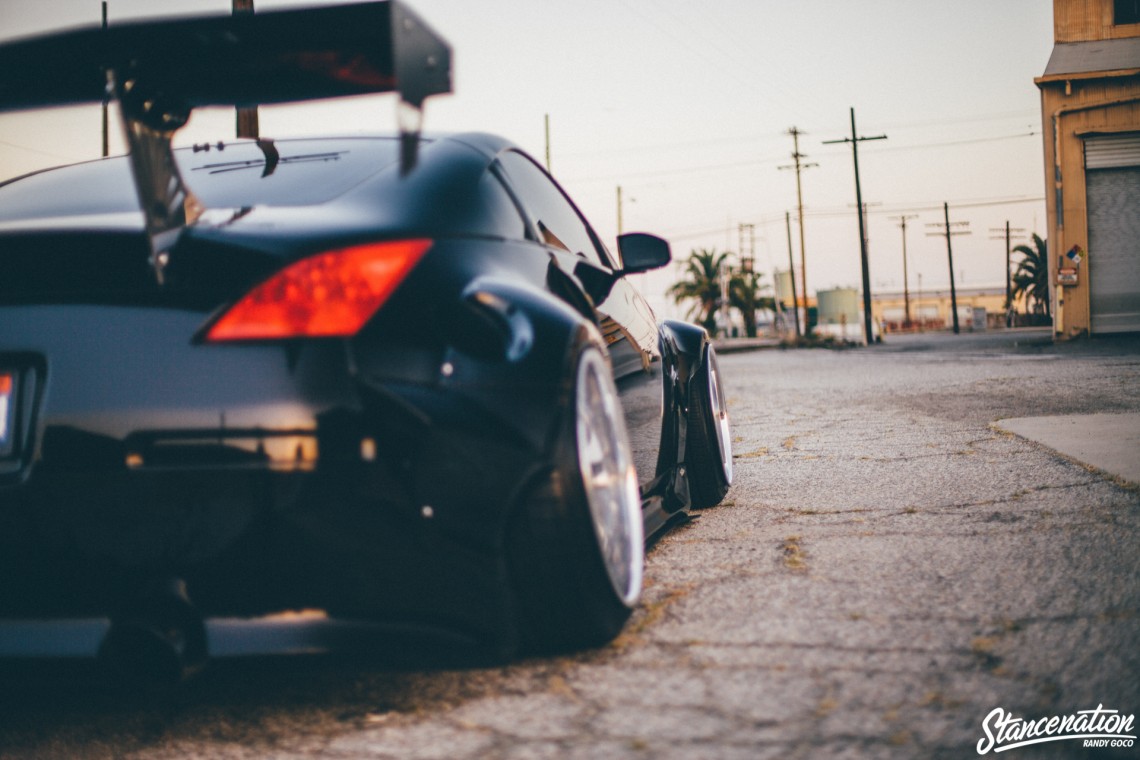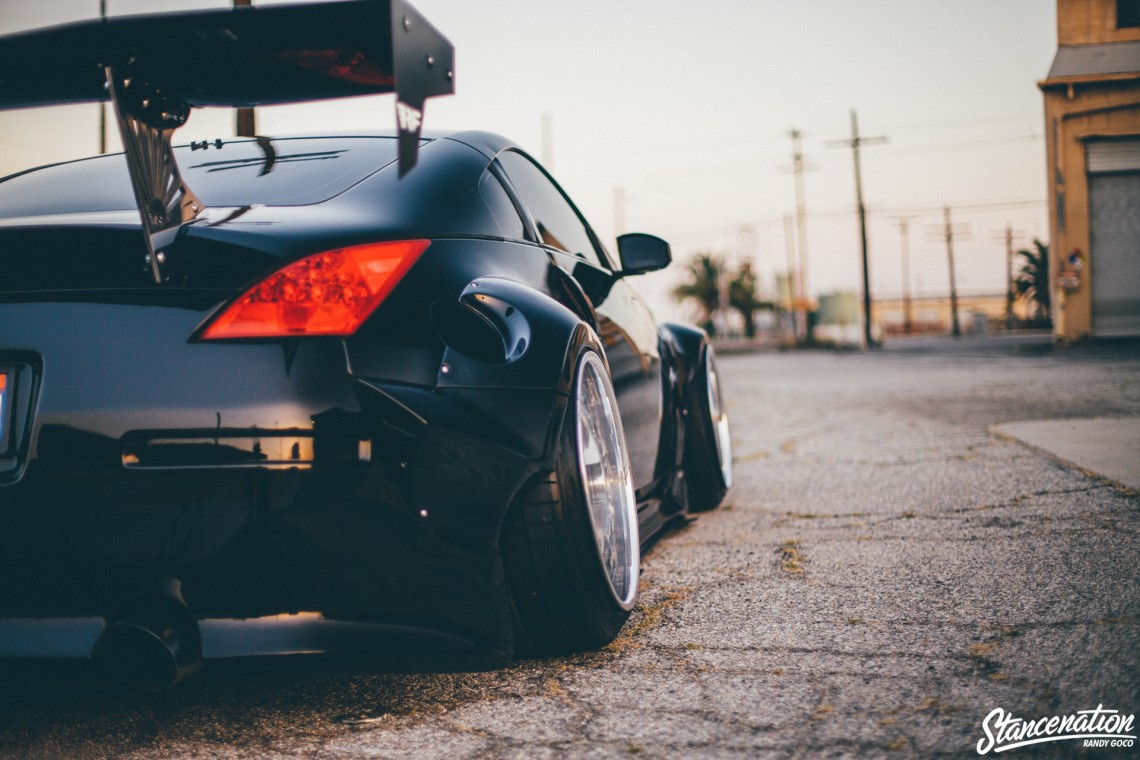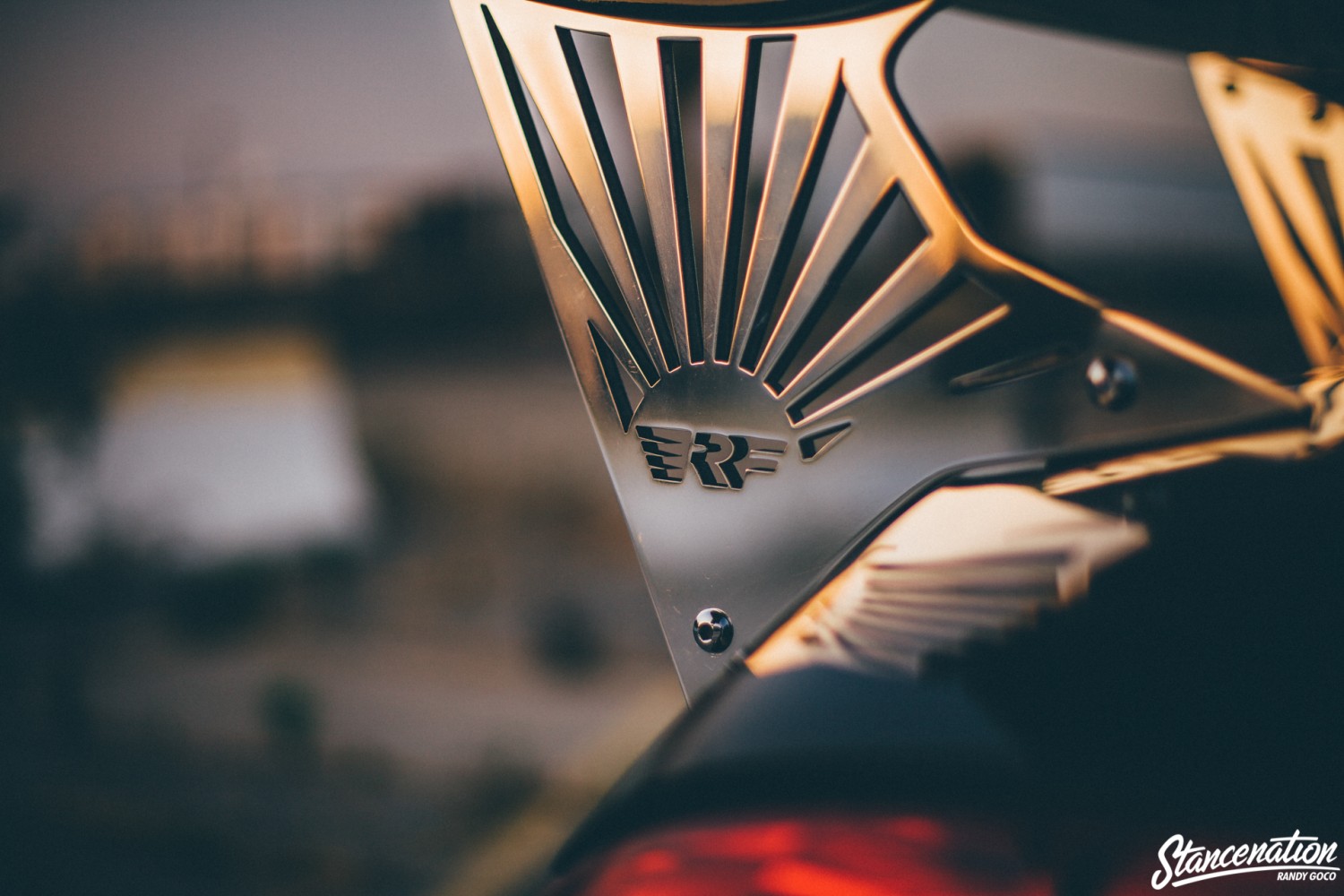 If there is one thing I love about car modifications, it would have to be when the owner's get personal with their choices. The risers and GT wing are custom made by RaysFactory, with his wife providing the design and Japanese Rising Sun pattern that they are marked with. If that's not love, I don't know what is.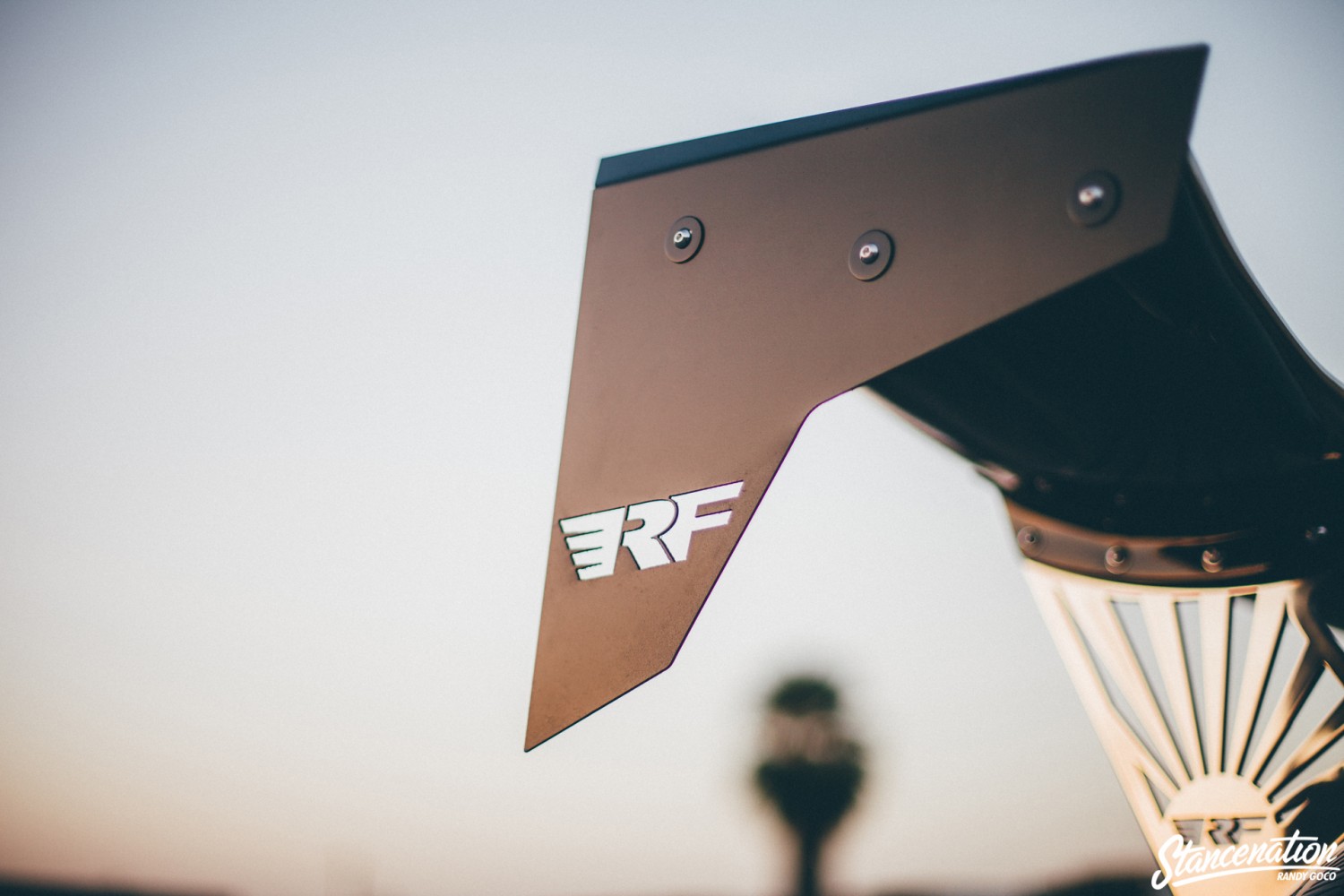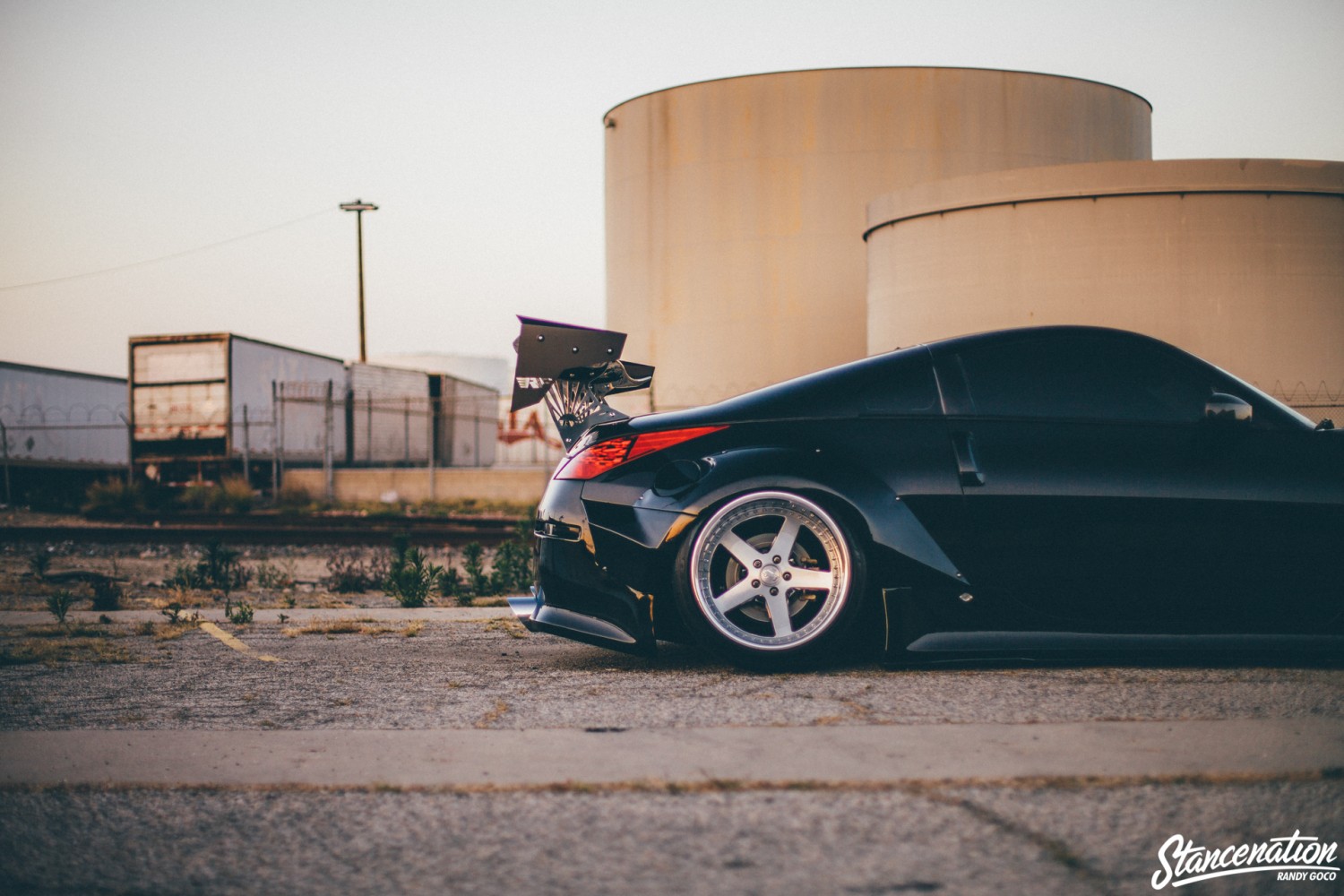 In the future, Shiro tells us he would like to boost his Z cause apparently nitrous just isn't cutting it. In addition, he says to watch for his interior because it will be revamped. All I can say is this car is magnificent and with the attention to detail makes this car one of my favorites to write up. The devil is in the details and this Z has got a lot of details.