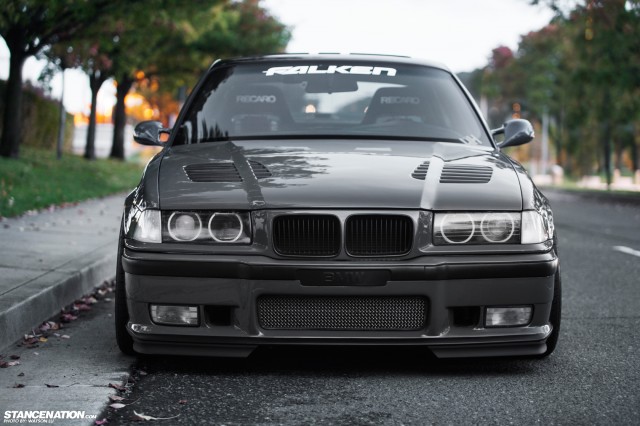 Many of my close friends would call me a BMW enthusiast though like all car enthusiasts I can appreciate a little bit of everything. I don't profile cars based on what country they're made in or how many doors or cylinders they have. Enough about me, let's talk more about this extremely attractive 1996 BMW 328is that belongs to my friend Lawrence Maerina. It's got all the small details going for it as well as the overall look. It's one of those cars the speaks for itself so I won't get too into it. As always, you can check out the entire spec list on the very bottom of this feature.
Photos By: Watson Lu exclusively for StanceNation.com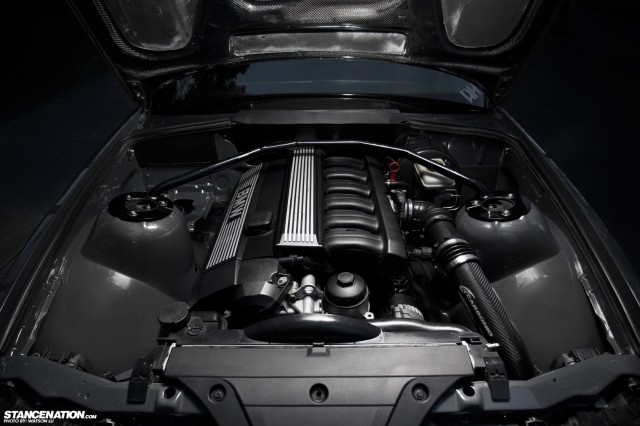 This car falls nothing short of stunning at first sight. The first time I saw this car was at a car show in Richmond, Crafted Fitment Lawrence won best BMW. The second time I saw this car at a show was at Drop that Frame in Vallejo this time around it won Best Euro, Best BMW, Cleanest Engine Bay and Best of Show. Bay such as the one above clearly explains why it was everyone's favorite. It received a full wire harness tuck and shave down to clean things up, but not before a whole lot of things were replaced and upgraded.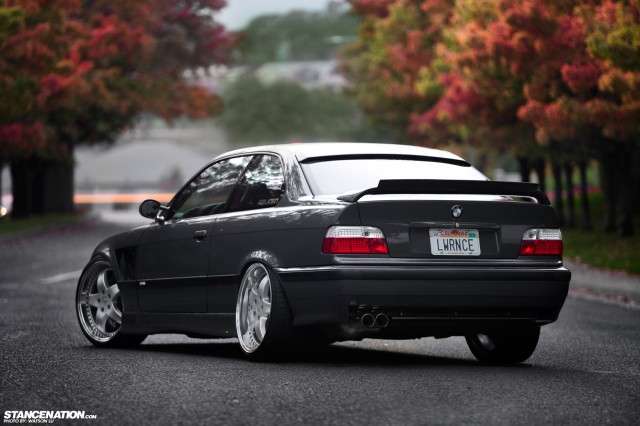 Starting with UUCmotorwerks underdrive pulleys to Spal 16inch electric puller fan & wiring kit, to Bimmerworld belt driven Fan Delete kit & M50 manifold install kit to things such as that beautiful Carbonio Carbon Fiber Intake you see on the right side and even smaller things that truly helped transform the entire bay such as the genuine BMW Euro radiator cover and polished front timing cover & thermostat housing. Like I said, this beauty has a ton of small details going for it that many non BMW enthusiast will easily overlook.
Lawrence has owned this car since his junior year in high school. The car started its life as a white 328is with tan interior driven by an automatic transmission, or "autotragic" as we know it in the BMW community. Over time, just about all that has changed. The interior was transplanted with black "luxury package" from an M3, the transmission was replaced with a 5spd manual and of course, the paint. Lamborghini Grigio Telesto. The wheels on this car are 19″ Braid 8F series (9.5" rear 8.5" front), fitted with a 380mm Brembo big brake kit up front. Aesthetically, this set up is a match made in heaven in my opinion.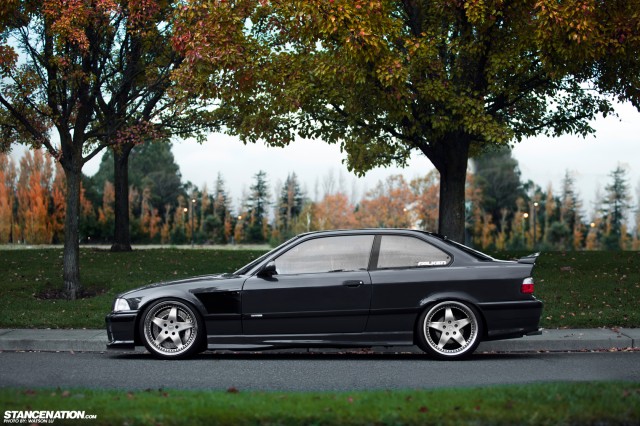 Interior is just as beautiful as the exterior as you'd imagine. It features plenty of suede (headliner, pillars, rear shelf) and a beautiful MOMO hub & competition steering wheel. Other things that Lawrence upgrade was the Recaro SRD with optional harness sub-belt holes Passenger/Driver including the Recaro sliders and brackets. Extremely clean just like the exterior.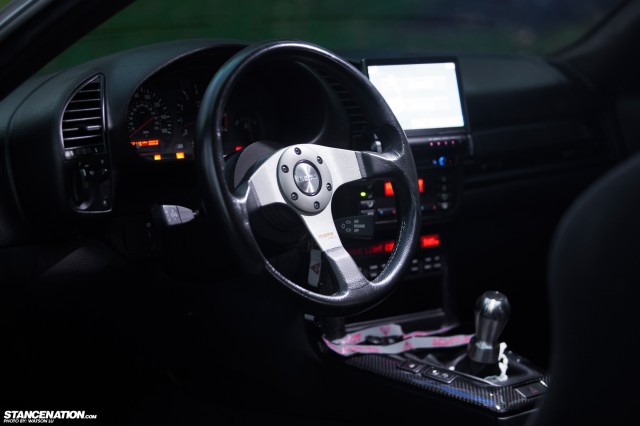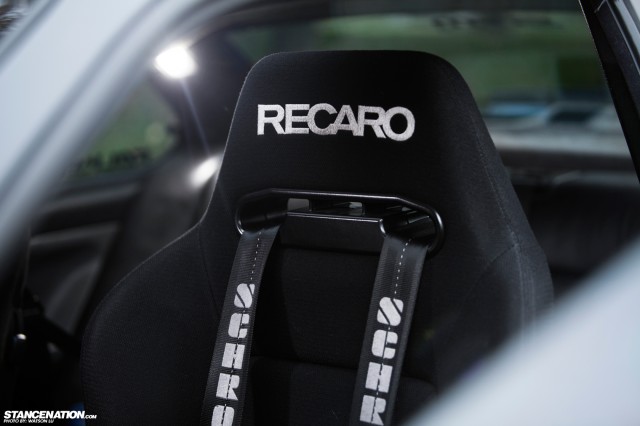 That brings me to the way this BMW sits. As mentioned before, the wheels pretty unique Braid 8F series sized 19×9.5" in the rear and 19×8.5" up front. They are wrapped in Falken 215/35/19 up front and 225/35/19 in the rear tires. It sits on E36 M3 Ground Control Coilovers with E36 M3 Eibach front and rear adjustable sway bars and many other suspension components such as Rogue Engineering RSM & Ground Control Front & Rear Sway Bar endlinks
It also has many subtle modifications including windshield wiper deletes, shaved rear trunk hatch, relocation of the fuse box & jumper junction. They're small things that make the car just a little bit more awesome. Special Thanks to Alfred David of Illamentals for helping this build become a reality. For now, Lawrence is happy with his build but word on the street is he's planning to do a 6.0L V8 with a T56.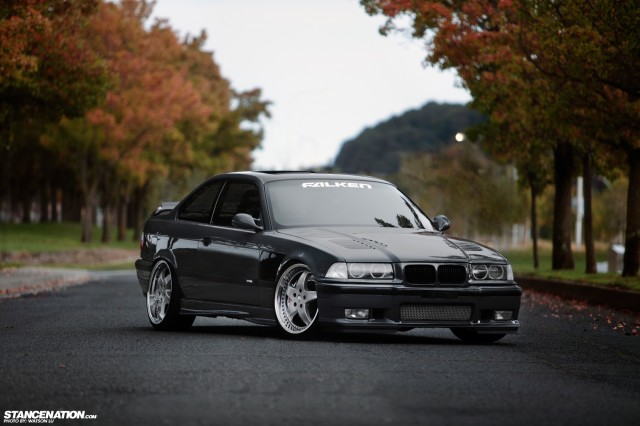 Make sure you like my fanpage if you enjoyed my photos and follow me on Instagram @watsonlu.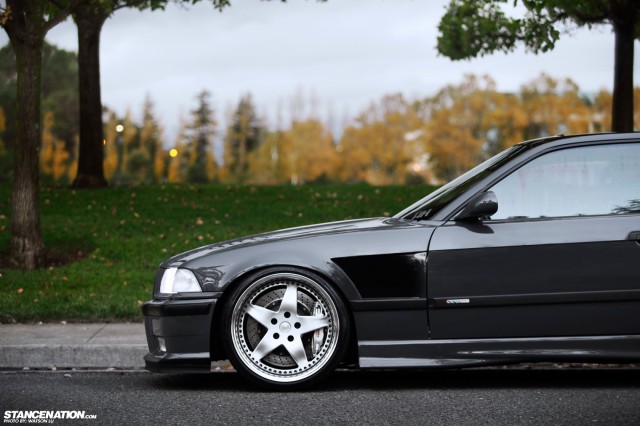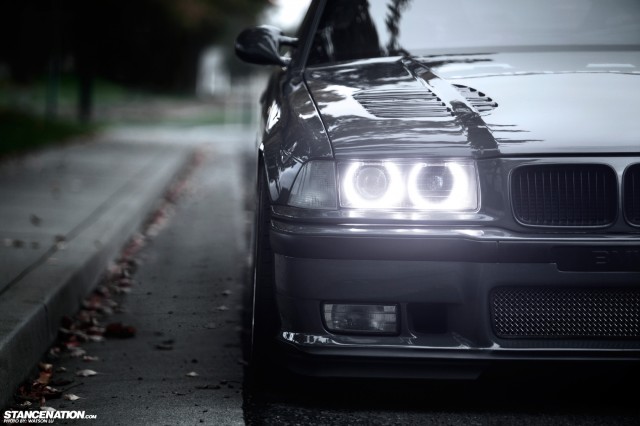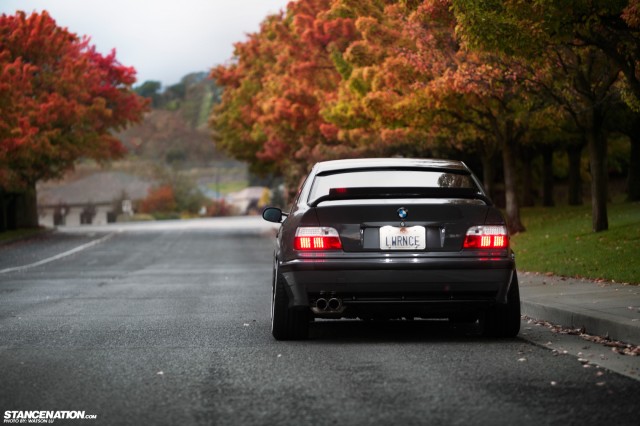 [toggle_box]
[toggle_item title="Wheels/Tires/Suspension" active="true"]
19inch Braid 8F series: Only set in the United States.
FALKEN 215/35/19 on 19×8.5 & 225/35/19 on 19×9.5
E36 M3 Ground Control Coilovers
E36 M3 Eibach front and rear adjustable sway bars
Rogue Engineering RSM
Ground Control Front Sway Bar endlinks
Ground Control Rear Sway Bar endlinks
Active Autowerke Adjustable rear trailing arms
E36 Convertible M3 x-brace
Sparco Strut Tower bar painted black.
Custom brake lines front and rear
ABS delete
Wilwood Proportioning valve
Brembo 380mm GT
Brembo stainless brake lines
H&R 20mm spacer front
H&R 15mm spacer rear[/toggle_item]
[toggle_item title="Exterior" active="false"]Complete Engine Harness wire tuck
Complete Shaved Engine bay
Shaved rear trunk hatch
Fuse box relocated
Jumper junction relocated
Wiper Assembly Delete
Genuine BMW Full M-tech kit:
M3 Front bumper
M3 Rear bumper
M3 Sideskirts
M-tech side moldings
Genuine BMW Motorsport badges
Genuine BMW Motorsport exterior door handles
Genuine BMW Motorsport front splitters.
M3 mirrors w/convex glass
Custom all metal fenders courtesy of Sagenhaft
Front and rear fenders pulled.
Black out kidney grills
Complete Custom Carbon Fiber Mashaw GTR hood with shaved emblem courtesy of Mike @ Mashaw
Reiger Roof spoiler
GermanWerkz 3-way adjustable CF spoiler.
Full Carbon w/ base painted body color.
Genuine BMW Euro Clear corner
ZKW Euro Ellipsoid Headlights
Prolumen 5000k HID's in lows beams
Prolumen 3000k HID's in Fog lights.
Umnitza Orion V2 multi color
Umnitza LED corner
Umnitza LED rear tailights.
Umnitza strobe 4 way kit
Umnitza LED license plate bulbs
[/toggle_item]
[toggle_item title="Interior" active="false"]
Complete interior change from tan to Luxury package black M3 luxury interior
Umnitza LED interior lighting kit
Genuine BMW Motorsport door sills
Custom Carbon Fiber door handles courtesy of AutoExplosion
Custom Carbon fiber center console courtesy of AutoExplosion
UUC Motorwerks RK5 shift knob
UUC Motorwerks RK5 emergency brake handle
Recaro SRD with optional harness sub-belt holes Passenger/Driver
Recaro sliders and brackets
Scroth quick fit harness Passenger/Driver
Suede Headliner
Suede rear shelf
Suede A pillars
Suede C pillars
MOMO hub
MOMO Competition Steering wheel
Motion Motorsports Aluminum Under Panel
Kenwood KVT-617DVD in dash
Kenwood Garmin KNA-G510
2 12inch Alpine type R
Custom sub enclosure
BSW stg 1
Kenwood amp 1000W
Rockford Fosgate wiring
Stinger 5 farad capacitor
XM satellite radio
Sunroof Eclipse[/toggle_item]
[toggle_item title="Engine" active="false"]
Active Autowerke gen 3 cat-back exhaust system
UUCmotorwerks underdrive pullies
Spal 16inch electric puller fan
Spal fan wiringkit
Bimmerworld belt driven Fan Delete kit
Carbonio Carbon Fiber Intake
Bimmerworld M50 manifold install kit
M50 manifold
Genuine BMW Euro radiator cover
Polished front timing cover
Polished thermostat housing
Bimmerworld EGR plate
Secondary Air delete
Jim Conforti Shark Injector Software
Custom Firewall plate courtesy of Steve @ GarageWorks
Automatic to Manual Transmission swap
Evo3 SSK courtesy of UUCmotorwerks
STG2 E34 M5 lightweight flywheel Courtesy of UUCmotorwerks
Segmented Carbon kevlar clutch Courtesy of UUCmotorwerks
UUC DSSR Courtesy of UUCmotorwerks
UUC braided clutch line Courtesy of UUCmotorwerks
Clutch Delay Valve delete
Big boy Clutch stop Courtesy of UUCmotorwerks
3.23 LSD[/toggle_item]
[toggle_item title="Shoutouts" active="false"]
Revolution Automotive and Collision
Mert Contapay
Girard Deguzman @Sagenhaft
Arve Francisco
Mike Nouanesy
Bobby Asis
Steve Cuenca
UMNITZA
STM
FALKEN TIRE
UUCmotorwerks
[/toggle_item]
[/toggle_box]