To be blunt, there are many members as well as subtle distinguishing factors for each of the s-chassis family, and the car scene is littered with them. Of course being that enthusiasts are cursed blessed with free will, there will always be differentiations in builds that extends all the way to the quality. That being said, in the vast amount of s-chassis there are builds that pop up above the rest. Those are the builds that break necks on the roads and make men bite their lips at meets. This is not one of those builds. This build is one that sits a bit higher. This build is the one that makes young children become enthusiasts. The type that makes it onto desktop wallpapers and cellphone lock screens. This is Josh Davis' immaculate Type X 180sx conversion.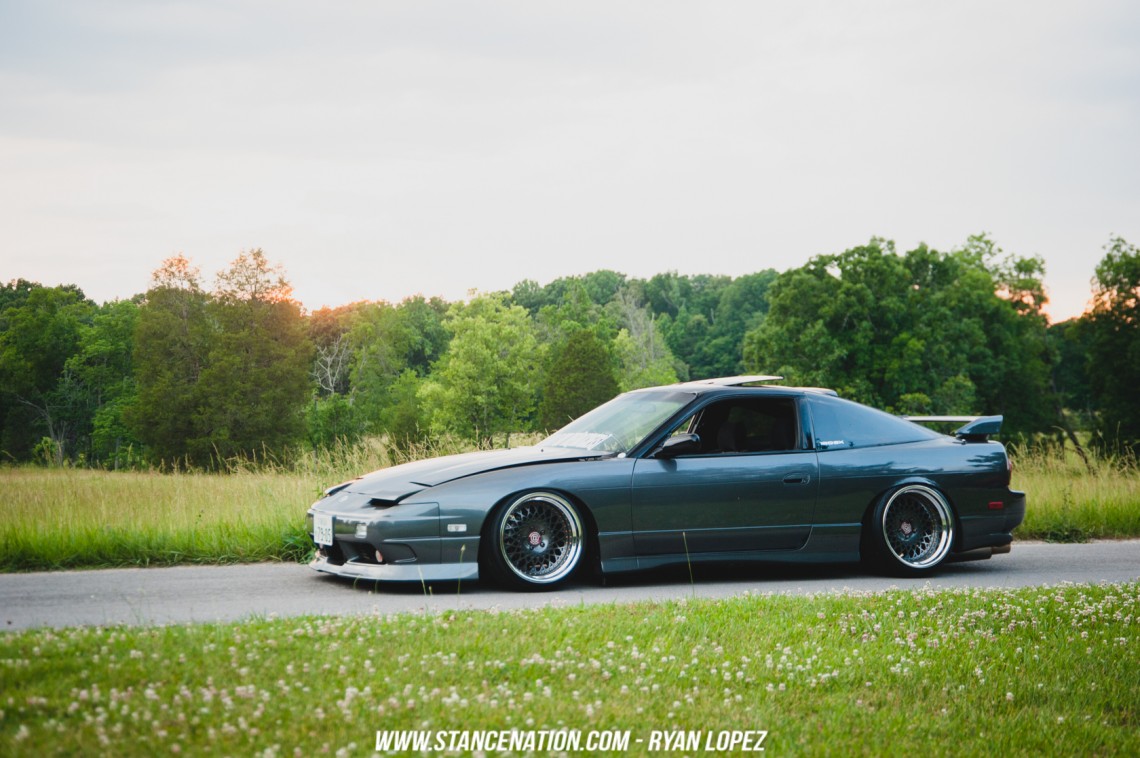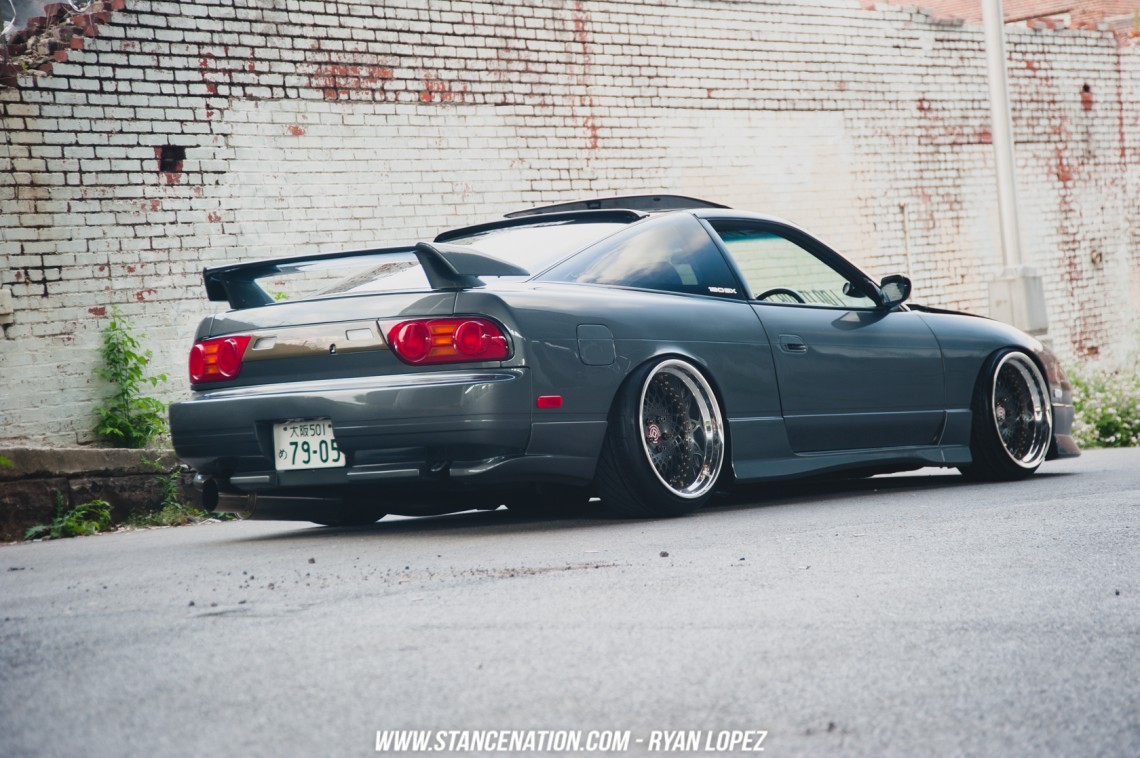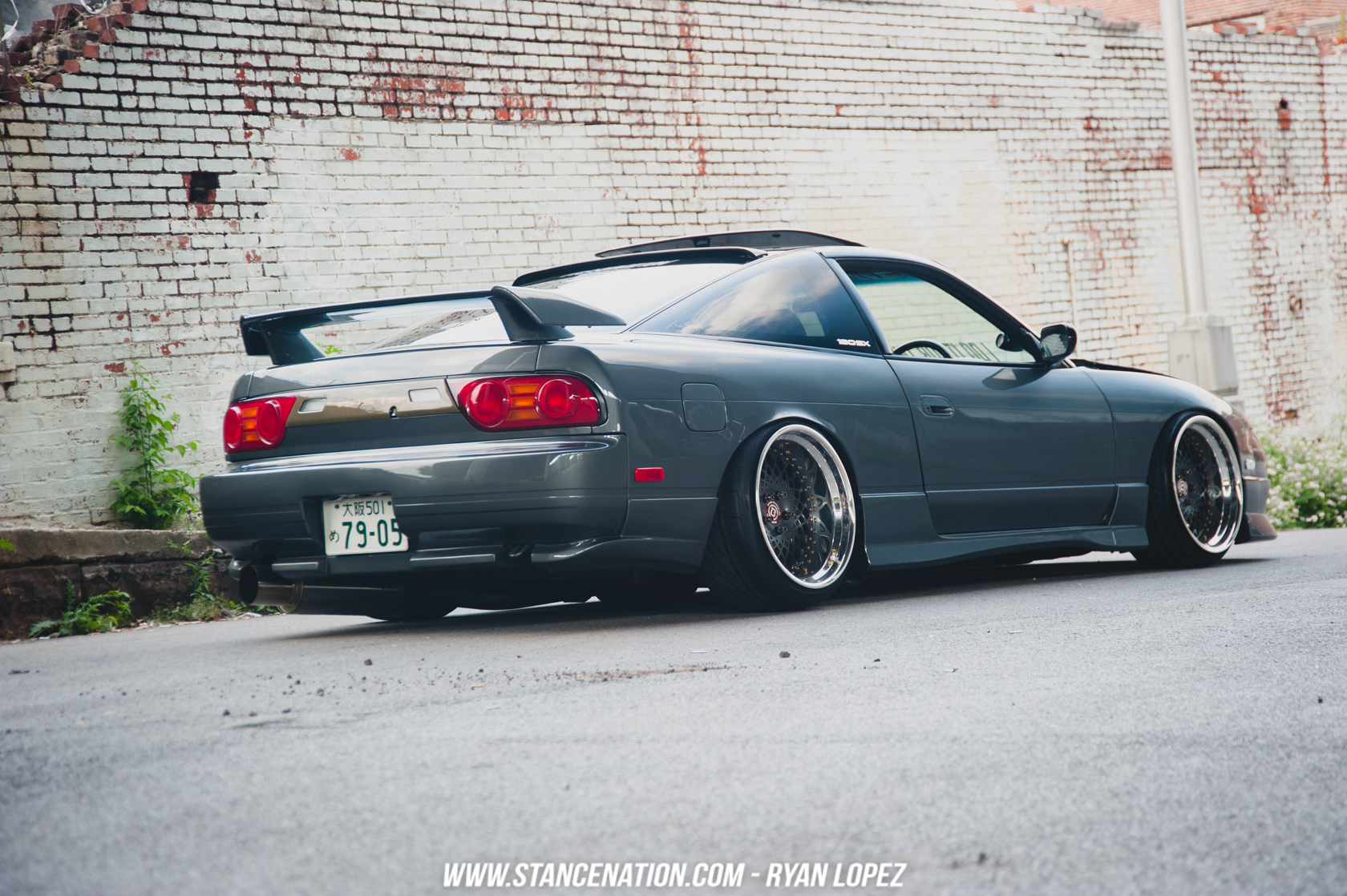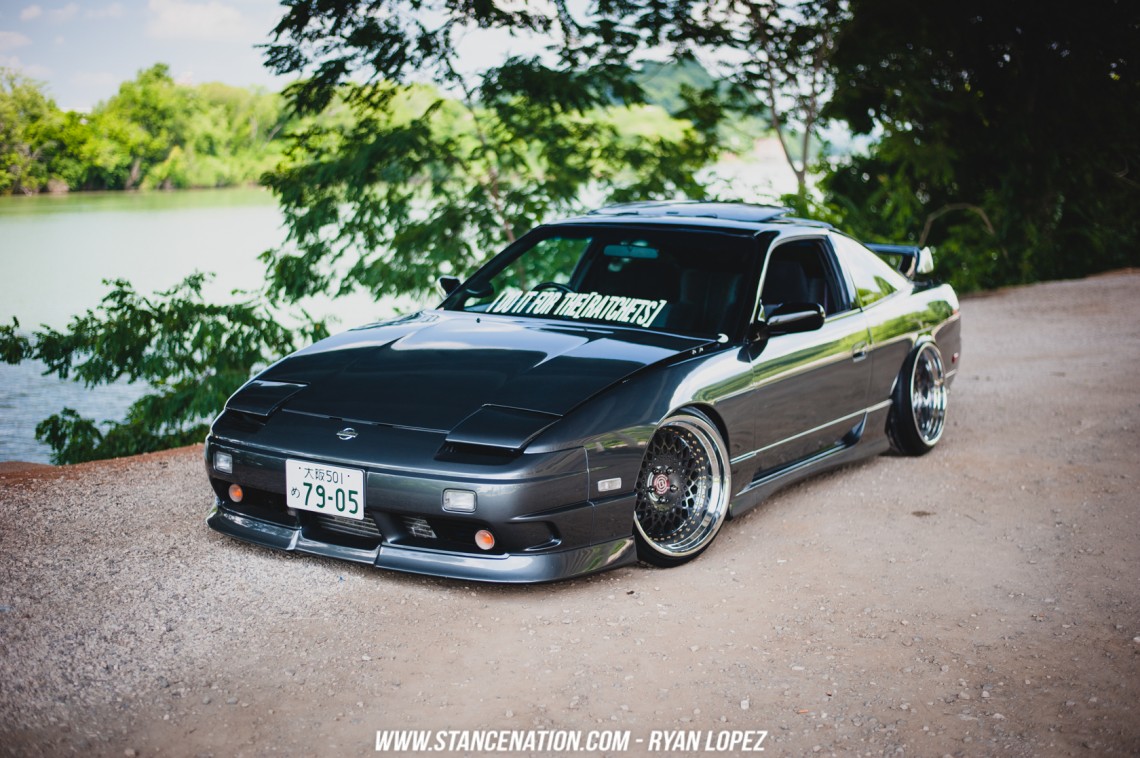 Josh is no stranger to the s-chassis family. Previously owning multiple 240's, he gravitated to the majestic VIP style with a 1991 Toyota Celsior, which he then traded for this beauty we see before us. However, the car did not always look like this. Rewind 1 year and 4 months ago when he first obtained it, it was an aesthetic mess. Plagued with a ragged interior, a rattle canned exterior of 3 different colors, and 4 lug off fitting wheels, Josh moved to bring out the true potential of the car. Dropping money on paint, a few exterior pieces, and straightening the body looked like a good start for his build until disaster struck. Running the car through a fence, it nearly ended Josh's will to build this car. However, perseverance helped him clear the hardest part of his build. I mean, just look for yourself.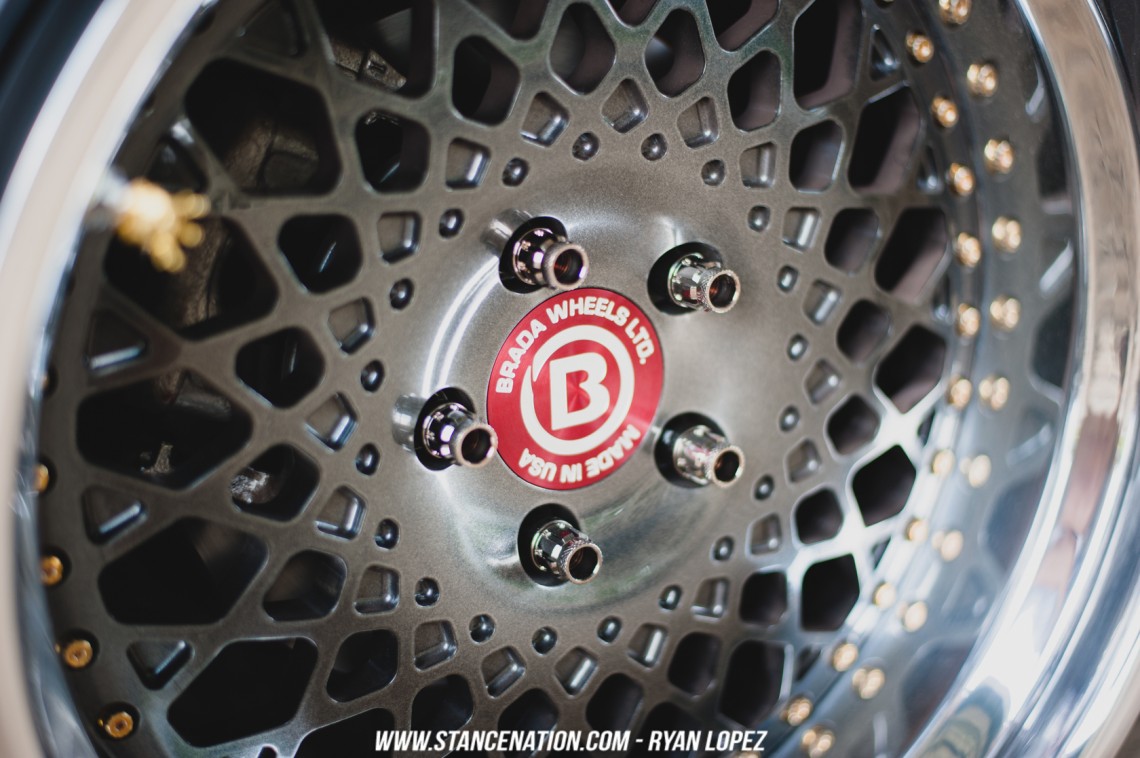 Built in the span a little less than a year and a half, this car has gone the distance. Being a self proclaimed wheel whore myself, the wheels immediately caught my eye. I'm a sucker for full faced or mesh wheels and these snagged my curiosity. The first ever set produced of Brada BR1's coming in at 18×10/10.5 and +10 and -4 offset, respectively. Powdercoated in a sleek Charcoal Metallic it compliments the color of the car and its aero.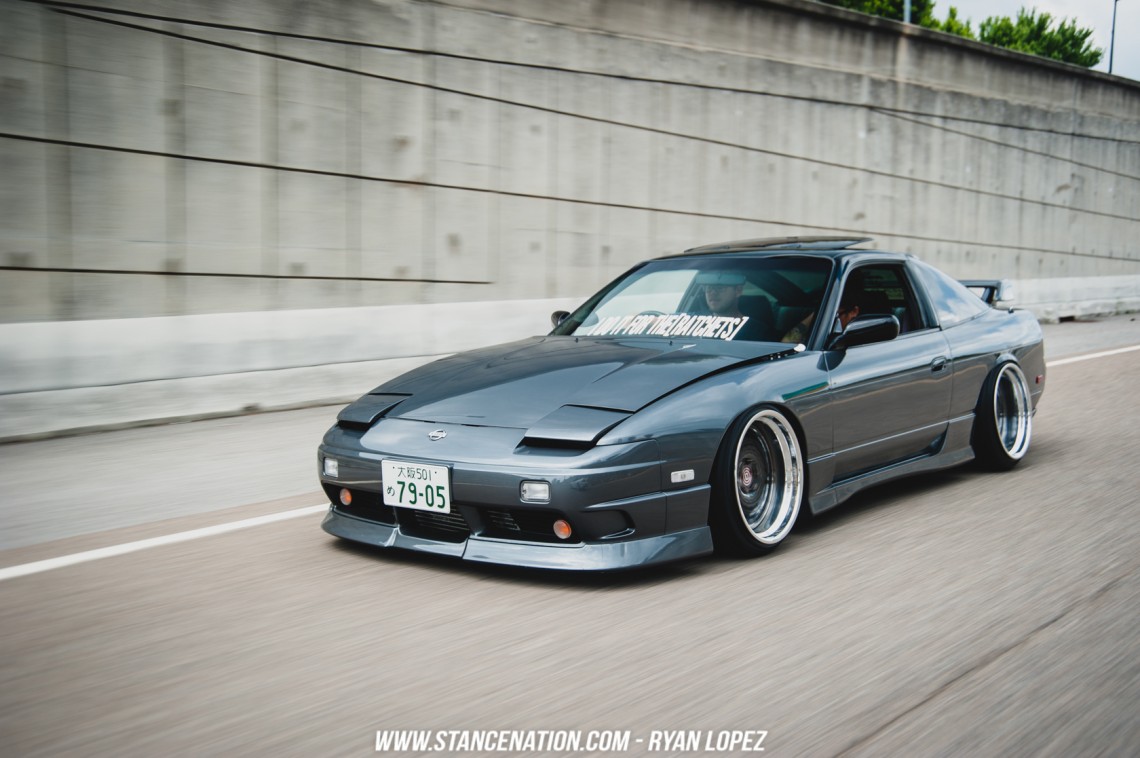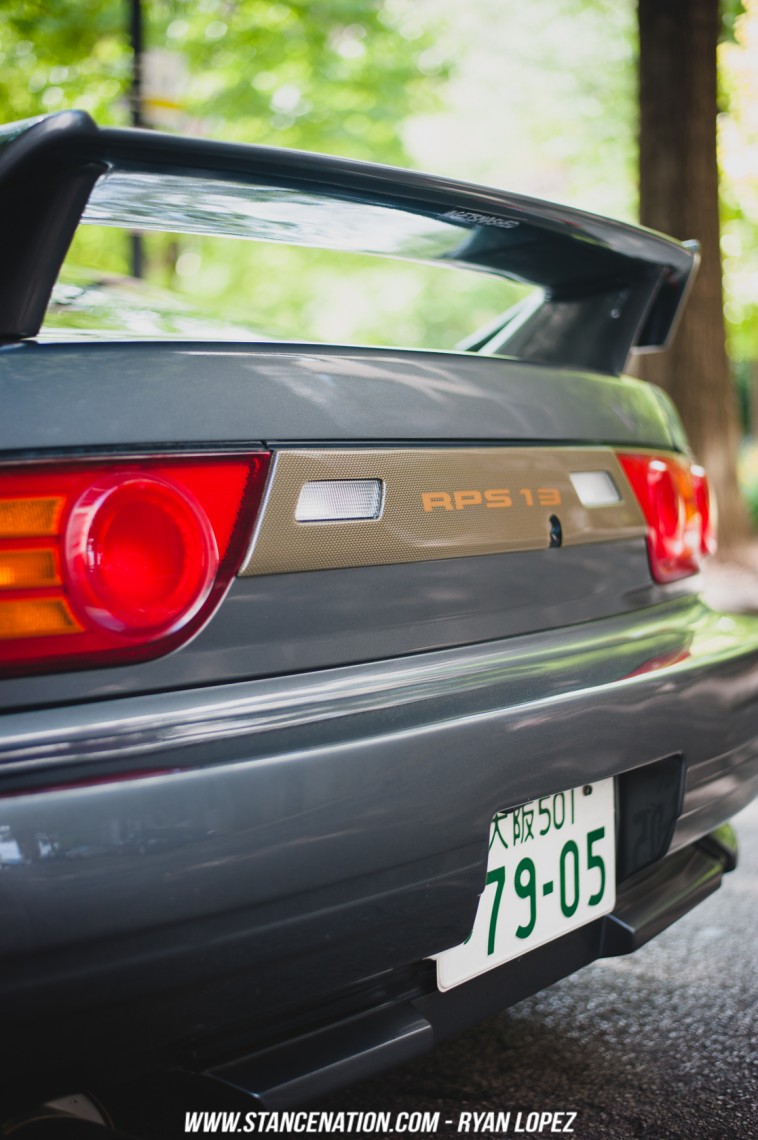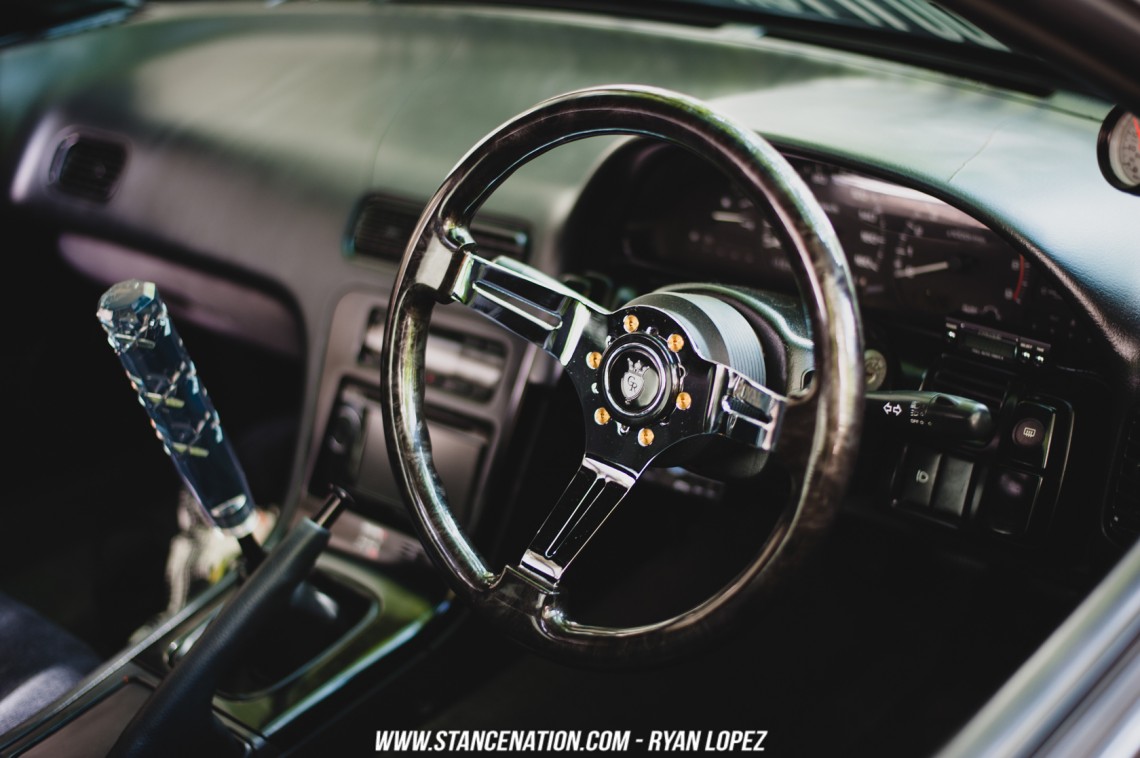 A Grip Royal Black Burlwood Designer steering wheel allows Josh to control the car and look damn good doing it too. A PROPER+ Bubble Shift Knob sits in front of a Pioneer Double Din and the OEM 180sx Digital Climate Control. In addition, the climate control links to an AC that blows ice cold! Other small parts like Type X seats as well as aLED Gauge cluster deck the interior of the car. To top it all off, Bride Japan RHD S13 Floor Mats.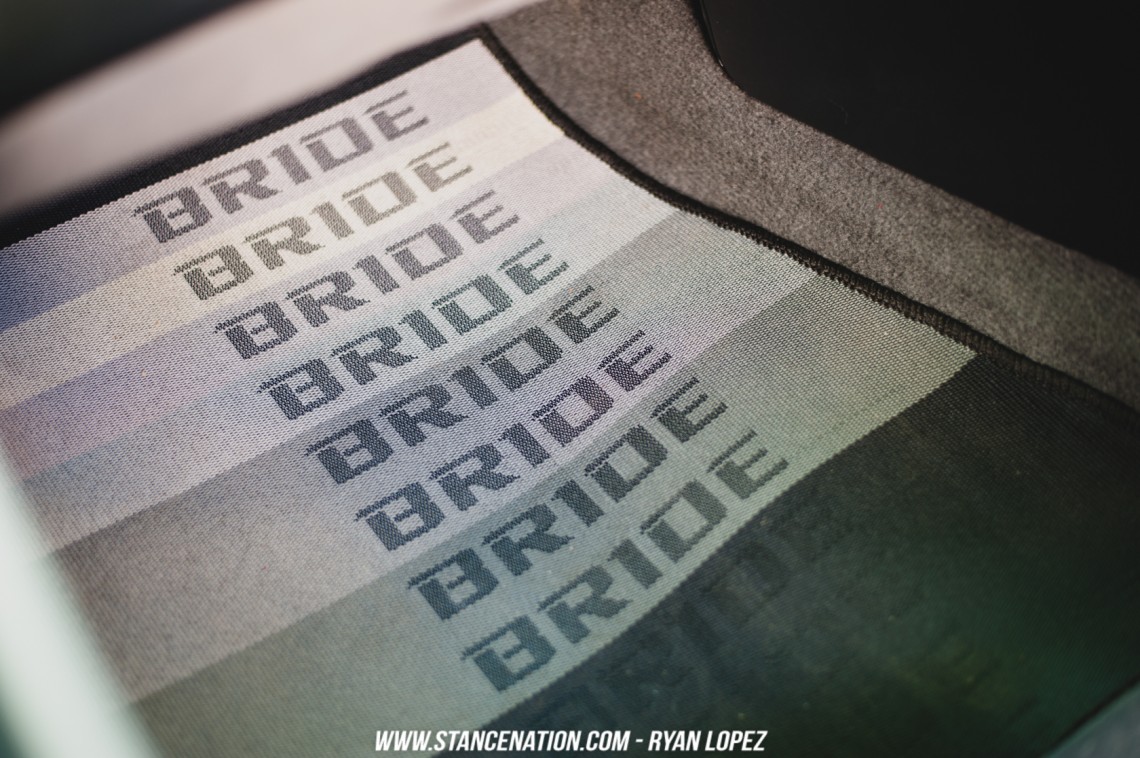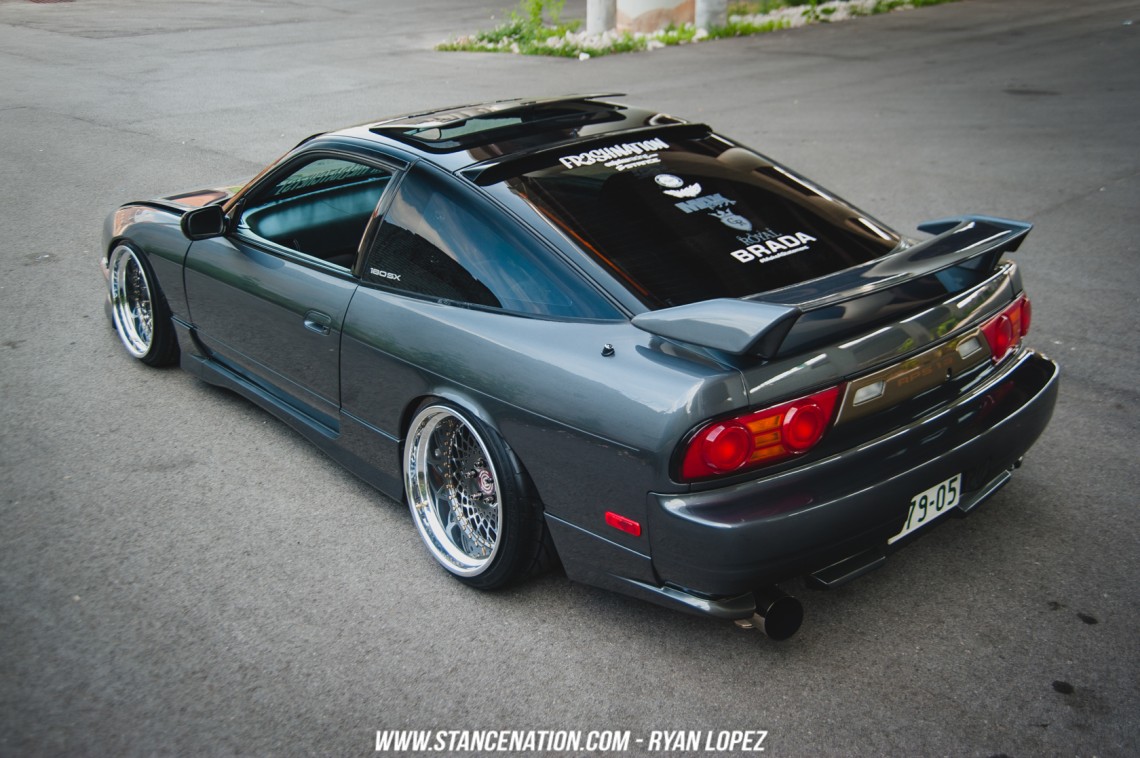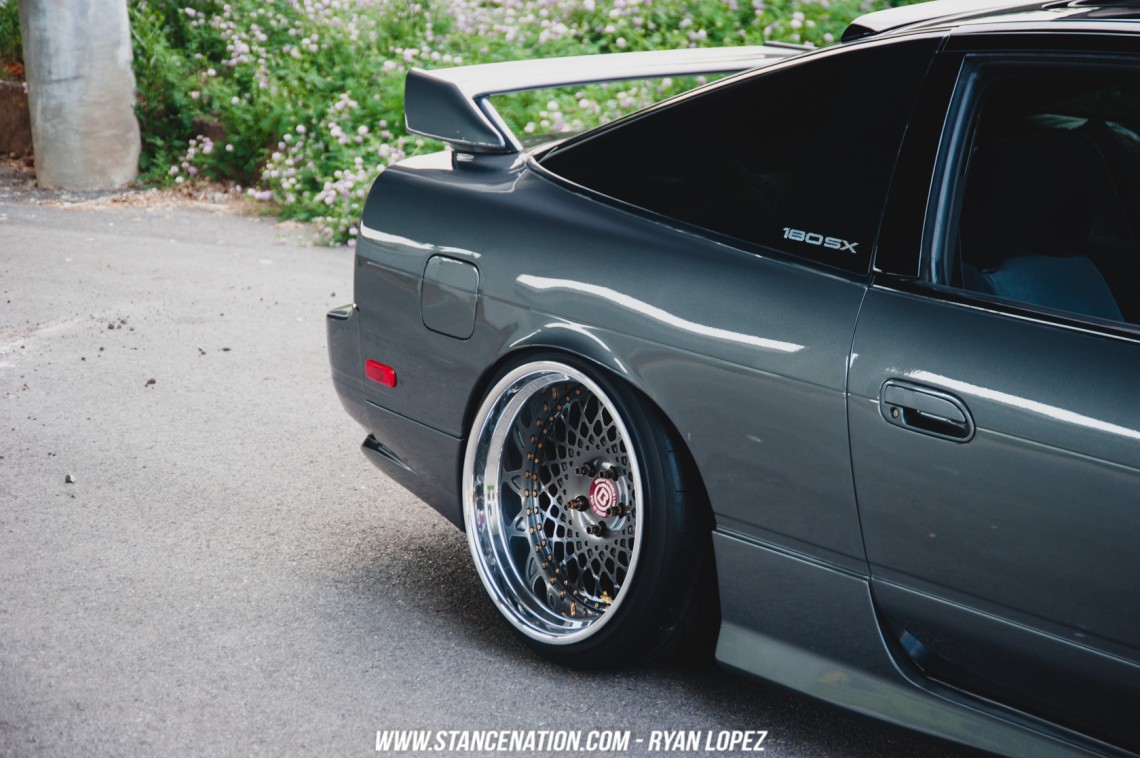 A completely stock body with no overfenders or widebody, the quarters have all been nicely roll and pull while the rears have been flared out to accomodate the wheels.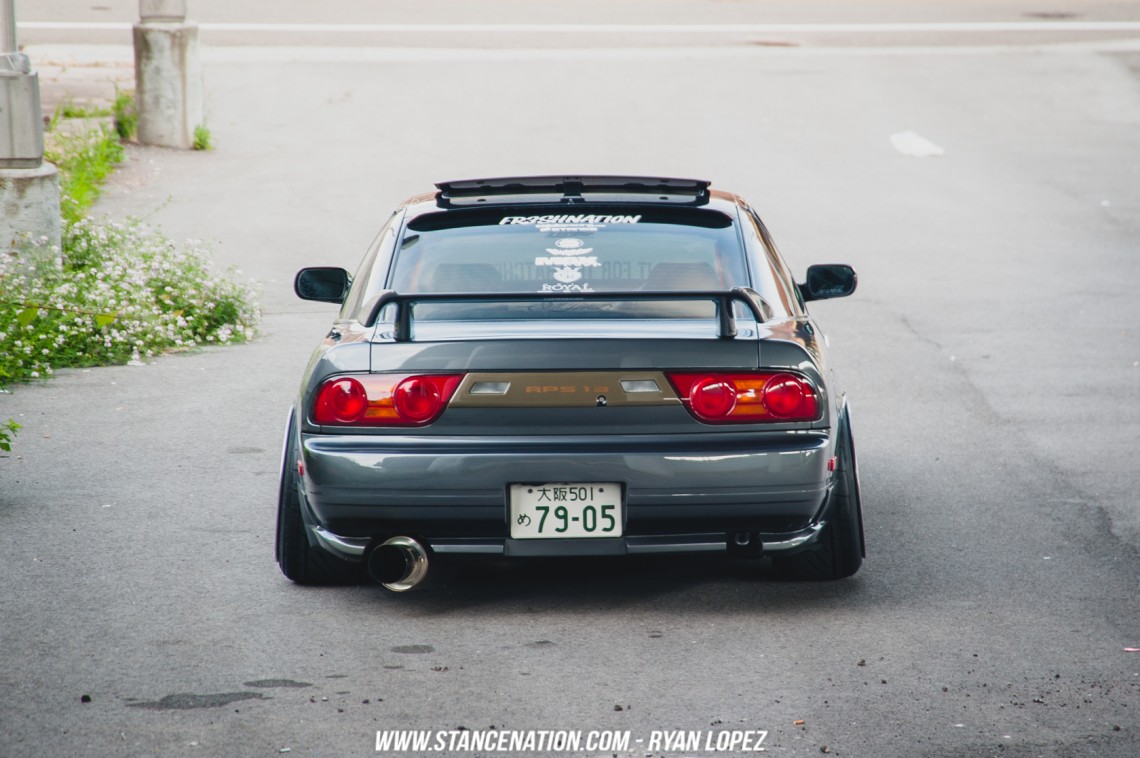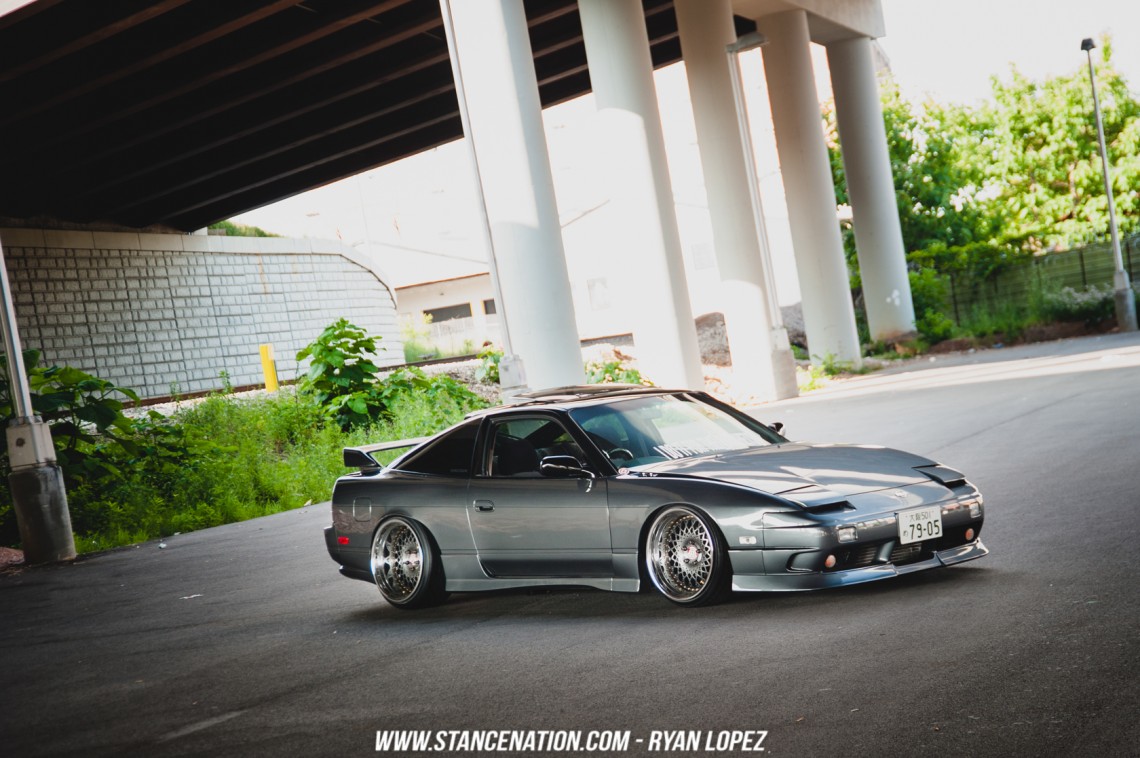 Josh went with the ever popular Type X kit as he did the 180sx conversion. Underneath the hood lies a SR20 blacktop coupled with many aftermarket performance heavy hitters such as HKS and K&N.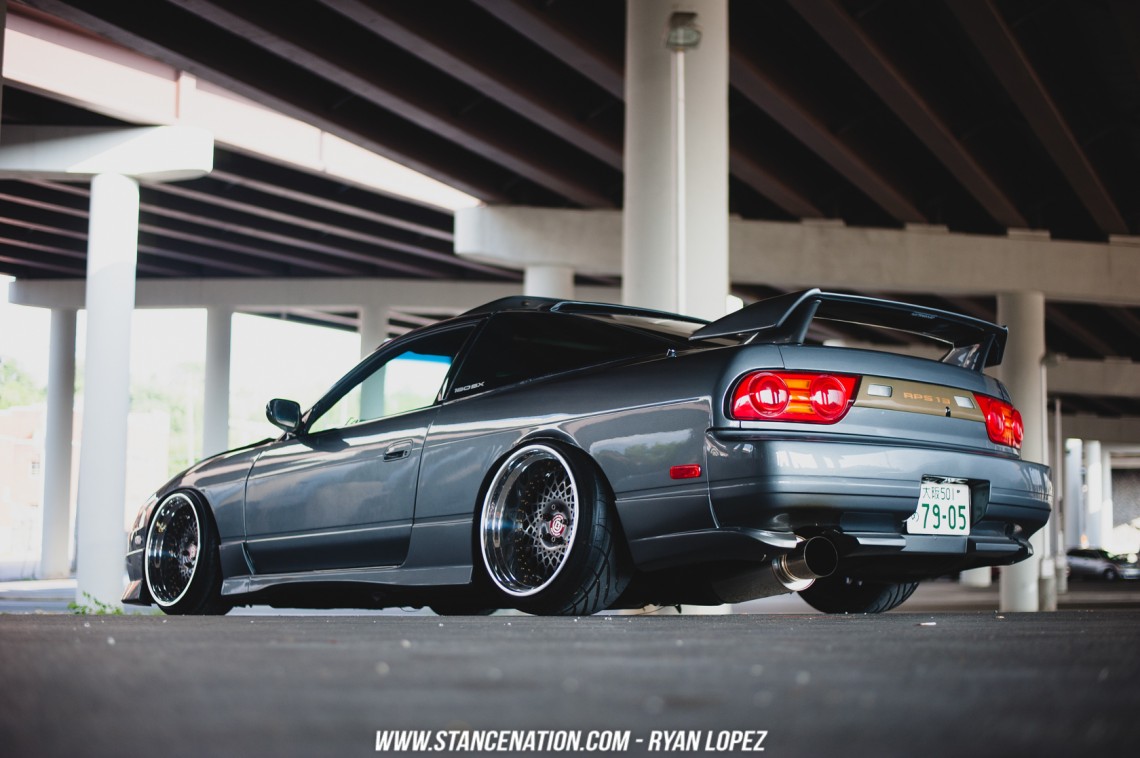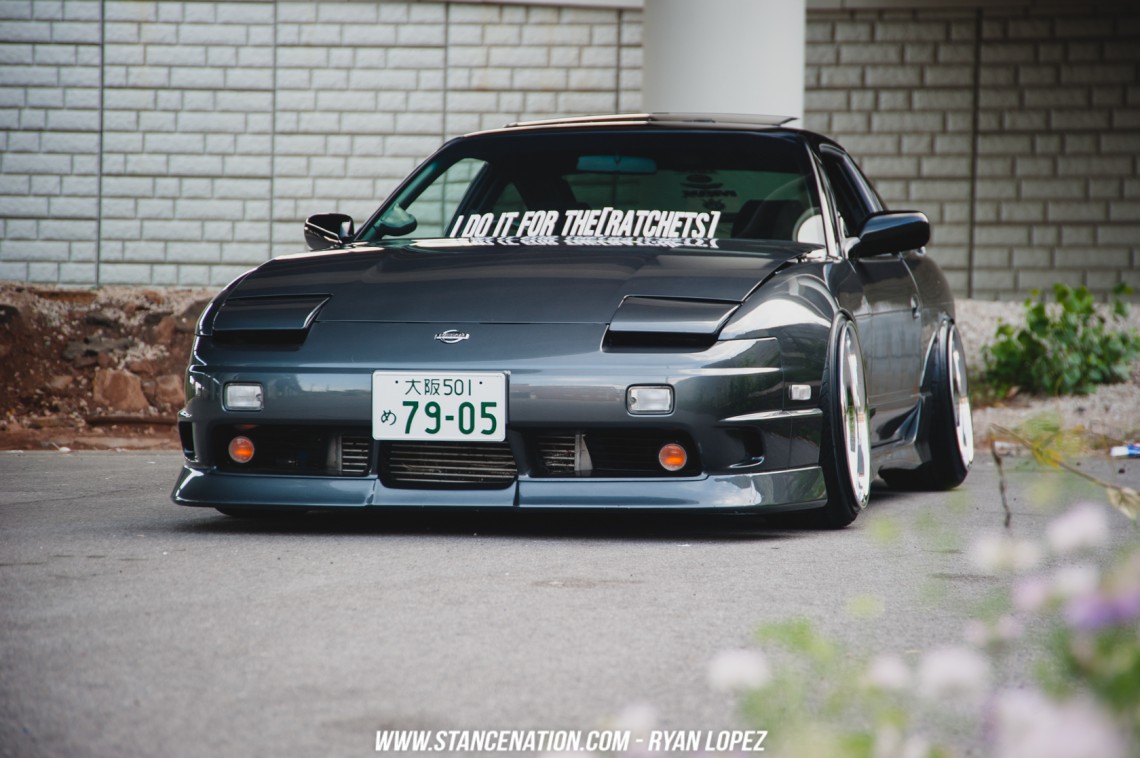 Above: A front mount intercooler peeks out, betraying the SR that powers this force inducted beast.
Below: HKS lends to this build its ever famous HKS HiPower Exhaust.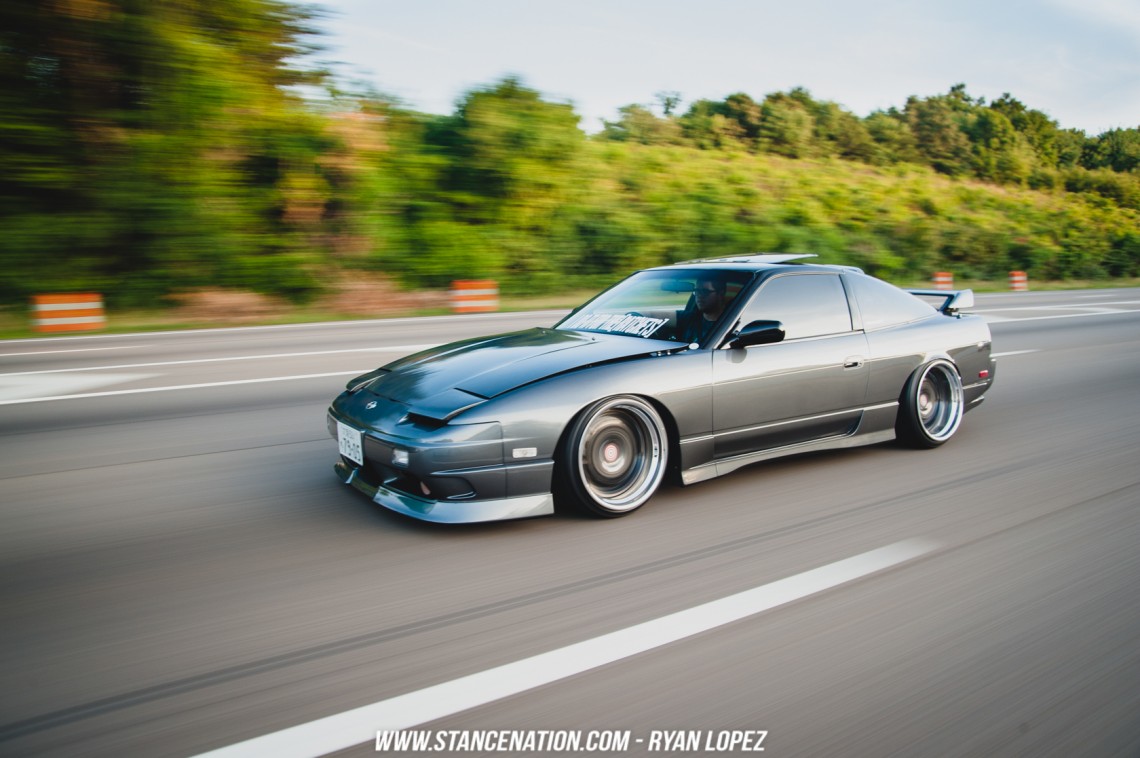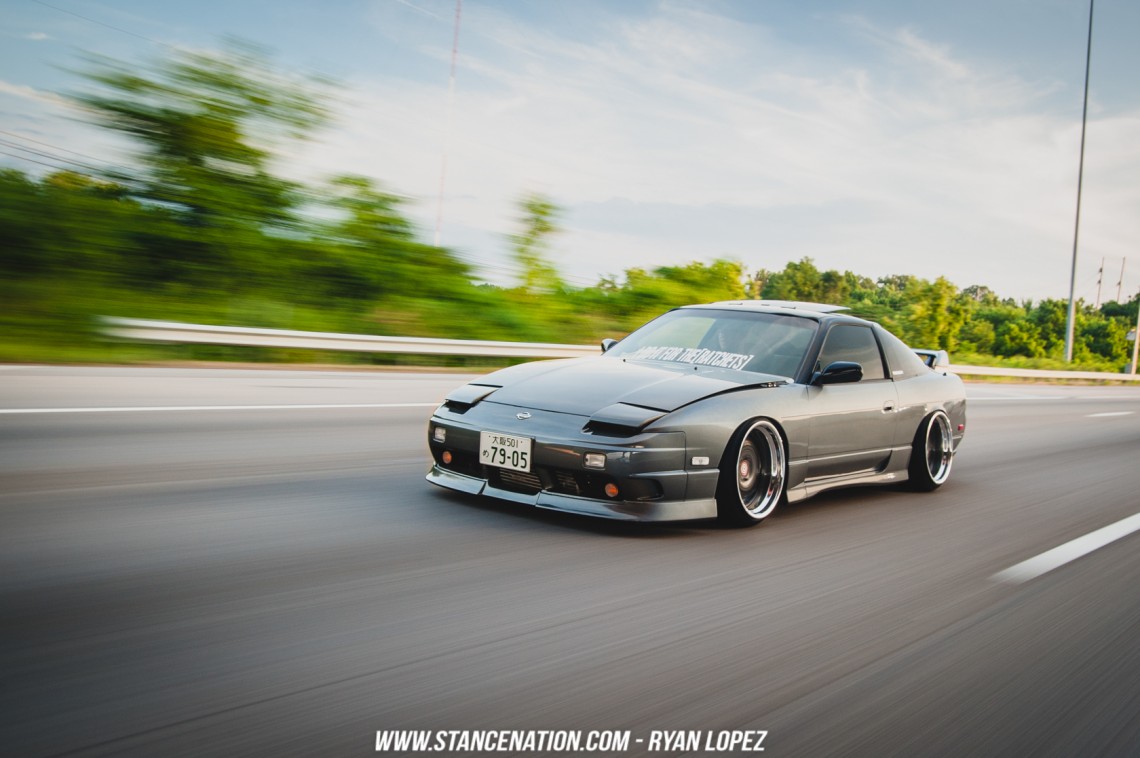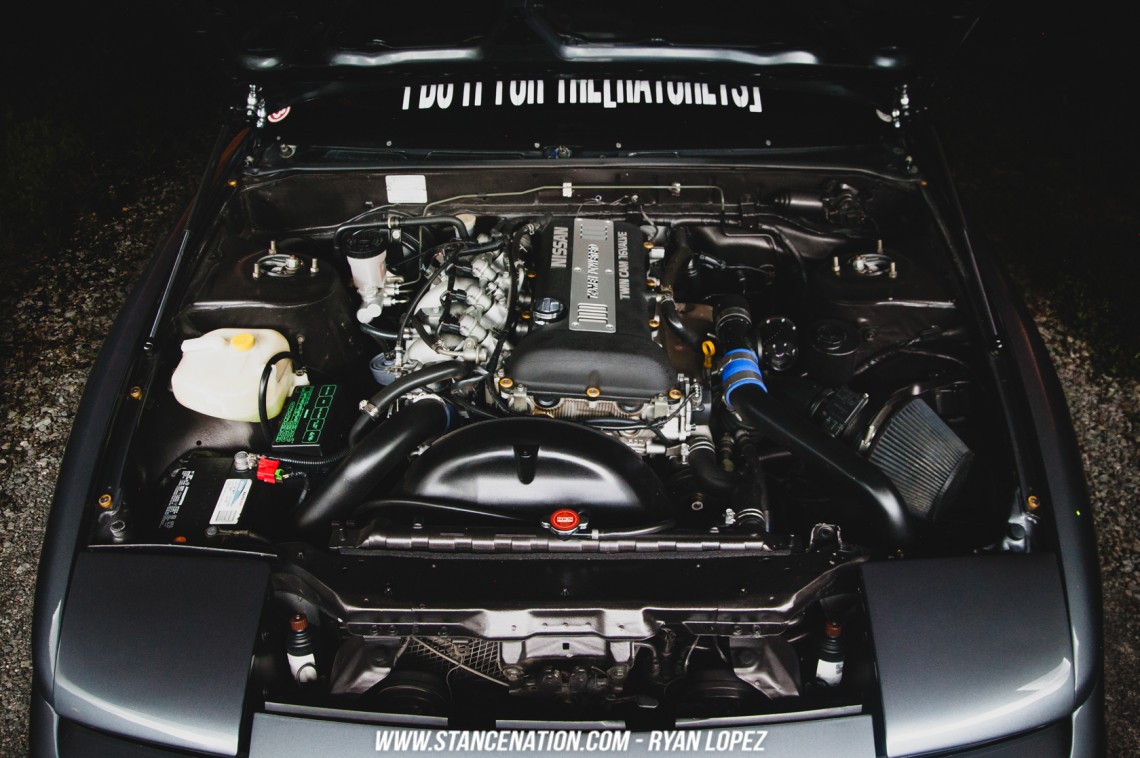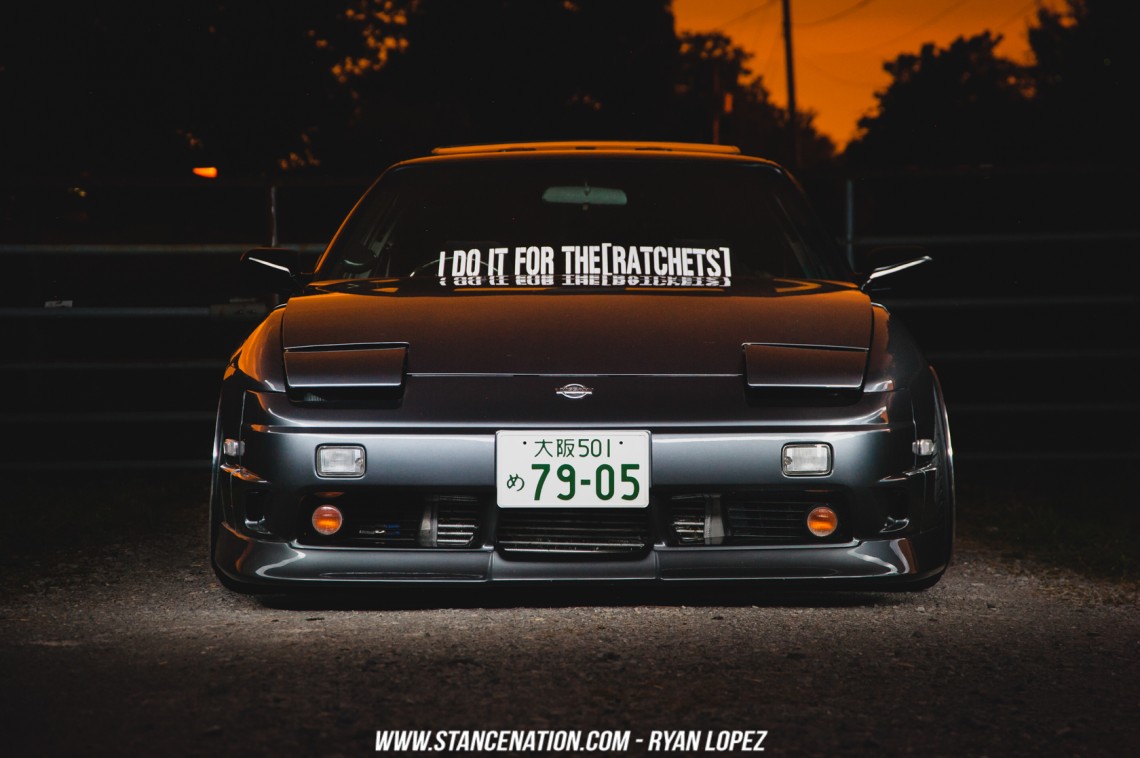 Finally ending on my favorite two pictures of this set!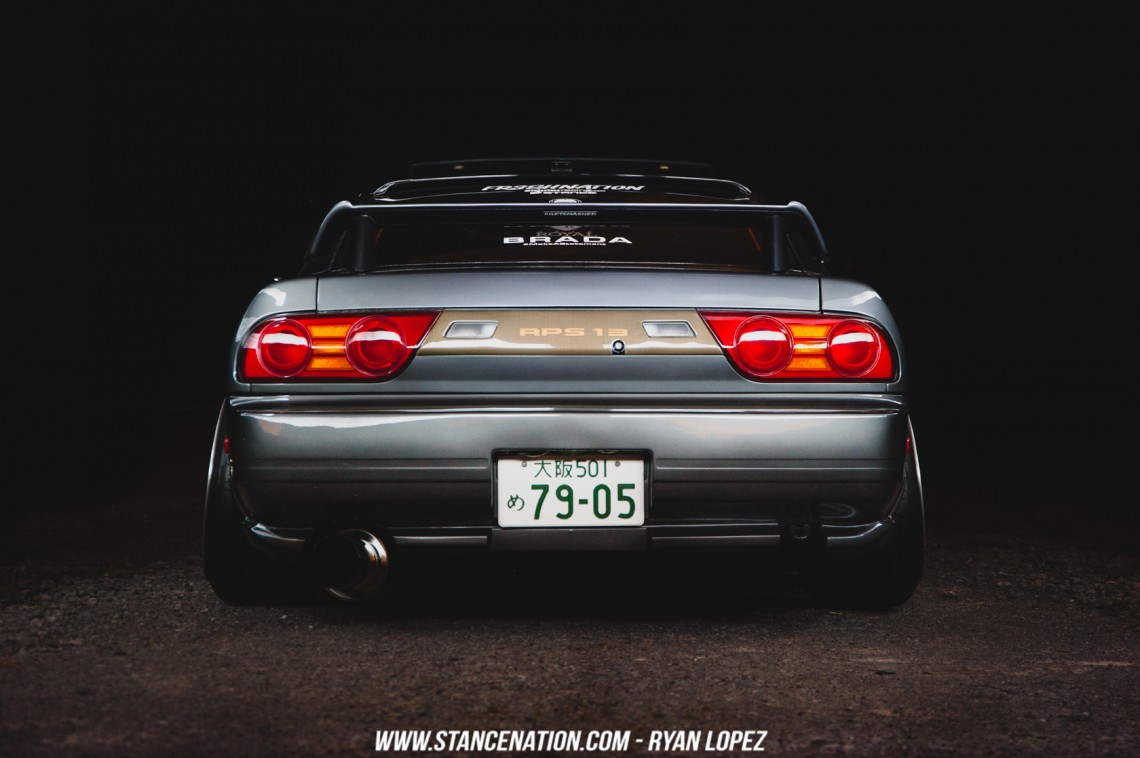 Engine:
SR20det Blacktop
Factory Turbo
HKS SSQV
HKS Wastegate Actuator
HKS Downpipe
HKS Testpipe
HKS Hi Power Exhaust
HKS Rocker Arm Stoppers
HKS Oil Filter
Front Mount Intercooler
K&N Intake
AC and PS
PWJDM Valve Cover Bolts
PWJDM Fender Washers
Circuit Sports Hood Struts
Tomei Powered Coil Pack Cover
Tomei Powered Oil Cap
Suspension:
Hotchkis Front Sway Bar
Hotchkis Bushings
Megan Track Coilovers (modified for more camber)
ISIS Rear Upper Control Arms
S14 Front Tie Rods
ISIS Rear Strut Tower Bar
ISIS 5 Lug Hubs with Extended Studs
Exterior:
OEM KG2 Dupont Chromabase Plus Paint
Ford Ranger Black Two Toned Roof/Pillars/Roof Wing/Mirrors
180sx OEM Type X Front Bumper with OEM Turn Signals and Marker Lights
180sx OEM Type X Front Lip
180sx OEM Type X Side Skirts
180sx OEM Type X Rear Valence
180sx OEM Type X Wing
180sx OEM Type X Kouki Taillights
RPS13 Carbon Kevlar Center Garnish
Circuit Sports Clear Corner Type X Lenses
Shaved Third Brake Light
Shaved Rear Wiper
Shaved Factory S13 Wing
Origin Roof Wing
Powered By Maxx Hood Spacer Kit
Brand New OEM Antenna
STOCK BODY / No Over Fenders or Wide Body
Rear Quarter Roll, Pull, and Flare
Front Fender Roll and Pull
Interior:
Grip Royal Black Burlwood Designer Wheel
Gold Anodized Hardware
PROPER+ Bubble Shift Knob
Pioneer Double DIN
Pioneer Components
OEM 180sx Digital Climate Control
Reupholstered Door Panels and Glove Box
OEM 180sx Type X Seats
S14 Seatbelts
LED Gauge Cluster
Autometer Boost Gauge
Drift Button
Bride Japan RHD S13 Floor Mats
Greddy Turbo Timer
Wig Wag Kit (Strobes)
Wheels/Tires:
First Ever Set Produced Brada BR1s
Faces Powdercoated Charcoal Metallic
Gold Hardware
Polished Lips
Powdercoated Inner Barrels
Anodized Red Center Caps
FRONTS – 18×10 +10
REARS – 18×10.5 -4
FRONTS – Yokohama Prada 215/35/18
REARS – Yohohama Prada 225/35/18
PBM Black Chrome Extended Lug Nuts
Gold Crown Valve Stem Caps (Thanks Kari!)"
Thanks:
Friends, Hunter, JP, Keaton, Cory, Patrick at Fr3shnation, Zane and Bobby from Brada, Scott with Grip Royal, Ryan of course for shooting the car and being awesome, my girlfriend Kari for putting up with me and anyone else who has turned wrenches for me! Its been fun guys. Thank you a ton.