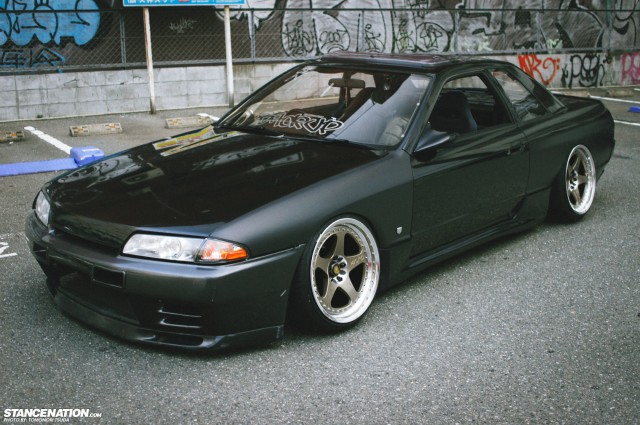 Here at StanceNation we take pride in diversity of content we share with our fans. One day you'll be looking at a 700+ HP Ford Mustang from right here in the states, and next day you'll be with us all the way in Thailand admiring a perfectly executed Crown Majesta. Unlike ever before on StanceNation, today we'll be taking a look at Tsuda-San's 1990 Nissan Skyline HCR32 GTS-T Type-M all the way from Fukuoka, Japan. All of us have seen all kinds of Skylines in the past, but the direction Tsuda-San is taking his is completely different, and that is why we are here today.
Photos By: Tomonori Tsuda exclusively for StanceNation.com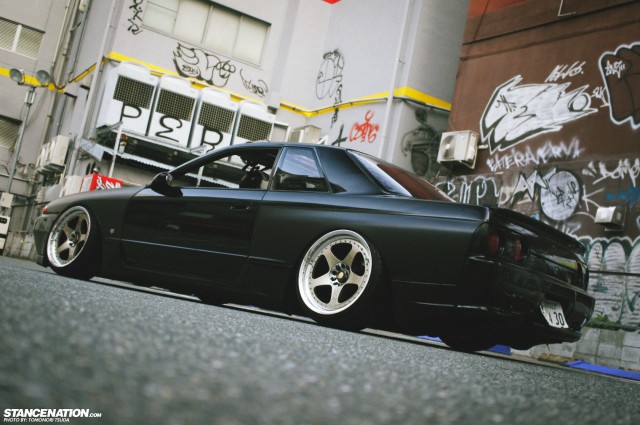 It all started many years back when Tsuda-San was much younger. Growing up, he always admired his brothers Nissan R32 and made a promise to himself that some day he will also own one. Fortunately enough he was able to purchase one for himself just last year. Just like all of us, Tsuda-San had no plans of doing much to the car. Inevitably, being surrounded by friends who are into drifting and lowering their cars as low as possible, it did not take long for Tsuda-San to kick his R32 sideways and start messing with car's stance.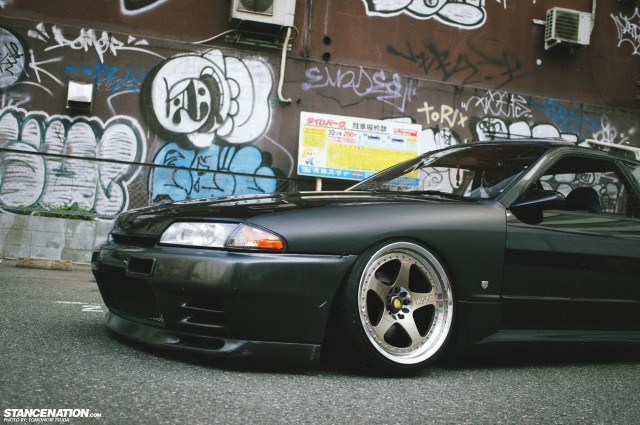 Tsuda-San was pretty happy with the RB20DET and simply didn't feel the need to invest a ton of money in the engine, so all he did was take off the stock mufflers and replace everything with a completely custom setup that a local shop had built for him. The 200-some horsepower did the job just fine for this sub-2800lb Type-M and it was time to get the car sitting exactly how he wanted it to.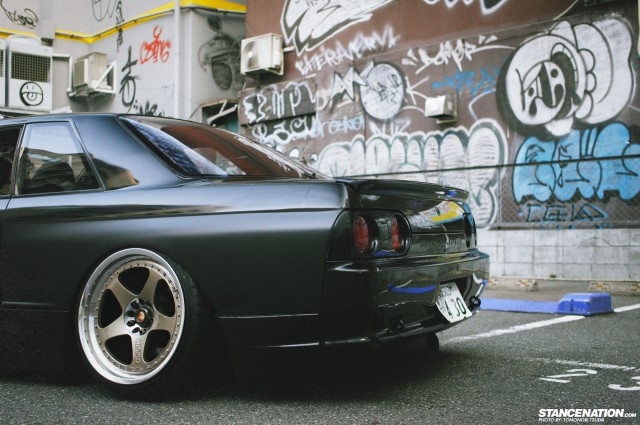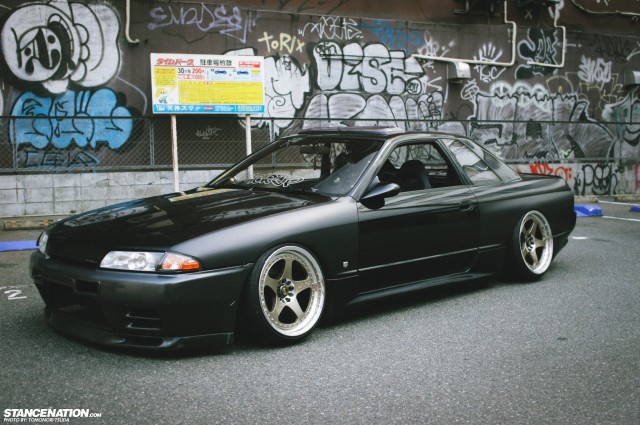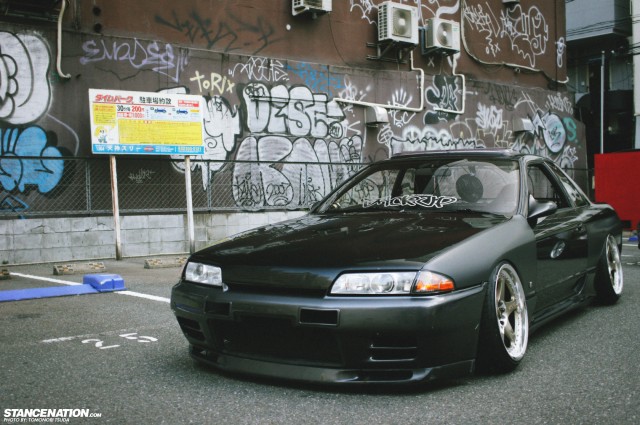 Now there is no denying that Tsuda-San went a bit lower than most other R32 owners would. When I say "a bit lower" I literally mean 6-8 inches. But, despite it not looking like it can "get down", Tsuda-San certainly pushes the car around. As a matter of fact he has replaced his fenders quite a few times. Whether he takes his car to a local drift event or "stance-oriented" car show, he is sure to give everyone the run for their money.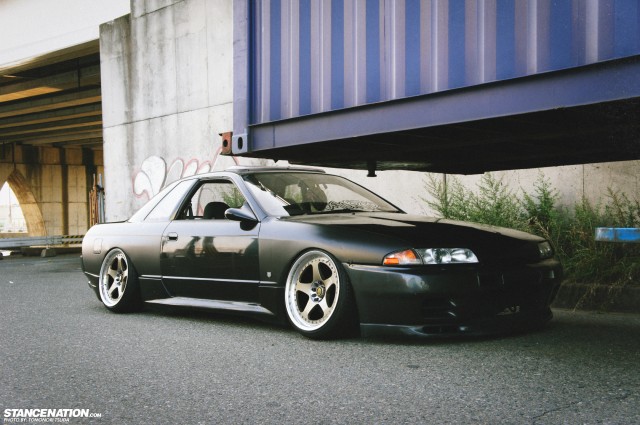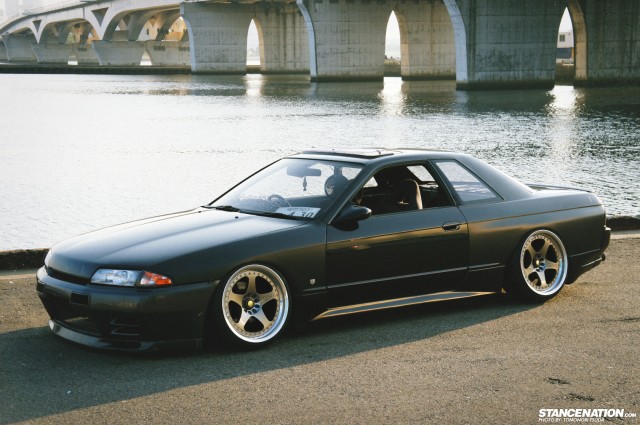 Not many people can pull off fitment such as this, yet Tsuda-San was able to do it on a Skyline R32 out of all cars. It didn't come cheap or easy though. His suspension consists of TEIN type FLEX coilovers (326power springs // front:20k, rear:18k) and all new CUSCO upper arms. If his fenders look a bit strange to you it's because he radiused them around 30mm up front and 50mm in the rear.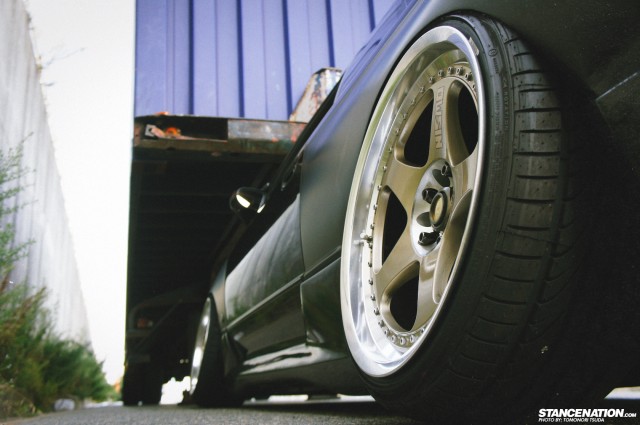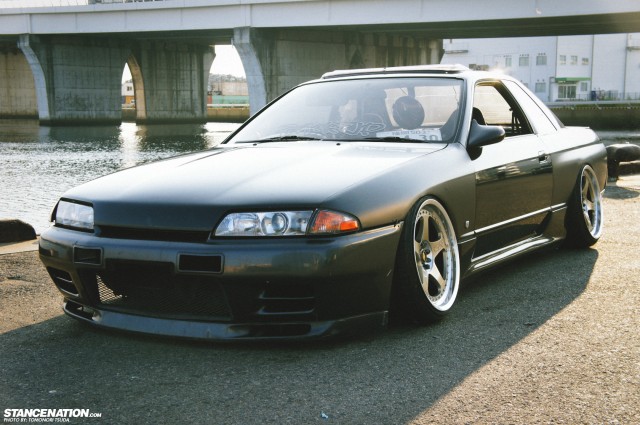 Up front Tsuda-San is rocking a GT-R front bumper and in the rear you will notice a small lip spoiler from a Y33 Cima which has been customized to fit. How could we forget the wheels though?! Recently refinished set of Nismo LM-GT1's sized in 18×9.5 +14 with +25mm front adapter and +30mm rear adapter. Up next, Tsuda-San is looking at finally repainting his car and pretty much "cleaning everything up". I'm definitely looking forward to seeing what color he decided to go with!