There is no denying that Honda absolutely smashed it with the Honda S2000. The rebirth of Honda's iconic roadster breathed a new life into the company, and showed the world that it can still produce an engaging car to drive. The car was well received by enthusiasts and consumers alike, and of course the aftermarket responded well to please to boost the roadster's already potent performance. It's easy to equate the S2000's impact to the Mazda Miata, and if you've had the privilege of driving the two, you'll agree with me when I say that the S2000 is like a Miata on steroids. The roadster's rev happy 2.0L 4-cylinder (later a 2.2L) and FR layout provided drivers with an amazing soundtrack and platform for spirited blasts on their favorite twisty road or race track, and the sleek and aggressive lines meant the car looked good sitting still and even better on the move.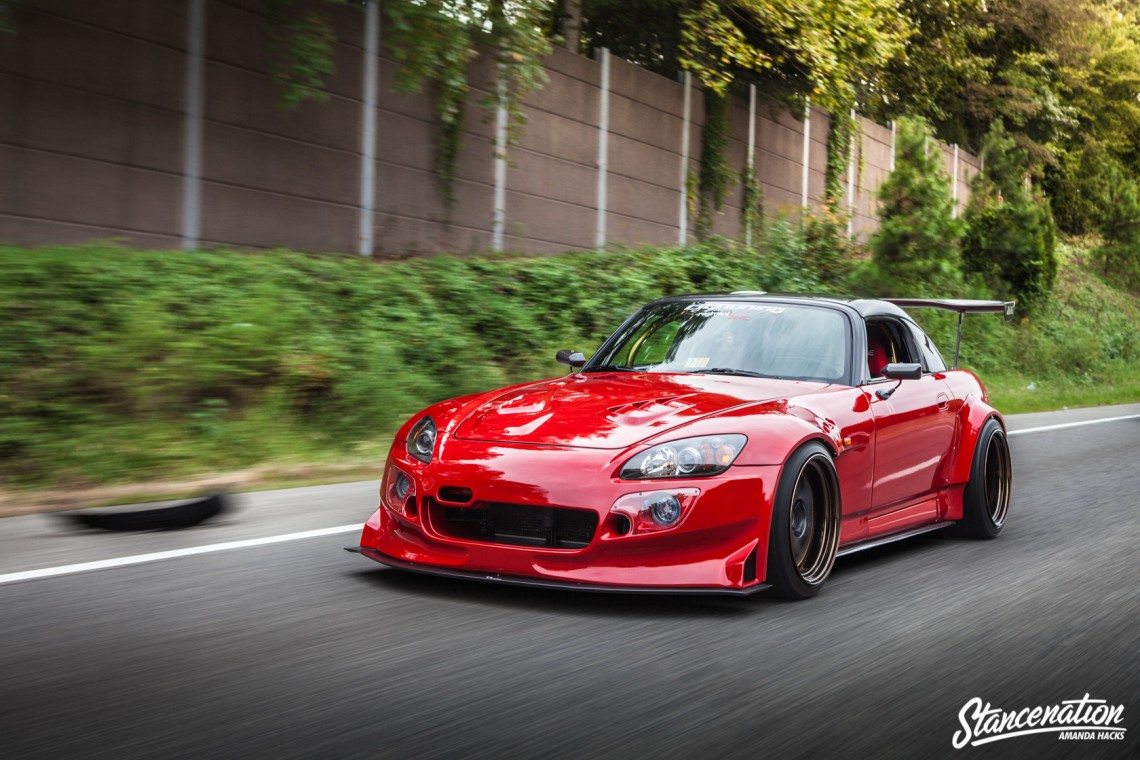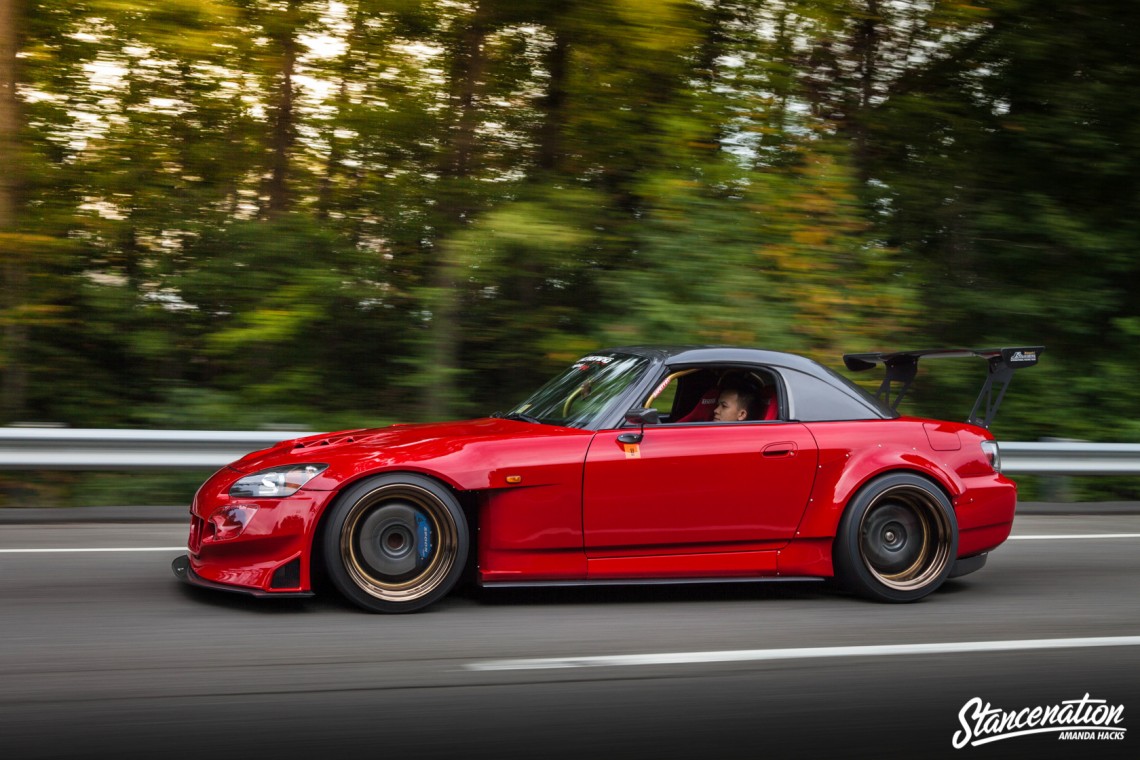 Fast-forward to today, and the S2000 is as popular as it was after it just came out. With prices coming down, many enthusiasts are taking their opportunities to upgrade to the S2000 chassis. The problem now though, is the cars will only get harder to find as Honda stopped producing the car a couple of years ago. All good things come to end, eh? Luckily our man Minh Le is fortunate enough to own this track-inspired example right here. I'm very happy to be sharing this car with y'all because not only is it pretty much how I'd have my own S2000, but it's to also showcase that we here at StanceNation like to showcase cars that can function as well as they look as well. I've been with the team for a few years now, and I'm happy to see that we're expanding our tastes as a whole. I've always been one to say that stance has been around since before the term stance was even its own thing. Stance, to me, has always just been part of a build, and it needs to compliment the overall theme of the car for it to be executed properly. This S2000 does just that. It's not the lowest and it doesn't have the widest wheels, but it's hard to argue that the stance hasn't been nailed. The overall look, the fitment, wheel selection, tire selection, fenders, it all just flows together so well, and that's what makes this S2000 stand out to us.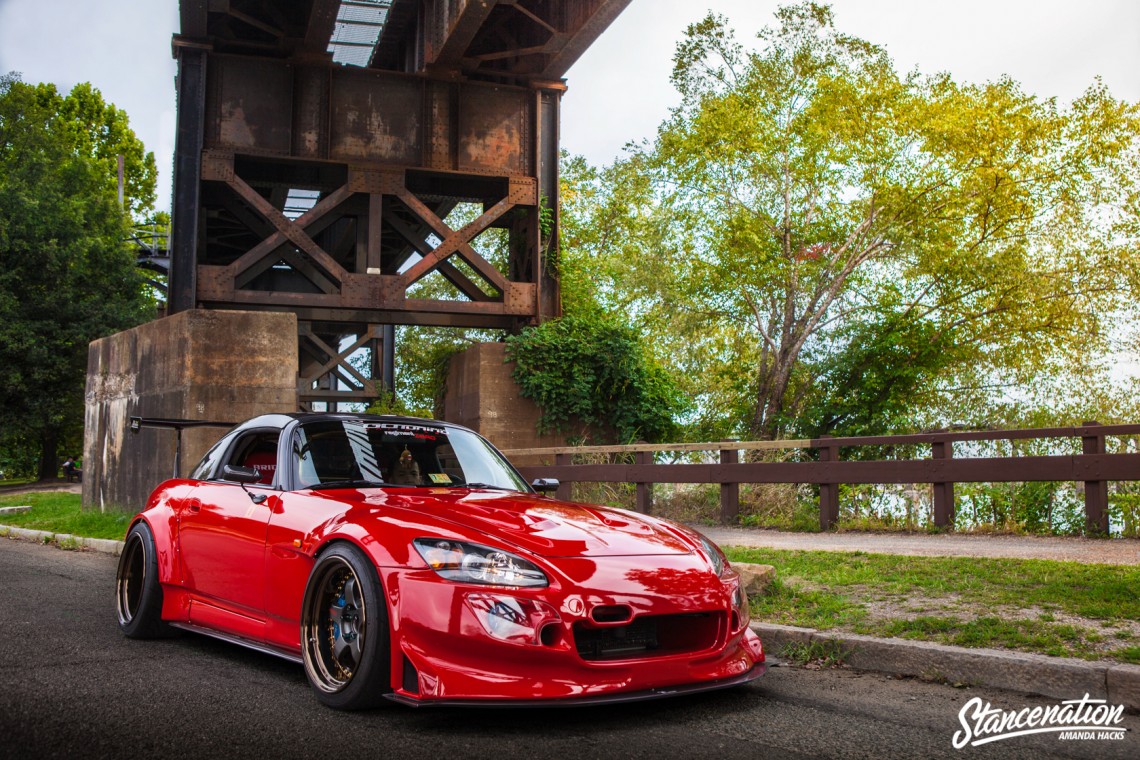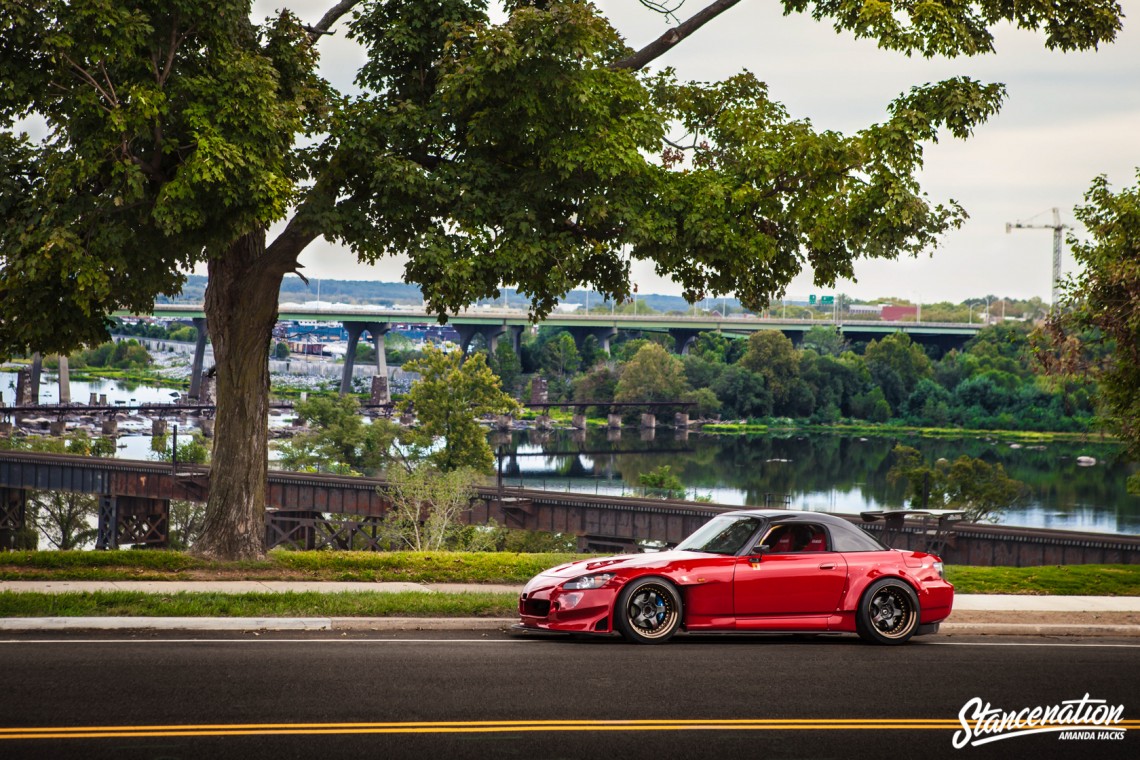 The car has a definite track theme to it, and judging by the parts selection, the car gets used as it is intended to be. It's always good to see a car being driven and enjoyed by its owner. Whether it's a show car or a dedicated track car, you should always get a smile every time you get behind the wheel and drive your car. With this S2000, I'd be smiling every time I drove it. Seriously, I really dig this S2000, everything from the aero selection to the wheels, and even the engine modifications, it's all there, and executed very well. Minh did a great job picking the right parts, and balancing everything well. Nothing looks too over-the-top or tacky. It just looks fun to drive, and looks good doing it.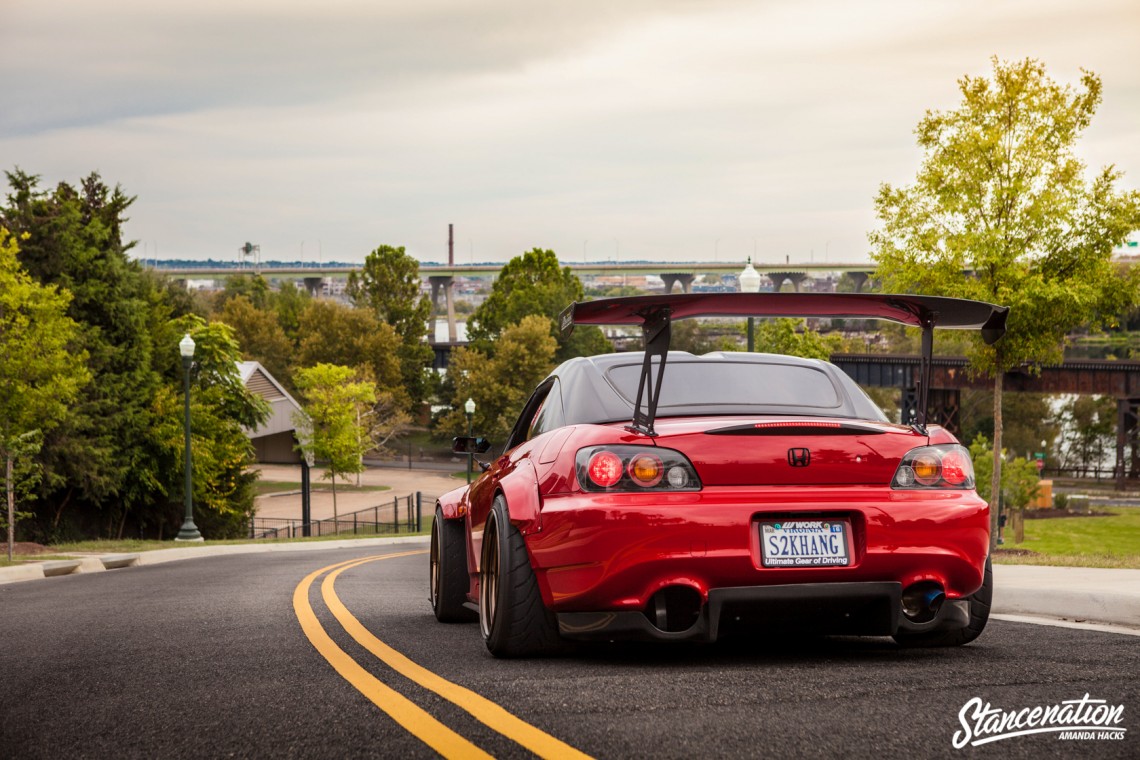 We'll start off with what draws us in initially, and that's the exterior. Minh's S2000 strikes that perfect balance of being aggressive without being too off-the-wall crazy. Aero companies love the S2000 chassis, and there are some seriously wild kits out there for these cars that transform them into something that doesn't really look like a S2000 anymore. Minh prefers the stock lines thankfully, however beefed up of course. The front bumper and hood come from Spoon, while the front fenders, rear diffuser, and carbon GT-style wing come from J's Racing. The side-skirts are from Forbidden, and the rear flares are from ZG. Despite the miss-mash of companies, the exterior flows really well together. I really like how the Spoon bumper and J's fenders flow well together, their cutaway design really driving home that track feel, and the rear over fenders give it a Rocket-Bunny-esque look (p.s. Miura-san should really do a Rocket-Bunny S2000). The rear diffuser and GT-wing with Circuit Garage stands really round out the track-inspired theme, and what can I say, I'm a big fan of big wings. Rounding out the exterior modifications are a Mugen-style hardtop, Craft-Square mirrors, and a Wasp carbon-fiber diffuser was added to the Spoon bumper.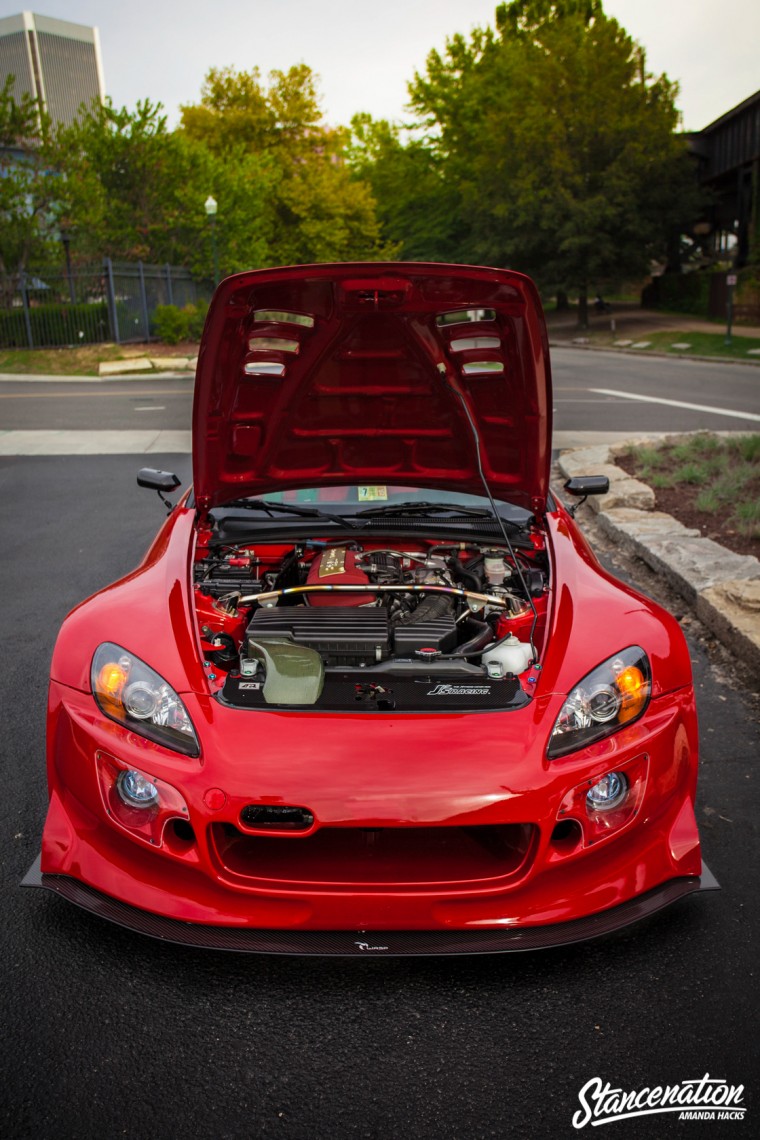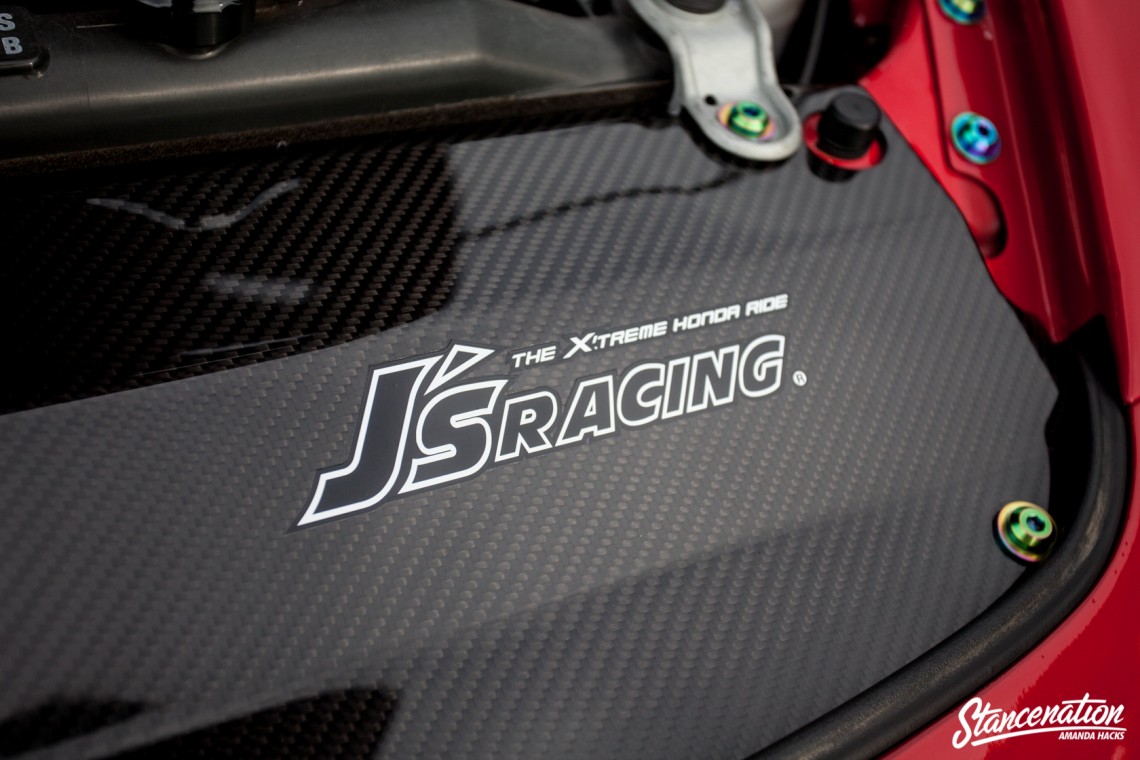 Powering the red roadster is the later, 2.2-liter, 4-cylinder from the S2000 lineup as Minh's is a AP2-chassis car. The high-revving engine has been given some extra breathing assistance with a host of J's Racing parts. A J's Racing carbon snorkel has been routed to the front of the Spoon Sports bumper to help feed cool air to the motor, while a J's header and 70RR exhaust expel the burnt remains, and amplify the 4-cylinders distinguished exhaust note. There's not a laundry list of bits bolted on to the motor, because making big power isn't necessarily what this car is all about. Like the Miata, it just needs a few mods to bring the engine to life, and really heighten the driving experience. Don't get me wrong, the F20 and F22 motors in the S2000s are big power-houses when you add some boost, but there's something about a responsive, rev-happy, N/A motor that makes driving this car a blast. Tidying up the engine bay is a J's Racing carbon cooling panel and radiator cap, while an ASM titanium strut brace adds some extra stiffness to the chassis.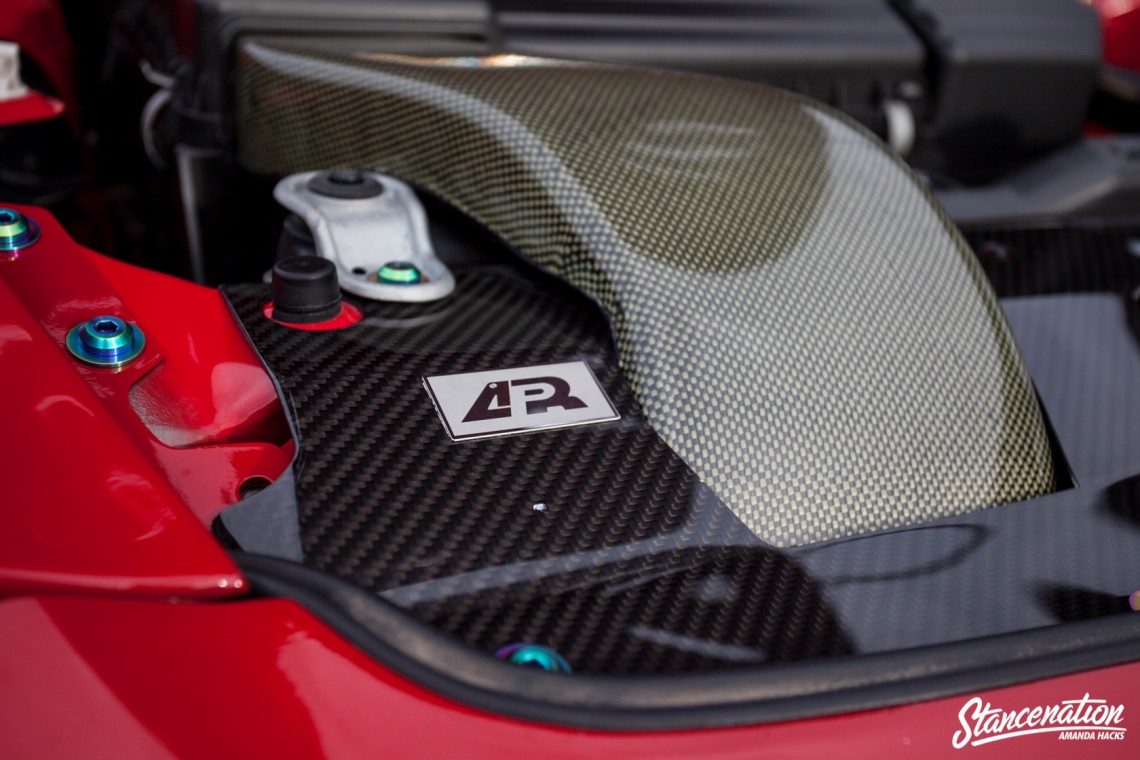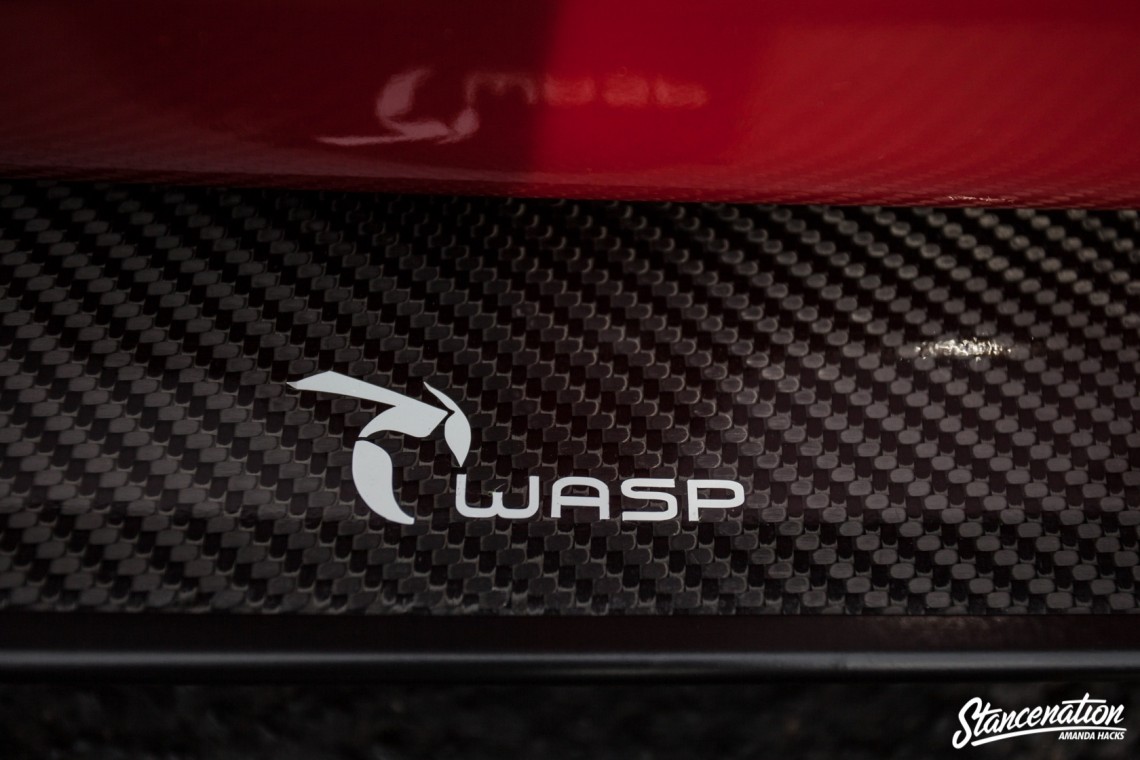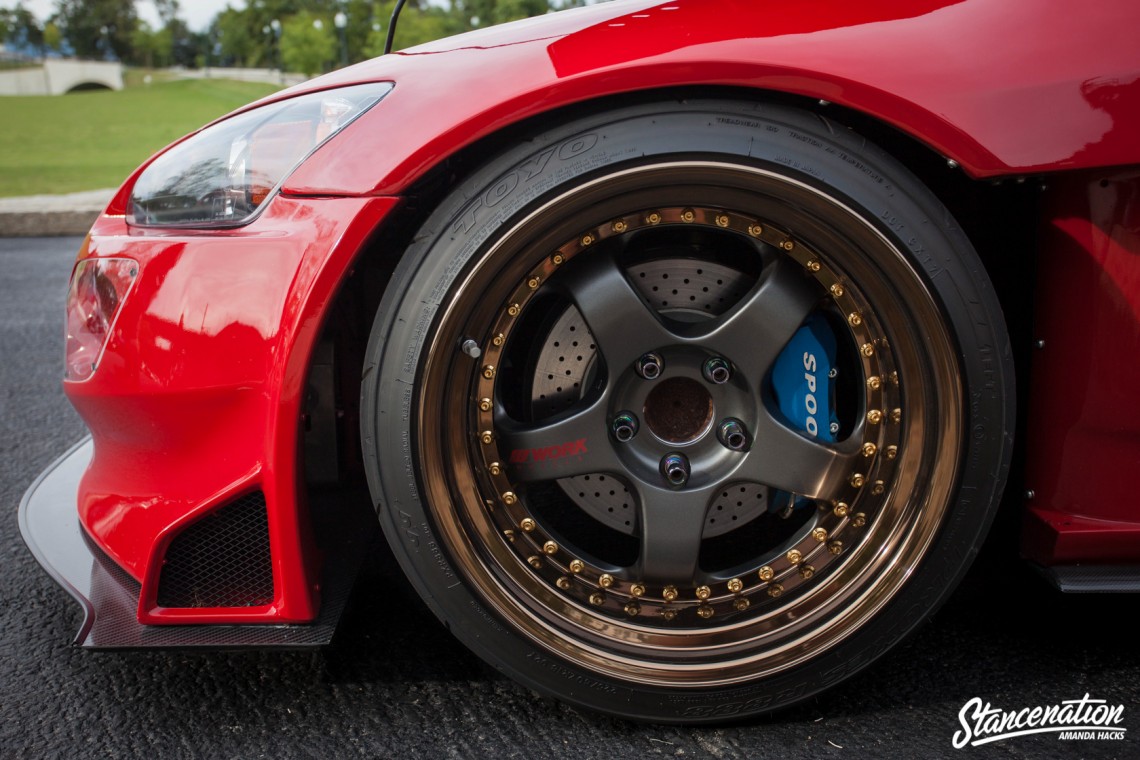 Helping Minh's S2000 handle the corners is a Fortune Auto coilover system while Spoon calipers, rotors, and brake lines make sure the roadster has plenty of stopping power should he need it. Framing the brakes is a beefy set of Work Meister wheels coming in at 18×9.5 up front, and a massive 18×11 in the rear. Those might not seem that wide compared to some of the setups we feature, but their sizing is impressive for a S2000. Making sure the car sticks to the road is a set of a Toyo Tires R888 tires which are a great road and track tire.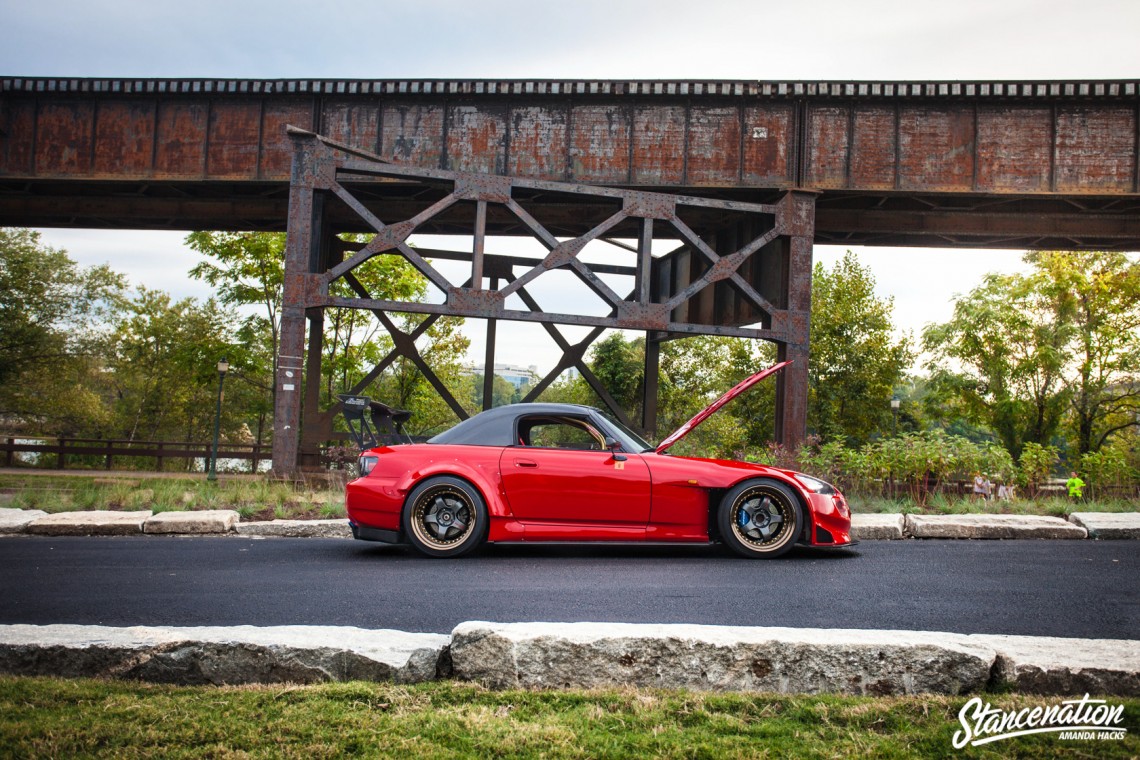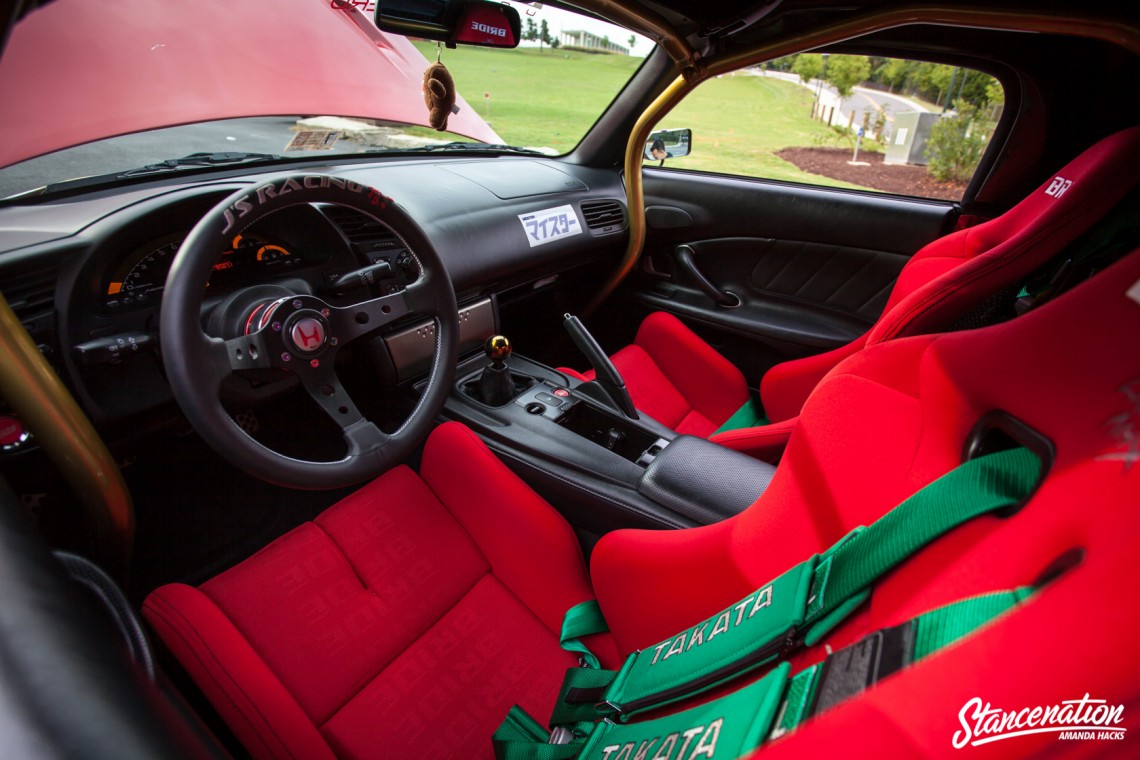 Inside, the track theme continues. The driver and passenger are secured via a pair of Bride Gias Low Max seats and matching Takata harnesses. Extra safety and chassis-strengthening comes courtesy of a Cusco Safety-21 roll-cage, and Minh's driver inputs are performed by more J's Racing products in the form of their steering wheel and weighted shift-knob. Other interior touches include a Spoon Sports mirror, CR radio cover, and a NSX-R horn button for added JDM-style points, haha.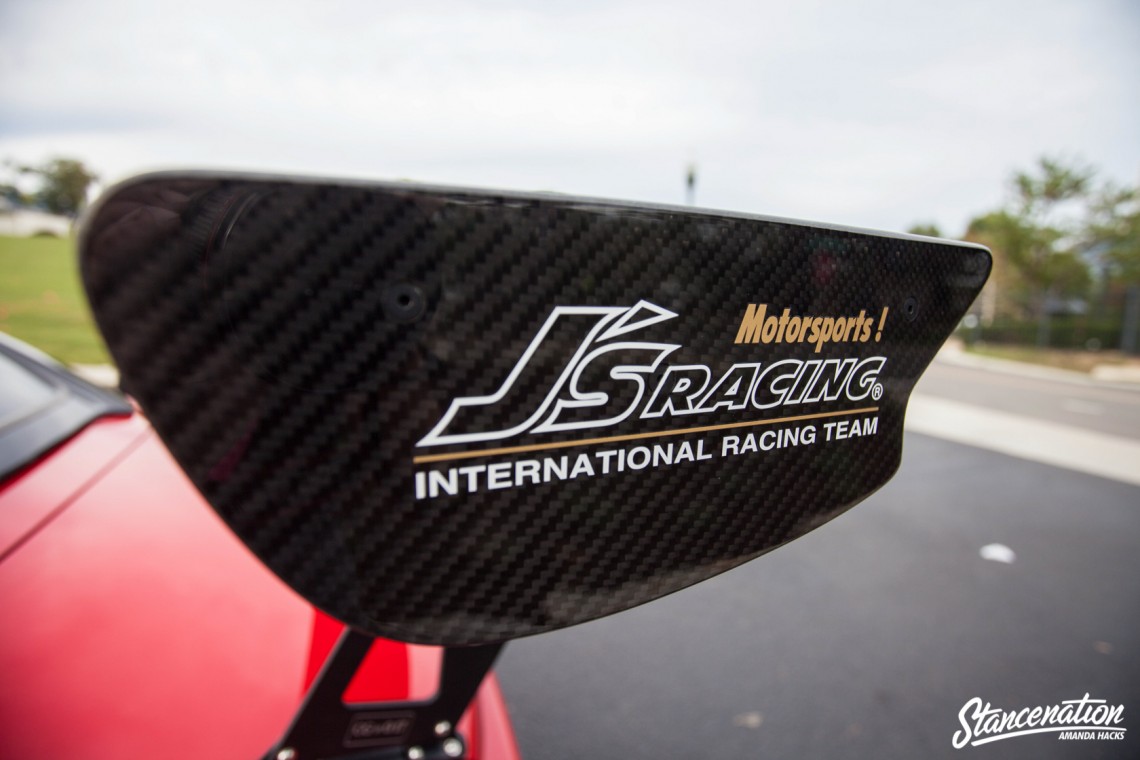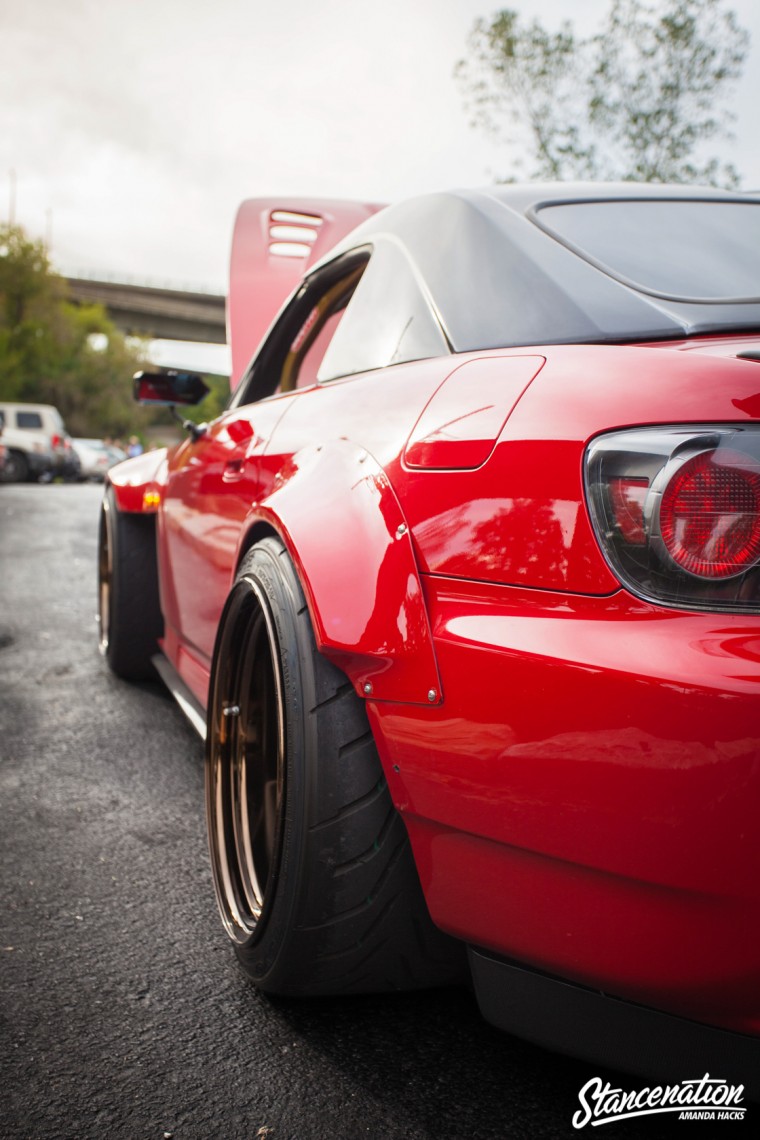 The result, well just look at it. Can't you just look at this car all day? Aren't you a little bit envious that you can't drive it? I definitely answer yes to both those questions. I can only imagine how much fun this car must be to drive. It has a great selection of parts that just add to the S2000's already potent package. As far as looks go, the same method was applied. Minh just added to what the engineers at Honda perfected. He didn't take away anything from the car, just gave it his own unique twist without taking away the fun aspect of driving it. Much props to Minh for creating one hell of a S2000. I hope you all enjoyed it as much as I have. Until next time, and remember to keep it fun.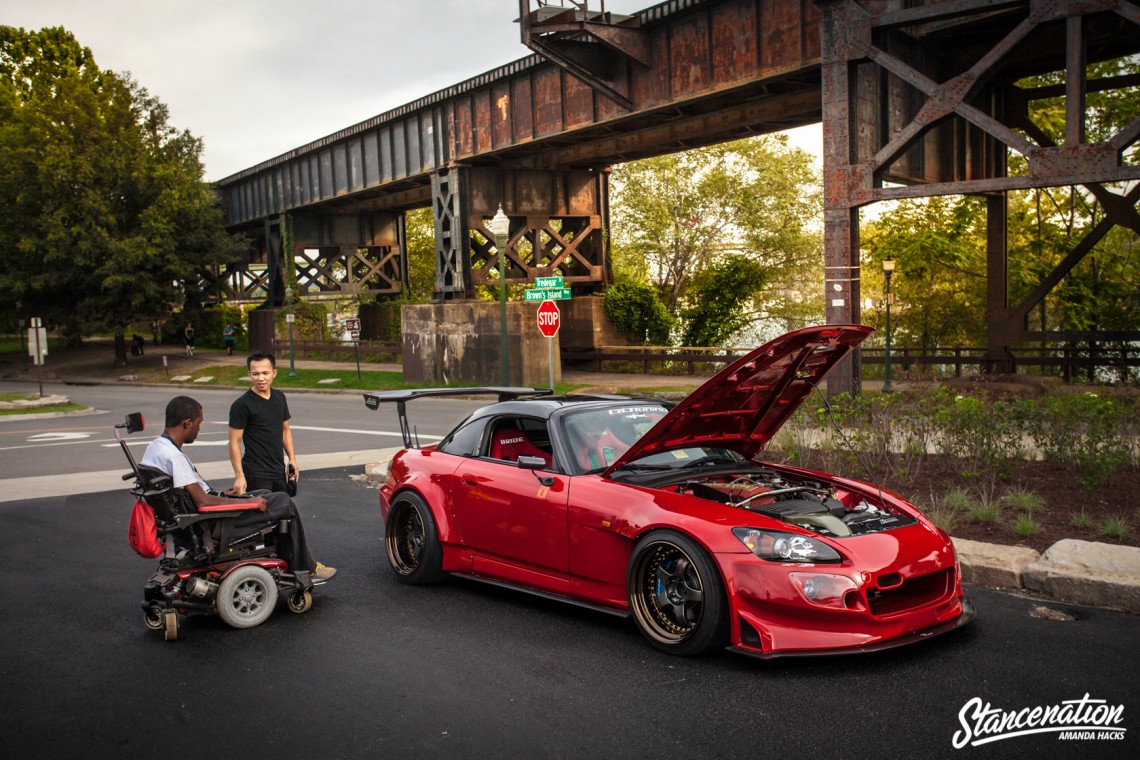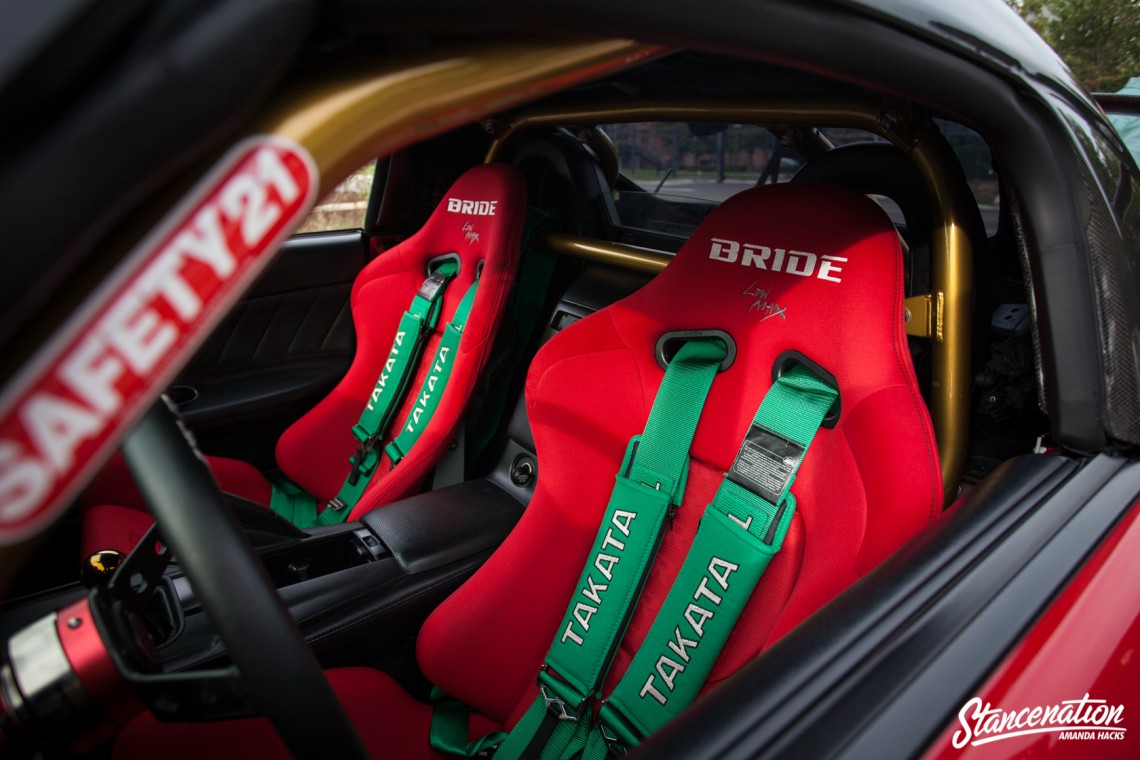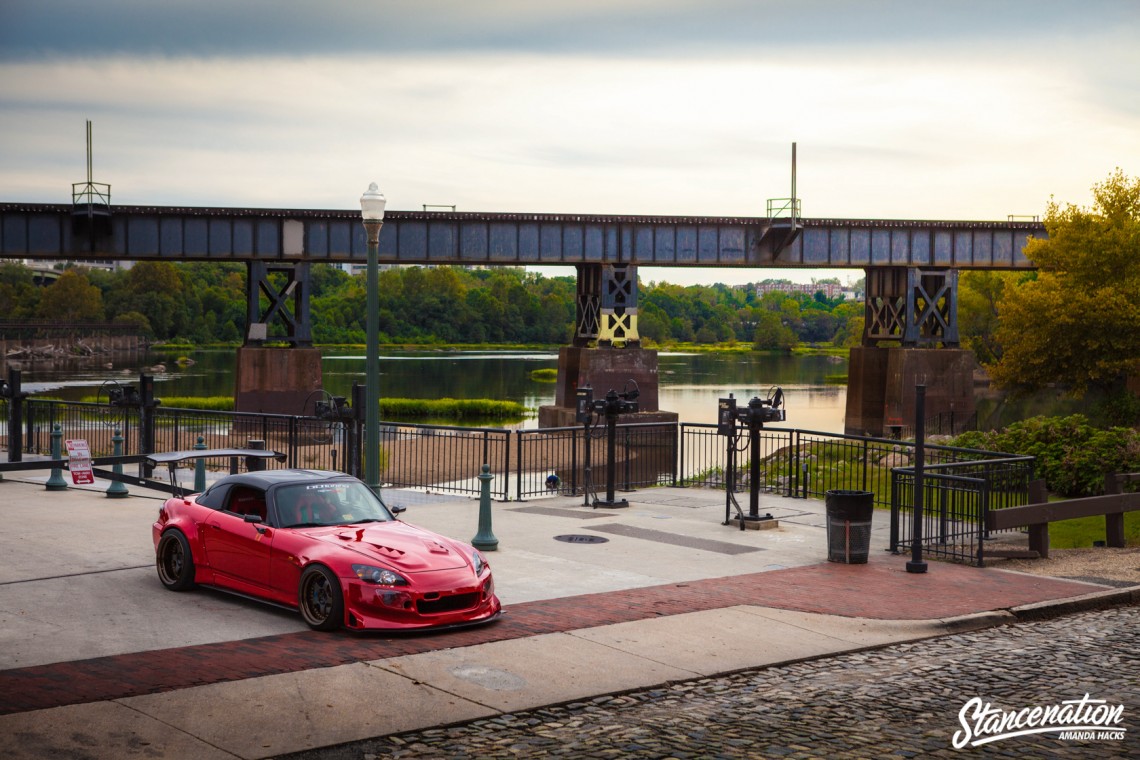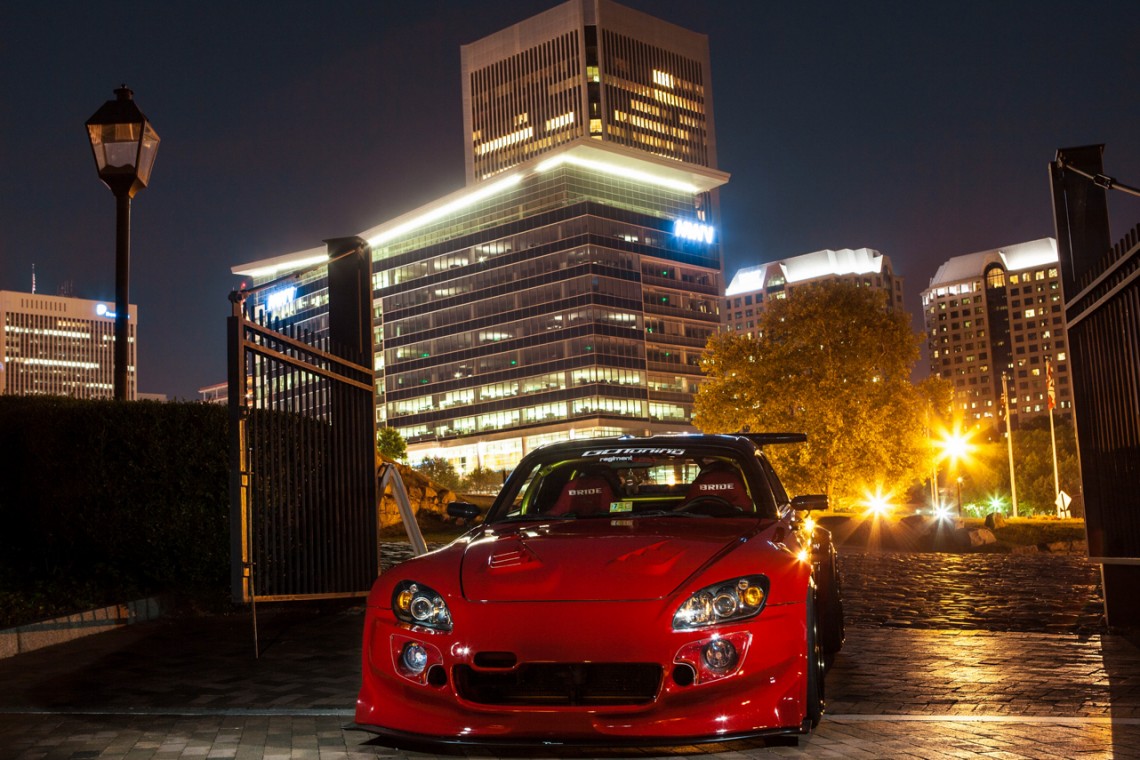 Exterior:
Spoon bumper
Spoon Hood
J's racing fenders
J's racing type 1 3d gt wing
Caftsquare side mirror
Mugen Style Hardtop
Forbidden j's racing style rear diffuser
Forbidden side diffuser
WASP composite race splitter front.
ZG rear Over fenders
Circuit Garage wing stands
Interior:
Bride Gias low Max seats
Bride rails
J's Racing steering wheel
NSX-R Horn button
J's Racing shift nob
Cusco Roll cage safety 21
Spoon rear view mirror
CR radio cover
Engine:
J's Racing header
J's racing exhaust 70RR
J's Racing radiator cap
J's Racing Intake
J's Racing cooling plate
Mugen oil Cap
Asm Strut bar
NRG hood damper
Brake/ Suspension
Spoon Calipers
Spoon rotors
Spoon Brake lines
Fortune auto coil
Blox axle spacer
Wheel/Tire:
Work Meister
18×9.5 front
18×11 rear
Project kics lugs
Toyo Tires R888