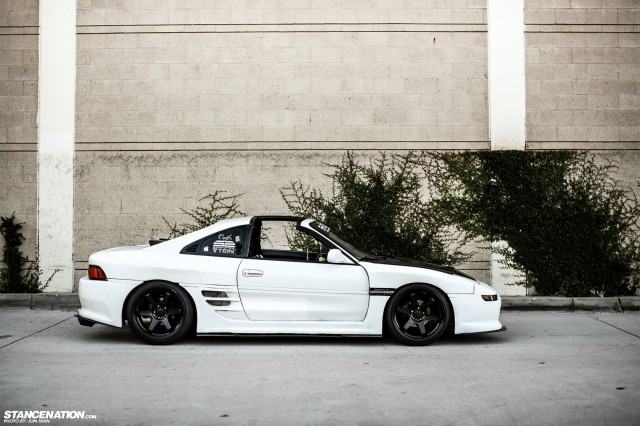 I'm not old. Occasionally I feel old; being one of the oldest of my friends the jokes are commonly tossed around, but technically I'm still young. Yet, I am old enough to have changed significantly since my adolescence. Old enough to have made plenty of mistakes and learned plenty from them; old enough to "know better" my parents would say. The majority of the tuning scene is populated by the younger generation, and plenty of stereotypical judgments follow that demographic. However, the scene is no longer in its infancy. It too has aged and grown along with everyone that is a part of it. It has changed and evolved, for both good and bad depending on your outlook, and we have been brought up as a part of it. Movies in which the youthful protagonist finally comes into his/her own are commonly labeled "coming-of-age" films. Our coming-of-age has been through the cars we love; we develop from what we learn from the cars as well as the community we find ourselves a part of.
Photos By: Jon Tran exclusively for StanceNation.com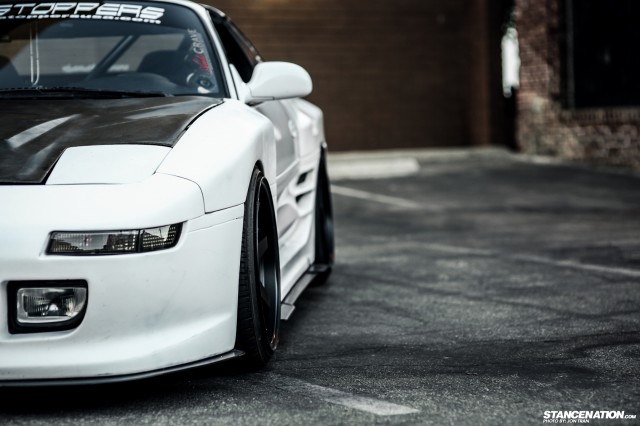 Hell, the cars themselves have changed. Park a 2012 Civic next to the beloved EF-generation and the differences are blatant. Unfortunately, not all of the popular models have survived the automotive evolution. Many models have become extinct over the years including an odd-favorite – the SW20 Toyota MR2. It was in a class of its very own, with no other manufacturers daring enough to offer a mid-engine sports car in that price range. While the model-name continued through a 3rd generation, it lost a turbocharger in the process. The 2nd generation is generally the most popular. Toyota durability in a balanced chassis, along with realistic pricing has kept it a cult classic.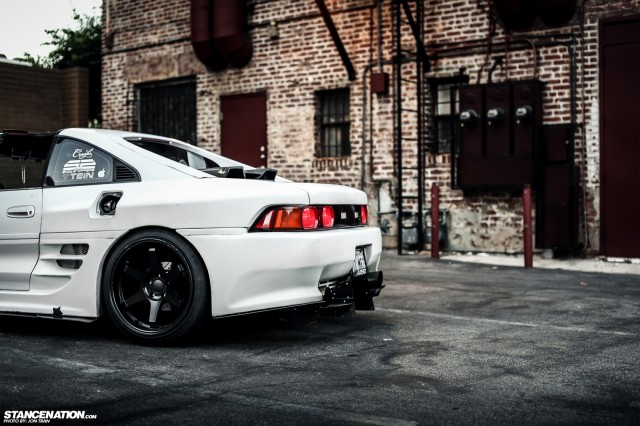 Michael Teh is not as old as me. I will probably die before him, but that's okay. He took ownership of this MR2 in 2004, before he could even legally drive, as a hand-me-down from his father. It wasn't just any old car, however; it was the first car his father bought when he re-located to the United States. In 2006 Michael began driving the car and the modifications followed. This car was a learning process, as many first cars are. You not only are learning how to drive, but how to build. You learn which modifications work, you learn you probably shouldn't have removed that, and maybe you shouldn't have bought that one part because you'd later be ashamed you'd ever installed it.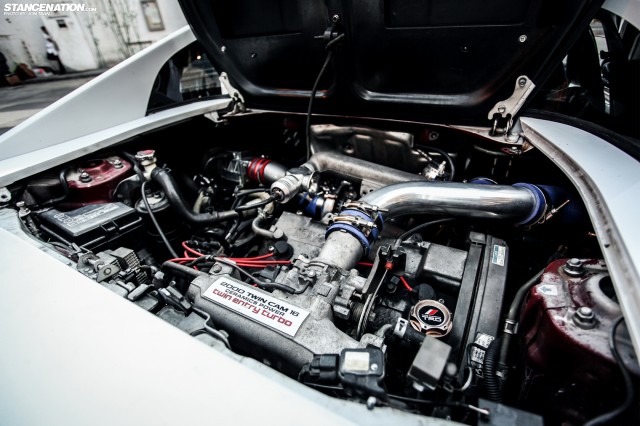 It always begins innocently enough; Michael tells us he originally planned to keep it a very simple car with minor changes in order to keep it fun but nothing over the top. However, sometimes fate deals us cards that plunge us deeper into the build. In his case, the demise of the original naturally aspirated power plant led him to swap a Japanese-market 3SGTE under the hood/trunk/decklid/whatever-you-want-to-call-it of his MR2. The newfound turbocharged power motivated Michael and his goals for the build began to take shape. Some interior safety pieces from Recaro, Takata, and Autopower found their way into the car along with the addition of a GReddy TD06 turbo-upgrade kit – the car had transformed into a true driver's machine.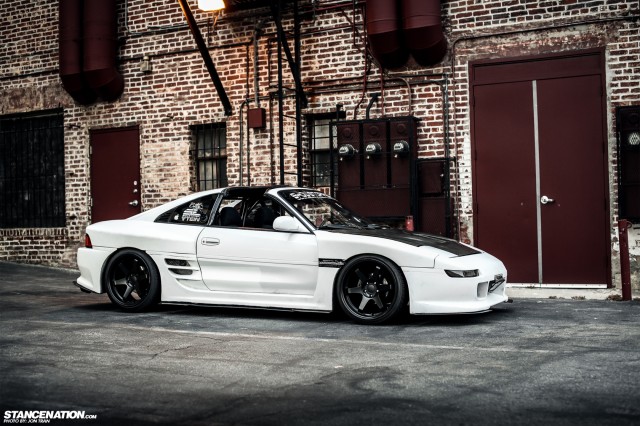 We all make mistakes. Michael was intelligent in his youth, straying away from street racing due the inherent dangers of the scene. However, he admits the speed bug got the best of him and unfortunately he had an accident in the canyons. It was a difficult mistake for him to get over and the thought of giving up on the vehicle crossed his mind, however the car held many positive memories and he simply couldn't turn his back on it. The Recaros and GReddy turbo setup were sold in order to fund the repairs. He went out on a limb and hit up ShowStoppers USA and they graciously assisted him with the TRD widebody replica aero kit the car wears today. With some help from friend Armand Pranadi (yes, THAT MR2) he had the car looking good again.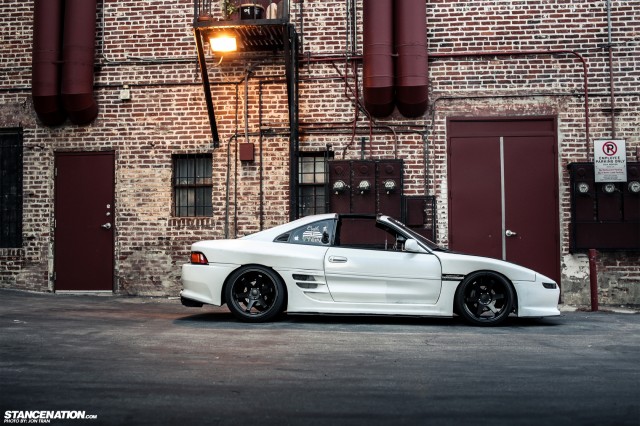 Of course, with wider body panels the wheels needed to fill the void. Tein Basic coilovers bring the bootylicious mid-ship runabout to the ground over a matte-black set of Varrsteon ES 2.2.1, sized 18×9.5″ +7 (effective) in the front and 18×10.5″ +0 in the rear.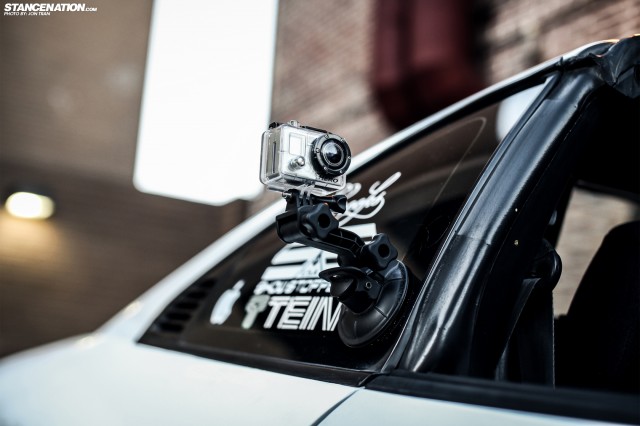 Following the body improvements, the build continued. Now wearing a T3/T4 turbocharger instead of the Mitsubishi-derived GReddy upgrade, this 3SGTE has a solid array of power-producing hardware.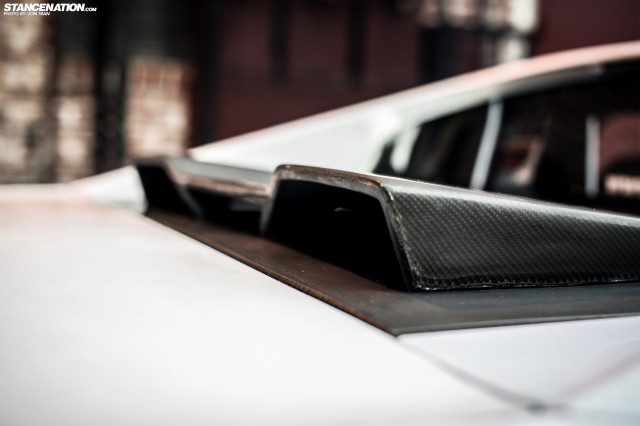 Teh is older now, though still young at 22. He has learned from his experiences as much as he has enjoyed them. Future plans for the car are minimal; with a fresh paint job, new wheels, and a rear spoiler Michael feels it will be complete. He says his favorite parts of the car are the memories he has had with it. Sound words from an individual I found respect for while communicating with him for this story. He displays strong values and is a well-spoken and modest person. As his father did, Michael wants to pass this car down to his children one day – launching them onto the path that he has followed. I feel that is a worthy goal for a worthy build that played a strong part in Michael Teh's Coming-of-Age.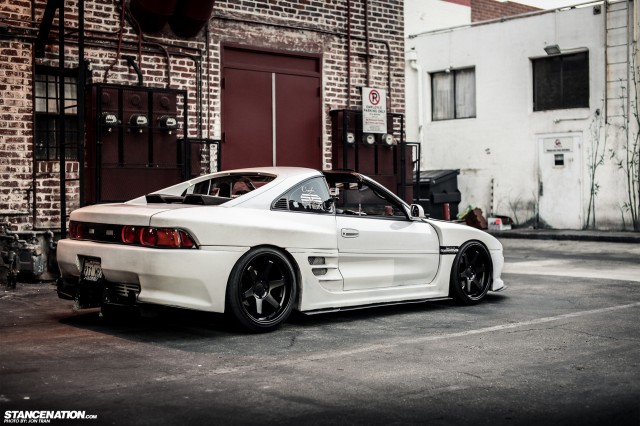 Big thanks to Michael for getting together with our photographer Jon Tran. You'll be seeing a lot more of his car in the near future, but if you want to follow his build you can always visit his Tumblr by clicking here.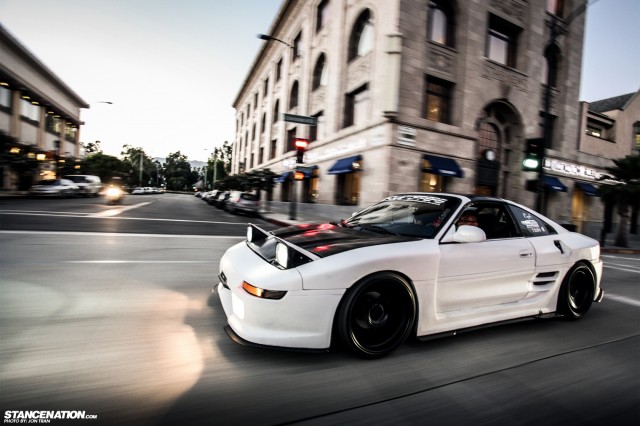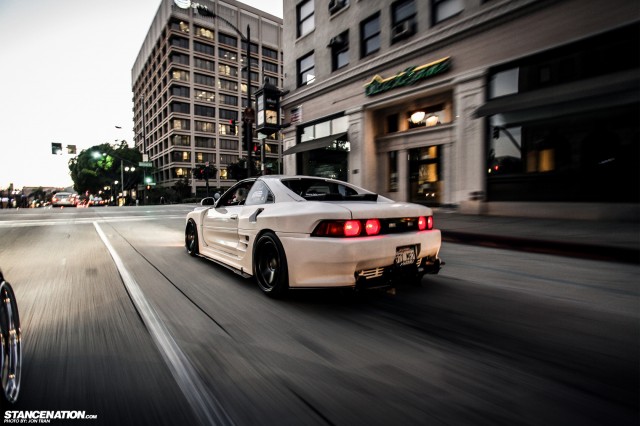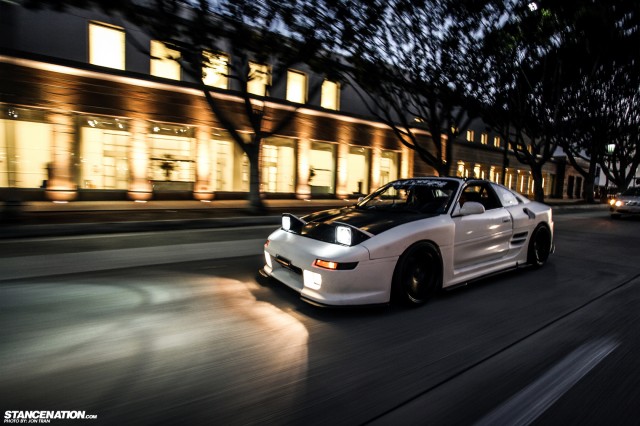 [toggle_box]
[toggle_item title="Wheels/Tires/Suspension" active="true"]Varrstoen ES 2.2.1 Matte Black
Front 18×9.5 +7 with 5mm spacer
Rear 18×10.5 +0
Front camber -2.7
Rear camber -3.0
Front Nexen N3000 215/35/18
Rear Hankook Ventus V12 Evo 235/45/18
Tein Basic coilovers
Front strut bar
Tein Endlinks
OBX camber bolts
ABS delete
Earl's stainless steal brake lines
Cross/drilled rotors w/ Axxis Ultimate Brake pads[/toggle_item]
[toggle_item title="Exterior" active="false"]2000GT TRD Widebody kit
Carbon Aeroware custom front splitters
Carbon Aeroware custom side splitters
Carbon Aeroware custom rear diffuser
Front license plate folding bracket
Garage Fukui (Phoenix Power) rear carbon fiber engine lid
Pegasus H7 Projector conversion w/6k HIDs
94+ Kouki tail lights
Smoked clear corners
OEM fog lights
[/toggle_item]
[toggle_item title="Interior" active="false"]Auto Power 4 point roll bar
Pioneer Double-Din Multimedia DVD Reciver
Pioneer speakers w/10″ subwoofer
Pioneer amplifier
Prosport Boost Gauge
Prosport Oil Pressure Gauge
Escort 8500 X50 Radar Detector
GReddy/Trust shift knob
5 Panel Panoramic Mirror
MOMO TREK steering wheel
MOMO steering hub[/toggle_item]
[toggle_item title="Engine" active="false"]2nd Gen Japanese Spec 3SGTE
JDM '93-94 ECU (more aggressive maps)
GodSpeed T3/T4 Turbocharger
TiAl 38mm external wastegate w/dumptube
GodSpeed silicone couplers w/t-bolt clamps
TurboXS Side Mount Intercooler
TurboXS RFL Blow Off Valve
Berk Technology intercooler pipes
Berk Technology vacuum lines
Berk Technology Full 3″ Dual Exhaust
Custom 3″ downpipe w/support bracket
Custom Oil catch can kit
KO Racing AFM Intake pipe
A'PEXi Power Intake
A'PEXi S-AFCII
Blitz SBC type R Boost Controller
Blitz Turbo Timer
TRD oil cap
TRD radiator cap
TRD spark plugs wires
NGK BKR7E spark plugs[/toggle_item]
[/toggle_box]