It's a warm summer night in Las Vegas and you're out on an alcohol fueled adventure with some fine women. Everyone is having a great time walking the strip as you stumble to the next club or bar. Suddenly, a white roaring Lexus shoots past. You immediately know to call 911 and paramedics because you are positive it was illegal how that car snapped the necks of everyone in your vicinity.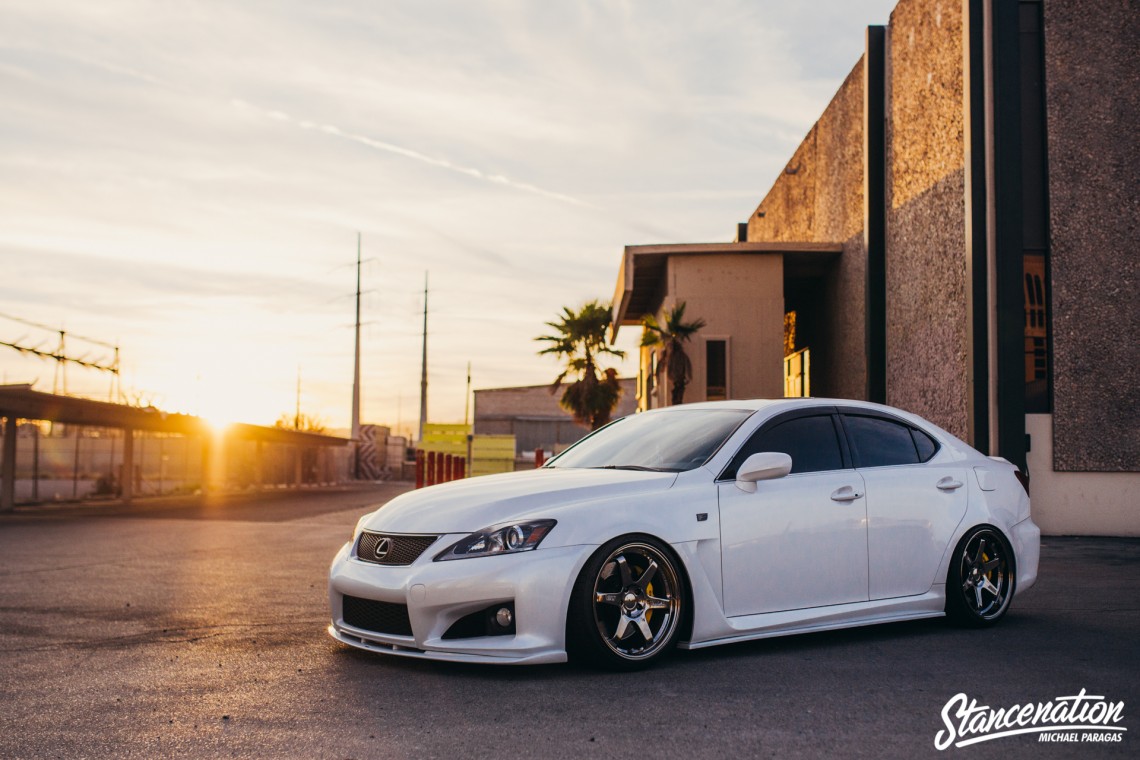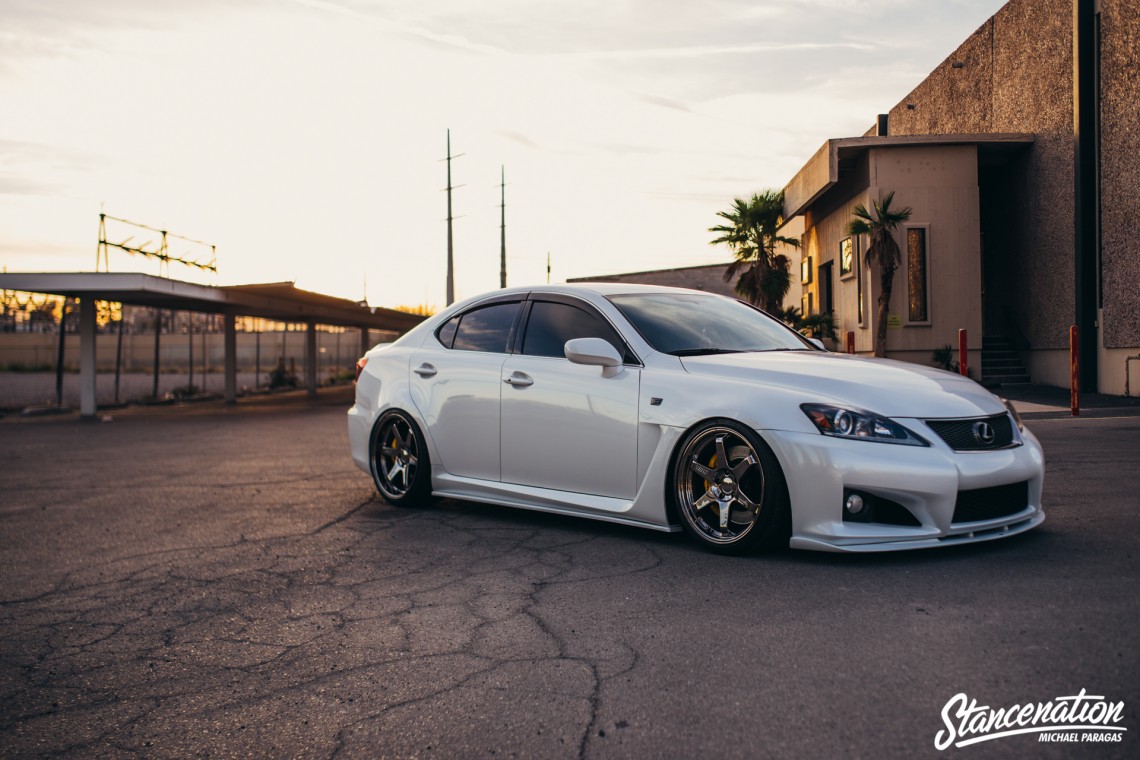 That FYI, was Lance Calitri, the owner of the aforementioned IS-F. Owning the car for a little less than 5 years, Lance shows us that with great patience and proper planning, an immaculate car is not impossible. Built with quality parts from here and across the sea, compiling these parts for the car most likely felt like it was a chore, but in the end, Lance definitely got what he wanted.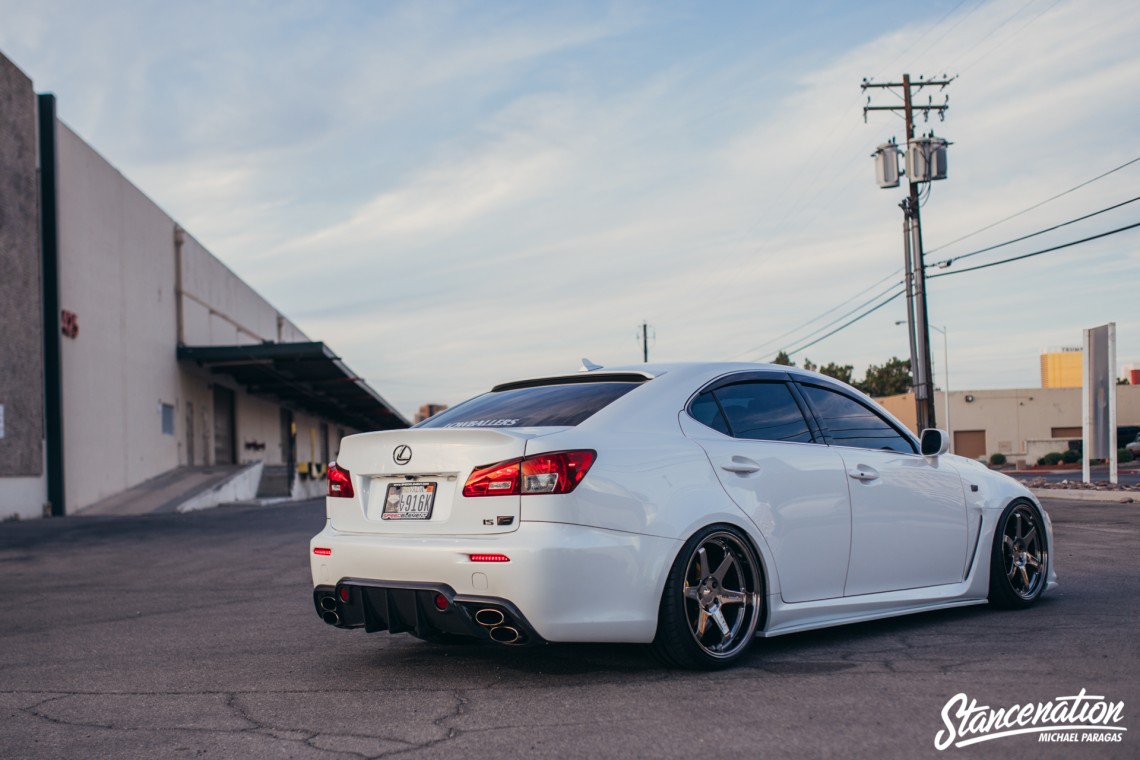 On the rear of his IS-F, Lance has decided to outfit the car with a Vorstiener Ventross carbon trunk that has been color matched to the OEM Lexus Starfire Pearl. Being 1 of 4 made, Lance is a purveyor of rare parts. In addition, a Wald rear diffuser and full JoeZ exhaust system fills out the rear end of this beast. One small detail that I like would have to be the JDM LED bumper lights. I'll admit it, I didn't even know that was an option for the car enthusiast across the way. Just goes to show that small details on a masterpiece go a long way.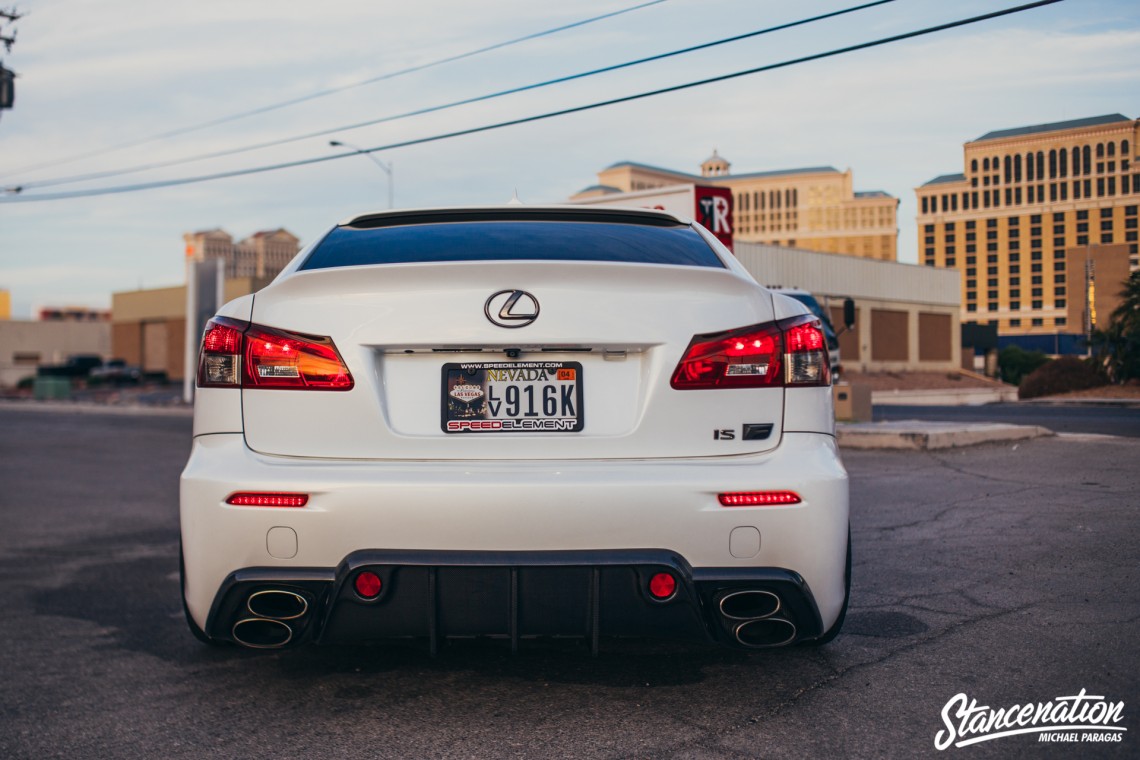 K & W V3's coilovers help this IS-F get down to the ground, lowering its center of gravity for maximum neck breakage. Furthermore, the massive 8 pot Brembo brakes were painted in a yellow I can only assume is meant to match one of the standard colors of K & W coilovers. The power of the V8 under the hood makes the upgraded brakes a necessity rather than a luxury show item.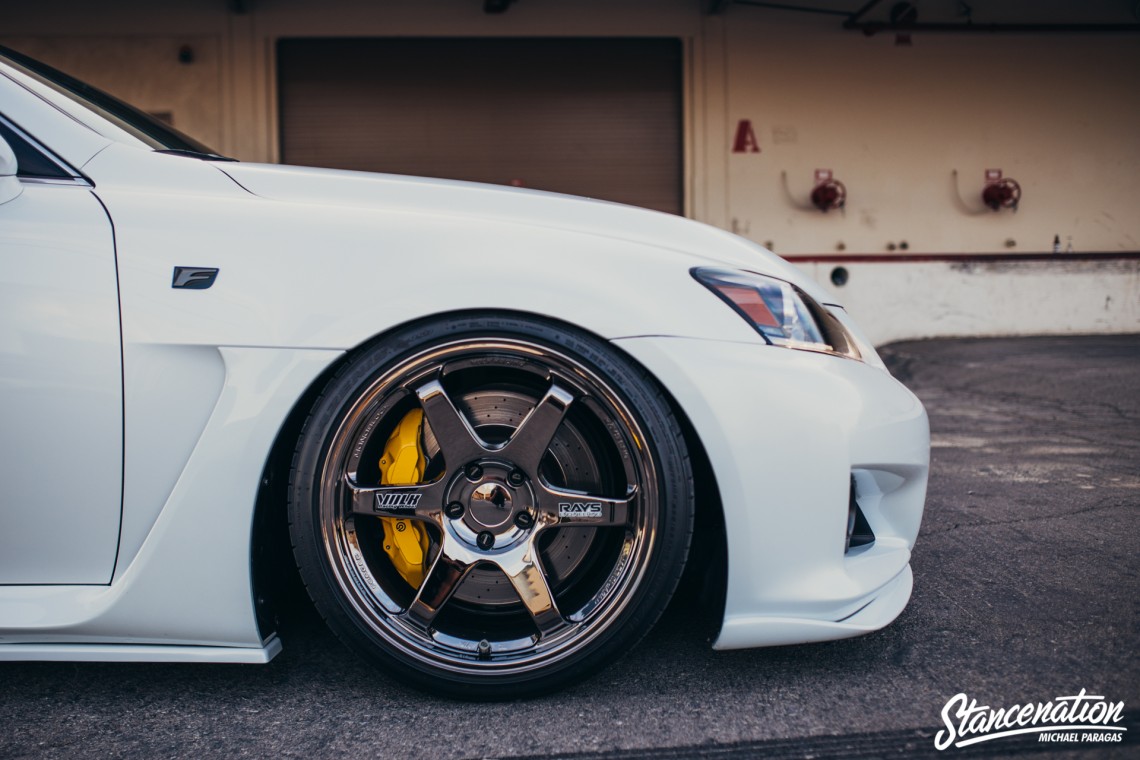 Lance chose TE-37's, a classic, highly sought after, and time-tested wheel. Matter of fact, Volk TE-37's are subjugated to a rigid assortment of tests to ensure rigidity and structural integrity. The high level of qualifications set by the Japan Light Alloy Wheel Standards are difficult to meet, but the self-administered by Volk tests are even harder. However, this does explain the price tag and quality of TE-37's. Anywho, sans that little tidbit, Lance's particular set is rare. Measuring in at 19×9.5 and 10.5 with a +35 offset, he tells us that there is only 10 sets of these wheels ever made. Wrapped in Falken 453's that measure 235/35/19 in the front and 265/30/19 for the rears, Lance completes the wheel set up with a seductive black chrome.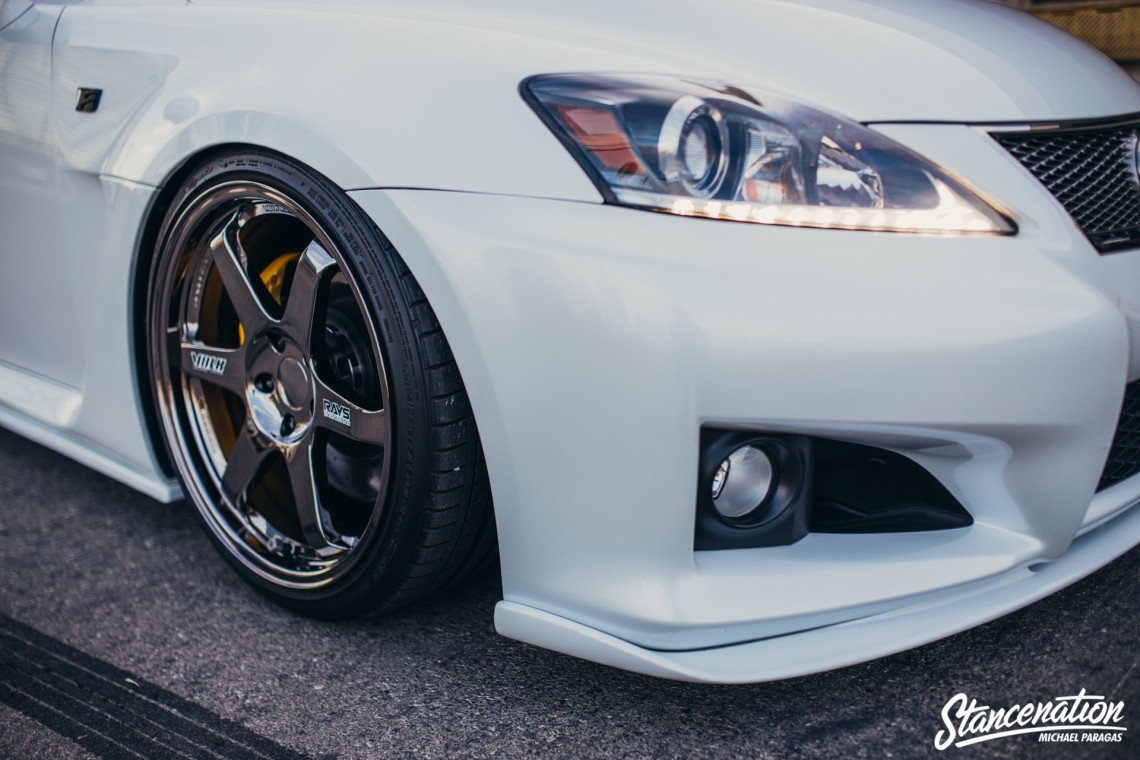 A Lexon Exclusive front spoiler and 2012 ISF LED headlight conversion updated the front end, giving it that mean aggressive look that only belongs on the IS-F. Coupled with the fender vents and wide hips, this IS-F in particular reminds me of why and how I fell in love with the Lexus brand.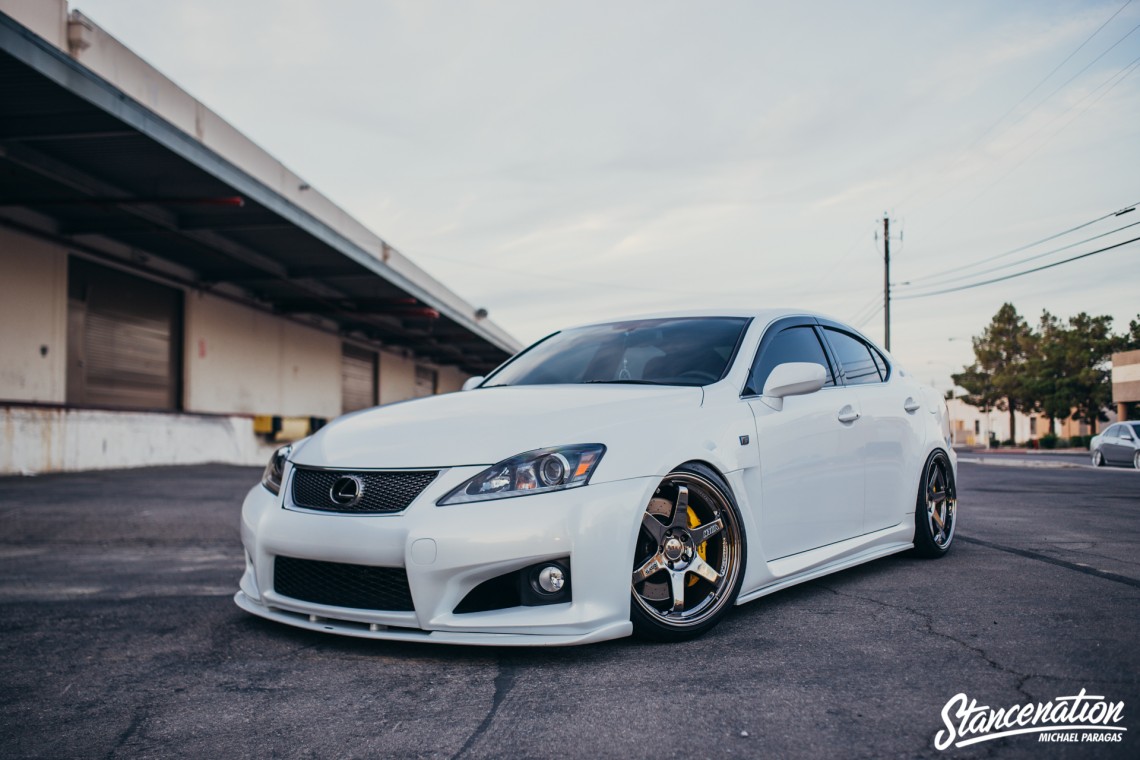 Lance tells us the hardest thing about this build would have to be his extended waits for parts to ship from overseas. Slowly assembling what a dream car is supposed to look like it would make many of us anxious. To know that my money is gone and the auto part is somewhere over the deep blue makes me nervous. Maybe it's the love for the dollar, or maybe its 2 day shipping conditioning that many of us have gotten used to. Thanks a lot, Amazon.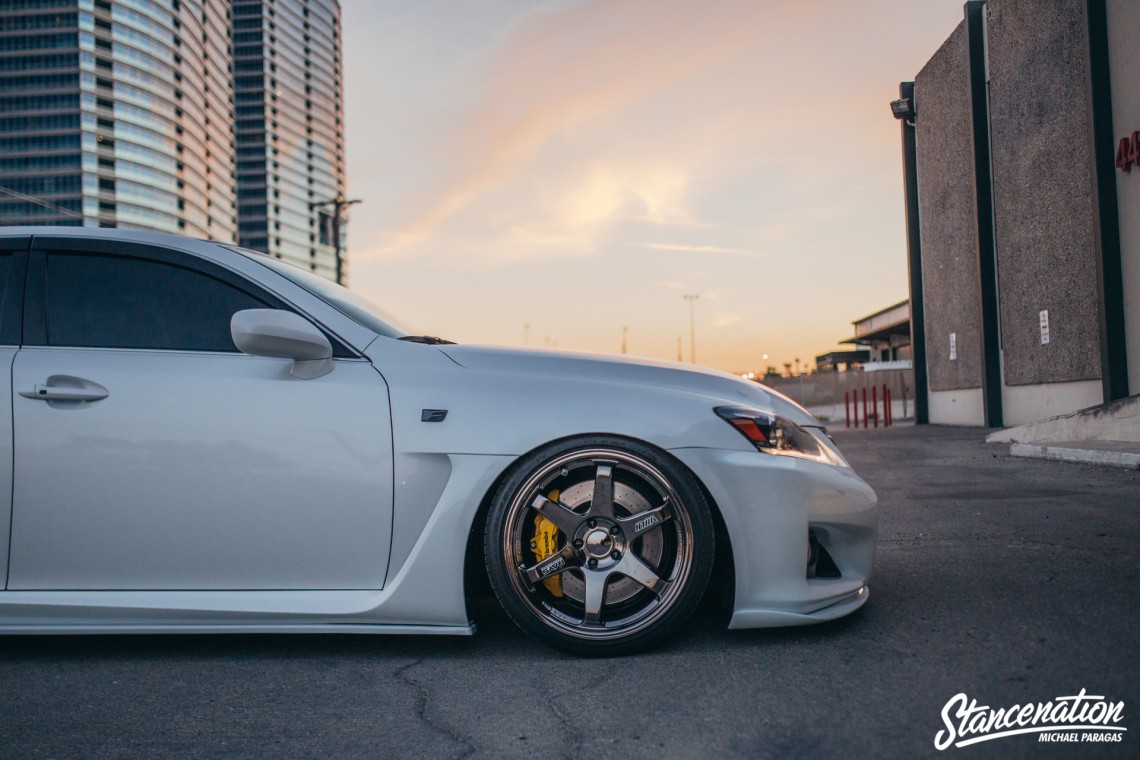 Unfortunately, Lance has sold this sleeper beauty. On the flip side however, Lance has decided to pursue his dreams and his dream car, as he has just acquired a 2003 Acura NSX. If this is what he does to an IS-F, I can't wait to the see the magic touch he can do to a borderline historic JDM vehicle.