It's undeniable that today's car scene has been greatly influenced by Japan.  So, it comes as no surprise that Japan's iconic S-chassis has been gaining popularity in the scene, and can now be found at almost every type of car event.   Unfortunately, when a lot of people hear someone mutter "240SX", the drift-missile stigma comes to mind.  This fine example of a 240SX couldn't be any further from the stigma.  Nikolay's clean and daily driven Kouki S14 has no problem sliding right past the stereotypes.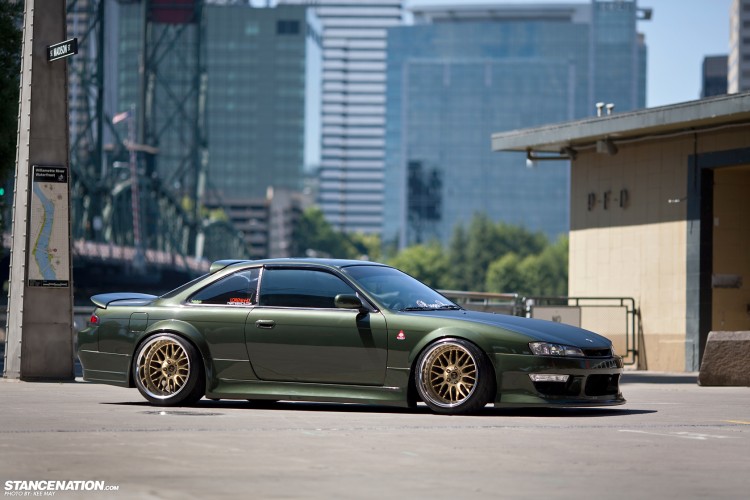 This isn't Nikolay's first S-chassis, or even his first S14.  He bought his first S14, a Zenki model, almost 10 years ago and instantly fell in love with the car.  Like most people, he fell hard for the car's body styling and performance that came straight from the factory.  He has had this S14 for about two years now, and has dedicated his time to improving the car's amazing styling since.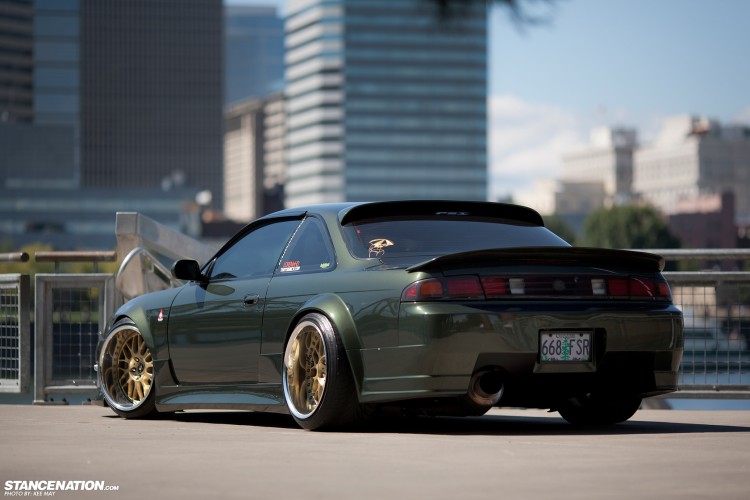 Nikolay decided his S14's body styling needed a bit of a "face-lift".  He replaced the factory aero with a track-inspired Version Select Front bumper, Version Select Side-skirts, and a C-West Rear bumper.  He also added a D-MAX Trunk Spoiler and a Megan Racing Roof Spoiler to complement the rest of the aero.  Nikolay also ditched factory corner lights for Circuit Sports clear-lensed lights.  Then to top it off, he sprayed the car a non-factory Jeep metallic green and had the hood and trunk wrapped by Sim Carbon.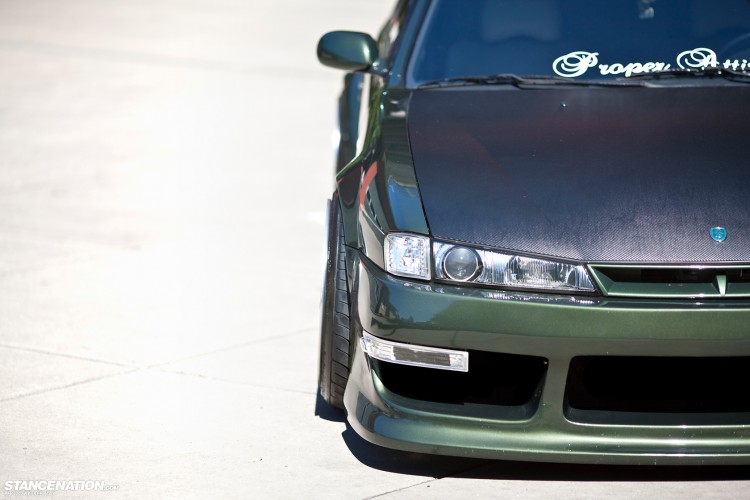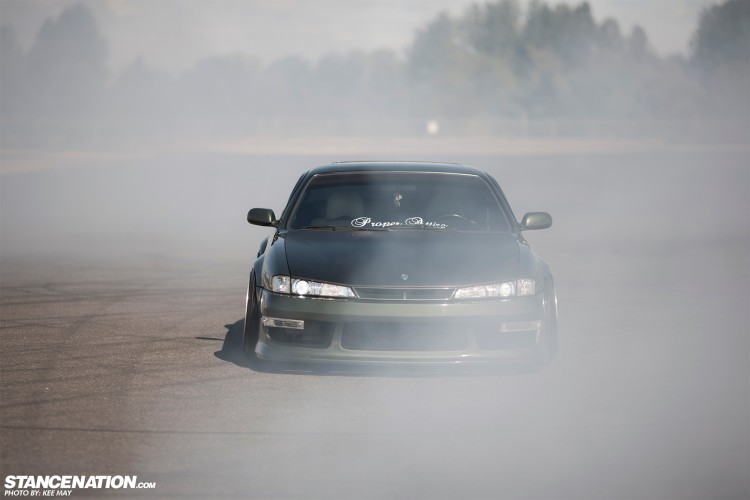 These parts weren't enough for Nikolay, and he knew he would need more than paint and an off-the-shelf aero kit to help his car to stand out.  So, he hit the drawing board and designed one-off fender flares for the front and rear to accommodate his big, beautiful wheels.  Nikolay's S14 is sitting on custom Work Wheels VS-XXs in 18×11 -30 (F) & 18×12.5 -5 (R).  He wrapped them in, drift-staple, Federal tires in 225/40/18 (F) and 265/35/18 (R).  Yes, you read that correctly, 11" wide -30 offset… in the front.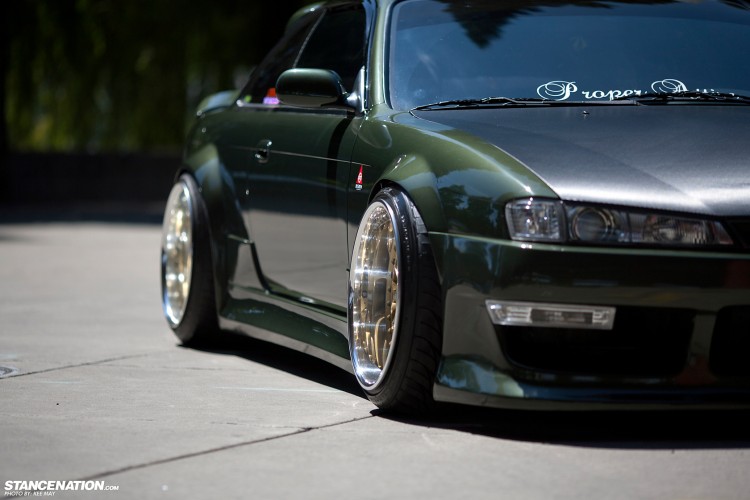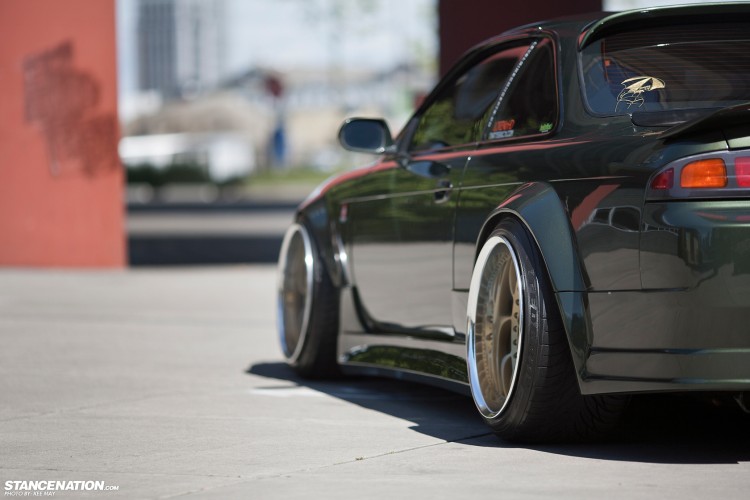 That is not an easy size wheel to fit on the front of an s-chassis without serious rubbing, and Nikolay admits that it was the most difficult part of the build so far.  His custom built fenders needed the help of some serious suspension tweaking to achieve a perfect blend of function and form.  Nikolay is running Zeal Function coilovers to improve track performance, lower the car, and give it a perfect drift-ready stance.  He also added Tein front tension rods and Megan rear upper control arms for increased suspension tuning.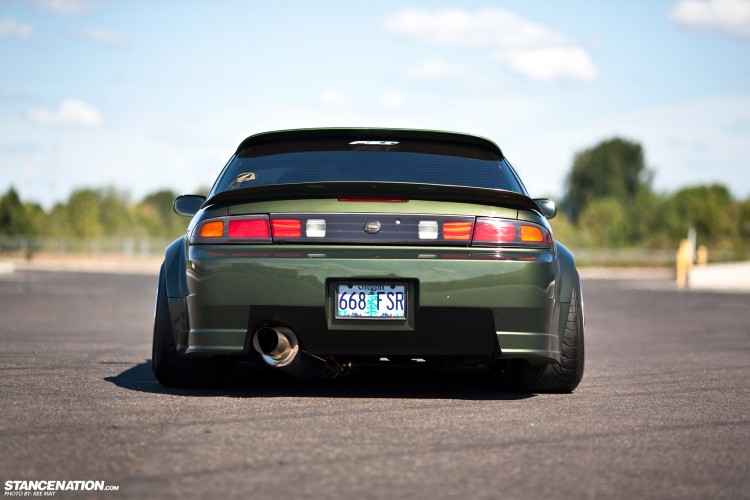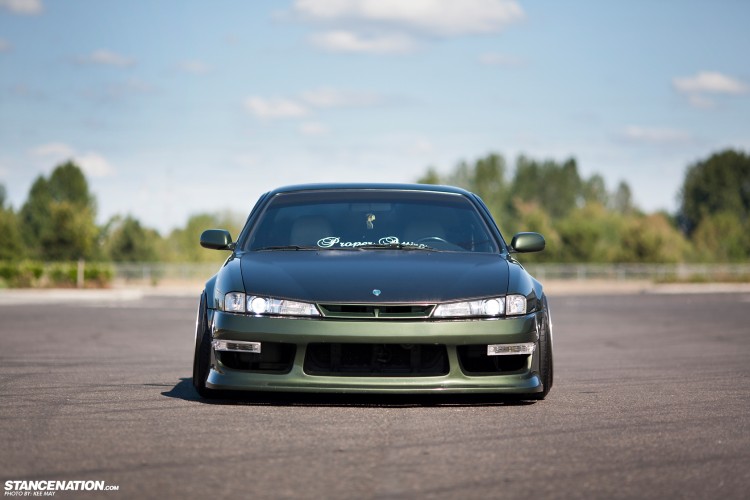 Aside from the custom fenders and wheels, Nikolay's favorite parts of the car is the interior.  He decided that, for now, he wanted to keep it clean and simple.  He added an aftermarket wheel with NRG hub and quick-release.  His car is also equipped with factory leather bucket-seats to keep him in place while he slides his way around corners.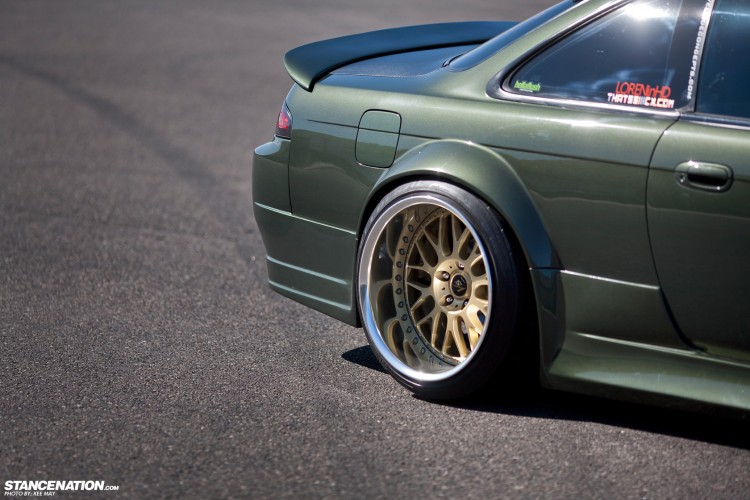 Nikolay's future plans for the car include a new motor, which is currently being built.  Nikolay admits that the KA24DE that is currently in the car leaves much to be desired, and is almost done building his S14 black-top (ie. notch-top) SR20DET power-plant.  His plans are to make around 350hp with this motor and to still use the car as a daily driver.
In world filled with drift missiles, we're happy to see an S14 spared.  Just like any other true project, it's always a work in progress, and Nikolay continues to improve his S14. We at StanceNation cannot wait to see what he has in store for the future.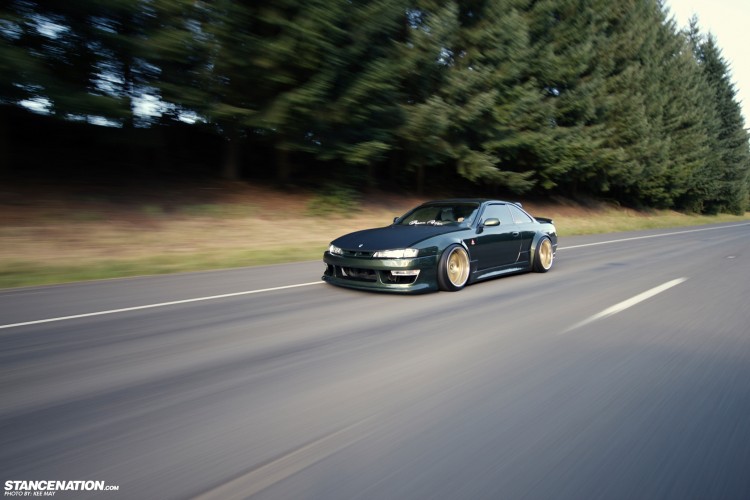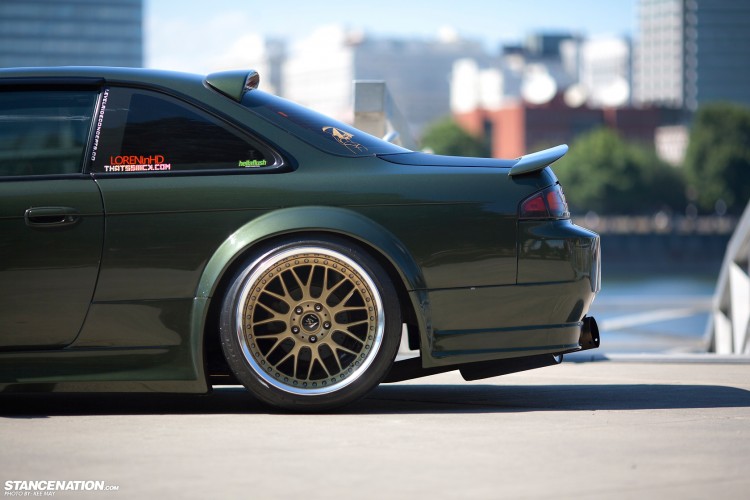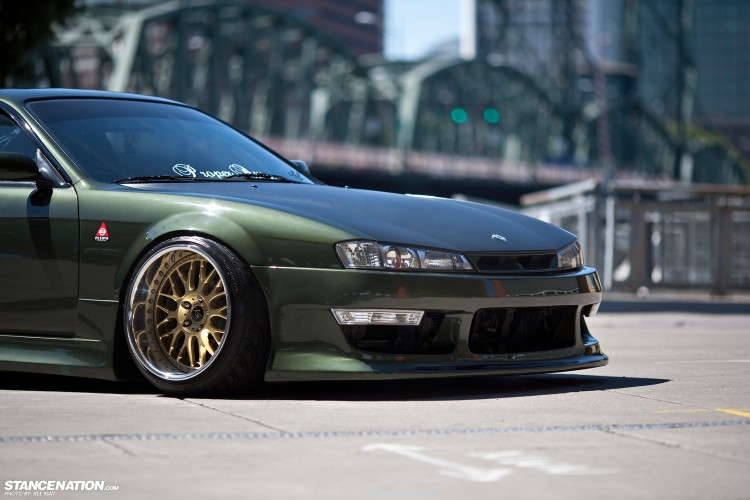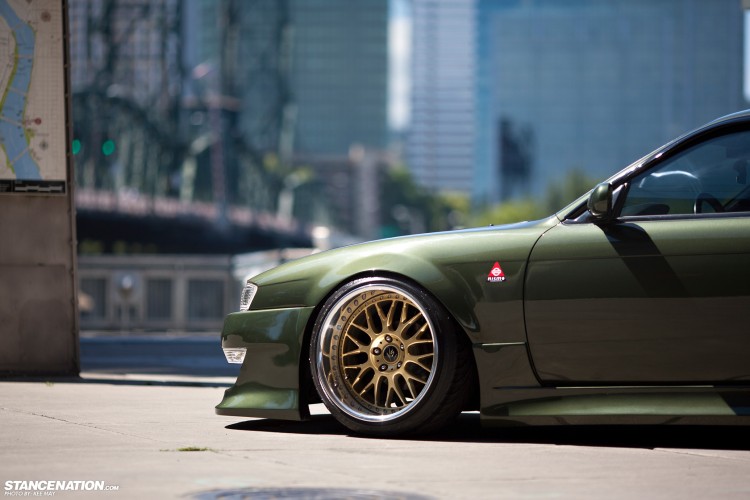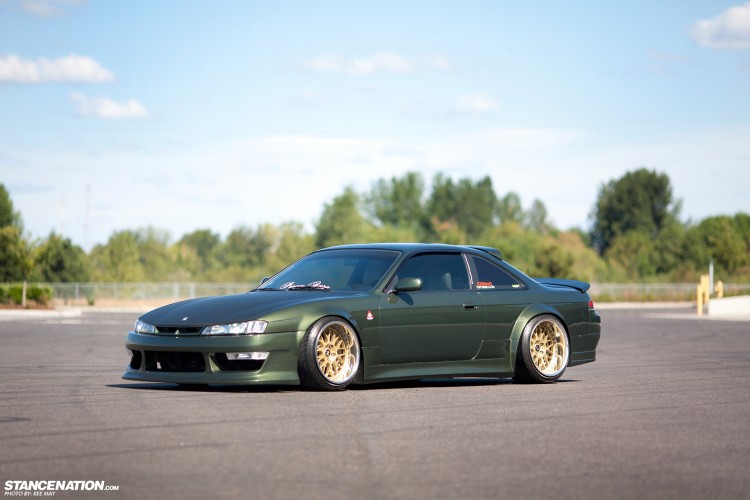 Wheels/Tires/Suspension
Work Wheels VSXX // 18×11 -30 & 18×12.5 -5
Federal 225/40/18 & 265/35/18
Zeal Coilovers
Tein front tension rods
Megan rear upper control arms
Exterior
Jeep Green (code PGJ)
Version Select Front and Sides
C-West Rear
DMAX Trunk SPoiler
Megan Racing Roof Spoiler
JDM S14 Projector headlights
Circuit Sports side/corner lights
OEM Kouki Tails
SIM Carbon Fiber Vinyl Wrapped hood/trunk
Interior
NRG + Quick Release Hub
Engine:
Megan Exhaust
Almost done building S14 SR20