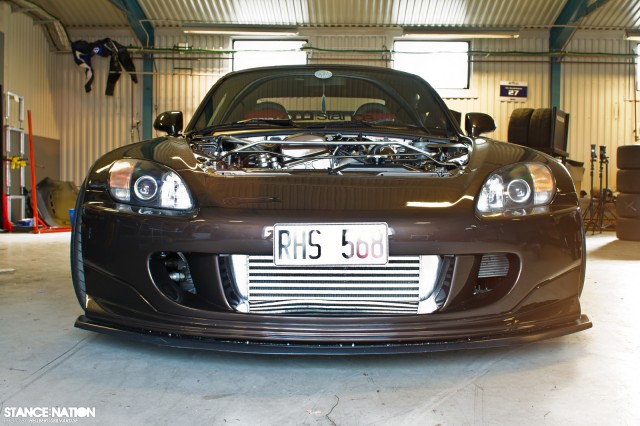 If you're a follower of us on our facebook fanpage you'll probably remember seeing this car. Every time we posted a photo of it, it received nothing but positive feedback with a ton of our fans asking to see more of it. Thankfully we were able to get in touch with our photographers Vanja and Peter Hellberg out of Sweden who eventually ended up shooting Albin's car for us during the recent Gatebil event. At just 22 years of age, Albin has already built one of the finest S2K's that Sweden has ever seen. It moves fast, it looks stunning and it's a real honor to finally share it with you.
Photos By: Hellbergsbilvard.se exclusively for StanceNation.com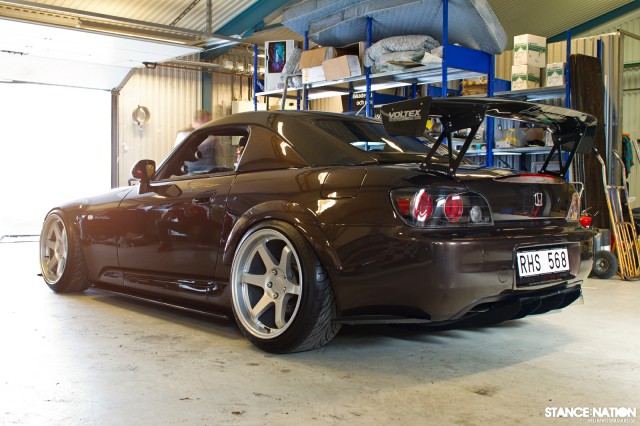 Having always admired the beautiful S2000 curves and dreaming of someday owning one, just last year Albin was fortunate enough to finally find one which he thought was a really good deal. It came equipped with a turbo as well as a few other modifications however there was lots of stuff that needed work. The OEM black paint was in not so good condition, so was the top, and the list went on. Three weeks after the purchase the engine died and thats when the tear down began. Every little (and not so little) thing on the car was replaced or customized in some way.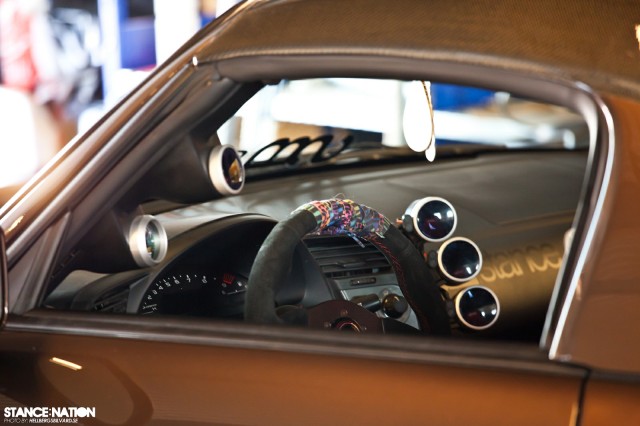 He first started working on the exterior, everything from roll & pull of the fenders to building side skirts, front lip, and rear diffuser. He then moved on to the interior upgrading everything from the sound system to things like a new steering wheel and seats. He then soldered on the electrical system of the engine and tried to hide as many cables and wires away under the hood as possible. He also built a new fuel system to run E85 with catch tank and new pump then proceeded to grind the exterior down for paint taking a break from engine work.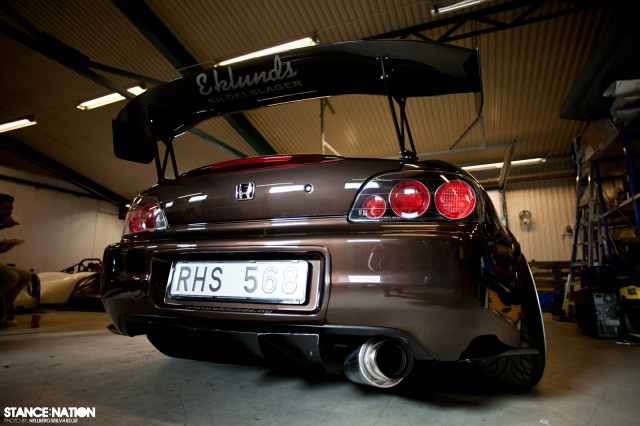 After many weeks of hard work the exterior was finally painted the same brown color as seen on certain Audis. Right around that time Albin also picked up a new engine and started building it from the ground up. You'll have to check the spec list below to see what all was done!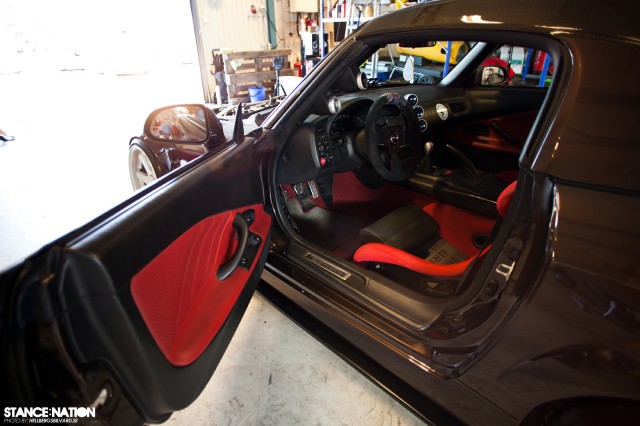 Everything that was ever done to this car was done by Albin himself, and the finished look is just incredible. Let's take a look at stance & fitment on this bad boy, shall we? The car sits on T1R coilovers and a set of Varrstoen wheels. Fronts are 18×9.5 wrapped in 215/40/18 tires while the rears are 18×10.5 wrapped in 235/40/18 tires. Albin also replaced the brake pads, fluid and all brake hoses.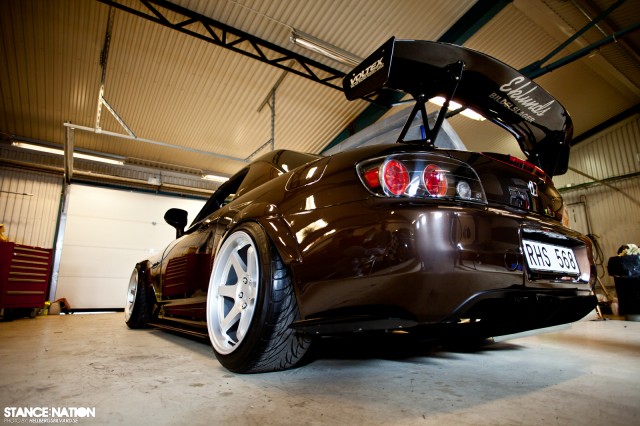 What about the exterior you ask? It features things like Seibon mugen style hardtop, Amuse front bumper and that huge Voltex carbon rear wing. His rear bumper was modified and a set of AP2 taillights were added. Side skirts, front lip and rear diffuser were all custom made by Albin. Check out rest of the spec list on bottom of the page.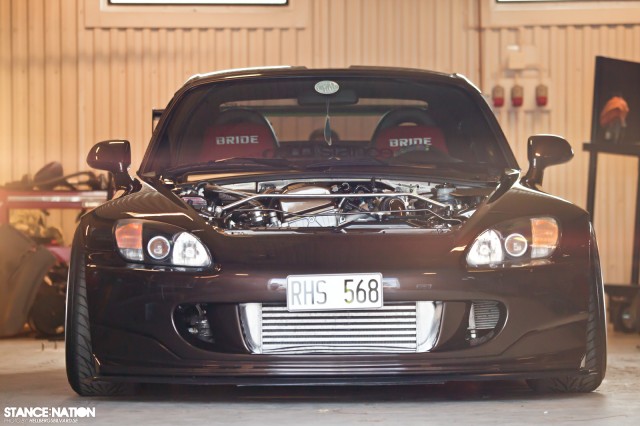 Pretty safe to assume that a few of you thought that the big wing served no purpose and the engine was stock, but it's actually not. It is actually equipped with inline pro turbo and features things like 1000cc id injectors, tial 38mm waste gate, stage 4 clutch, 3″ exhaust, and many more things. as a matter of fact, as the car sits, it's pushing around 342WHP & 405hp at the crank! Make sure you check out the spec list on bottom of the page.
Albin's dreams finally came true. Fully built "race inspired" S2K is in his possession and it sits just right. Subtle colors, but not common or boring. Stands out from the crowd but doesn't necessarily scream for attention. Everything is just right, but still not quite where he would like them to be. He would love to someday own a set of Rotiform race wheels but it's too expensive, especially where he is from. With that said, feel free to contact the Rotiform gents and let them know about this car. Maybe they'll be as amazed by it as us and offer some kind of sponsorship!
We'll end this feature here and leave you with a few more photos like we always do. Huge shout out to Albin as well as our photographers Peter and Vanja for making this feature happen. Stay tuned for more!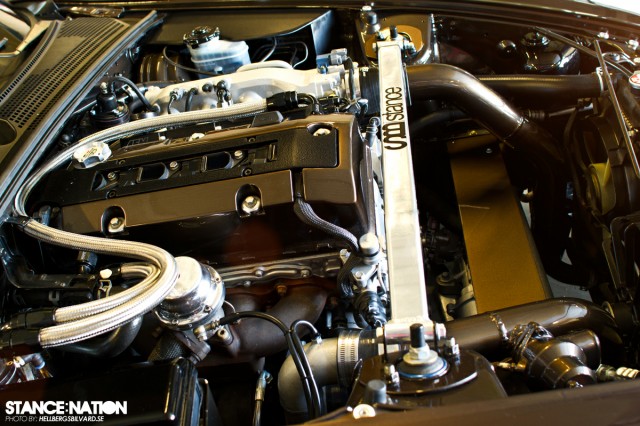 If you think your car has what it takes to be on our site make sure you email us at snfeatures@gmail.com. Make sure you include a few photos and your spec list as well as any other information we should know about you or your car. We're always looking for cars to feature! In the meantime we'll see you guys over on our facebook.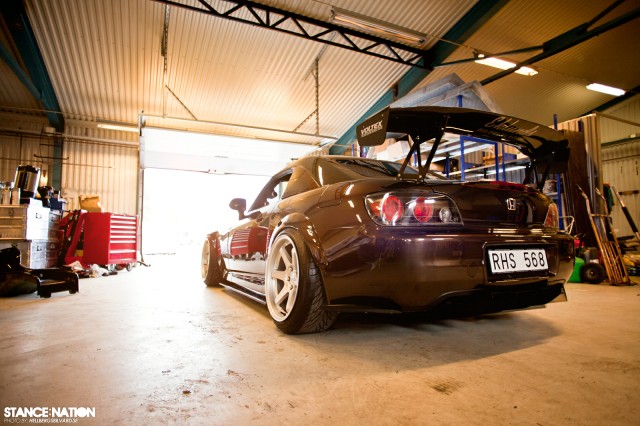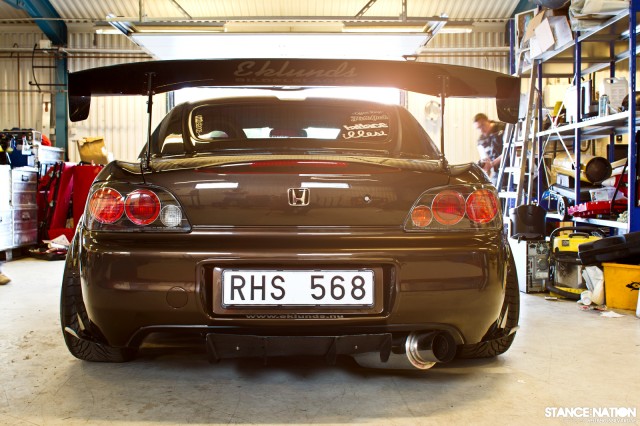 [toggle_box]
[toggle_item title="Wheels/Tires/Suspension" active="true"]t1r coilovers
varrstoen track 200
9,5 x 18 215/40 front
10,5 x18 235/40 rear
racing brakepads
racing fluid
racing brakehoses[/toggle_item]
[toggle_item title="Exterior" active="false"]CF seibon mugen style hardtop
amuse front
voltex carbon rear ving
modified rear bumper
ap2 taillights
air scoops in hood
home-made side skirts, lip, difusor in fiberglass
widened back about 5cm (homemade wideners)[/toggle_item]
[toggle_item title="Interior" active="false"]red/black inredningen
carbon fiber centerconsole
ap2 stereo door
depo racing guages
bride seats
nrg suade steering wheel whit quick release
pioneer stereo
mds speekers[/toggle_item]
[toggle_item title="Engine" active="false"]f20c2
redline 9200rpm
oem engine
1000cc id injectors
inline pro turbo
tial 38mm wg
stage 4 clutch capable of 600nm
3″ exuast + screemer pipe
aem ems v2
ic from evo 8 2,5″ whith pips
cusco lsd. 1,5way
342whp 405hp at the crank[/toggle_item]
[/toggle_box]