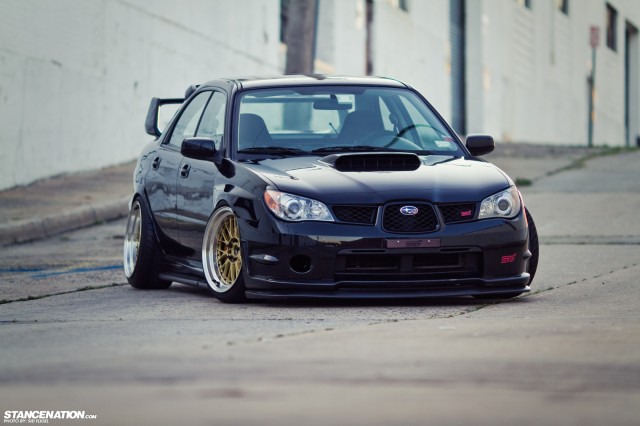 Driving slammed cars is fun.  I can't quite pinpoint what quality it is that is so intoxicating about street driving your car as it floats just above the asphalt, at times it seems borderline masochistic.  Every time you pass a building with large windows across the front you have to catch a glimpse of your car sweeping along, and it's amusing to see the reactions of passers-by's.  It's like they think your wheels are going to explode from the sides of your car, ripping your fenders off and consequently killing everyone in a shower of how-do-you-drive-that?-automotive-shrapnel.
Photos By: Sid Fligel exclusively for StanceNation.com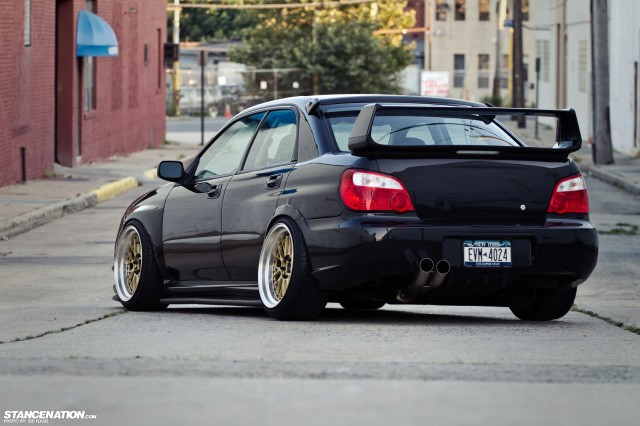 I'm sure this '06 STi gets plenty of fearful attention from onlookers, even on the tough streets of the Bronx, New York.  The "hawkeye" body style is my favorite of the 3 versions, though admittedly I was weary of it when it was first introduced.  I quickly became enamored with the slimmed-down headlights and the central grill, it gave the car an elegant aggression and a whole new look over the previous front-ends.  I think it balances well with the roof-mounted vortex generator and the famous STi wing from the factory, and it is great for aesthetically-minded enthusiasts, since it barely needs any additions to really pop.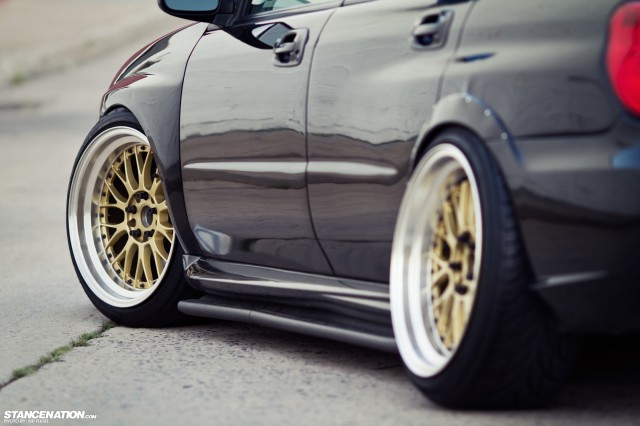 18×10″ +10 (front) and 18×10″ +0 (rear) XXR 521s in a gold hue provide the girth and rolling stock, with popular 225/40/18 Federals.  If you have an experience with the later model STis, you'll understand the rivets added on the rear fender extensions.  It looks like a pretty aggressive pull was necessitated by the 0 offset wheels and those extensions don't like to stay where they were intended to when you change the contour of the fender.  I also love the HT Auto sideskirts, they flow well with the Bayson-R front lip and do a good job of visually lowering the car.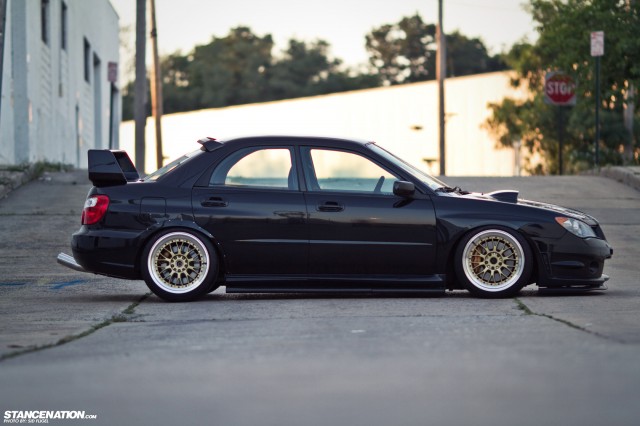 I'm not always a huge supporter of gold wheels, but gold/black is a classic Subaru combination that is easy to like.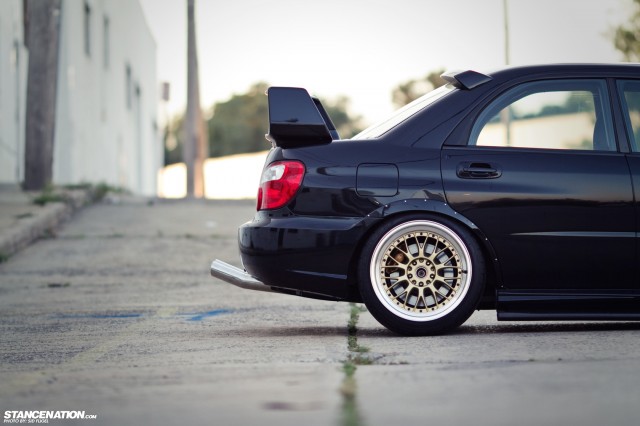 Many Subaru enthusiasts are drawn to the manufacturer by the signature boxer-4 burble.  This particular STi draws a bit of inspiration from the boso-scene, utilizing a custom straight-pipe exhaust with A-Spec blast pipes protruding from the rear — I'm sure the local authorities love the thunderous flat-four cacophony from the custom setup.  It's not a look for everyone but Vic (the owner) tells us it definitely fit what he was going for. I've always been a fan of the "anti-establishment" aura that surrounds loud cars — so thumbs up from me for raising some hell in the New York streets.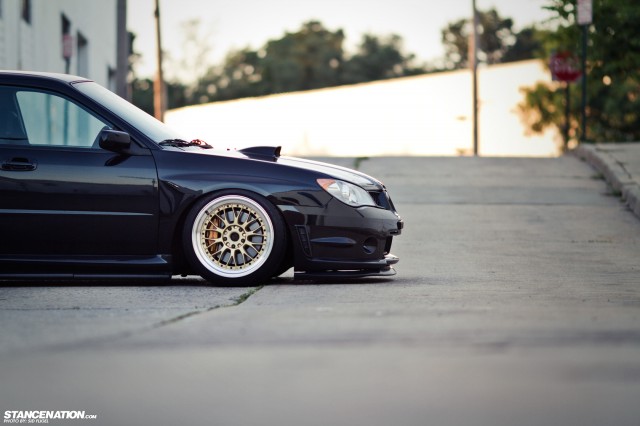 Slammed, loud street cars.  Cool.   Maybe one day I'll determine the exact parts that are so addictive.  Is it the rush of riding close to the road?  The challenge of avoiding obstacles?  Or just the simple fact of knowing that what you're driving looks awesome?  I'm going to give myself a headache.  In the meantime, our buddy Vic will be cruising through the Bronx with audio system pumping, blast pipes roaring, and undercarriage scraping in this slammed black STi.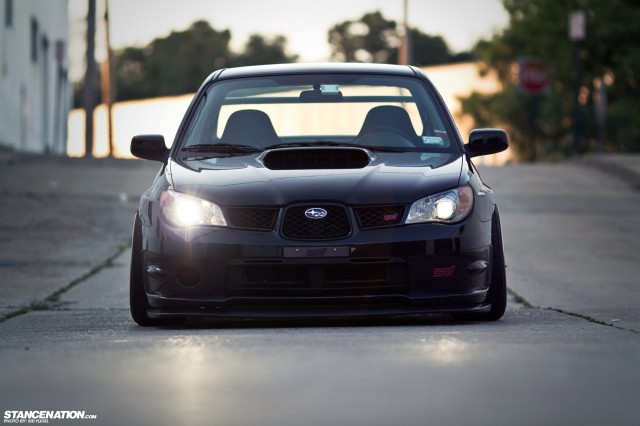 As always, we'll leave you with a few more photos. This particular set was shot by our photographer Sid Fligel so big shout out to him! Also, big ups to Vic for building such a sexy Subi.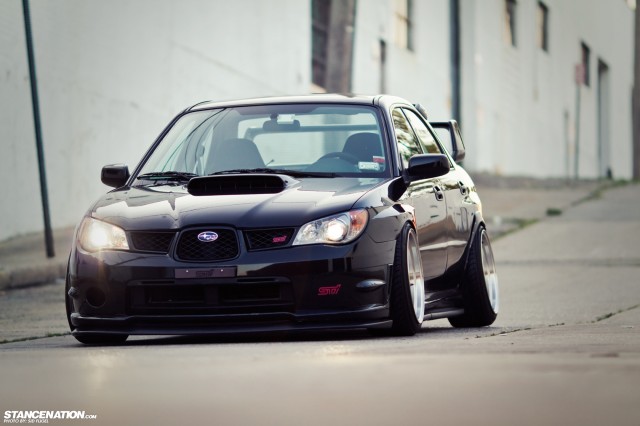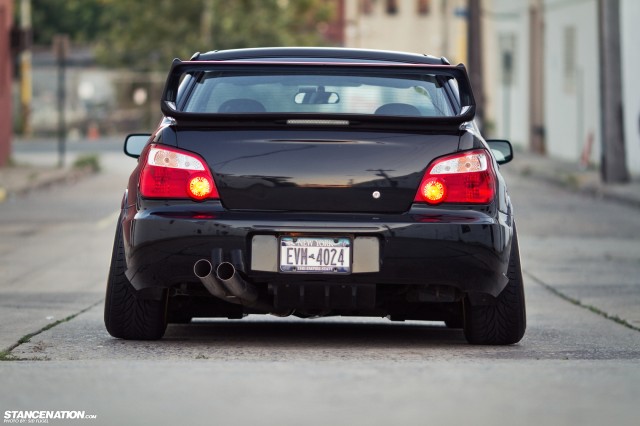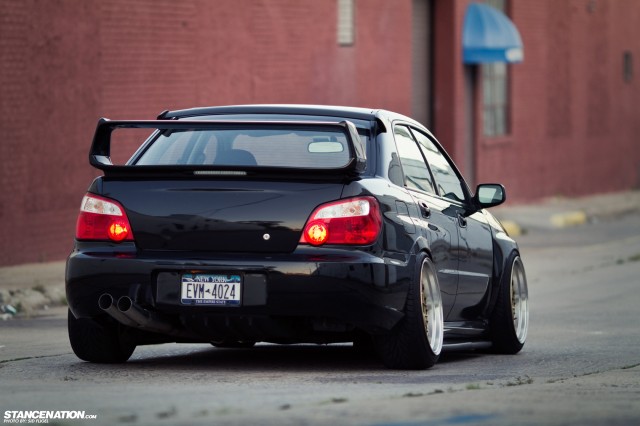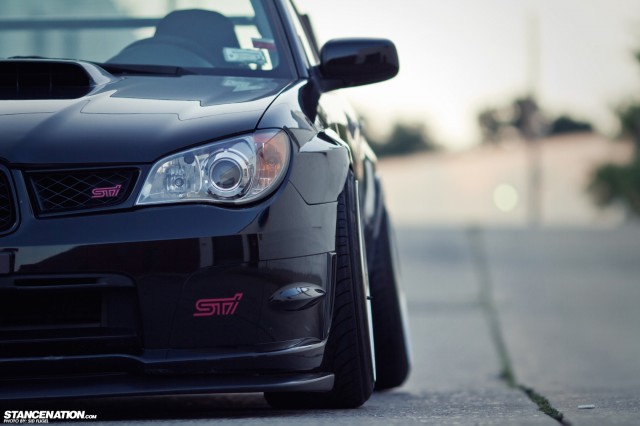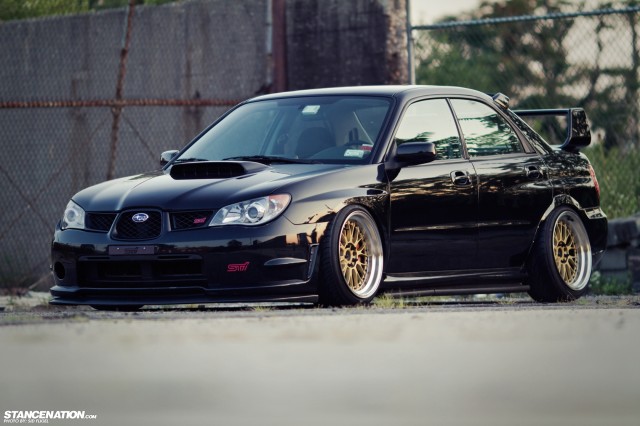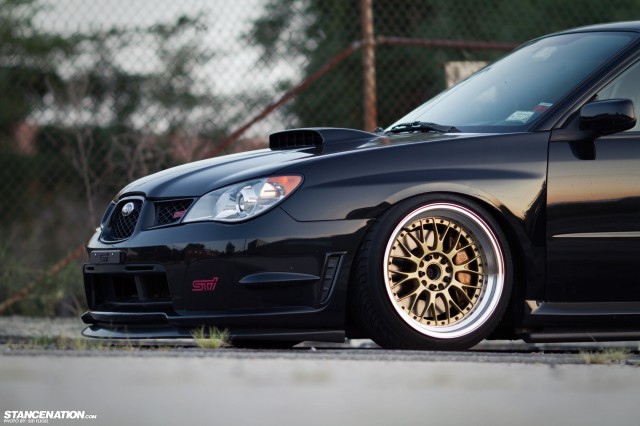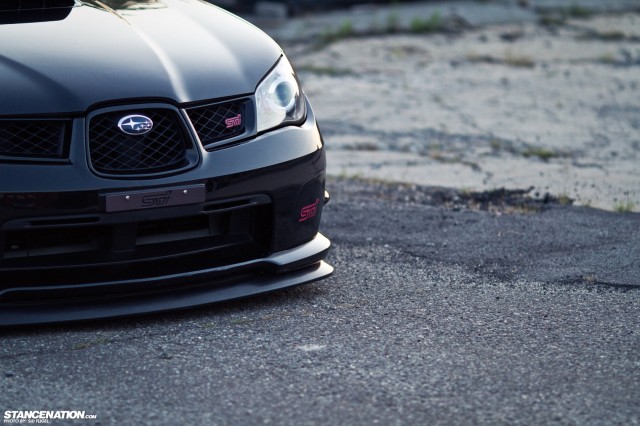 [toggle_box]
[toggle_item title="Wheels/Tires/Suspension" active="true"]BC BR coilovers w/rear camber plates
Eibach Camber Bolts
XXR 521 18×10 +10F +0R
Federal 595 225/40
[/toggle_item]
[toggle_item title="Exterior" active="false"]Bayson R Front Lip
HT Autos Sideskirts[/toggle_item]
[toggle_item title="Interior" active="false"]CBINS Parts iPad Mount
Single din clock pod
NRG hub
NRG Quick Release
Nardi Deepcorn Suede wheel
Evo 8 Recaro Seats[/toggle_item]
[toggle_item title="Engine" active="false"]Turbo Xs RFL BOV
Walboro 255 fuel pump
Hallman MBC
3in catless DP
HRE Fab Custom Catback
A-Spec Blast Pipe
Stage 2 Tune[/toggle_item]
[/toggle_box]