Over the last year or so I've been exchanging emails and photos of cars with Yusaku-san (owner of this car). While we did have a language barrier in between us, what was very obvious was that he is just like many of us. From showing me teasers of his Odyssey and asking me not to share with anyone to simply wanting to do something a bit more aggressive than the next Odyssey. Yusaku-san is a young car enthusiast out of Japan who has built quite a reputation for himself. His Odyssey has been in all kinds of magazines and advertisements and it truly is an honor to share this young mans pride and joy with all of our fans here in the states and across the world.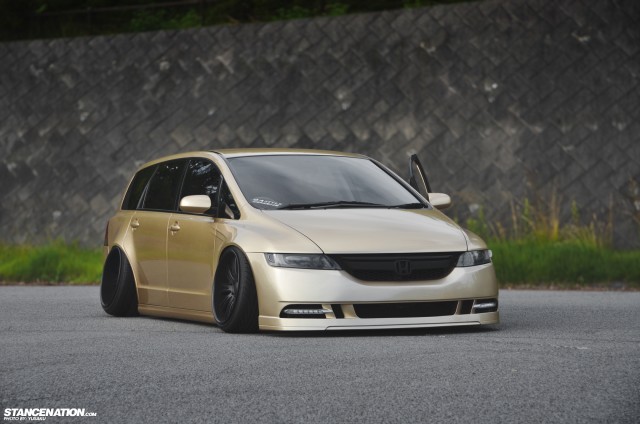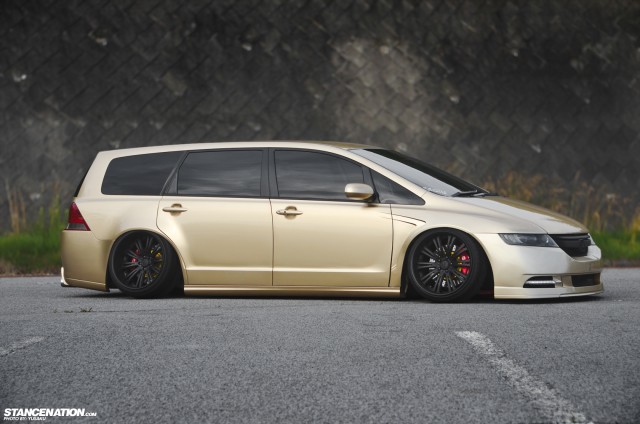 Right off the start you'll noticed that this is far from your average van. (Click Here) To be honest, there really isn't much left of the original vehicle. Everything from lights, fenders, bumper and mirrors have been replaced. One of the more noticeable body changes are the radiused fenders all around, and widened rear fenders. When I say widened I don't mean a fender pull, instead cutting and widening the fender doors and bumpers so it all flows together. Contrary to popular belief not all of the owners do the work themselves. MATERIAL & L-TIDE did most of the body work on this particular RB1 Odyssey and it's looking damn good.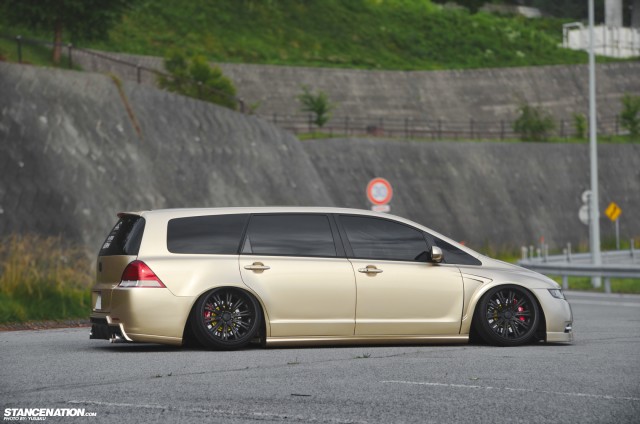 The front bumper is made by V Vision though it was customized, a lot. Same goes for the rear which originally started as an aftermarket bumper made by VLusty Jewel while the side skirts were all custom. One of the things that you would probably overlook if I didn't mention it are the fact that those custom fenders lines extend onto the doors for a more "complete" look. Other small exterior details include the custom matte black grill to match those aggressive wheels and lots of light retrofitting.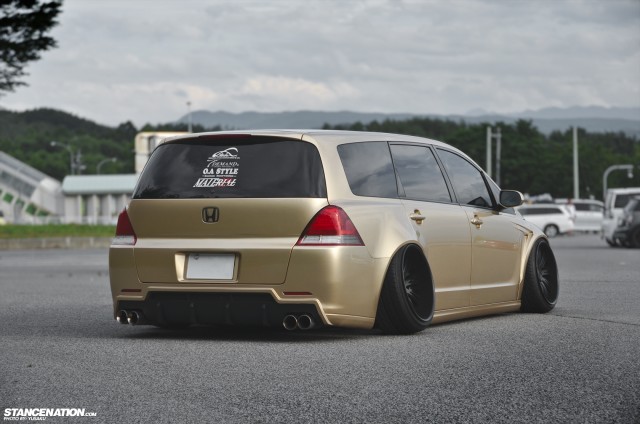 For example, up front, those LED lights where the traditional fog lights would go come from a Mercedes Benz. Front headlights also feature custom Toyota Estima projectors while the rear lights were retrofitted with a ton of custom LED lights in them.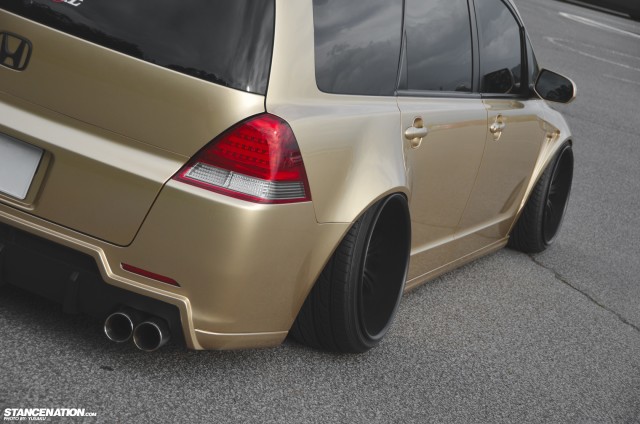 Fitment is just insane as you can see. You're looking at Riverside Trafficstar wheels sized in 19×9.5 up front with an offset of -18 and 19×11 in the rear with a massive offset of -58! Yusaku-San had the wheels painted matte black to match the theme and wrapped in Nankang 215/35 up front and 265/30 tires in the rear.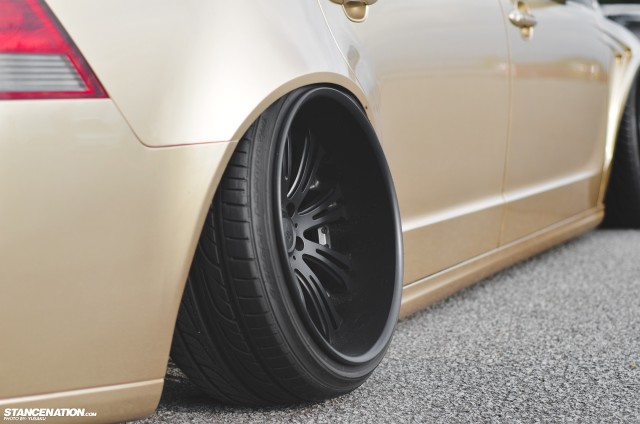 Most surprising thing about this beauty is that it sits on coilovers. Yes, static stance! The T-Demand coilovers are equipped with custom 40K / 40K spring specs. It's also rocking V-Vision knuckle and completely custom upper and lower control arms just to name a few things.
Behind those massive wheels sit a set of stunning Cusco brakes. Up front you've got 8pot w/356mm drilled rotors and in the rear 6pot w/356mm drilled rotors as well.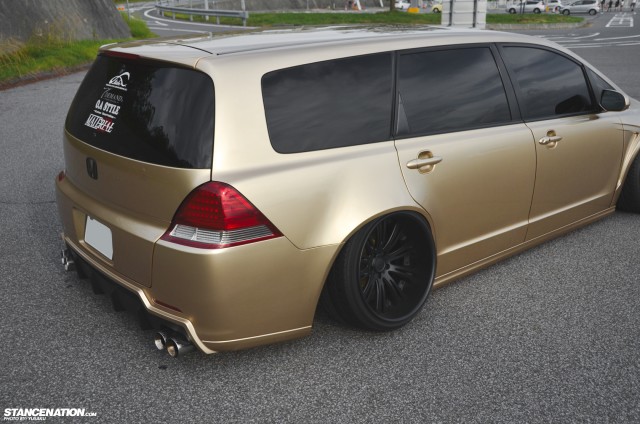 Interior wasn't left untouched don't you worry. Everything was reupholstered including seats and doors. It also features plenty of goodies from the reputable Carrozzeria. Check out some photos below to get an idea.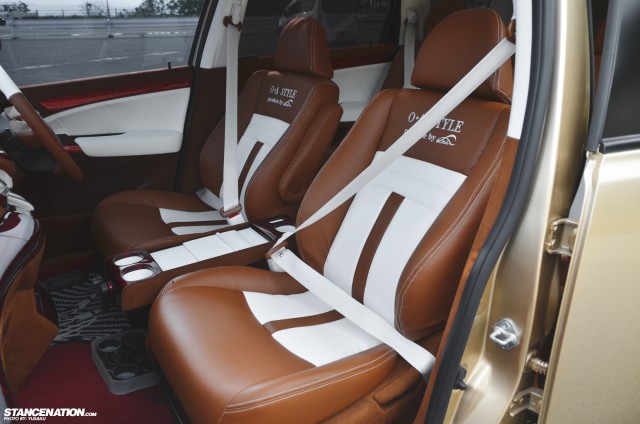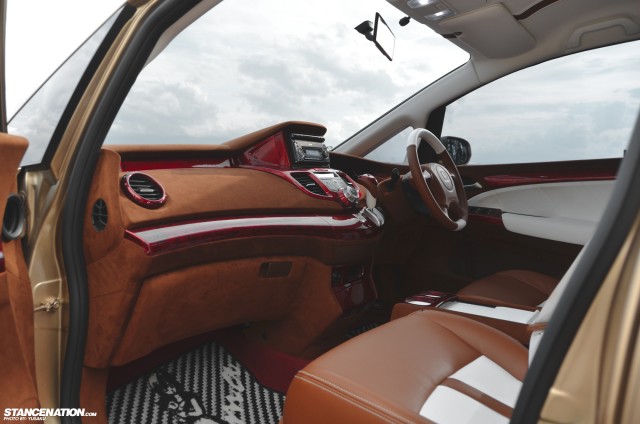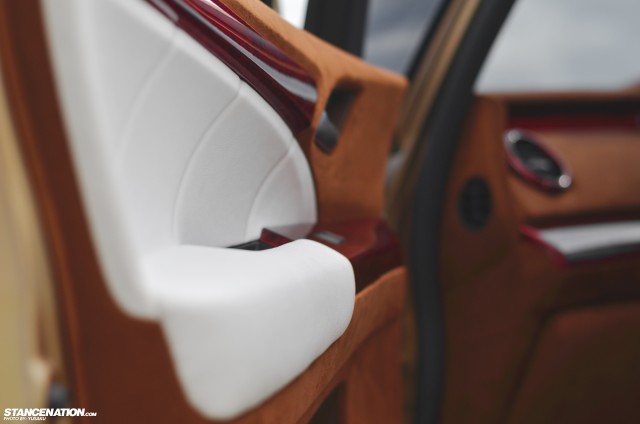 With that said, I'd like to give a shout out to all my friends overseas especially those who follow StanceNation as close as they do. In the next few days I'll be uploading a bunch of photos of Yusaku-san friends Nissan Stagea so be on the lookout for that!