You can't play style by the numbers. We try, desperately, to create a formula that produces style, flavor, or "steez" with failing results. You hear numbers tossed around often in our world that inevitably requires an intimate understanding of them. Camber angles, offsets, spring length, engine sizes, even the cars themselves often have alphanumeric designations. Despite this intrinsic component of our environment you simply can't compute the elements of personality and taste that are so important to the final product.
Photos By: Jon Tran exclusively for StanceNation.com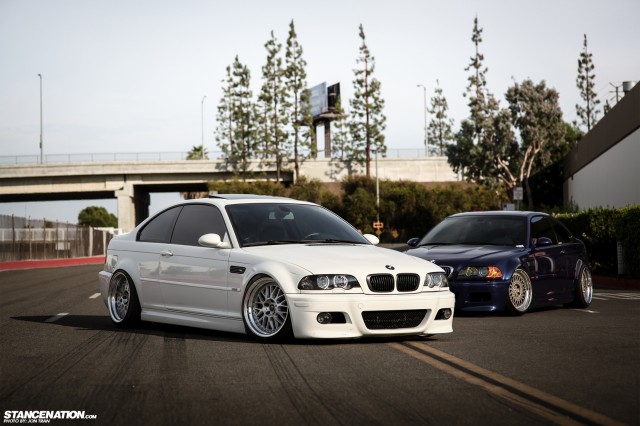 Let's toss some numbers around, and try to read this paragraph in a voice reminiscent of Sesame Street's Count. We've got two, two M3s. Ha ha ha! M-THREES! That's two M3s more than I own! Okay I can't talk like the Count any longer. These are both the third generation of the BMW M3, the E46 model, and come with 333hp. I often wonder if BMW did that on purpose. Since the debut of the E90/92 models, prices have lowered on the E46 M3 and they have become increasingly popular. There's no question that even in stock form they are beautiful vehicles and highly capable for whatever purpose you have for one. With a 6 individual throttle bodies feeding the Bavarian work of art known as the S54, huge flares, and capable chassis the M3 has earned its stellar reputation.
James and Navith are the owners of these two 2005 E46 M3s, respectively. Both are 6-speed models and they are quite similar by the numbers. However, looking through the pictures tells a much more interesting story and it's obvious both have different styles in their individual take on building a clean M3. Both are tasteful in their own right and I'm sure you've already picked your favorite.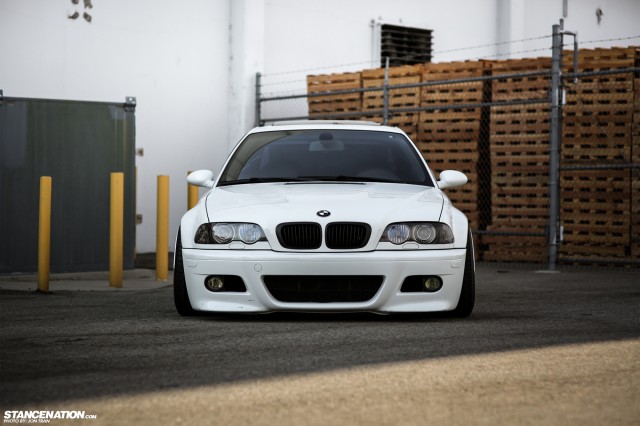 Navith owns the Alpine White version; the darkened lenses, black interior, and black grills accentuate the clean white hue. James' blue Competition Package takes a different route with chrome grills and amber taillights/corner lenses. I've seen a few M3 owners do this and I'm a huge fan of the amber lighting on the higher models. It's a subtle touch that works well with the blue paint.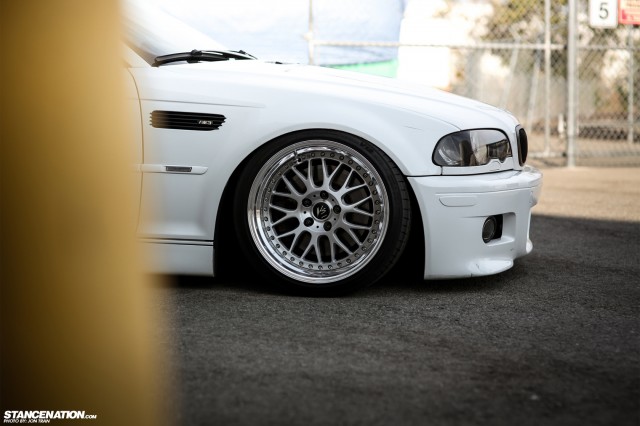 BC Racing supplied the coilovers for both vehicles. Navith's is equipped with BR-Series while James' opted for the 'Floss' Edition coilovers, that are capable of super-low ride height (James' pseudonym is 'Floss'). James BMW made waves with impressive CCW Classics on a prior setup.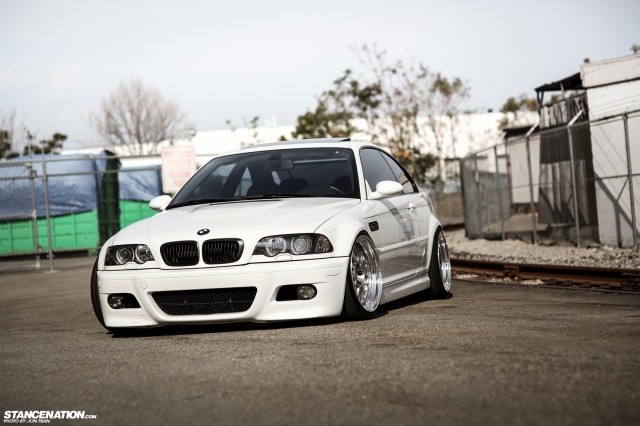 Each car features an 18×10″ (f) 18×12″ (r) wheel setup. Navith chose wheels of Japanese origin with a custom set of Work VS-XX, rebarreled from an original 17″ size. American wheels get the nod on James' car with a set of HRE 501s from the new Vintage line. Hankook V12s sized 245/35/18 and 285/30/18 are utilized on both setups. The 12″ rear wheel fitment looks fantastic when paired with the 285s and the E46 M3 is among a handful of vehicles that can pull off that kind of fitment on factory metal.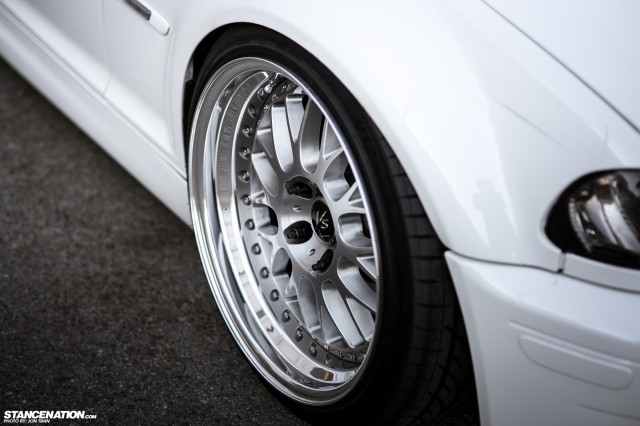 Pretend you never saw either of these vehicles. You were blindfolded and someone described two E46 M3s with factory body appointments and both were slammed on 18×10/12″ wheels with the same tires. They gave you nothing but the numbers. Naturally you might picture two identical vehicles. You'd miss the individuality of each car found in the minute changes each owner has made and the quality of the details in the wheels. I hope you enjoy these two threes on eighteens. Numbers may tell you a lot, but there sure is a lot they can leave out.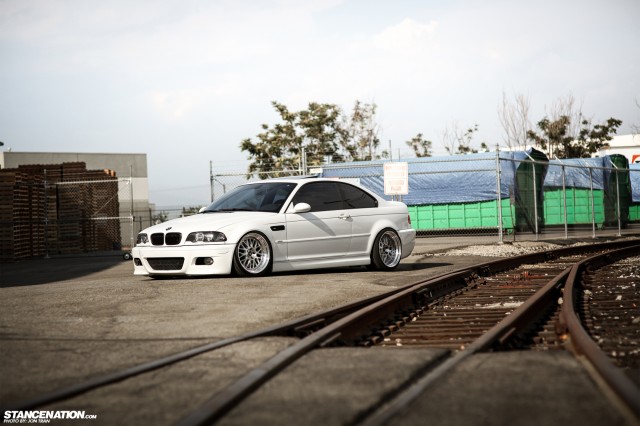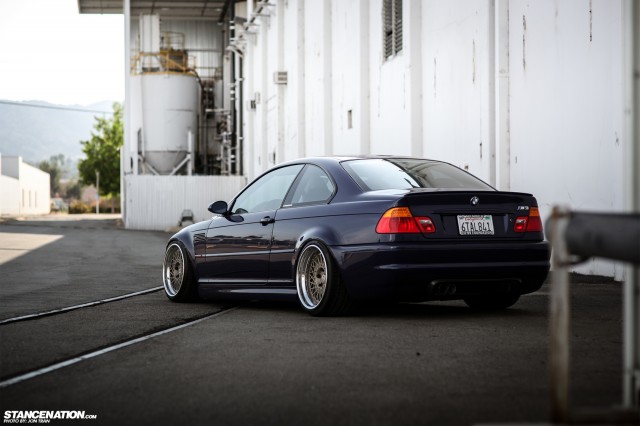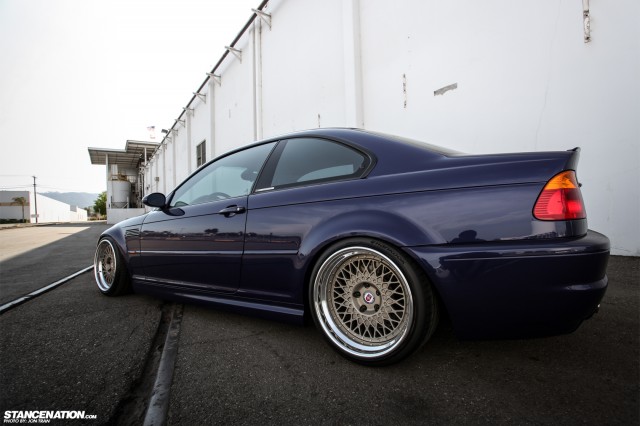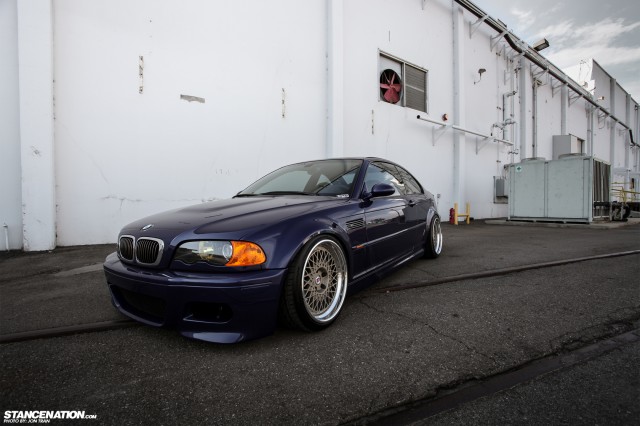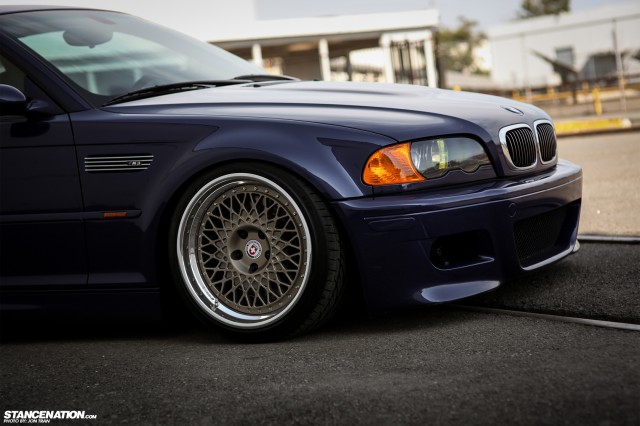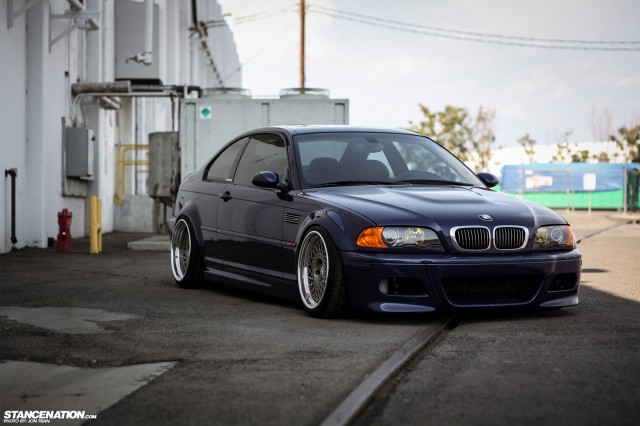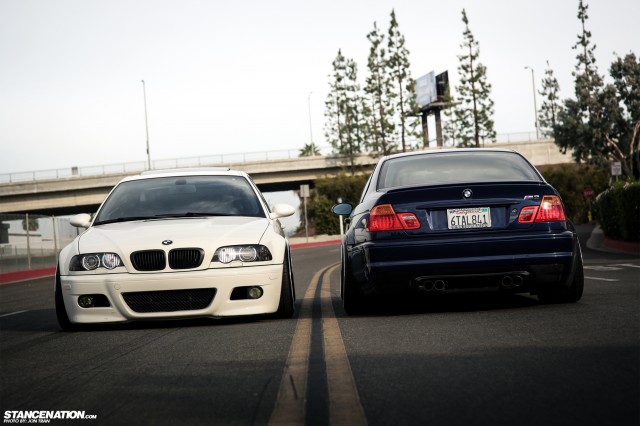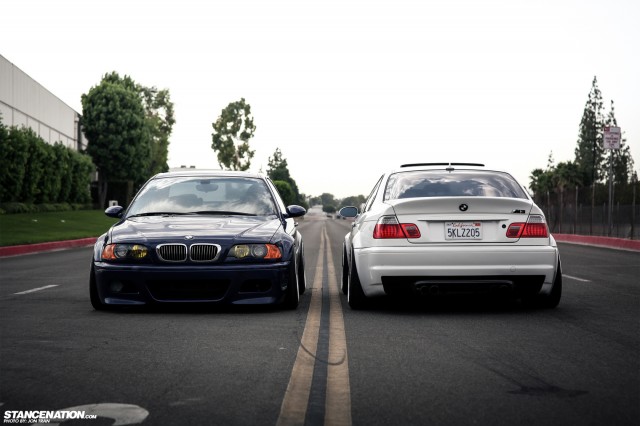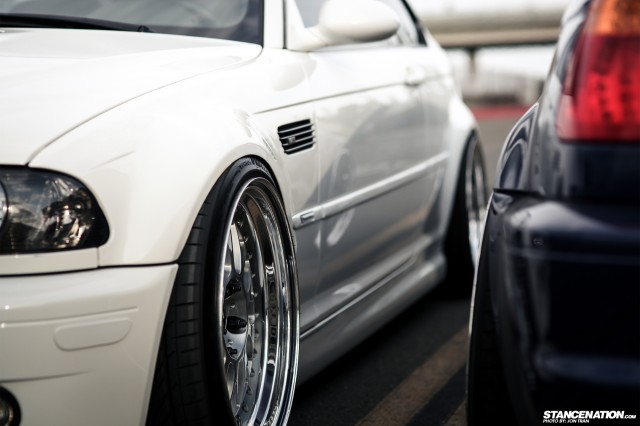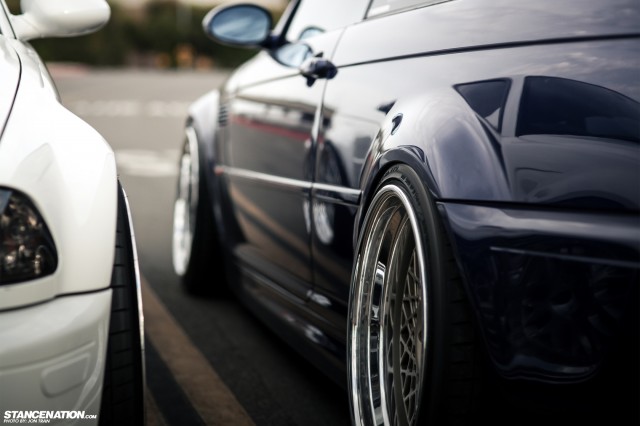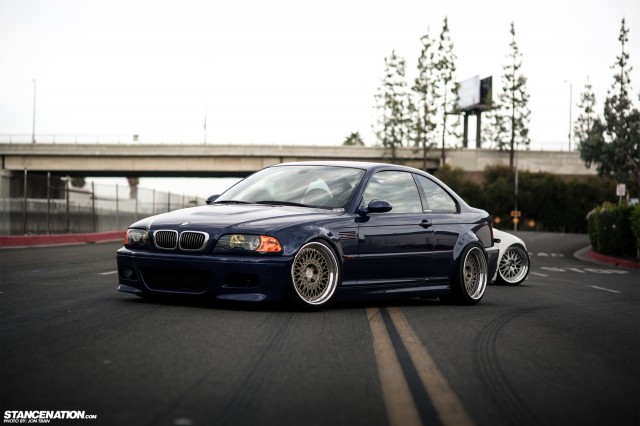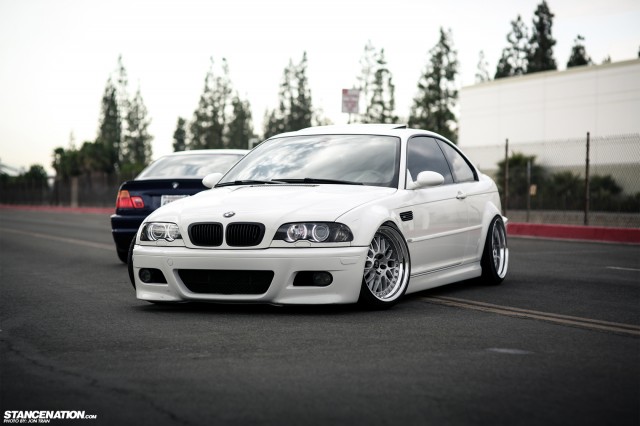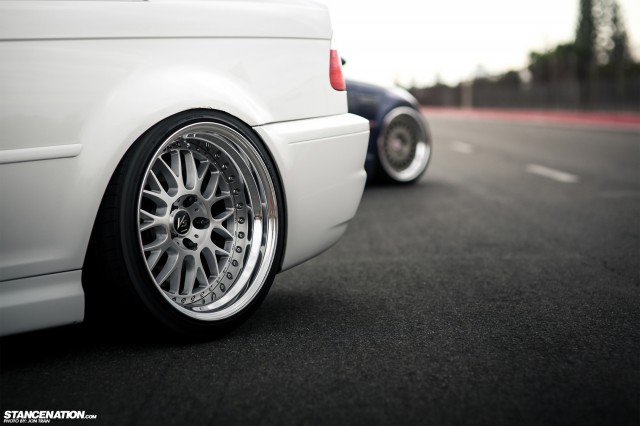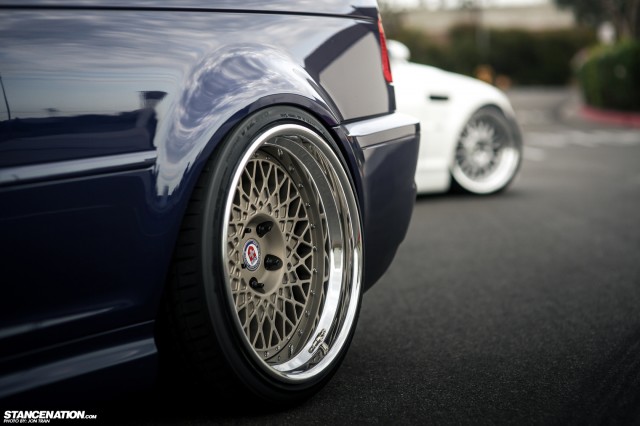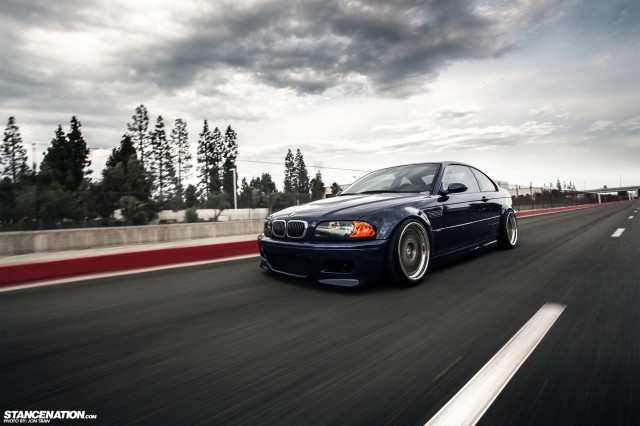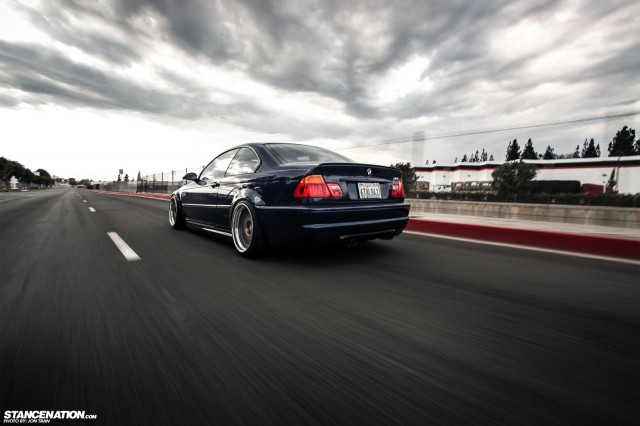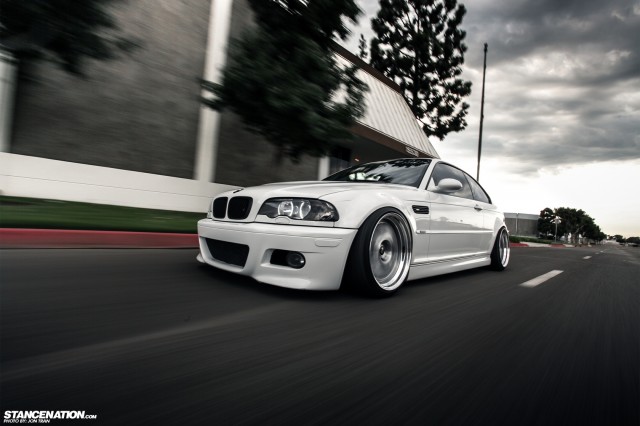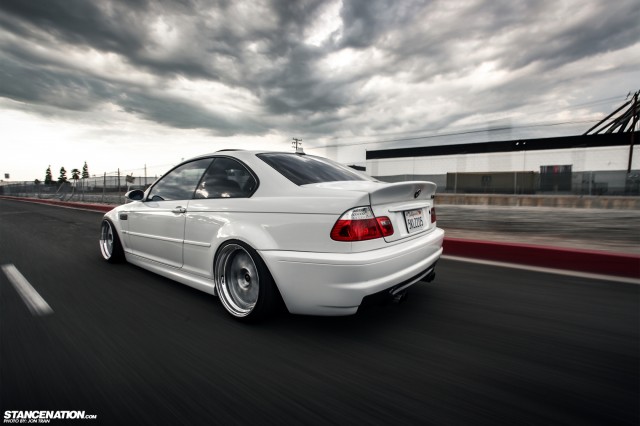 [toggle_box]
[toggle_item title="Navith's White M3″ active="true"]2005 BMW M3 // Alpine white w/black interior & (6spd)
BC Racing type BR coilovers
Work vsxx custom rebarreled from 17″ into 18″ step lipped. Brushed cleared centers with polish lips.
18×10 & 18×12
Hankook Evo v12
245/35 285/30[/toggle_item]
[toggle_item title="James' Blue M3″ active="true"]2005 BMW M3 // Competition Package (6spd)
HRE 501 – 18×10 – 18×12
Hankook V12 tires 245/35 – 285/30
BC Racing Coilovers – FLOSS Edition Spec
Status Gruppe Tuning front sway bar links
Status Gruppe Tuning X-pipe
Amber corners
Amber sidemarkers
Amber LED Tails
Gruppe M rep exhaust
CSL Carbon rear diffuser
Match paint front bumper reflectors
ZHP shift knob
Alcantara shift boot
Z3M shifter[/toggle_item]
[/toggle_box]