It's safe to assume that many of you die hard fitment fans are thinking "Oh, it's a slow old Subaru with massive wheel gap" right about now. However, this one is slightly different. When I was in high school I thought these first generation Subaru Imprezas were the coolest cars around. Even this one in particular, yes, this exact one. When I first saw James Gawley's car I was a sophomore in high school. Back then it was just another stock 2.5 RS, but I was still in love. Since then, it has come a long way, and it is my honor to introduce you to James' awesome Subaru!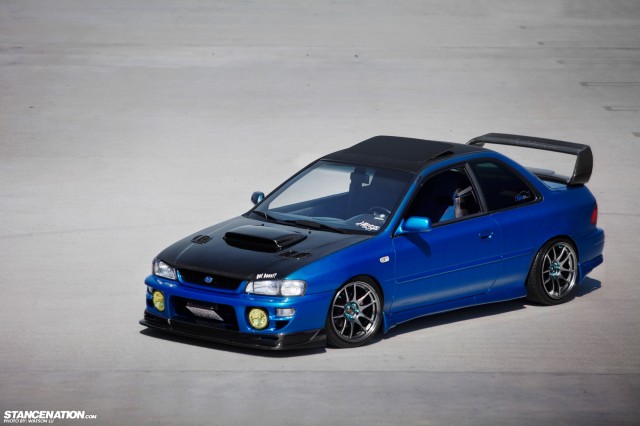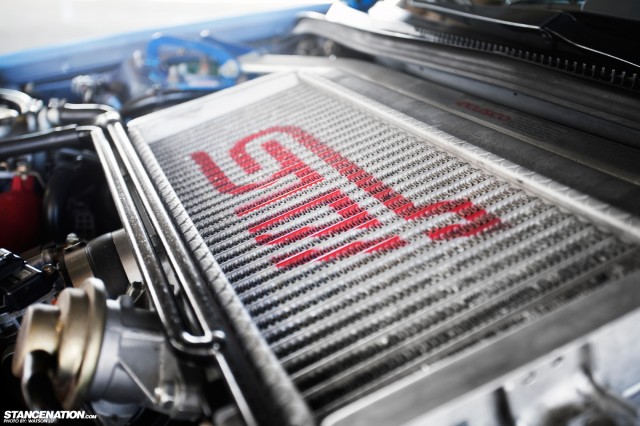 James roamed the streets of our hometown in a stock Impreza for quite some time, but every so often he would get new parts that would start setting the car apart from others. A few years down the road, I stopped seeing it around. James had left for school in Southern California, and I went to school further north. We were 500 miles apart. I figured, I would probably never see the car again, but then the galaxies, unicorns and moons aligned. I posted a status about going to Formula Drift in Irwindale and James commented on it, suggesting that we meet up. Shortly after, we got to talking and planned the shoot.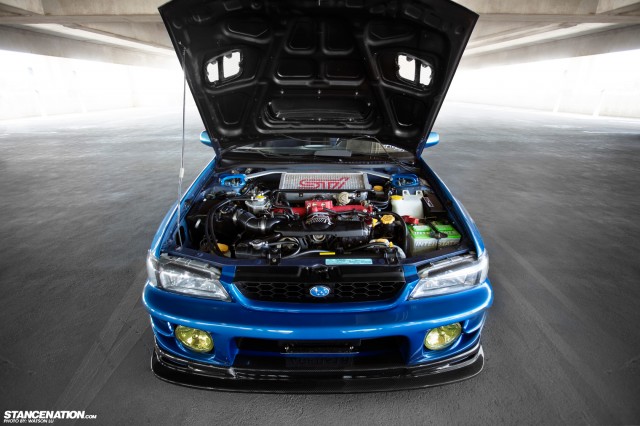 This car has come a long way from being your average 2.5 RS. It's gotten a complete overhaul from inside out, including a heart transplant. It now has a complete 2004 STi engine along with matching interior, special thanks to Brian Keene at iWire along with Frank Turcios for doing the swap. This Subaru sits on Tien Flex coilovers and has 20mm STi front and rear sway bars. It is no longer a "your typical Subaru", what do you say?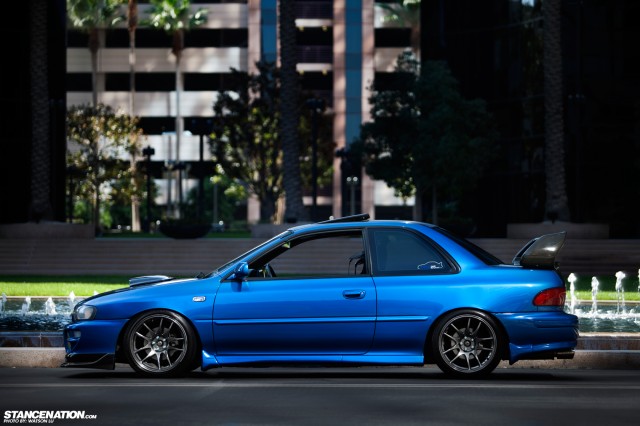 In the end, this may still just be an "old subaru" to most of you but for me its age gives it character. This car will not out perform a 2012 STi by no means, but a 2012 STi will never have the same essence and character of a car that is built from ground up. Seeing the progression of this car from its life as a 2.5 RS to its current state has been a pleasure that I was lucky enough to see firsthand.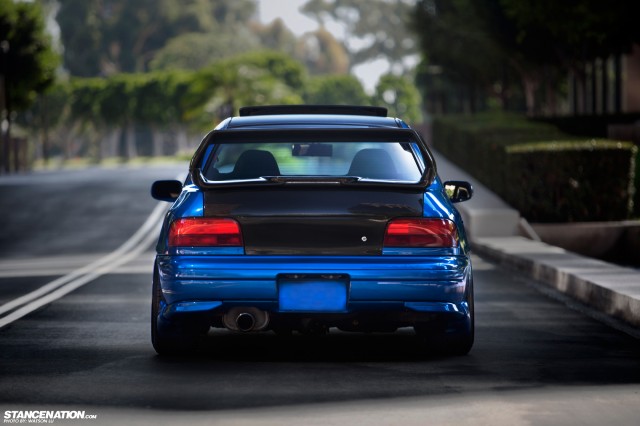 With that said, James is not completely done. His future plans for this GC8 include a widebody and a rotated turbo set up. In James' words, "This car is going to be a track beast one day."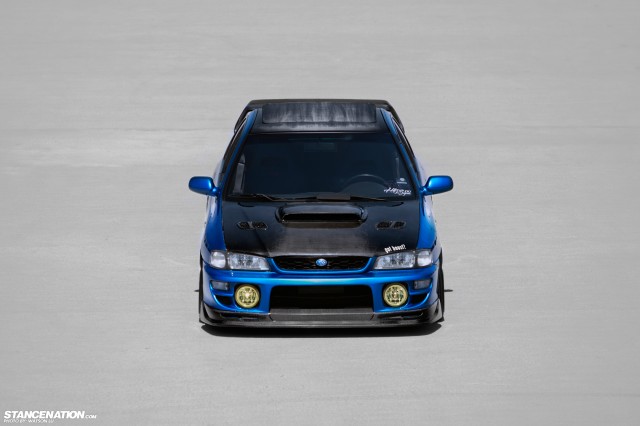 If you like my photos I would appreciate it if you could follow me on my Facebook and on Instagram @watsonlu.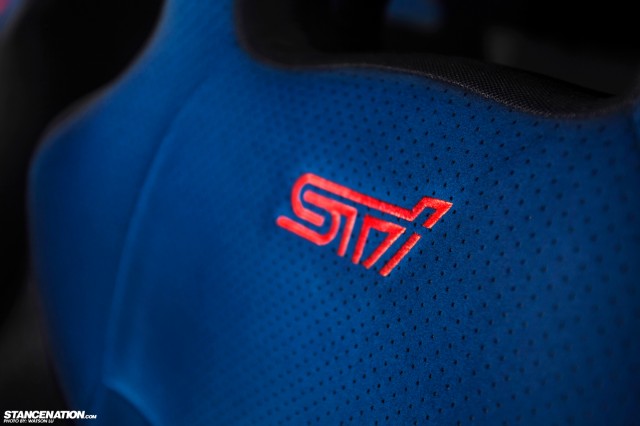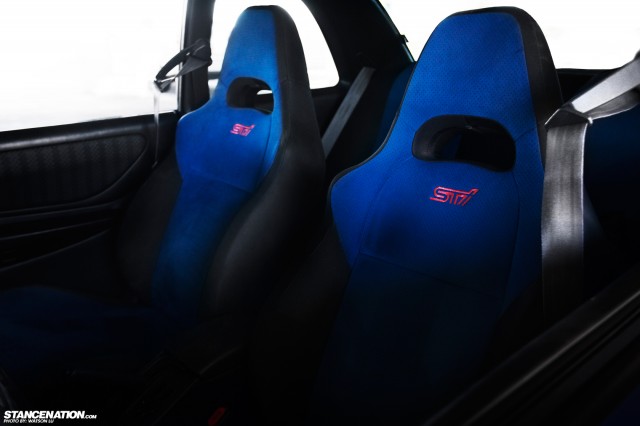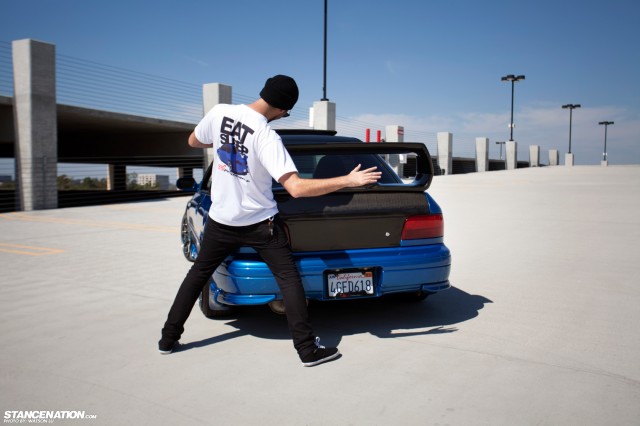 [toggle_box]
[toggle_item title="Wheels/Tires/Suspension" active="true"]JDM GC8 front cross member
Cusco front strut bar
STi 20mm front sway bar
STi 20mm rear sway bar
Tein Flex coilovers
Ingalls Fastcam Rear Camber Bolts[/toggle_item]
[toggle_item title="Exterior" active="false"]DDM HIDs
JDM GC8 rear spats
JDM GC8 front aeroguards
JDM GC8 rear aeroguards
CF Seibon CW Front Lip
CF v6 spoiler
CF trunk
CF hood with s201 scoop
CF 3M Vinyl Roof Wrap
CF UK Rock Protector Headlamps
JDM GC8 clear corner lenses
Rockblocker yellow foglights and red rear lights
JDM license plate bracket[/toggle_item]
[toggle_item title="Interior" active="false"]04 STi front seats
04 STi rear seat
Kartboy shift knob
Broadway rear view mirror"[/toggle_item]
[toggle_item title="Engine" active="false"]2004 STi Engine
2004 STi headers
2004 STi up pipe and down pipe
2004 STi mid pipe and exhaust
Kartboy short shifter with shifter bushings
01 RS rear end with LSD
JDM GC8 TMIC hood splitter[/toggle_item]
[/toggle_box]