As a writer for StanceNation you are exposed to many different styles of modification on many different platforms. Nearly anything is possible as we try our best to showcase the wildest, cleanest, and unique builds from all parts of the globe. However, even in my extended group of car friends and acquaintances, have I yet to hear of someone like the owner of this car you see before you. Hailing from Houston, TX is Stevie Phamo. Stevie is a self confessed Honda Fetishist with interests in wheel porn as well as traveling.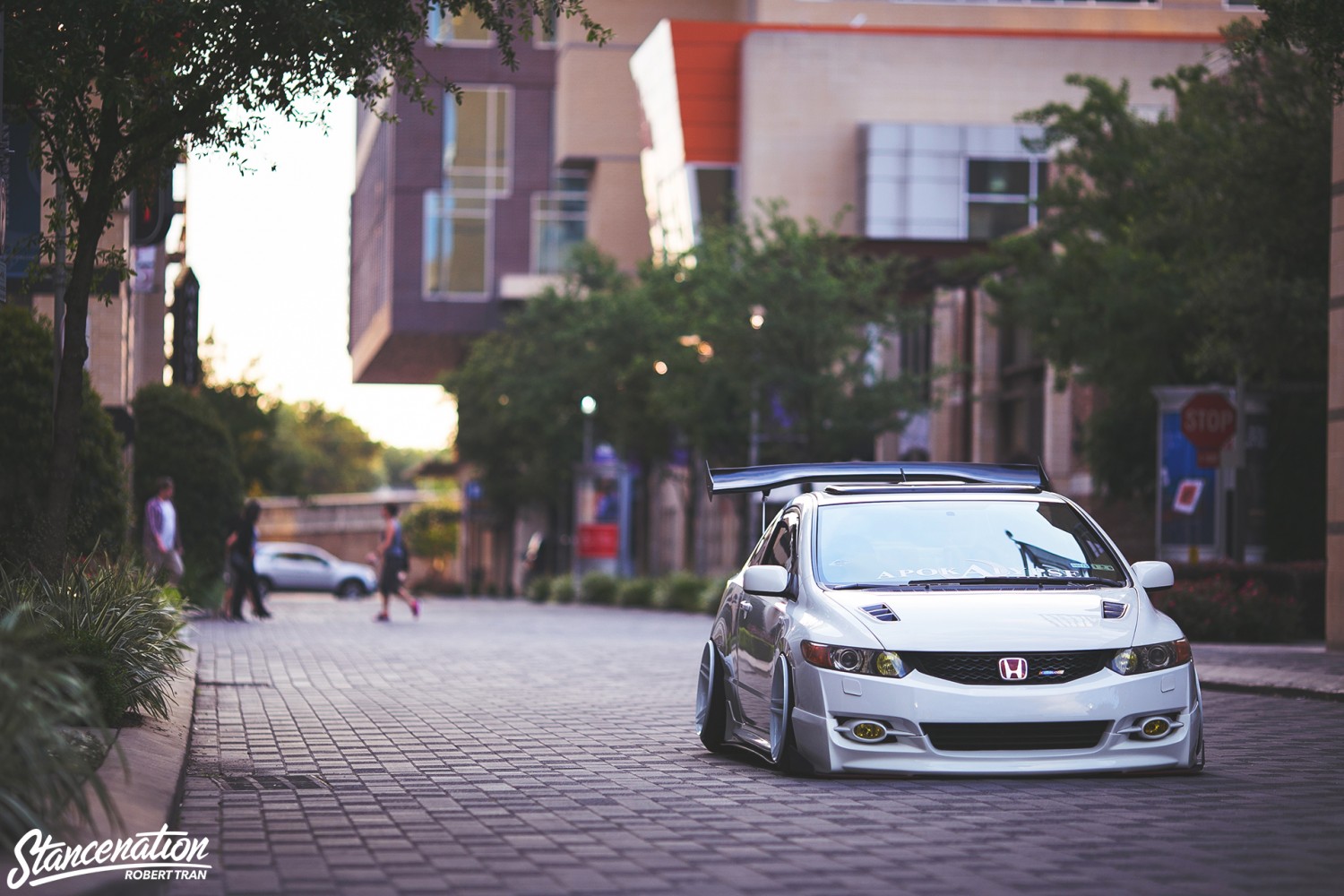 Stevie Phamo is a true Honda enthusiast as he has said he as owned this car since the day it was released. If the car scene was the same as the limited sneaker game, Stevie would be the guy camped out a week before the other guys even contemplated lining up. However, lets talk about the car. Now the one thing that popped out to me the most and I feel sets this car apart from the rest is its ability to be snap on, or plug and play. With multiple set ups for the front, rear, and wheels, this car can be mixed and matched to how Stevie is feeling for the ride out.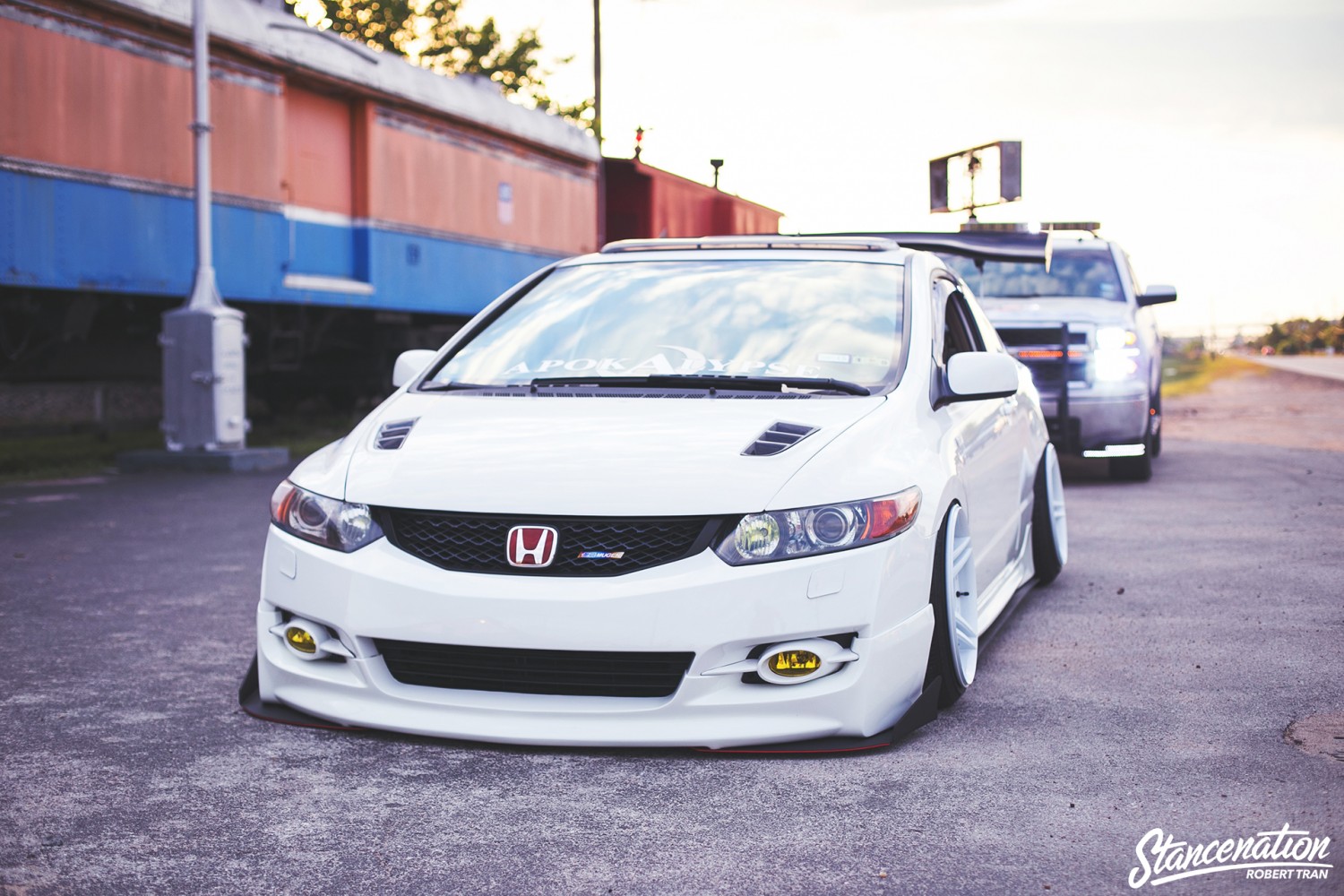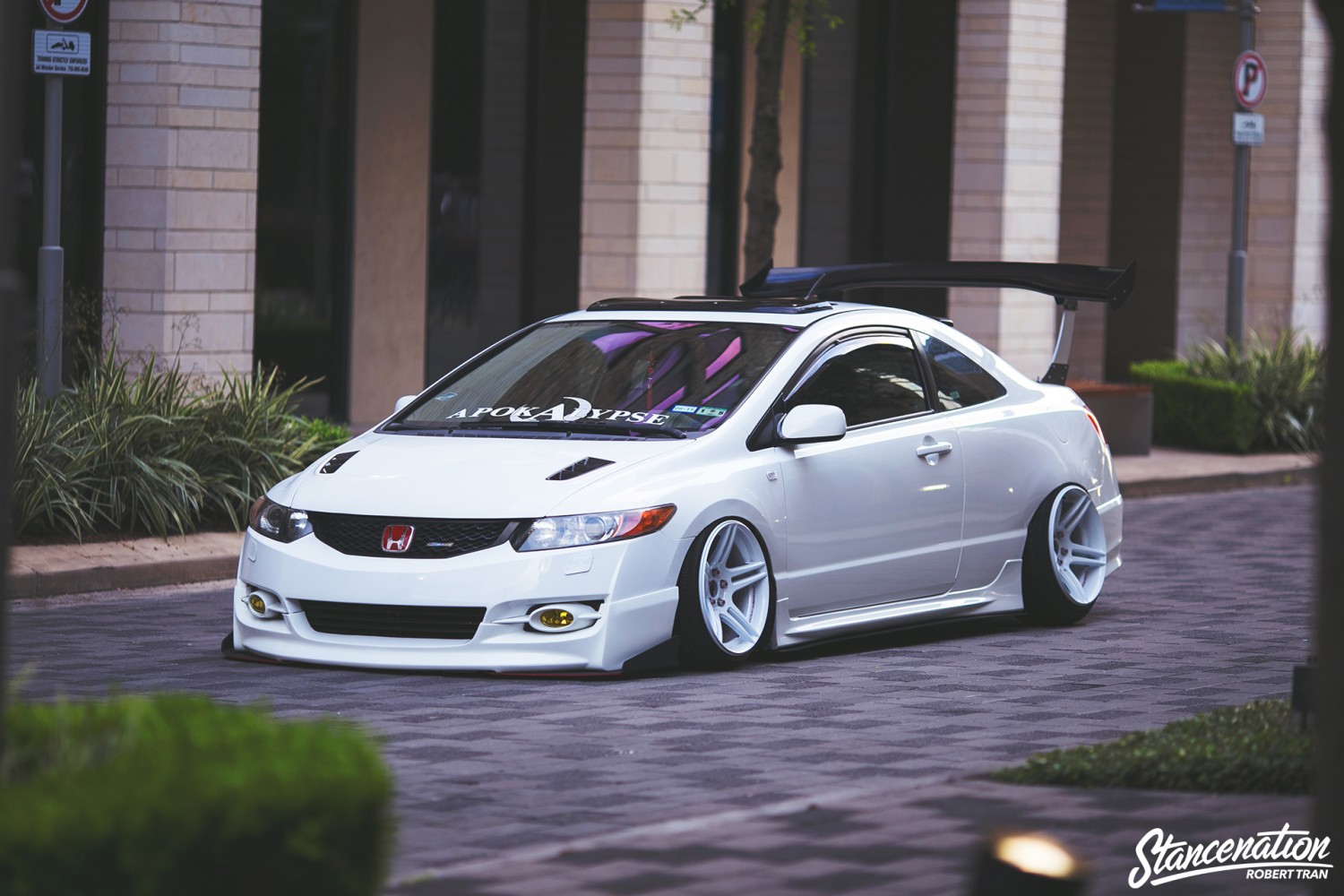 Currently, this car gets down by way of Tein Mono Flex Coilovers with custom springs. Progress Rear Sway Bar
s tighten the rear of the car while a Skunk 2 camber kits
 and SPC camber bolts assist with adjusting the settings of the suspension geometry. Sitting at a tilt, are some concave beauties underneath the fenders of the car, Stevie's favorite thing about the car. Cosmis Racing wheels measuring in at 17×9 -5 and 17×10 -10 sit on all four corners of the subtly widebodied car. This is not his only set of wheels as he also has approximately 8 more sets, which include, BBS, Works, Desmonds, Panasports, amongst a growing collection.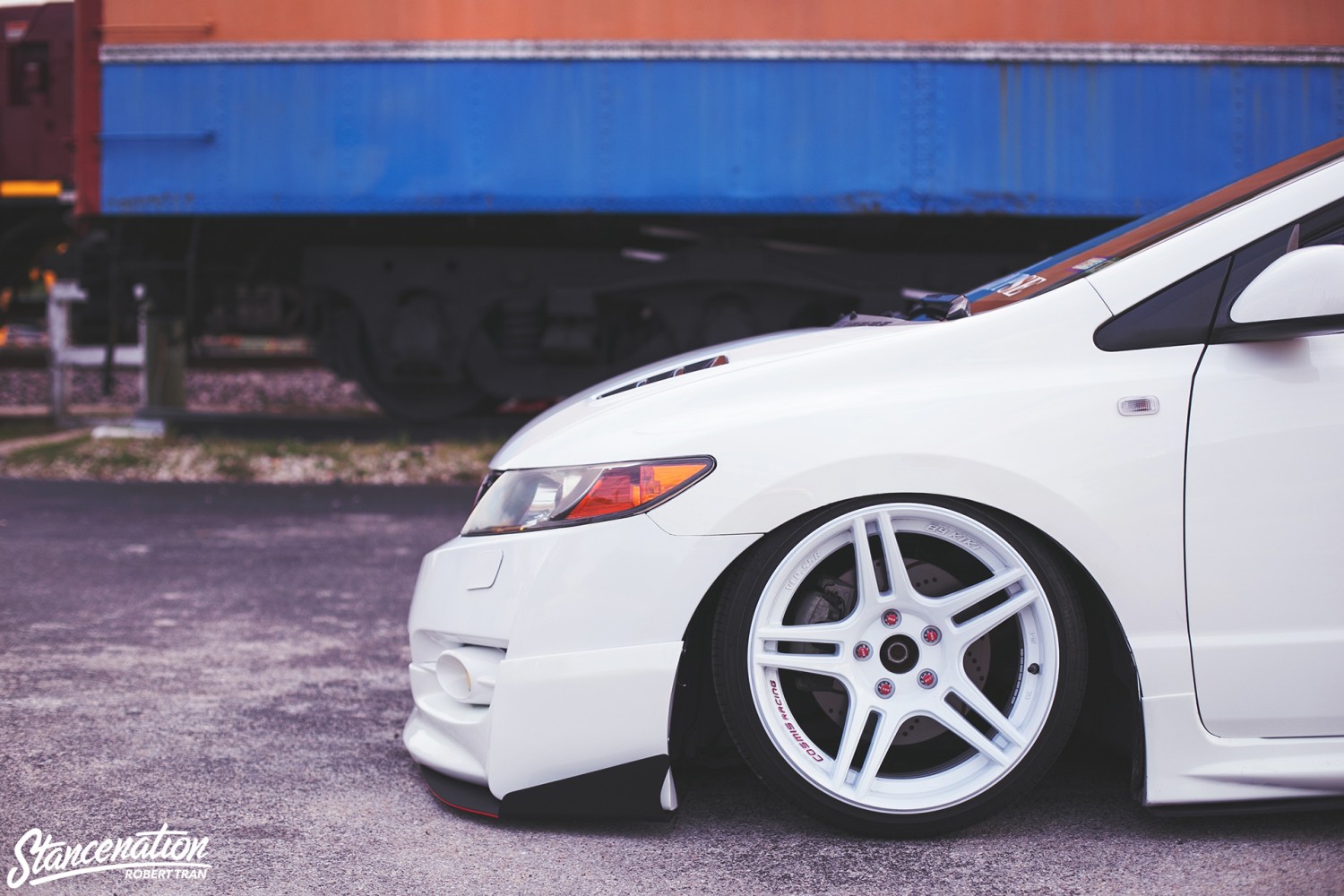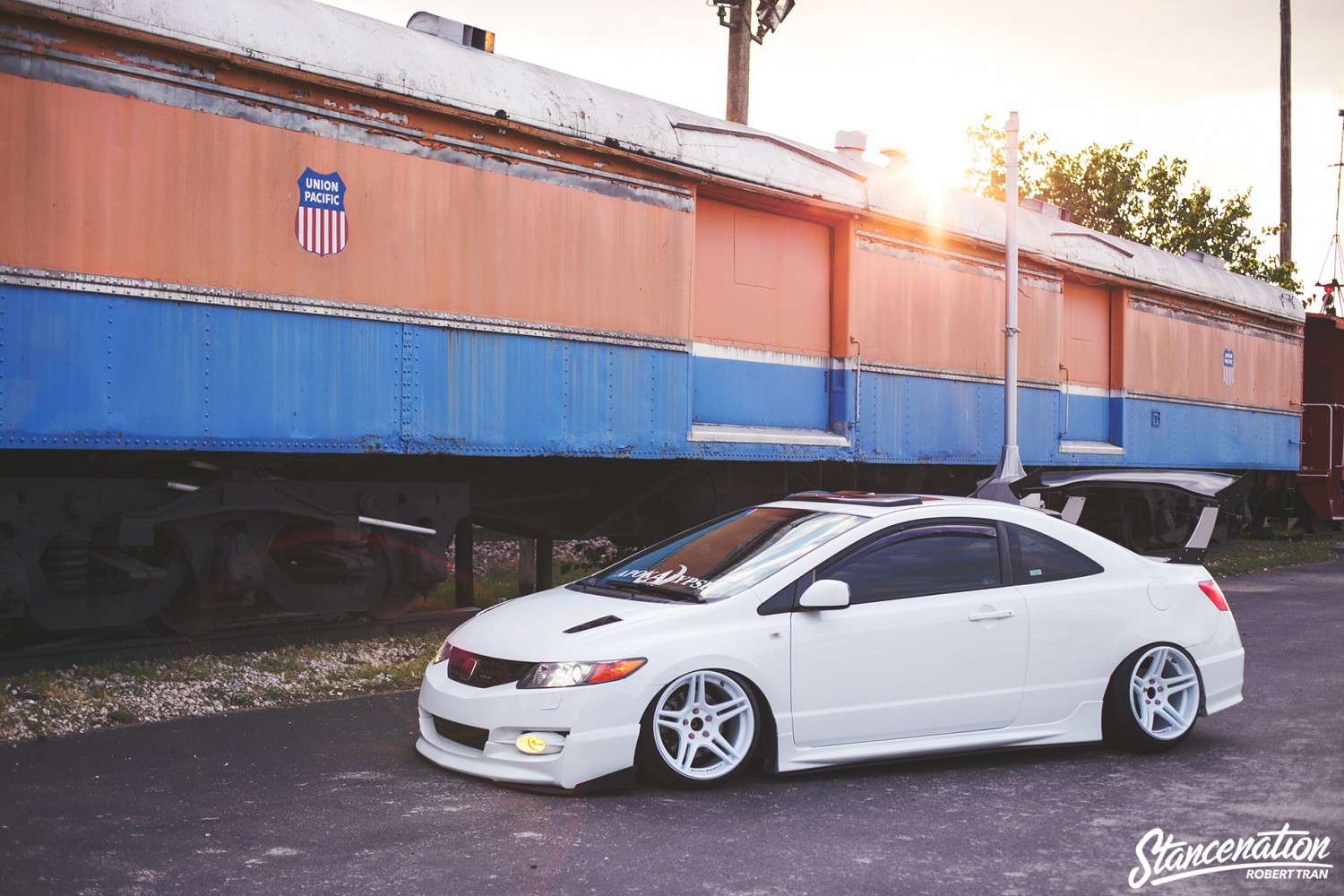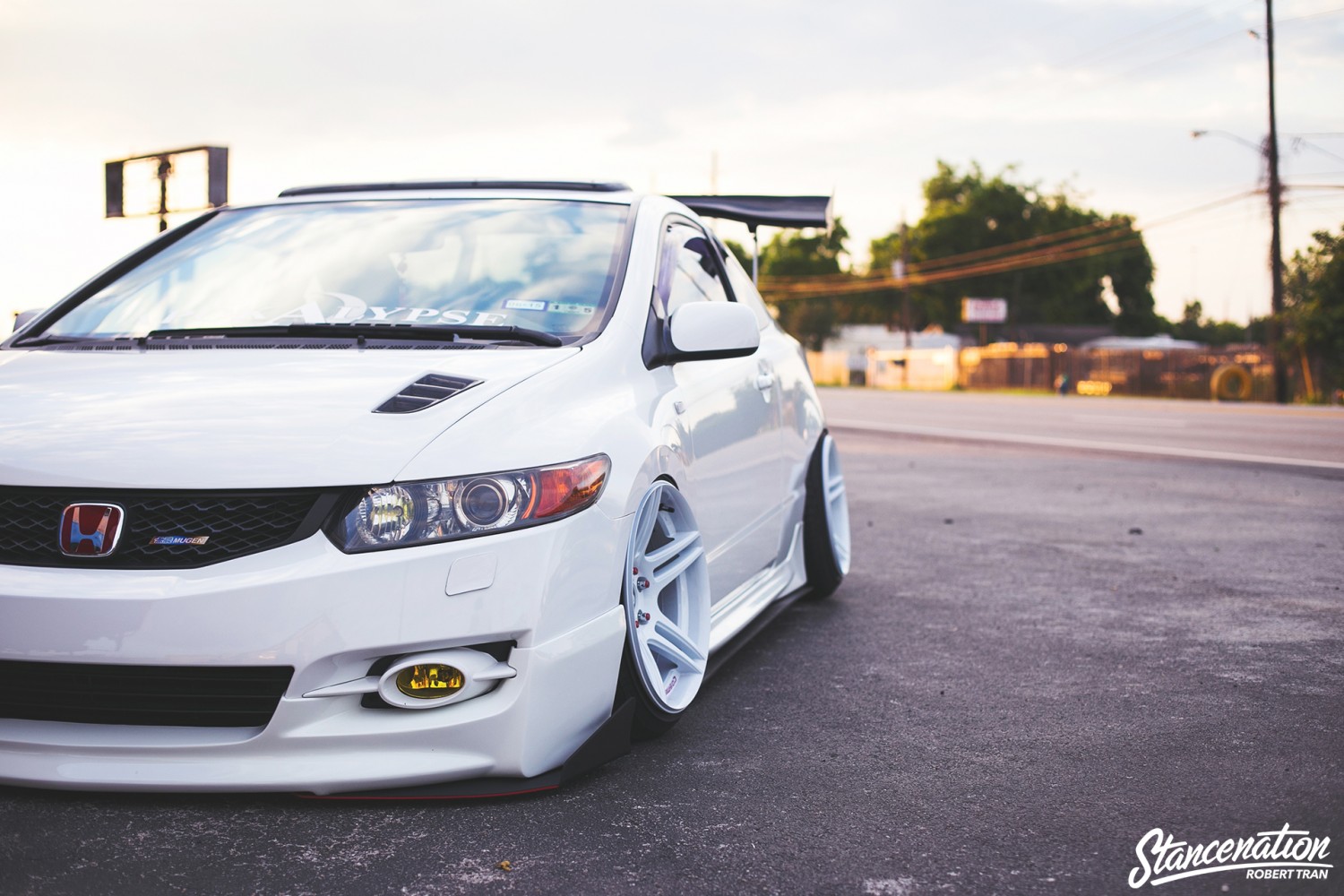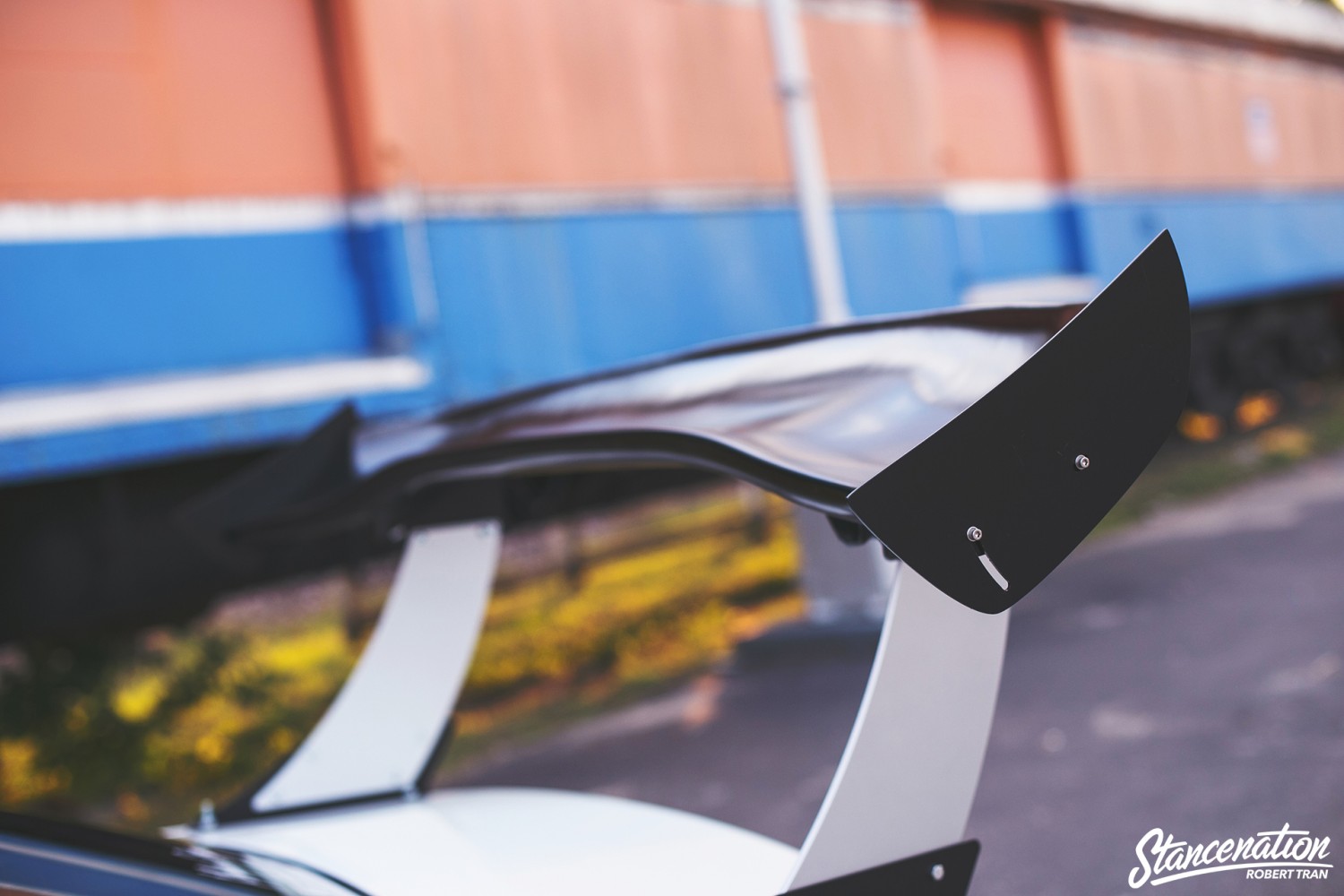 Gracing the exterior of this pristine car is CURRENTLY a Mugen front lip, side skirts, and carbon fiber hood. However, Stevie wouldn't just stop there with such a a limited amount of mods. He then went for a subtle OEM looking widebody in the rear, which would have fooled this writer, and certainly the untrained eye. A JDM front conversion is executed nicely accented with PIAA yellow foglights. Borrowed from an S2000 is the front headlights and rear diffuser. Topping off the rear is a Big Country Labs Wing.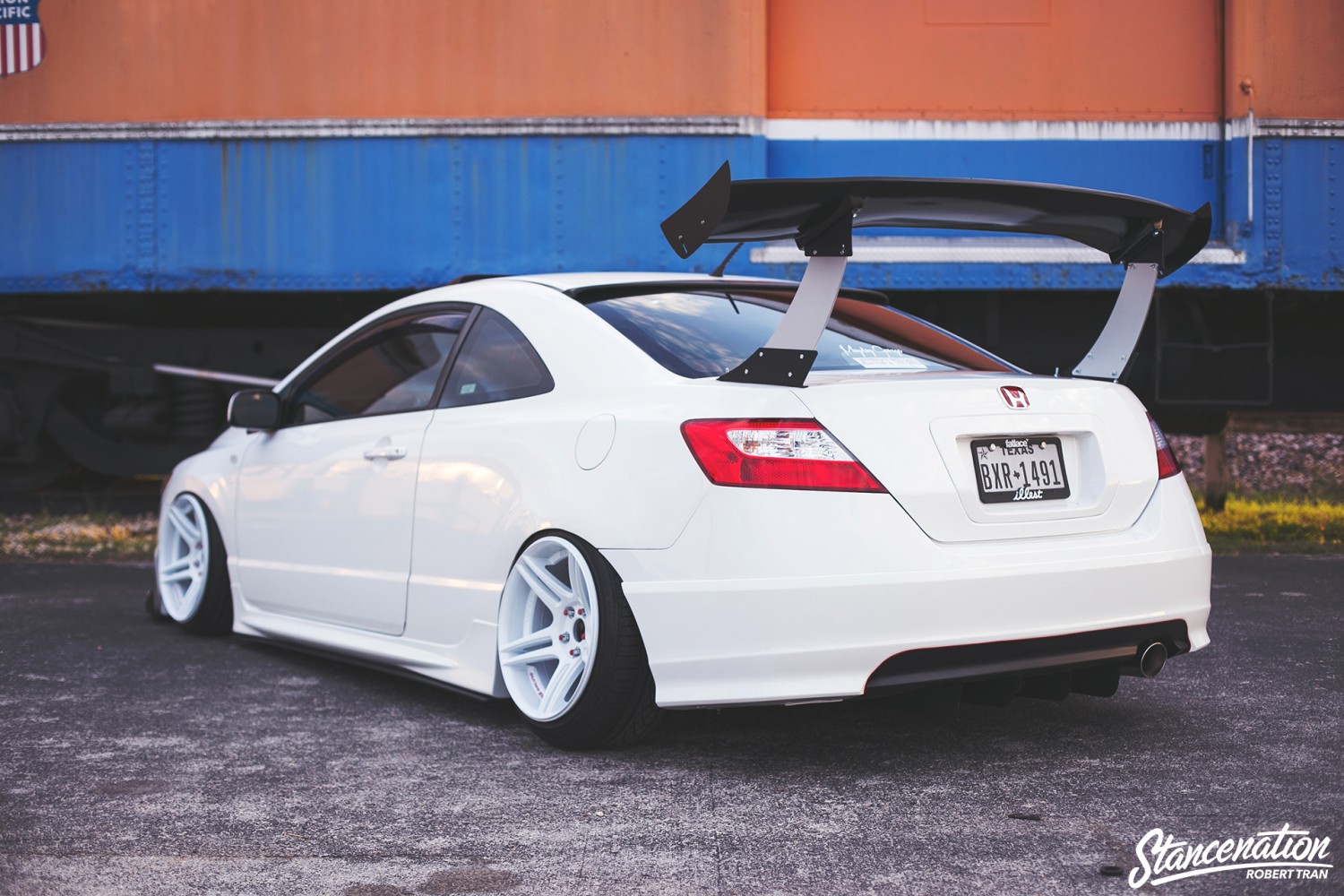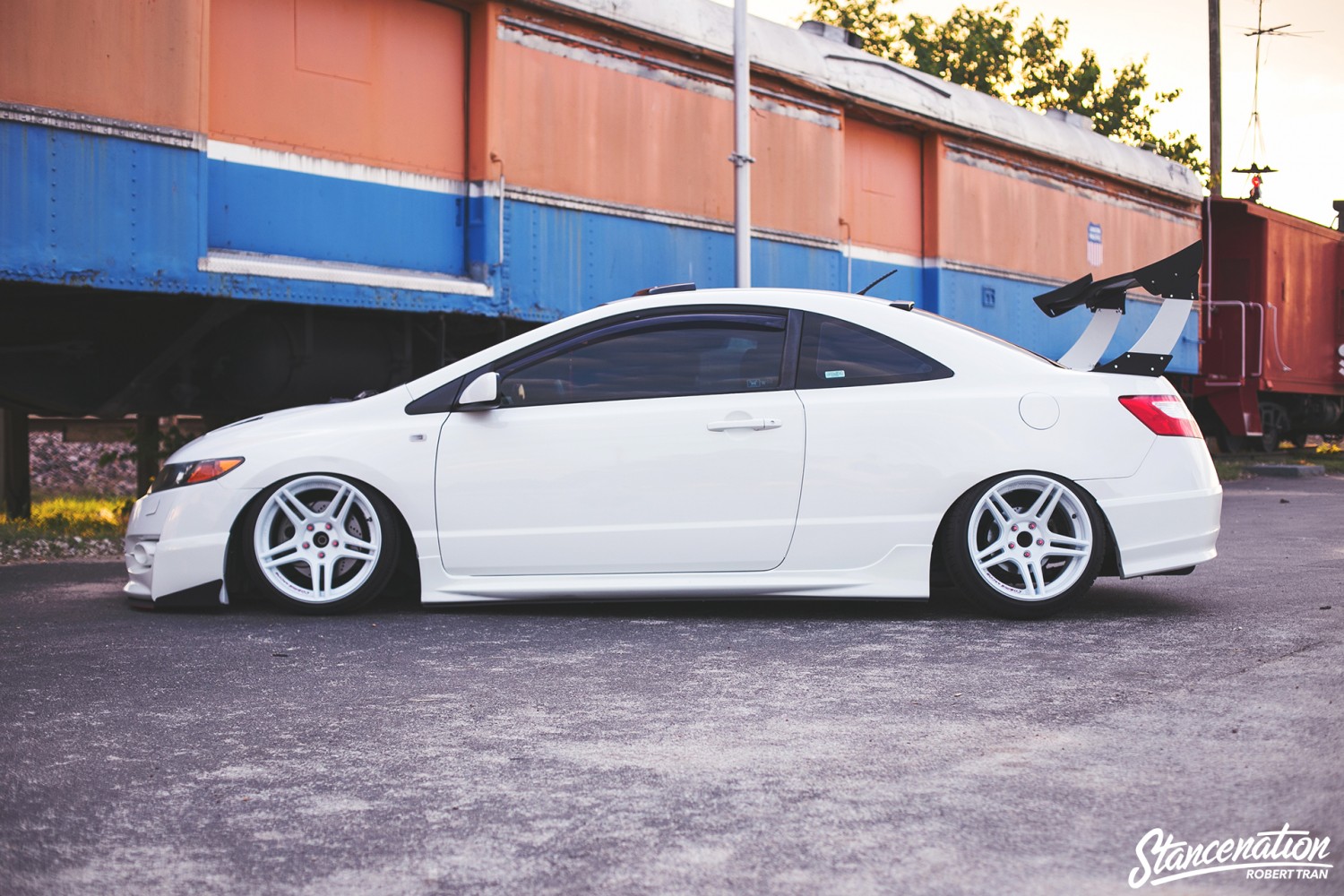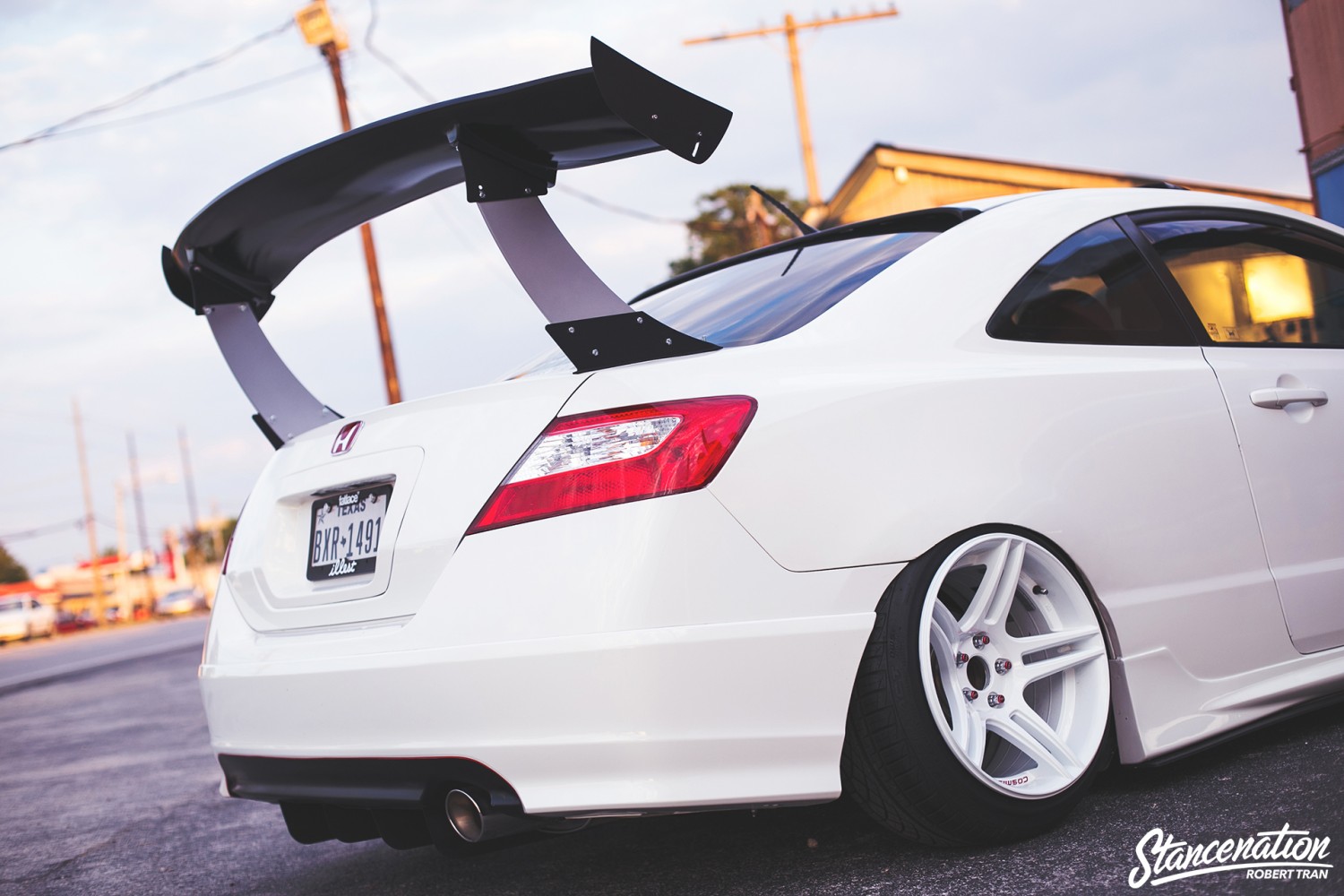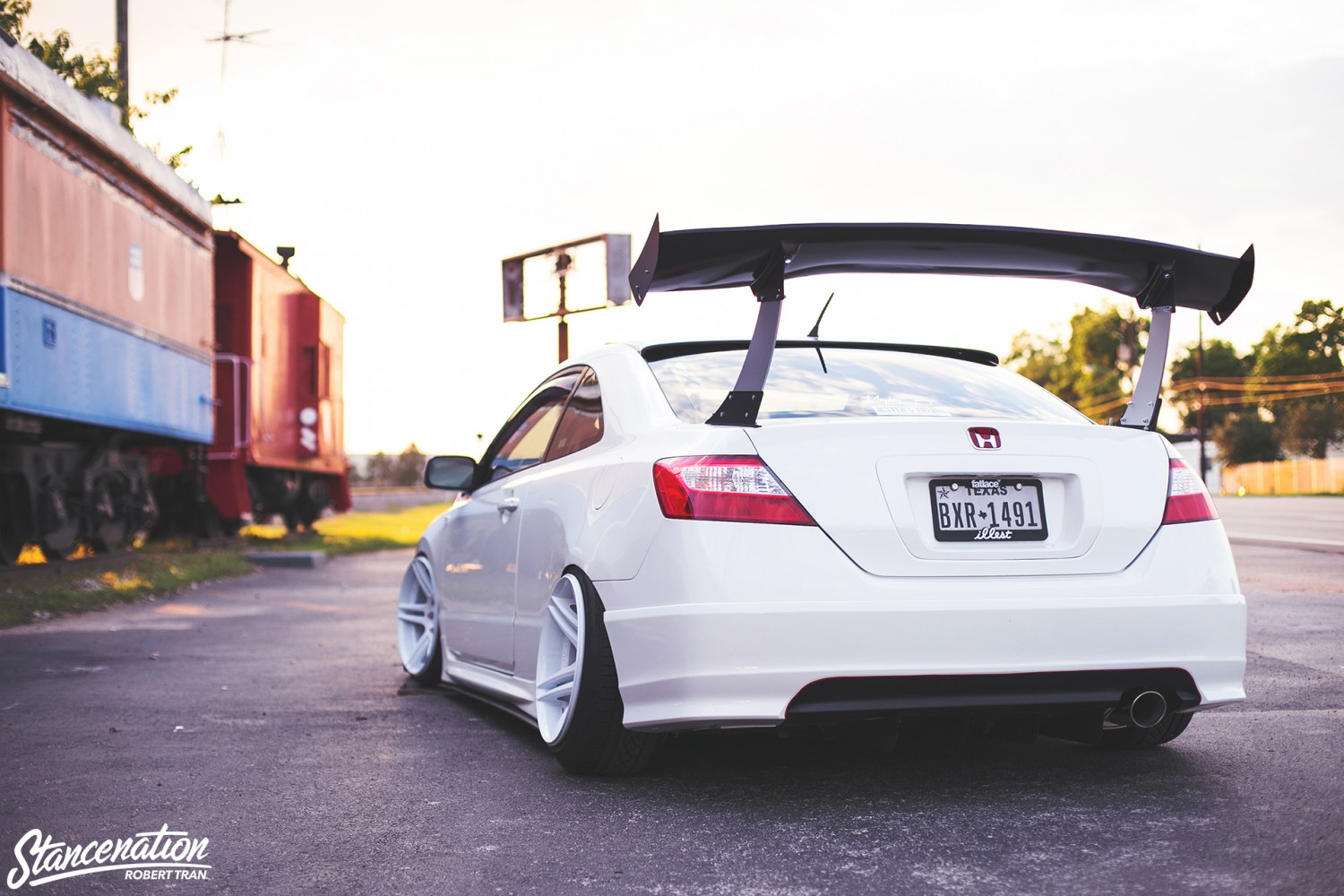 Many car enthusiasts must split our dwindling resources with car modification as life must go on, modified cars or not. Bills must be paid, loved ones attended to, priorities weighed and considered. Stevie also has to find time for car modifications, as he is also addicted to traveling. Plane tickets take the place of car parts and he must find a way to balance both. As we asked Stevie what he has in store, he says we must sit tight and wait, and he know we will. I can't wait to see what he has in store and you can follow him on social media if you'd like to follow the build and life of Stevie Phamo. His IG is: Steviephamo
. Furthermore, we'd like to give a big thanks to Photographer Robert Tran, IG: Robertran88

.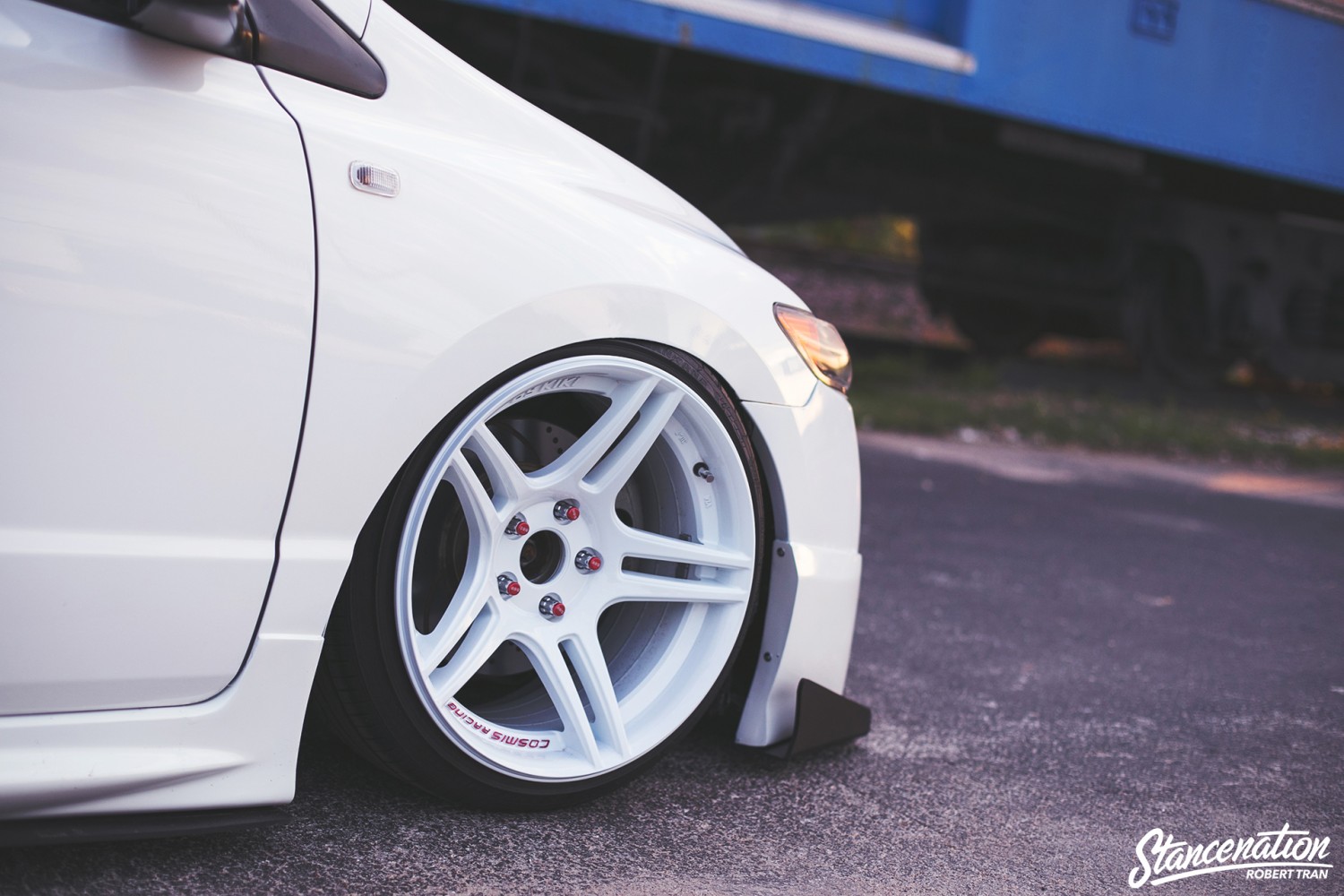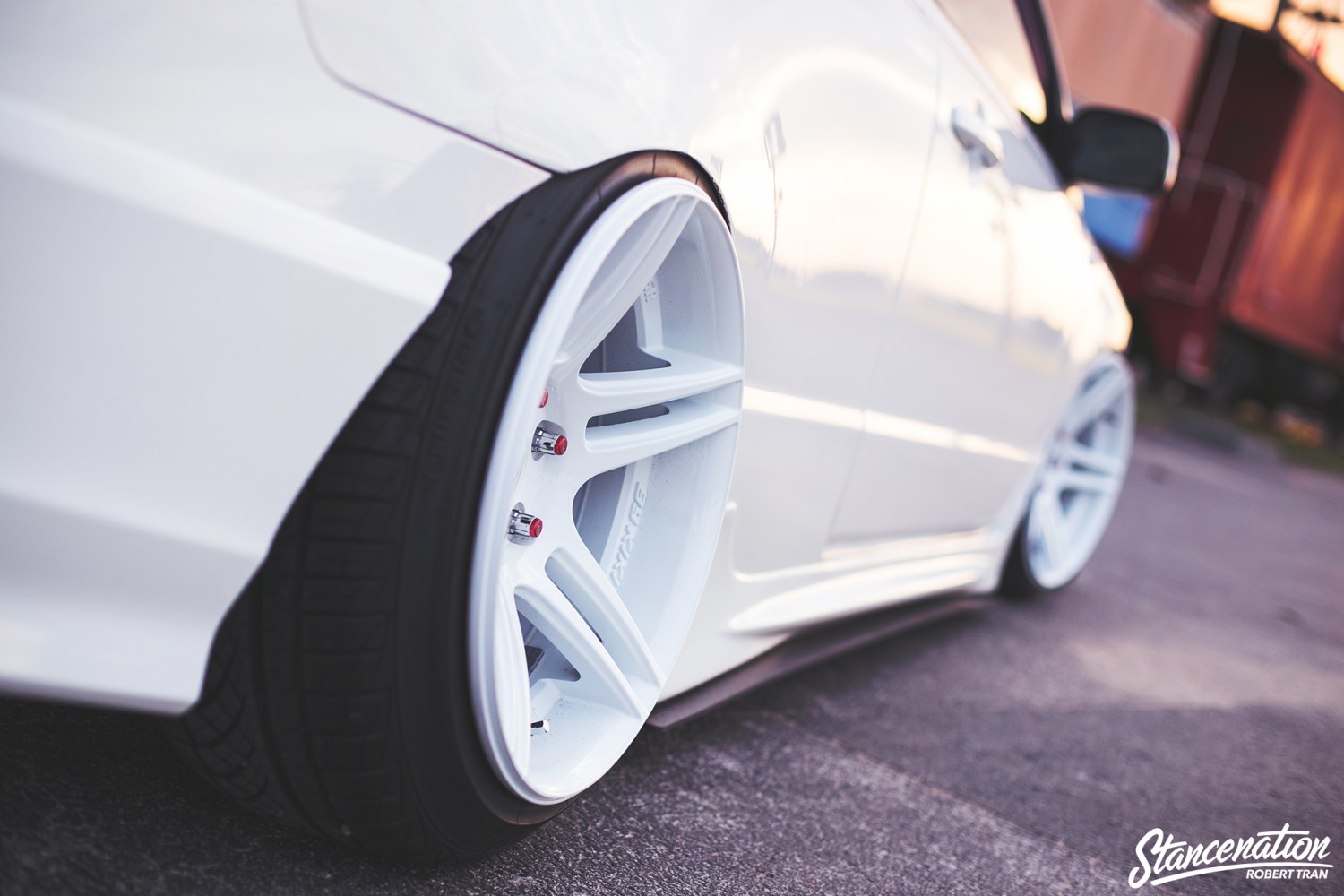 In addition, he would like to give a big thanks to Team Apokalypse, a shout out to Midnight Garage and Royal Origin, support from his loving girlfriend, Toto Nguyen, Fernando Escobar's new shop, and his old friend, Moon Tep.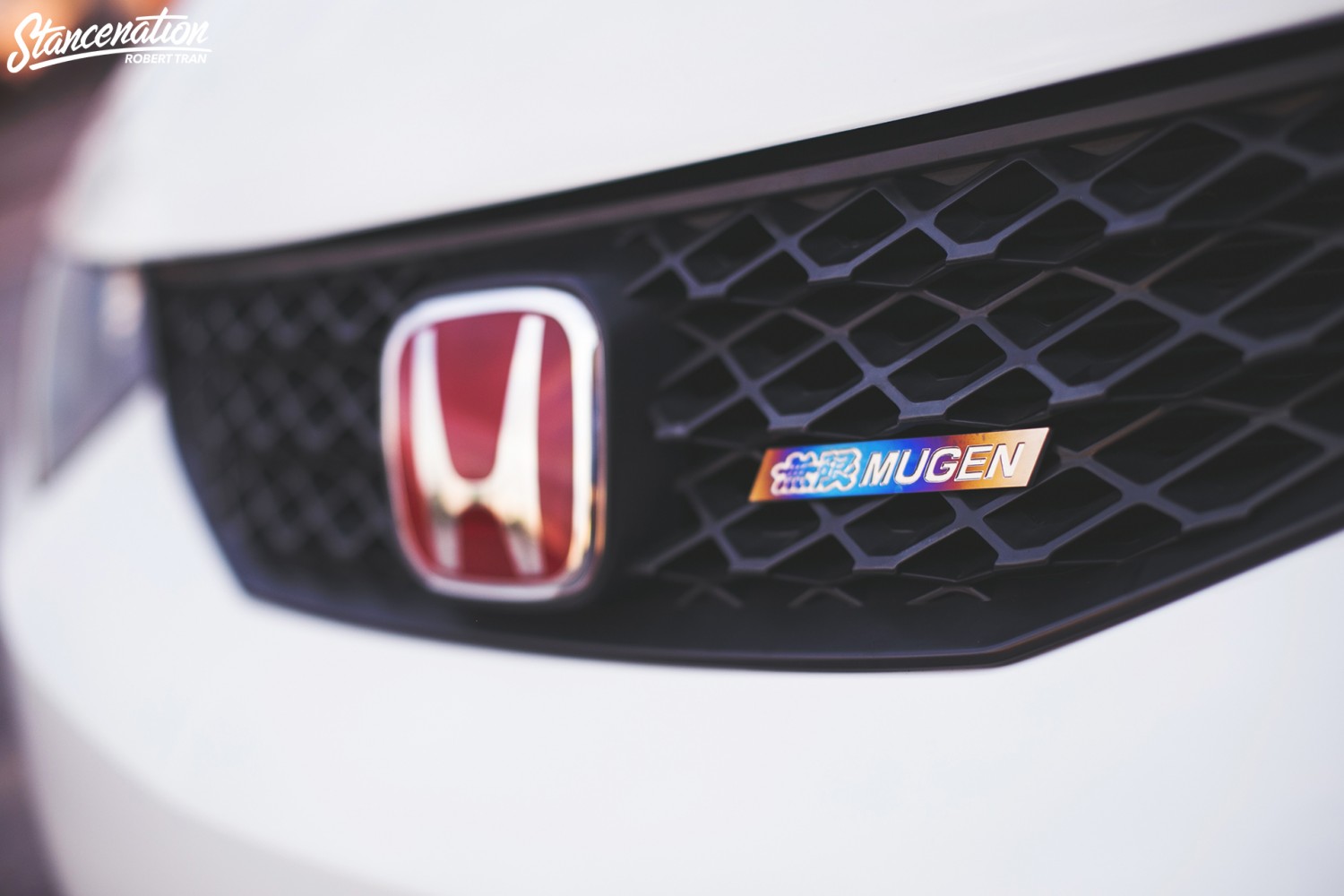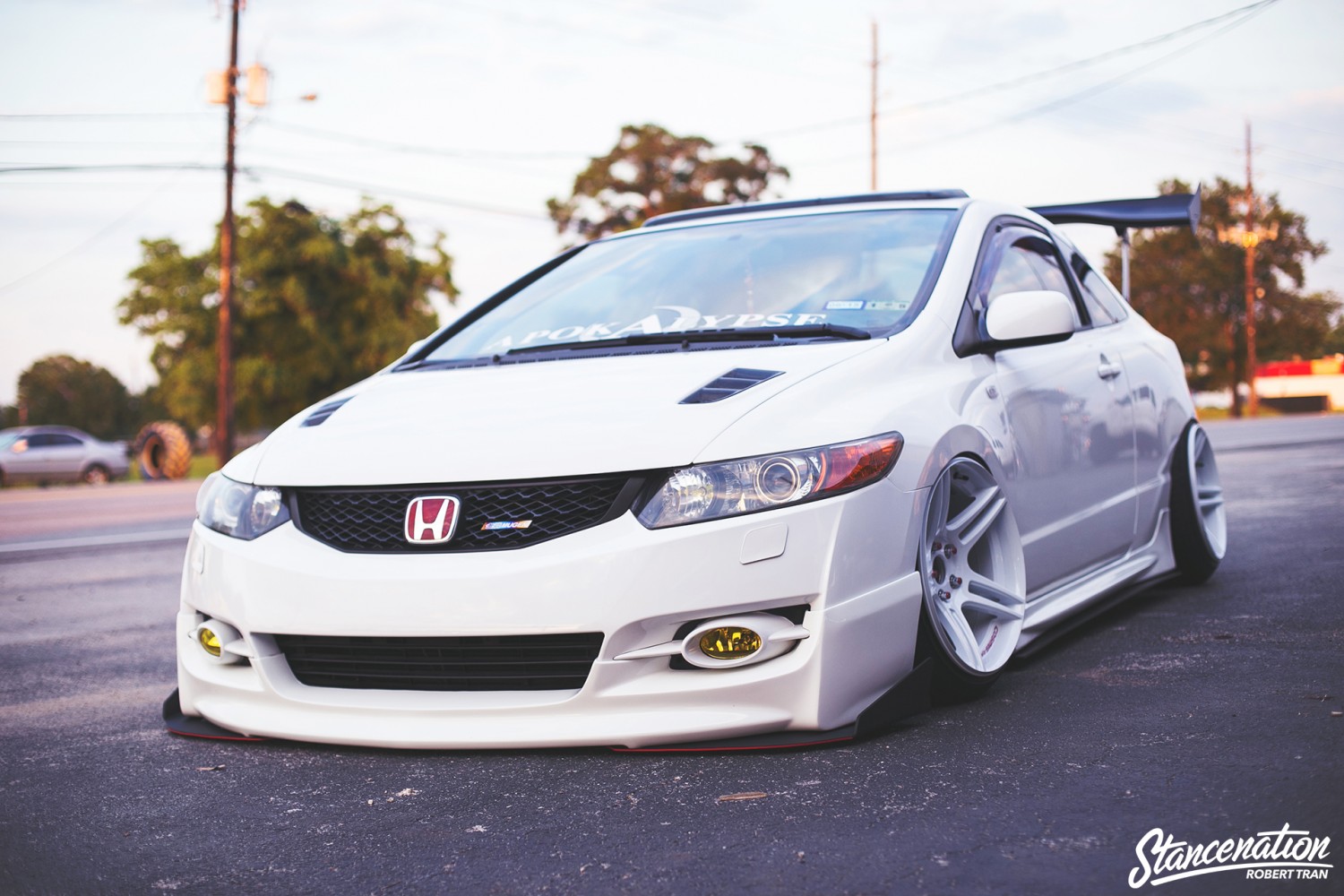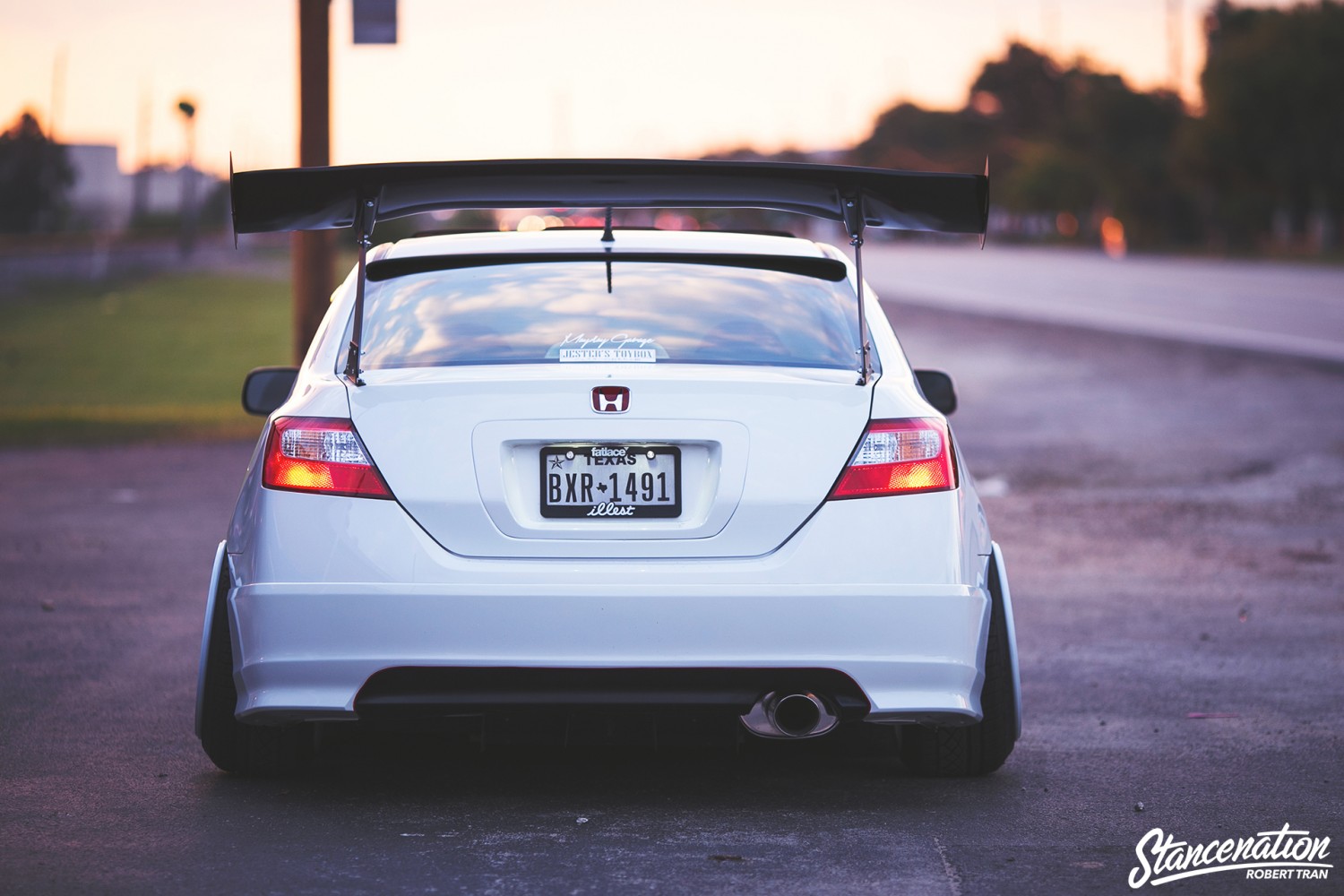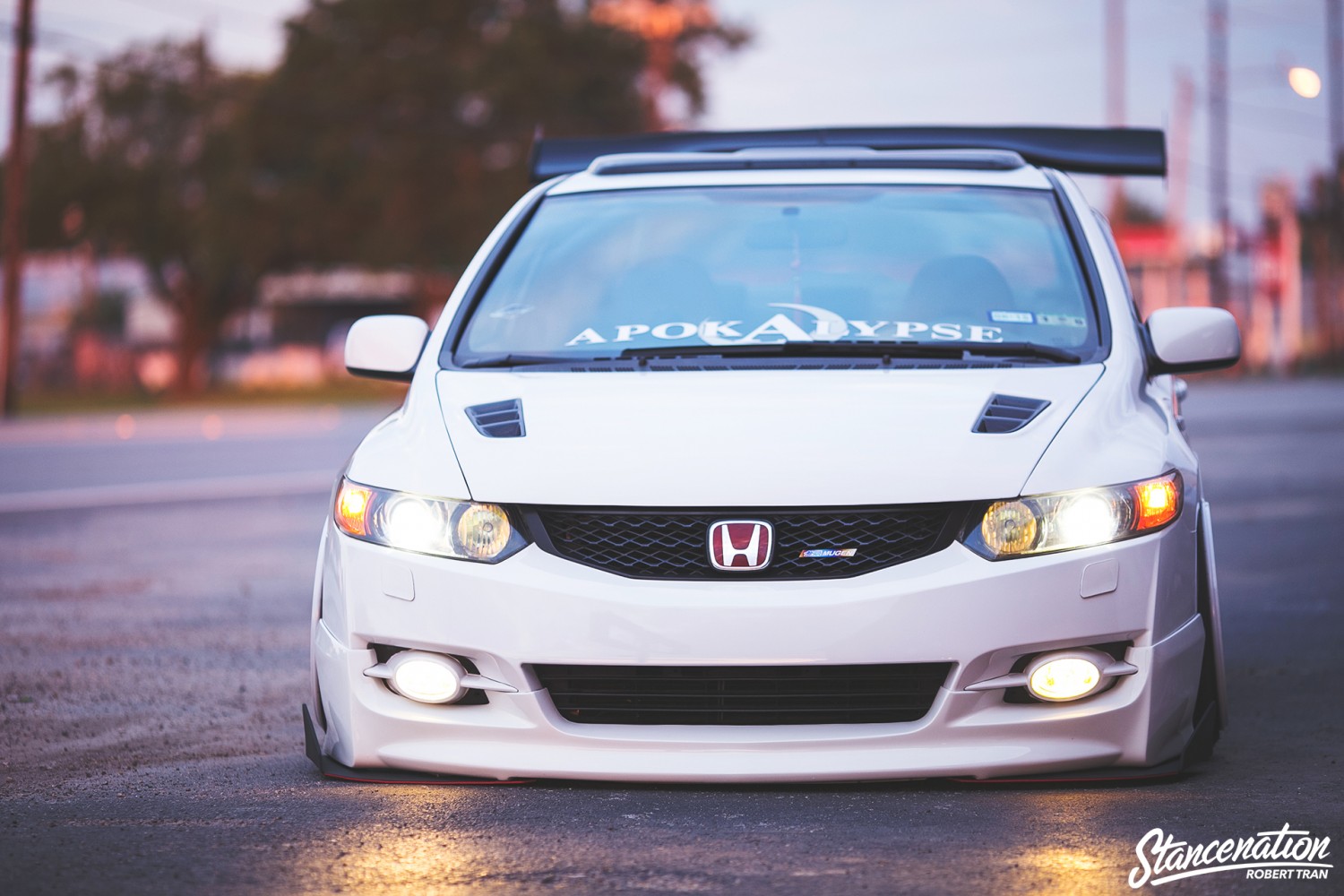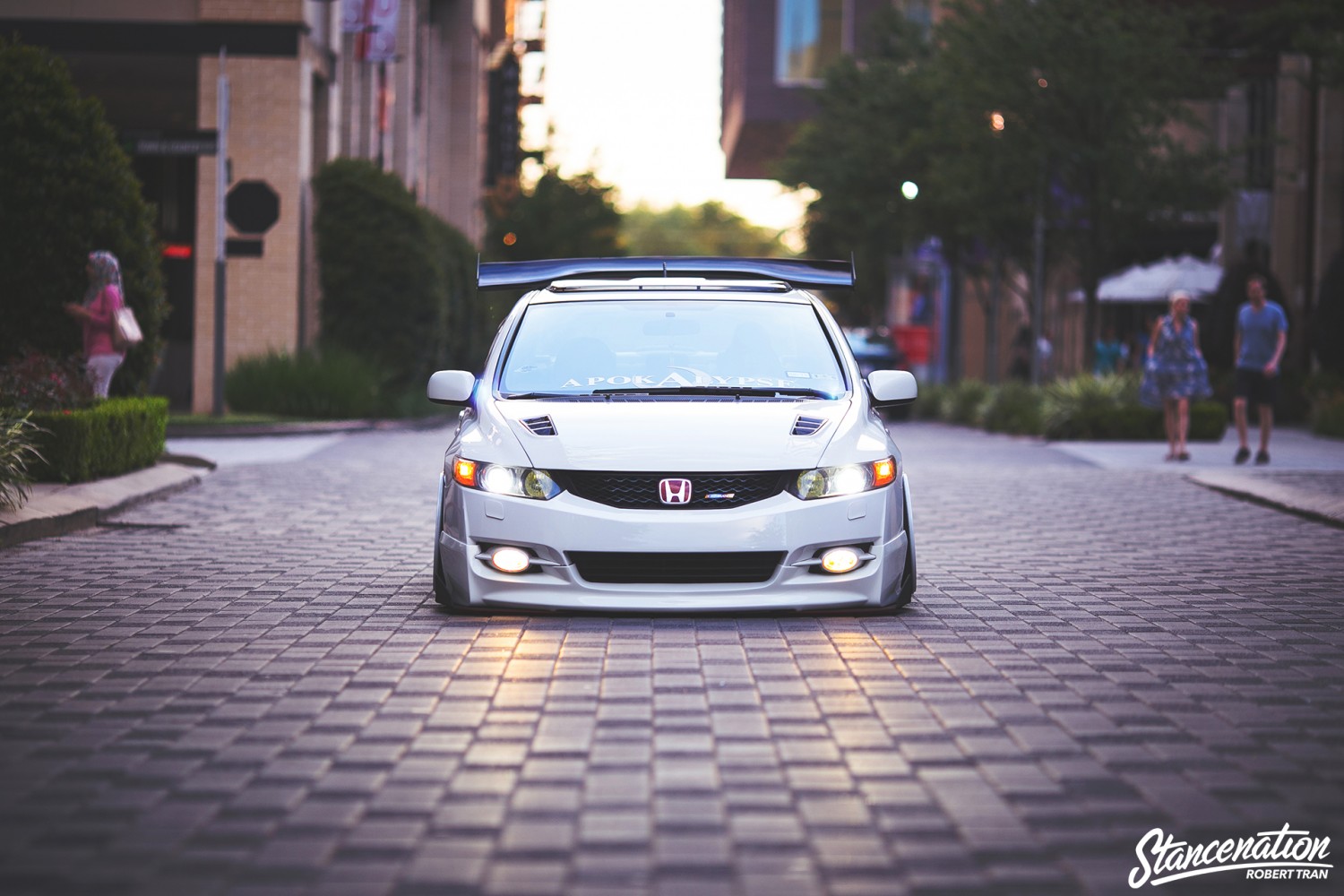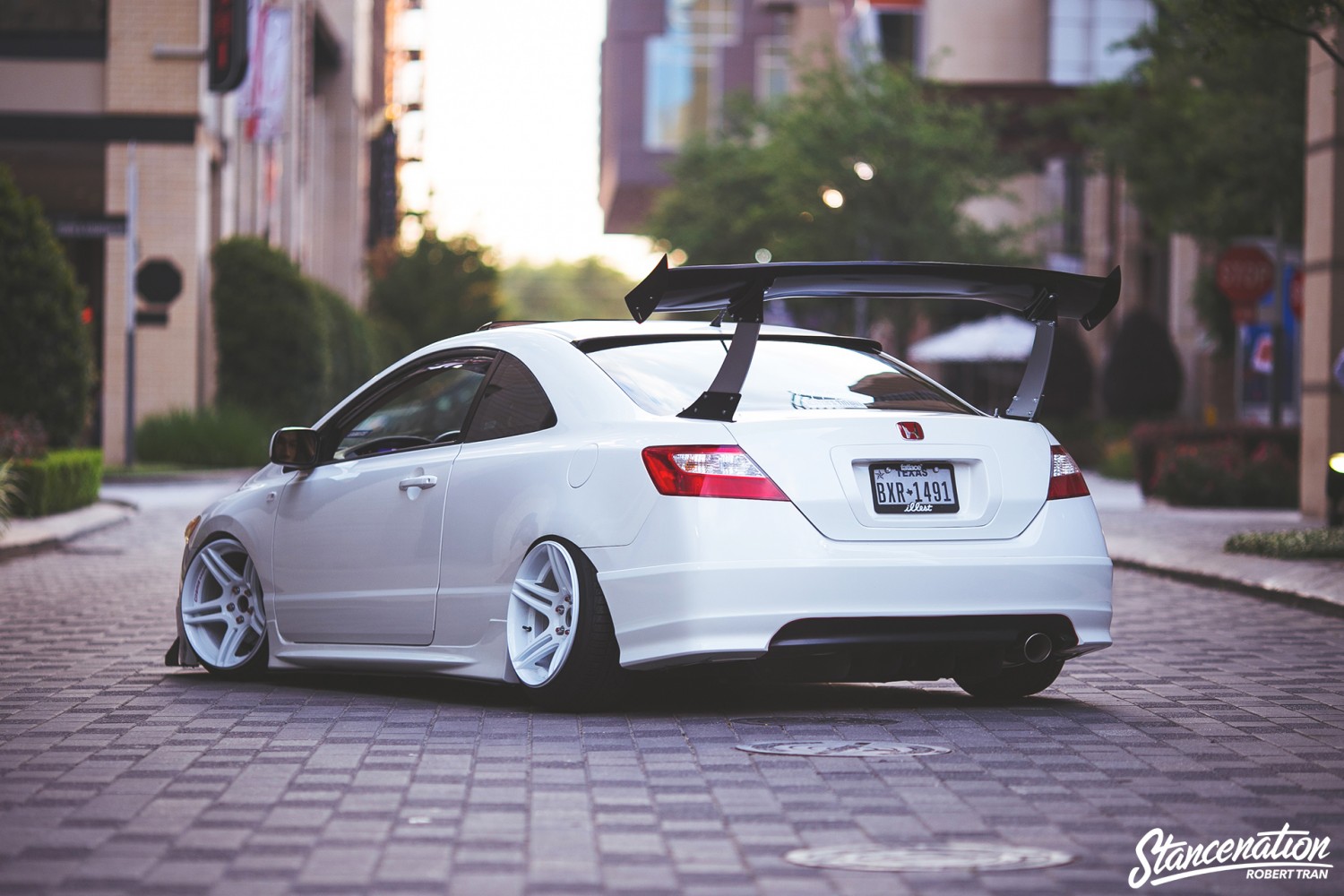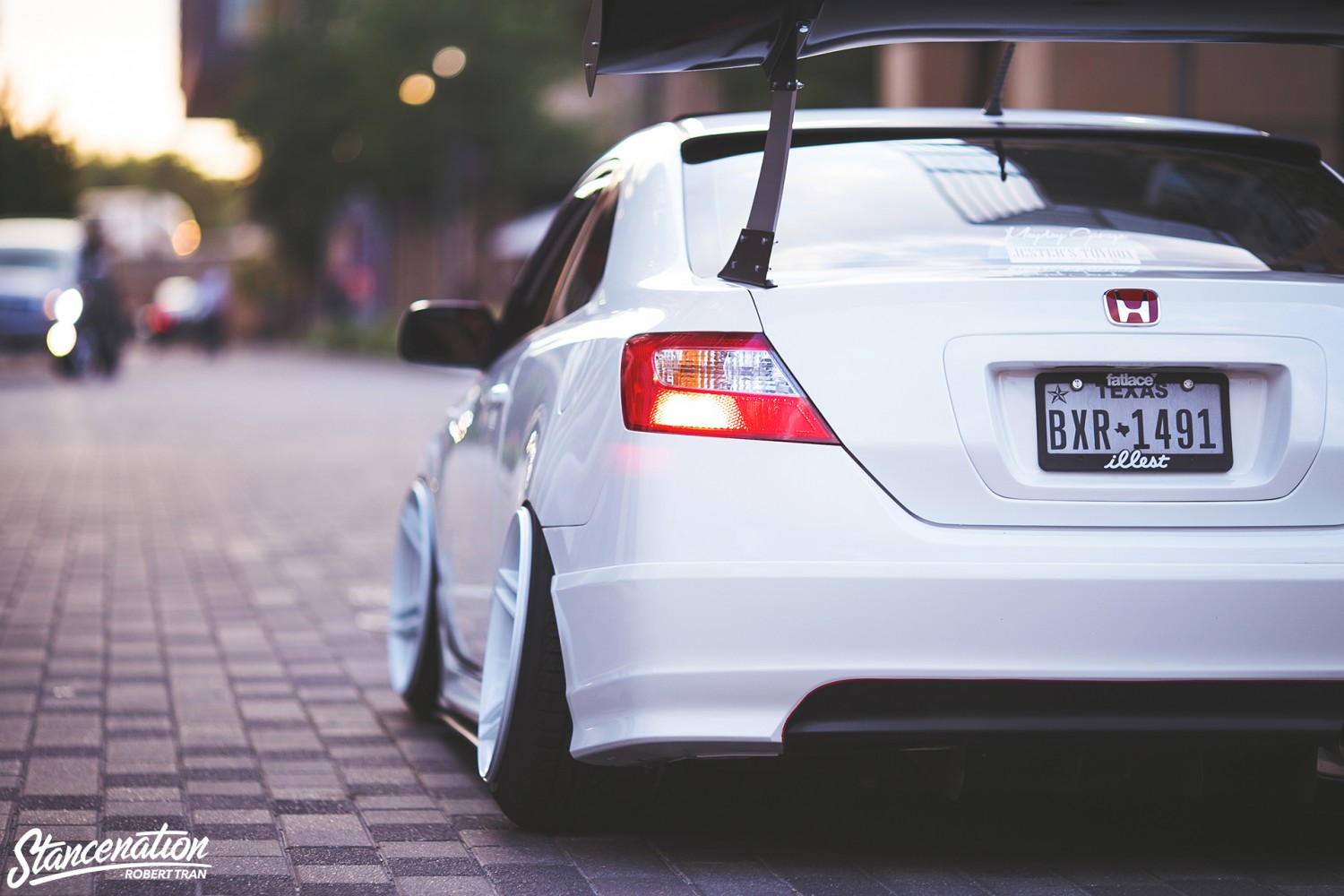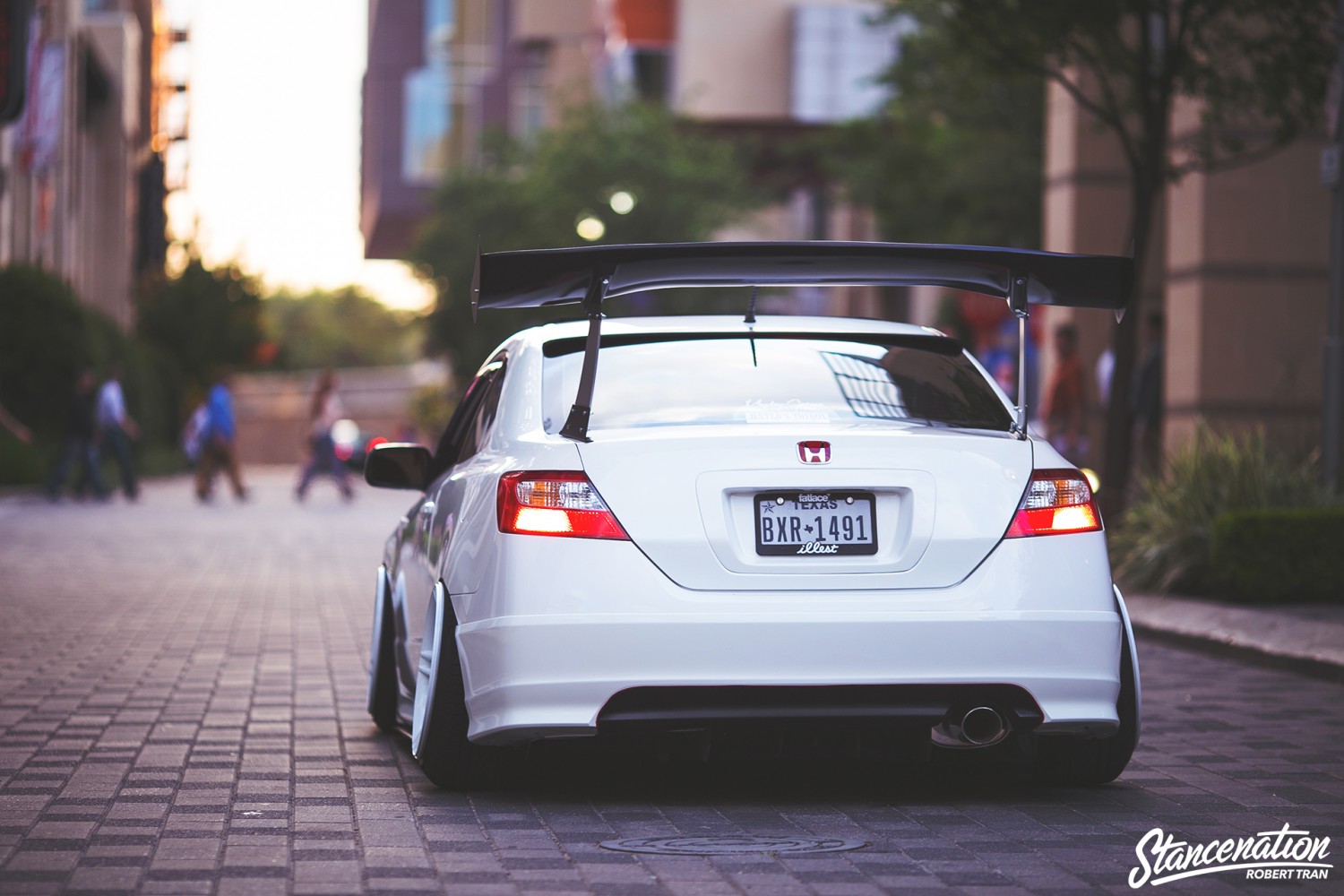 Exterior
Mugen front lip
Mugen RR hood (carbon fiber)
Mugen side skirts
Mugen Titanium badge
Custom side splitters
Custom wide body rear fender flares to look OEM
Front/Rear Red JDM H badge

09 front end conversion with Fog lights
Custom s2000 projectors

Osram night breaker bulbs

Denso ballasts
Piaa yellow fog light bulbs

Piaa Yellow high beam bulbs
Top 1 front splitter with red lining
Custom Audi s5 washer cover (add euro flare)

OEM yellow fog lights

OEM Sunroof Visor
DC5 type R side markers
(currently off)
Custom CSL trunk (carbon fiber)

Custom s2000 Rear Diffuser
(Currently on)
VIS OEM style trunk (carbon fiber)

Custom roof wing (carbon fiber)

Custom roof antenna

Big Country Lab wing

HFP OEM rear lip

Weathertech Visors
JDM third brake light

LED Tail Lights
Suspension
Tein Mono Flex with custom springs

Progress rear sway bar

Skunk 2 camber kits

SPC camber bolts

SI Big Brake Conversion

EBC Slotted/Drilled Rotors
Wheels
 (currently on)
Cosmis Racing 17×9 -5 17×10 -10 with added touch of red lettering

Custom ordered from Europe Nankangs 195/40/17

Continental 205/45/17

(Most aggressive set) Starlight white flakes
24k gold hardware, red caps,
Engine
Apexi world sport 2 exhaust and catback
Boomba Motor Mounts
K&N intake
Shout Out
Midnight Garage in California & Royal Origins