​Modifying a newer car can be a daunting task, both difficult because of the modernity of it, and overwhelming. Cutting into unscathed panels and removing fresh suspension components may make some people cringe. But all it really takes is a little bit of inspiration, to convince an owner that a somewhat feminine grocery getter can be completely transformed into a head turning, attention grabbing example of style and elegance. Petar Dimitrov, the owner of this beautiful IS, managed to find his inspiration online, catching a glimpse of one of the first modified second gen Lexus IS's on cardomain. He immediately made the decision to build one at some point in his life. That point came about two years ago when he was able to pick up his very own Lexus IS.
Photos By: Jeff Littlefield exclusively for StanceNation.com
​As always, the first issue to address is the ride height. Petar put together a cup setup using BC coilovers, and Platinum VIP Cup suspension, giving him the ability to raise up to tackle tough roads while still being able to ride low and set the Lexus down perfectly on those Varrstoen wheels. In addition to the cup setup, a Megan rear camber kit was installed, along with SPC adjustable camber ball joints, and an Fsport sway bar, in order to keep the suspension geometry in spec and the body roll to a minimum. As for brakes, Petar opted for an OEM Lexus Big Brake Kit, powder coated blue, paired with some drilled and slotted rotors.
​When it comes to the exterior, this car has had the works; the stock trunk was shaved of its emblems and has had a Wald trunk spoiler molded into it, as well as Eagle Eye ISF taillights. The IS was then fitted with INGS+1 side skirts and front lip, along with a GFX rear lip. The front end was finished off with a Kazz Motorsports front grill, and emblem. Lastly, a Lexan roof spoiler was mounted, and the lighting was replaced with DDM Tuning 6k HID headlights, and 6k HID fog lights. The exterior modifications on this IS are so subtle and flow so well with the lines of the car, that it looks as if Lexus themselves had produced it that way.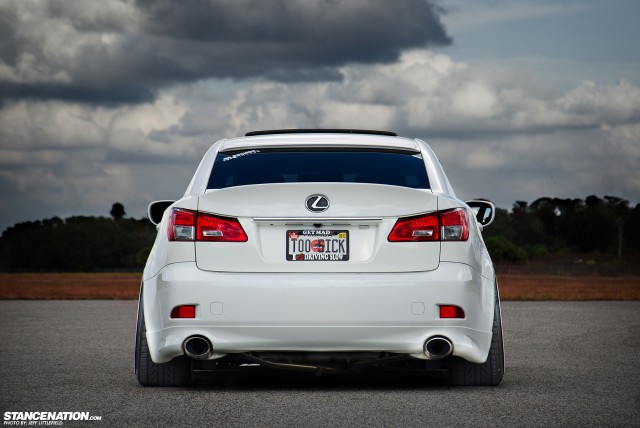 ​The wheels Petar decided on are a set of Varrstoen ES1's, sized at 19×9.5 et12 and 19×10.5 et7. He paired the wheels with a set of Falken's, and gave the front and rear fenders a much-needed pull, in order to air out without sitting on the top of the tires. The Varrstoens were refinished with color matched white faces, polished lips, black hardware, and are bolted on with a set of gold Muteki lug nuts. The wheels emanate the same understated classiness that the whole car does, clean and elegant without being in your face.
​Junction Produce has graced the interior; neck pads, pillows, fusa, and tsuna and finish up the car perfectly, leaving the interior as plush as the exterior. Overall Petar has achieved his goal of turning his ordinary grocery getting Lexus into a fitted, low, luxurious head turner. There is no overboard VIP styling, and nothing that looks out of place at all; it is the essence of understated classiness. But the real question is; is it Too Sick?
​Petar would like to shout out the helpful Lexus community, over at clublexus.com, as well as everybody in the I Love Driving Slow crew including Jeff Littlefield, who shot all of these amazing photos!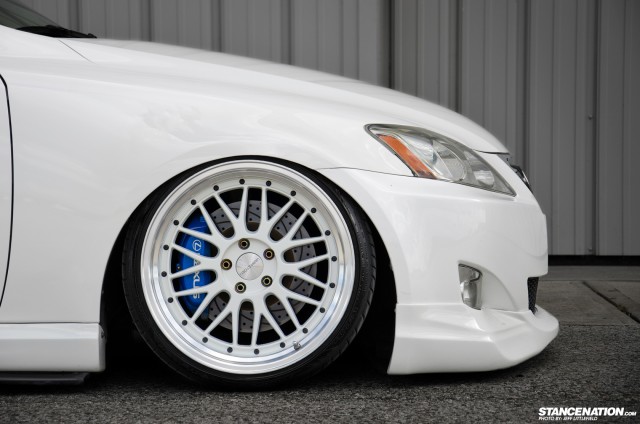 [toggle_box]
[toggle_item title="Wheels/Tires/Suspension" active="true"]Varrstoen Wheels 9.5 +12 10.5 +7
Custom painted White with black hardware
Falken Tires
Lexus Big Brake Kit powder coated blue
Drilled and slotted rotors
Lexus organic low dust brake pads
Muteki lug nuts
Megan rear camber kit
SPC adjustable camber ball joints
BC racing coilovers
Platinum VIP Aircup suspension
Fsport sway bar[/toggle_item]
[toggle_item title="Exterior" active="false"]INGS+1 front lip and side skirts
GFX rear lip
Eagle Eye ISF taillights
Custom molded Wald trunk spoiler
Shaved trunk emblems
Lexon roof spoiler
AVS seamless visors
Kazz Motorsports front grill and emblem
V-Led DRL lights
Shaved and pulled fenders
DDM Tuning 6k Headlight HIDS
DDM Tuning 6k Foglight HIDS[/toggle_item]
[toggle_item title="Interior" active="false"]Junction Produce interior decorations(Tsuna, Fusa, Neckpads, Pillows)[/toggle_item]
[toggle_item title="Engine" active="false"]Tanabe medallion exhaust with custom tips
Nvidia Midpipe
Custom painted Engine covers
Fujita Intake[/toggle_item]
[/toggle_box]