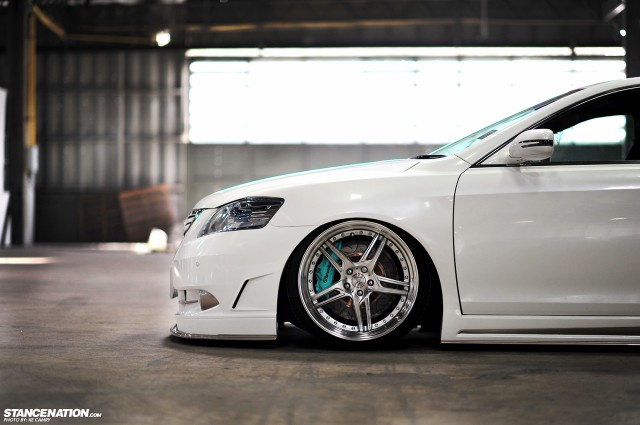 Over the years I have come to realize that one of the biggest things that separates our "scene" from "others" is how accepting it is. No matter how many doors or cylinders your car has, no matter if it's an import, euro or even domestic, as long as you have the right attitude and enjoy low cars you are more than welcomed! Let's be honest here though, when you think of "aggressive stance" there is a good chance that a Toyota Camry is probably not the first car you think of. That may be the case here in the states but if you are from Thailand that is exactly the car you have in mind. We've featured countless Camry's here before and to be honest they never get old. Every one of them has that little something that separates them from others, whether it's big things like body work and wheels or smaller things such as interior and lighting. I've been saying it for the last couple years and I'll say it again, keep your eyes on Thailand.
Photos By: KE Camry exclusively for StanceNation.com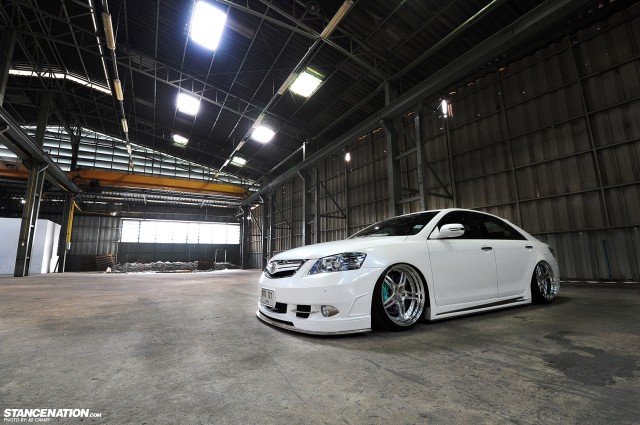 As with most Camry's in Thailand, the exterior features plenty of work that easily gets overlooked simply due to it's quality and cleanliness. This isn't just wheels/drop/lip we're talking here, but rather extensive body work, retrofitting many parts and literally pushing the boundaries. Over the years Thailand has managed to gain attention from some of the top Japanese media sources including several VIP magazines. We all know the amount of work and dedication it takes to make it into such magazines, yet for months now I've been seeing Thai cars pop up all over.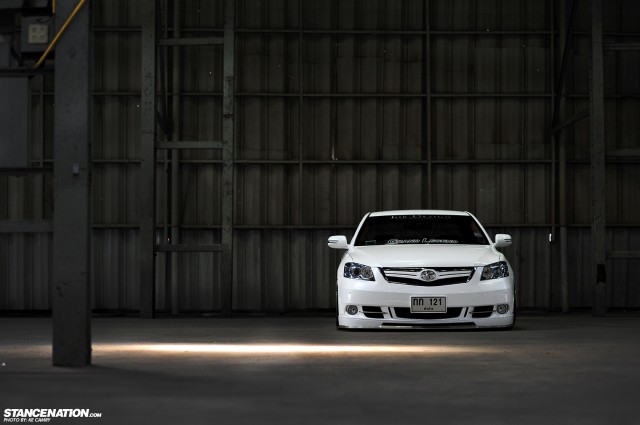 As I said before, this particular Camry may look like it's rather simple, but if you look really closely you'll start picking up things that stock Camry's just don't offer. Those custom radiused and widened fenders for example, the extremely clean Job Design aero or the custom AMG inspired mirrors.
How many are you familiar with these wheels? They're pretty new to the market and are made by Work wheels. Durandal DD5.2 to be specific. They are sized in 20×9 up front and 20×9.5 in the rear with offsets of +18 up front and +5 in the rear. Tire wise, you're looking at 225/35/20 all around. Behind those beautiful wheel sit custom BBK finished in that custom teal color. 6 pot up front with 380mm discs and 4 pot in the rear with 370mm discs.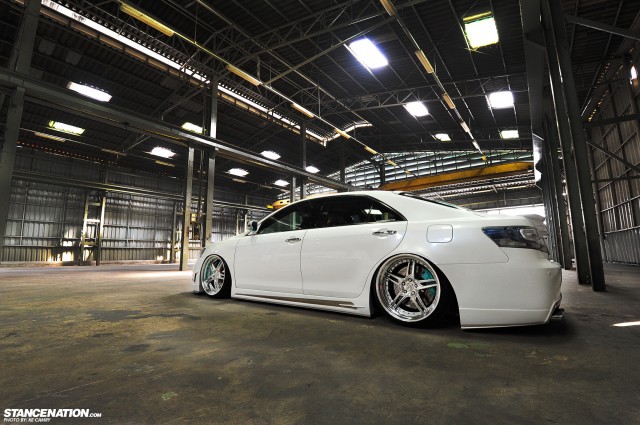 The craziest thing about all this is that I was told the owner purchased this stock Camry just a few months ago. I dunno about you but I find that pretty amazing. As with most car guys, after having something for a while you get the urge to change things up and that's exactly what the owner of this Camry is going thru. He tells me that in the next couple of months he has plans of repainting the car and changing the wheels out. The only challenge he faces is that this is his only car that gets driven every single day.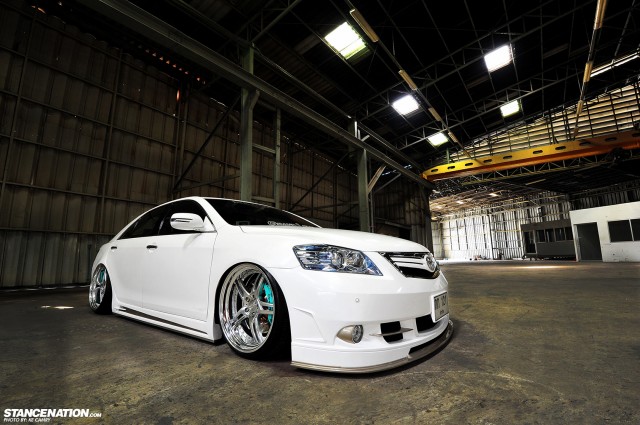 We'll leave you with some more photos including a couple photos of the interior and trunk space. Get ready to get your mind blown, that's all I'm going to say. I wish I could tell you more about this stunning Camry but unfortunately the language barrier is always a problem. Big shout out to all of our Thai fans by the way!