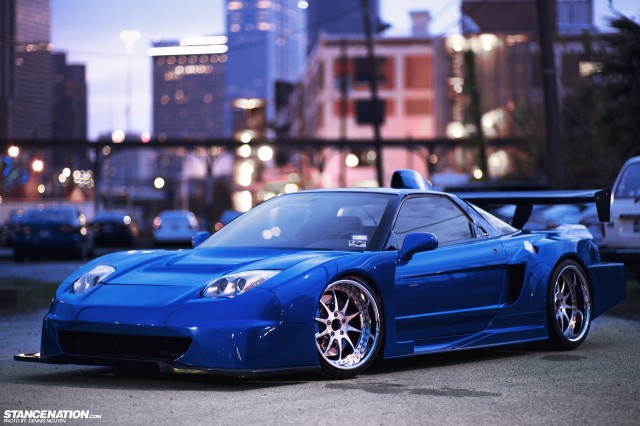 People are inspired daily; it comes from every direction and in every shape imaginable.  We are influenced by people we know, forces of nature, past experiences, the list continues. I once read that nothing we do is original, everything is inspired by something else; it is how we apply that influence that matters and creates something uniquely our own. French-Swiss film critic Jean-Luc Godard said "It's not where you take things from – it's where you take them to."  I think that concept is especially applicable with automobiles, with our immense plethora of styles and sub-cultures the inspirational opportunities are endless and contribute to our quest to create something distinctive to our individual personalities.
Photos By: Dennis Nguyen & ProperGarage exclusively for StanceNation.com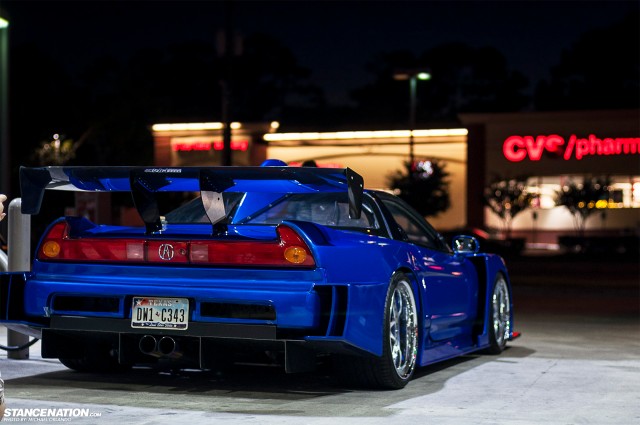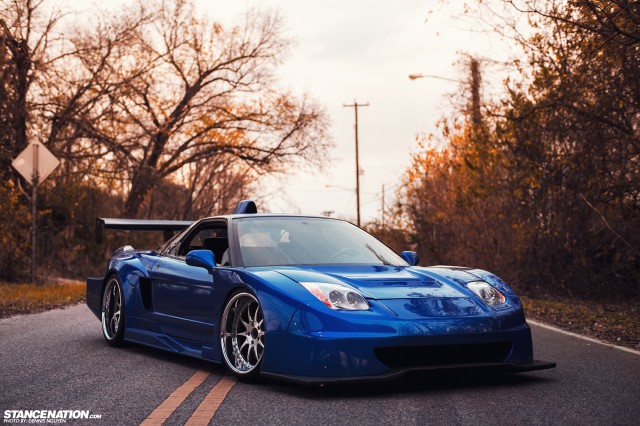 The NSX is one of those special vehicles that possess the uncanny ability to stir our emotions and hasten heart rates of those privileged enough to drive or merely observe them.  Maybe it's the styling, the sound, the responsive chassis, or its connection to the great Ayrton Senna.  Regardless of the reasoning it finds itself on the dream car list for many souls.  NSXs are awe-inspiring  in stock form or in severely-modified, GT-injected versions such as this one.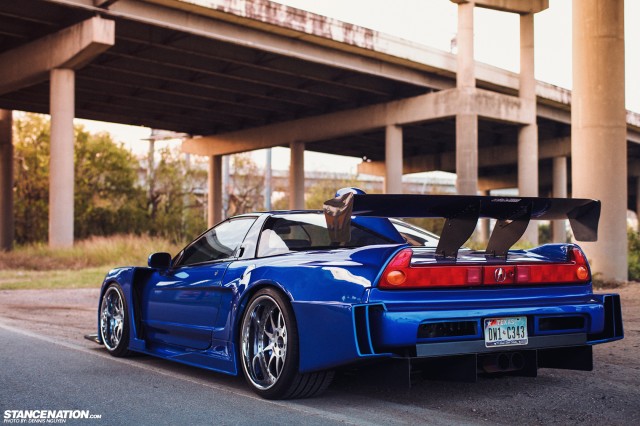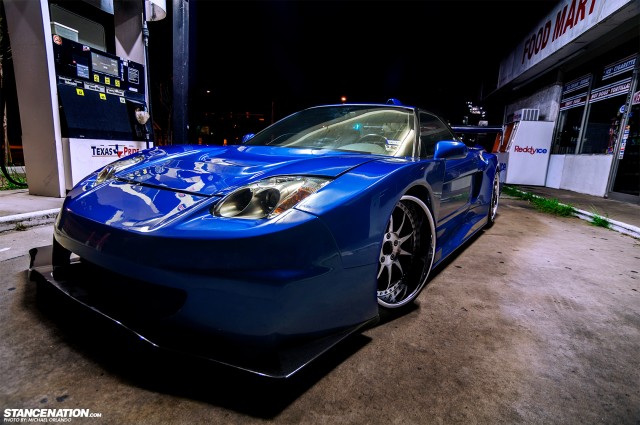 Brent, the owner of this particular 1991 NSX, was drawn to the exotic appeal of the car following his previous FD3S project.  He tells us he wanted to incorporate "some" GT appeal, though he admits that may be an understatement.  The Japanese Grand Touring Championship (JGTC) has captivated the hearts and minds of many for years, with the fire-breathing showdowns of Japan's best (including, but not limited to NSXs, GTRs, and FDs) in extreme states of tune.  The widened, be-winged race cars are easy to love and we can all remembers sampling a select few of them in Gran Turismo garages.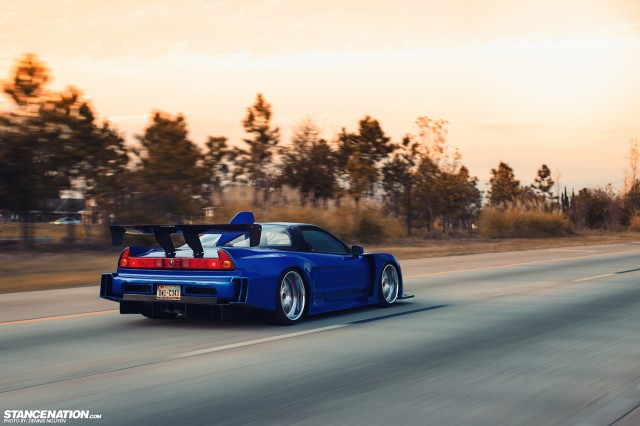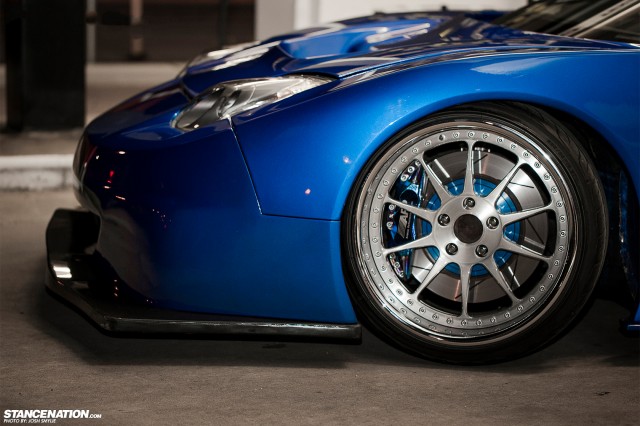 Along with the aforementioned GT cars, Brent credits Umbrella Auto Designs with the inspiration to utilize the Sorcery GT300 JGTC wide-body kit.  The kit is fitting to the intrinsic concept of the project, extremely aggressive and complete – even including the towering roof-scoop and fender-liners.  The front-end is modernized with the 2005 HID headlight conversion.  Aston Martin Monte Carlo blue pearl paint drapes the entire package, peculiarly devoid of the stickers or livery normally associated with such aerodynamics.  This is a street car.  Perched high atop the tail-end of the NSX above the updated '02 taillights you'll quickly notice the one-off Sorcery center-mounted GT wing – a component built exclusively for Brent's Acura.  Its presence is astonishing and exemplifies Brent's vision of a GT-inspired street car.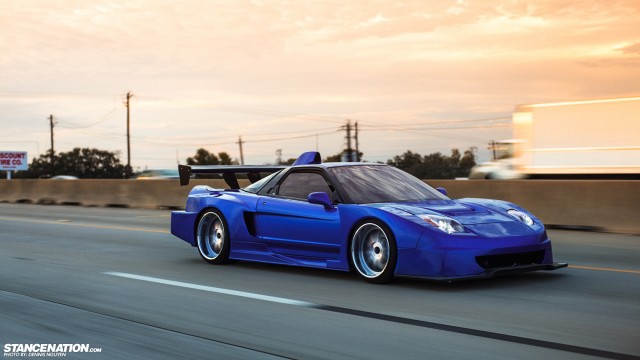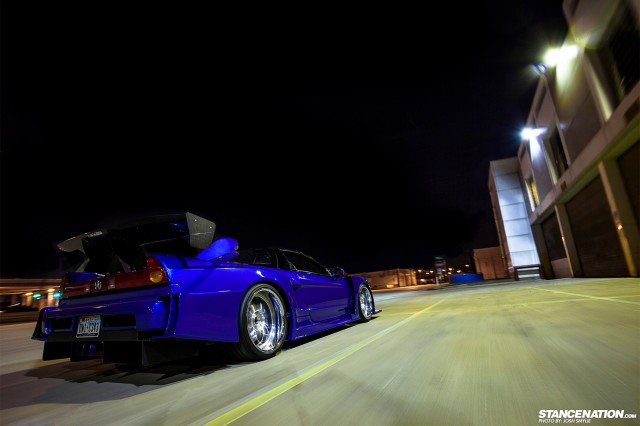 According to Brent, the high-rpm wail of the built C30A is one of his favorite qualities of the entire build.  He tells us the sound is reminiscent of Formula 1 engines, and that's easy to believe.  PowerFab expertly assembled the engine with Science of Speed pistons, achieving a static compression ratio of 11.5:1 and topped it off with a pair of fortified C32A heads.  NSX specialists Science of Speed also provided the individual throttle body setup while PowerFab continued their expertise with a custom exhaust that incorporates Fujitsubo tips.  Everything is managed by AEM EMS and certainly offers acceleration and audible ecstasy to match the aggressive aesthetics.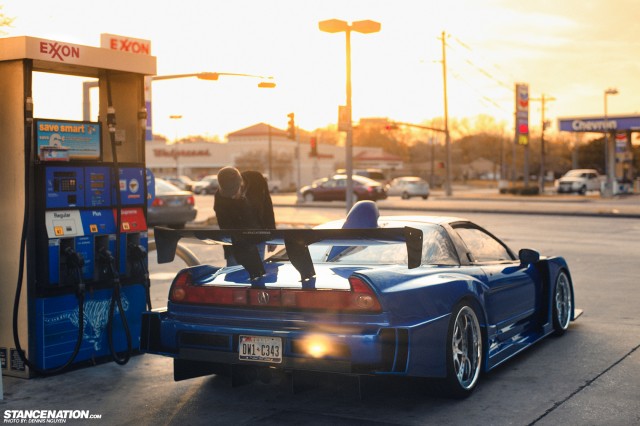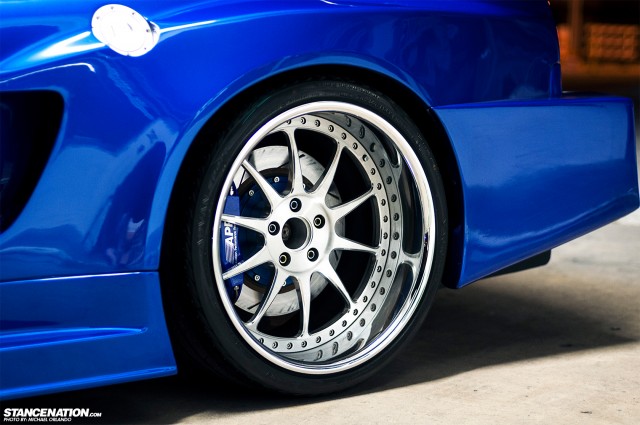 Obviously a massive wide-body requires equally massive wheels and tires.  Of course, there is no disappointment with the double-staggered 18×9.5" (front) and 19×12" (rear) ISS Forged wheels, featuring lightweight race-spec construction employing titanium hardware.  235-treadwidth Yokohama Advan tires provide grip on the steering end, with substantial 315/30/19s steamrollers in the rear.  APP brakes (a subsidiary of Project Mu) created an exclusive brake setup for the car, the 6 and 4-piston calipers are titanium-dipped and the finish looks amazing behind the ISS Forged wheels.  The NSX is gifted with a more than competent suspension right out of the box, so changes are minimal.  BC Racing coil-overs utilizing Swift springs are found at each corner.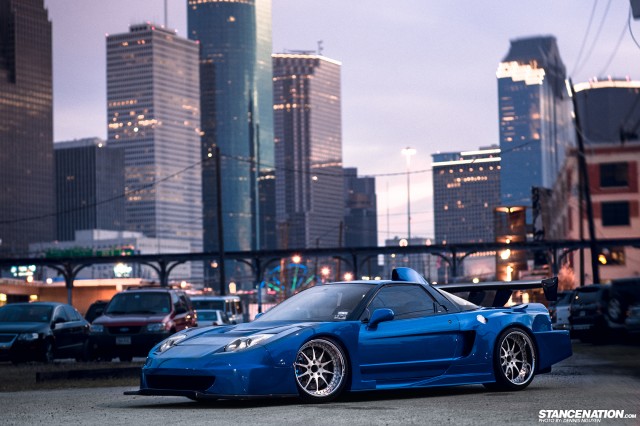 I'm sure the thought of driving a street car that looks as if it had driven straight off the JGTC circuit has crossed your mind.  Imagine the howling exhaust echoeing through the city, striking fear into pedestrians with the dangerously large wing and widened body panels scarcely fitting into a normal lane of traffic.  For Brent, the thought lingered and developed into this blue street cruiser.  With its pedigree, sound, and style this NSX is sure to motivate others – just as Brent was compelled to build it.  Sadly, he was forced to part with the vehicle in order to fund future business ventures.  However, he tells us he foresees a future with another NSX and who knows what he will be inspired to create next.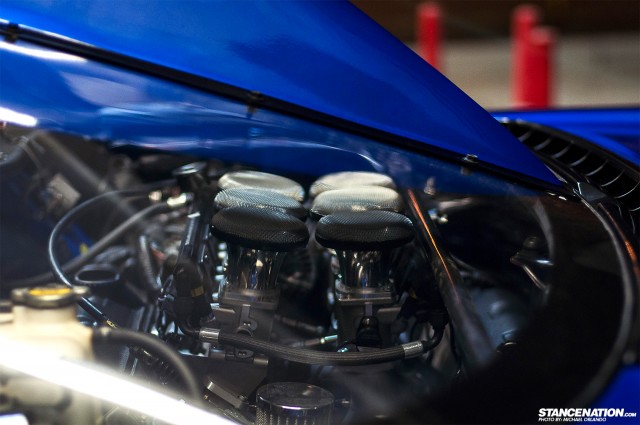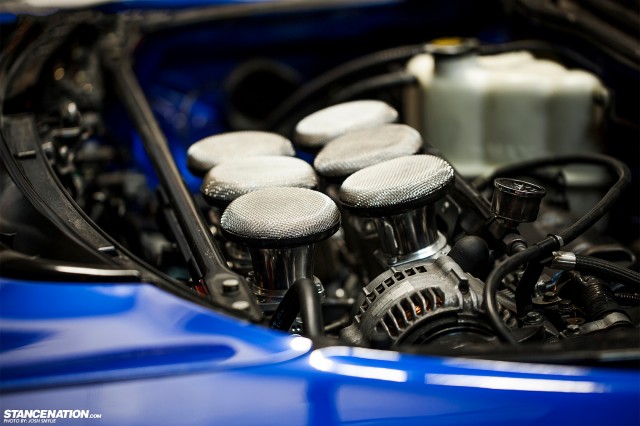 I would like to also thank photographers Michael & Josh ProperGarage for hooking us up with some of the photos. If you get a chance I urge you to visit their site (Click Here) and check out their awesome take on not just the automotive scene down in Houston, Texas but all the other important things associated with the scene.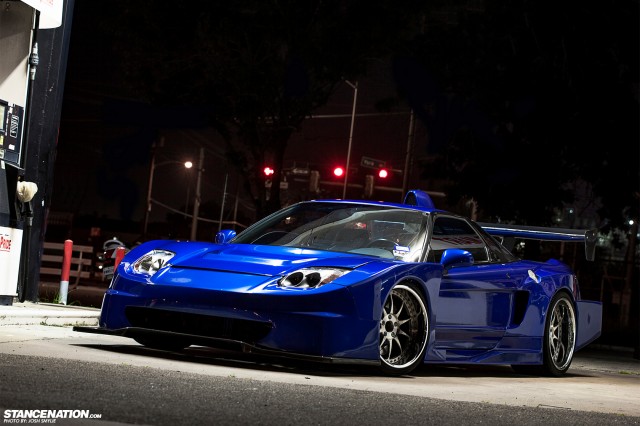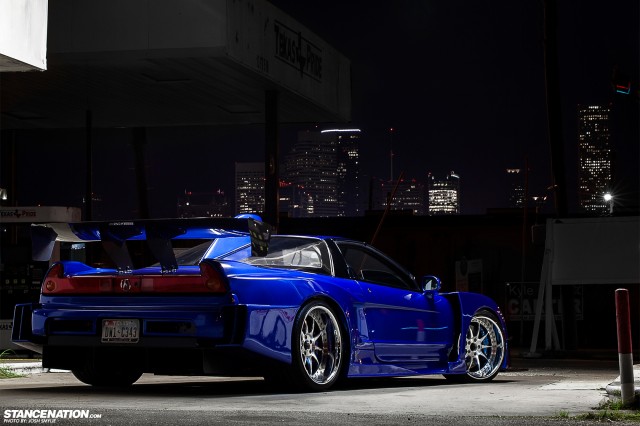 [toggle_box]
[toggle_item title="Wheels/Tires/Suspension" active="true"]ISS Forged 3 piece wheels race/prepped (titanium hardware)
Yokohama Advan Tires FR 18×9.5 235/35/18 // RR 19X12 315/30/19
APP titanium dipped 6- pot fronts 355 mm slotted rotors ( APP is a sister company of Project Mu in Japan . these brakes are a one-off made exclusively for this car )
APP 4-pot rears 335mm slotted rotors
BC Coilovers with Swift springs
Project Kics NEO Chrome lugs[/toggle_item]
[toggle_item title="Exterior" active="false"]Monte Carlo Blue pearl ( this is not an NSX color, it's found on the new V12 Aston Martin Vantage )
Sorcery JGTC GT300 kit w/ Carbon lip
Sorcery JGTC rear bumper
Sorcery Type-R Hood
Sorcery Carbon Super GT wing center mount ( this is a one-off made exclusively for this car )
Sorcery GT Snorkel
Custom made Umbrella Auto Design Fender liners exclusive for this kit
Lexan hatch
05 headlights HID / conversion kit
02 Tail lights
Power Fab black anodized GT diffuser[/toggle_item]
[toggle_item title="Interior" active="false"]Type- S shift knob
Parrot radio/ navigation / satellite
Focal mids and highs ( these where custom fitted into the doors where the factory speakers are )
Focal mini sub [/toggle_item]
[toggle_item title="Engine" active="false"]ARP head stud kit
ARP rod bolt kit
ARP main stud kit
Science of speed titanium valve spring kit and retainer
3.2 liter heads
SOS high compression pistons 11:5
SOS ITB system
Power Fab 2.5″ headers
Power Fab 2.5″ exhaust
Fujitsubo 90mm titanium rainbow finisher tips
AEM stand alone
SOS billet engine mounts
Sard 500cc injectors 48mm
Carbonetics carbon carbon clutch[/toggle_item]
[/toggle_box]