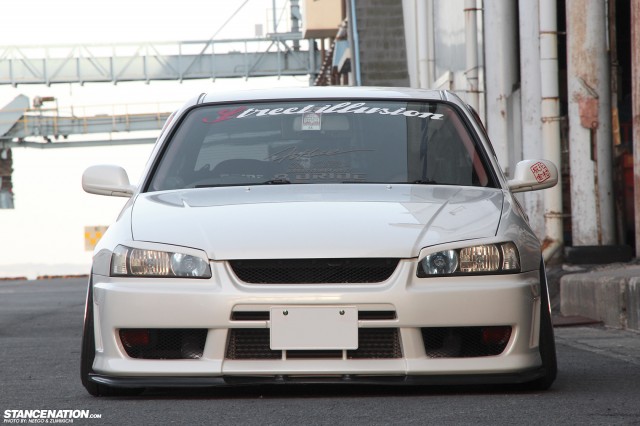 Despite close relation, the differences between siblings can often be as astonishing as the similarities.  One sister could be blonde and the other brunette; one athletic and the other more likely to be found in a library.  The more reserved sister fades into the background of her more popular sibling; overshadowed by her talents or beauty.  Like the plot of a made-for-TV movie, the quiet one decides one day to get dressed up — and shine.  Much like this HR34 Nissan Skyline sedan, not it's not the famous GTR-version.
Photos By: Neego & Zumikichi exclusively for StanceNation.com
For many enthusiasts, the GTR is the only Skyline that exists.  The vaunted badge earned its popularity though motorsports success, the RB26DETT and ATTESSA AWD system garnering the performance credentials and placing the GTR on dream-car lists.  However, the Skyline was available in many other forms including sedan models.  Non-GTR Skylines were highly popular in Japan, though they never received as much attention or exposure.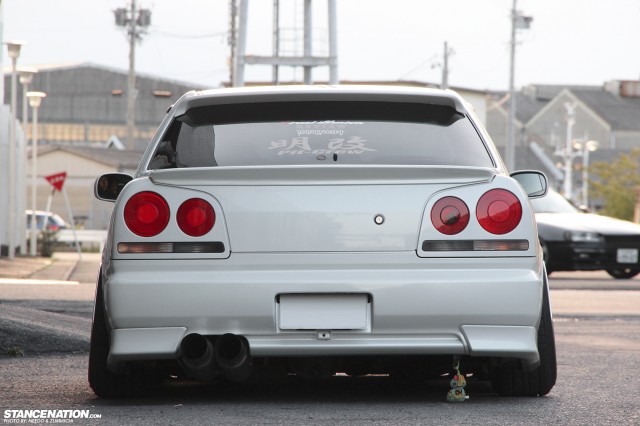 The R34 generation is a perennial favorite among enthusiasts.  The menacing headlights and muscular fender lines contribute to an aggressive attractiveness, like Lara Croft.  Nissan's optional 'Altia' line of aerodynamics provide quality additions to this particular R34.  The front bumper is reminiscent of late-model Japanese 'Kouki' S14s and flows well with the low-slung side skirts.  The Altia pieces are further complimented by select URAS accessories with a GTR front lip spoiler.  These minimal changes combine for a strong impact on the sedan.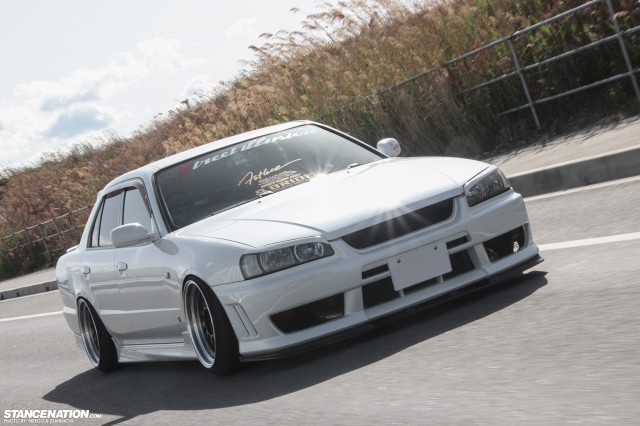 An SR20DET pulled from an S15 Silvia provides motivation, complete with the 6-speed transmission.  The use of an SR in a Skyline may seem like an odd decision for those of us stateside, however in Japan the formidable 4-cylinder  commands a popularity similar to the Chevrolet small-block here — it gets thrown in everything on a regular basis due to the extensive aftermarket and versatility.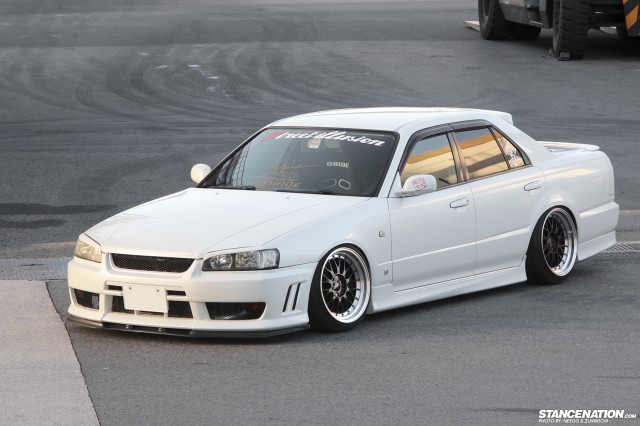 This Skyline cruises Nagoya streets at a precariously low ride-height, accomplished using Cusco Zero-1 coilovers that have been optimized with 36k/22k springs from 362Power and Swift.  Kidney-punishing spring rates keep the 17×9.5″ Reverse-Mounted BBS LMs and 205/40/17 tires from slamming into those beautiful fenders.  More aggressive wheel fitment is in the works, think oni-camber.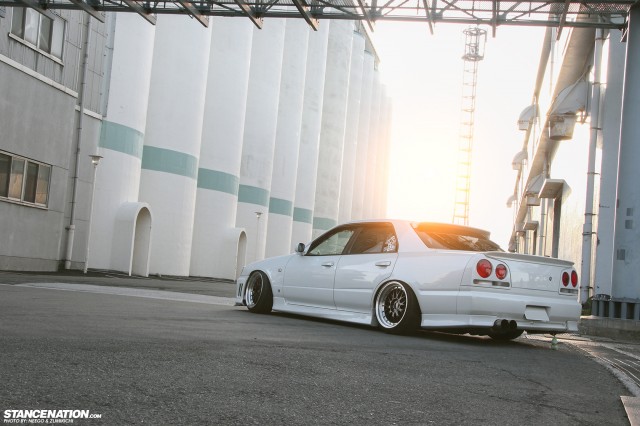 Inside of the HR34 the environment is decidedly Japanese.  Bride Zeta III seats provide ample support for driver and passenger while pedestrians are dodged via a Nardi Classic Leather steering wheel.  Gears are elegantly selected by the handle of a Samurai sword.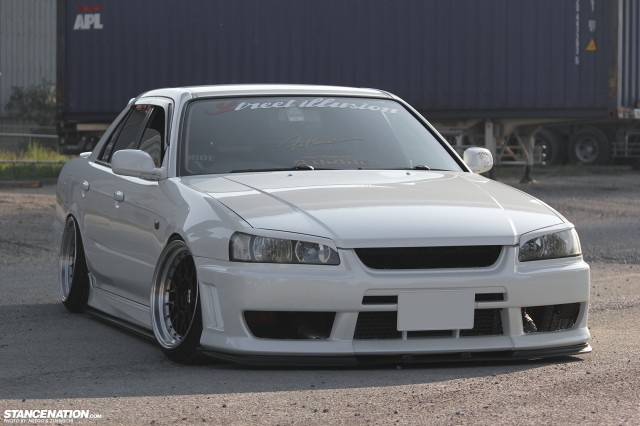 So she takes off her glasses and lets down her long, brown hair.  She's dressed to kill and everyone takes notice.  For the first time in a long time the attention is drawn away from her sister and she's the one dropping jaws and catalyzing puberty amongst male classmates.  The GTR is a fantastic car, but let's not forget her sedan sibling.  She is certain to break necks… when she wants to.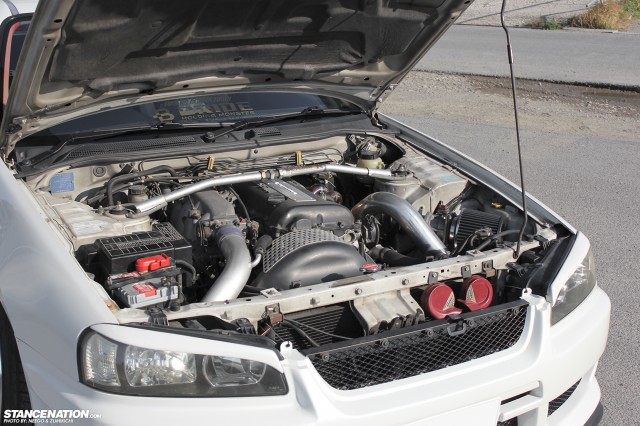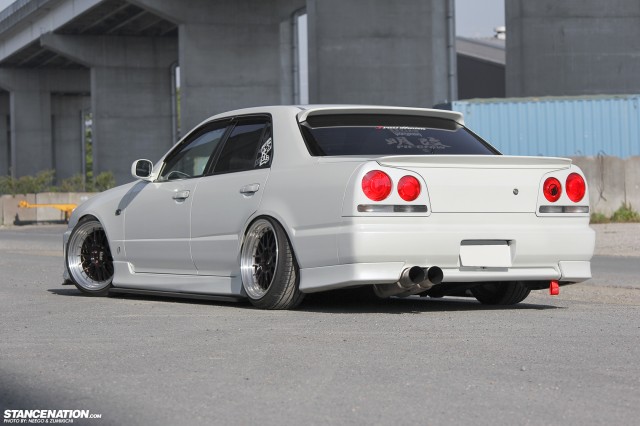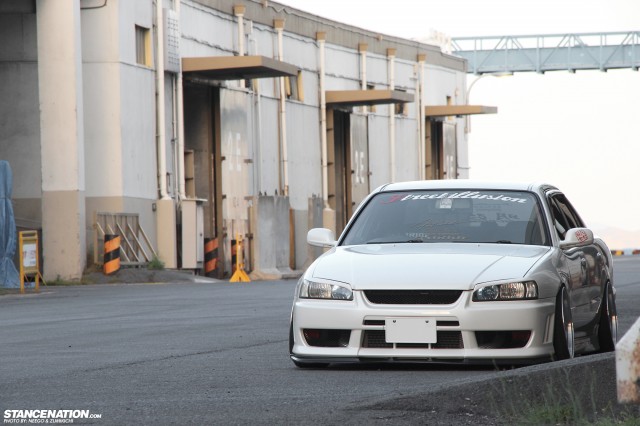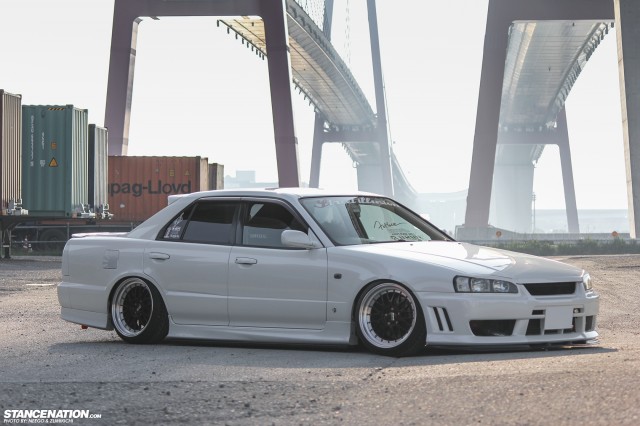 [toggle_box]
[toggle_item title="Wheels/Tires/Suspension" active="true"]BBS LM REVERSE MOUNT 17×9+5
Wide Tread Spacer 20mm
Pinso Tyres PS-91 205/40R17
CUSCO ZERO‐1
326POWER チャクバネ 36k(Front)
Swift Spring 22k(Rear)[/toggle_item]
[toggle_item title="Exterior" active="false"]Nissan ALTIA Front Bumper
Nissan Side Skirt
Nissan Rear Under Spoiler
URAS Eye Line
URAS Roof Spoiler
URAS Trunk Spoiler
Front Winker is Smooth.
SIDE UNDER DIFFUSER with custom BNR34 FRONT DIFFUSER[/toggle_item]
[toggle_item title="Interior" active="false"]BRIDE ZETA3 Full Bucket Seat
NARDI CLASSIC LEATHER 330mm
Japanese SAMURAI Sword Shift Lever[/toggle_item]
[toggle_item title="Engine" active="false"]SR20DET&6MT swap[/toggle_item]
[/toggle_box]