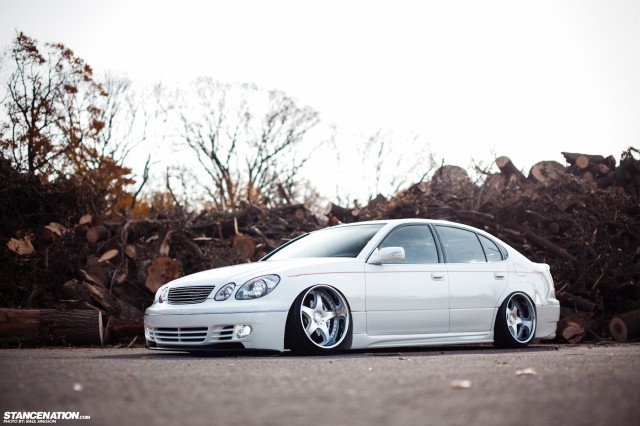 There's no denying that the US VIP scene has come a long ways in the last few years. Whether that's due to the popularity of stance and wheel fitment, or the fact that a lot of the VIP platforms are becoming more affordable is up to debate. However, like any genre there are pioneers; the people doing it long before the limelight cast its glow upon them. As far as the East coast is concerned, the name Liberty VIP is recognized by any in the scene as one of the most respected VIP crews, and their latest 2nd-gen Lexus GS may be one of the hottest VIP cars around right now.
Photos By: Raul Singson exclusively for StanceNation.com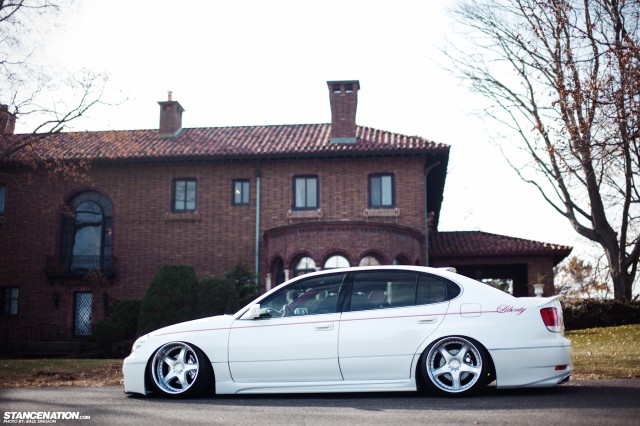 Big Ty's GS definitely made a big statement when the car debuted earlier in 2012. I remember when I first caught pics of it on Liberty's Facebook page and it left me drooling. When I finally saw pics of the finished car, my jaw hit the floor. The US may be a little behind the times compared to Japan, but this car has taken the very best of VIP styling and put it all together in one car. The car is classy and subtle, but it leaves a big impact and carries a big impression wherever it goes.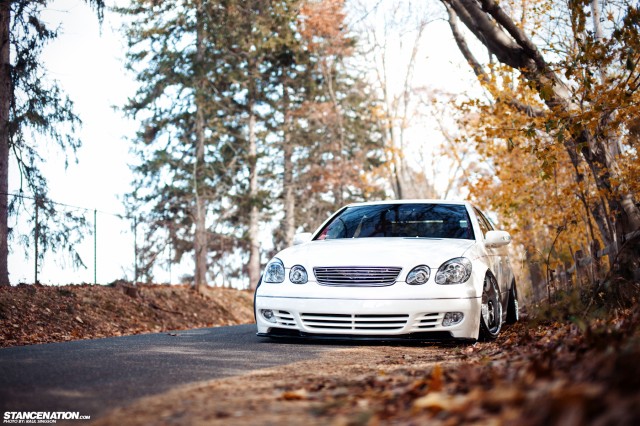 The 2nd gen GS is probably one of my favorite sedans. It has a timeless design, and a great mix of luxury and sporty styling. Ty has done a great job of highlighting the car's factory lines and not going overboard. The Mode Parfume Regalia front bumper and side skirts flow well into the custom, one-off rear bumper which is truly a work of art. Other classic touches include the chrome dipped Junction Produce grille and Junction Produce rear wing. I love the subtle details that this car has too. I think a lot of people these days don't pay attention to the finer details that will set a good car apart from a great car. Take the red pin-stripping and Liberty script that tie into the red interior, or the the Lexus GS430 exhaust tips that were molded in the rear bumper, there are plenty of custom details throughout the car.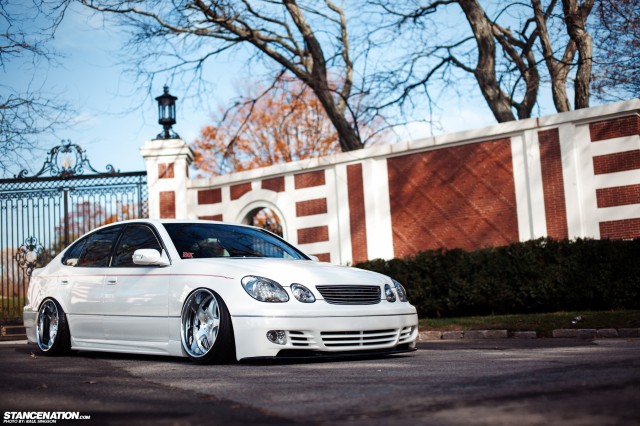 Of course VIP cars are all about the stance and wheel fitment, and Ty's GS does not disappoint in this department. Exclusive wheels, fat lips, a smidge of poke up front, and a nice amount of tuck in the rear, yeah all the boxes are ticked on this one. The almost iconic Junction Produce Scaras measure in at 19×10.5 up front and 19×11.5 out back with offsets of +13 all around resulting in more dish than a Chicago deep-dish pizza. Behind the wheels sits some Grip force drilled and slotted rotors which are clamped on by a chrome-dipped big-brake kit. To achieve the trademark, VIP ride height, Ty went with a tried and true air-ride setup using BC Racing coilovers, UAS bags, two 3-gallon tanks, two Viar 444 compressors, two water traps, and Dakota Digital air management. There's so much debate going on now about air vs static, but it's hard to argue that Ty didn't make the right choice by fitting air on his GS. The stance and fitment is just so on point and keeps with the whole VIP theme.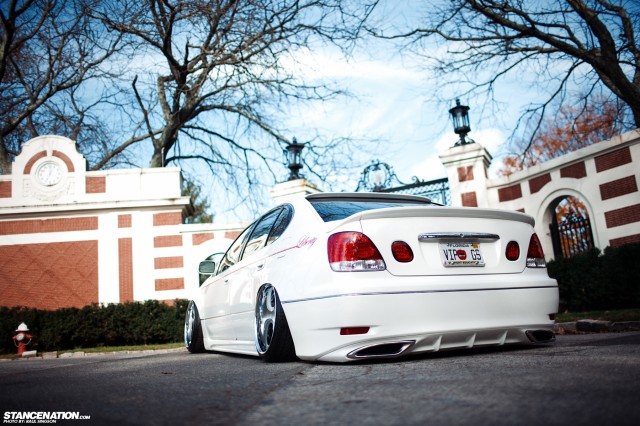 Inside the car, you're once again greeted with an interior that is trademark of a proper VIP build. Deep, luscious, diamond-stitched red leather covers the inside of the car, and matched with the custom dipped wood-grain accents really brings the interior bang up to date. Custom neck pillows, Junction Produce Fusa and knot, VIP tables, champagne glasses, and drink decanters further add to the luxurious, VIP theme. Of course there is a healthy smattering of audio equipment complete with a custom trunk build in matching red carpet to round out the interior. Under the hood things are kept clean and classy. Lashings of chrome and carbon fiber dominate the engine bay while keeping things tidy. This car is all about presentation and it does that very well. However, a brief Q&A with Ty hints at some engine changes for 2013 so watch out!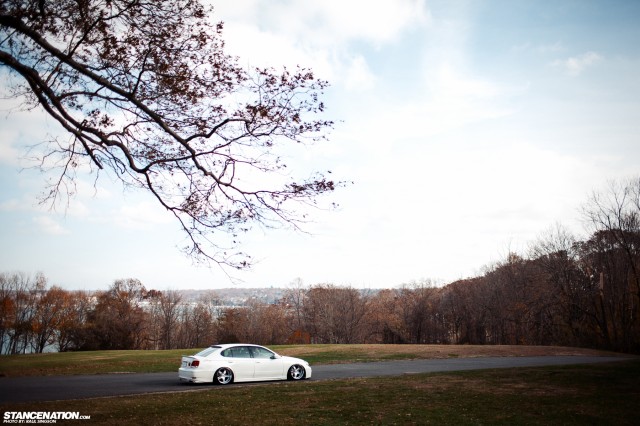 So what's next for Ty's GS? Well with this being his 5th one, he's certainly got plenty of experience with the platform, and he has no plans of parting ways with this one just yet. As already mentioned, he's got some changes planned for the engine bay to step his game up for 2013. That's the cool thing about a lot of the Liberty crew, they're always changing up their game and upping the ante. Stay tuned for more from Ty and his GS, and of course the Liberty VIP crew in general. Enjoy a few more stunning photos of this phenomenal GS that clearly defines the VIP style here in the US.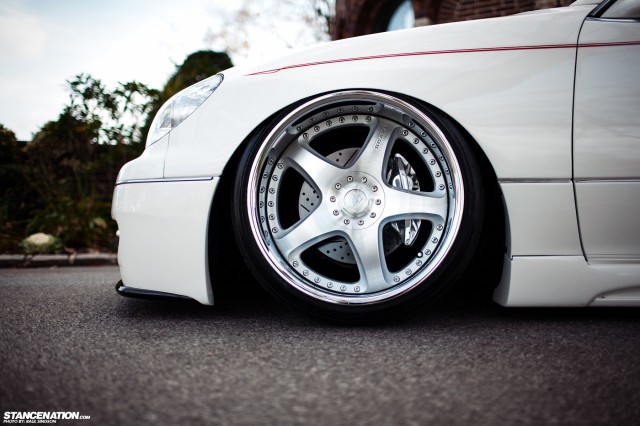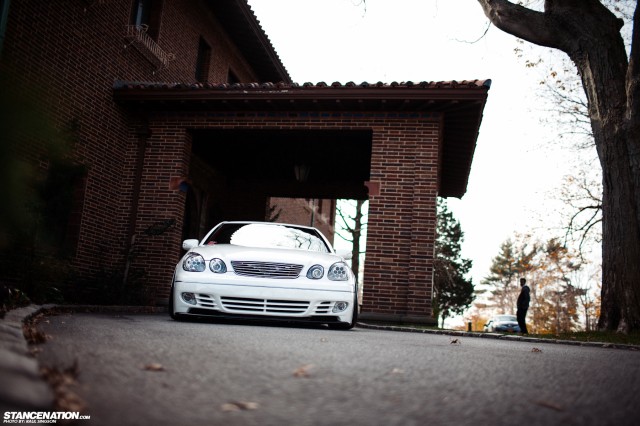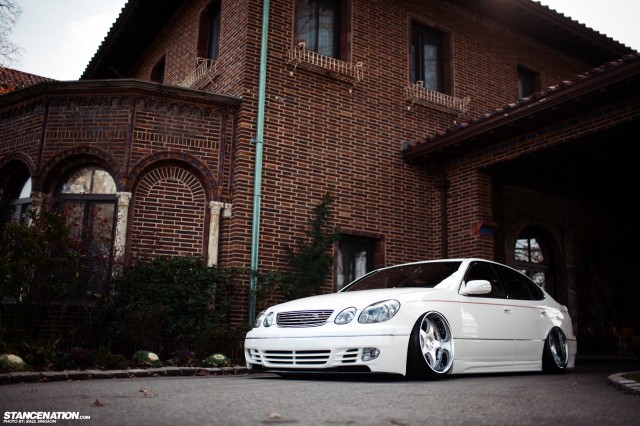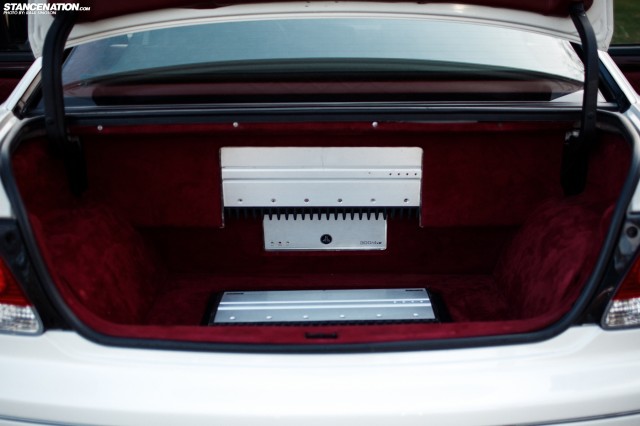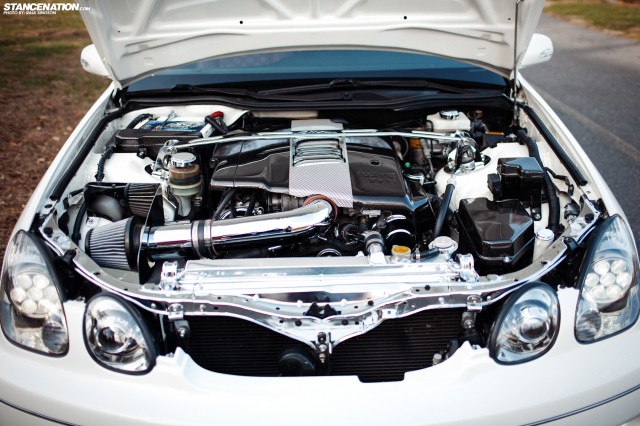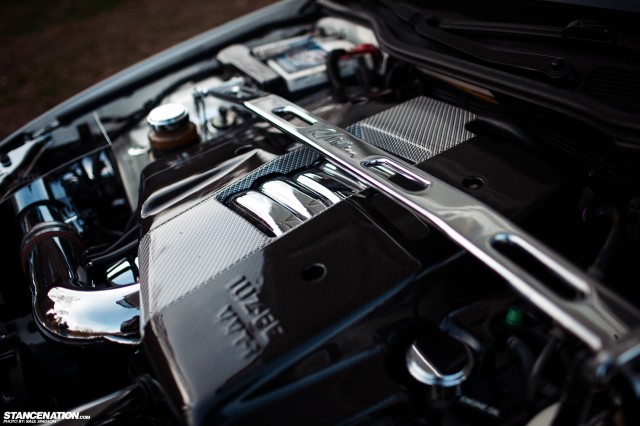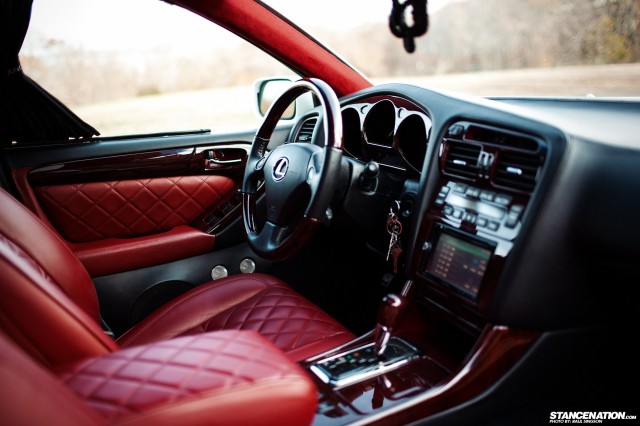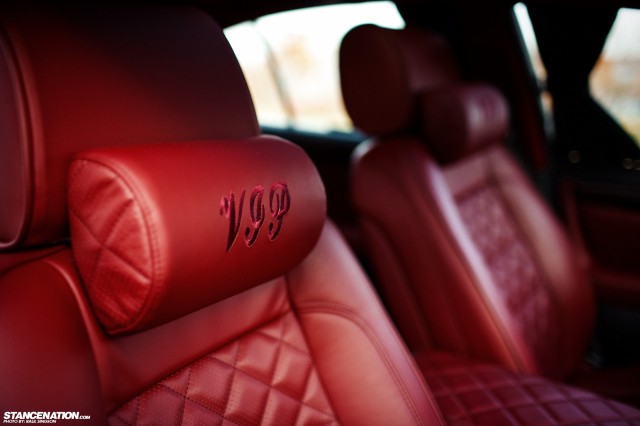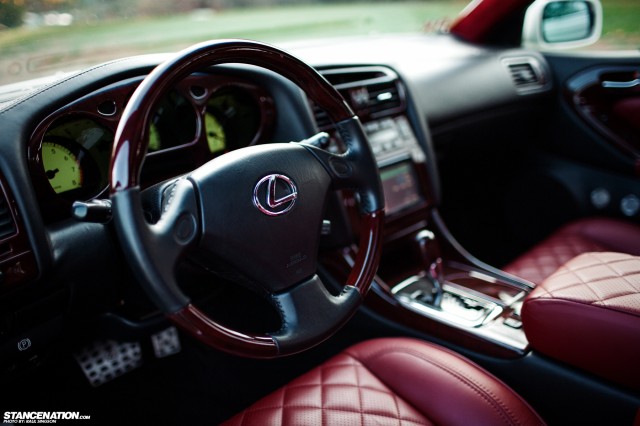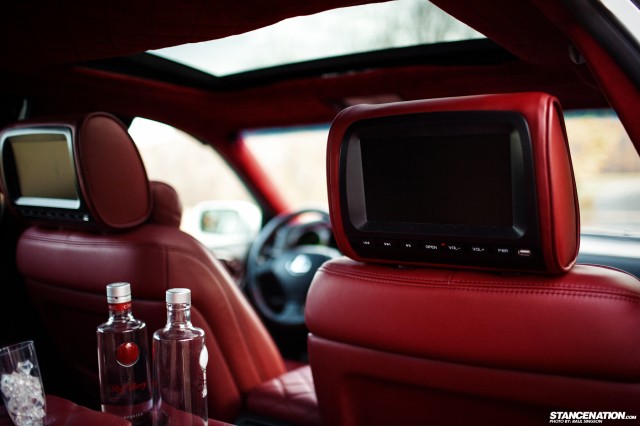 Be on the lookout for the black Acura RL in the next few days!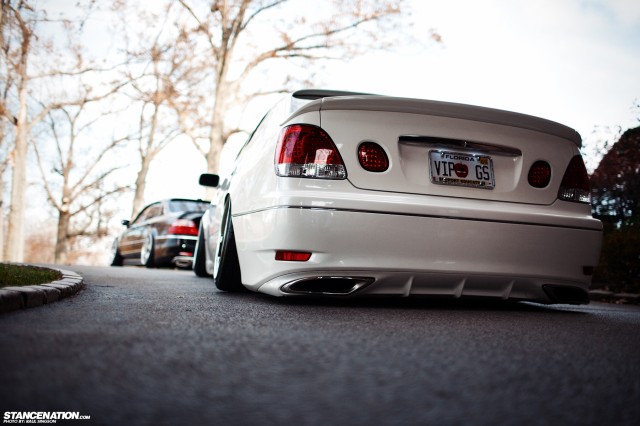 [toggle_box]
[toggle_item title="Wheels/Tires/Suspension" active="true"]Junction Produce wheels 11.5 rear +13 and 10.5 +13 in the front
BC Coilovers
Universal Air Suspension Air Ride
2 3 gallon tank
2 444 Viair compressor
2 water traps
Dakota Digital Air Ride Management System
Grip Force Drilled & Slotted Rotors
Chrome out big brakes upgrade Calipers
Hancock v112 Tires 235/35/19 front and rear 265/30/19[/toggle_item]
[toggle_item title="Exterior" active="false"]Junction Produce rear wing
Mode perfume front bumper and side skirt
Custom rear bumper with custom GS430 exhaust tips
Junction produce grill (chrome dip)
Q45 retro fitted head lights
Rear LED tail lights
Chrome trunk lid[/toggle_item]
[toggle_item title="Interior" active="false"]Red Suede Headliner with diamond stitched
Red diamond stitched leather seats
Custom dipped wood trim
Custom Wood steering wheel with e shift
CustomNeck pillows with custom stitching
Junction produce fusa and knot
Custom rear window shade
Pioneer Head Unit with I pod connection
4 Beyma 8" speakers( pro series)
4 Beyma 6 ½ Speakers
6 Beyma tweeters
1 w7 JL 12" sub
1JL 1000X1 AMP
1 JL 300/4 AMP
1 Fosgate AMP
8 led Underbody Kit
2 XS batter
Cross over
Custom infinity mirror trunk lid and diamond stitch floors
Custom door panels[/toggle_item]
[toggle_item title="Engine" active="false"]Chrome radiator support frame
Chrome valve cover
Chrome
Dipped carbon fiber engine covers
Magna flow exhaust
SRT Intake w/ECU chromed[/toggle_item]
[/toggle_box]