More than likely, if you follow Stance:Nation, you know what were all about. Any time of the day you can visit the website and see a myriad of beautiful photos of equally elegant cars. Many different vehicles of all makes and models have proven themselves worthy from Nissan S-chassis to big body sedans whom grace these fine pages from all over the globe. However, this feature is a little bit different and a lot more personal as the center of the spotlight rests close to home. It is an honor for me to introduce Stan Chen's BMW Wagon. AND modified motorcycle. AND custom trailer.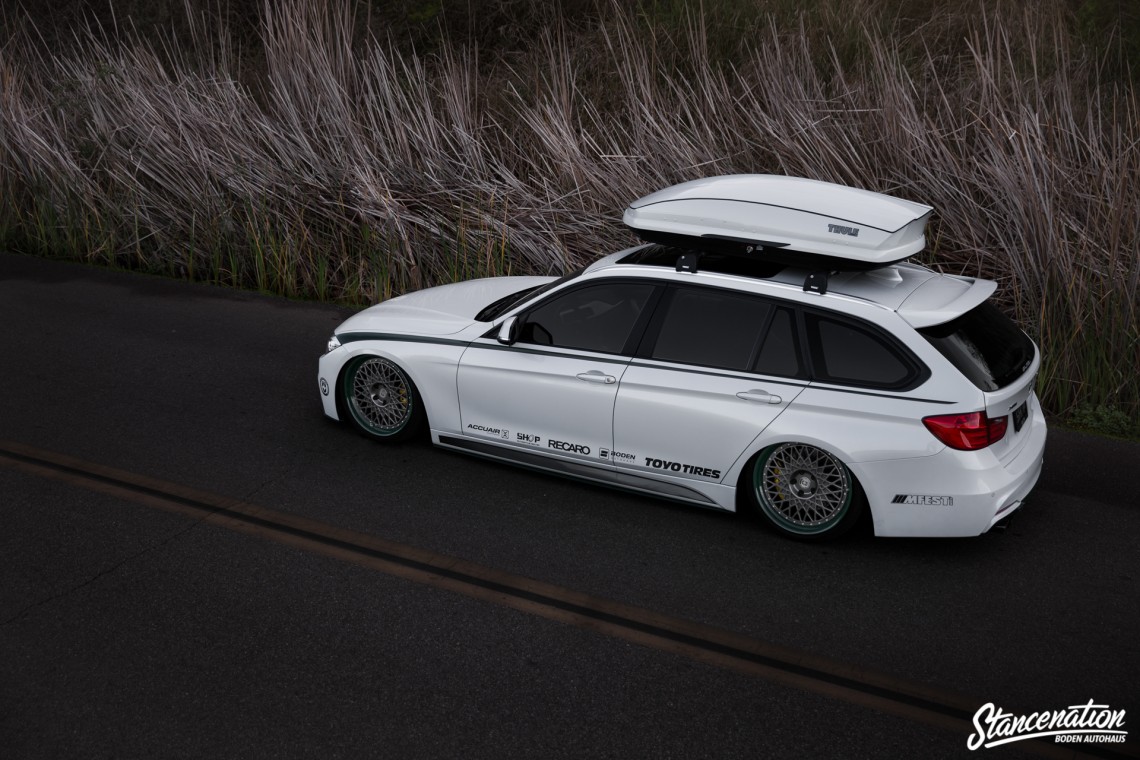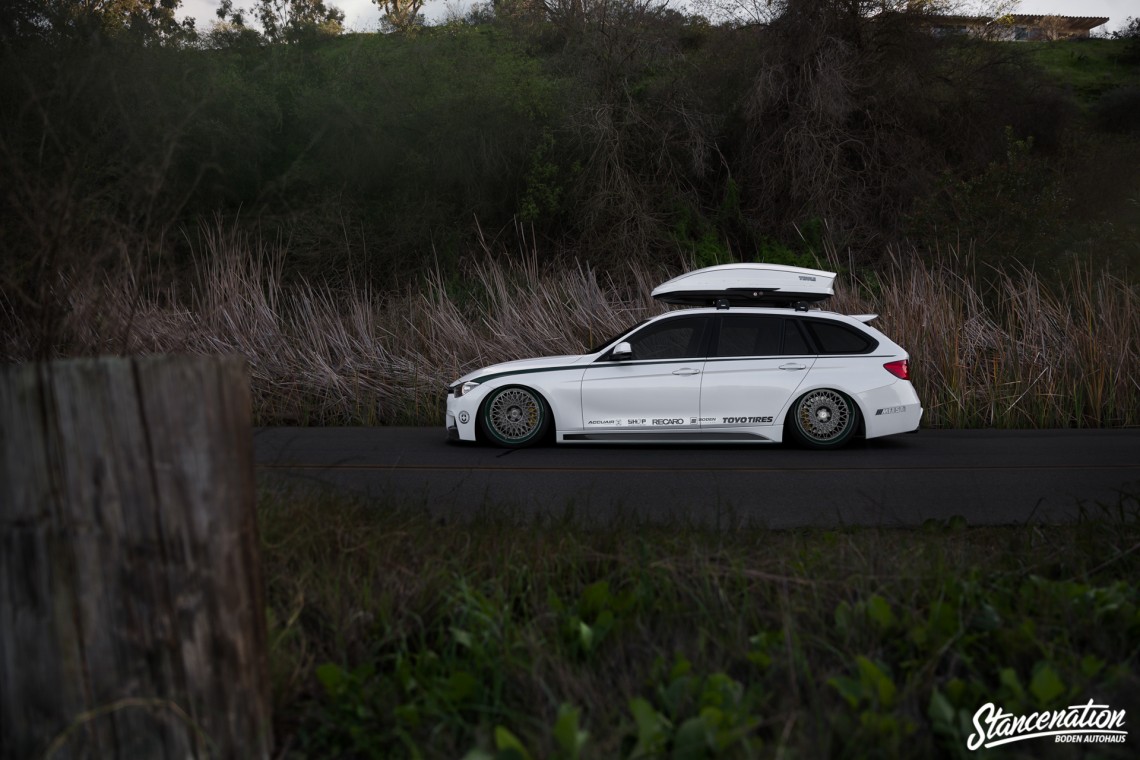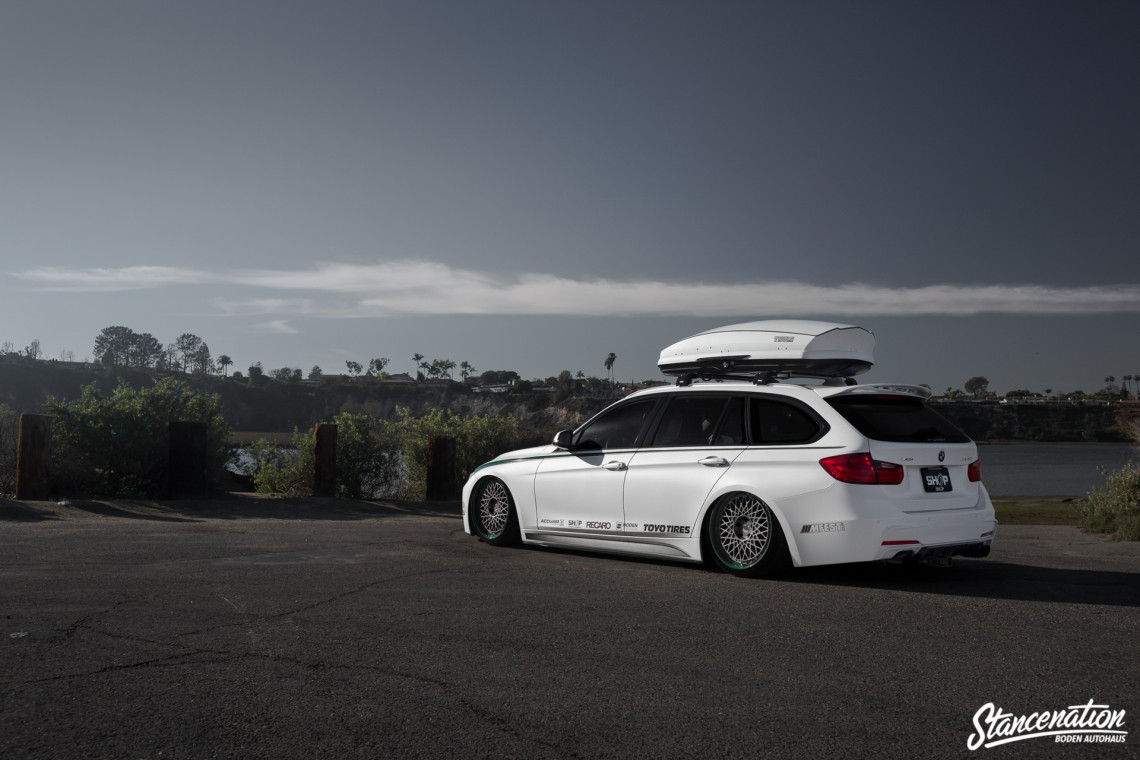 Hailing from Long Beach, CA, Stan did not always have a wagon. However, he did not always have a child either. With his little bundle of joy born in April of last year, he didn't take a hiatus from the car scene, nor did he go with the stock minivan route that eventually ends up with a beer belly and constant "glory days" references that fall on tired ears. Having always loved wagons and the modified life, the switch was seamless as Stan found the proper and perfect vehicle to suit the needs of all, baby and wife included.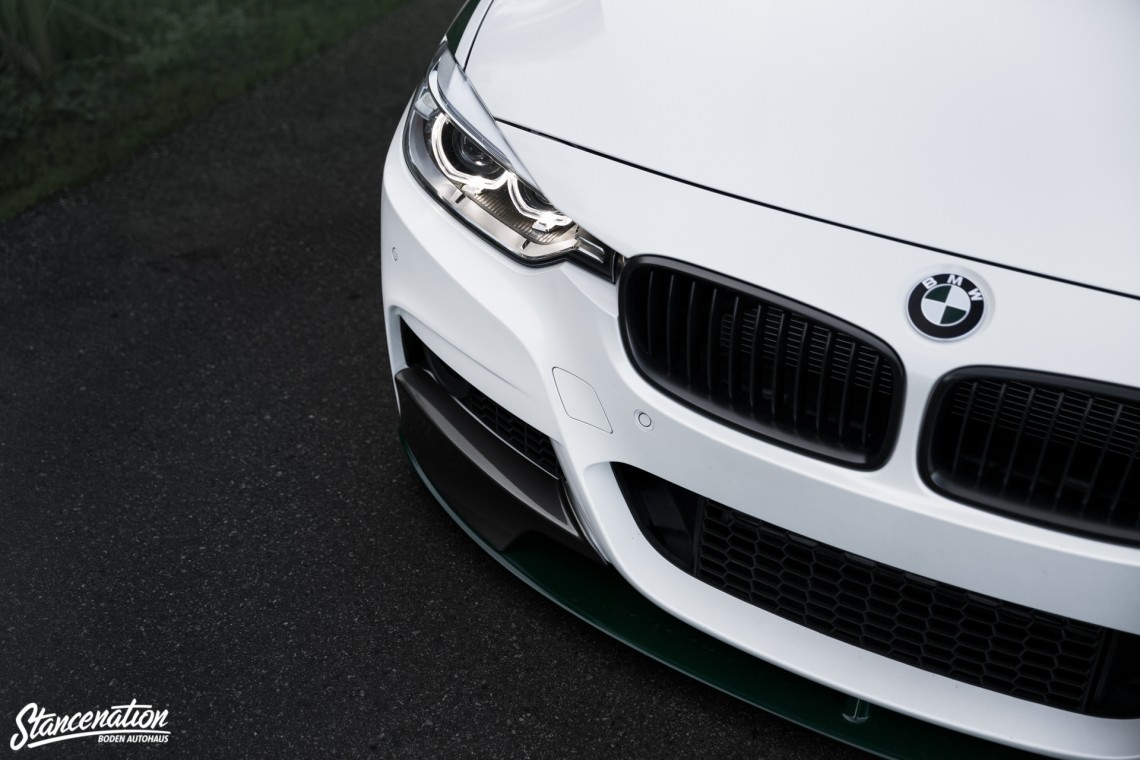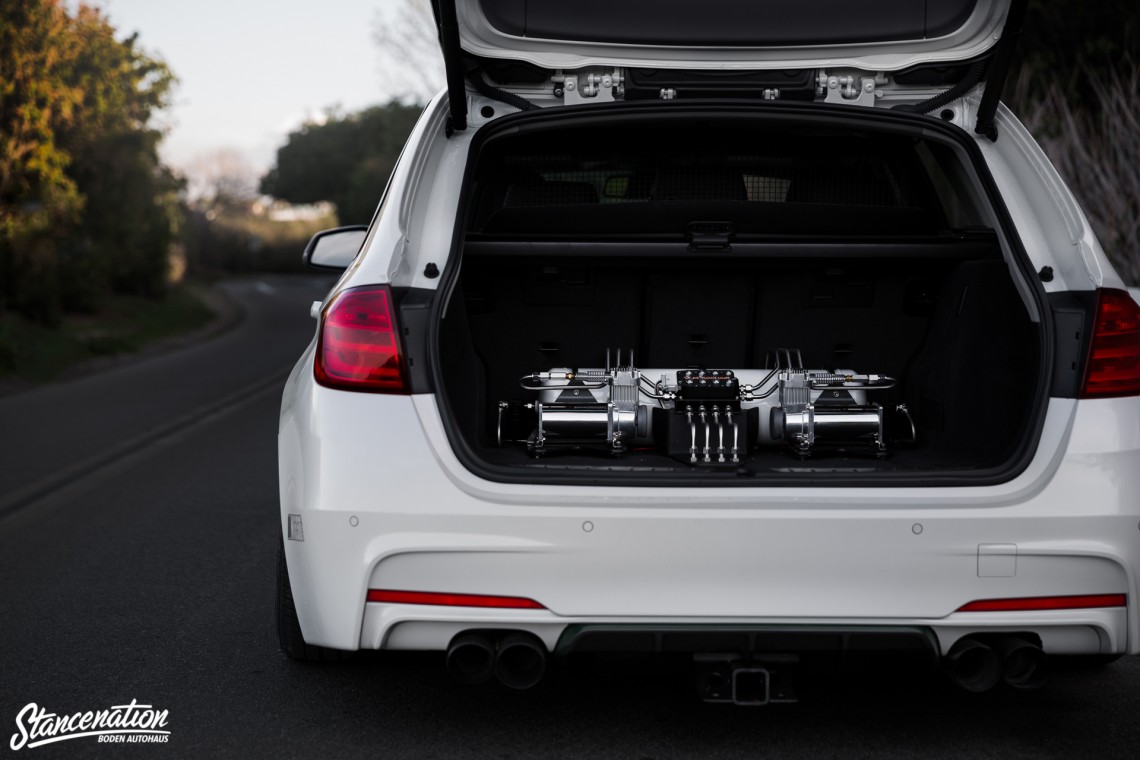 With a car that looks like this and made its initial debut at SEMA 2014, there must have been a great deal of work involved. To make sure that everything was to Stan's high standard, he utilized some very big names and brands in the industry. One of the first things was to give the wagon the ability to get down low. Skipping the choice of coilovers, Stan decided that wincing at scrapes and clenching sphincters at potholes was enough. He decided to go with the AccuAir route complete with E-level management with HP Drivetech Struts. As this car was also to provide safe transportation to some of his most beloved, he called upon Boden Autohaus, a premier in all things air suspension, to take care of the installation – complete with hardlines, something this writer has recently been hankering for.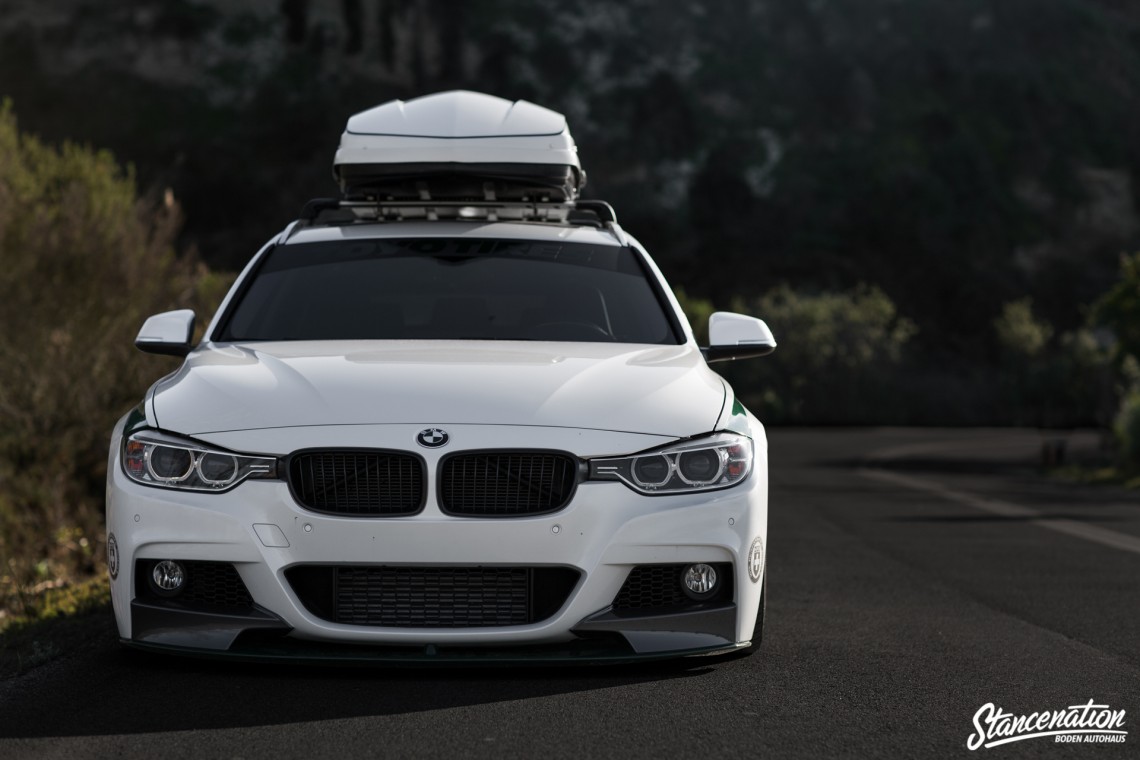 Getting low wasn't all Stan had planned. You see, Stan is the man with the plan, so he decided to modify the 328IX with MSport front and rear bumpers accentuated with a myriad of MPerformance upgrades which notably include a front splitter and rear diffuser that are color matched to other components tying the vision of "Von Doom" together. In addition, Stan went with HRE 501s's wrapped in Toyo Proxes, Toyo's performance tires, as his contacts to the asphalt, both age-old names in the industry with tried and true reputability and reliability, something that is highly valued today.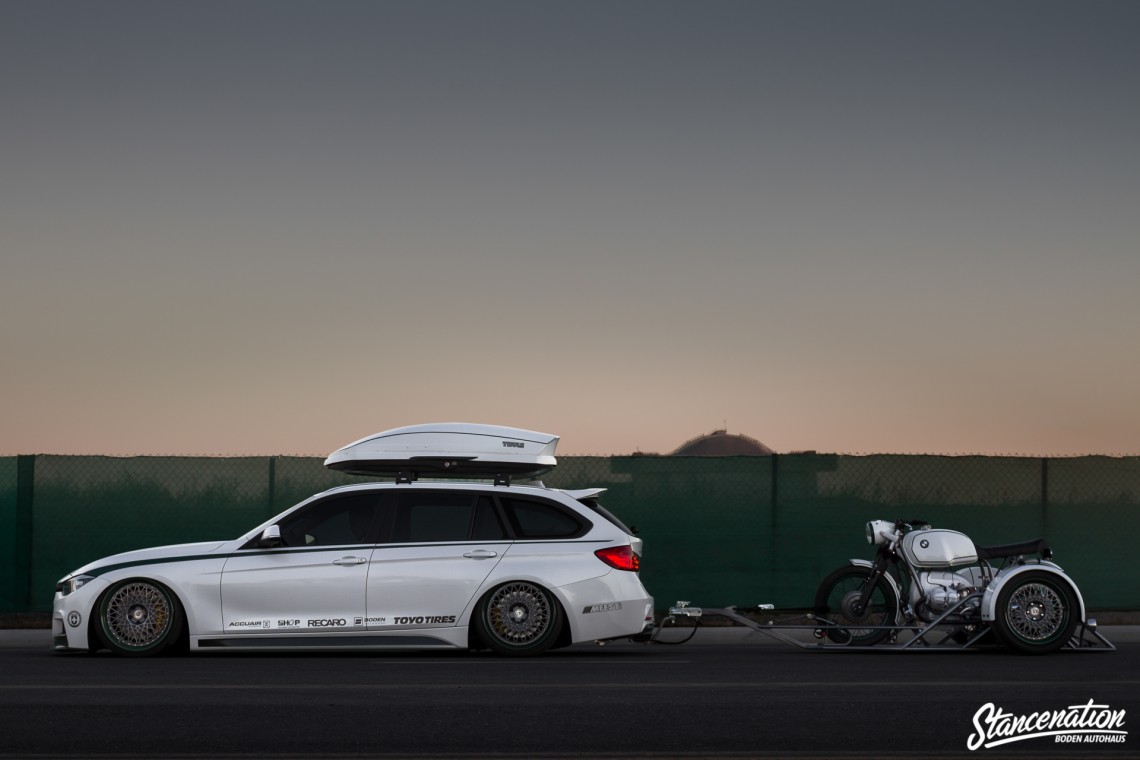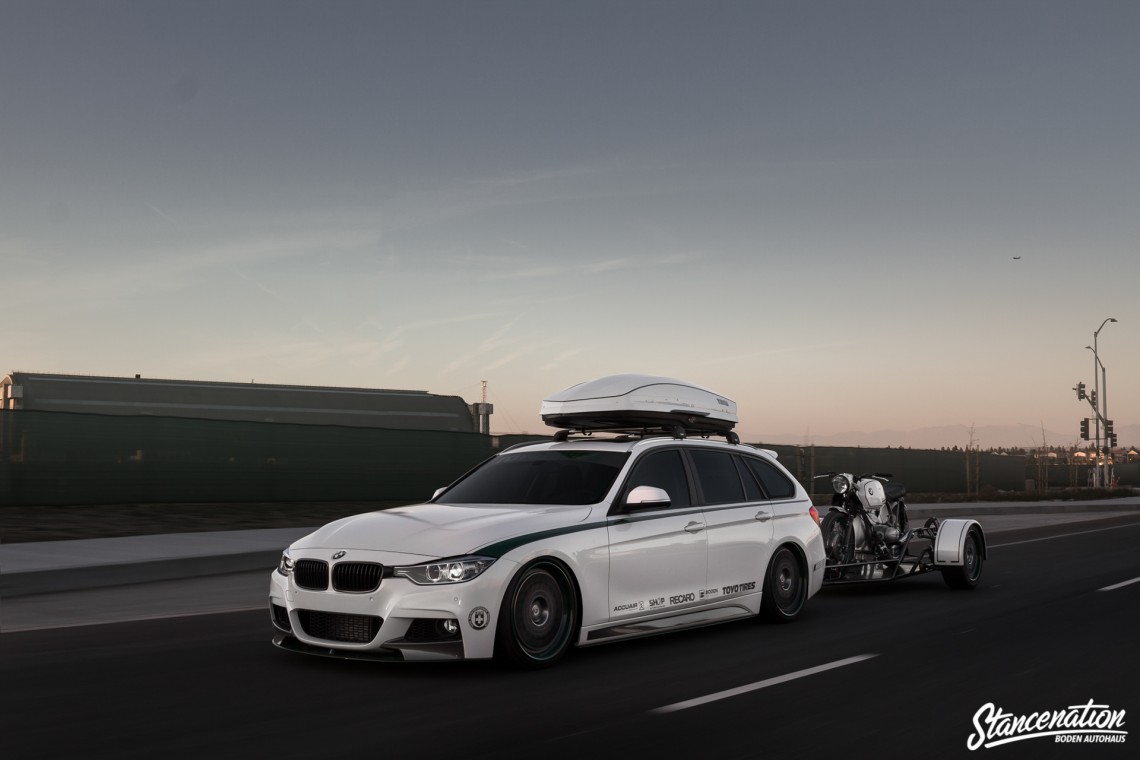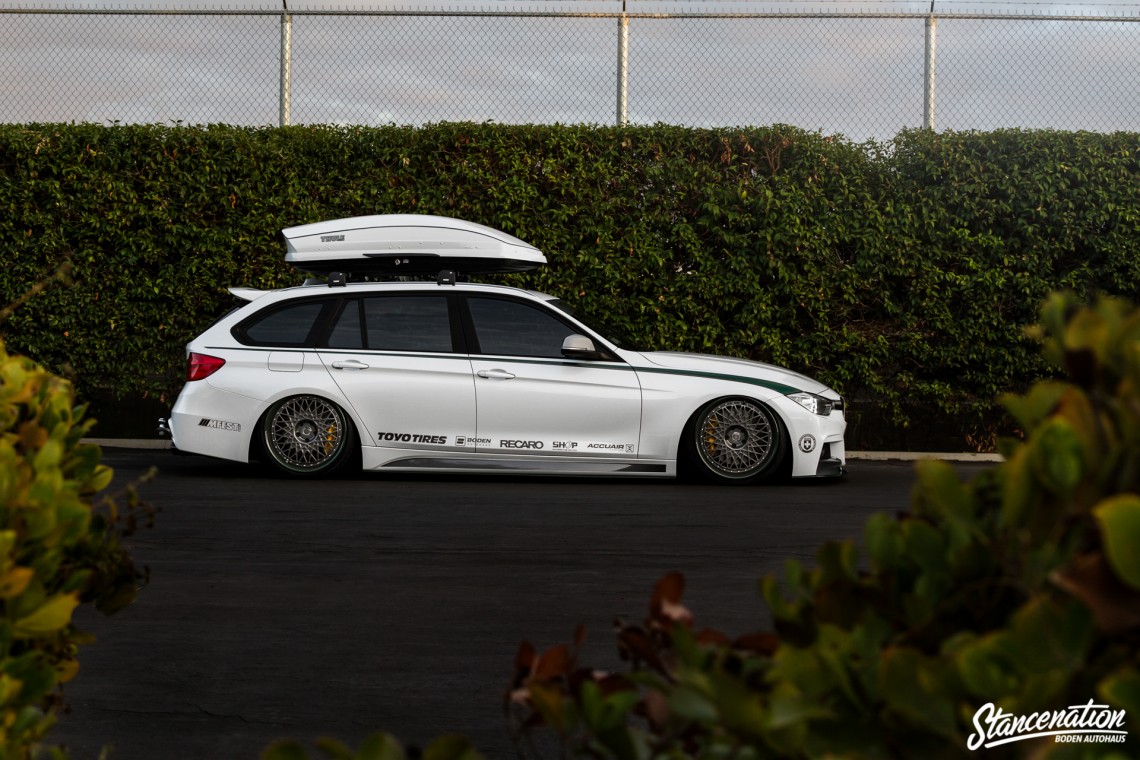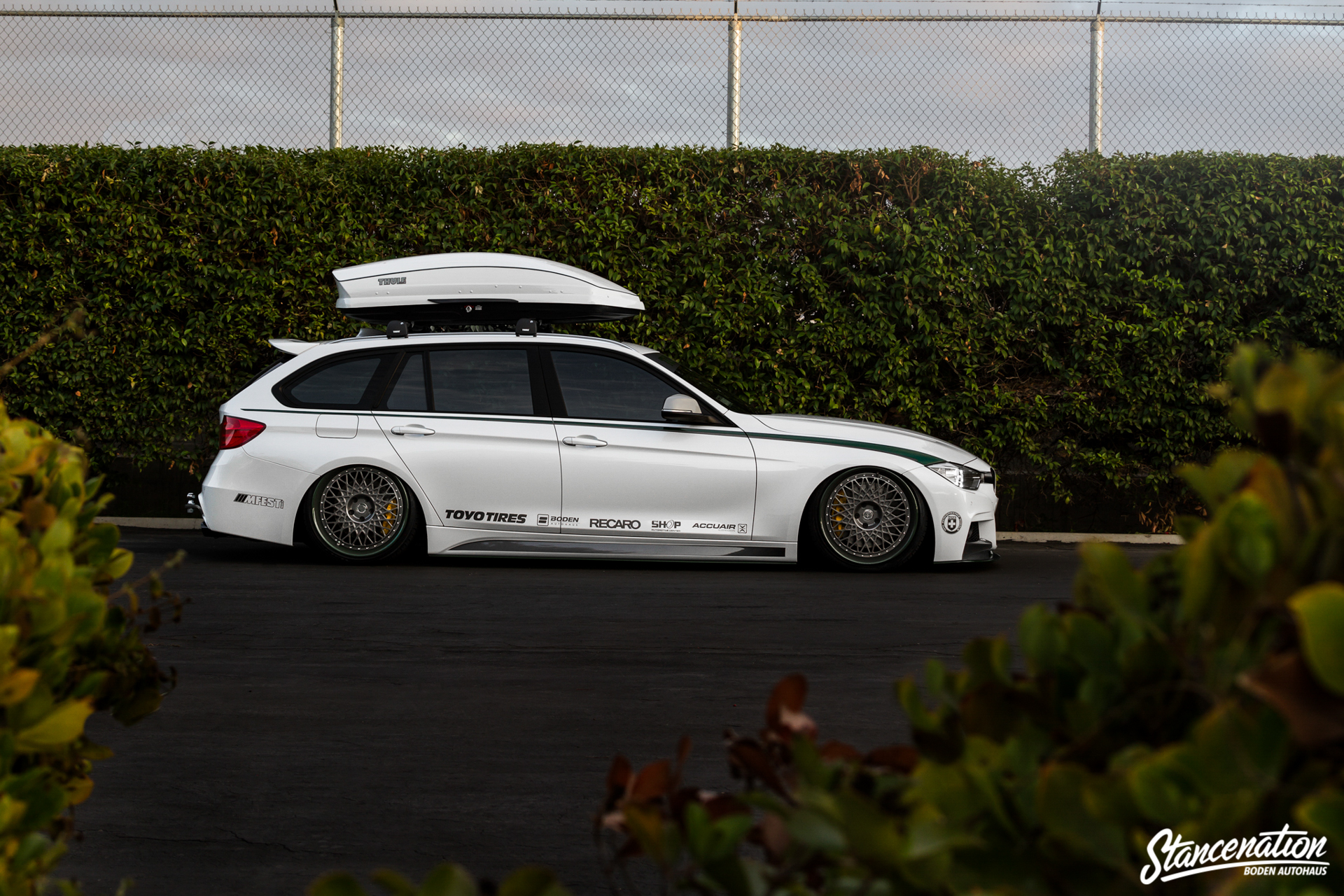 Wanting to further differentiate this particular wagon amongst the rest that would be displayed at SEMA, Stan knew he had to delve further into his project. Instead of limiting this build to simply the wagon, he decided to implement his love for riding and introduced a 1973 BMW 75/5 cafe racer affectionately known as, #LILDOOM, complete with matching color scheme and being lowered. With shortened front forks, aftermarket suspension, and splashes of green tastefully applied, the name holds valid.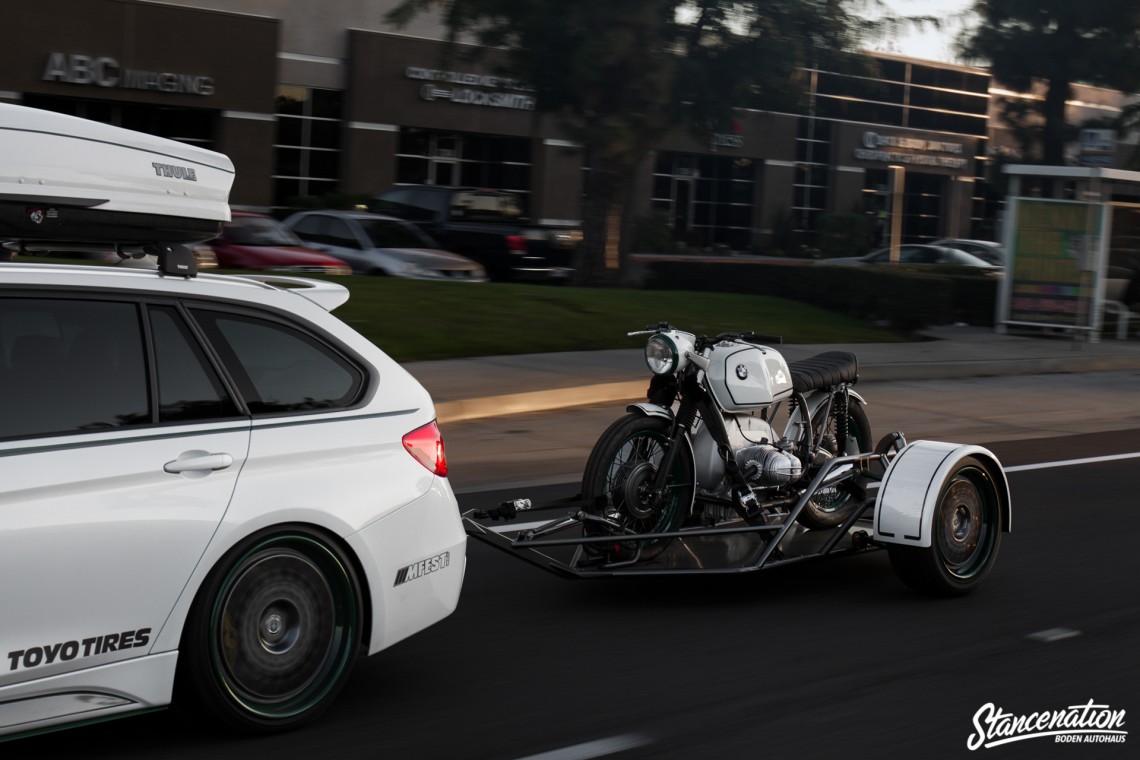 Stan made a few calls to which ended up with a shop in Iowa called Laodies which began construction of a custom air bagged trailer. To accomplish this, AccuAir management was mated with Kelderman air suspension with custom Irish Green control arms. This too was given the Von Doom treatment as well as its own set of HRE's and was nicknamed #THERAFT. One cool thing is that the trailer height can be controlled from the cabin of the wagon. However, not everything was a fairy tale, though if I was Cinderella, I would have preferred this instead of a stupid pumpkin carriage. The most difficult thing was that the fact that all three components of this completed masterpiece all arrived in the span of two days, all overnighted from their respective places of California and Iowa, all to Las Vegas in time for SEMA 2014.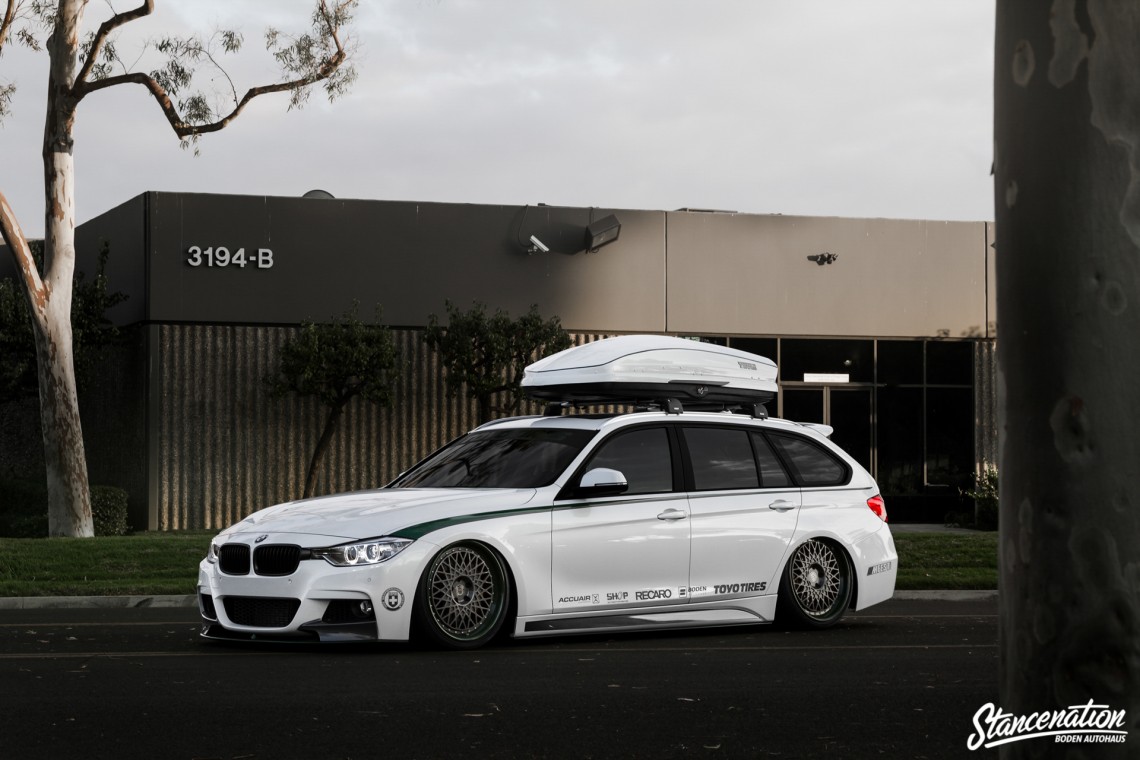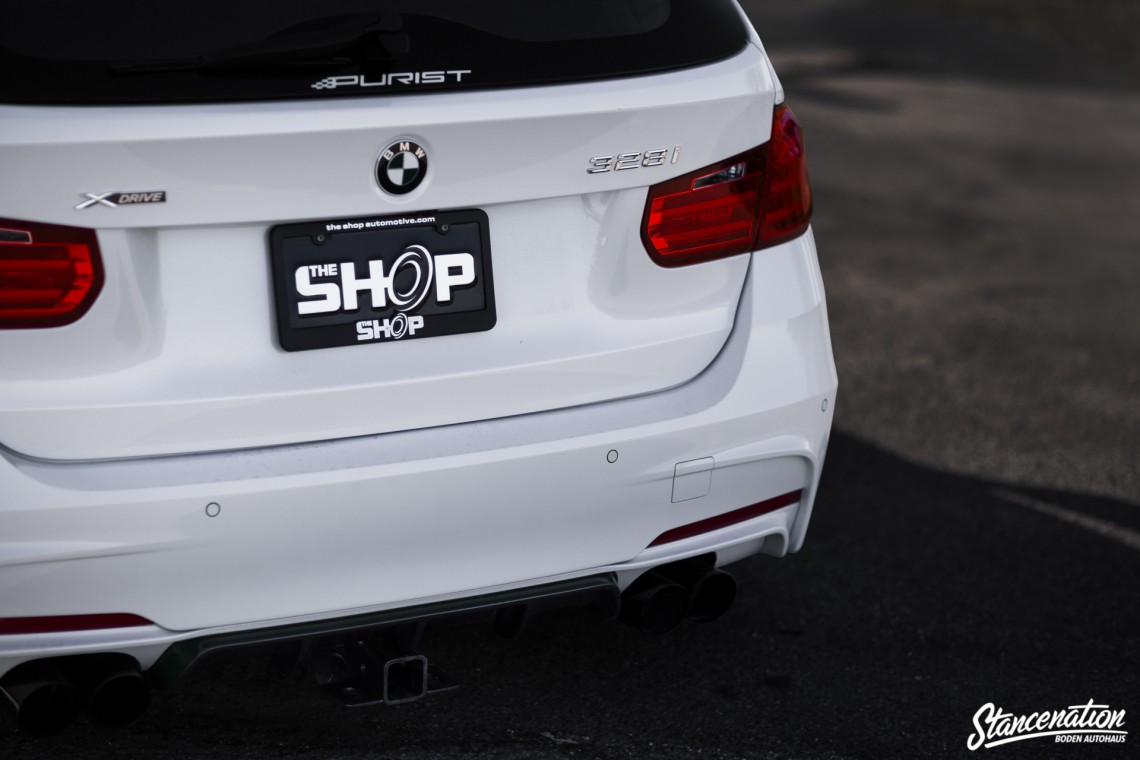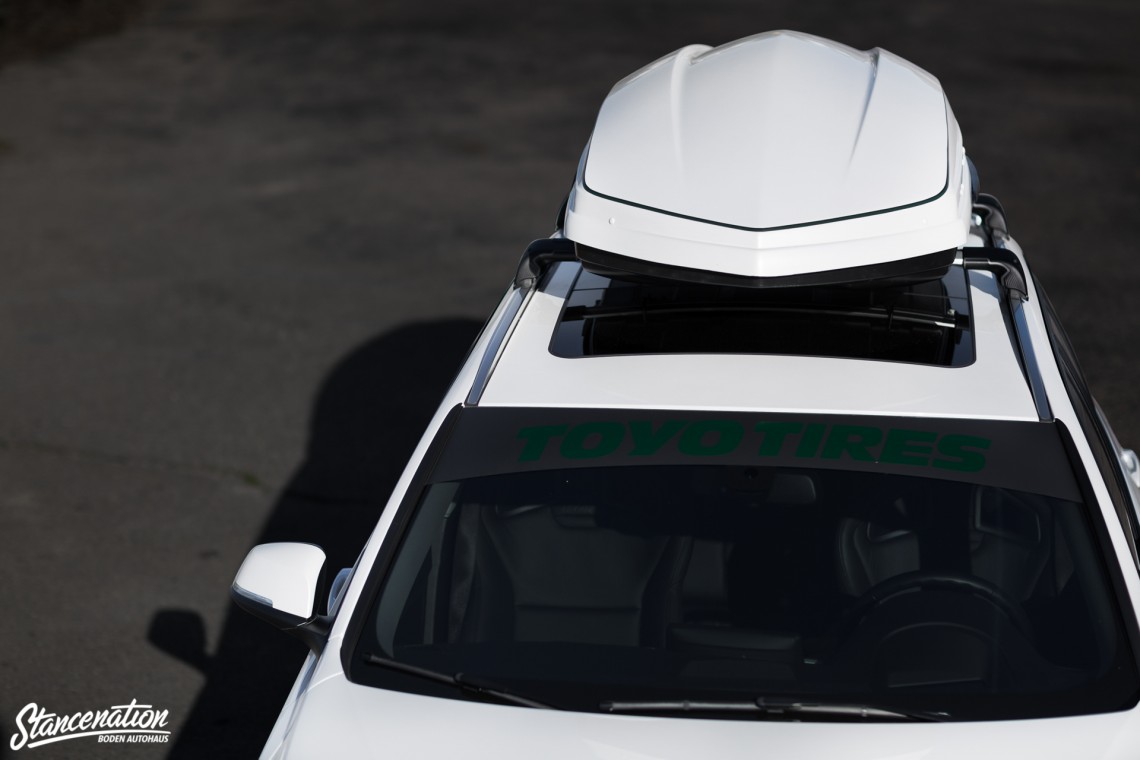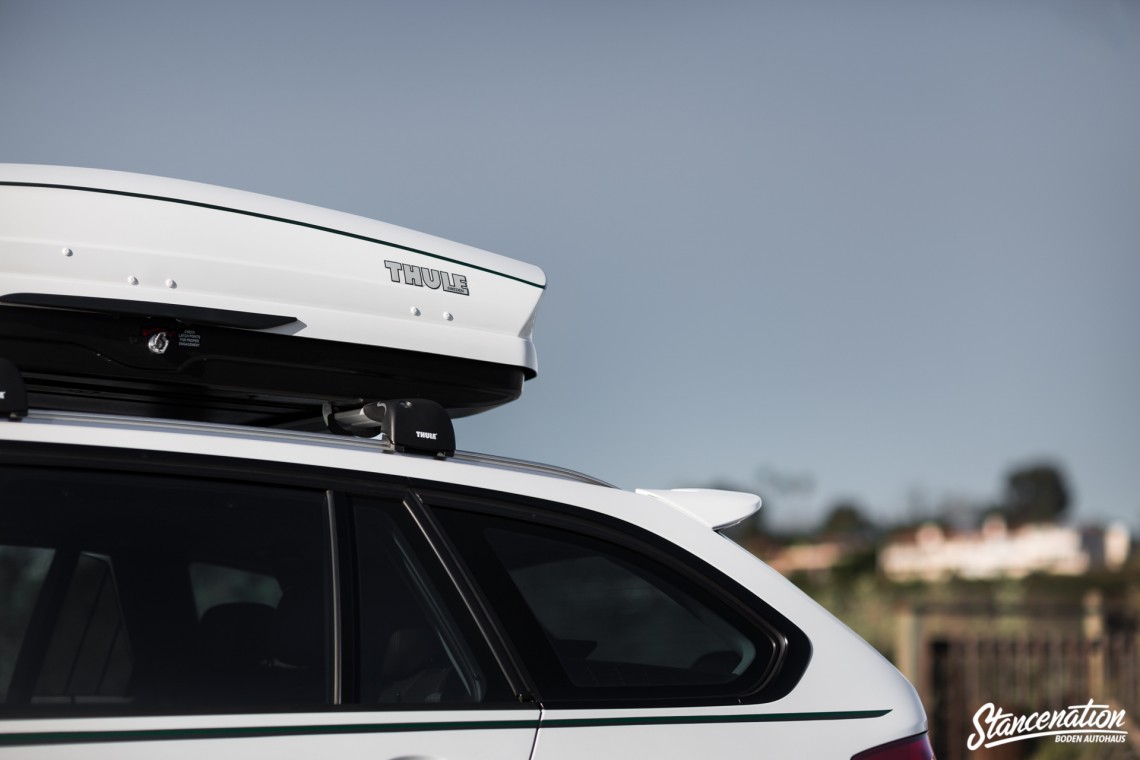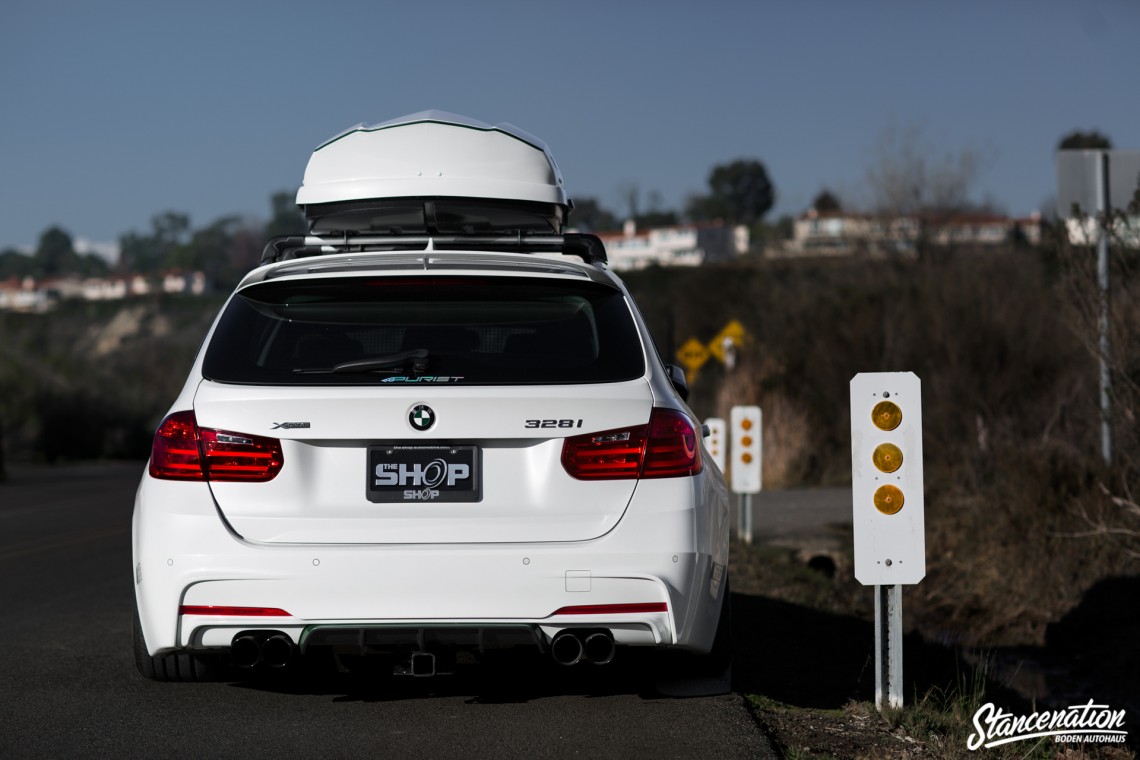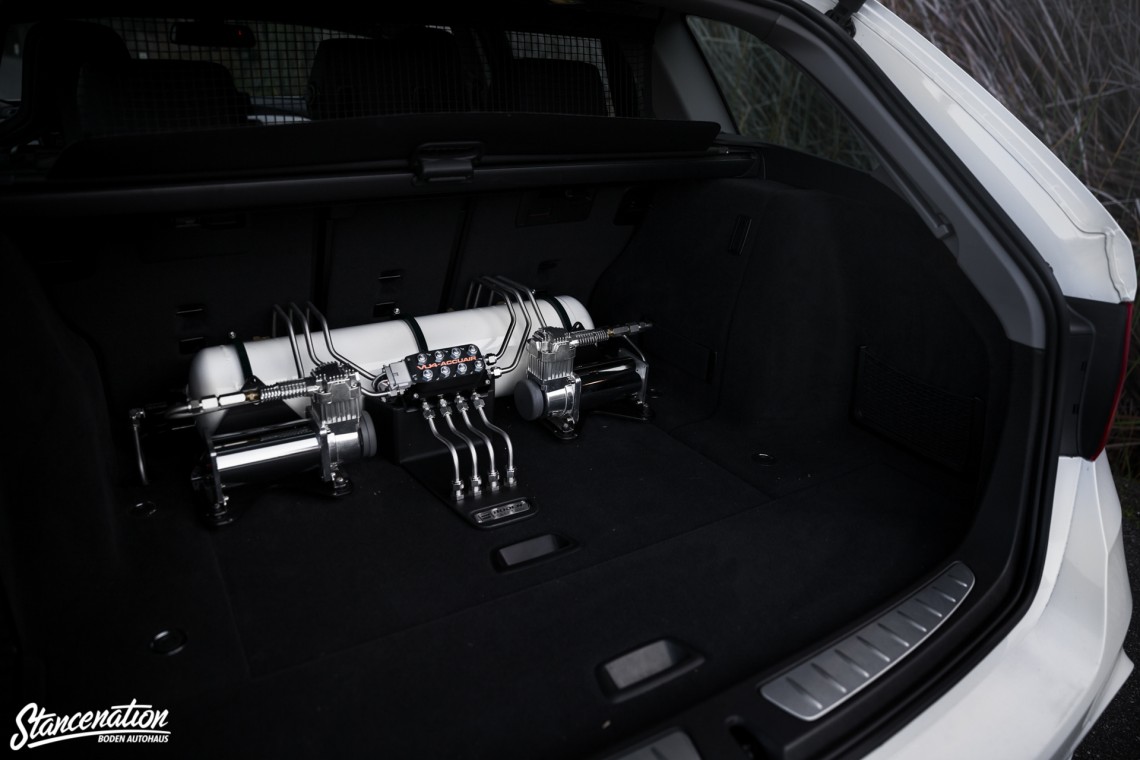 These two pictures showcase the best of both worlds. Above, Stan shows us that even with an air set up, there is plenty of space to store things, albeit the introduction of a Thule Sonic roof box and a trailer. The hardlines are a nice touch, individualizing the air management with the trunk now looking more like modern art. Below, shows that there is a perfect harmony between sport and comfort, ironically enough, its name is Von Doom.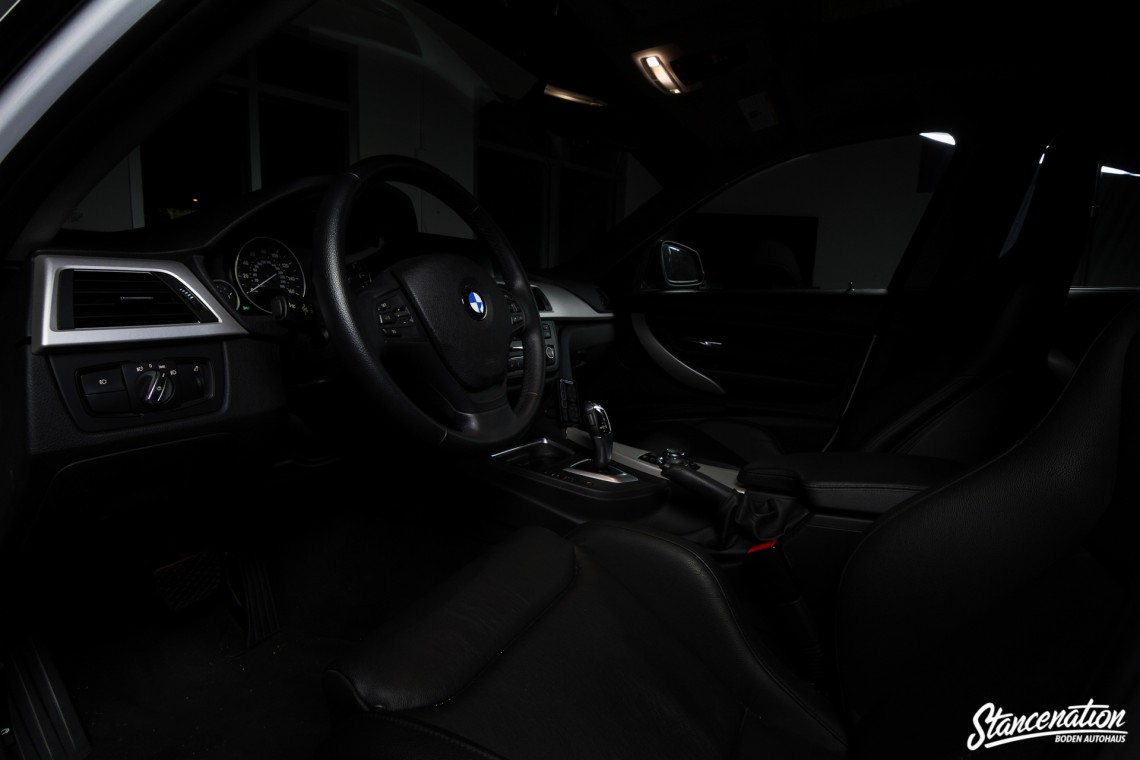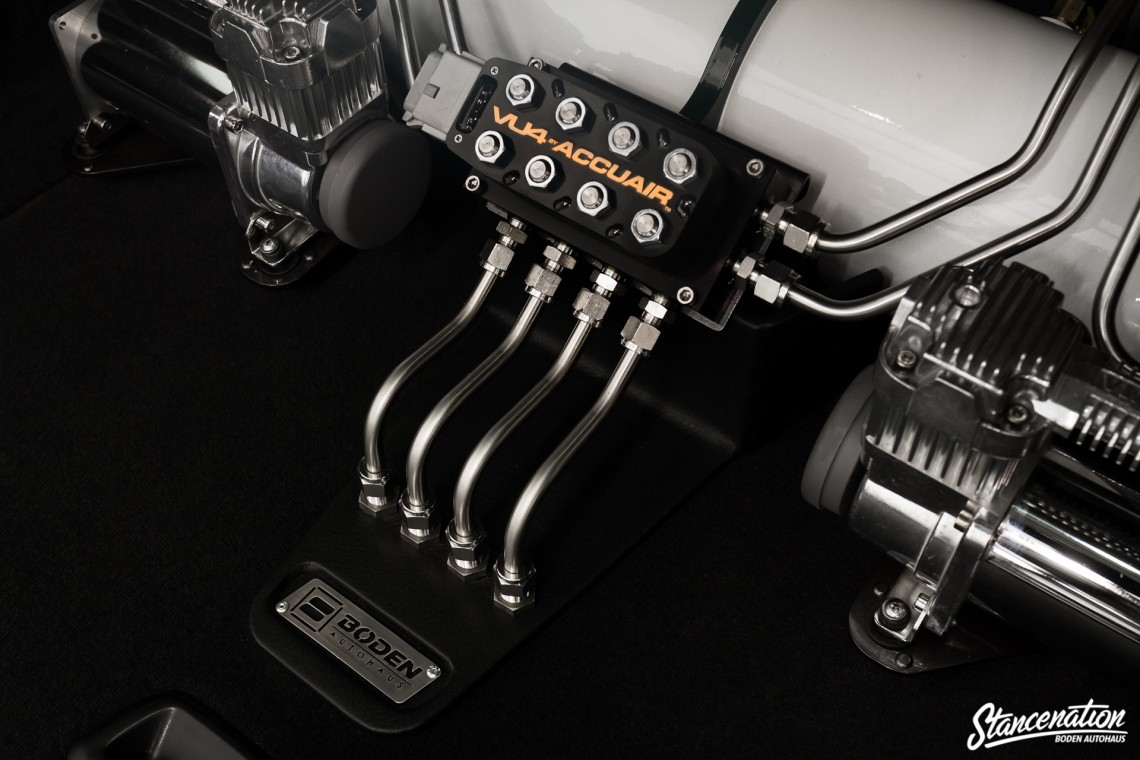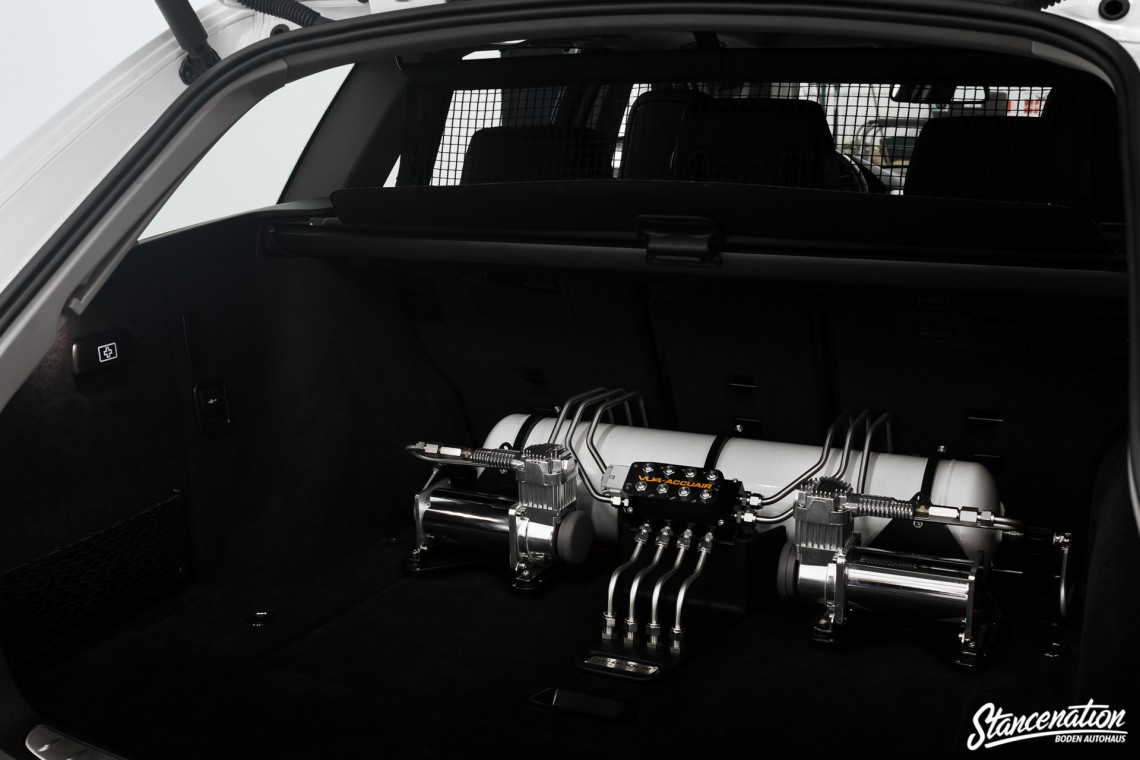 2014 BMW 328IX SPORT WAGON "VON DOOM"
Exterior:
M Sport Package Retrofit Kit
M Sport Front and Rear Bumpers
M Performance Front splitter
M Performance Rear Diffuser
M Performance Rocker Panel Blades
M Performance Roof Spoiler
Thule Sonic Large roof box color matched with Charcoal and Irish Green pinstriping
Thule AeroBlade Edge rack system
Huper Optik ceramic window film by STM Advanced Window Film Solutions
Interior:
Recaro Sportster CS leather seats
Electronics:
Full European coding by Alpine Coding
Performance:
MXP quad exhaust system with dual wall black chrome tips
Dual software tune by ECU Tuning Group
Braking:
M Performance big brake kit
R1 Concepts slotted and dimpled rotors
Suspension:
AccuAir E-Level Air Management Package with HP Drivetech struts installed by Boden Autohaus
Wheels/Tires:
HRE 501 Vintage Series wheels in 20×8.5 and 20×9.5
Toyo Proxes 4 Plus (225/35/20 and 255/30/20).
2014 LAODIES KUSTOMZ MOTORCYCLE TRAILER // #THERAFT
Custom fenders in Mineral White with Charcoal and Irish Green pinstriping
Custom charcoal frame
Ford Model-A Tail Lights
Kelderman Air system
AccuAir E-Level Air Management Package
Custom Irish Green control arms
HRE 501 Vintage Series wheels in 18×8.5
Toyo Proxes 4 Plus 225/45R18
1973 BMW R75/5 // #LILDOOM
Body:
R100 fuel tank in Mineral White with Charcoal grey and Irish Green pinstriping by The Shop
Crafty B Mini Racer fuel cap in brushed aluminum
Black leather with grey selvage denim solo seat by MFEST Bespoke
Lossa Engineering custom rear fender
Chassis:
Lossa Engineering sub-frame
Charcoal de-tabbed frame
Controls & Electricals:
Renthal Ultra Low handlebars
Tommaselli Grips
Vintage brushed aluminum tail light and turn signals
Shorai Lithium Ion battery
Suspension:
Lowered front Progressive Suspension fork springs
Progressive Suspension 412 Series rear shocks
Engine:
K&N filters
Motul 7100 4T
Cast Aluminum Café Starter Cover from BMW2Valve.com
Exhaust:
Black chrome exhaust pipes with Heatshield Cobra Exhaust wrap
Wheel & Tire:
Charcoal grey spokes
Irish Green lips
Firestone Deluxe tires