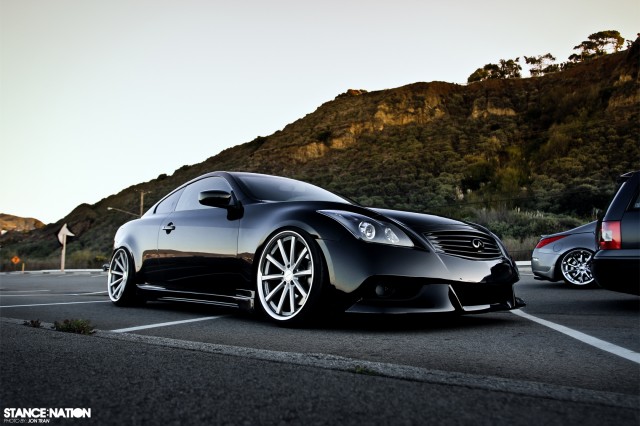 First and foremost we apologize for the lack of posts. Last couple of days we've been switching our servers over and weren't able to add any new content on. We now have about a dozen cars to feature so be on the lookout for that. With all that said, let's continue checking out more of Low N Slow cars, what do you say? Today we're looking at Von Torres' white G37 and Ryan Arra Arya's black G37. Both Von and Ryan have been a part of Low N Slow for quite some time and it's safe to say that they've paved the road for many other G37  Coupe owners. First up we'll be taking a look at Ryan's black G. You can never go wrong with proper fitment and a touch of concaveness..
Photos By: Jon Tran exclusively for StanceNation.com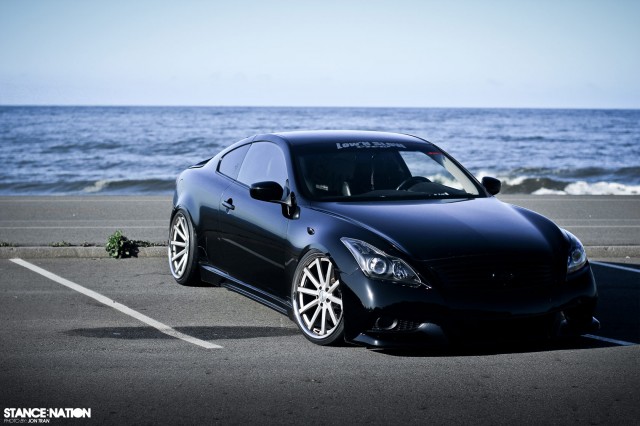 Starting on the outside Ryan went ahead and upgraded all the bumpers. Actually, the kit he is running is the AIT Racing S-Tech Style and it looks as aggressive as they get for these cars. We're not sure how he manages to keep the kit in such a good shape especially for being as low as he is, but he does. Major kudos.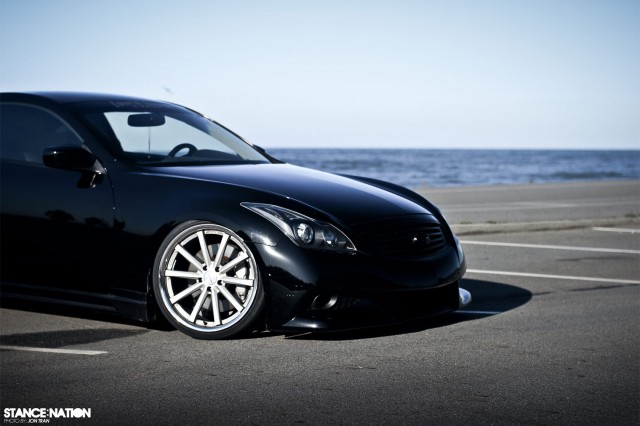 One of the things we love the most about this particular G is the rear trunk. We've always had a thing for the HikkataDori trunk ever whether they're on a G35 or G37 , so big up's to HikkataDori guys for making such a great looking product. We've got an even better picture of the rear end for you if you scroll down some more…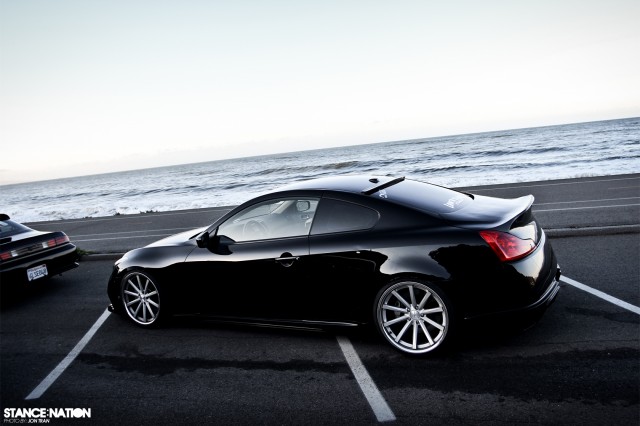 For those who aren't familiar with the wheels by now, they're made by Vossen and go by the name of CV1. Sure, they may be pretty common on these cars but there is no denying that they look great. Fronts are sitting at 20×9 while the rears are at 20×10.5. Ryan finally slammed the car on BC Racing coilovers. Final look is just awesome that we're sure breaks many necks. Apparently Ryan is already sitting lower since these photos were taken, much lower actually. Perhaps it's time to go 10.5 all around or even something completely different and more aggressive?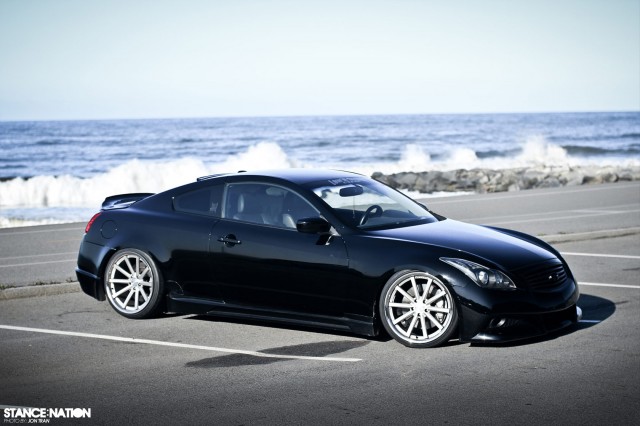 Big ups to Ryan for coming out and letting our photographer Jon Tran take these awesome photos for us. Scroll down for more photos and a feature on that other G. Special thanks to Jon for two days of continues shooting!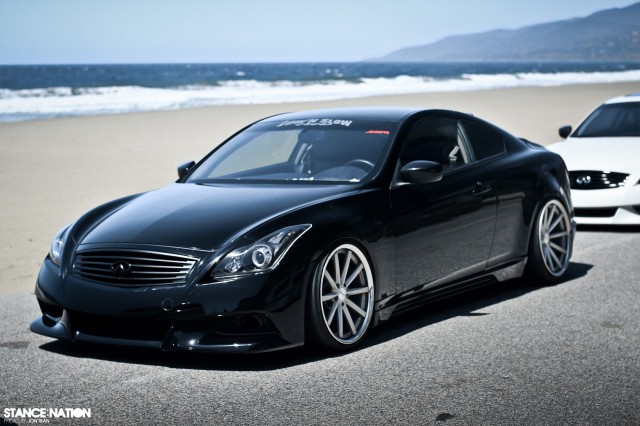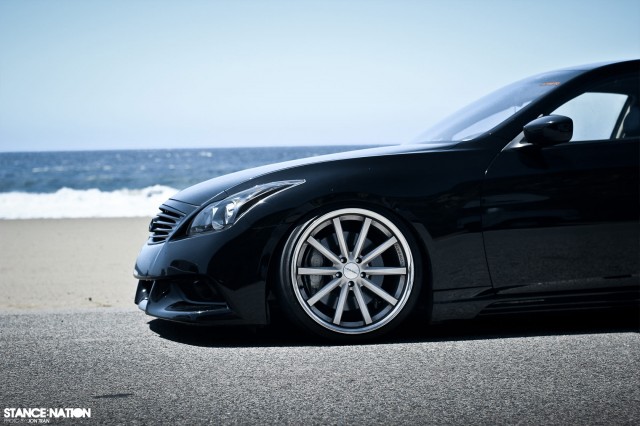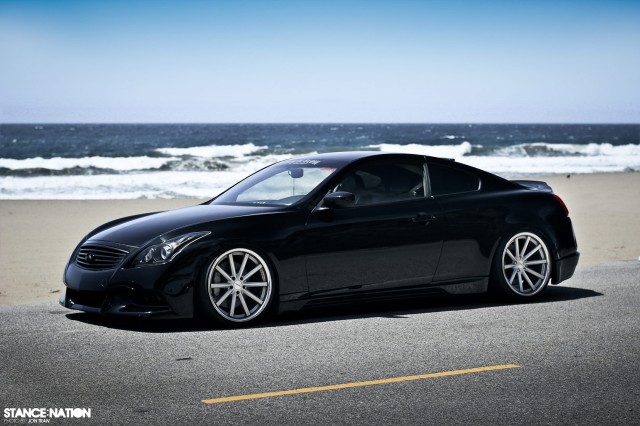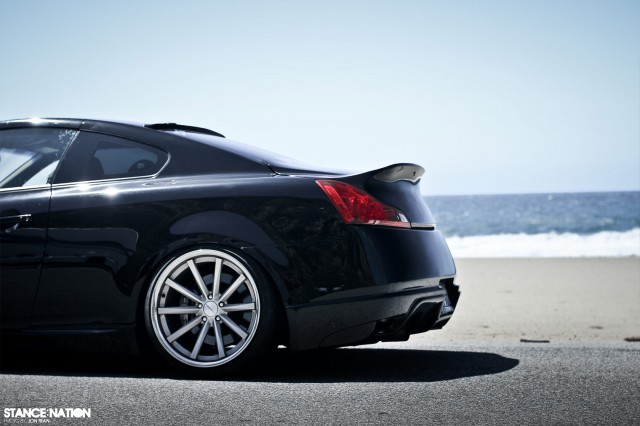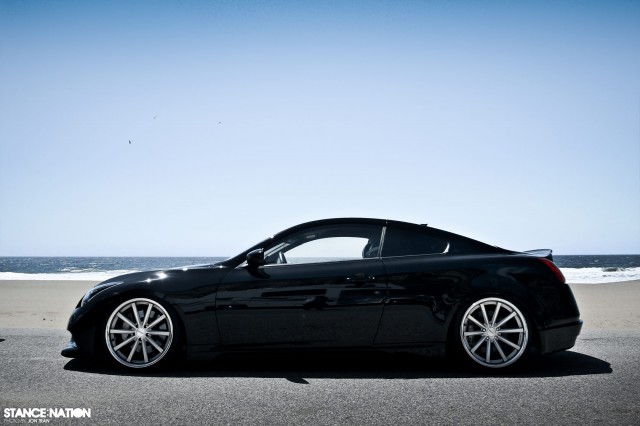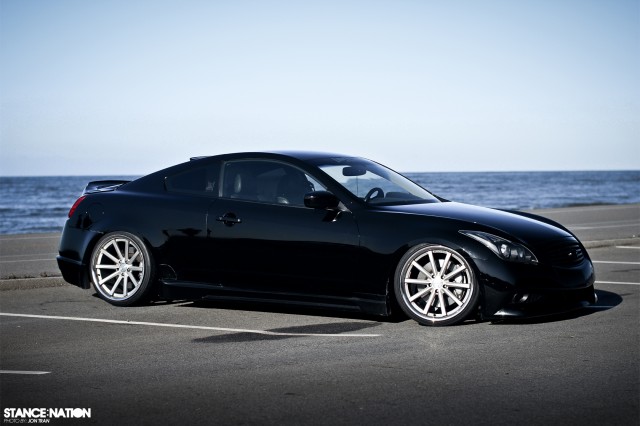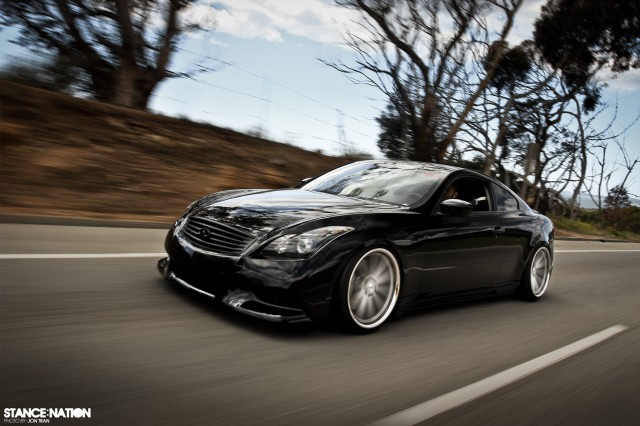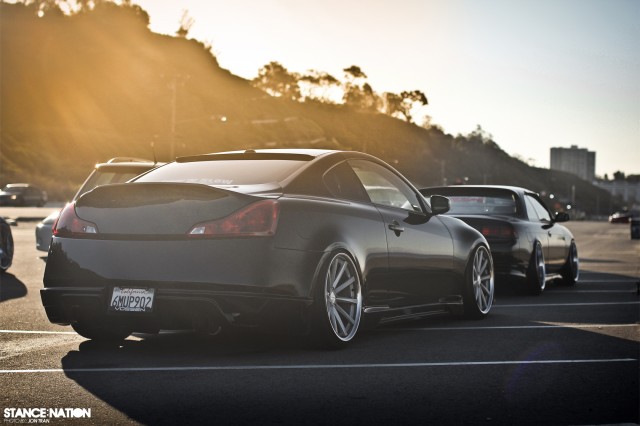 We just love this shot..so awesome!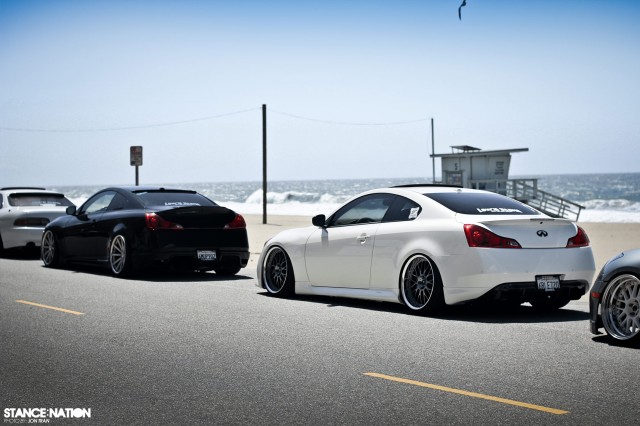 And now it's time for Von and his gorgeous coupe to shine! One of the cleanest G Coupes in our opinion..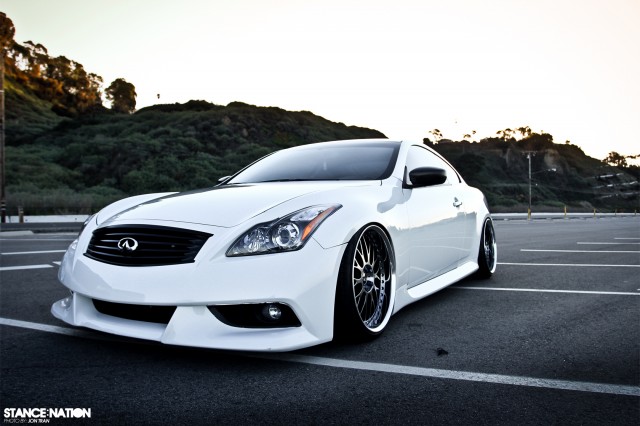 Simplicity goes a long way. Starting with the exterior, Von decided to change out the stock bumpers with a set that's a tad more on the "sharp" side. The front bumper and side skirts are Aero IPL bumpers. For those who aren't familiar with IPL, it is basically what the "M" of BMW and "AMG" of Mercedes Benz is for the Infiniti. A performance line with slightly different bumper design and other small features. As far as we know IPL's are pretty rare.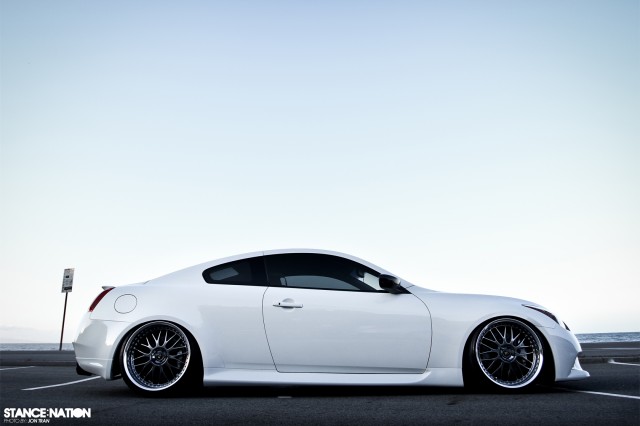 Carbon Fiber mirrors were also added. Small touch that many of you would have overlooked had we not pointed it out.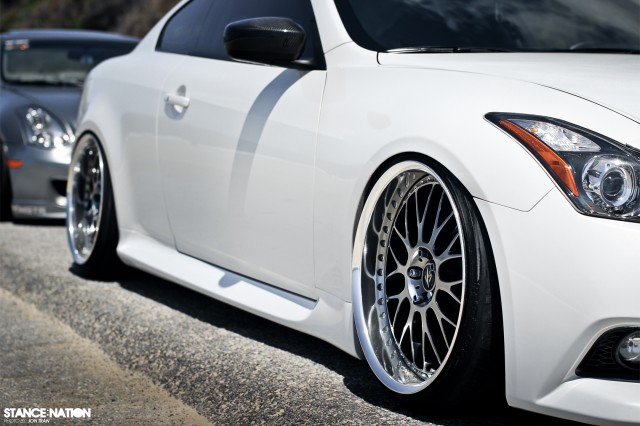 We unfortunately didn't get any backstory as to what that small hit is on the front fender but it could very well be from the wheel hitting it. By the way, more on that Silver G35 in the back in a couple of days…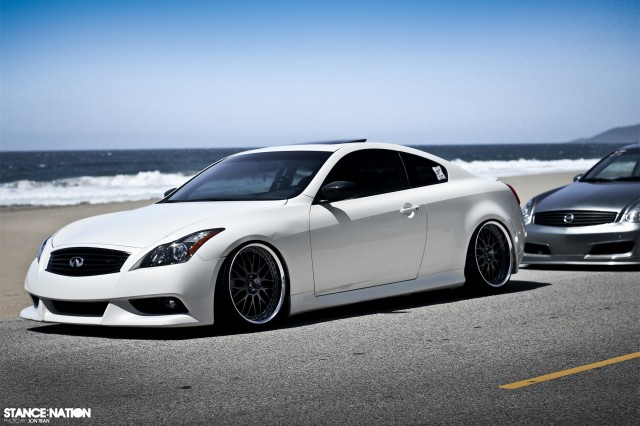 One of our all time favorite wheels are these beautiful Work VS-XX's that Von is running. They are finished in a clean Burning Black look and sit 20×9.5 up front & 20×10.5 in the rear. Offsets are -5 & +10 while the tires are 225/35/20 up front and 245/35/20 in the rear. Perfectly flush fitment is where it's at for this ride. In order to achieve that fitment Von had to work with BC Racing coilovers, SPC Camber kit and of course some fender rolling and slight pulling.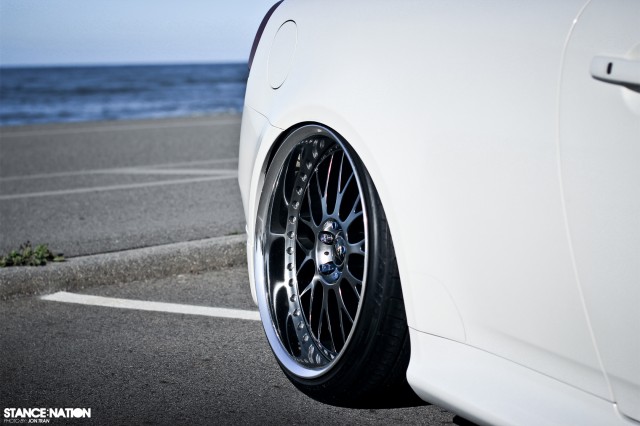 In the back, Von is running a carbon fiber diffuser made by Autokits and a custom sports rear deck spoiler which was definitely nice little touch. Representing Low N Slow to the fullest with that huge banner!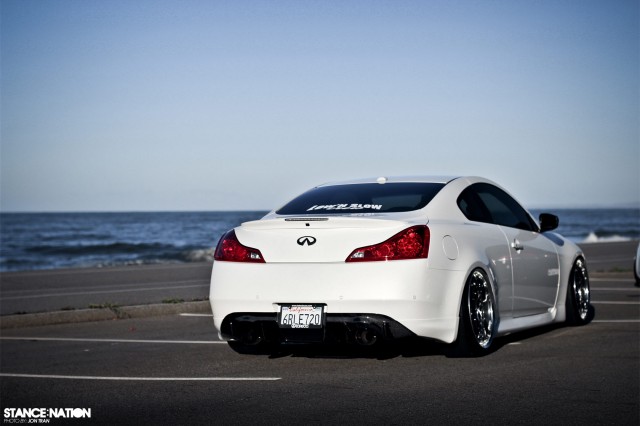 We'll leave you on that note with a few more awesome photos. We would like to thank both Von and Ryan as well as our photographer Jon Tran once more for making this possible. Stay tuned, we have a ton of sick rides coming up. If you think your car has what it takes make sure to contact us at stancenation@gmail.com with some photos!