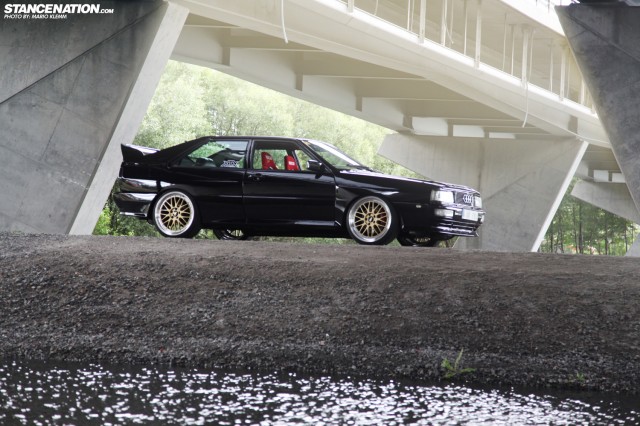 Recently we have highlighted a few incredible builds from overseas, giving a chance for some of you to take a look at what other owners are doing in different geographical areas. It is always interesting to see what different tastes are expressed in the form of modifications, and what vehicle platforms enthusiasts choose to modify. This Audi Quattro, owned by Emil Ryding out of Stockholm Sweden, is a perfect reason for us to venture overseas, to show you all something that does not normally pop up in our stance oriented scene. Not to say that this Quattro is a subframe scraping example of super low stance, but rather a combination of drivable fitment, and raw power. Truly, a balance of form and function.
Photos By: Mario Klemm exclusively for StanceNation.com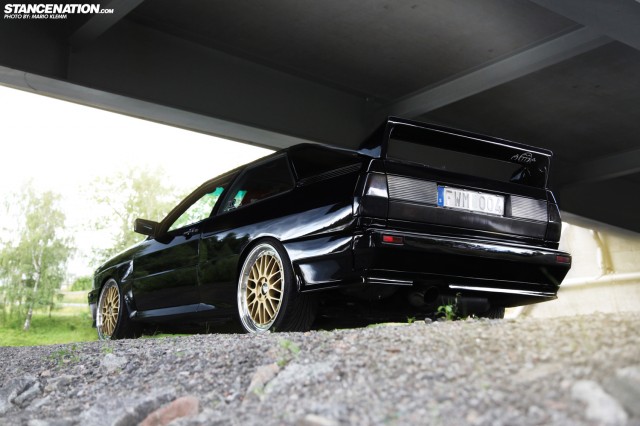 Under the hood of this Quattro sits a powerplant from another Audi, a '96 S6. From the factory these motors boast an impressive 227 horsepower, obviously that did not cut it for Emil, he chose to more than double that figure! As it sits now, this car sports an incredible 500 horsepower, which was achieved by a staggeringly long parts list, which contains the word 'custom' quite a bit. Building a great motor is awesome, but putting in the effort to customize parts tailored to your specific idea of a perfect engine is even more impressive.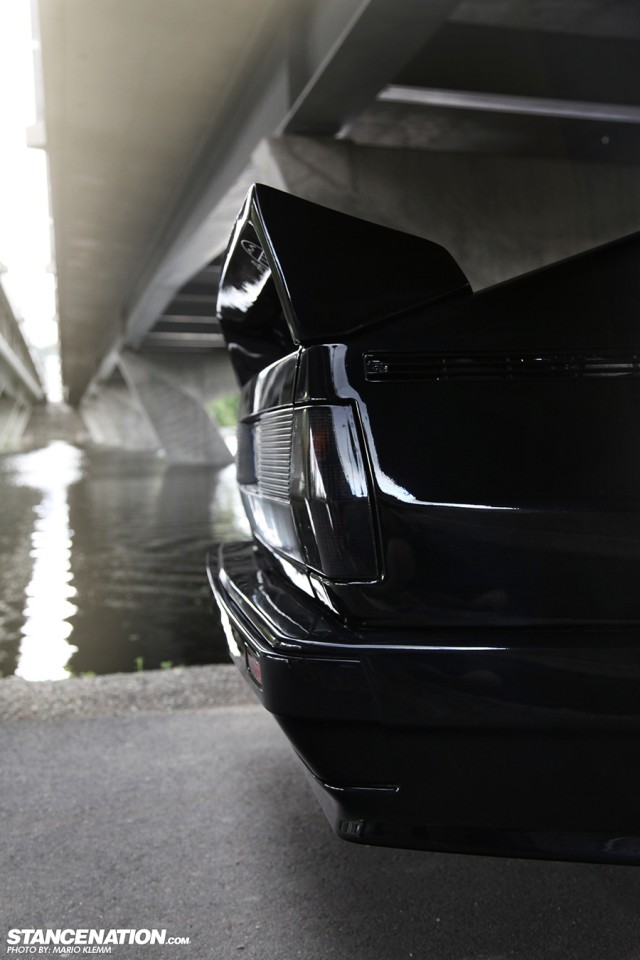 A kkk26/GT35R turbo replaces the factory Audi S6 one, and is supported by custom intake and exhaust manifolds, along with a Tial 44mm wastegate, and a 3" turbo back exhaust by ROSTFRI (a company out of Sweden). In order to ensure the longevity and reliability of the engine, Emil opted for a metal RS2 headgasket, and an RS2 water pump. The whole system is running on 27lbs of boost, and pumps out a reliable 500 horsepower.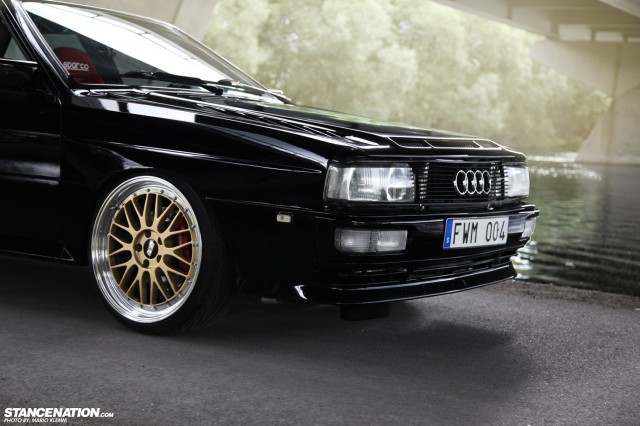 When it comes to the posture, Emil has opted to build a custom set of fully adjustable coilovers, utilizing a set of race springs and Koni dampers. Ingenuity at its finest, in order to keep this monster of a Quattro on the road. Filling the wheel wells are a classic set of BBS LM's (fun fact: the LM stands for LeMans… I have been in the scene for many years and did not know that). The wheels are sized at 19×9, with a set of 215/35/19 tires; the perfect wheel and tire combination in order to fill the wheel wells, without needing an insane drop. Hiding behind those gold LM's are a set of Porsche brakes, providing the powerful stopping power needed to tame the 500 horses under the hood.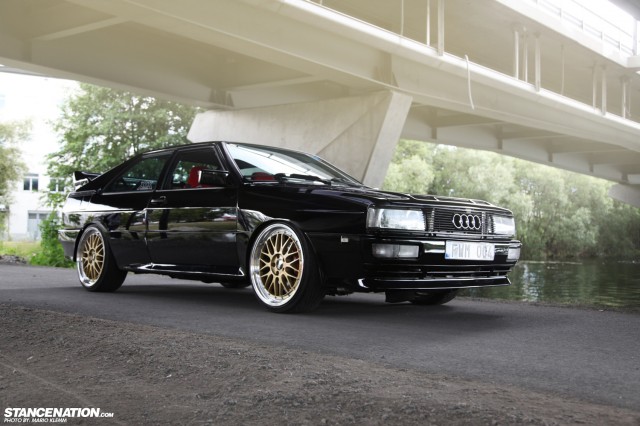 With everyone being concerned with ride height and wheel choices these days, it is refreshing to see a build that combines power, stance, and drivability all into one. There is nothing unnecessary, and nothing gimmicky about this car, it is simply a driver's car; combining good looks, with a great driving experience. Emil can set the 500 ponies free without fear of bottoming out on the highway, or his tires rubbing excessively on his fenders. Giving him the ability to enjoy the ride, and really drive his car. At the end of the day, that is really the point of modifying a car to enjoy it.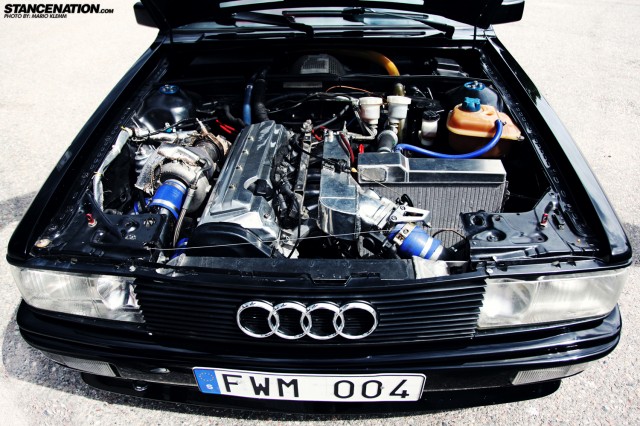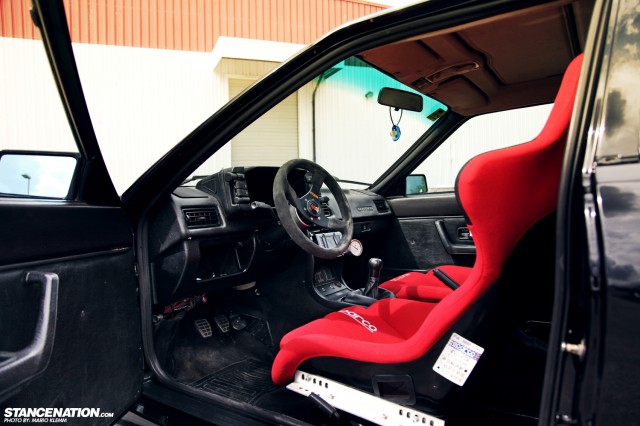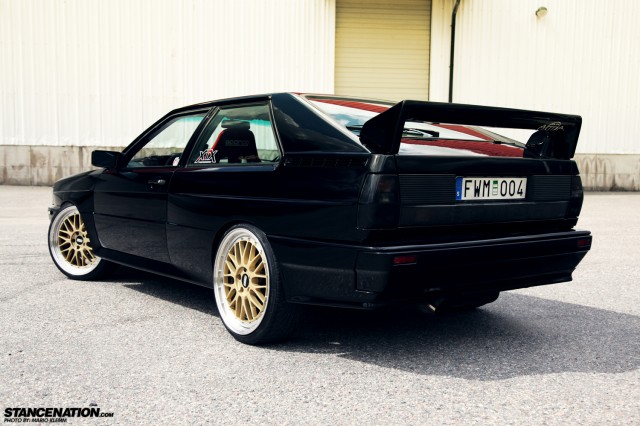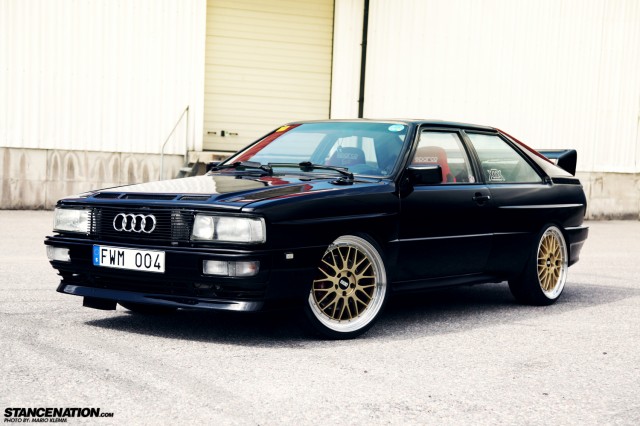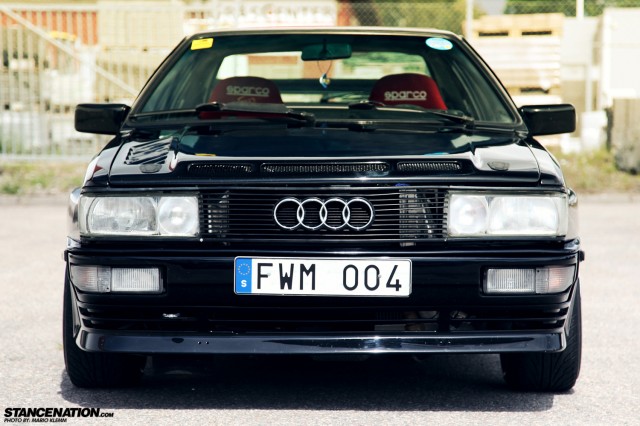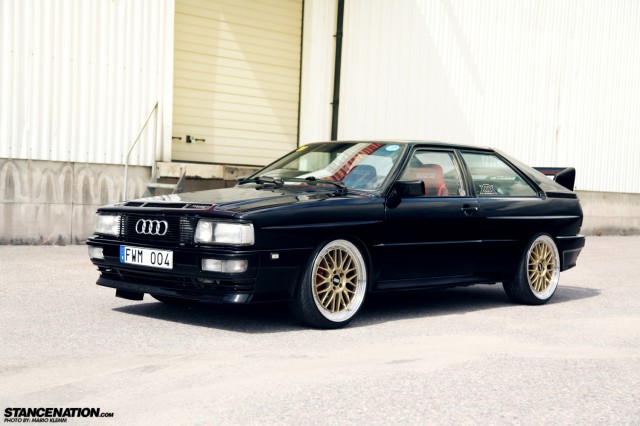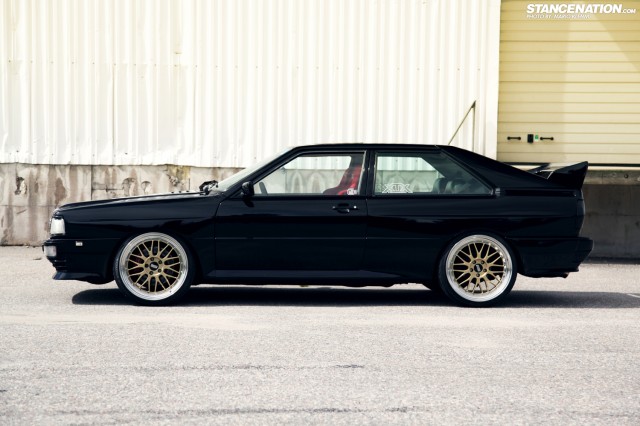 [toggle_box]
[toggle_item title="Wheels/Tires/Suspension" active="true"]BBS LeMans 19″x9″
Tires: 215 19″
electric servo
porsche brake 305mm
brake balancer kit
homemade coilovers with koni dampers, race springs
all bushings in alu or delrin[/toggle_item]
[toggle_item title="Engine" active="false"]2.2liter 5cylinder AAN from Audi s6-95
Engine brackets in aluminium
Extern thermostate 83C
Ron Davis RaceCooler
Spal fan
Custom Intercooler from Evo6
Custom catch can
Custom exauste manifold
Custom intake manifold
Conecting rod with ARP bolts
Original rods
-Metal Head Gasket RS2 with bigger head studs M14 from vw transporter
RS2 waterpump
Solid steel lower crank pulley hjgh tourqe
Tial 44mm WG
HKS DUMPVALVE
Kkk26/GT35R Turbo
Boostpresure 1,9 Bar
3" exhaust system ROSTFRI
1 silencer
044 fuelpump – 680cc, 4″ lmm
[/toggle_item]
[/toggle_box]