Goals can seem so finite at times.  Often we find ourselves working towards a singular goal without ever even considering the possibility that another goal exists just past our anticipated achievement.  For some of us, our ultimate goals can begin to seem impossible to realize. The mountain grows taller as the ascent begins; its peak becomes shrouded in clouds of impossibility.  Of course, there are those who accept the challenge and forge through life's obstacles in their ardent quest to achieve their wildest dreams.
The vaunted GTR namesake exists as one of those difficult goals to achieve for many members of our culture.  In a community comprised of 20-somethings that grew up with the R34 GTR taunting them with seemingly masochistic pleasure.  As if the Japanese super car was the already too-hot-for-you MySpace personality.  That lived on the other side of the world.  That, for a long time, never planned on making their way to America's shores.  That always found a spot among your "Top Friends."  This generation of gear heads is obsessed with the GTR, in all of her various forms, with a heritage that reaches back nearly as far as the coveted Corvette.  It simply speaks to the millennial mind.
The Nissan GTR has always been a giant killer, packed to the brim with technology and an athleticism that seems just as appropriate as it does out of place.  Since the R32 generation, the advanced all-wheel-drive system and turbocharged six-cylinder (of various configurations, now) Nissan has stood as a flagship for Japanese car enthusiasts.  Engineered and re-engineered with Stuttgart's finest always finding a place between her cross-hairs, the GTR namesake finally made its way to North American dealerships with the R35 generation and brought the dreams of so many that much closer.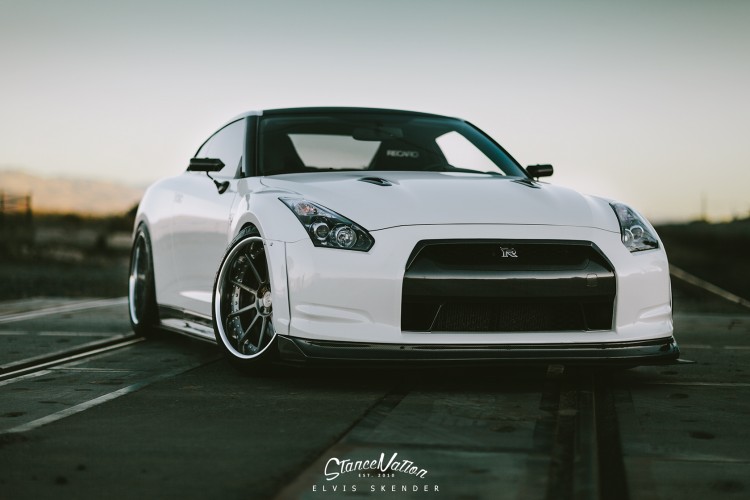 California resident David Uy dreamed of being a GTR owner from a very early age.  Influenced by his brothers and old magazines David knew from very early one what he would work towards.  Of course, this feature wouldn't exist if he had given up so of course his story has ended in success.  As the owner of this beautiful white R35 GTR David admits the road was never easy.  You see, David became a father at a very early age as well, still in high school.  He literally ended up selling the shoes he walked in (he had accumulated a rather impressive collection prior to obtaining his license) in order to purchase his first car, an Integra GS-R.  From there he went on to own a variety of cars, taking on more and more hours at work following high school graduation while raising his son Jaiden.
Originally, like so many others, David lusted after the R34 GTR.  Ultimately, he would end up with this R35 as grey-market, illegally-imported R34s (the Motorex story is a sad one, if you're not familiar) were not such a great idea.  Though I wouldn't call it "settling,"  he was certainly inspired by the R35's predecessors leading up to his purchase of this particular vehicle.  Powered by the formidable VR38DETT, GTRs have developed a strong reputation for putting down usable, reliable power with minimal modifications.  The key word in that statement is usable — the R35 can put down obscene power numbers while maintaining the driveability it was originally blessed with.  This quality was a key component in David's decision.  His car lays down a respectable 630awhp on FFTEC's dyno with a handful of choice parts.  Cobb-tuned by FFTEC, the GTR inhales and exhales through ported intake manifolds, Switzer downpipes/midpipes, and a  Meisterschaft 4×130 exhaust.  SIR 1250cc injectors and dual fuel pump setup provide adequate quench for the turbocharged V6.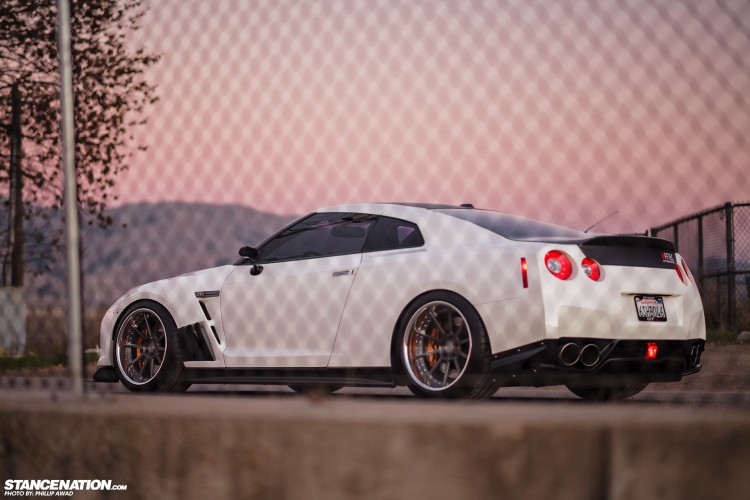 Uy's R35 aesthetic is understated, yet bold.  The stark white paint finds contrast with carbon accessories.  Instead of fighting the GTR's wide-set disposition, David chose to compliment its personality.  Custom splitters along the sides and up front slide beneath a Zele front lip and side skirts.  Renowed Japanese aero tuner Varis supplied the wider fenders and rear valence that add to the R35s powerful girth.  A Revozport carbon decklid deletes the GTR wing in favor of a more subtle duckbill flare.  The carbon theme continues into the roof panel, impressive, and with the CraftSquare GT mirrors.
Influenced by his brother, David made sure to keep handling high on his list of priorities.  Instead of only focusing on power production or aesthetics he wanted to retain the GTR's handling prowess — a job handled well by the double-adjustable JRZ RS Pro dampers coupled with custom-rated springs.  Equipped with formidable Brembo clappers, the GTR doesn't typically need much assistance in the braking department.  DBA rotors and Endless brake pads enhance the Brembo stopping power in cohesion with the increased speed potential of David's car.  These high-end suspension and brake components make sure the driver can sling Godzilla with confidence from the comfort of the Recaro Pole Position driver seat.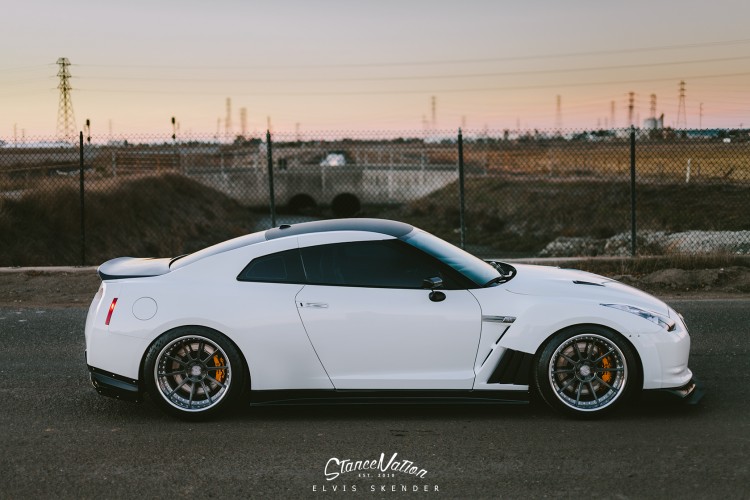 If size matters.  This GTR has got it made.  Massive 20×12″ Cor wheels shrouded in sticky Michelin Pilot Super Sport tires sit at all four corners.  Offsets are staggered, at +7 in the front and +2 in the rear in order to fill out the Varis-enhanced body panels.  The GTR is a large car and it takes large wheels to balance the look.  The 20×12″ wheels look fantastic on the car, finding the right balance between just enough lip with just enough concavity.
David Uy is one of those individuals that sets a goal and then proceeds to kick ass accomplishing it.  Not one to rest on his laurels, his future plans for the car are already underway with Rocket Bunny aero and a set of Volk Te37 Ultra wheels on order — although these plans may take a back seat to a 2015 GTR.  Either way, David hopes to develop this car into a 9-second capable daily-driver GTR.  Judging by the ferocity in which he attacked his goal of owning a GTR, I personally don't see this being a problem for David to achieve.  Supported by his girlfriend Justine, his son Jaiden, and the team at Bullet Proof Automotive & FFTEC, David Uy is moving onto his next achievement.  Godspeed.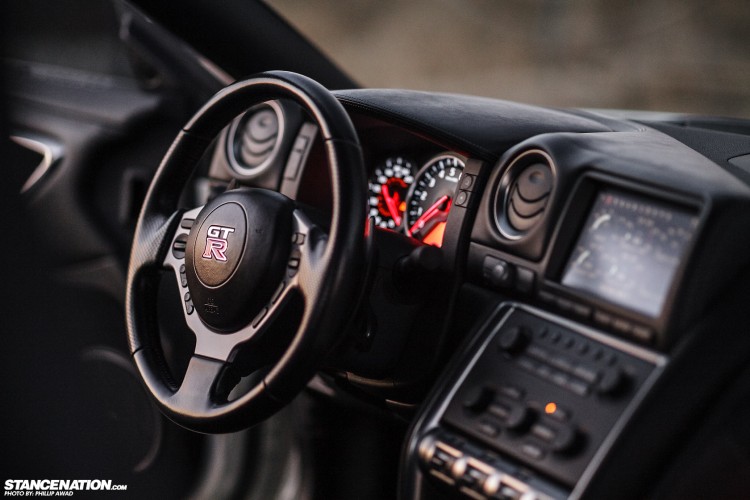 Wheels/Tires/Suspension:
JRZ RS Pro suspension with custom spring rates
Cor wheels 20×12 +7 front and 20×12 +2 rear
Michelin PSS all around
DBA 5000 slotted front and rear rotors
Endless Mx72 brake pads
Exterior:
Zele front lip
Zele side skirts
Varis Fenders
Varis rear valence setup
Varis rear air shrouds
Varis lower valence finisher
Difflow lower diffuser
Custom front and side splitters
Revozport trunk
Titek Custom cf air ducks
CraftSquare side view mirrors
Carbon roof
Interior:
Recaro Pole Position driver seat
GT-RR Custom Shift Knob
GT-RR Custom Carbon Upper/Lower Steering Column
Custom sub with JL 10″ W3
Engine:
(Have all parts for 800awhp build set a side, waiting for word on 2015 GTR before installing):
SIR 1250cc injectors
SIR 290lph dual fuel pumps
Custom Ported upper and lower intake manifold
GTC turbo inlets
GotBoost intake
Top Secret Titanium lower IC piping
Switzer Downpipes
Switzer Mid pipe
Meisterschaft 4×130 Exhaust
Cobb tuned by FFTEC 630awhp