Hey Stance Nation it's your new site photographer Michael Kwan!  This is my first post ever on a blog and I'm extremely excited. I hope this will be a proper and entertaining post!
With the ever growing stance scene, there's going to be many more opportunities for me to contribute to this site. So keep your eyes out for me 🙂
Enough with the intro, here's the goods. I saw this GD3 in the Vancouver rev scene annual spring meet. The cars ranged from stock to decked out custom one of a kinds. This is one of those that sits clean on top of the list. What caught my attention first was…. pretty much the car just shined from the rest, everything on it shouted custom epicness. So I managed to get hold of  the owner, Felix Yuen, for a quick interview and a rundown on this amazing build.
Goodies:
T1r turbo kit 155whp
Air brushed wood grain interior trims, C pillar bar, strut bar hardwood flooring trunk, curtains.
Custom metal wide fenders done at SAVE ON AUTO BODY (CREDIT TO JOJO)
Color is 07 Honda element SC (Root beer brown)
Full JDM conversion (headlight, fenders, rad support, hood, bumper suport)
Real JDM Noblesse body kit, 2 only in North America, ( He has both, there is one replica in USA)
Custom air ride kit done by OUTLAW CUSTOMS and BPG Tuning
Noblesse quad exhaust
Wheel Specs: 16×9.5 + 5 rear 16×8+11 front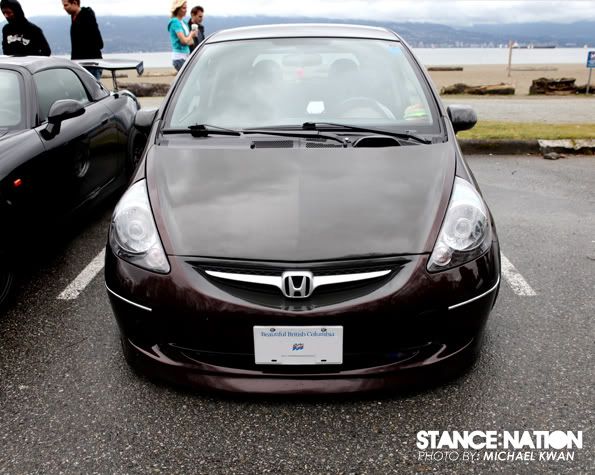 Interview:
1. What got you into this whole flushed and stance trend?
"looking at VW magazines "
2. What drove you to embark on this project?
"I have a BNR32 that turned into a race car over time, and I need something practical but a COOL car to drive, I also want to build something I like, and not just buying parts off the   catalog like most people, thats why you'll see a lot of custom work done on my car which are one of a kind, like hard wood floor trunk, air brushed wood grain door handles and air brushed c-pillar and strut bar, custom manifolds, and new IC pipings that will be custom done in chromed coming soon. I don't think I have anything on the car that is bolt on."
3. Car is like a show car, Is it your daily drive?
"This my daily driver.. you can see a lot of rock chips in the paint "
last 2 pictures credits to Felix. Editing done by me.
Felix wants to leave us with a final message.
"I also see this flush scene pushing into another level, both in good ways and bad ways. Good- more and more crazy cars are being done by people doing things properly, bad- more and more trend whores doing it wrong making the scene look bad.
To me, flush means your tires are so close to the fender, but it's only so close that it doesn't rub, nothing should rub on a properly built car.
Most people think they are cool when they put low off set wheels on their cars without doing proper modifications…I think it's a pity to see cars like that."
Hope you enjoyed this~!