So this is the part where I get to "feature" my own car. Little bit awkward I gotta say since I really don't think much of it (owning the same car for over 5 years…you just get that feeling at times) but judging by the responses I've gotten from those who have seen it before, there are quite a few of you who actually like it. I haven't really been able to do as much as I wanted to but I couldn't be more happy with how the car looks at the moment. I ended up selling my Viper reproduction wheels because they became so common on these cars, and because I wanted some lip. My first set of wheels that I purchased after selling the Vipers didn't end up working out too well due to some unfortunate & completely avoidable issues I'd rather keep private, so I lost good 3-4 months there. Thankfully though the fellas from DPE Wheels were able to work with me on a set of their super concave wheels, but as you'll see in the photos below we had to do some fender and camber work to get them to sit the way I wanted them to.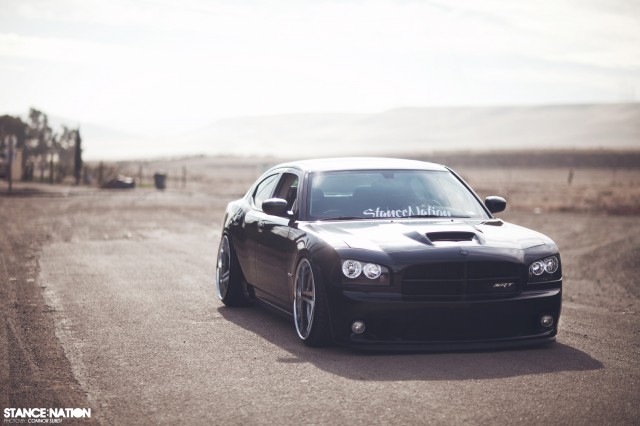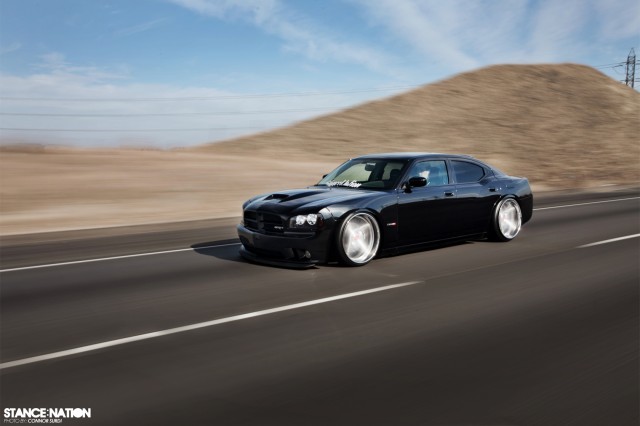 Before I go any further, I really gotta thank my friend Graham for endless nights of wrenching & also my lovely wife for putting up with my crap! With that said, one the first things me and my friend Graham did when the wheels showed up was fender pulling. Mind you, my fender were already rolled & pulled from running my old 22×10 wheels before but after we mounted on the DPE's, they were sticking out well over 2″ past the fenders. Especially in the rear where the massive 22×12's sat. Even after the excessive & very time consuming fender pulling was done they sat just under an inch past the fenders. That's when I decided to add some camber by going with the SPC camber bushings instead of continuing to flare the fenders out where they would lose their original shape. The bushings gave me just enough space and the wheels now sit just a couple of mm's past the rear fenders. The problem we had up front besides the regular fender rubbing was my skinny 30 series tires rubbing against the metal you see being cut in the photo below. After we cut it up we ended up hammering most of it out to give me that extra inch or so of clearance up top.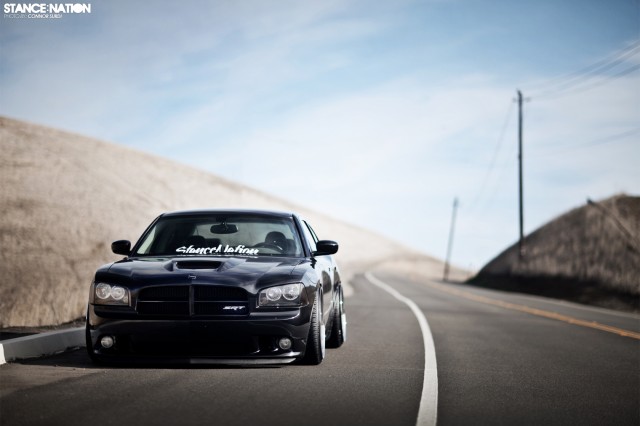 After the wheels were mounted I noticed that the suspension felt pretty soft up front even after stiffening them up. That was a no-no because I just got my new fenders put on and wanted to go lower without completely chewing them up. Thankfully I got that taken care of with the help of my friend John who I appreciate very much! Front wheels are 22×10, just like the old set, but about 15mm more aggressive and I finally have a 4″ lip that I wanted along with that concave look that I love so much. Rear wheels however are 22×12 compared to my older 22×10's. They sit at around -20 offset and about -6ish degrees of camber. Wheels are called DPE SP SC5's and are finished in chrome lip with brushed face. I gotta say that I have nothing but good things to say about my experience with DPE Wheels.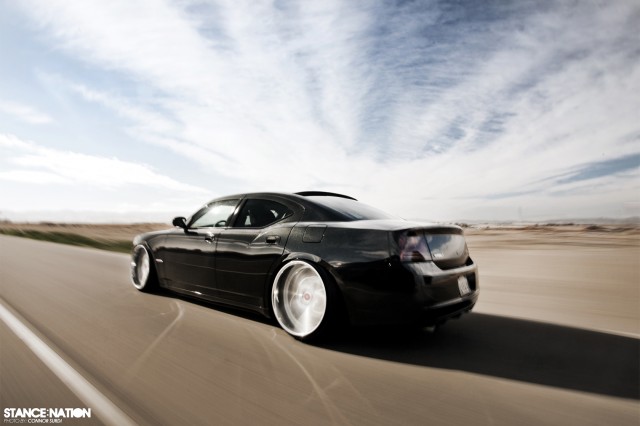 Besides the wheels/tires/suspension I haven't really done anything else to the car as I prefer the stock look. Well, besides the removal of the rear spoiler and addition of that roof spoiler of course. The front lip came off of a Daytona R/T (those are the orange/yellow/lime green Chargers you see rolling around) which in my opinion was a nice little addition to bring that front down a bit more. It doesn't take too long for a big dip/bump to chew it up (scroll down to see what I'm talking about) but it's worth it in my opinion. At about $125 it isn't too expensive thankfully.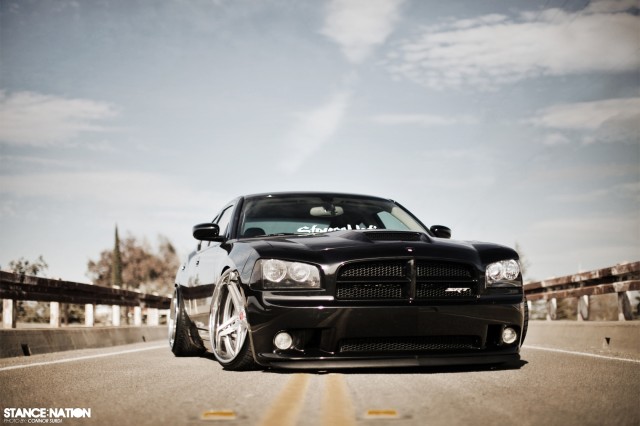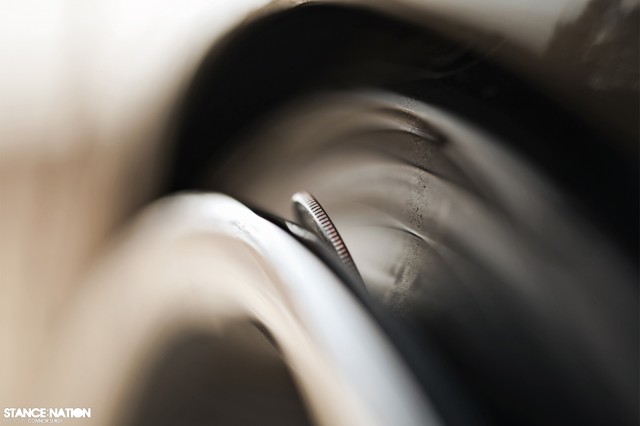 I didn't mention my tires sizes but they are 235/30 on the 10″ front and 265/30 on the 12″ rear. To be honest with you they're stretched a little bit more than I wanted them to but right after this photoshoot with Connor Surdi I was able to get them to sit much better by dropping some water/soap inside the exposed barrel and airing the tires up to 90psi of pressure for a few hours. They now sit closer to the fenders though my next set will probably be 285/30 in the rear. Lastly, suspension wise I am running BC Racing coilovers. My KW V2's that I had on before wouldn't go low enough.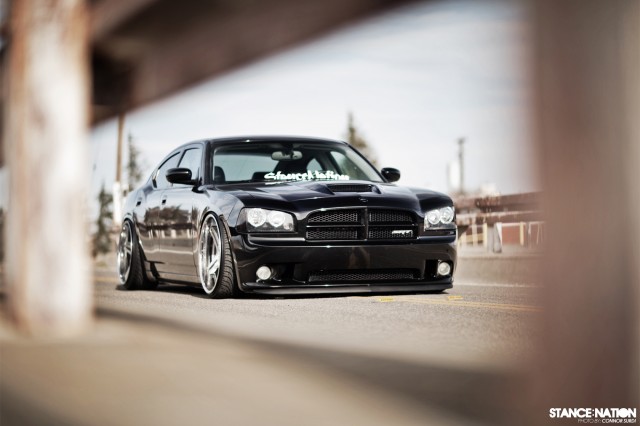 After I was done with the car I met up with my good friend & photographer Connor Surdi. Connor flew down to Sacramento, CA to shoot with his friend Eric and luckily they were able to make some time to drive down another hour or so to my place. Not only do I respect & value Connor as a friend, he is also honestly one of my favorite all around photographers out there and it was an honor having him shoot my car. We spent a few hours driving around the town shooting at random locations and right before we decided to grab some In-n-Out we ran up on this monstrous speedbump that I thought would make for a great photo. Well, it kind of did, but I had to pay for it.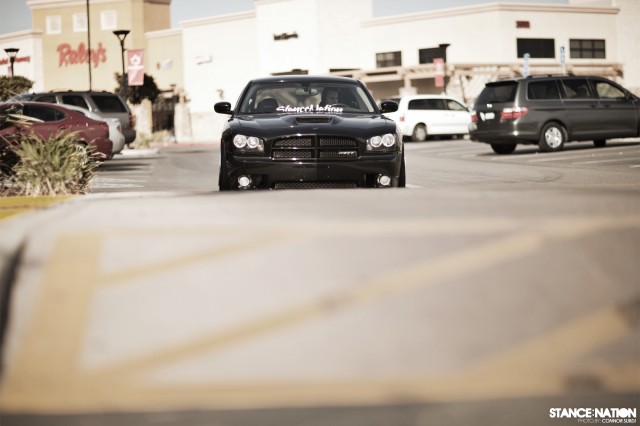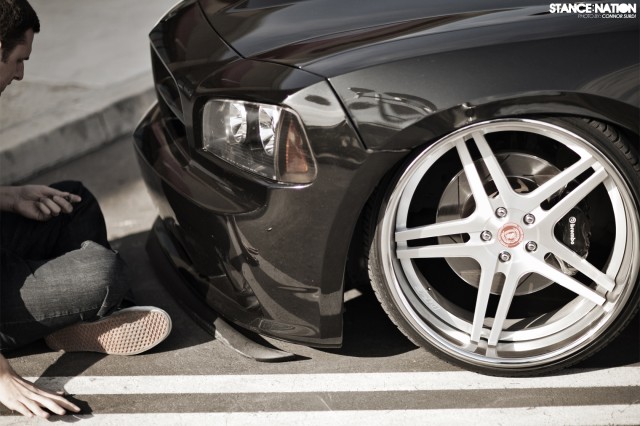 This is one of my favorite photos that Connor shot. IR looks nuts!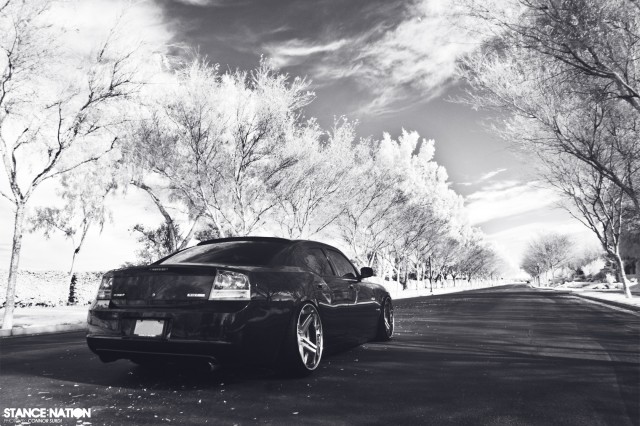 Well, I suppose I'll end it here with a few more photos like we always do. I absolutely must thank the following people though. Graham & John, Manu at DPE Wheels & Rishie at Auto RnD as well as my other friend John Markley. Last but certainly not least my wonderful wife for putting up with my car sitting on jacks for weeks at one point and letting me drive her sexy Mazda 3 sedan. =] Big thanks to all of StanceNation fans as well, I'll see you all out there starting with WekFest SF this weekend. Drop us an email if you think your car has what it takes to be on StanceNation!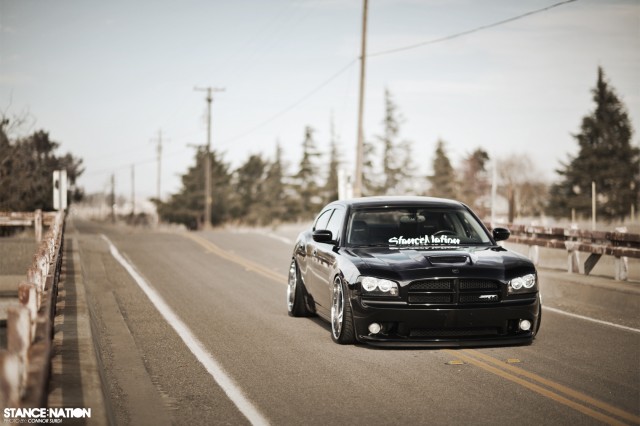 Wheels/Tires/Suspension
DPE SP SC5 22×10 & 22×12
Nexen N3000 235/30/22 & 265/30/22.
SPC Camber Bushings.
BC Racing Coilovers.
Engine
180 T-Stat.
Mopar CAI.
DMH Exhaust cutouts.
Flowmaster Exhaust.
Diablo Predator, custom 91oct tune.
Exterior
Daytona R/T front lip.
Rear roof spoiler.
Removed side moldings from the doors.
Removed the rear trunk spoiler.
custom billet SRT badge on the hood.
Tinted blinkers.
Fender Roll/Pull.