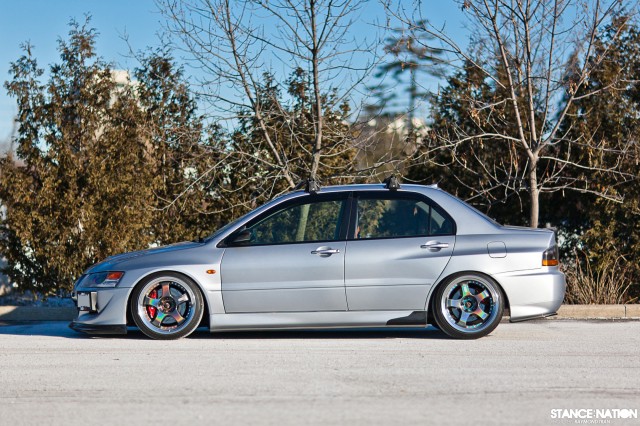 Form or function? That's the question many of us ask ourselves after acquiring our new cars. While most of us choose to go the "form" path there are guys like Carson who aren't wiling to sacrifice looks for performance, or performance for looks. Now it may not be the lowest or fastest EVO out there but with a 2.3 BR (Buschur Racing) Stage 3 STROKER kit that's pushing 430+ WHP and aggressive set of 18×10.5 shoes all around it can definitely holds it's own against many other EVO's in both "form" and/or "function" category. With that said, this is where things come to an end. Carson had his EVO for quite a while, and by now he has probably already started parting the car out. Our photographer Raymond Tran was kind enough to get us the last few photos of it before it gets parted out.
Photos By: Raymond Tran exclusively for StanceNation.com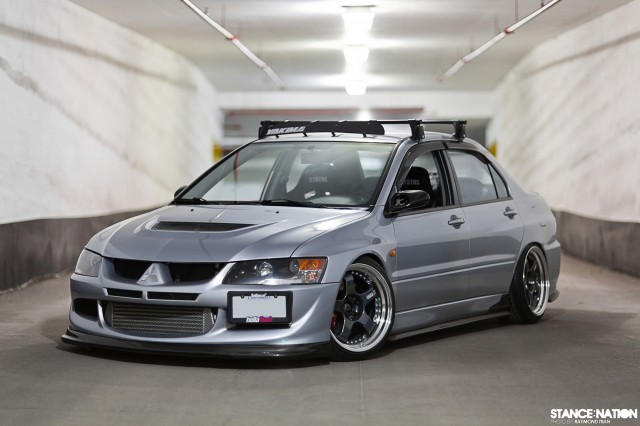 Carson has a tough time sticking to one set of wheels for more than a year. Since he owned his EVO he actually went through 4 different sets. Work XD9's, AME TM02's, VOLK TE37SL's, and these beautiful SSR SP1's finished in spectrum silver and sitting at 18×10.5 all around with +25 offset wrapped in Kumo Ecsta SPT 245/35/18 tires. It's all about running & supporting quality products & legit business' for Carson. Stopping this 430+ WHP beast is assisted by DBA 4000 series slotted rotors all around, Project Mu B-force rear pads, Ferodo DS-2500 front pads & lastly Goodridge stainless steel brake lines front and rear. You gotta love an all around well built car such as this one.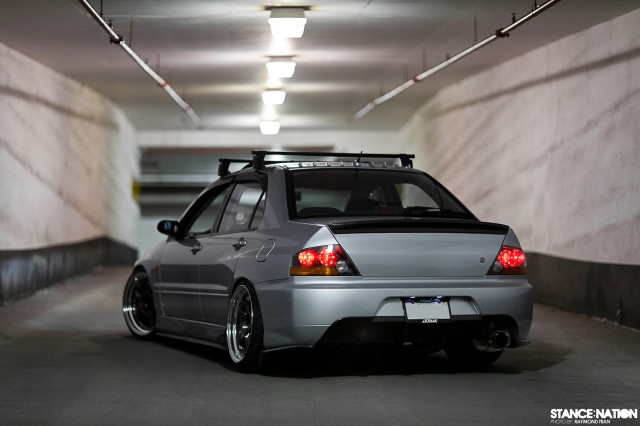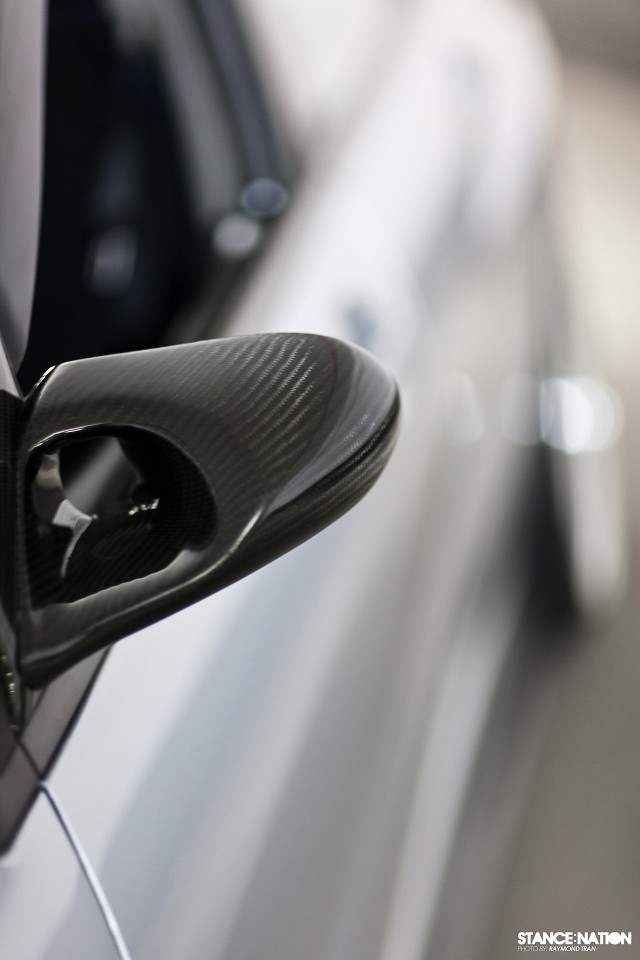 We'll include the entire list of modifications for you on the bottom of this feature. A we mentioned earlier it's running a 2.3 BR (Buschur Racing) Stage 3 stroker kit with 2.3 BR Stage 3 head and a ton more BR stuff like the connecting rods, forged pistons & BR3065 (Garrett GT30R) turbo kit. He also dressed up the bay with a few goodies like the Arc titanium gradation spark plug cover & caps that you can see in the photos below.
Interior is looking just as awesome as the exterior. IT features things like Status racing Ring seats (driver/passenger) that's paired up with Status racing Side mount x4 & Status racing silder x2. You can't go wrong with Nardi 330mm Deep Corn Sport Rally Steering Wheel and a bunch of Defi gauges either can you? Oh and we're very much loving that ARC titanium shift knob. It just goes so well with rest of the car, what do you say?
We finally come to that sexy exterior. It features a ton of Rexpeed parts such as their CF front lip, rear spoiler, side skirt extensions, rear bumper extension, side spats and mirrors which can be seen above. Even the small "generator" above the rear window was replaced with the one made by Vertex and small details such as side markers, tail lights and window visors were swapped. Carson has quite an eye for detail. We're in love, nothing further to say.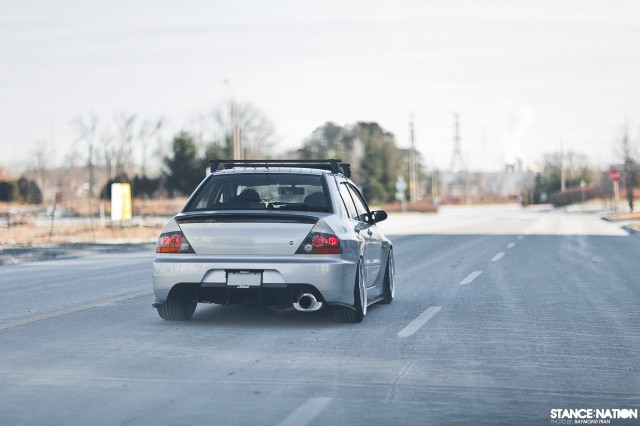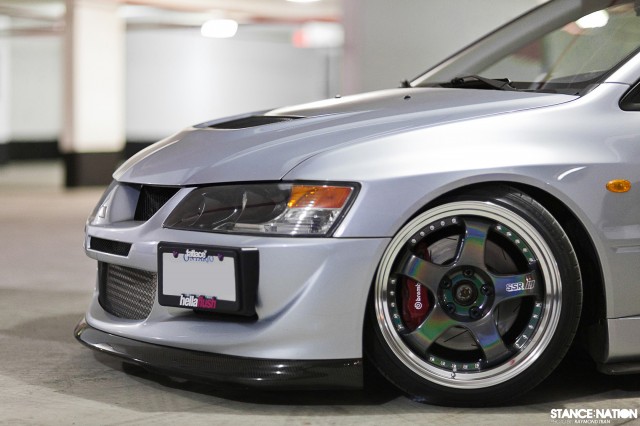 We'll end the feature with a few more photos like we always do and huge shout out to Carson and Raymond for working together to make this feature happen. We're looking forward to seeing what Carson has in store up next though we're sure whatever it ends up being, it'll be nothing but quality and perfection. If you think your car is ready to be featured on our site please visit our contact page and shoot us some photos!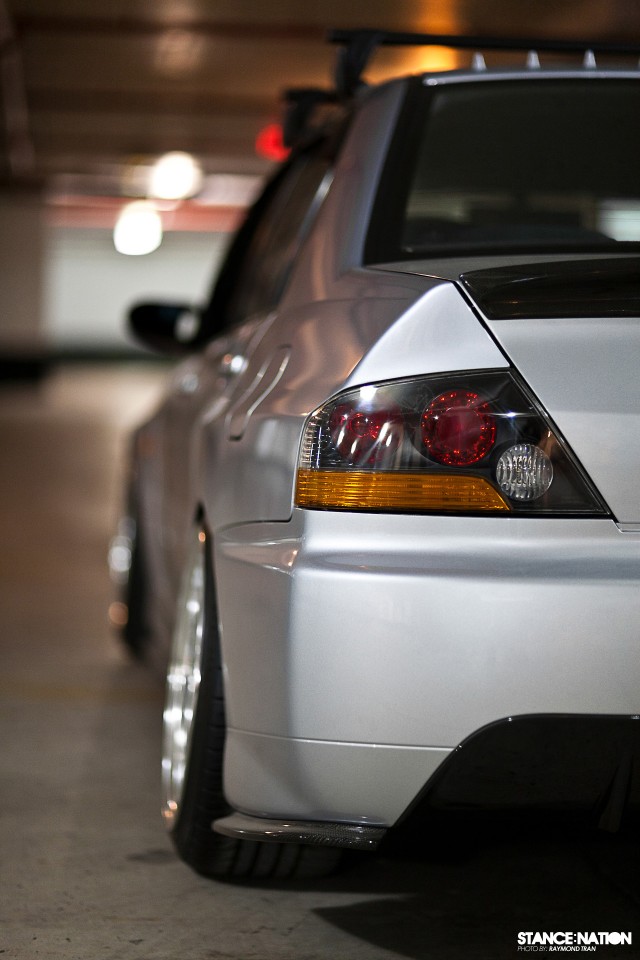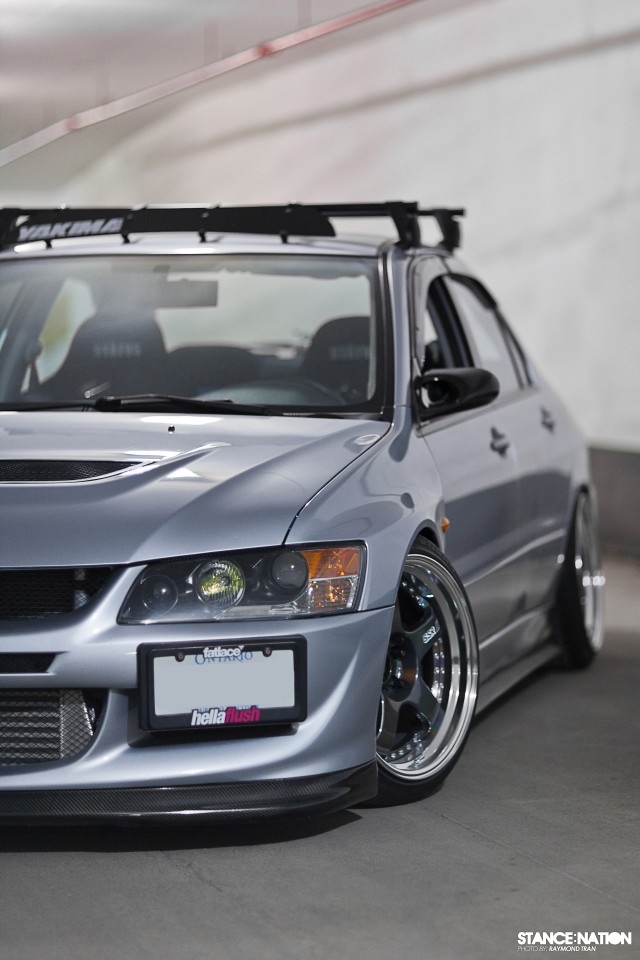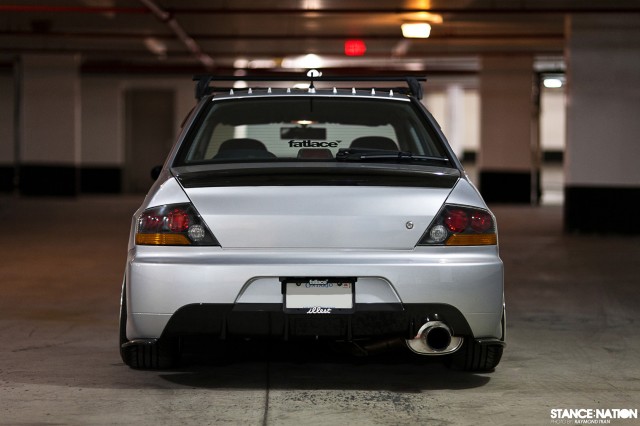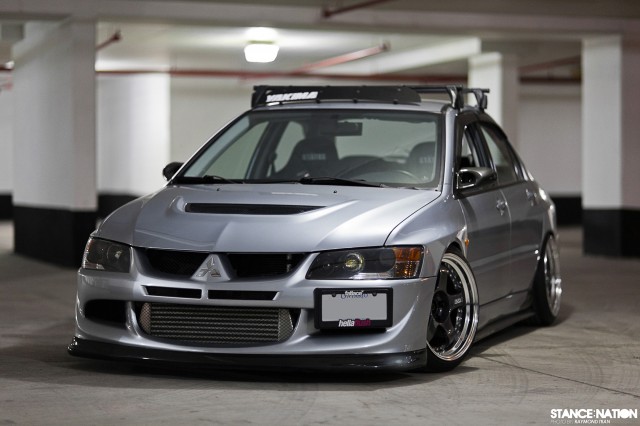 [toggle_box]
[toggle_item title="Engine" active="false"]- 2.3 BR (Buschur Racing) Stage 3 STROKER kit
– 2.3 BR Stage 3 head
– BR Spec Manley Connecting Rods
– BR Spec Forged Pistons
– BR dual stainless steel valve springs
– BR titanium retainers
– BR stainless .5mm over intake valves
– BR stainless .5mm over exhaust valves
– BR Stainless Steel O-Ring
– BR DELUXE 3.5″ FMIC
– BR upper I/C pipe
– BR lower I/C pipe
– BR3065 (Garrett GT30R)turbo kit
– BR COP w/Dynatek Ignition
– BR 65 mm throttle body
– BR ported Intake manifold
– BR double 255 fuel pumper
– BR 4″ Air filter
– KOYO racing radiator
– TiAL 44mm EWG v-band
– TiAL 50mm Q BOV
– Forced Performance 84mm turbo inlet
– HKS 264 cams
– ID 1000cc injectors
– AEM EMS
– Magnus custom downpipe
– Tanabe medalion Exhaust
– Cusco Radiator Cooling Plate
– WeaponR Neo Ti Oil Catch Can
– Weapon R Coolant Tank
– ARC Spark Plug Cover
– ARC oil cap
– ARC radiator cap
– Rexpeed Carbon Fiber Hood Damper
– Dress Up Bolts Titanium Engine Bay Kit[/toggle_item]
[toggle_item title="Exterior" active="false"]- Rexpeed CF front lip
– Rexpeed CF rear spoiler
– Rexpeed CF Side Skirt Extensions
– Rexpeed CF Rear Bumper Extension
– Rexpeed CF Side Spats
– Rexpeed CF mirrors
– VORTEX GENERATOR
– JDM side marker
– JDM Evo 8 tail light
– JDM OEM Evo 9 rear bumper
– OEM windows viros
– Perrin 4″ Shorty Antenna
– Yakima roof rack[/toggle_item]
[toggle_item title="Interior" active="false"]- Status racing Ring seats x2
– Status racing Side mount x4
– Status racing silder x2
– Kyouu seat base x2
– Nardi 330mm Deep Corn Sport Rally Steering Wheel
– Works Bell short hub
– Gruppe-S 60mm Gauge Bezel
– Defi BF Exhaust Temperature
– Defi BF Oil Pressure
– Defi BF Boost Gauges
– Defi Control Unit
– AEM UEGO Wideband gauge
– ARC titanium shift knob [/toggle_item]
[toggle_item title="Wheels/Brakes/Suspension" active="true"]- SSR SP1 (spcetrum silver) 18×10.5 +25
– Kumo Ecsta SPT 245/35/18
– Project Kics R40 neo-chrome lug nuts
– DBA 4000 series slotted rotors (front)
– DBA 4000 series slotted rotors (rear)
– Project Mu B-force (rear)
– Ferodo DS-2500 (front)
– Goodridge stainless steel brake lines (front&rear)
– Agency Power Rear camber arm
– BC Racing BR coilover
– Carbing 4 point trunk brace[/toggle_item]
[/toggle_box]