What do we have here…another classic, European car, decked on air over some Corvette wheels.  Now, I may sound a little harsh here, but I don't mean to attack anyone personally, but I can't be the only one who's looking over at Europe thinking everything is a little bit the same?  My Facebook feed stays filled with plenty of coverage from my friends across the pond, and one constant that I have seen all year from Europe is that a lot of what I am seeing is bags and wheels.  Even the classic Euro scene here in the US it seems that all you need to do to achieve scene-superstar status is get an old Benz or BMW and toss it on air.  However, there's a little old saying that goes, "don't judge a book by its cover," and I strongly advise taking that to heart when looking at this Volvo 244 here, because if you only judge it by its appearance, you're missing the whole story behind this car.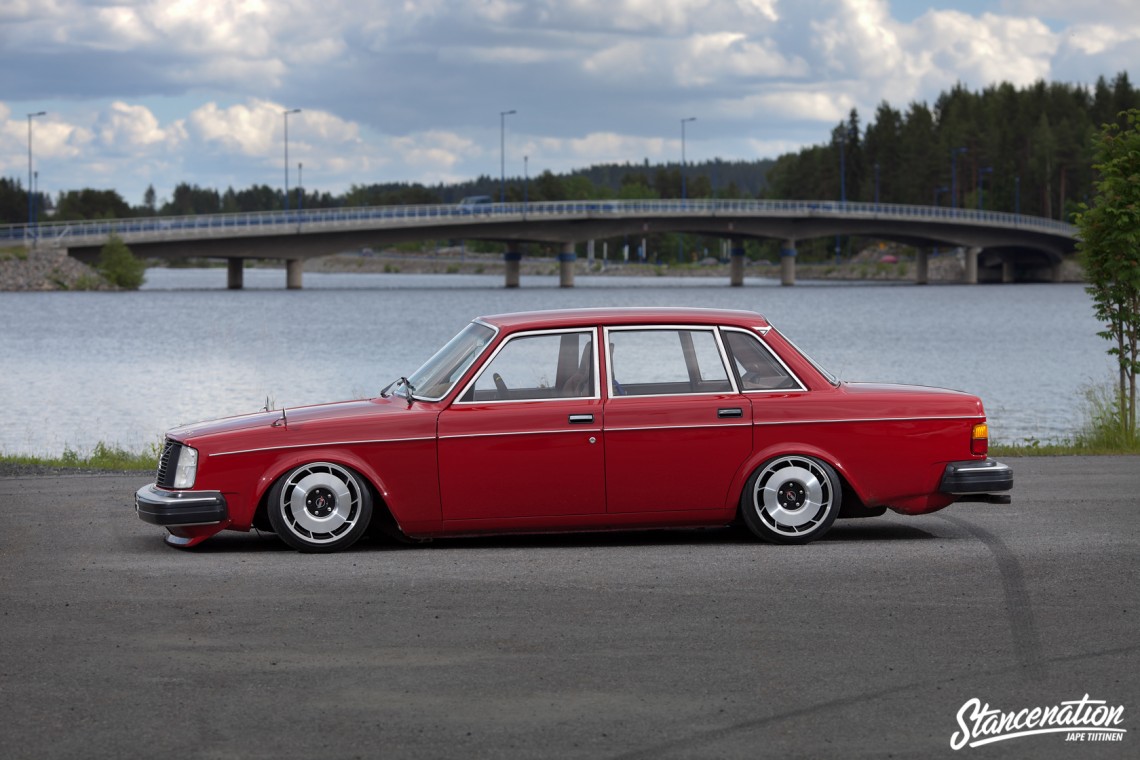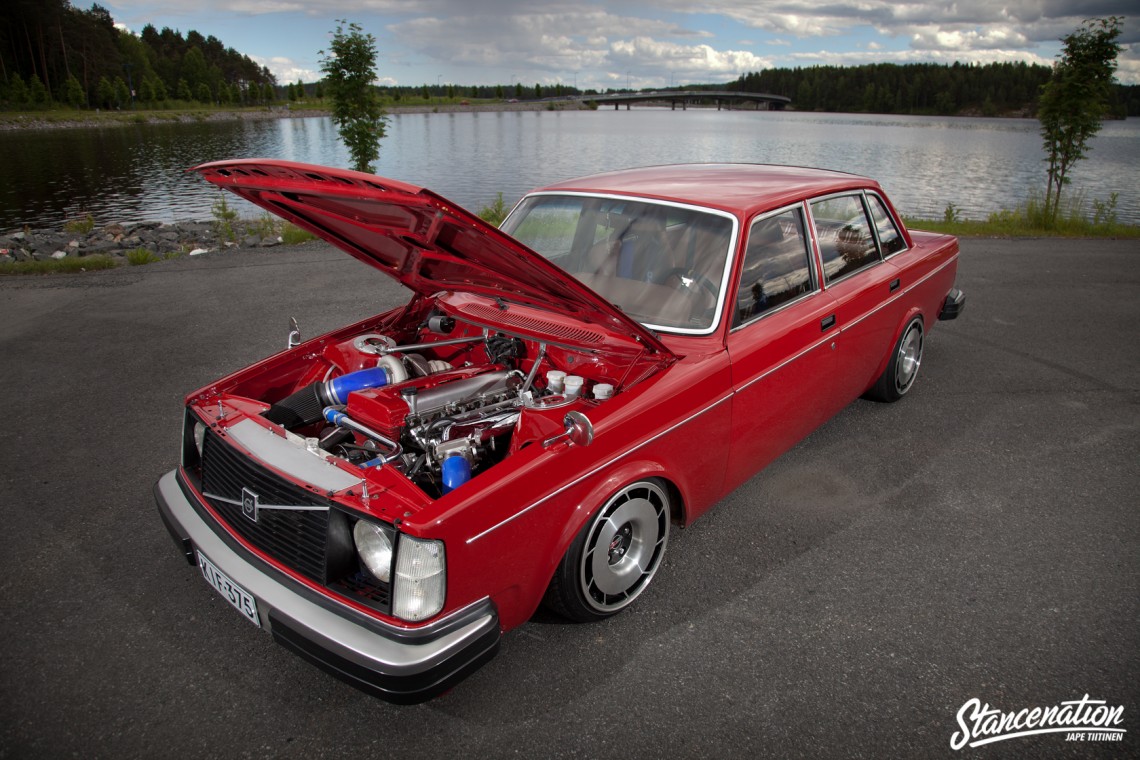 While the outside is on par with what makes Euro scene kids tight in their already tight pants, popping the hood reveals an engine bay that will any motorhead firing on all cylinders.  When I found out that the owner of this car, Eemeli Vuorela, was from Finland, it all made sense.  The northerners are good at two things; creating wolves in sheep's clothing, and big smokey burnouts, the former usually being responsible for the latter.  Popping the hood of this stance-tastic Volvo reveals a very healthy, single-turbo swapped 2JZ engine, and I know enough Finnish people to know that they love boost and using it every chance they get.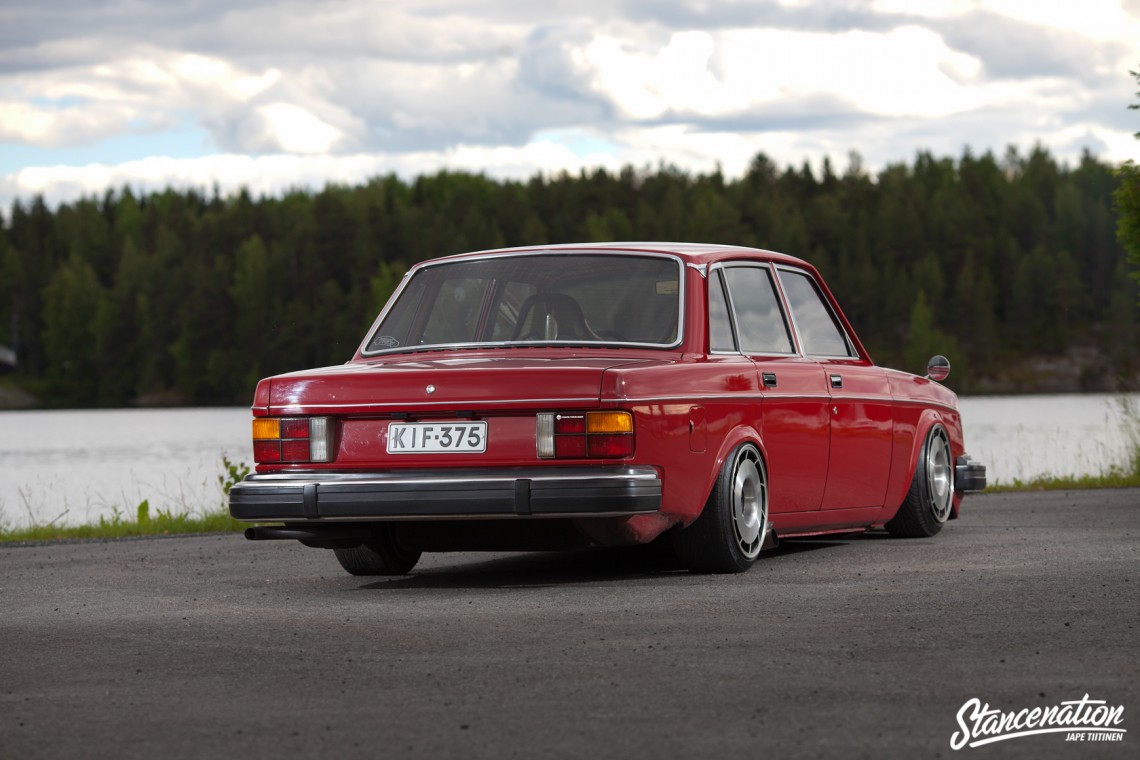 Why a Volvo though?  Well, we have to think about demographics here.  People usually work with what's readily available to them, and by remembering our elementary geography we'll know that Finland is right smack next-door to Sweden.  Sweden is responsible for good chocolate, sexy swimwear models (apparently), Ikea, and Volvos, so when it comes to classic, everyday, commuter cars, there's a lot of damn Volvos around there.  Our man Eemeli here is also rather familiar with the classic box and putting 2JZs in them as this is his second go around at it, and judging from the results of this one, his first one couldn't have been too shabby either.  Simply put, it's just a popular platform up there, and a trip to Gatebil, or any car event or show in the area, will show you how much they love their boxy Volvos up there crammed with lots of boost so they can go sideways and create lots of smoke.  Man, the Fins, Swedes, and Norwegians sound like a cool group of people.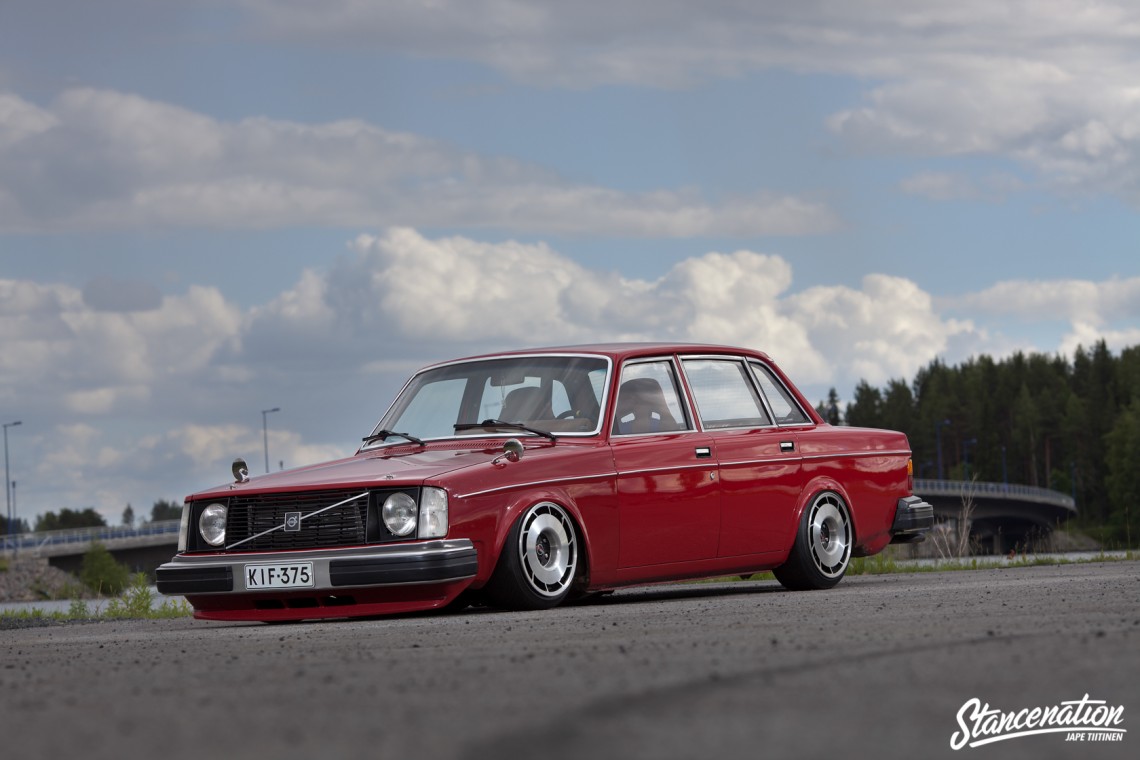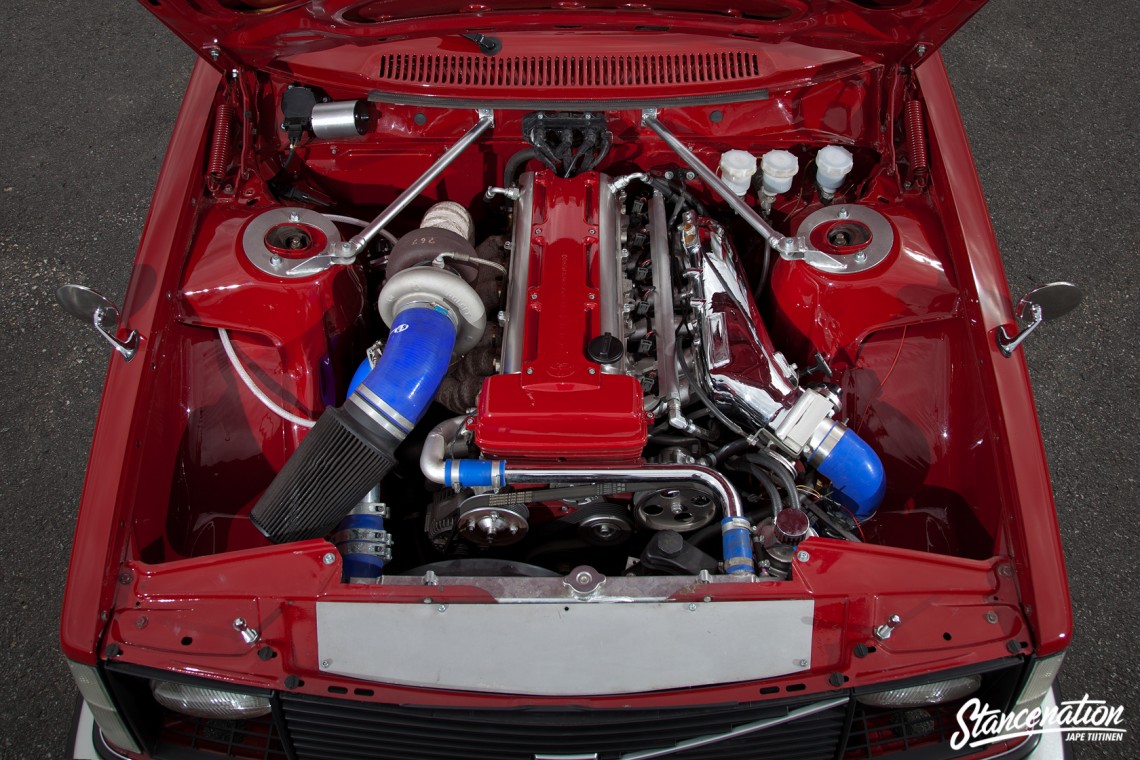 So let's get stuck in shall we?  We'll skip the foreplay and go right into the orgasm-inducing engine bay of this Swedish-donut machine.  Not only is there a 2JZ fitted in the bay, but it's done well, done cleanly, and the engine and bay are dressed to look amazing while the car is parked and dumped on its sills.  After the old motor was removed, and before the 2JZ was installed, the bay was thoroughly gone through by Eemeli and his friends with a lot of the panels being straightened and smoothed over before the potent, Toyota straight-six was installed.  The result is a bay devoid of any clutter that would distract from the center-piece.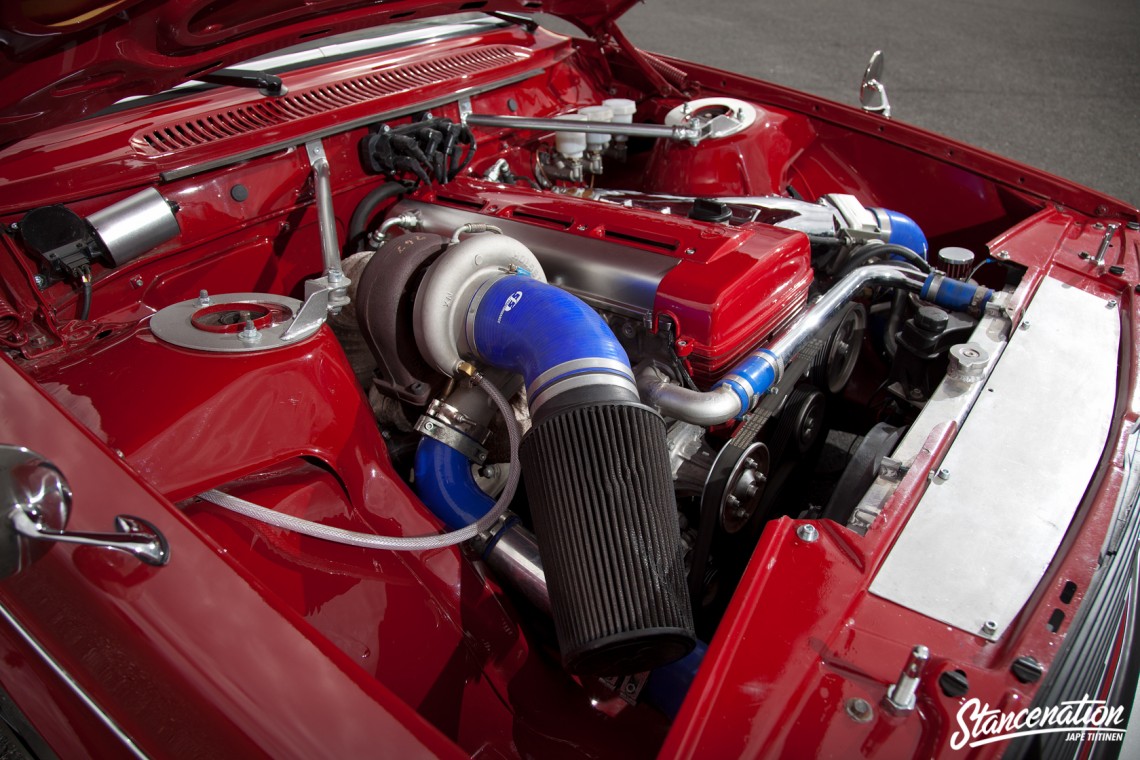 Toyota's 2JZ-GTE engine is undoubtedly the LSx of Japan, ever increasingly finding its way into non-Toyota and non-Japanese cars.  The the LSx, the Toyota six-cylinder is easy to make power from and it's unbelievably reliable, the cast-iron block able to withstand almost anything that's thrown at it.  Knowing this, Eemeli left the internals of his 2JZ transplant alone, trusting their integrity for the power he desired.  He wasn't after 4-digit power numbers, just enough to shred some tires at any speed.  This still required removing the factory twin-turbochargers in favor of a single, Holset HX40 unit, attached to the six-shooter via a stainless steel header.  Boost is regulated by a Turbosmart 50mm waste-gate and a Turbosmart Race-Port blow-off valve bleeds off any excess boost between shifts.  The intake charge is routed through custom piping and chilled by a 3-core intercooler before feeding into a Greddy intake manifold.  Exhaust gasses exit via a 3.5″ down-pipe mated to a 3″ exhaust, all custom-fabbed by Eemeli and his friends.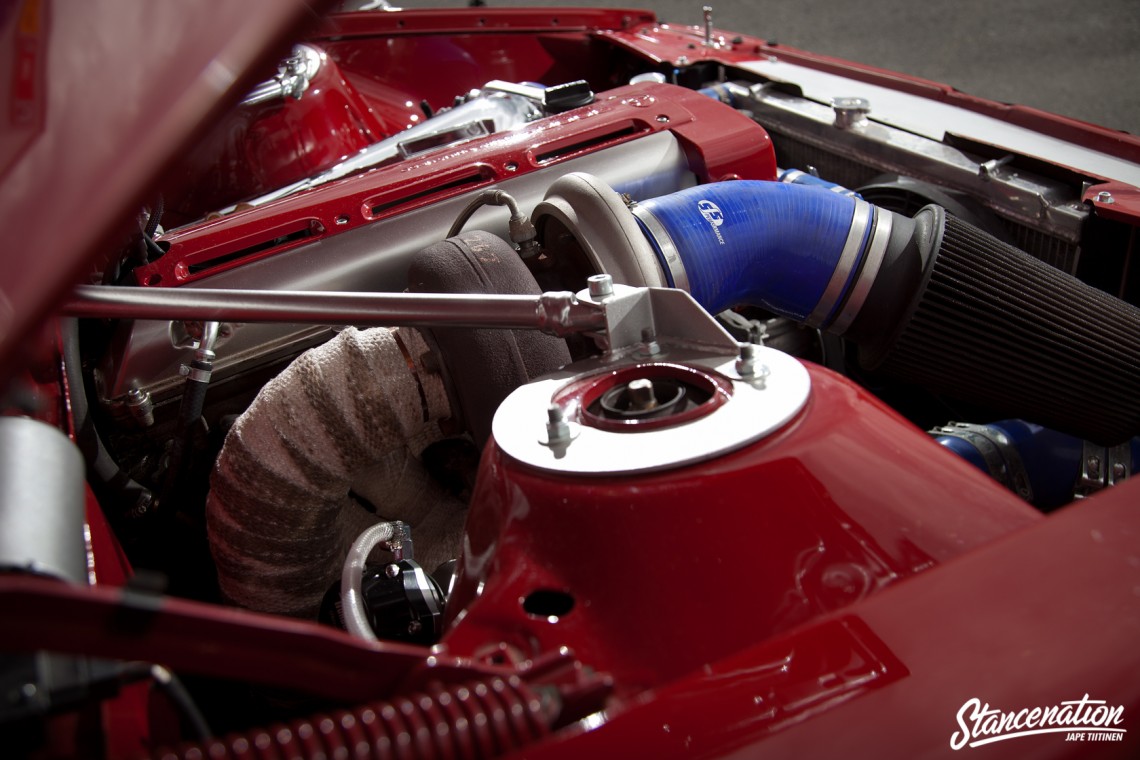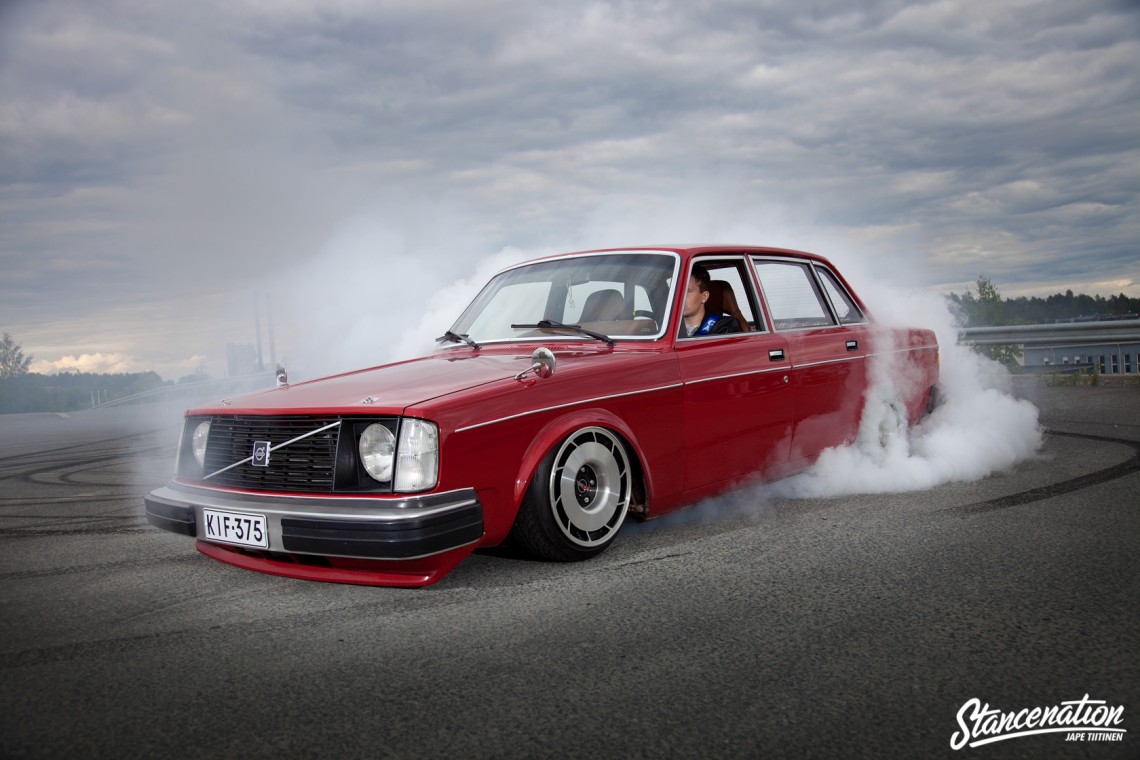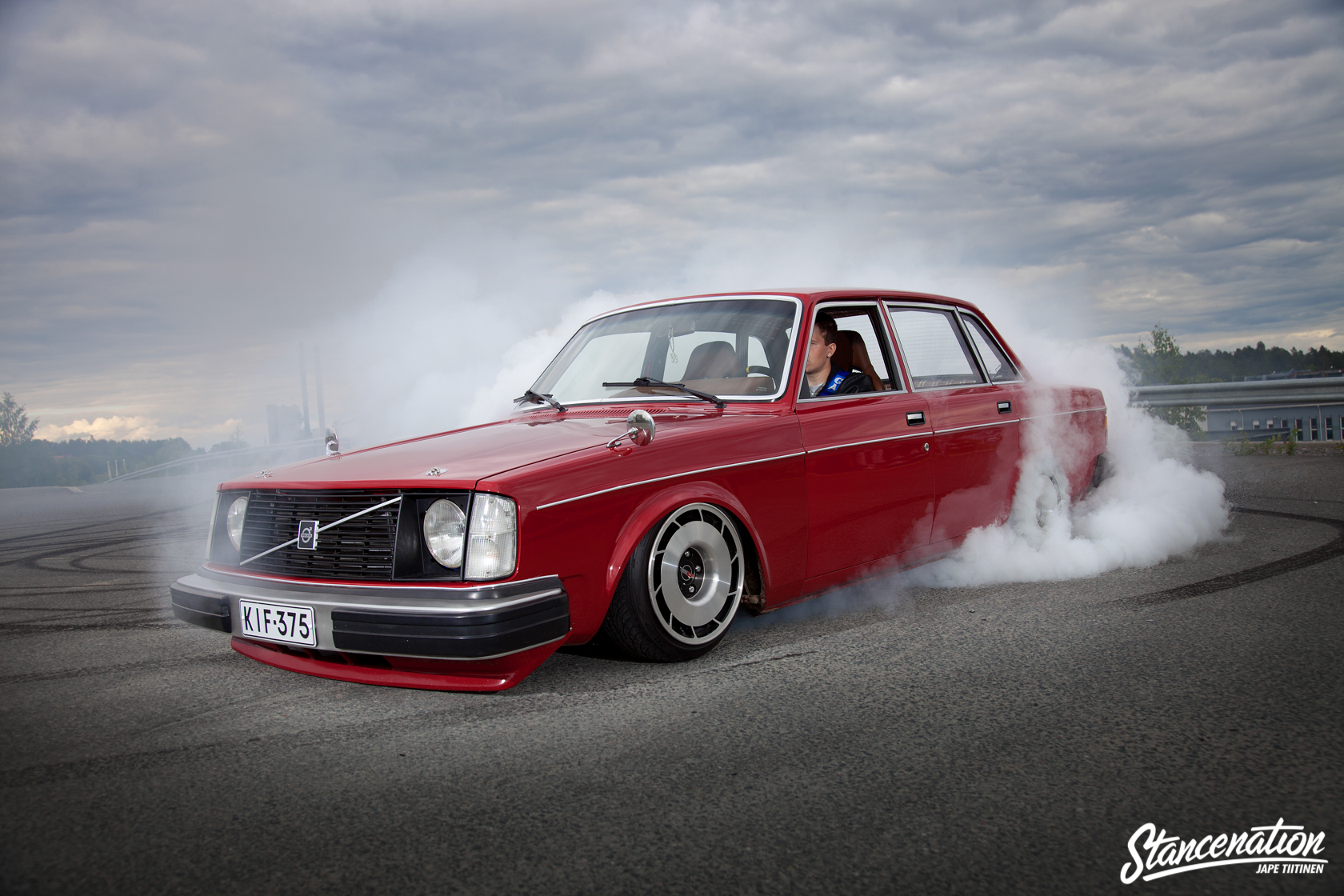 Burnouts on Demand!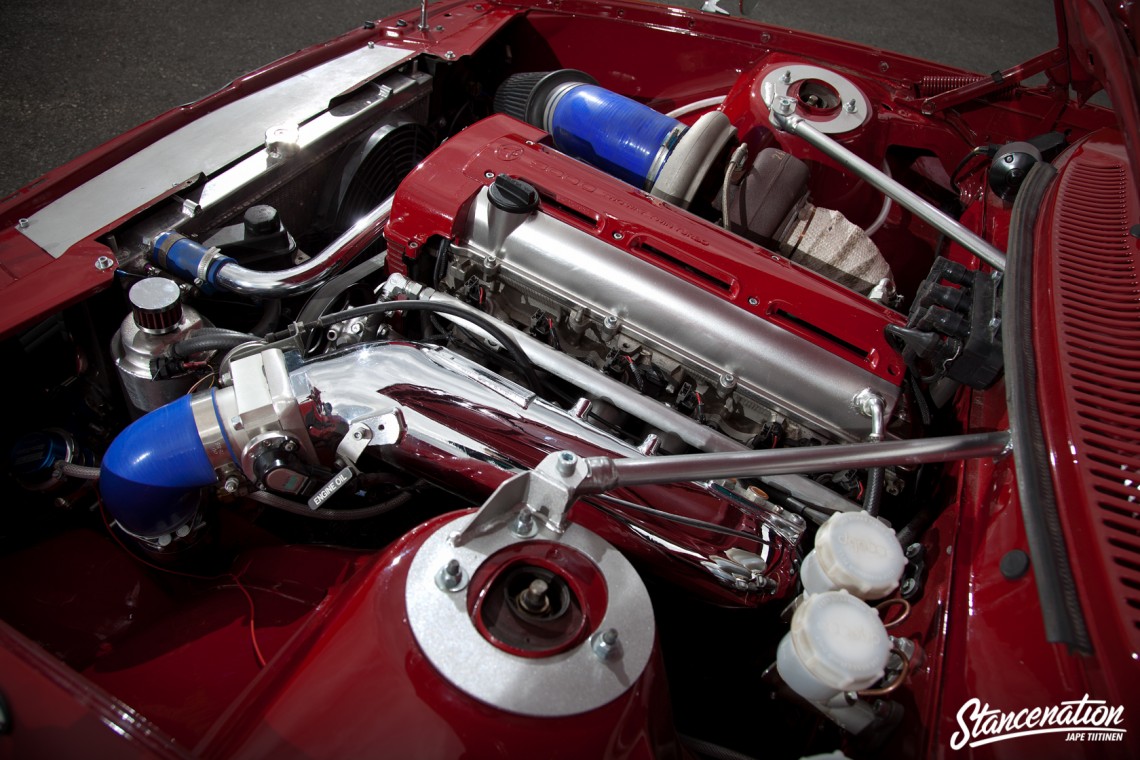 Fueling the force-fed six-cylinder is a custom fuel system comprised of twin, Bosch 044 fuel pumps, Fuel Lab filter and pressure regulator, and 6 Bosch EV14 1000cc injectors.  That's a lot of fuel, but when your setup is good for 700+rwhp, you need every bit you can get, and it's always safer to have the supply for more fuel than not enough.  Making sure everything runs smoothly is a Mega-Squirt MS3 engine management system with a Bosch wasted-spark coil setup.  To make sure the power gets to the ground Eemeli installed a Toyota R154 gearbox from a Toyota Chaser, and using a custom aluminum drives-shaft, connects everything to a Volvo 1031 rear-diff and axle with 100% lock functions (again for smokey, burnout goodness).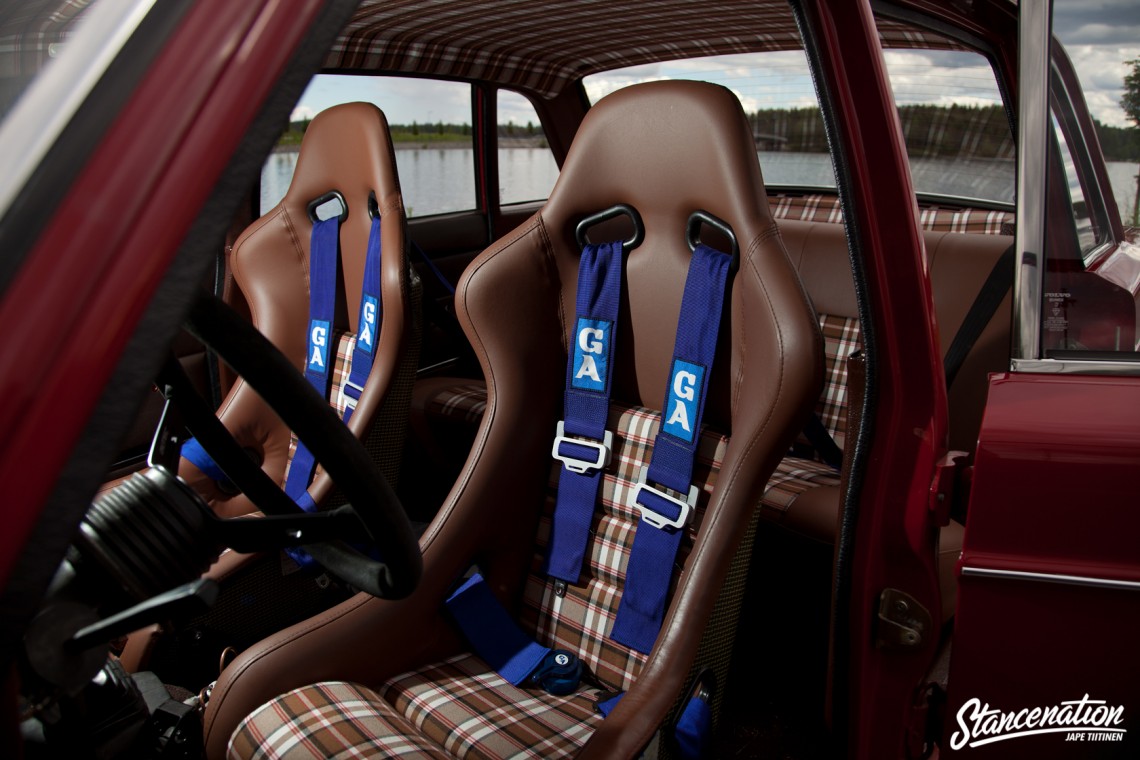 Inside the car, the custom touches continue, and is more in line of what we would expect from a well-rounded Euro build.  Plenty of leather, custom stitching, and flocked parts adorn the cabin of this Swedish beast.  Carbon-backed GA seats hold the driver and passenger in place, and are finished in a combination of leather and plaid, which carries into the rear.  The dash has been flocked and also finished in leather, and holds a host of Autometer gauges to keep Eemeli informed of how his burnouts are affecting the engine.  The fit and finish are show-car standard, and right up there with the install and presentation of the engine bay, but that's where the custom touches seem to stop.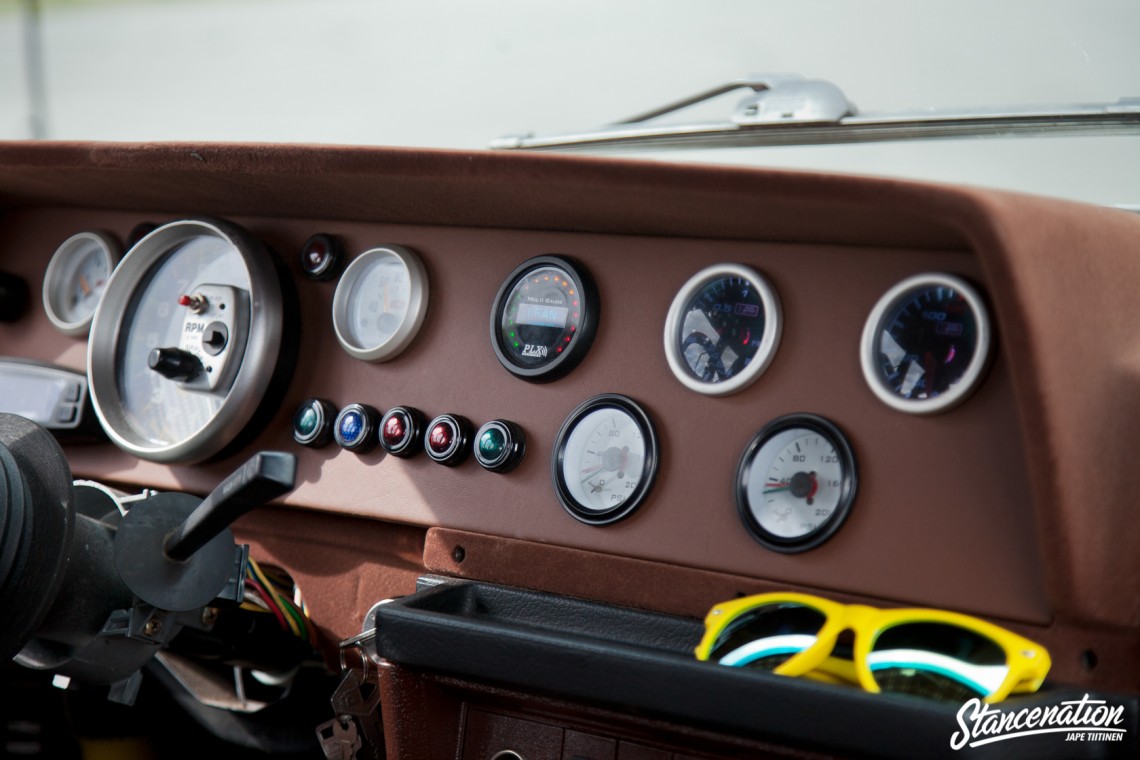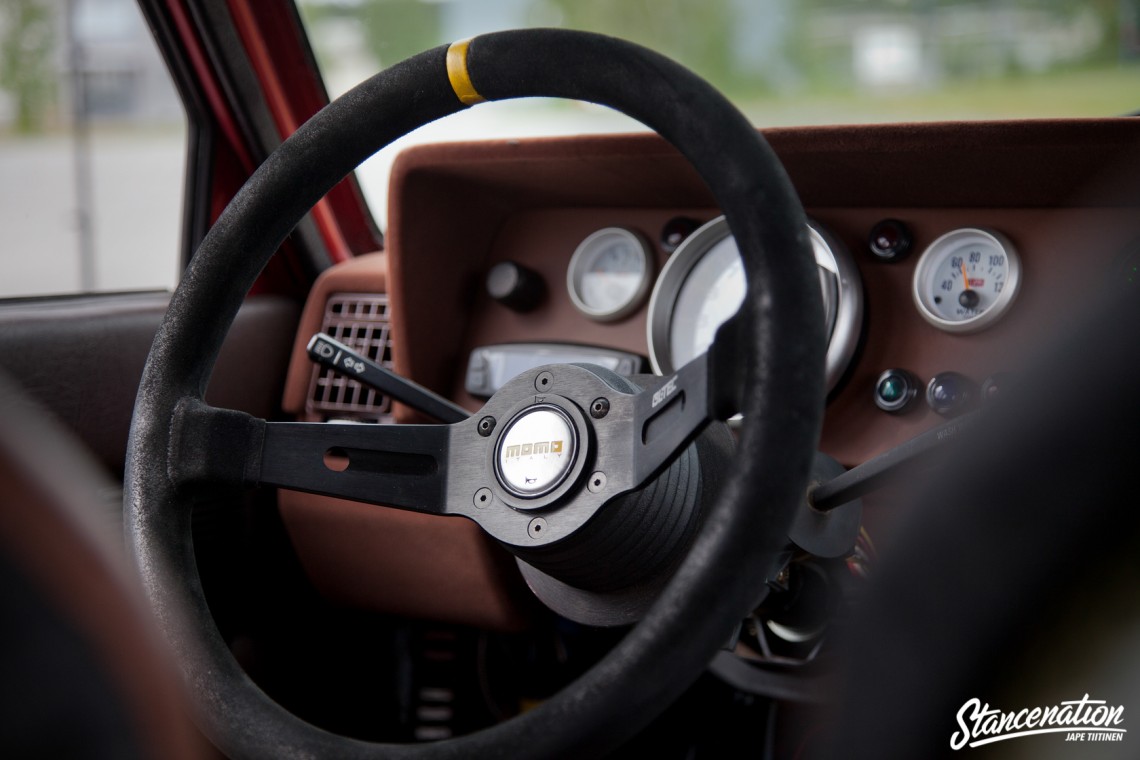 As I mentioned earlier, the outside is very standard for what we see at shows across the pond.  The exterior has been left standard-looking, with parts either being restored to, or left in factory-like condition.  The only hints that something is amiss is the side-exit exhaust before the rear wheel, although the standard tail-pipe has been left to further trick those into thinking there isn't anything special under the hood.  The car is dropped using a LowToys airbag system and allows for each bag to be controlled independently.  The wheels are from an early C4 Corvette, aptly named the 'Salad-Shooter' for whatever reason, and are sized up at 16×9.5 inches all around with 195/45 and 205/40 tires stretched around them.  Hiding behind the wheels is an upgraded set of brakes, Wilwood 4-piston calipers and Volvo S60 305mm discs up front, while the rear retains stock disc-brakes, but the hand-brake has been modified to a hydraulic unit for further slideways action.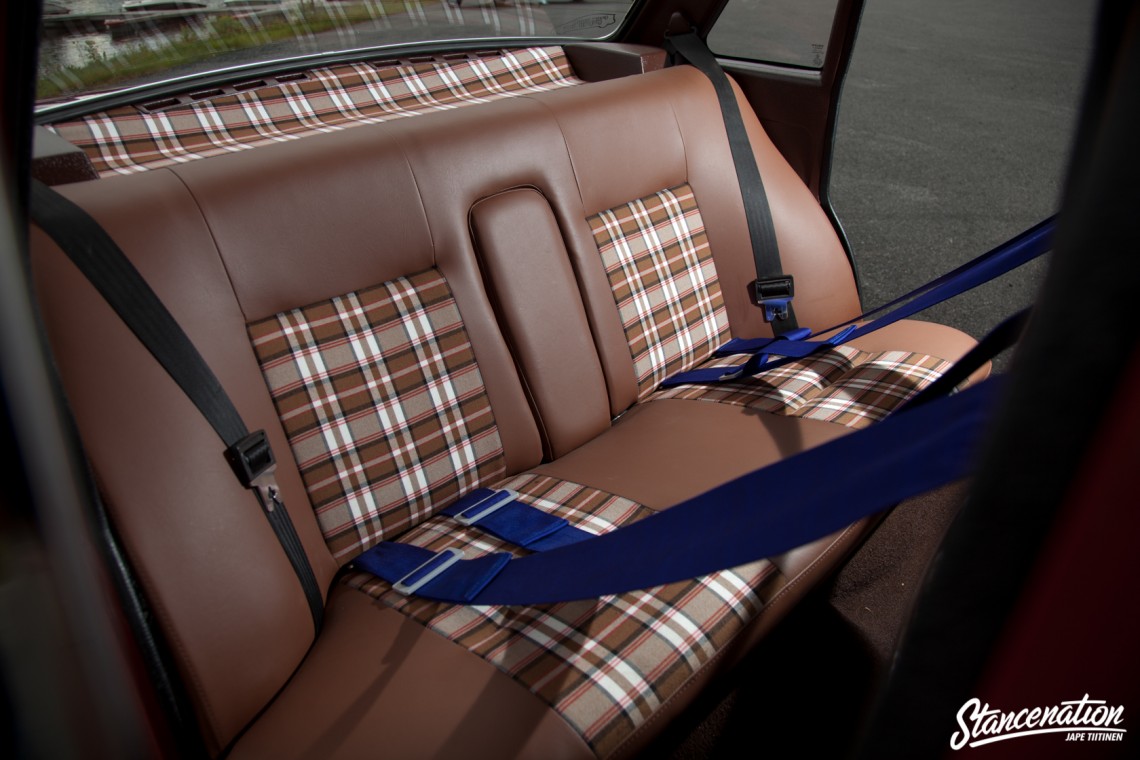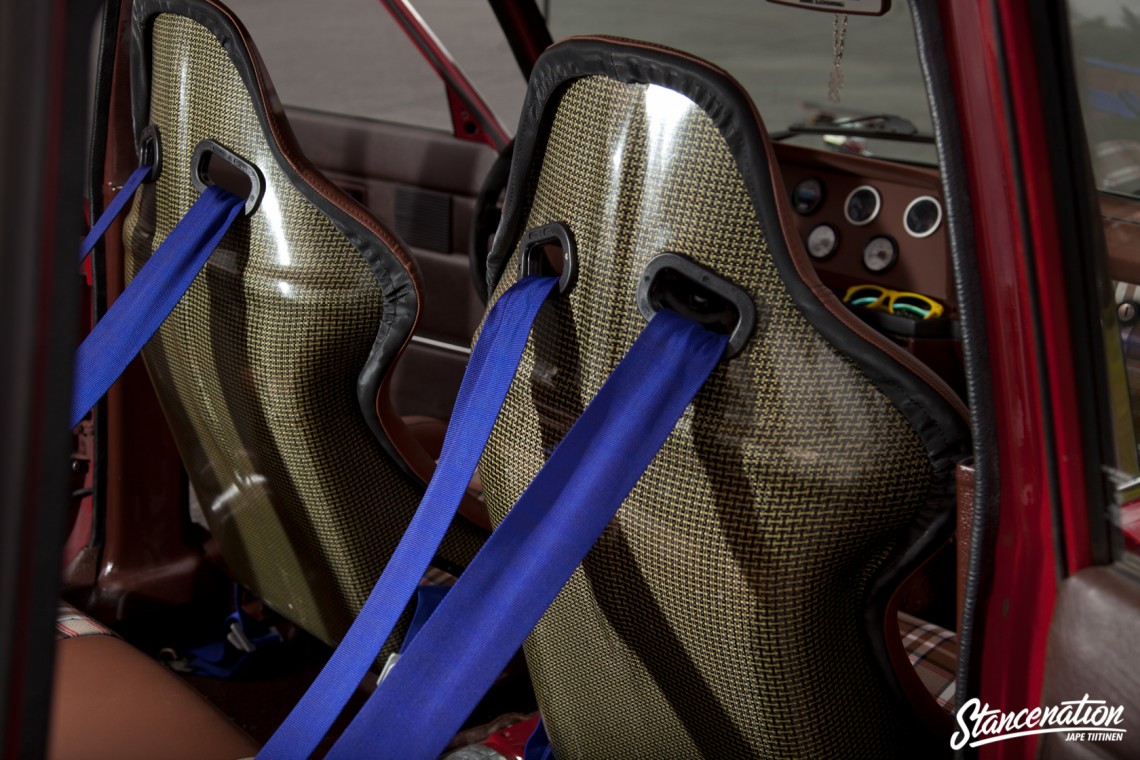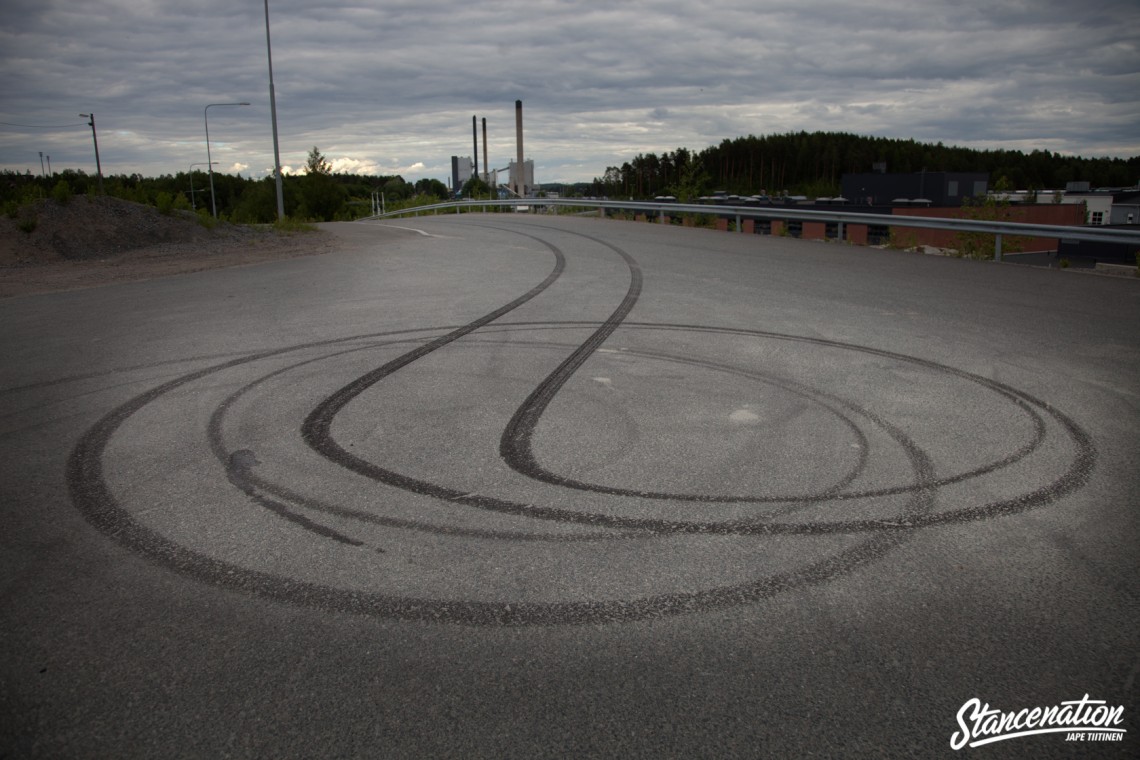 The result is a formidable wolf in sheep's clothing.  The outside appearance hits at nothing more than a classic Euro car dumped on bags, but once Eemeli dumps the clutch, jaws drop as the rear tires go up in smoke, and the familiar tone of a single-turbo 2JZ fills the air as the car dances around the car-park.  The Fins, Swedes, and Norwegians are deceptively good at this too which kind of makes people like me always take a closer look at their cars.  I look for little hints; is there an intercooler peeking behind the bumper or front grill, maybe a side-exit exhaust, or a dump-tube somewhere there shouldn't be a dump-tube?  These are the small hints that will give the game away.  At the end of the day though, what really sets this car apart from the other scene-fixtures is Eemeli built this car to have fun, and that's what it's all about.  Sure, it has the trademark, Euro-look down, but the engine bay kicks the boring-factor right out the window, and Eemeli is smiling ear-to-ear down the motorway, engulfed in a trail of tire-smoke.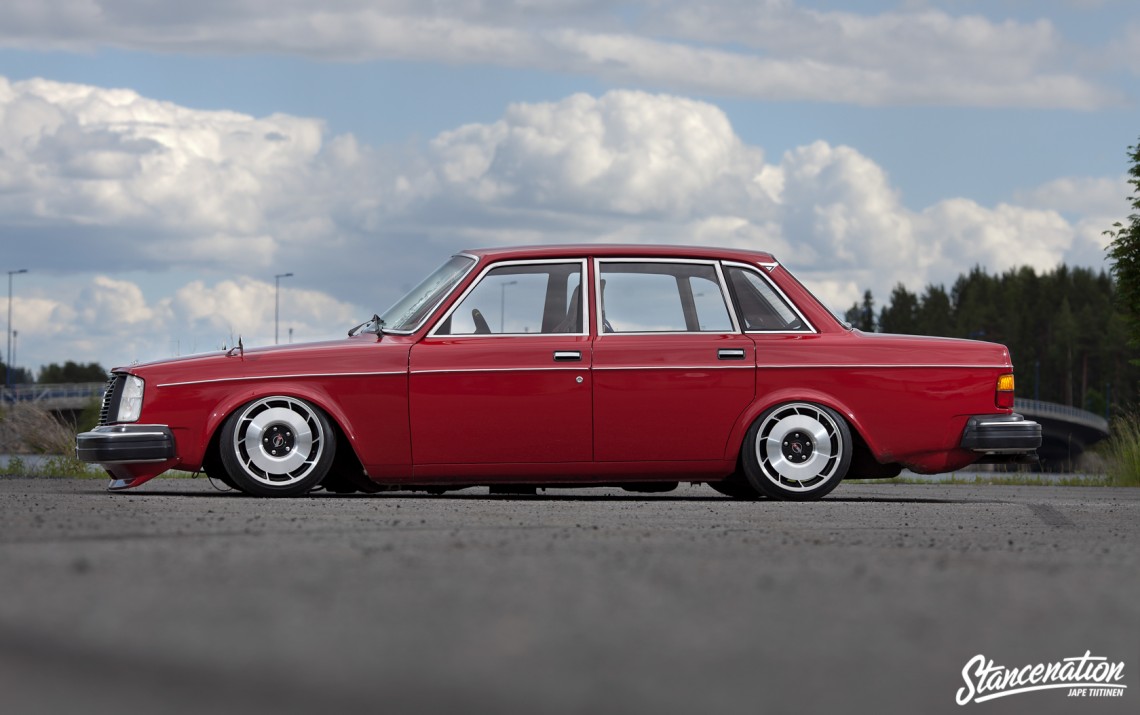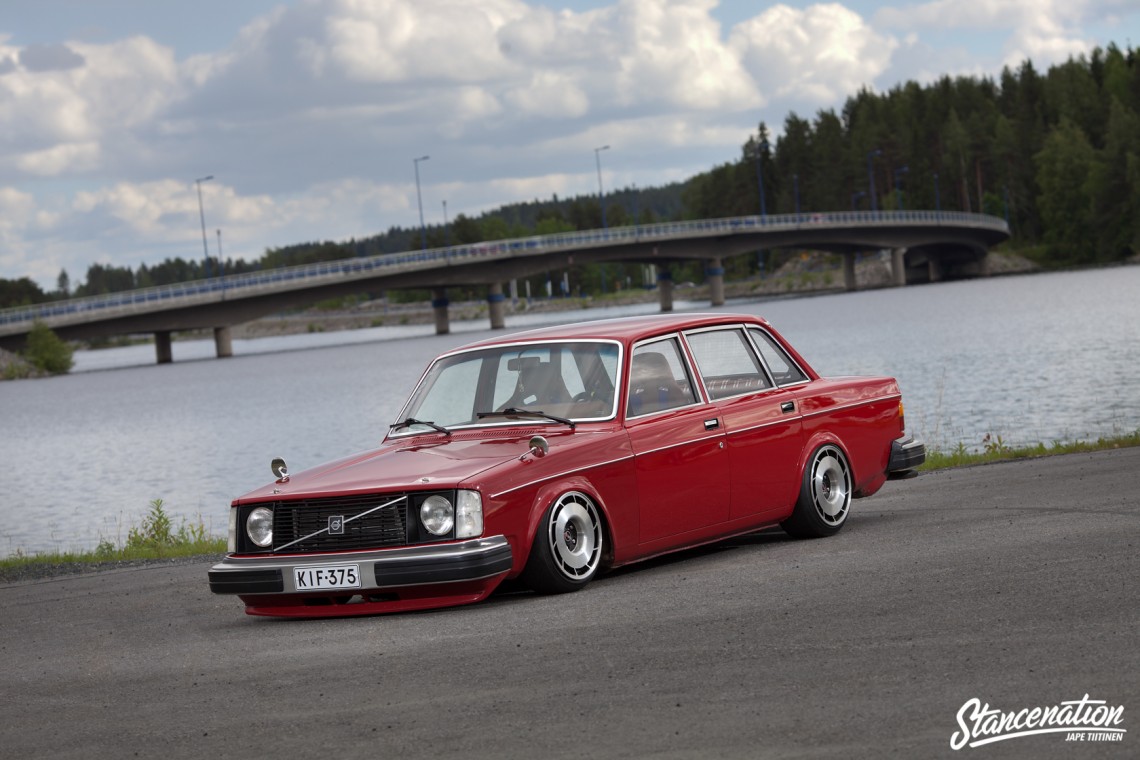 Engine:
Toyota 2JZ-GTE, Holset hx40 super, Megasquirt 3, "greddy" chrome plenum, Bosch ev14 1000cc injectors,
K&N air filter, Intercooler, Turbosmart pro gate 50mm wastegate, Turbosmart race port blow-off, 80mm
throttle body, DIY 3″ exhaust with 3,5″ Downpipe, 2 x Bosch 044 fuel pumps + Fuelab filters, Bosch wasted
spark coil
Drivetrain:
Toyota R154 gearbox, 3″ Drive shaft, Volvo 1031 rear axle + 100% Lock
Wheels & Tires:
Corvette 9,5 x 16, Front 195/45, Rear 205/40
Suspension:
Lowtoys Airbags: every corner adjustable separately
Brakes:
Front: Volvo S60 305mm disc, Wilwood 4piston cylinders, Rear: Original + hydraulic handbrake
Interior:
GA-seats, lots of flocked parts, brown leather and square upholstery