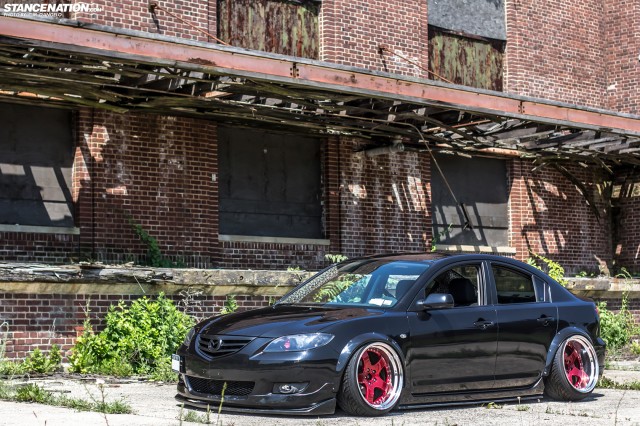 Sometimes we don't get what we want in life.  No matter how hard we work or how hard we try, things sometimes just don't work out.  It's never fun and definitely not fair, but that's life.  How you deal with it and turn the situation around though is what can take a crappy situation and make it better.  For New York resident Kevin Ehm, if things had worked out, this car wouldn't be here today, and despite what some will say, well I say that would kind of suck.  I can pretty much guarantee you haven't seen a Mazda3 like this in awhile.  In fact, the only other 3 I've seen like this is Shavi's from Royal Origin, and that's a more popular Mazdaspeed model.  Still, Kevin took a situation that didn't work out how he planned, and turned it around to make something really, really cool.
Photos By: C.M. D'Angelo exclusively for StanceNation.com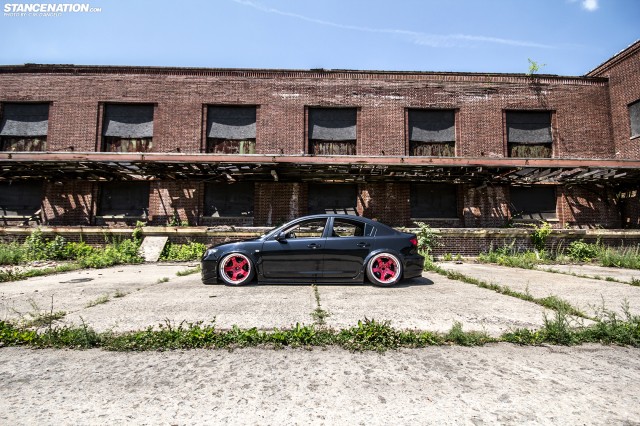 We'll turn back the clock three years to when Kevin was shopping for a new car.  His heart was set on a Nissan 350Z, but unfortunately for him, he couldn't get financed for one.  A bit gutted, Kevin "settled" for this 2006 Mazda3.  Instead of sulking around and having a boring and mundane commuter, Kevin took the situation and turned it around.  Hey, he had a new car at least.  So, the research began and the hunt for inspiration was on.  However, having a car that doesn't have huge support, and a more sportier and sought after model in the Mazdaspeed3, there were some challenges, but that didn't phase Kevin.  When he couldn't find a part, or find a solution to a problem he was having, he took it upon himself to solve it.  Remember that whole taking a bad situation and turning it around…?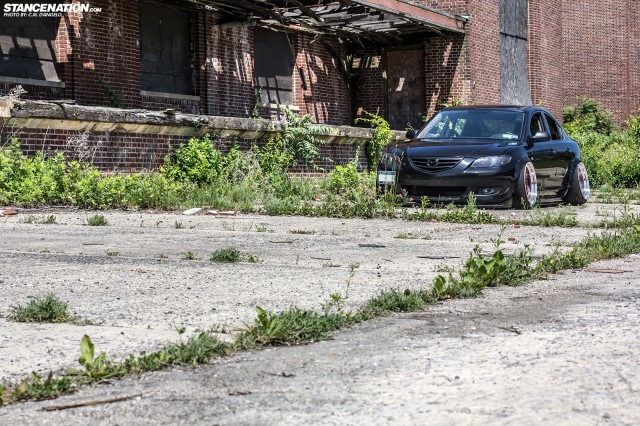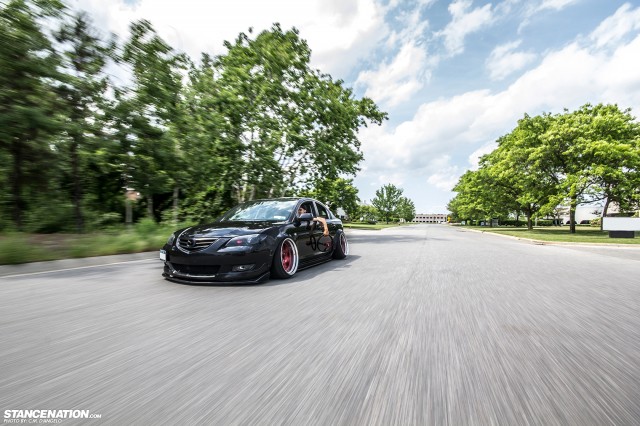 So let's dive in shall we?  This car is here for a number of reasons.  First, as I mentioned before, you'll be hard-pressed to find another Mazda3 like this one.  Second, and what I feel is most important, is the amount of work that has been required to get this car to sit like this is impressive no matter how you slice it.  The work is impressive and the car is impressive and that's what we're here to feature; impressive cars.  The scene is filled with a lot of people who are trying too hard for their 15-minutes of fame, and have created a sea of cookie-cutter cars that lack originality.   Kevin certainly didn't fall short in the originality department and took a car that he settled for and turned it into a car that he loves, and that deserves some recognition in my book.
It's quite apparent that the one aspect of the car that stands out is its stance.  After all, this is Stance Nation.  That's what we like.  If you're reading for the sole reason to bash this car for being, "not functional," please save the effort and do something productive like trying to learn common-sense.  I don't know why I find it odd that Elvis asked me to write this one because I'm, "good at explaining why camber is cool."  I mean, does that really need explaining?  Just look at the pictures.  Yes, there are varying degrees of camber, and I'm certainly one of those, "the-more-the-better," people, but camber is all part of stance.  Kevin certainly has a good amount of it, but it was necessary to fit the crazy wheels he has.  Still, the camber is what got you to look.  I guess that's the appeal to it, camber is an attention grabber for sure.  To get the -6* and -11* that Kevin is running was not easy.  The whole suspension had to be custom -fabbed pretty much since nothing was available in the after-market.  Even the coils he's running are pieced together from various companies.  To start, the front control arms and rear control arms were all custom made to get the desired camber.  The coilovers up front are a mix BC Racing coils with shortened cartridges, custom springs, and no collars.  In the rear are Yellow Speed shocks with custom springs which all bring the 3 down to the earth.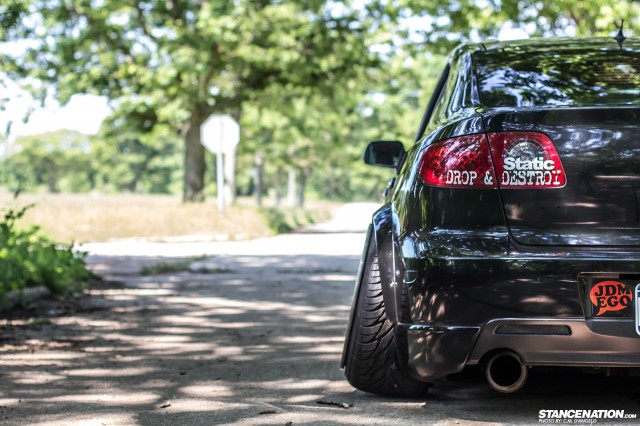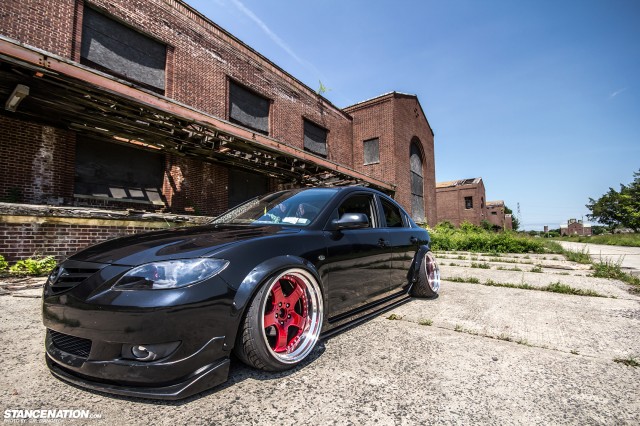 Rolling this low on 17s or 18s would be easier, but Kevin had some ridiculous 19s being built so some body mods needed to be done.  Up front, the upper frame-rail was cut and modded for more clearance as well as both front and rear fenders being radiused 4-inches and 4.5-inches respectively to tuck those bulbous wheels.  The wheels themselves are quite impressive too.  Built by CZ Wheels in Louisiana, the custom Zauber Crazers were built to Kevin's specs.  Kevin went for some sizes unheard of in the Mazda world with the fronts coming in at 19×11 +7 and the rears at a staggering 19×12 -32.  Those specs are more suited for a 350Z more than a Mazda3, but Kevin here made them work, and it's just an impressive site.  The kandy-red faces, step-lips, and polished hardware are the icing on the cake, and combined with the camber, just make the car what it is.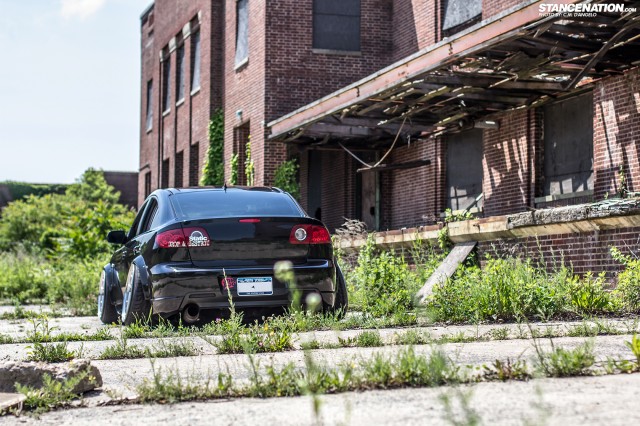 The rest of the car is finished off with your typical, choice mods; polyurethane lip, s-model side-skirts and rear lip, and the obligatory flares that help swallow those huge wheels.  The interior features custom wrapped doors and pillars, a harness bar, a pair of Corbeau harnesses, a quick-release hub, and OMP wheel.  Kevin is still in the process of getting the rest of the car where he wants it after spending so much time, money, and effort on the suspension, wheels, and getting the car to sit where he wants.  What's in the future?  According to Kevin, the big things will be an interior overhaul and paint as well as trying to get some more camber (apparently Kevin also thinks the-more-the-better).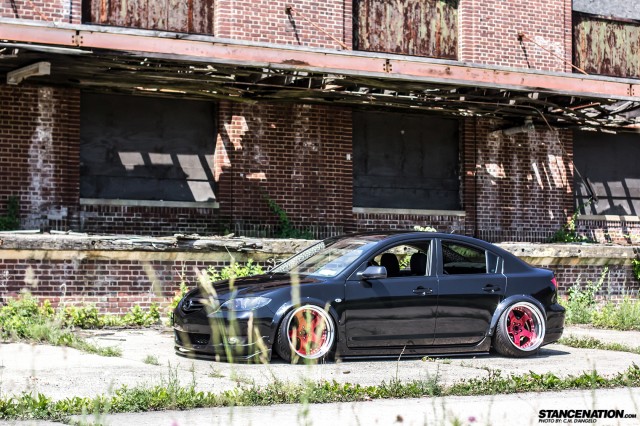 And there you have it.  The car, while simple on paper, really leaves its impression.  Despite being anything but simple in execution, Kevin stuck it out, and after a year of hard graft is finally able to enjoy it.  The interior and exterior makeover will really make this car stand out even more than it already does and really complete the build.  It's still crazy to think that 3-years ago, Kevin walked into the dealer wanting to drive home a 350Z, but got stuck with this.  Then again, it wasn't such a bad deal after all.  It's just the attitude you give to a bad situation.  Maybe next time you'll remember this article, and like Kevin, turn a situation that didn't work out entirely into something pretty cool.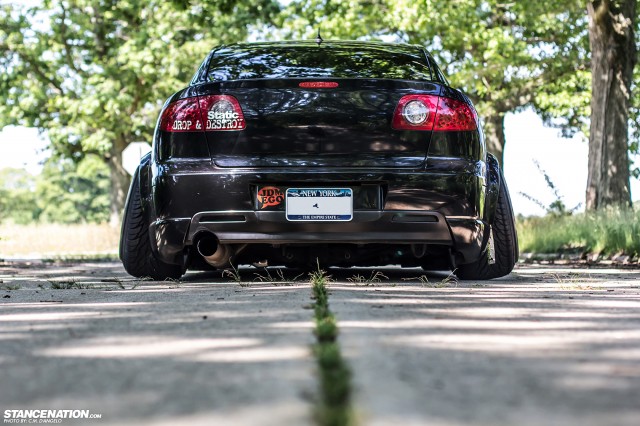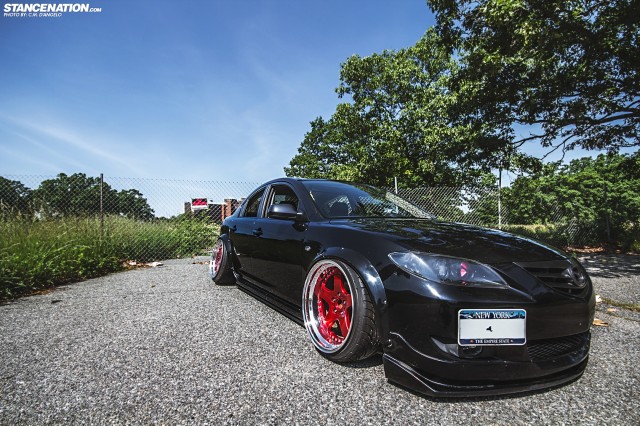 [toggle_box]
[toggle_item title="Wheels/Tires/Suspension" active="true"]zauber crazers fully custom built by CZ wheels
19×11 +7 / 19×12 -32 laser cut face to tighten up the edging to the lip
custom made stepped lips and barrels powdered kandy red with polished lips and all hardware
front: bc coils with shortened cartridges and custom springs with no collars
rear: yellow speed coils with custom springs
front lower control arms custom fabbed (-6 degrees)
rear camber arms modded (-11 degrees)
front upper frame rail modded
radiused fenders 4″ up front and 4.5″ in the back[/toggle_item]
[toggle_item title="Exterior" active="false"]BMW blue sideview glass
dabears side markers
baked headlights and painted all chrome black and dyed the highbeam lens red
s-model grille
s-model side skirts with extensions
s-model rear flares
s-model fog lights
polyurethane front lip
spoiler delete
led tails
led third brake light
blacked out all reflectors on bumpers
debaged trunk
shorty antenna
license plate/tow hook relocated[/toggle_item]
[toggle_item title="Interior" active="false"]custom wrapped doors and pillars
harness bar
corbeau harnesses
nrg quick release and hub
omp steering wheel
weighted shift knob
wink mirror
removed back seat
eonon "oem" touch screen in-dash DVD/nav with added amplifier and boxed 6x9s[/toggle_item]
[toggle_item title="Engine" active="false"]cold air intake
srs catback exhaust
advanced timing
grounded throttle body[/toggle_item]
[/toggle_box]