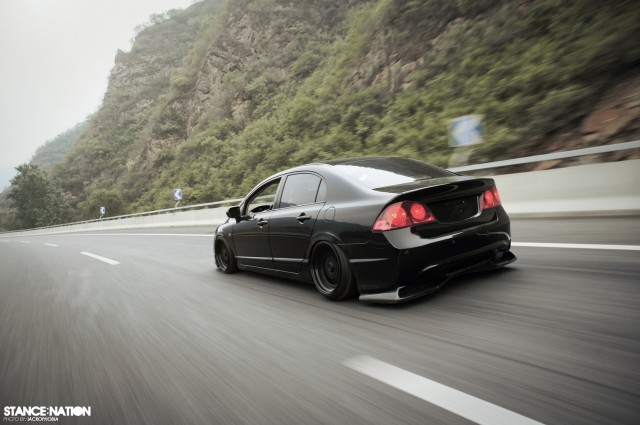 We've been working with our friends at iAcrophobia lately on showcasing some of their rides on our site. Today we'll take a look at a car that has been the talk of Internet ever since we posted it on our facebook couple of weeks ago. What we have for you here is one of the most "aggressive" looking Civic's we've seen in a while. When we say "aggressive" we're referring to the overall presence of the car not necessarily it's fitment. This blacked out beauty has been Rocky Chen's daily driver for a little over a year now and we have a feeling that most of Beijing (Rockys hometown) has trouble identifying it! Let's take a closer look at some of the modifications that Rocky added!
Photos By: iAcrophobia exclusively for StanceNation.com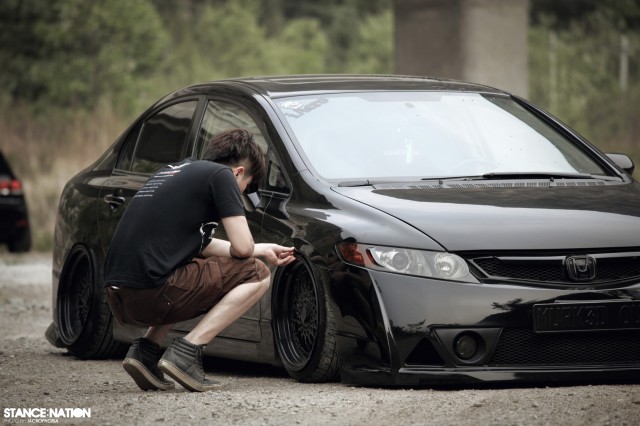 We've seen Japanese build "USDM" style cars and surprisingly many Chinese are following the trend. Rocky tells us that seeing all the stanced Civics stateside inspired him to build one for himself. He also tells us the fact that Civics are pretty economical and practical vehicles it was a win-win situation. Take a look at the photo below!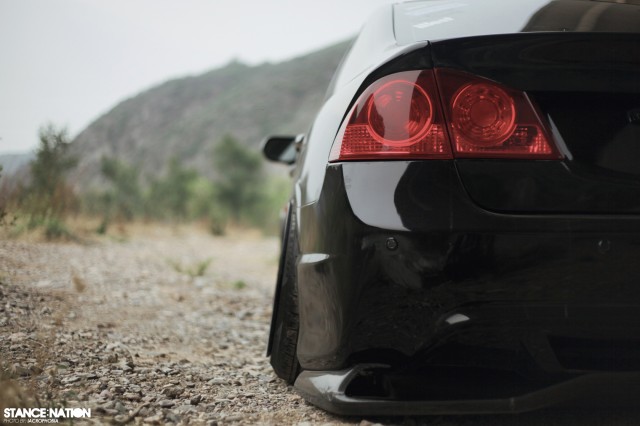 It all started with the Air Force Air Suspension and slowly worked it's way into a set of fresh kicks. Going with a blacked out theme Rocky added a set of black ESM 002R's! Fronts sit at 17×8.5 with an offset of 8 while the rears sit at 17×10 with an offset of 10. Not the the lowest offset numbers or widest wheels by any means yet it still manages to sit just right! We also love the fact that it's fenders don't appear to have been excessively pulled or flared.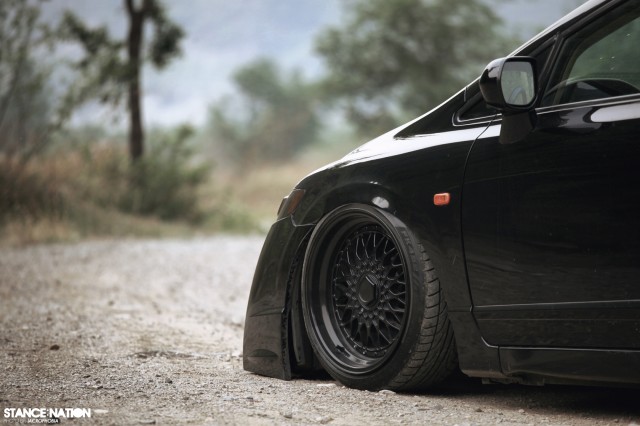 After wheels & suspension it was time to add some exterior touches so a new Mugen RR Bumper was added up front and a Voltex rear diffuser in the rear. In our opinion that diffuser is what makes this car so ridiculously awesome. With it literally sweeping the ground when the car is aired out, it's one awesome Civic that looks like it means business. Rocky also swapped out the stock trunk and tails with a set from an FD2 of course. A touch of JDM, and a touch of USDM, we love.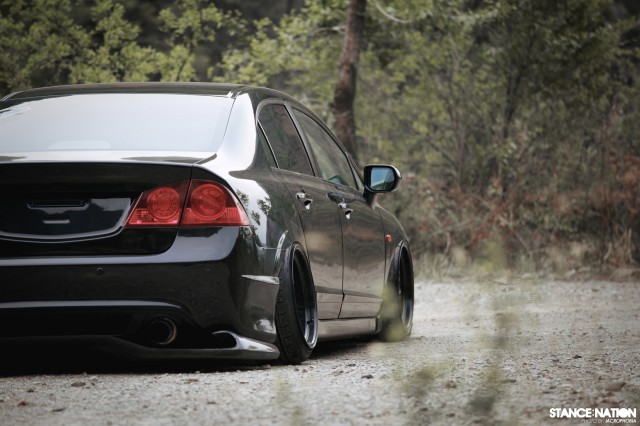 Ultimately, Rocky would like to track the car but that won't be until after he gets a Type R K20A engine that he has planned. For now though, he'll have to stick to couple of simple bolt-ons. KN69 Intake accompanied by Aspec Exhaust Manifold and FGK Trust Catback System do the job for now.
Interior is relatively stock besides the Bride racing seats. We're definitely looking forward to what the future holds for Rocky. Don't be surprised if you see this thing back on StanceNation in the near future looking even more badass!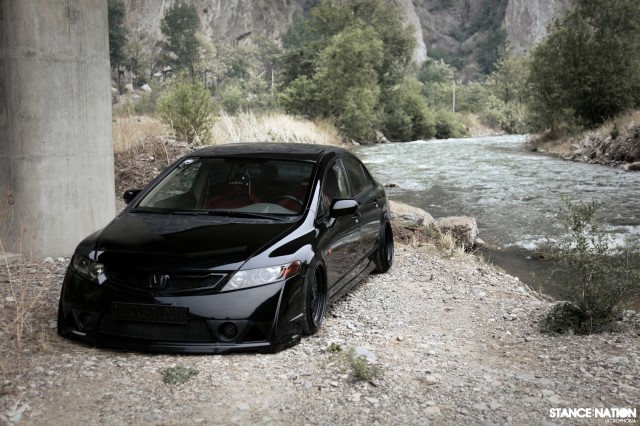 With that said, we would like to give a huge shout out to the iAcro crew, especially Rocky and our good friend Rilber! We'll leave you with a few more photos like we always do. Don't forget to email us at snfeatures@gmail.com if you think your ride has what it takes to be on our site! As you already know by now, we are always looking for new cars to feature.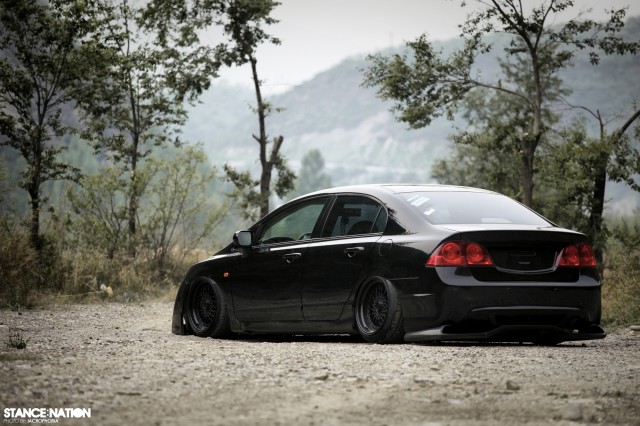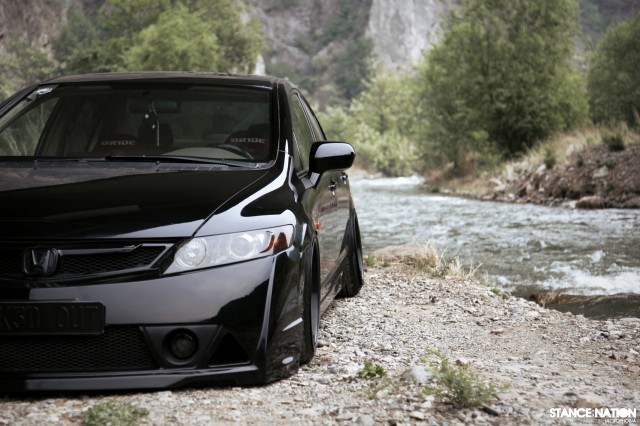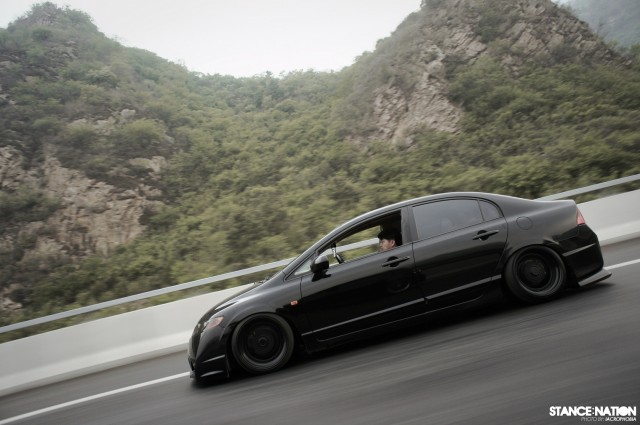 [toggle_box]
[toggle_item title="Wheels/Tires/Suspension" active="true"]Air force Air Suspension
ESM Wheels
F:17×8.5 et8 (17mm spacer) R:17×10 et10 (20mm spacer)[/toggle_item]
[toggle_item title="Exterior" active="false"]Mugen RR Front Bumper
FD2 Tail Lights
FD2 Trunk
Voltex Rear Diffuser
[/toggle_item]
[toggle_item title="Interior" active="false"]Bride Racing Seats[/toggle_item]
[toggle_item title="Engine" active="false"]KN69 Intake
Aspec Exhaust Manifold
FGK Trust Catback System[/toggle_item]
[/toggle_box]