Before anything, please take a second and check out the previous feature of this slammed Nissan 350Z. (Click Here.) Now that you are familiar with it, please allow us to reintroduce you to our very good friend Mikey Condon, out of Burlington, Vermont. We've stayed in touch with Mikey ever since the last feature and have seen first hand all the additions and modifications the car went though. Endless nights, weeks and months finally paid off for Mikey as the car is looking better than ever, in our opinion of course. Let's start off with a short video, what do you say?
Photos & Video By: Jim Davis & Dan Purpura exclusively for StanceNation.com
So, what exactly is new since the last feature? Long list, but let's start off with some body work. Mikey did all the fender metal work on the rear end of the car himself, spending nearly 15 hours on it all. We are talking about rolling, pulling and widening the rear fenders about an inch and a half. Rear quarters, doors, side skirts, hood and rear bumper have also been repainted. It doesn't stop there though, takes a lot more work to satisfy this automotive enthusiast
Some of the other things that Mikey changed on the car were it's wheels, seats, steering wheel, oilcooler & headlights. He tells us that he just felt like his car wasnt to the point of where he was happy with its overall appearance. It's definitely on another level this time around if you ask us. We haven't really seen another Nissan 350Z that resembles this particular one. From the suspension choice to its wheels and aero…How about you?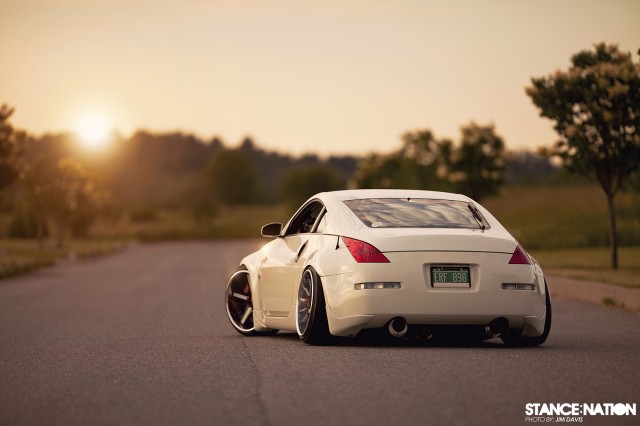 As much as we love the way this thing sits when aired out…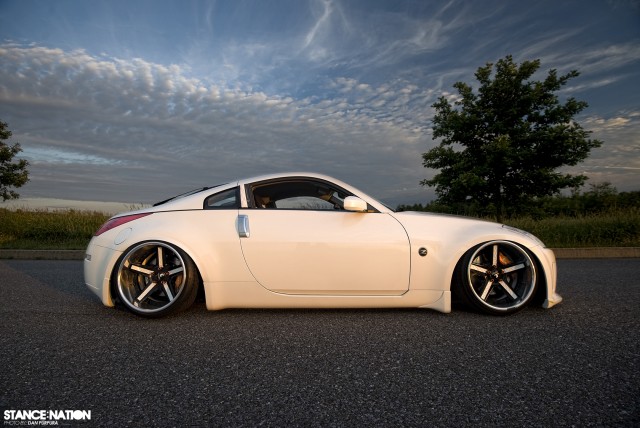 …or even rolling…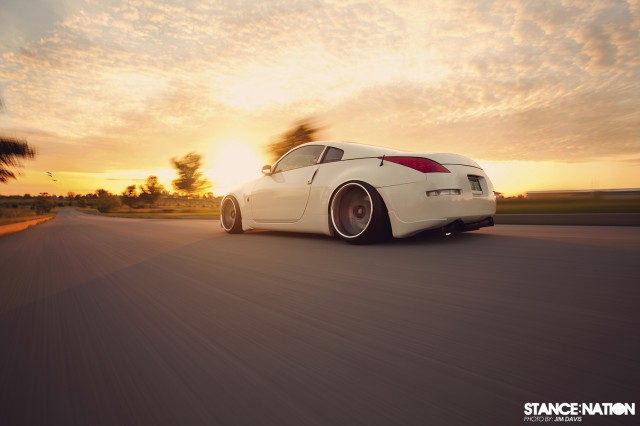 ..the thing that we love the most about it is the wheels. We have a ton of respect for Luxury Abstract and have showed them nothing but love from the first day for obvious reasons. They are literally a breath of fresh air in this overcrowded 3 piece wheel industry. We'll get more into that later on, let's check out some more pictures for now.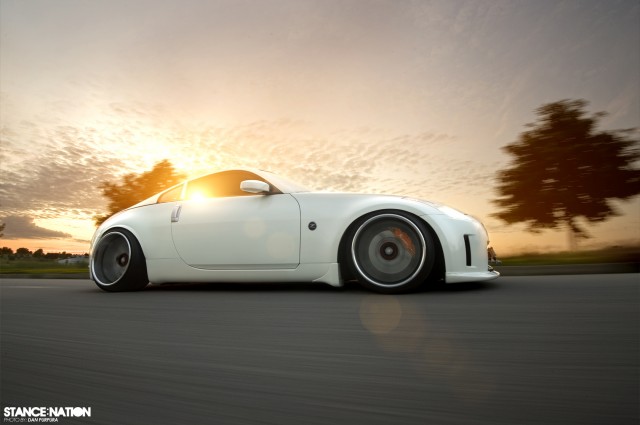 The most "controversial" part on the car is the oil cooler placement. Mikey says that he laughs when random people online call it "stupid". He thinks its pretty neat and different (in the Z community) sitting where it is. Its all about pushing the boundaries, doing things that separate you from the next guy and most importantly having fun doing it, says Mikey.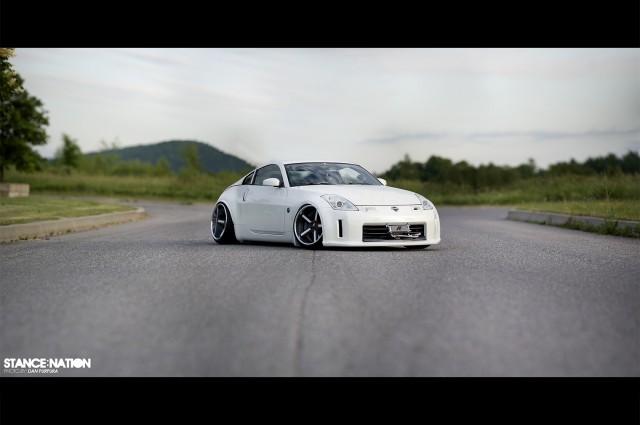 We'll be honest with you, it took a while for the oil cooler to grow on us as well, but it doesn't bother us anymore. We had to remind ourselves that it was Mikey's car, not ours, and that diversity is what makes this community of ours thrive. We're willing to bet that you won't think of this Z as "just another", what you think?
Again, check out those gorgeous wheels!
Massive concave & massive lips is what it's all about.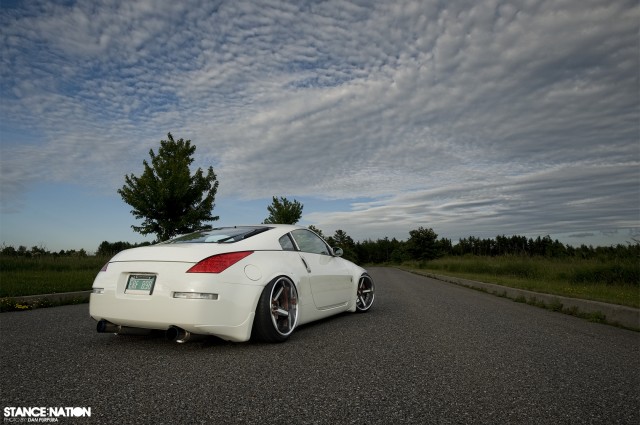 Ok, fine, here is some close up shots of those stunning Luxury Abstract Grassor-C wheels. Front wheels sit at 19×10 with an offset of -6 (medium concave) while the rears are 19×12 with an offset of -14 (aggressive "omfg" concave). Mikey's tire choice consists of Hankook v12 Ventus tires in 225/35/19 up front and 275/30/19 tires in the rear. Behind those beautiful wheels sit a Ksport big brake kit which features 8 pot front, 4 pot rear, 13″ rotors all around.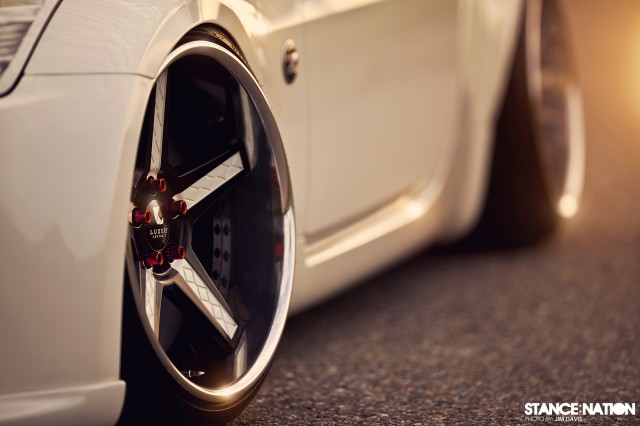 "Breath of Fresh Air" should be Luxury Abstracts slogan in our opinion. I personally believe that the reason for their success is the people, or person behind it. I'm friends with Agim (owner of Luxury Abstract) and I can tell you right now that this man does all this out of love. Don't get me wrong he is a legit businessman, but it always helps to not only be humble and passionate about what you do, but also know what you are selling and who you are selling to.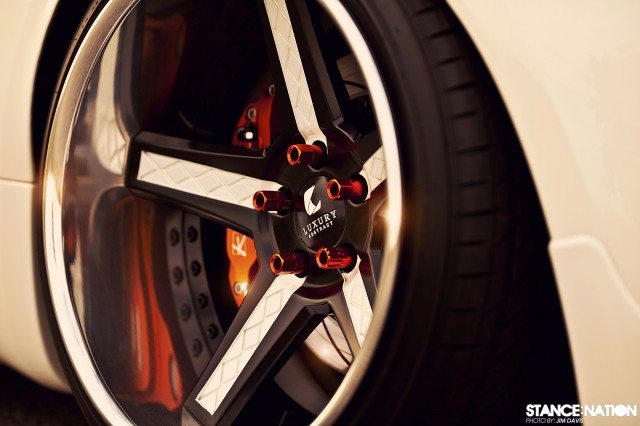 Much love and respect to Agim and Luxury Abstract Wheels.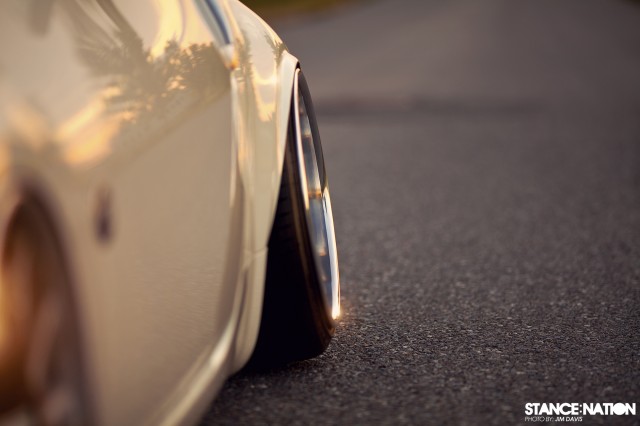 Mikey's Z sits on a highly modified Ksport air ride kit with Accuair e-level system. It also features a custom Accuair exo mount system for management. Check out how clean that setup is.
Ichiba rear toe and chamber arms were also added for that extra bit of clearance. Definitely a great addition.
Interior has been refreshed with Bride Lowmax Stradia seats and Corbeau 5point harnesses + Sparco harness bar. Scroll above and check out the custom hydrographics on the rear strut tower covers done by Green Mountain Hydrographics.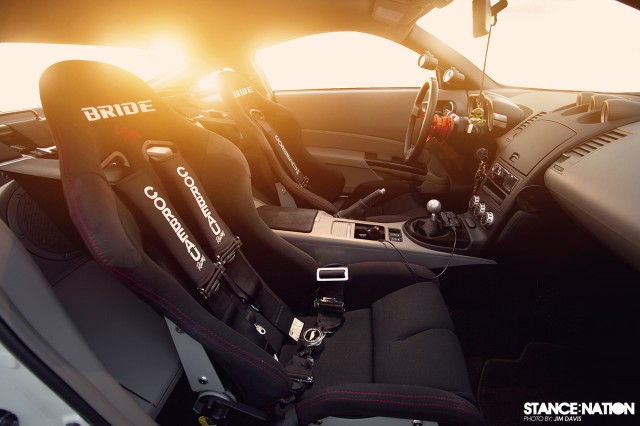 Other things that Mikey added include a push button ignition, b&m short shifter, leather e-brake and shift boot and NRG deep dish steering wheel with quick release. In the trunk you'll find a Kicker l7 sub with sound stream amp, and Alpine media receiver with alpine type s component speakers for front and rear.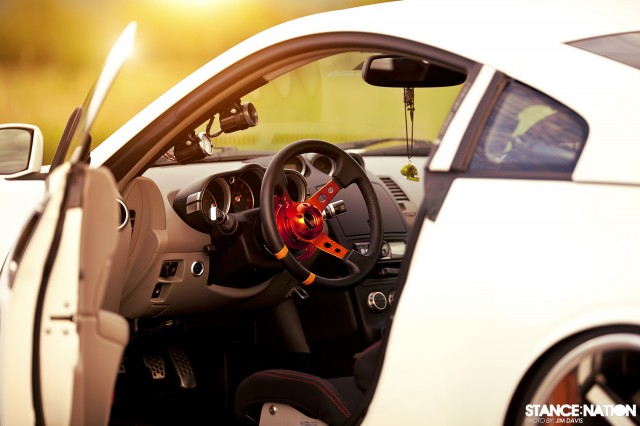 The engine bay is relatively simple, with things like Greddy oil catch can & Billet coolant catch tank and Fujita dual short ram air intake. Car also features a Mishimoto oil cooler, Greddy true dual tic exhaust and Berk tech high flow cats.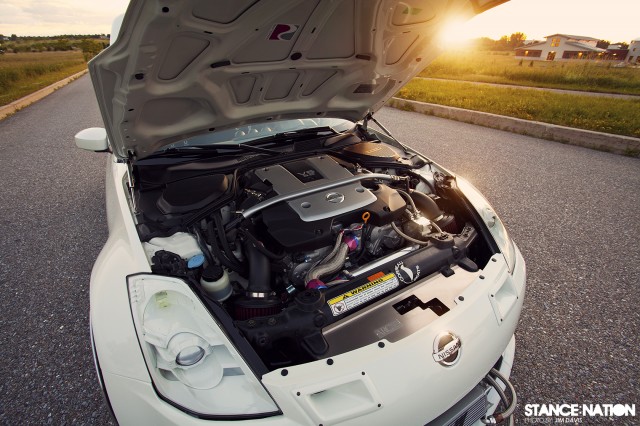 Check out those custom painted headlights!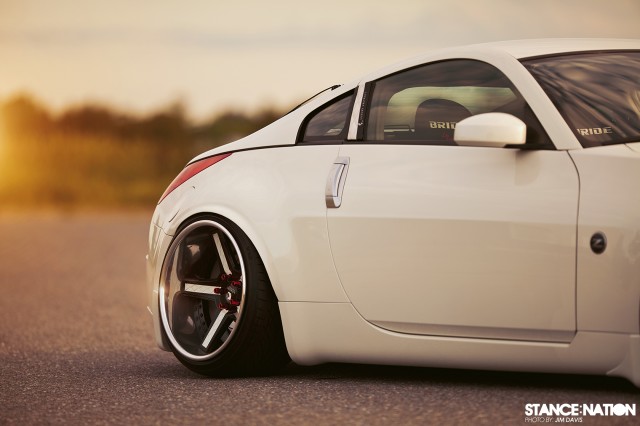 So what does the future hold for this Z? "Who knows there is always something.", is exactly what Mikey told us. Though he did say that he wants to keep the "old girl" for as long as he is alive.
If you think your car has what it takes to be on our site make sure you email us at snfeatures@gmail.com. Make sure you include a few photos and your spec list as well as any other information we should know about you or your car. We're always looking for cars to feature! In the meantime we'll see you guys over on our facebook.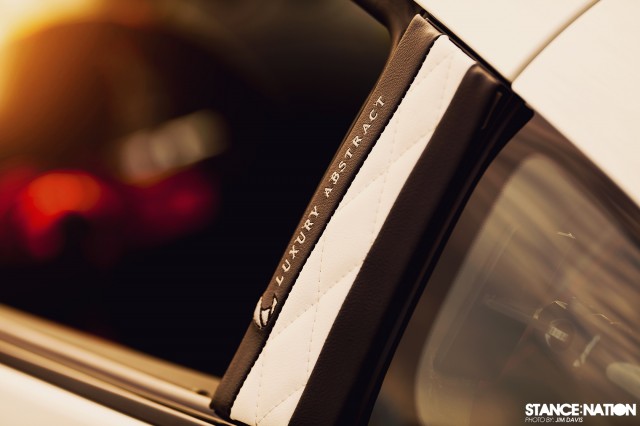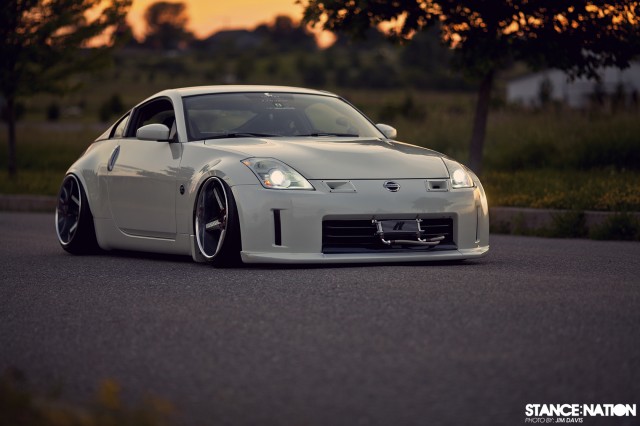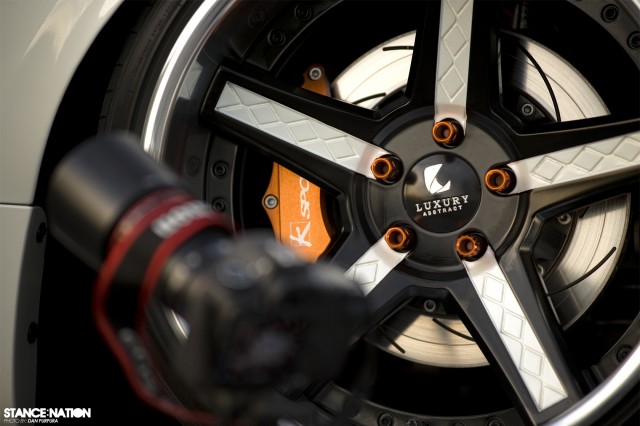 [toggle_box]
[toggle_item title="Wheels/Tires/Suspension" active="true"]Luxury abstract grassor-c 19×10 -6 front medium concave, and 19×12-14 rear super aggressive concave.
Hankook v12 ventus tires 225/35/19f and 275/30/19r
Rear fenders pulled about 1.5 inches
nrg lug nuts
Ksport air ride kit highly modified with accuair e-level system
accuair exo mount system fkr managment
Custom air managment setup
Ksport big brake kit 13″ rotots front and rear, 8 pot front, 4 pot rears
Ichiba rear toe and chamber arms. [/toggle_item]
[toggle_item title="Exterior" active="false"]Front headlights taken apart, color matched insides with new lenses
Luxury abstract A pillars
Luxury abstract liscense plate surround
G35 coupe rear mud guards added
veilside v1 front lip[/toggle_item]
[toggle_item title="Interior" active="false"]nrg deep dish steering wheel with quick release
bride lowmax stradia seats
Corbeau 5point harnesses
sparco harness bar
custom hydrographics on the rear strut tower covers by green mountain hydrographics.
Kicker l7 sub with soundstream amp
Alpine media reciever with alpine type s component speakers front and rear
Push button ignition
b&m short shifter
leather ebrake and shift boot.
[/toggle_item]
[toggle_item title="Engine" active="false"]Mishimoto oil cooler
Greddy true dual tic exhaust
berk tech high flow cats
fujita dual short ram air intake
greddy oil catch can
billet coolant catch tank[/toggle_item]
[/toggle_box]
I would like to thank the following for all the help and support: my gf Mary Ann, Freddy for the insane paint work, Agim Jones at luxury abstract for working with me to get these wheels setup the way they are, Jim Davis and dan for the pics, Bagriders, Green Mountain Hydrographics, and to Elvis and StanceNation for giving me the opportunity to show my car to the world.

– Mikey Condon (Owner)