More often than not, becoming an adult and beginning to raise a family usually pushes people out of the car scene. Car money becomes baby money – tax returns go towards home projects – play dates take the place of car meets — time in the garage is now spent in the house assembling furniture and toys. However, there are a lucky few that manage to balance the car scene and home life. A stroller sits beside a tank and compressors in the trunk of their bagged car – their kids are seated in baby seats in the back seat – they walk around car meets with their kids in their arms. Karen Chang is one of those lucky few.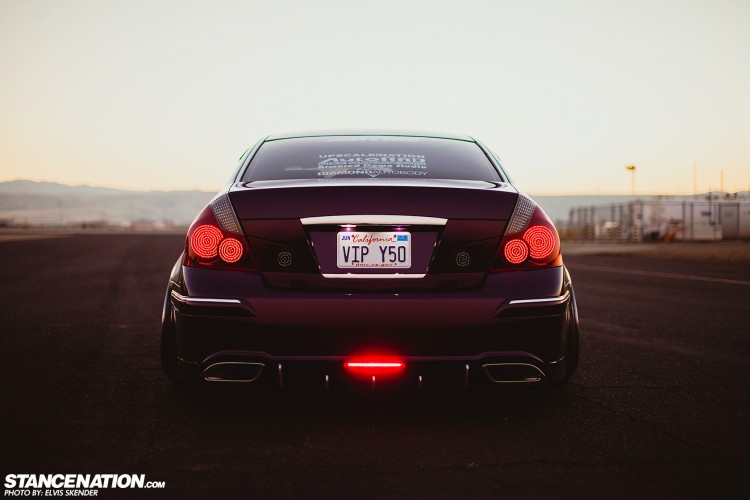 Karen has owned her Infiniti M35 for a little over a year. Her previous car was a wide-body Nissan S14 on coilovers. When her and her husband found out that they were expecting, they had to find something more family-friendly. Instead of going to the dealership and buying an SUV or mini-van, they opted for the M35. Karen's husband owns a Z33, which made the M35 a smart choice, since a lot of parts are interchangeable between the platforms. Karen loves this car because she can throw the stroller and diaper bag in the trunk and still express her style with this more comfortable, luxurious, and practical car.
Her favorite part of the car is the car's feminine curves—the custom metal wide-body. They initially took the car to a "shop that will remain nameless" to get the body work done. They dropped the car off to said shop right before they had their son, when free time was minimal. The body shop was less than helpful and had excuse after excuse for not completing their to-do list.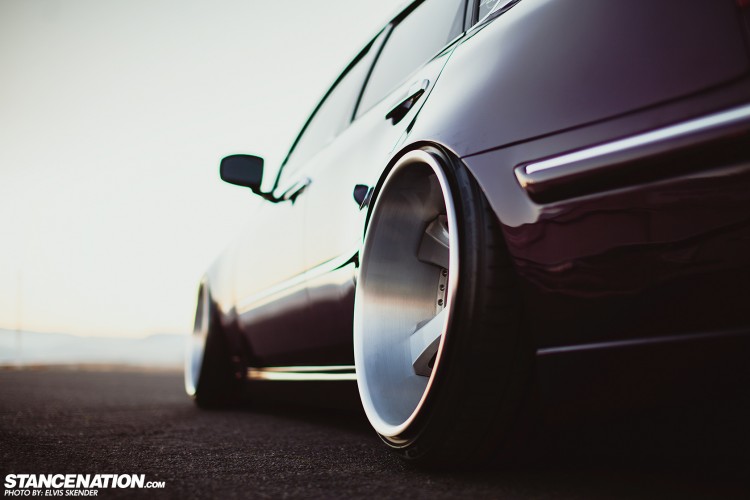 The car sat in that shop for three months just collecting dust. Luckily, they were recommended to Diamond Autobody in Sacramento, CA by a friend. Diamond Autobody was able to complete the extensive custom bodywork (e.g. widen the rear doors, front and rear bumpers, fenders, side skirts, and radius the fenders) in three months, allowing the Chang's to showcase it at SEMA for AME wheels. The exterior was a custom purple. The Chang's are very fond of purple, this is the third purple car between her and her husband.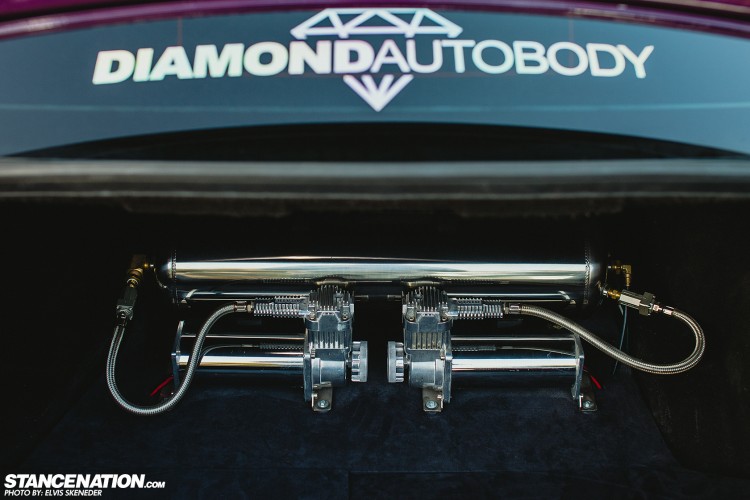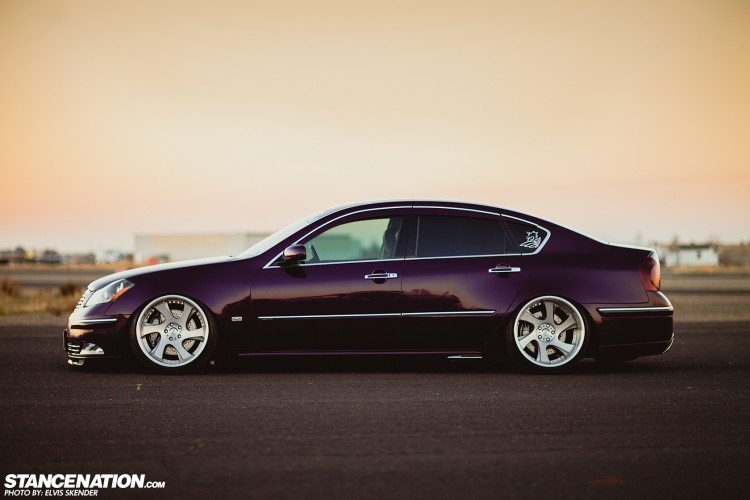 Aside from all of the body work, the rest of the build was done in the Chang's garage. Karen did the all of this work with her husband. She likes to build her own cars with her own two hands, she says it really helps her to appreciate and value the car that much more. She admits that most people don't believe she worked on the car, and often has to prove herself to people.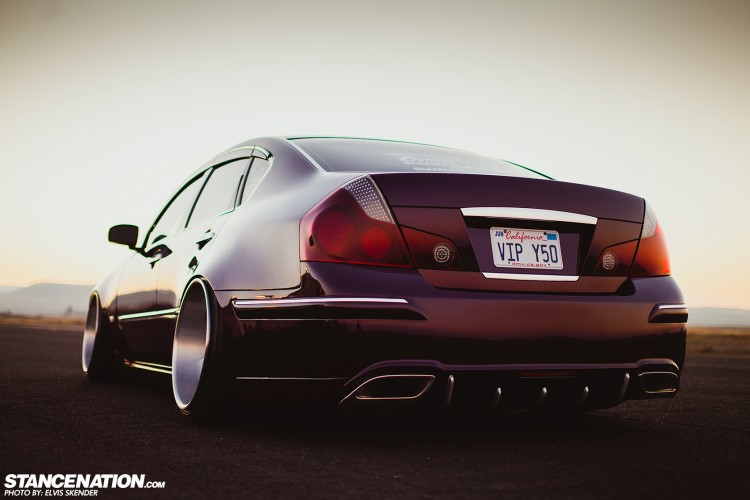 In addition to the K-Break Platinum Aero and grille, the exterior car has a lot of subtle parts and pieces that make the car what it is. The car's rear bumper features Lexus LS460 exhaust tips while the front bumper is equipped with LS460 fog lights. Karen also added JDM Chrome Trunk Finisher, JDM Chrome Door Finisher, and removed all of the emblems for that clean look.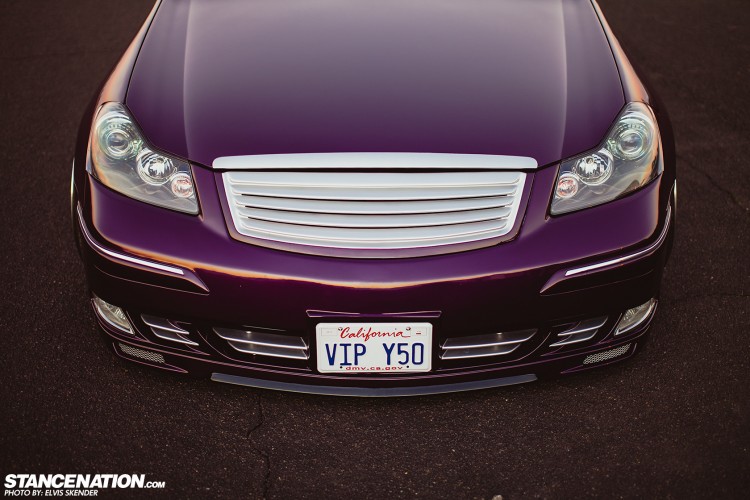 Another cool thing about this M are it's wheels. It's rocking two different types of AME wheels actually. This was done to show off AME's new line of wheels that they are releasing for 2014. The driver side has AME Shallen WX wheels in 20×10.5 -30 front and 20×12.5 -44 rear wrapped in Toyo Proxes 1 in 245/35/20 front and 275/30/20 rear. The passenger side is fitted with AME Shallen MX wheels and Toyos in the same sizes. The car is riding on UAS bags and controlled by Accuair E-level management with an iLevel controller. She is also running Akeobono calipers, Stoptech rotors and pads, and SS brake lines.
Under the hood are shaved and filled engine bay covers painted the body color with silver accents. She also converted from the standard intake on the M35 to a Z-Tube for maximum air flow. The exhaust has also been replaced by Kinetix high-flow cats, a G37 Y-Pipe, and Fugitsubo Exhaust.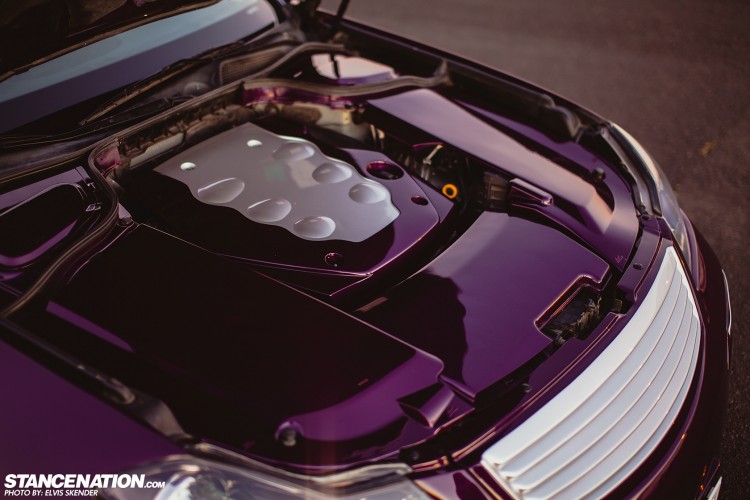 Karen says that the car's "initial phase" is close to complete, but she still has plans for the car. Next on the agenda is to work on the interior. Currently the interior features LED accent lights and suede wrapped false floor trunk.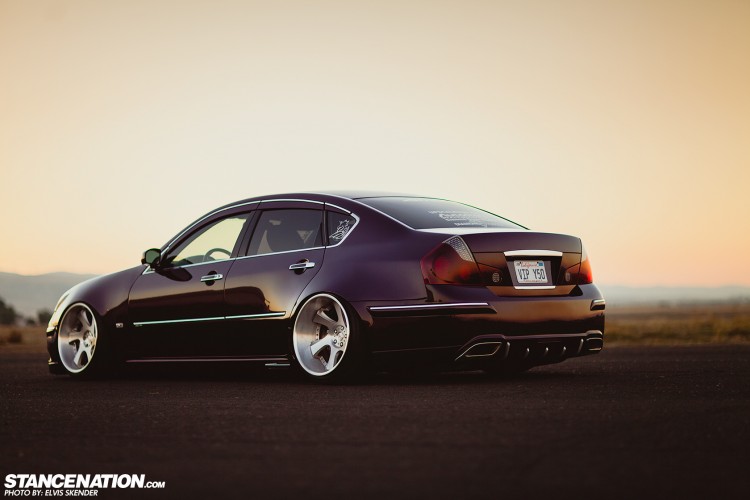 Karen says she has a few surprises in store for all of us. She says the overall look of the car won't change, but she wants the car to better reflect her personality. The car is off to an amazing start and if this is only the car's "initial phase", it is destined to be on S:N again and I hope you all are as excited as I am.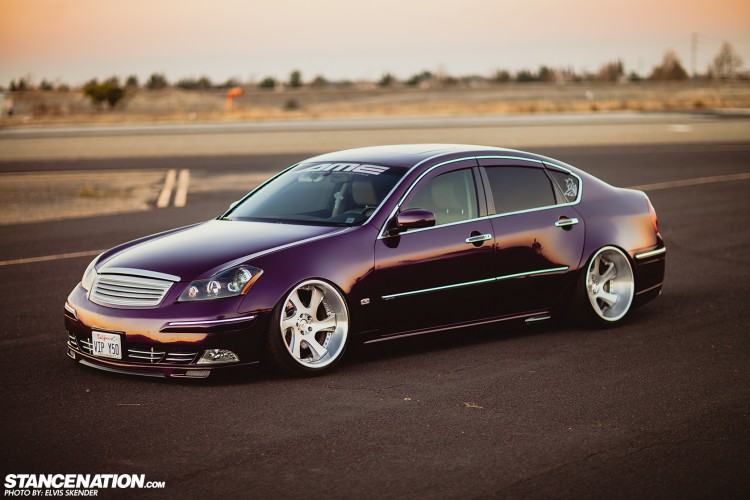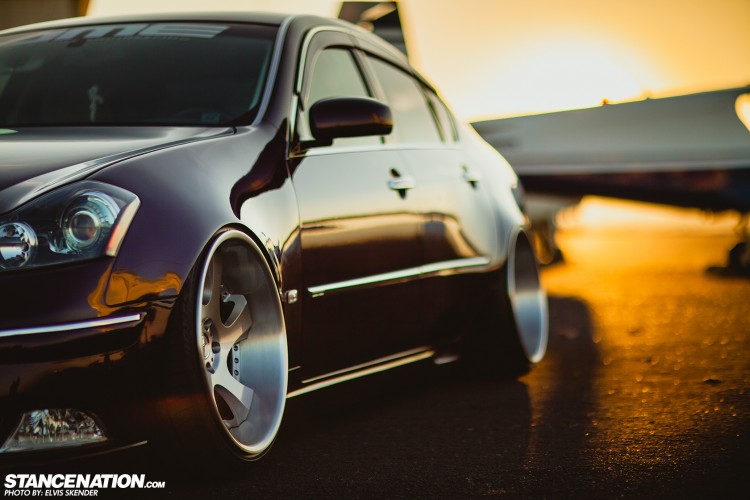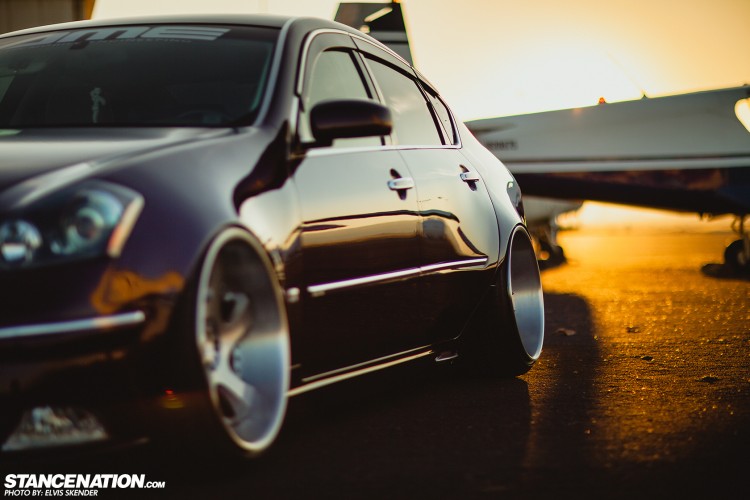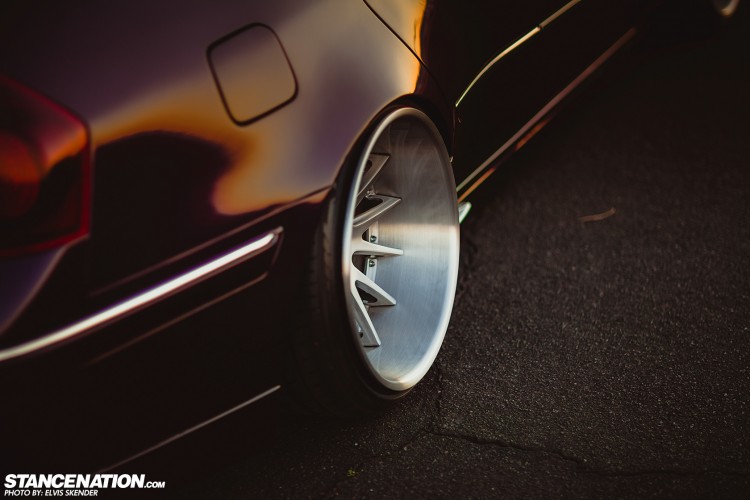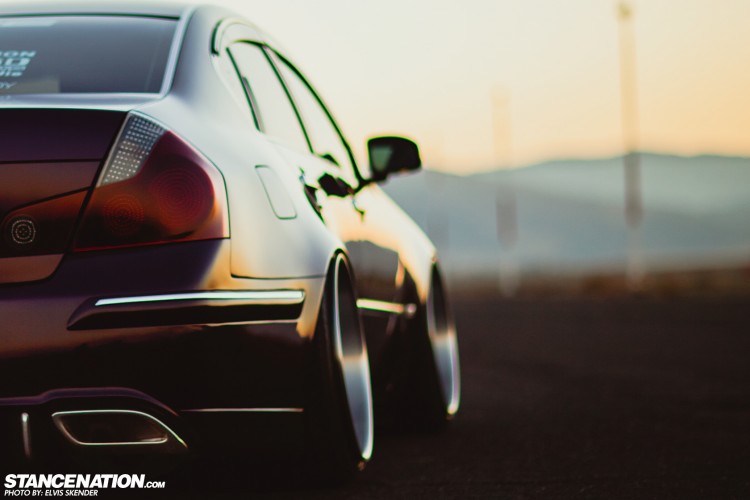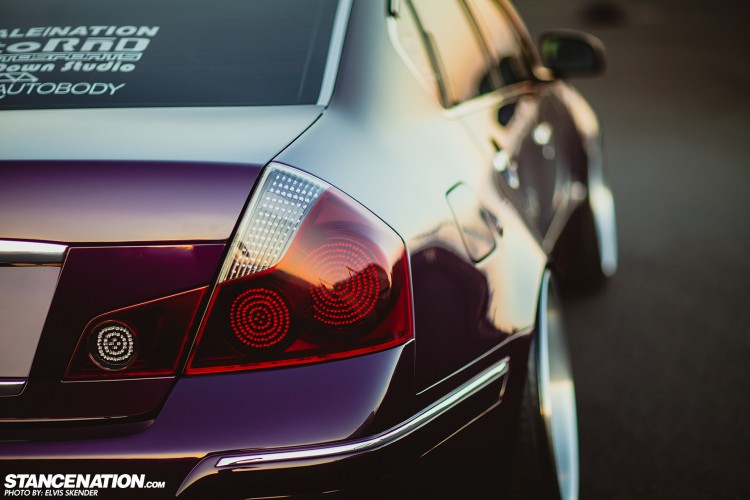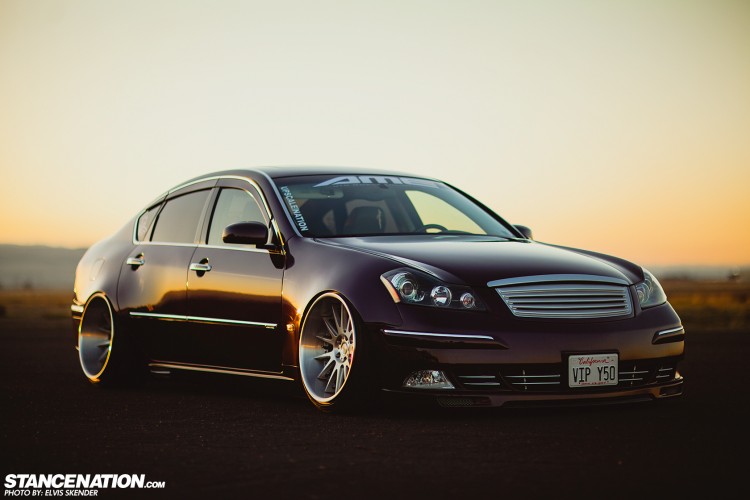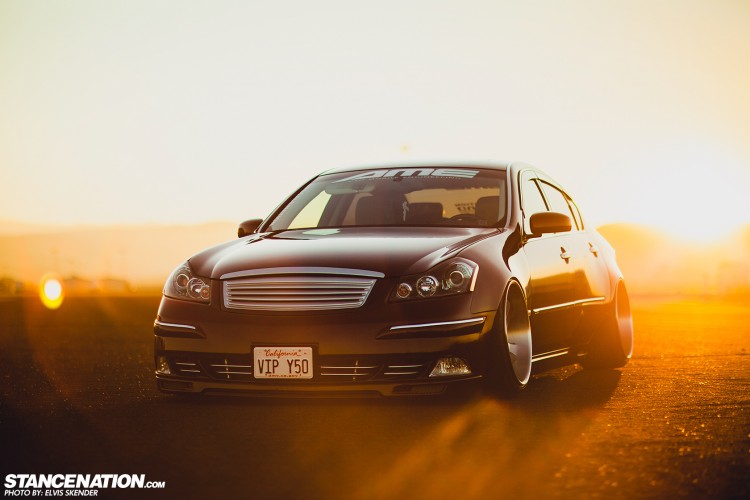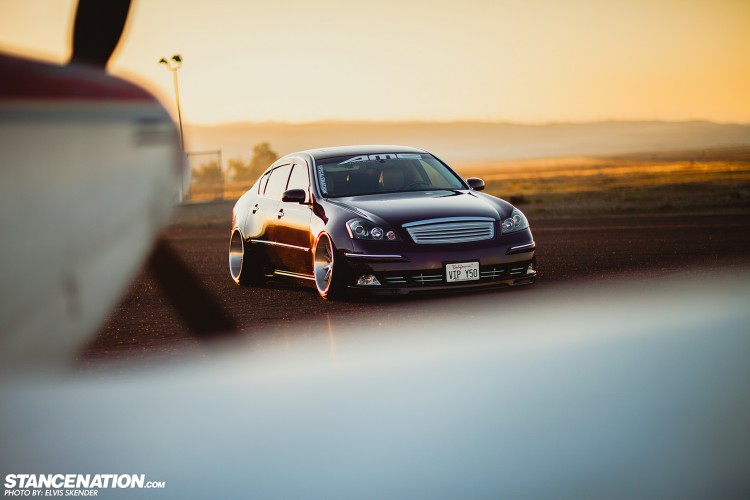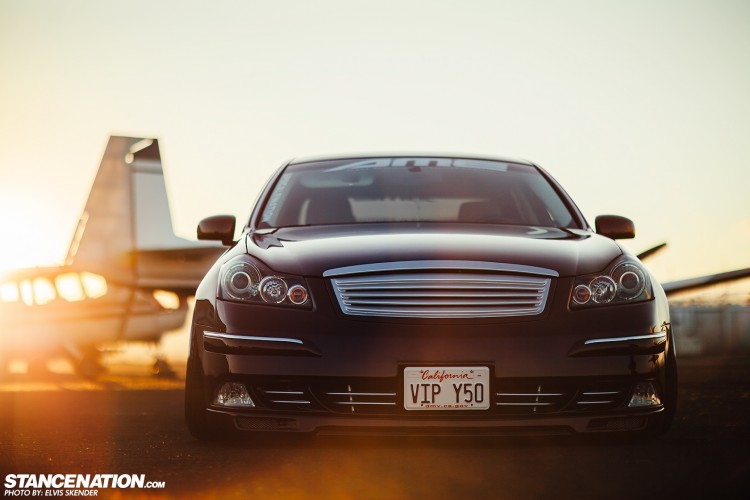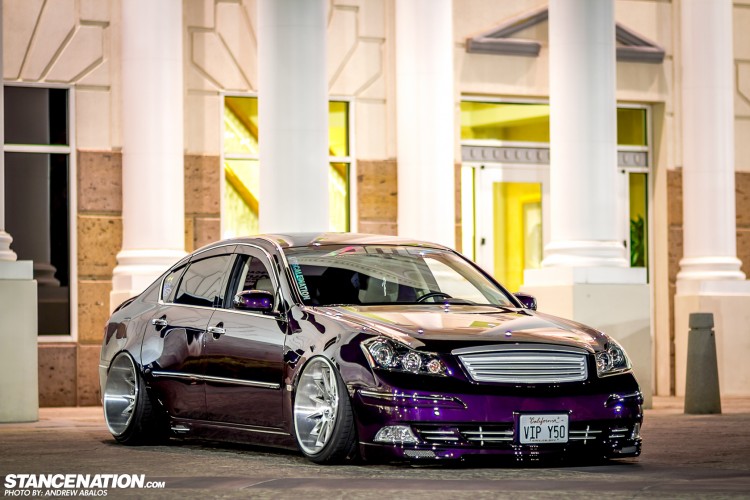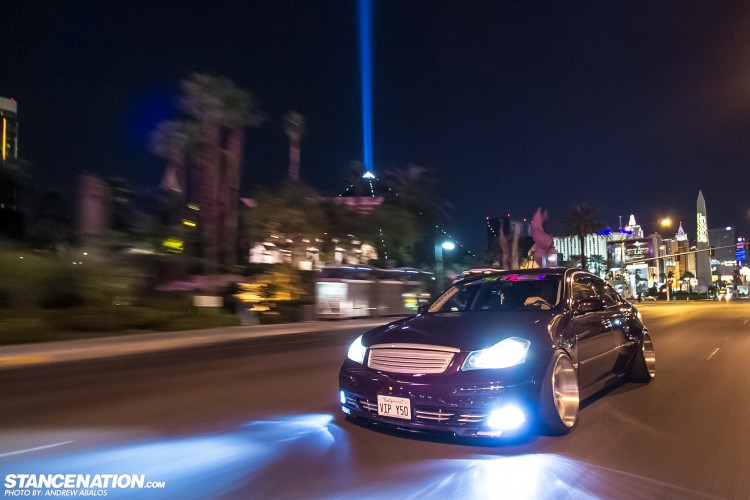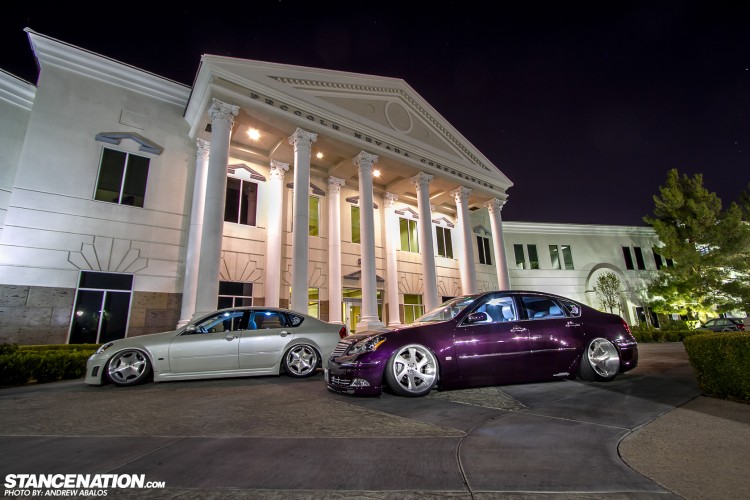 Exterior
K-Break Platinum Aero
K-Break Grille
JDM Chrome Trunk Finisher
JDM Chrome Door Finisher
LS460 Foglights
LS460 Exhaust Finisher
Metal Widebody Front and Rear w/ High Radius fender
Purple w/ Silver & Black Accents
3 Piece wind visors
Shaved Emblems
Interior
LED accent lights
Suede wrapped false floor trunk
Engine
Shaved and filled engine bay covers painted body color
Optima Yellow Top
Z-Tube
Kinetix High Flow Cats
G37 Y-Pipe
Fugitsubo Exhaust
Suspension/Brakes
Uas Bags
Accuair E-Level
Accuair VU4
Accuair I-Level
Viair 440c x2
Akeobono Calipers
Stoptech Rotors / Pads
SS Brake Lines
Wheels/Tires
Driver side
AME Shallen WX wheels
20×10.5 -30
20×12.5 -44
Passenger Side
Ame Shallen MX wheels
20×10.5 -30
20×12.5 -44
Toyo Proxes 1
245/35/20
275/30/20
Sponsors
Ame Wheels
Armored Down Studio
Auto RnD
Diamond Autobody
Elvis Skender's wallet
Fizz Autosports
K-Break
Toyo Tires
Upscale Nation