I seem to have a history of S15s here at StanceNation.  My first feature, however many years ago now, was a S15, and I always seem to find them in my inbox for features.  It's not a bad problem to have, the last iteration of the iconic Nissan coupe proving itself to still be coveted to this day.  You'd think with how long the car has been around, and with how many tuners have put their hands on them that there isn't much that hasn't been done to this car.  Well, leave it to Japan to get chins wagging again with a fresh take on this S15.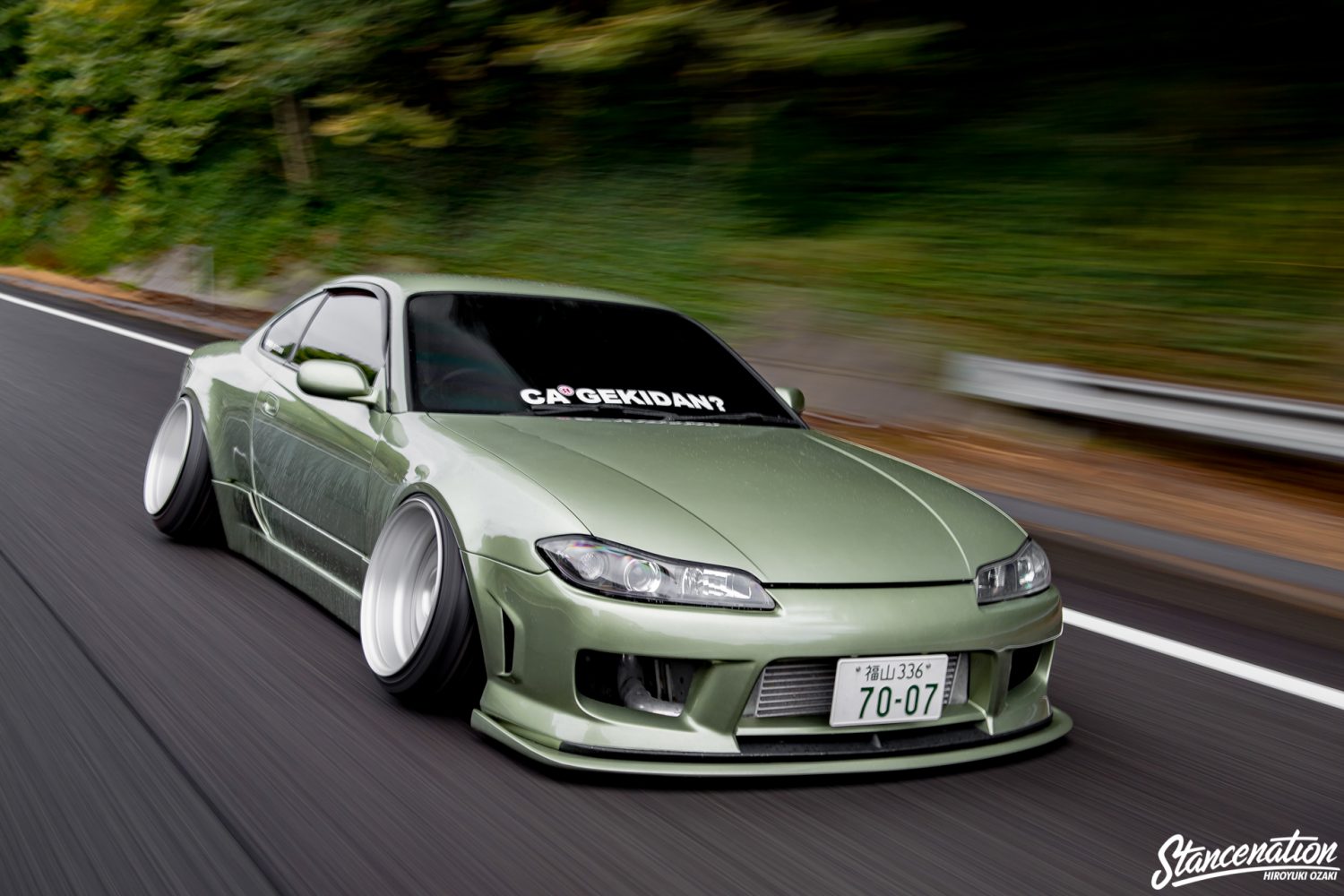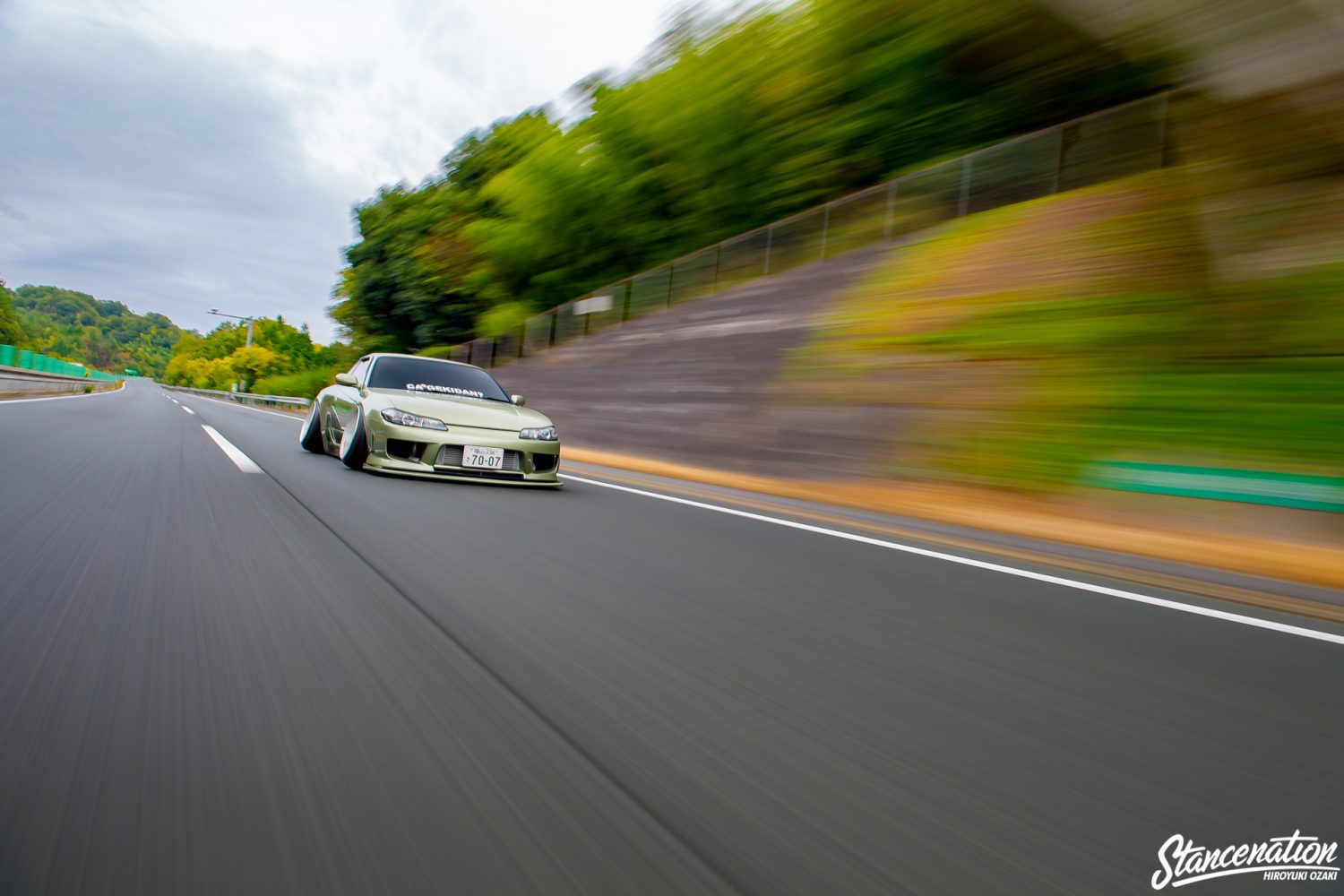 Haruki Kawahara hails from the Hiroshima prefecture in the southern half of Japan.  His S15 just recently started popping up on my Instagram feed last month and I couldn't get enough of it.  On a chassis where I thought I'd seen everything done, this jade-colored S15 caught my attention and held it hostage.  The stance, the fitment, the fender work, it all made me want to know more because it quickly became my favorite S15 I've seen.  Good thing our photographers in Japan were quick to get these exclusive photos so we could share the wealth with everyone.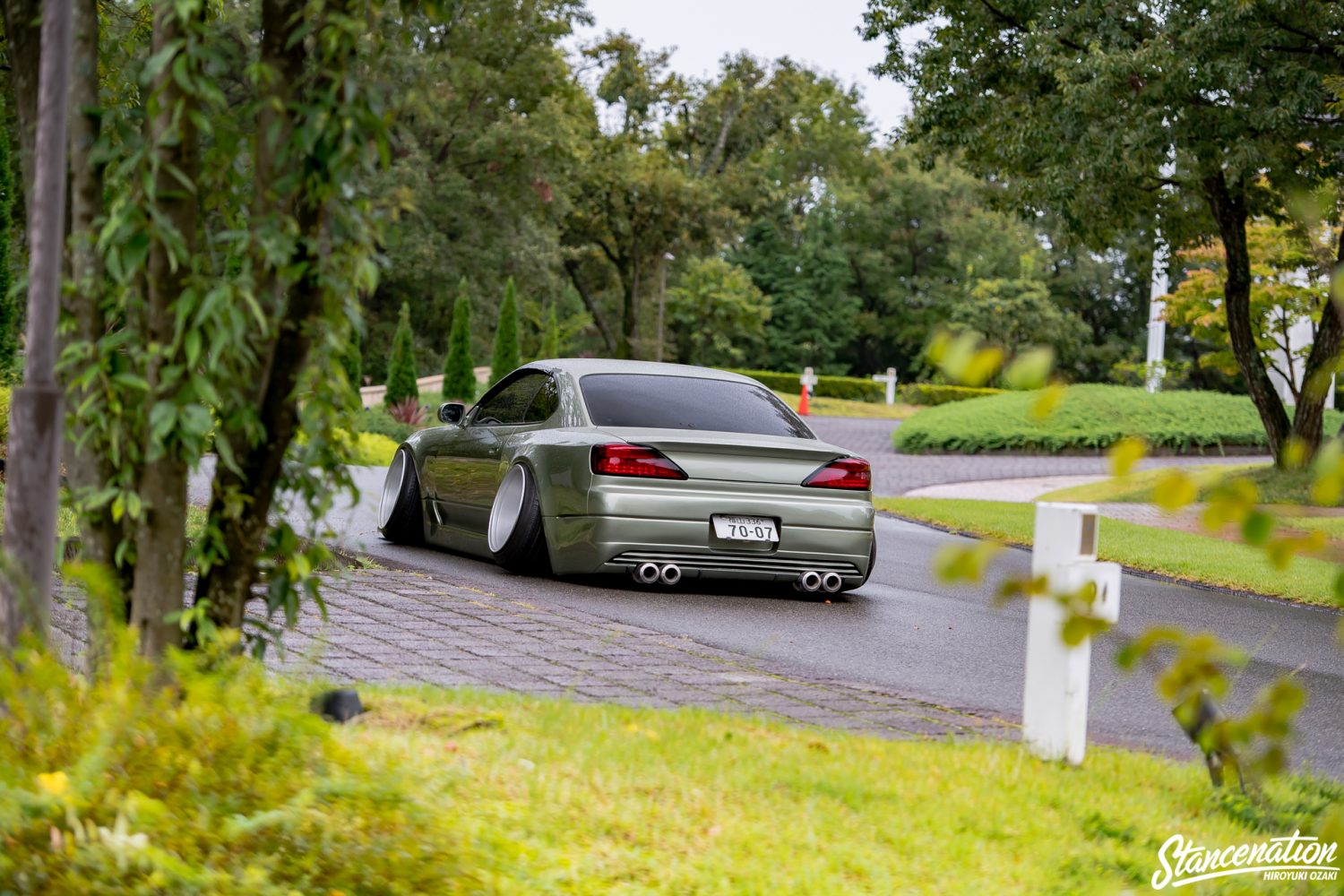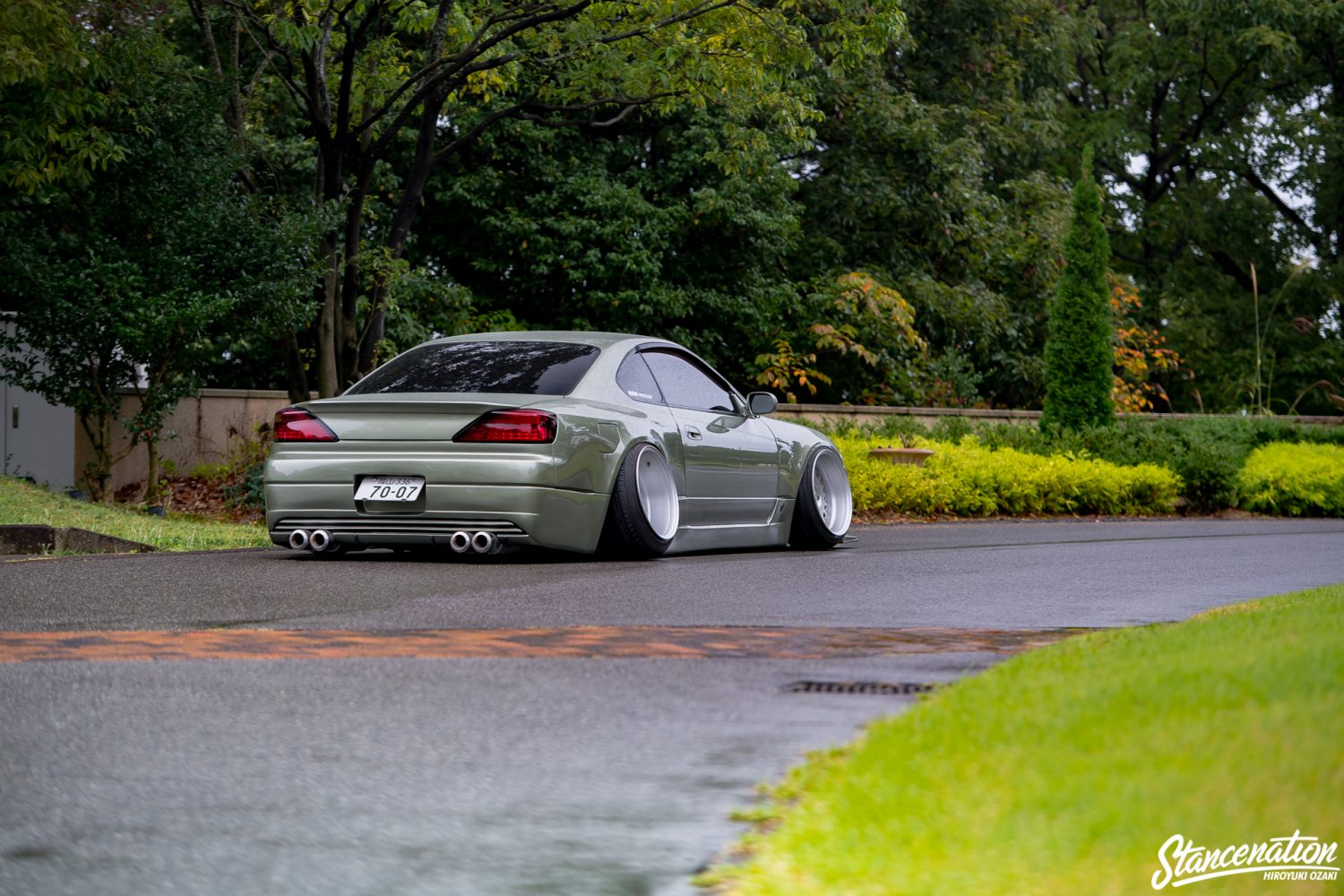 We'll start with the exterior of the car as that's its most striking feature.  It's a mix of sporty and VIP, or what I like to call, "Lux."  It's a term that I heard years ago (I want to say around 2003?) which referred to sporty, Japanese coupes like S-chassis cars, FCs, and FDs, and the like that were modified in a VIP-Style.  I don't know if that term is still around today, but I'll be bringing it back here because I feel that the term perfectly describes Kawahara-san's S15.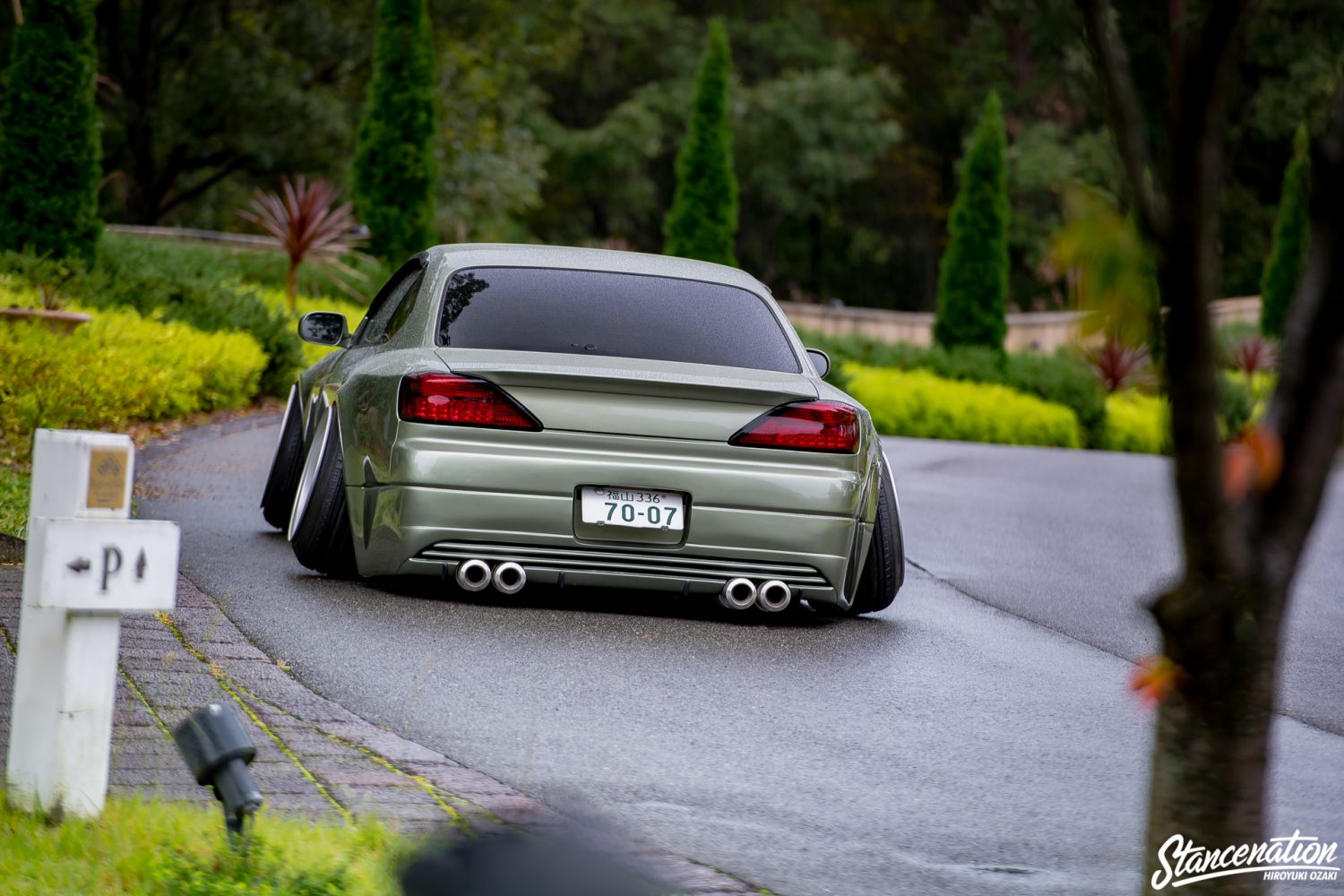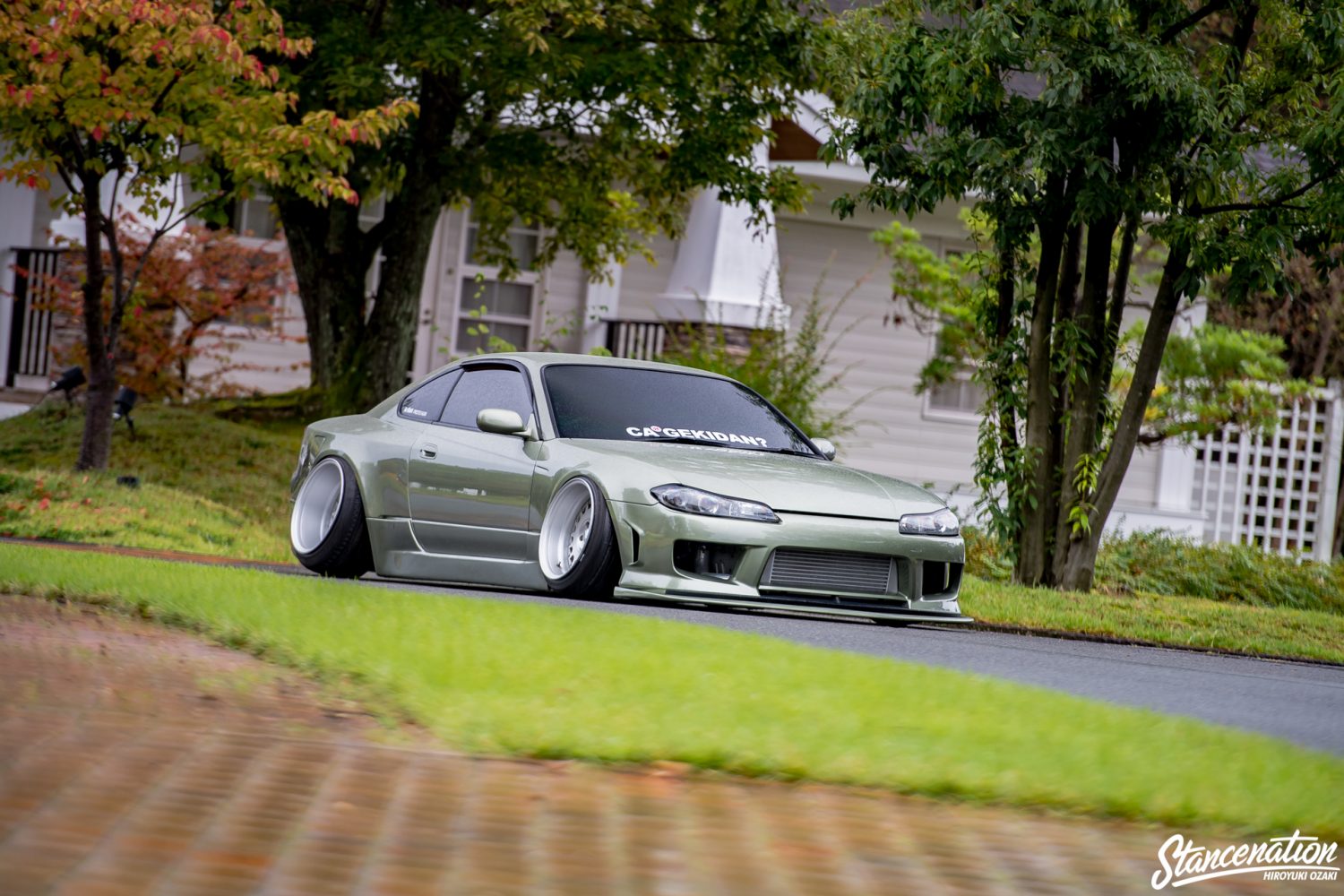 The fender work on the car is what really draws me in.  It's subtle, but you can't look away from it.  You can tell the car has been widened all around, but it doesn't look like a bunch of metal was just welded on and smoothed out before being painted.  The fronts were widened by 4cm and radiused by 4mm while the rears were widened by 7.5cm and radiused by 7.5mm.  Kawahara-san's goal was to make it noticeable but not stick out, and be well balanced.  I think he achieved that goal as the lines look almost factory.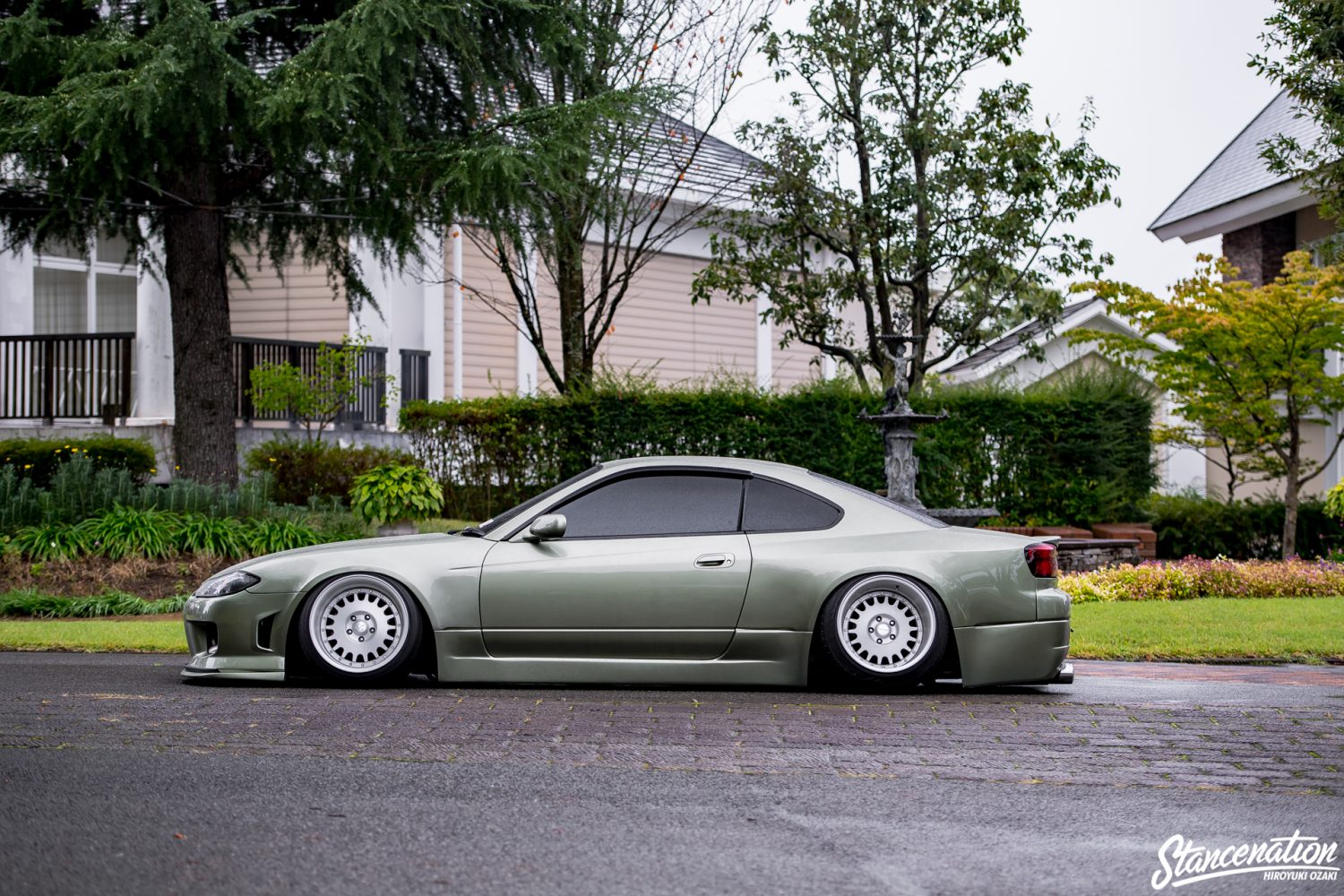 To keep with the subtle, lux look, Kawahara-san kept the OEM front bumper and added a diffuser while 326 Power 3Dstar side skirts and rear bumper add the extra flare.  Of course, both bumpers and side-skirts were modified to fit the widened body so everything flows together.  Once the bodywork was finished, the whole car was sprayed Millennium Jade, a rare color from a R34 GT-R NUR edition.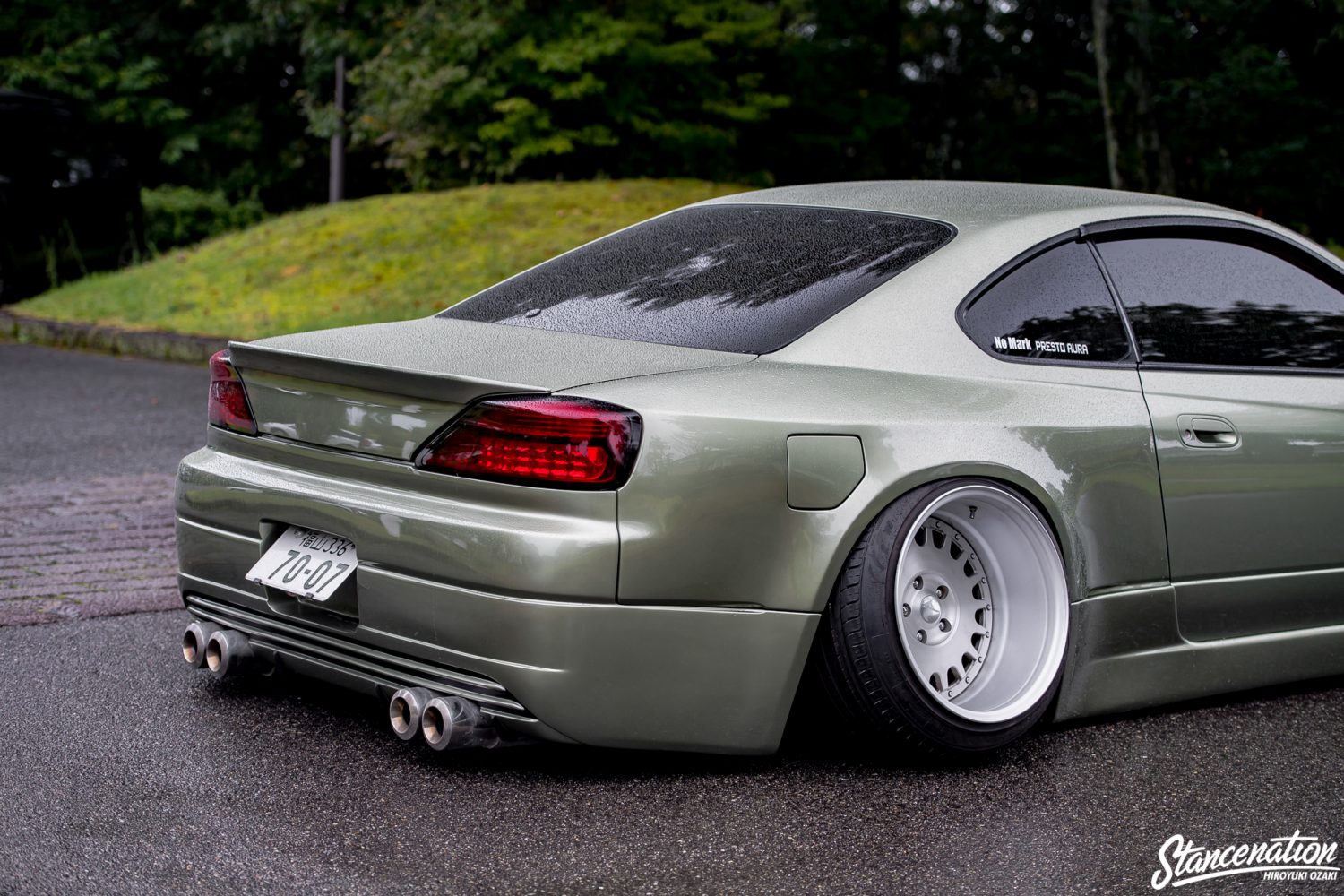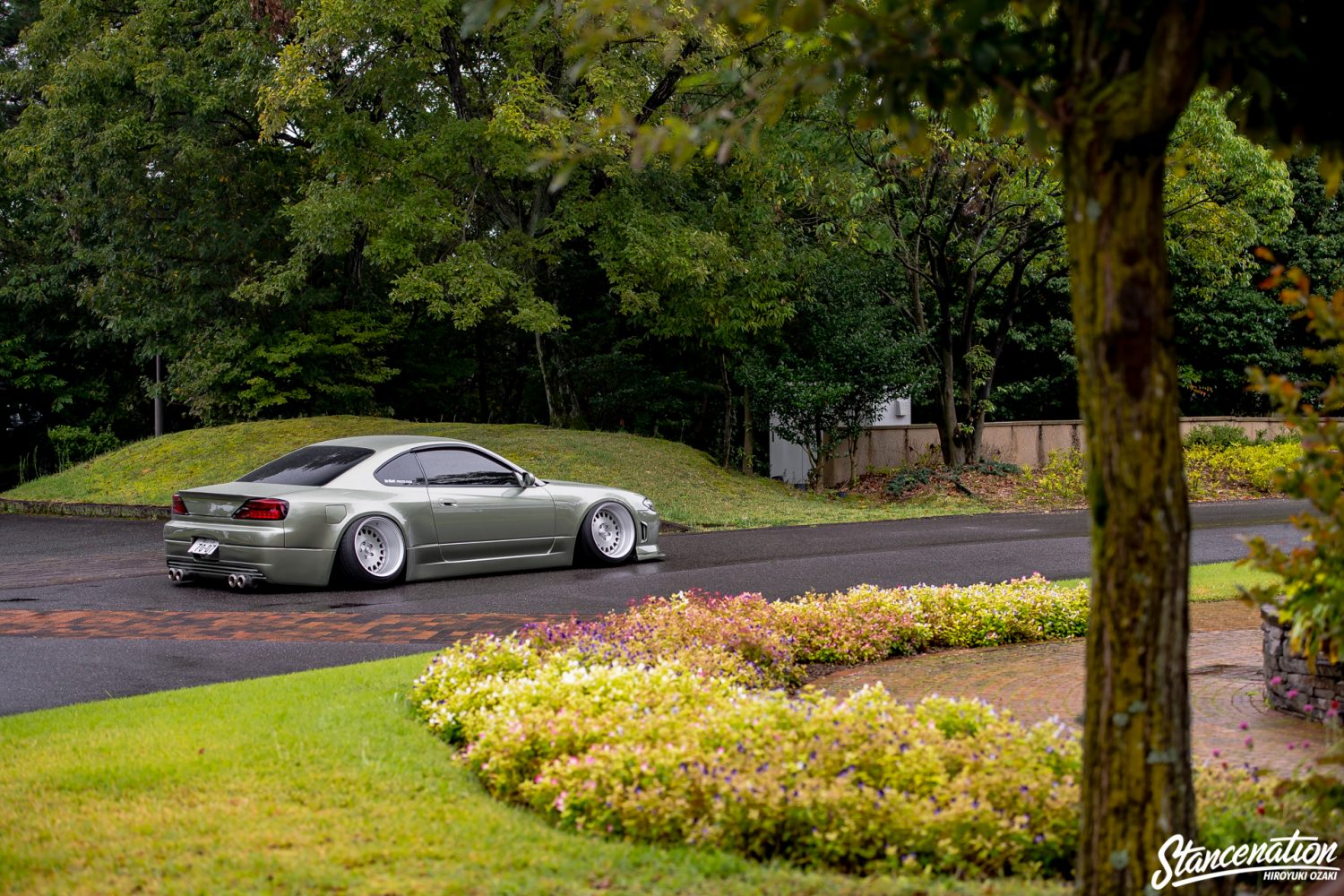 To nail that millimeter perfect stance, Kawahara-san went with a host of 326 Power suspension goodies including their arms and coilovers.  The dampers and springs were spec'd out to a 40kg rate up front and 60kg rate in the rear to allow the wheels to sit nice and snug against those widened fenders.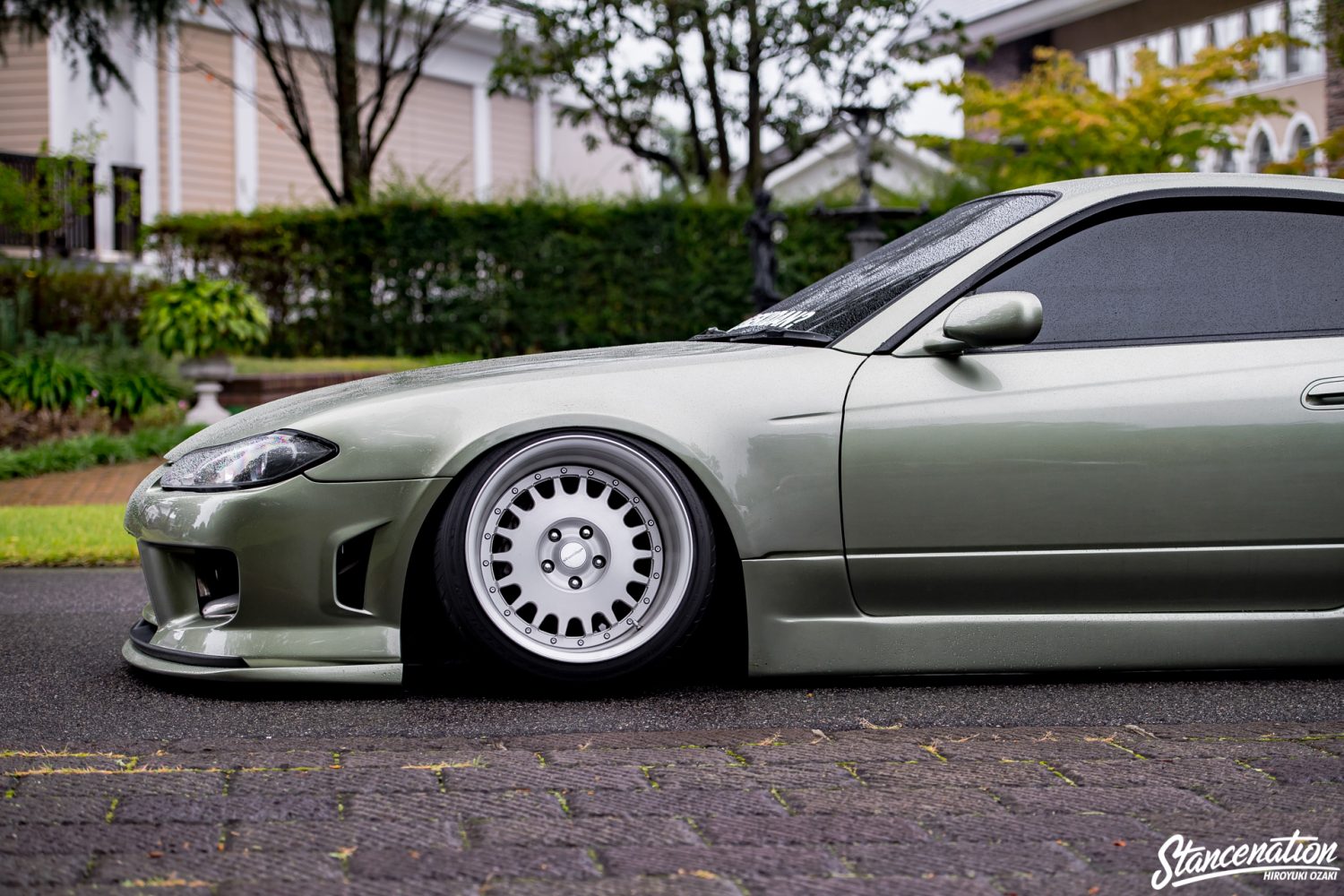 Speaking of wheels, the wheels on Kawahara-san's S15 are some I've never seen before.  It seems there's always a new wheel company popping up every week, but not many come up with something new and fresh, but these wheels look really good to me, and I can't say they remind me of another wheel.  The wheels are Frontline FLD01 and are spec'd to 17×10 -24 up front and 17×12 -47 in the rear.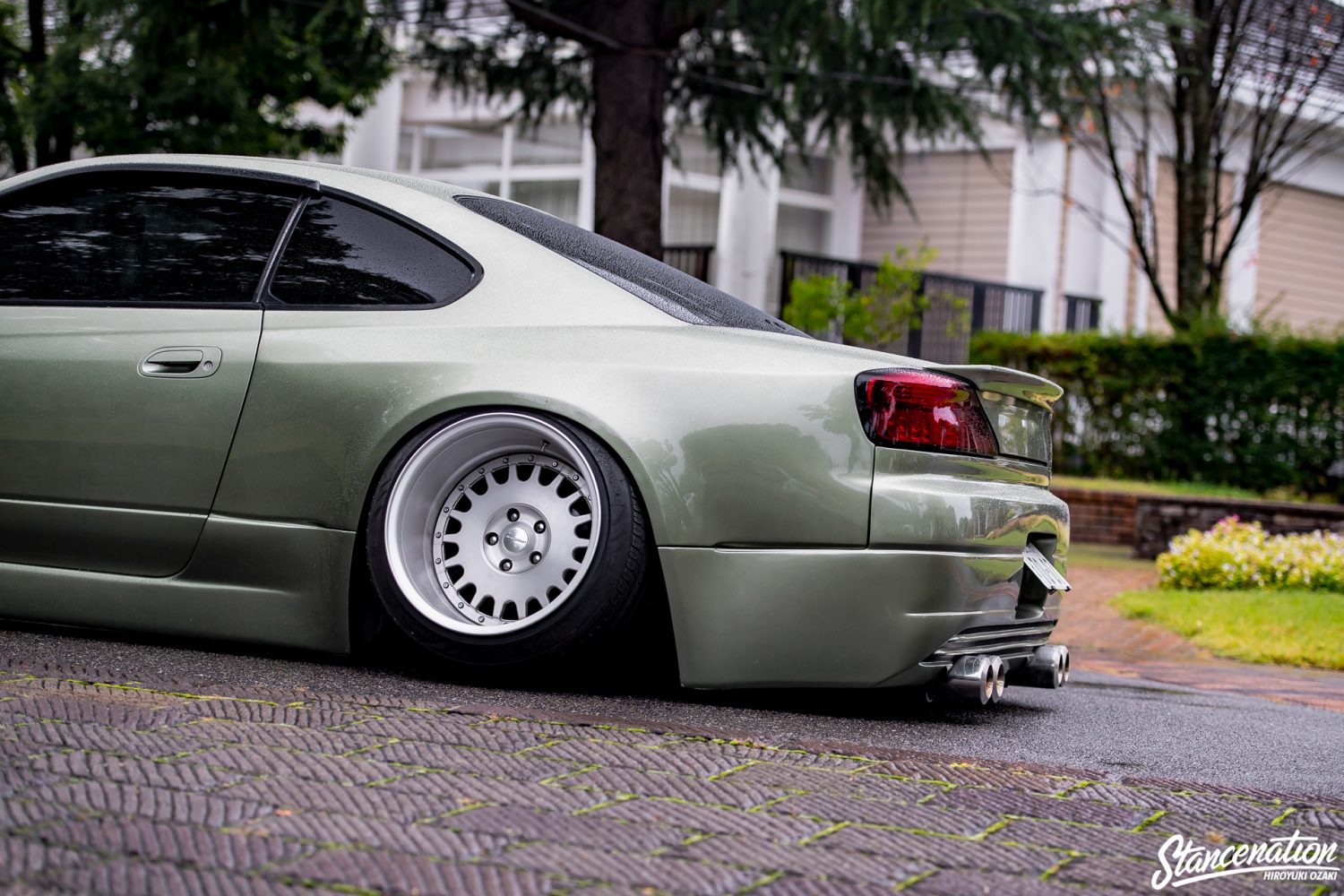 I had trouble believing the wheels were 17s at first due to the pictures and the way the car sits.  They look bigger than 17s, but I was proven wrong by the big boss-man when he was in Japan and saw the car and sent me a pic of the tire sizes.  Regardless, the size and fitment is on point, and the wheel style works really well with the car, but I'm a sucker for a nice, full-faced wheel design like this.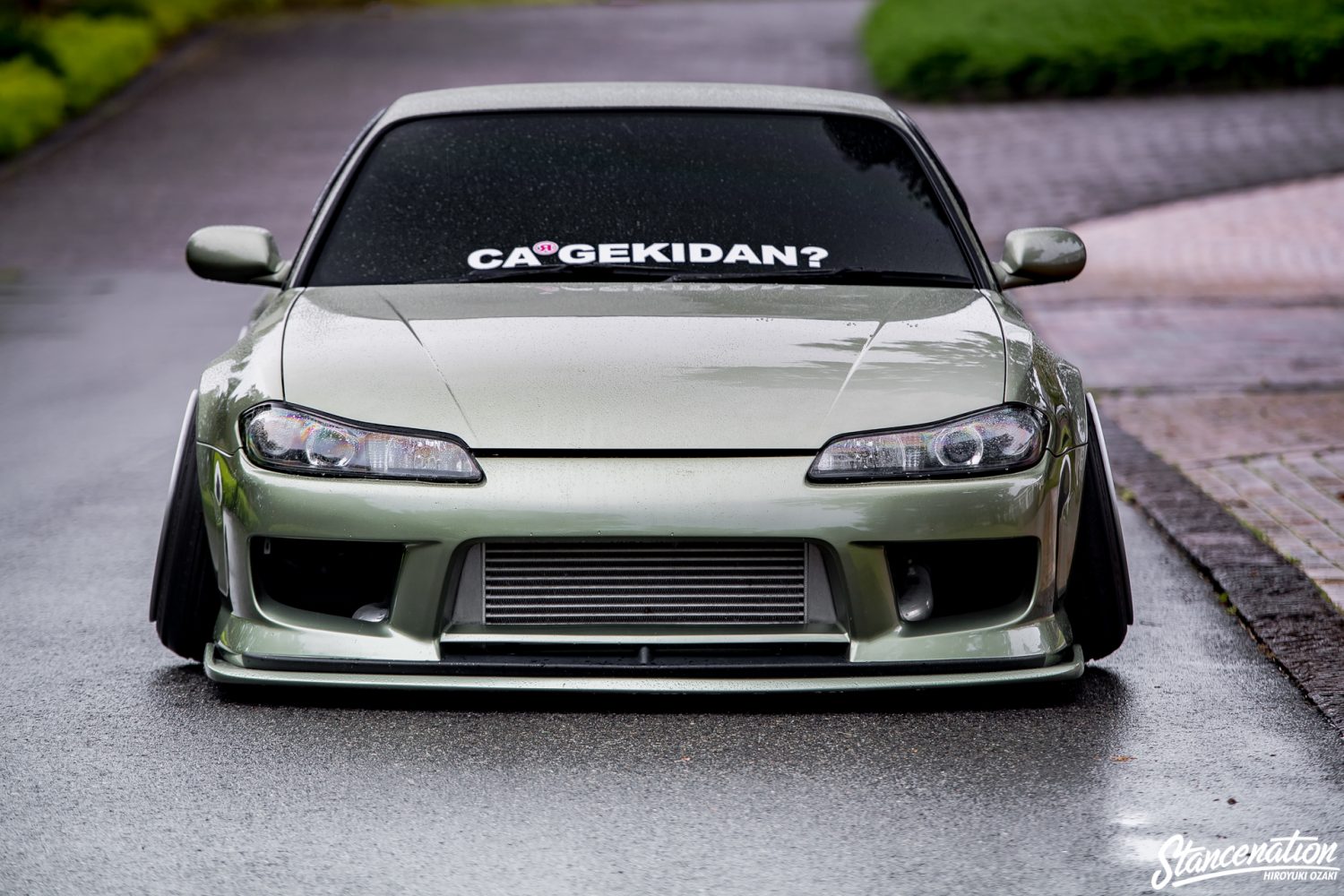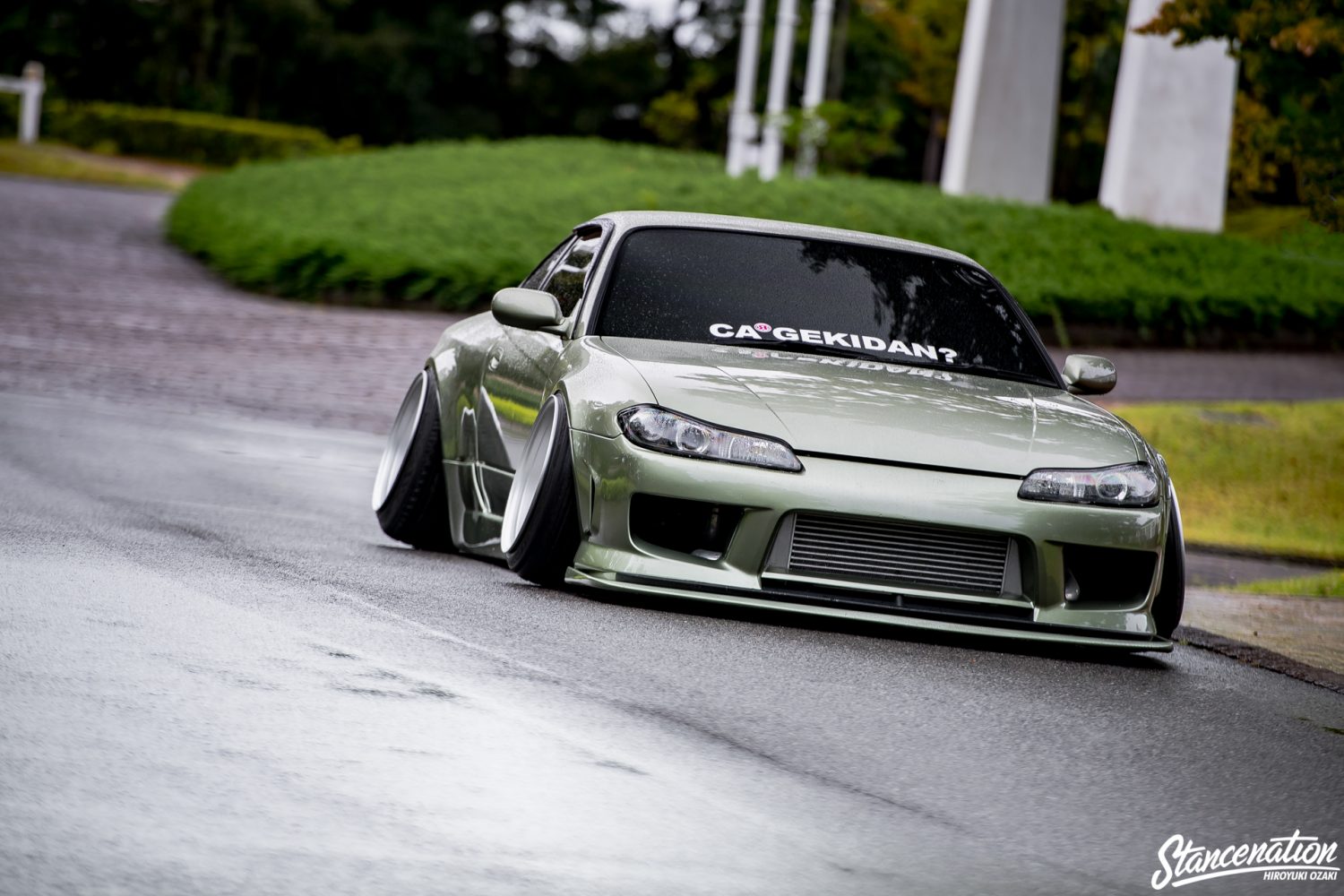 Unfortunately, I didn't receive any info on the interior or engine of the S15.  The language and time difference barriers prove to be a challenge sometimes when getting these features done.  We do our best with what we get though, but the photos are what y'all come for anyways.  What I can tell you though is that Kawahara-san isn't done with the S15 yet.  He did mention to me that he is planning an interior overhaul next to match it to the color of the car as well as even more body work, including smoothing and extending the rear spoiler, adding a sunroof and a new hood.  We look forward to seeing the updates and will share them with you when we get them!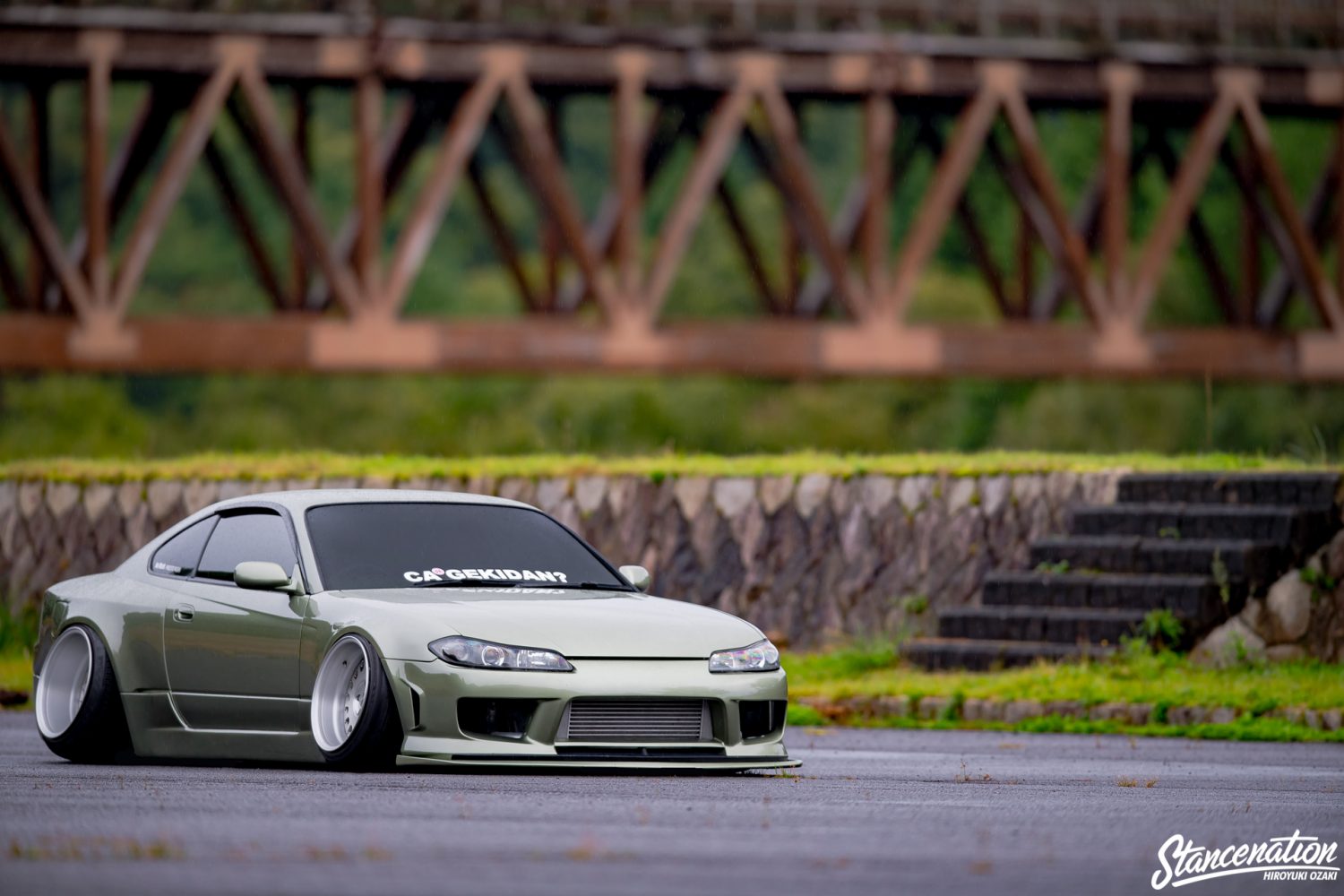 With what is undoubtedly my favorite S15 that I've featured yet, I can already tell that this car is going to create a ruse in the comments section.  People will scream, "RUINED," while holding pitchforks and tiki-torches because the car isn't modified to their liking.  People think their opinion matters, when in fact they really don't.  Style stands equal with performance, and one certainly doesn't have to go with the other.  You can build a car strictly for style, and that's just as cool as building a car to strictly perform a certain way.  This is how the custom car culture has been for years, and how it will continue to be for a long time.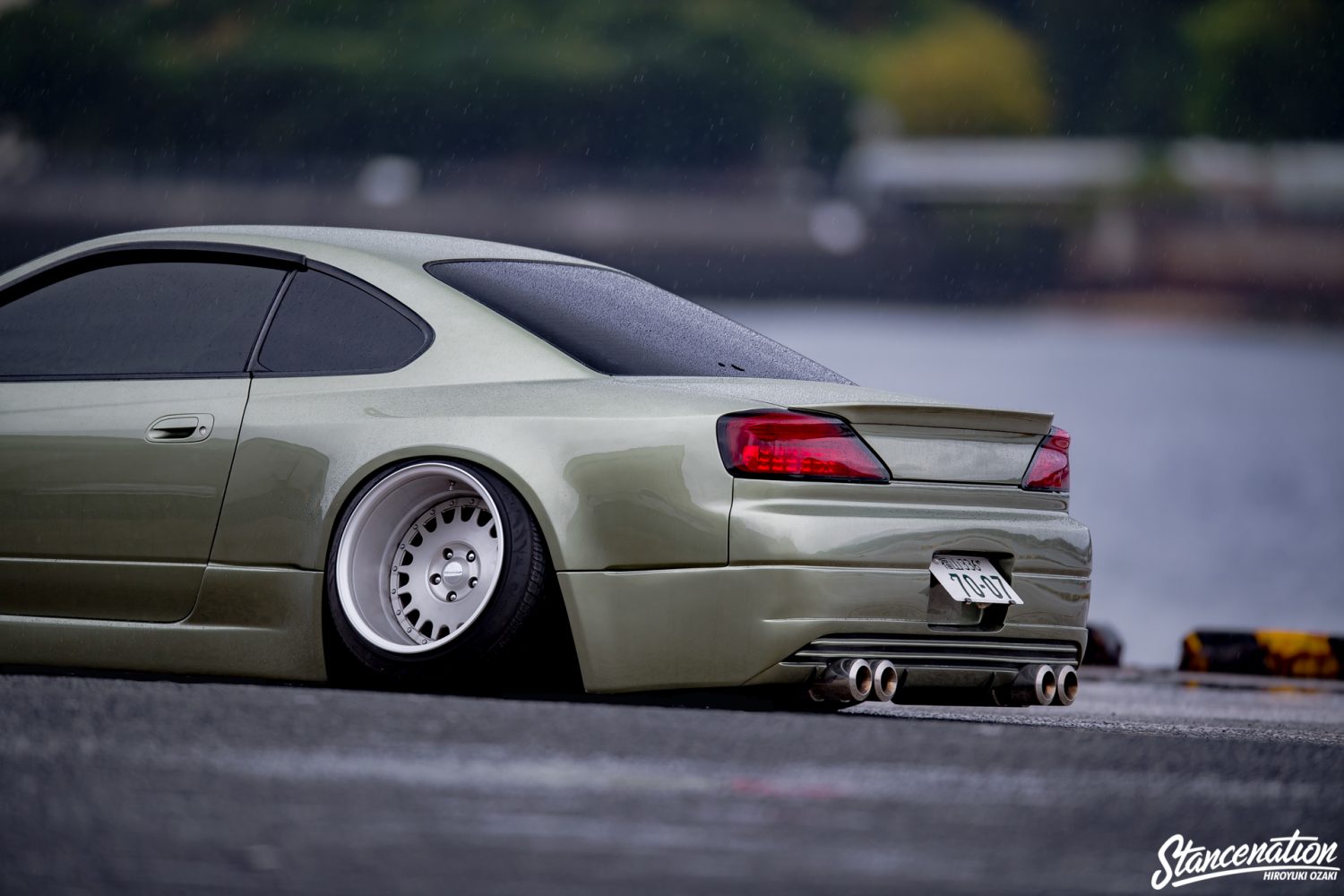 While Kawahara-san may have teased me with the end of my quest to find the perfect S15, my journey continues at least until he finishes his.  He certainly has quite the lead on the competition though.  To create an impact like this on such a popular platform isn't easy to do, but leave it to the home team to knock one out of the park.  What excites me most though, is that there seems to be a resurgence of the Lux style on sports cars, and I hope this car motivates others to think more outside the box when it comes to their builds.  This is definitely a style the car world could handle more of.  For now, I'll be waiting for the next S15 to hit my inbox.